ballertv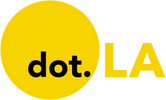 Get in the KNOW  
  on LA Startups & Tech  
X
ballertv
If you stop by Koreatown's Immanuel Presbyterian Church on Sundays, you might run into Kavodel Ohiomoba pushing a broom across a basketball court hidden on an upper floor of the cavernous historic French Gothic cathedral. It's a favorite movie backdrop for Hollywood films.
On a Bose portable speaker, you also might hear rapper Polo G's mellow-sounding "RAPSTAR" echoing off of the mid-century gymnasium's walls: "Lately, I've been prayin', God, I wonder, can you hear me? Thinkin' 'bout the old me, I swear I miss you dearly."
The six-foot, four-inch tall Ohiomoba, known as "Kav", gets the gym tidied up before the first game starts at 9 a.m. sharp. The "run," or freewheeling run-and-gun basketball game with connections drawn together by Kav, came together this past summer as the pandemic began to subside and vaccines were readily available to all. He got the idea of using pickup basketball as a way to network with the tech community from Jeff Jordan, partner at A16Z, who runs a famous pickup game in Palo Alto.
Kav is chief technology officer of BallerTV, the Pasadena-based streaming sports company that livestreams youth sporting events at scale, and is currently focused on basketball, volleyball, soccer and lacrosse.
Before BallerTV, the Stanford alum put in work at a few tech startups in the Silicon Valley, including MOCAP Analytics, where he was a member of the founding team as a data scientist and software engineer. The MOCAP team leveraged machine learning and computer vision to build a data storytelling engine on top of the player tracking data that was quickly being adopted by NBA teams.
"The opportunities were truly endless," Kav said. "We were building models that told us which players and teams did what, where, how and when."
As advances in computer vision — and later, machine learning and artificial intelligence — introduced new possibilities for sports viewing, Kav sought to bring broadcasting and video to athletes who weren't being streamed on ESPN or major television outlets. Not long after, he co-founded FieldVision, which built hardware and software using artificial intelligence and computer vision to autonomously film any team sport, anywhere.
BallerTV CTO Kavodel Ohiomoba
FieldVision came into the BallerTV fold via acquisition about two years ago, and proved to be a slam-dunk for the company. Since its launch in 2016, BallerTV had relied on an army of 30,000 videographers throughout the United States to film youth athletic games ranging from basketball to volleyball.
Kav spearheaded the effort to take FieldVision's machine learning — fueled by artificial intelligence algorithms — and put it all into an iPhone app. After a few months, the i1 platform was born. The platform uses an iPhone rigged up with a wide-angle lens and its software tracks players on the court, ball movement and shifts in a fast-moving game. The game is then broadcast live to BallerTV's rapidly growing network of subscribers, allowing anyone with an internet connection to watch as if they were sitting courtside at the game.
The i1 platform has been revolutionary for BallerTV, which filmed 350,000 youth sports games in 2021. On a given weekend, BallerTV can film more than 20,000 games. That's 5,000 more games in a weekend than the 15,000 ESPN televises in an entire year.
Kav says there's a bigger purpose behind his basketball runs. The group is diverse and inclusive, with participants coming from all parts of L.A. and a variety of professions. The basketball games serve as a form of connection between people, regardless of their backgrounds.
Some runs have included BallerTV's co-founder and co-CEO Aaron Hawkey, nicknamed "15 and in," mostly because he's money from within 15-feet of the basket; Marcus Boyd, a former professional track and field athlete turned software engineer; John Daniels, founder and CEO of Navtrac, a logistics technology company that utilizes artificial intelligence software to track inventory, and Tommer Schwarz, a doctoral candidate in genetics at UCLA.
"I'm an old man. I did not injure myself last weekend, but I missed several layups in spectacular fashion," said the 40-year-old Paul Haaga, managing director of HW Capital in Santa Monica, of his performance one weekend in October.
Haaga's firm was an early investor in BallerTV, as well as a number of other early-stage companies and real estate deals.
"It's interesting, if you see guys enough on several Sunday mornings in a row, you get to know who they are as people on the basketball court, and that's probably a pretty good indicator of who they are in life. Do they play fair? Do they play hard? Do they compete? It's a good indicator of someone's qualities, and if they have relationships outside of the game, then that's all the better," said Haaga, who makes the 14-mile drive in from his La Cañada residence.
And few reveal who they are quite like Kav, who attends to the runs as he would a group of his close friends.
"There is no job that is below [Kav], whether it's dusting the floor before we get there, or making sure that everybody's hydrated with Gatorade. He's always thinking about your health, right? Everything is sugar-free," observed Ryan Sauter, an entrepreneur in the hospitality industry whose Hybrid One is headquartered in downtown's Arts District.
Sauter's highlight of the week is when he gets the weekly email from Kav asking 60 other like-minded people on the distribution list if they're in or not for the weekly pick up at the church.
"I definitely look forward to that email, which comes Wednesday or Thursday," Sauter said. "It kind of brightens your day a bit because you're like, 'Hey, I can't wait until Sunday to play with everybody."
After breaking a sweat at the church, Kav and the others head over for some chit-chat and a cup of joe at the Starbucks or Blue Bottle Coffee near the K-Town church. Even grabbing a post-run cup of coffee is a welcome respite in a time where people are trying to be connected more than ever.
"We're coming out of COVID, and that's how this evolved," Kav said. "We were itching to meet each other. And of course, I think we were all itching to get back out on the court."
BallerTV, a livestreaming service for youth sports, is expanding from the gymnasium to the playing field, adding millions of games that it can broadcast into people's homes.
The Pasadena-based company announced Tuesday it acquired NextPro, which films outdoor youth sports and has exclusive rights to record games from nearly 400 of the top soccer and lacrosse event operators.
BallerTV livestreams scholastic and club basketball and volleyball using proprietary autonomous technology. With the acquisition of NextPro, it will increase the scale of its operations from streaming hundreds of thousands of games to millions. The company declined to reveal the terms of the deal.
"Our technology, our platform, is pretty sport agnostic and our business model to connect families and communities to the power of live sports isn't confined to just indoor sports," Baller TV CEO and co-founder Aaron Hawkey said. "It's going to accelerate our entrance into soccer and other field sports which are massive sports in the market."
El Segundo-based NextPro was founded in 2013 by Craig Hochstadt and Amin Edalat and focuses on filming large-scale youth recruiting events in soccer, lacrosse, baseball and softball. It had not delved into livestreaming.
There are 50 million youth sporting events each year and less than 1% are livestreamed, Hawkey said. It's also a lucrative market. Spending in youth sports in the U.S. was $15.3 billion in 2017 and grew to $19.2 billion in 2019.
Critics say that parents are spending thousands on coaches, equipment and other things needed to play competitive youth sports, but only a small percentage of kids will get a college scholarship or go pro.
Still Hawkey said the value of sports is immeasurable.
"All the benefits that I got from sports didn't mete out into a college scholarship. I don't think that was what my parents were hoping for," he said. "The leadership skills I take in building a startup from what I learned from sports, it's hard to place a value on."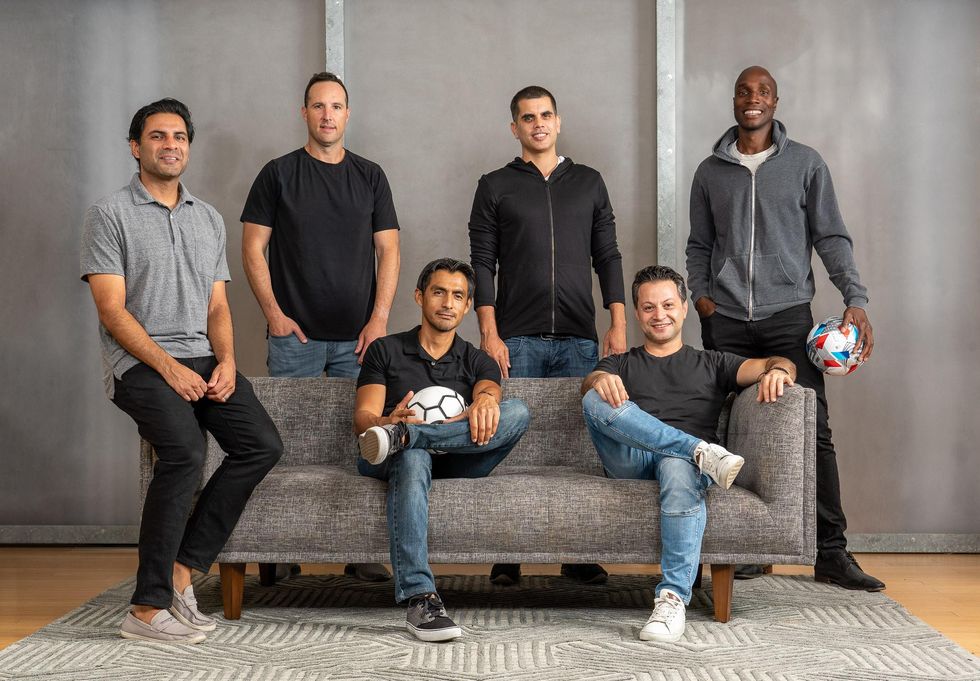 From left: Sandeep Hingorani (EVP of BallerTV), Craig Hochstadt (co-founder, NextPro), Robert Angarita (co-founder, BallerTV), Aaron Hawkey (CEO, co-founder of BallerTV), Amin Edalat (co-founder, NextPro) and Kavodel Ohiomoba (chief technology officer, BallerTV)Photo courtesy BallerTV
During the pandemic, when sports returned but spectators were limited, family members and recruiters turned to BallerTV, Hawkey said.
The service has 3,000 college Division 1 through Division 3 scouts, according to the company, although it did not provide a total number of subscribers. The biggest audience though are family members of the athletes who can't make it to games, Hawkey said.
"I do think there's a lot of upside in providing value and coverage of these events," he said.
Another initiative that BallerTV undertook this year was selling NFTs of the top athletes at a high profile youth basketball tournament. The tournament's MVP earned $4,000 from his NFTs. The idea was inspired by the U.S. Supreme Court ruling that college athletes could be paid modest sums related to education. It does not apply to high school athletes.
"There's a lot we can do in terms of really trying to help these athletes," Hawkey said. "Clearly there's an opportunity for them to make money, not only on NFTs but in other ways and we're trying to push the ball forward on allowing that given all the restrictive rules in the high school space right now."
When it first began, BallerTV hired videographers to stream the games, growing to a network of 30,000 across the country. But soon, Hawkey, who is an engineer, realized that technology would be key to reach the scale that he envisioned.
With a team of engineers, it developed proprietary machine learning to automatically record the action.
It requires less manpower as iPhones, equipped with fisheye lenses, are used rather than video cameras with an operator at each camera. One person can monitor several devices at a basketball tournament where 10 games are being played at once, for example. That person can watch a sort of master feed to monitor whether a basketball crashes into the device or other technical difficulties arise.
Outdoor sports do present a challenge compared to the climate-controlled environment of a gym. Hawkey had wanted to move into outdoor sports eventually, but NextPro's experience will help that expansion.
Sports fans and politicians have debated whether college athletes should be able to make money from their fame for years. Less commonly debated, however, is whether high school athletes should be able to do the same.
On Tuesday, Pasadena-based youth sports streaming platform BallerTV announced its new plan to allow high school athletes to make money off their names, images and likeness. How? By joining the NFT craze.
The company will sell NFTs that depict video highlights from the final June 8th game at Pangos All-American Camp, an elite, invite-only camp for high school basketball players. This game, called the "Cream of the Crop" game, features the top 30 players from the camp.
BallerTV hopes the potential of these players to become basketball's next legends will encourage consumers to invest in the NFTs.
"These NFTs will give collectors and young athletes the opportunity to capture the first moments of what could very well be storied NBA and professional careers," said BallerTV CTO Kavodel Ohiomoba.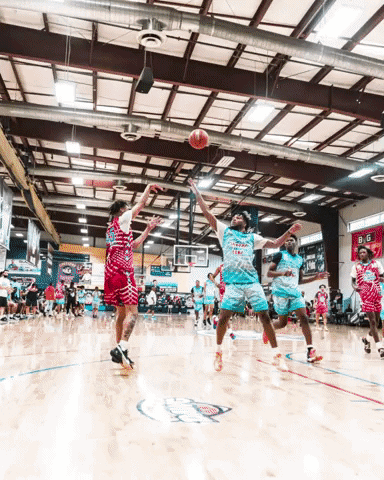 The NFTs are set to drop Tuesday on BallerTV's website at ballertv.com/nft and will be available for purchase on the Ethereum blockchain, with no starting price. The athletes featured in the NFTs will receive half of the profits, which may then be deferred until graduation from high school. The other half will go back to BallerTV.
Players can also donate their profits to a charity, school or organization of their choosing. BallerTV said it offered the option in case accepting the profits became an issue for players' future eligibility to play sports in their state.
BallerTV is taking their stand at a time when the issue of paying student athletes is top of mind at many universities and colleges, especially in California. In 2019, California Governor Gavin Newsom signed a bill allowing college athletes to hire agents and profit from endorsements without losing their NCAA eligibility. This bill will go into effect in 2023. Though California is the first state to do this, several other states are following suit.
BallerTV hopes the auction will contribute to the larger movement to allow student athletes to get paid, whether through selling NFTs or through other means.

"We're gonna see what the reception is to this," said BallerTV Executive Vice President Sandeep Hingorani. "How do the athletes respond? How does the community respond? Is this something they find interesting? But if that reception is not there, then there are going to be other avenues to explore to allow families and athletes to earn and benefit from the opportunities that are there."
While the NCAA has been slowly moving toward allowing its student athletes to benefit monetarily from their heightened profile, the National Federation of State High School Associations (NFHS) — which writes the rules for most high school sports — remains steadfast against payment for high school athletes.
"High school students participating [in travel or club sports] MUST NOT be allowed to benefit from [their name, image and likeness]," NFHS Executive Director Karissa Niehoff said in a statement earlier this year. "This would completely disrupt the high school environment when these students come into the high school locker room."
Meanwhile, the NBA has been cashing in on the recent NFT craze. NBA Top Shot, for example, a marketplace dedicated to selling video clips of NBA stars as NFTs, has an aggregated market value of $627,894,904, according to NFT site CryptoSlam. Last April, a clip of LeBron James dunking sold for almost $400,000 on the site.