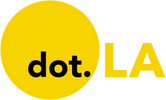 Get in the KNOW  
  on LA Startups & Tech  
X
Art by NicoElNino/ Shutterstock
Inspectiv Raises $8.6M To Build a Better Cybersecurity Platform
Samson Amore
Samson Amore is a reporter for dot.LA. He holds a degree in journalism from Emerson College. Send tips or pitches to samsonamore@dot.la and find him on Twitter @Samsonamore.
09:00 AM | June 30, 2022
What do education startups, maternal care platforms and Minecraft servers have in common? They're all susceptible to hacking.
Also, businesses in each industry use software created by Manhattan Beach-based Inspectiv, which announced Thursday that it's raised an $8.6 million Series A round to continue developing its artificial intelligence that detects and wipes out security threats.
---
The new funds bring the total Inspectiv has raised to $16.6 million since its 2018 launch. Founder and chairman Joseph Melika told dot.LA the company's recent growth has largely been steered by the pandemic as companies put a higher value on data security.
The heightened need for better security, according to Melika, is due to recent changes in how people work. "Just people, frankly, getting distracted," he said, has made some businesses more vulnerable to hackers.
"They're working remotely, their laptops are from home [with] no firewall," he said, adding that has left a lot of systems potentially exposed to hacks.
Inspectiv's risk management platform runs autonomously 24/7 and is constantly scanning for threats, Melika said. The software isn't just run on A.I., it's also combined with a network of security researchers. Melika said part of Inspectiv's intelligence comes from the input of thousands of researchers.
Once it finds a threat, the software alerts Inspectiv, whose vulnerability spot-checkers verify it and identify it to the client. Then, Inspectiv scans its other clients for the same threat, or similar invasions that could be lurking. There's also the potential for the software to review backup files, in case a company wants to make sure no older resolved threats spring back to life.
Melika pointed out several current Inspectiv clients using its software are local, including GoGuardian, maternal care company Mahmee and Minehut, a platform for people to host custom "Minecraft" servers.
The funding round was led by StepStone Group, among a suite of existing Inspectiv investors including Westwood-based Fika Ventures, San Francisco's Freestyle Capital and Santa Monica-based Mucker Capital.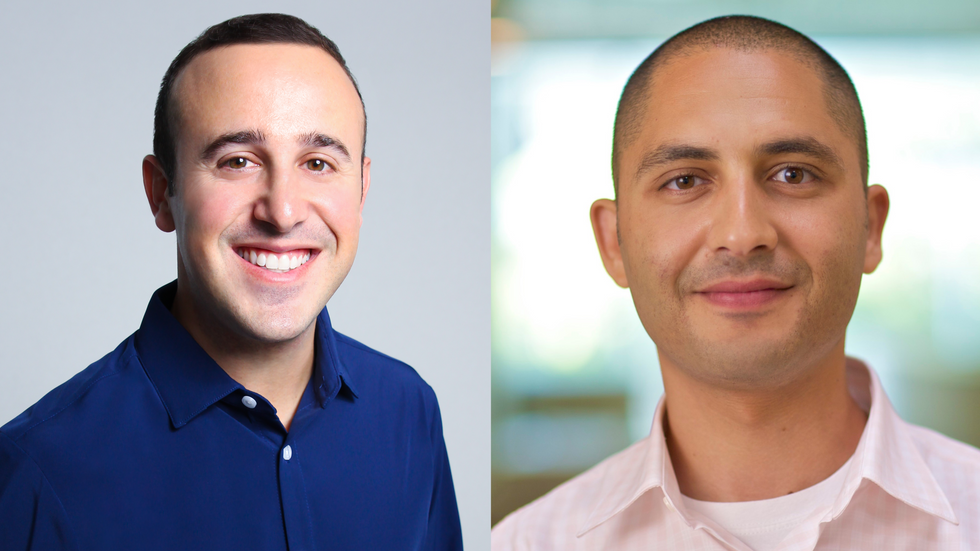 CEO Ryan Disraeli (left) and Founder and Chairman Joseph Melika (right) Courtesy of Inspectiv
Inspectiv also announced a leadership transition this week alongside several new hires – former CEO and co-founder of fraud prevention service Telesign Ryan Disraeli will take the reins as CEO of Inspectiv, while Melika will remain on board as the company's board chairman.
"Inspectiv is really helping secure the internet, and that was something that personally I could get passionate about," Disraeli said. "To be able to work with a team of people that we brought in that also has that security background, but also experience scaling up organizations was a pretty exciting opportunity."
The company also hired Karen Nguyen as chief revenue officer, Ray Espinoza as chief information security officer and Ross Hendrickson to be vice president of engineering. Disraeli said the Inspectiv team is currently 22 people but the company is "adding aggressively to that number" by expanding its product development team.
Disraeli wouldn't disclose revenues but told dot.LA he's confident he can grow Inspectiv quickly.
"There's a lot of companies raising money that don't have customers and don't have real growth," Disraeli said. "This is a company that has real customers that are growing and growing with us."
Samson Amore
Samson Amore is a reporter for dot.LA. He holds a degree in journalism from Emerson College. Send tips or pitches to samsonamore@dot.la and find him on Twitter @Samsonamore.
https://twitter.com/samsonamore
samsonamore@dot.la
06:00 AM | April 20, 2022
Image courtesy of Superjoi
Fintech startup Superjoi, which lets fans fund creators' content projects, has raised $2.5 million in pre-seed funding.
Superjoi raised the funding from fintech-focused investors including Ascension Ventures, QED Investors, Systema VC, Tomahawk and Modern Venture Partners. The round also included participation from senior leadership at e-commerce platform Shopify, fintech firm Revolut and Los Angeles-based live-in accelerator Launch House.
Based in West Hollywood, Superjoi's platform allows creators to run Kickstarter-like campaigns to raise capital for projects, while giving fans the chance to suggest ideas for new content. Creators can also reward fans who chip in by giving them event tickets, merchandise or a personal video call. Later this year, Superjoi plans to help fans reap financial rewards, too—such as a share of advertising revenues generated from projects that they backed.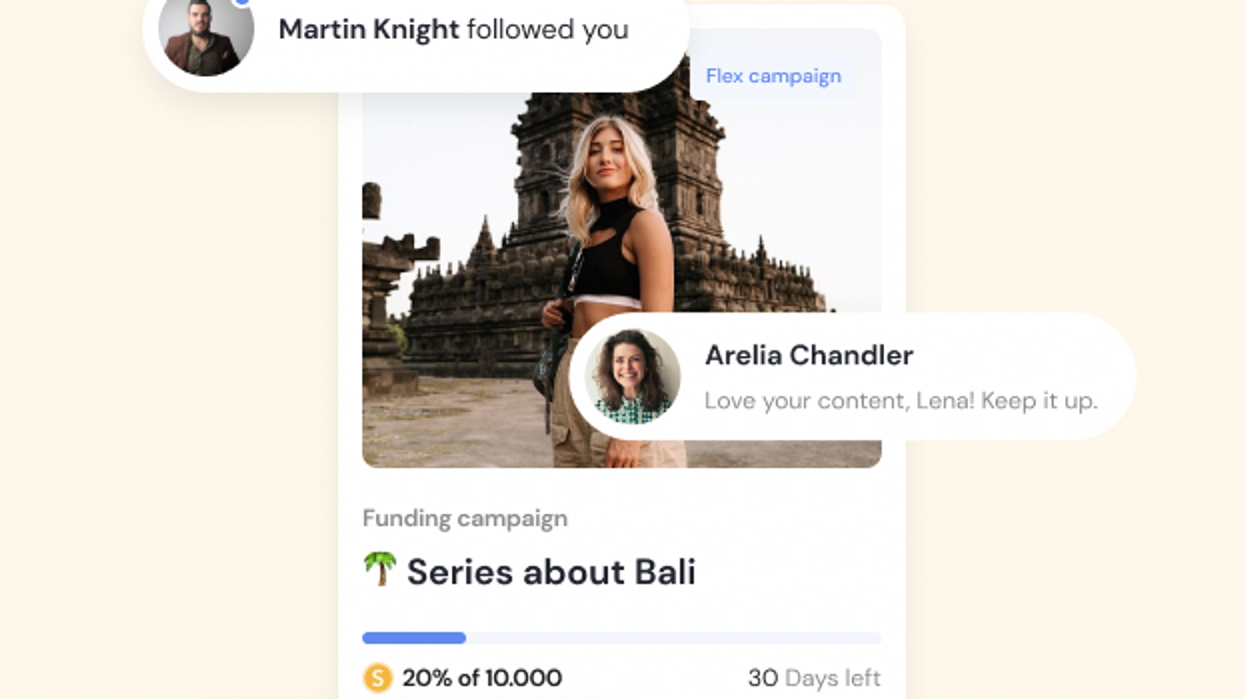 A screenshot from Superjoi's platform.
Major online platforms like Facebook and YouTube have increasingly monetized the relationship between creators and fans, targeting users with ads and sharing some of the revenues with creators. But Superjoi's founders contend that fans have been completely cut out of the equation despite driving creators' successes. In September, the startup began building a platform that would give fans a share of the financial upside, co-founder and CEO Chris Knight told dot.LA.
"Superjoi, as we position it, is liquidity with love," Knight said. "The reason why we call it that is, for somebody who's creative, there's no better funding source for their creativity than the people who love them—and that's their fans."
Knight learned a lot about what he calls "superfans" after helping to build Fantom, a fan-focused smartwatch launched with England's Manchester City Football Club. The Premier League team consults its fans on decisions relating to its stadium and sponsorships, he noted. "I see huge opportunities in the future for creators to actually have a deeper engagement with their audience and actually mobilize their audience to a new level," Knight said.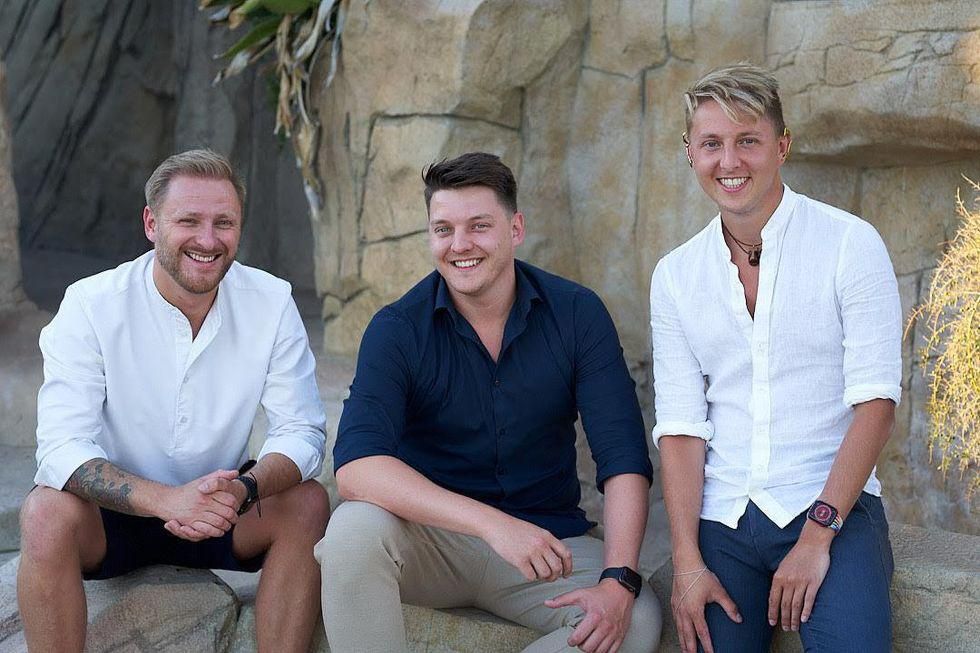 From left: Superjoi co-founders Chris Knight, Piotr Wolanski and Soren Creutzburg Courtesy of Superjoi
Fans will initially fund projects on Superjoi by buying "supercoins," an in-platform currency that is worth $1 each. While supercoins are not technically crypto tokens at this stage, the startup envisions letting fans invest in creators, earn a financial return and receive ownership in their content based on tokenization. Superjoi collects a 10% cut of a creator's fundraising goal.
The platform plans to launch in mid-May with about 25 U.S.-based creators with larger audiences, and will onboard more creators on a waitlisted basis, Knight said. A full public launch is expected later this summer.
Superjoi, which has 14 employees, plans to use the new funds on growing its team, acquiring creators and marketing the platform.
Christian Hetrick
Christian Hetrick is dot.LA's Entertainment Tech Reporter. He was formerly a business reporter for the Philadelphia Inquirer and reported on New Jersey politics for the Observer and the Press of Atlantic City.
08:14 AM | October 31, 2022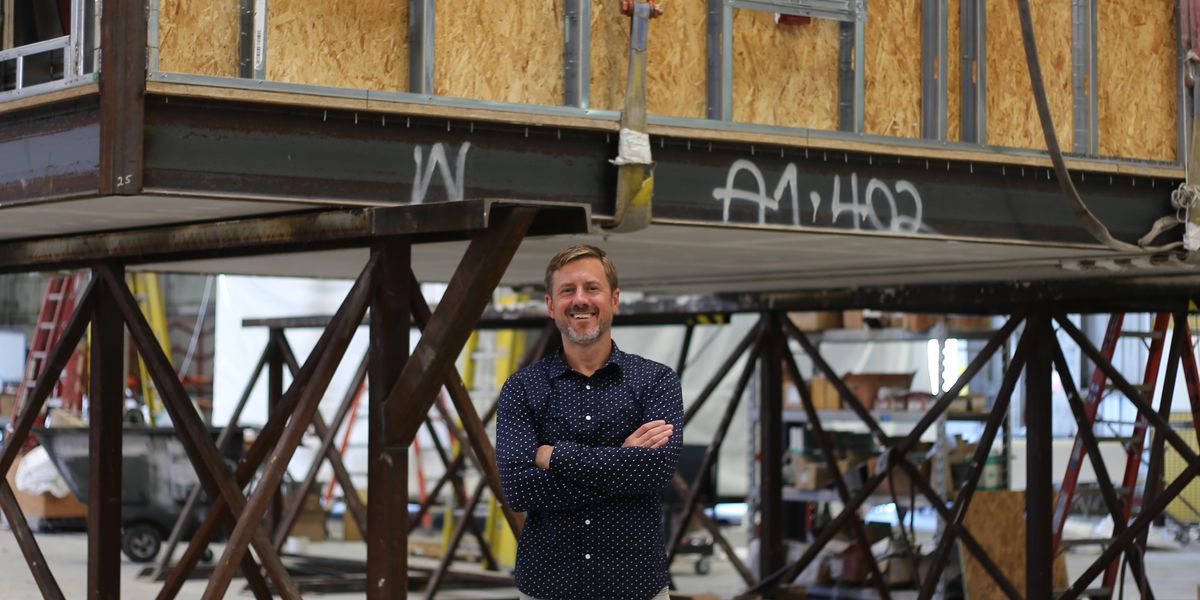 photo by Decerry Donato
Nick, a former inmate, has been living in the Hilda L. Solis Care First Village (HSCFV), a permanent supportive housing complex built by CRATE Modular using 66 retrofitted shipping container units, for a little over a year.
Without this housing complex, Nick would be among the 66,436 people currently experiencing homelessness in Los Angeles County.
The supporting housing complex was completed in April 2021 and is located in Downtown Los Angeles. A month after the $57 million project was finished, each room was completely occupied.
Founded in 2018, CRATE Modular began its business repurposing single-use shipping containers to build supportive housing complexes, schools, and bed and breakfasts, among others.
"I looked at where the modular market is, and where it makes the most sense," CEO Rich Rozycki says. "California is probably the number one if not close to the number one market for modular construction."
To date, the company has completed over 30 projects using repurposed shipping containers, a majority of which were privately funded through traditional lenders. But since affordable housing projects are funded through grants, tax credits or bonds, Rozycki says it typically takes more time to close a transaction and ultimately deliver an affordable unit to market.
But since CRATE is part of the factory-built housing program (FBH), which provides California residents with reduced housing costs, CRATE says it can typically receive approval on building plans in two to five business days depending on the project.
"There's so much work that needs to be put in place, not only in Southern California, but, Central and Northern California, Rozycki says, "and if you think about the other metro areas that are bordering California that are experiencing rapid growth, and some of the same issues that we're experiencing here, we're perfectly positioned to deliver solutions into Arizona, Nevada and Oregon."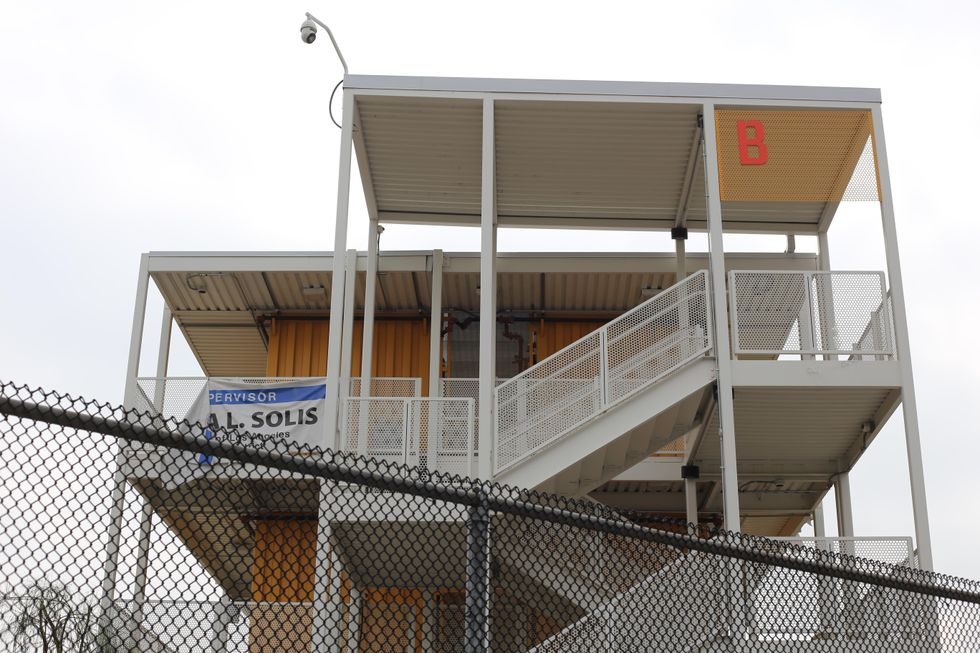 CRATE Modular's repurposed shipping containers at Hilda L. Solis Care First Village. Photo by Decerry Donato
Aside from public work projects, CRATE has also built private charter schools and public schools out of repurposed shipping containers as seen in Malibu and Oak Park.
But not everyone is convinced the modular approach to building supportive housing is the solution to Los Angeles's houselessness woes.
"I think modular is one solution to building permanent supportive housing," said PATH Ventures CEO Joel John Roberts. "However, it is not a 'magic solution.'" Roberts points to the fact that getting affordable housing projects in CRATE's pipeline is tricky since the modular company has a variety of projects it's working on. Adding, however that if PATH Ventures can enter this pipeline, then the build time will decrease and the number of individuals they can house will increase.
Nonetheless, with the launch of its new cold-formed steel methodology, CRATE is optimistic they can meet these needs. The modular company began its next affordable housing project in February: a 47-unit permanent supportive housing complex in Koreatown that will house individuals in Los Angeles experiencing homelessness.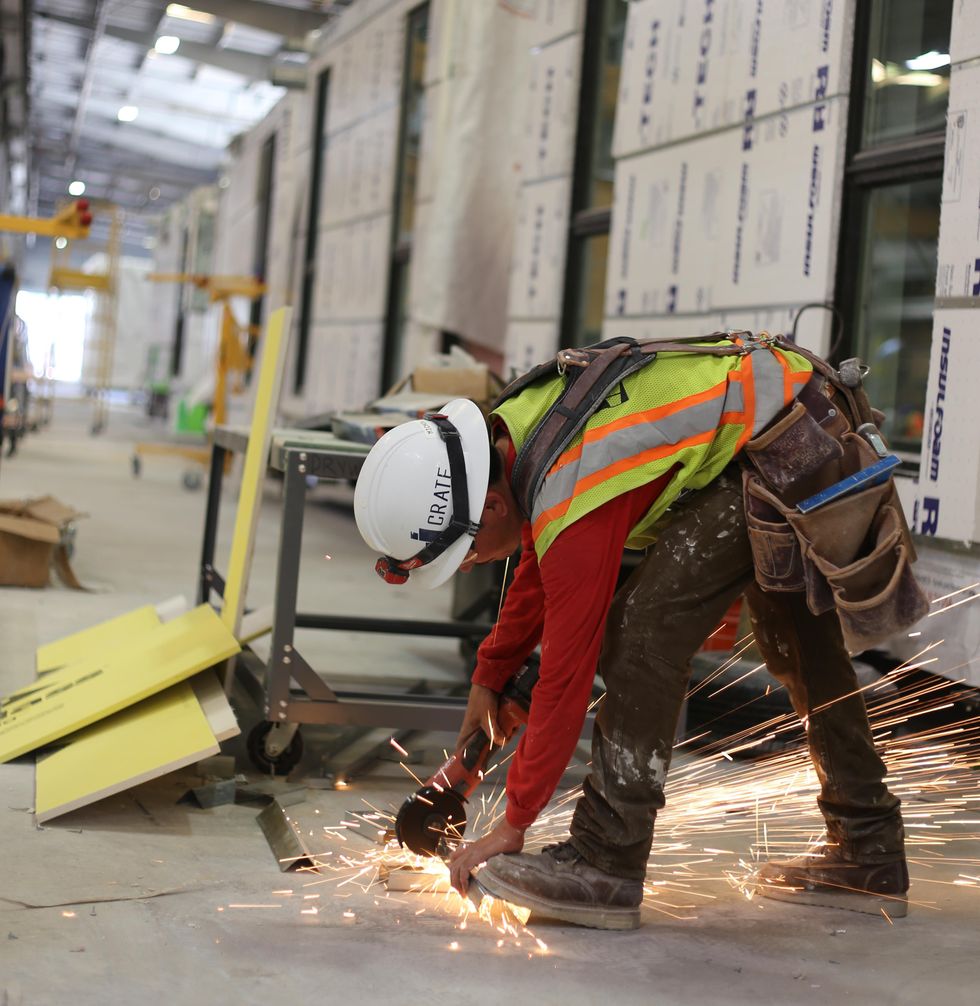 man at work at CRATE Modular Photo by Decerry Donato
Currently, using their new development method, it takes roughly seven days to build a module. But according to Rozycki, the company's goal by the end of the year is to get to a point where they are building three modules a day, with hopes of building four to five modules a day in 2023. In that sense, Rozycki says, "we're doing for the building sector what Henry Ford did for automobile production."

Decerry Donato
Decerry Donato is a reporter at dot.LA. Prior to that, she was an editorial fellow at the company. Decerry received her bachelor's degree in literary journalism from the University of California, Irvine. She continues to write stories to inform the community about issues or events that take place in the L.A. area. On the weekends, she can be found hiking in the Angeles National forest or sifting through racks at your local thrift store.