givingli
givingli
Six Los Angeles-based startups demoed apps spanning digital health care to a digital wine marketplace during Snap's Yellow Accelerator demo day.

The 14-week program — this year completely virtual — comes with a $150,000 investment to companies at the intersection of tech and creativity. It concluded Thursday with presentations from each founder team.
Here's what the L.A. companies have been up to since joining the program:
Elly Health, a digital health startup for patients with chronic disease, closed a $1.3 million pre-seed round led by Bayer, Google, Morgan Stanley and Snap. It's also in talks with pharmaceutical companies Johnson and Johnson and Bristol Myers Squibb about partnerships. The app was created by Simon Holland and Nikhil Pooviah, a former cancer doctor whose father struggled to sift through the piles of information about Parkinson's when he was diagnosed with the disease.
Pooviah's solution was a "smart content platform" delivering guided meditations, workout routines and clinician classes through a voice named Elly. The company licenses its platform and the API to life science companies at a monthly fee.
Buying gifts: it's stressful, time consuming and sometimes wasteful. Nicole Emrani Green and Been Green co-founded Givingli, a platform for sending gift cards and digital greeting cards designed by independent artists. The startup is wrapping up a $4 million seed round to build its platform for iOS, Android and desktop users.
Karla Valdivieso founded Kargoo for online shoppers in Latin America looking to purchase goods abroad. The company, founded in 2018, is raising a seed round for its platform that lets users "rent" the extra space in a traveler's suitcase. It connects buyers with verified gig-workers fulfilling deliveries via Kargoo's order tracking platform. The startup boats 16,000 users and a retention rate of 98% — and product requests have only grown during the pandemic.
Santa Monica-based StarNews helps video creators in Africa monetize content through a paid subscription platform offering a cheaper alternative for users online.
"Hundreds of millions of consumers are eager to enjoy this local content but they cannot because mobile data is still very expensive and so are high-end smartphones," said founder and CEO Guy Kamgaing.
StarNews has inked deals with pan-African mobile operators MTN and Orange as well as formed content partnerships with Sony and Universal. The company has closed a seed round and plans to raise a bridge round of up to $2 million by July.
Popcrn's social platform connects freelance creatives to clients and collaborators. About 75% of freelancer photographers use social media to display their work, a survey from the company found. But the process of booking sessions and managing payments remains piecemeal and unorganized, CEO Allan Muteti said.
Muteti has eyes on the $20 billion freelance market, specifically L.A. creatives working in photography, graphic design and modelling. The company — which is currently raising a $500,000 pre-seed round — takes a 10% cut of each in-app booking and down the line plans to sell a premium subscription.
Josh Entman calls himself "wine's biggest fan."
"I'm the friend you call when you're looking for undiscovered, value-driven wines that drink like they're two to three times the price," said the founder of Vinohead, a digital media platform for millennial and Gen-Z wine drinkers.
The app offers a mix of reviews, recommendations, guides and meetups for digital-savvy users to rate and purchase wine — what Entman labels an "e-comm media channel."
This article has been updated to reflect Elly Health's potential pharmaceutical partnerships.

From Your Site Articles
Related Articles Around the Web
Nine-second news stories, podcasts designed for road trippers and digital companions for those suffering from a chronic illness. These are some of the ideas behind the latest cohort accepted to Snap's Yellow Accelerator.
The nine companies chosen will each receive $150,000 and participate in a 14-week curriculum to help develop their businesses. The program will culminate in late April with a demo day.
Launched in 2018 and now on its fourth class, Snap's accelerator targets companies at the intersection of tech and creativity. It's part of Snap's Yellow program, a strategy to connect the Santa Monica-based company to players working in adjacent industries like entertainment, ecommerce and mobile apps.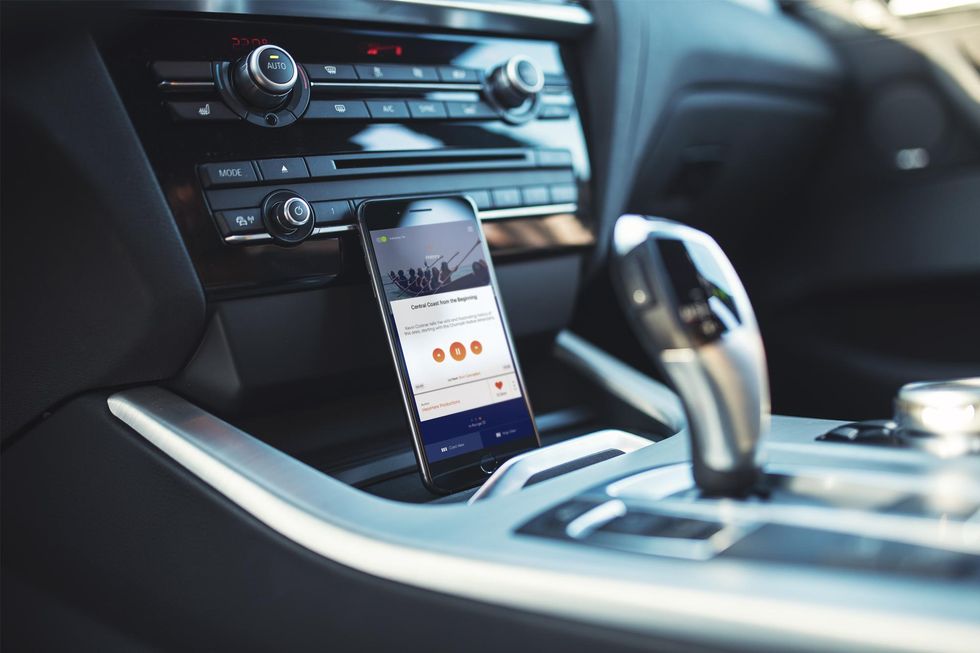 Mobile entertainment app HearHere tells roadtrippers stories about the places through which they pass.
This new cohort will be 100% remote. Five of the nine companies are run by founders of color, Snap said.

Elly Health: The L.A.-based digital health app is focused on supporting patients with chronic conditions. Users receive mobile content tailored to their physical issues like daily meditations, exercise routines, symptom management tips and psychosocial support. Founded in 2019, the company has backing from Google and Bayer.
Givingli: Conceived after planning their 2017 wedding, Nicole Emrani and Ben Green founded this L.A.-based gift-giving company to facilitate customized, digital greeting cards and e-gifts. Givingli also participated in Snap's most recent Yellow Collabs programs, for which it developed a Snap Mini app that lives in Snapchat.
HearHere: Launched in August 2020, this mobile entertainment app tells roadtrippers stories about the places through which they are traveling. With 3,500 stories at launch, focused on the United States' southern and western regions, the company plans to publish more 10,000 stories from across the U.S. in 2021.
Kargoo: Helping users shop online in foreign markets by connecting them to travelers who fulfill the delivery, either by bringing it directly to the user or via Kargoo. This L.A.-based company founded in 2018 uses a network of verified gig-worker travelers and offers a tech solution for order tracking.
Popcrn: An L.A.-based professional marketplace designed for models, stylists and film specialists. Users can showcase their creative portfolio; publish projects and find collaborators; and follow other creators, brands and industries for inspiration.
StarNews: This company aims to unlock Africa's mobile video market. With offices in Santa Monica and South Africa and distribution and marketing partnerships with pan-African mobile operators like MTN and Orange, StarNews connects celebrities, brands and content makers with the tens of millions of youth across Africa.
Vinohead: A wine newsletter aiming to become a lifestyle brand geared toward Millennial and Gen Z wineheads. It provides reviews and recommendations, and hosts meetups and events to help younger vinophiles discover, experience and purchase wine.
Volv: A media company that provides nine-second articles using a combined human + AI approach with a goal of removing all hints of bias, Volv aims to make reading the news "as easy as swiping on Tinder." The L.A.-based media company founded in 2019 is now expanding beyond news into other categories as well, like cryptocurrency and mental health.
Waffle Journal: A platform for group journaling, designed to help long-distance families and friends stay connected by sharing their thoughts and milestones in writing with each other.
Clay Weishaar and his sneaker-freaker colleagues designed Dropr, an AR app to recreate the experience of camping out overnight to score a pair of limited-edition kicks. Working with developers and engineers from Snap, they then gamified the experience and added a social component to help make it go viral.

Dropr debuted today alongside eight other companies' new products, all of them developed in conjunction with Snap as part of the company's inaugural Yellow Collabs program.
Snap has previously run three Yellow Accelerator programs, geared toward early-stage companies. In October, it launched Yellow Community, a year-round virtual and in-person (eventually) events circuit for L.A. entrepreneurs. Collabs augments these efforts to connect Snap with external minds and ideas.
The new program focuses on more established companies and helps Snap keep its finger on the pulse of innovation outside the company's walls. It also helps Snap distinguish itself from other social media companies – not only by creating new features for users, but by spreading recognition of Snap's development tools among external developers and designers who can use them for their own projects and companies.
Collabs began on September 21, with a cohort of companies creating games, experiences and other features that integrate with Snap. These integrations can live inside or outside the Snapchat app, and sometimes both, as when a user is ushered between two apps. Some integrations rely on Snap's developer tools, many of which were first announced at Snap's 2020 Partner Summit this summer.
The program focused on supporting companies using the following Snap integrations:

-Snap Minis: small apps that live within Snapchat, with no extra installation required
-Dynamic Lenses: augmented reality (AR) overlays – which Snap calls lenses – that respond to dynamically generated inputs, such as a user's location
-Scan: Computer vision technology that can match what a camera sees with relevant lenses
-SnapML: Lenses designed with machine learning neural networks
-Snap Kit: A wide suite of additional developer tools
The nine companies in the 13-week remote Collabs program worked with Snap employees and executives on product development, design and strategy. Five of the nine companies in this first cohort are based in Los Angeles.
Snap did not provide official applicant numbers, but said the "overwhelmingly positive" response has validated its approach of finding "companies with big ideas for how to leverage the Snap platform to create incredible experiences with the help of some of ours."
Introducing the Nine Projects from Snap's First Yellow Collabs Program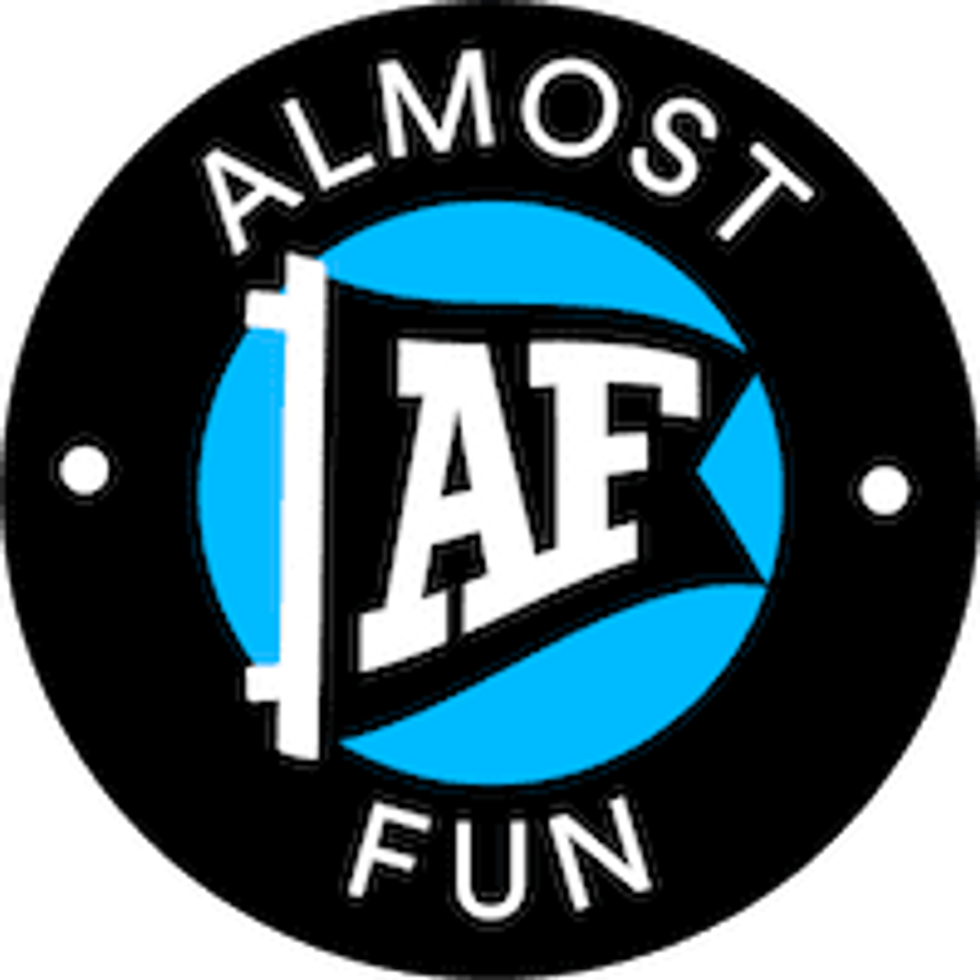 A nonprofit that provides culturally-relevant, interactive educational resources for BIPOC and low-income students

Snap Integration: A Snap Mini designed to support users' learning, either individually or in groups with friends in their Snapchat network
A Venice-based creative studio focused on using AR, ML and other tech to help brands engage fans through virtual experiences
Snap Integration: Integrates Snap's dynamic lens into its app, Dropr, which is meant to digitize fashion product-drops through AR try-ons and gamify the experience through challenges that unlock new items
"They were able to coach me on how people engage with Snapchat and the camera to create a better product," said Fake Artists co-founder Clay Weishaar, who is also one of Snap's official Lens Creators. "Originally it was just a virtual try-on...but Collabs helped us come up with gamified try-ons and using unlock mechanisms to reward people, which all comes together in this sharing loop that can reach millions of people."
The next step for Weishaar is to move from a dynamic lens Snap-integration that takes users back and forth between Dropr and Snapchat, and instead use Snap's Camera Kit to fully embed the experience into Dropr.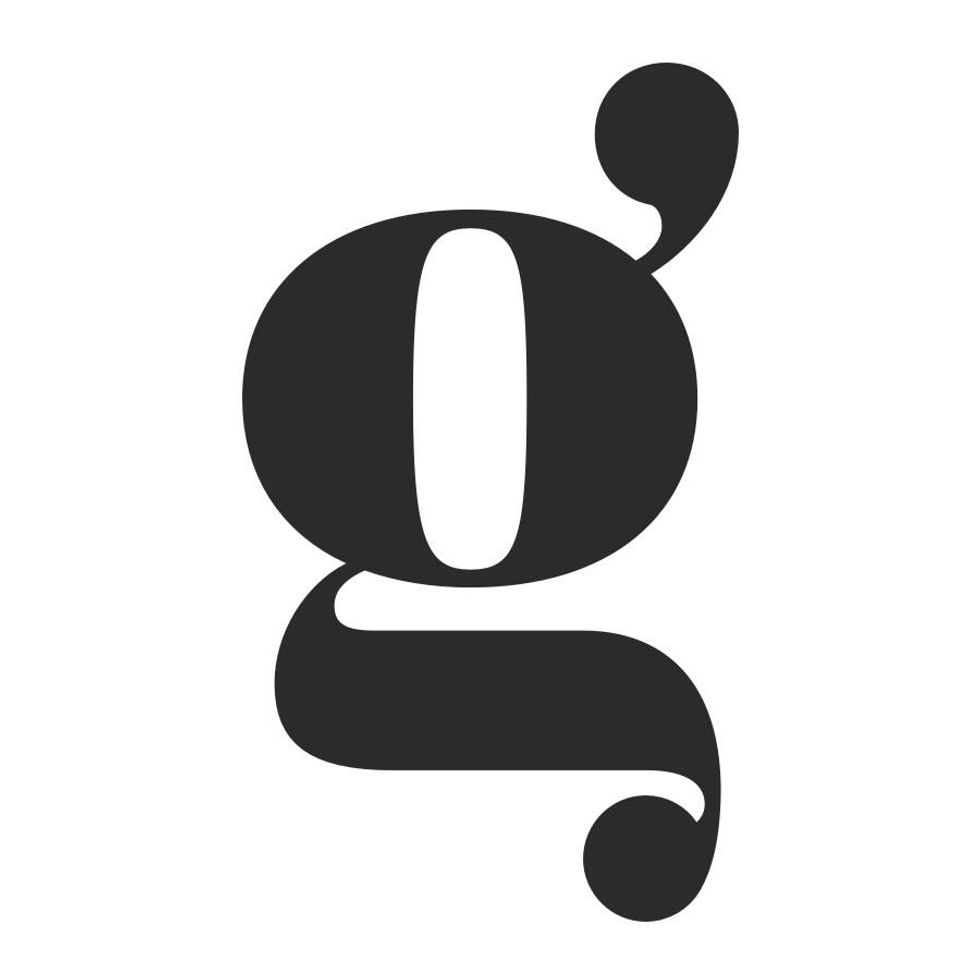 An L.A.-based gift-giving company for digital greeting cards and e-gifts
Snap Integration: A Snap Mini that helps Snapchat users share expressive greetings, celebrate special occasions and connect through giving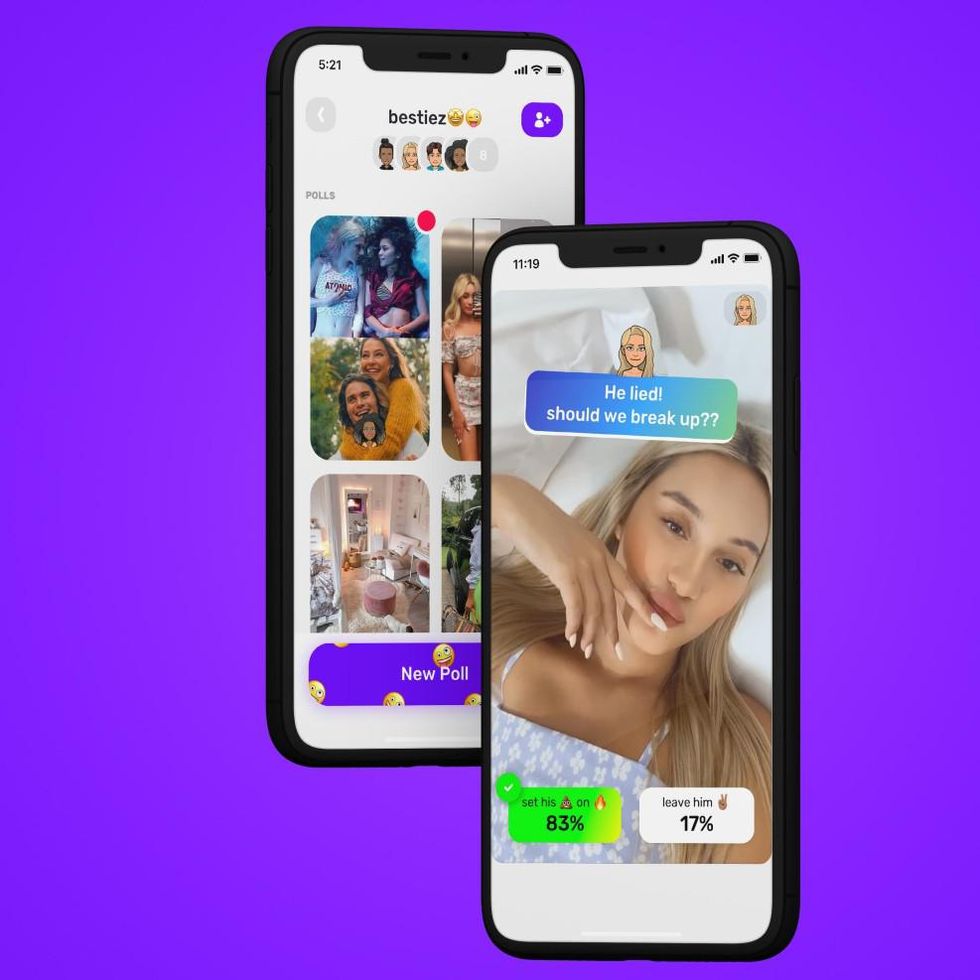 An L.A.-based social polling app, which helps groups of friends make everyday decisions
Snap Integration: Using Story Kit, one of the developer toolkits within Snap Kit, users on Snapchat and NewNew can create decision-making polls to turn their Snapchat messages into interactive content
"There was a real genuine interest in what we were building," NewNew co-founder Courtne Smith said. "They had a lot of questions and they were really interested to know how we were thinking about our products. I think they could see an immediate synergy between us and them."
"Collabs gave me insight into the inner workings of Snap and how they make decisions and what their values are," she continued. "They were really eager to teach us as much as possible...It's not every day that you get to pick the brains of people who work at these companies and do so so openly and freely."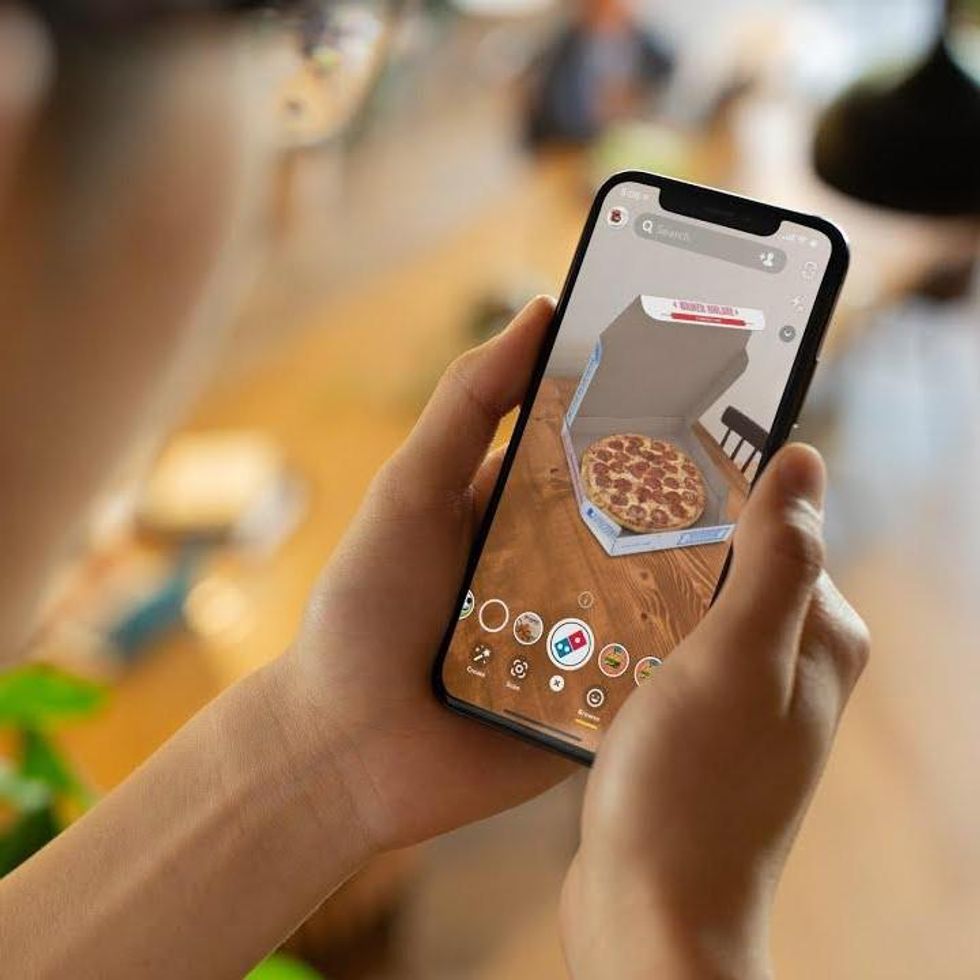 Helps companies market and sell products through 3D and AR content with a focus on food, furniture and fashion
Snap Integration: Uses Snap's dynamic lens to import running workout data from a user's phone into a Snapchat lens, meant to help exercise apps and brands create marketing campaigns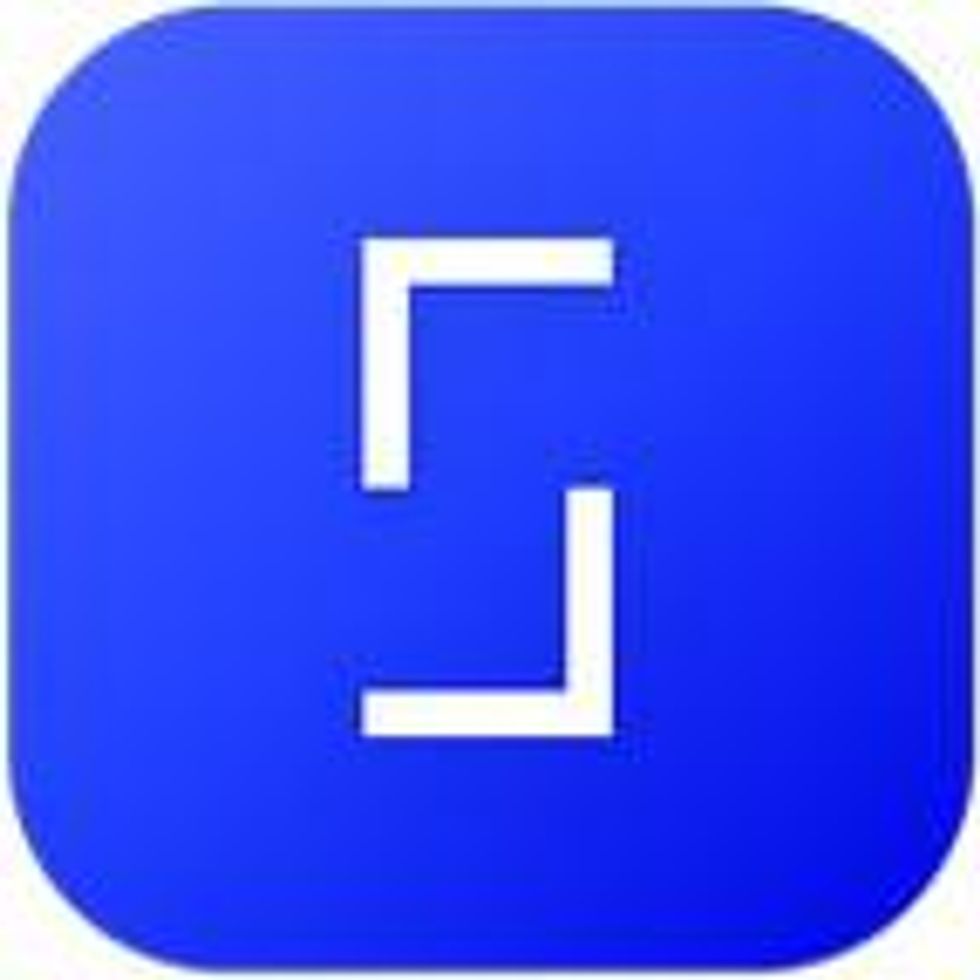 An AI-based mobile app that helps users develop their creativity through tools like AR-assisted drawing and photo-editing
Snap Integration: A new tool that allows SketchAR users create and share their own AR lenses.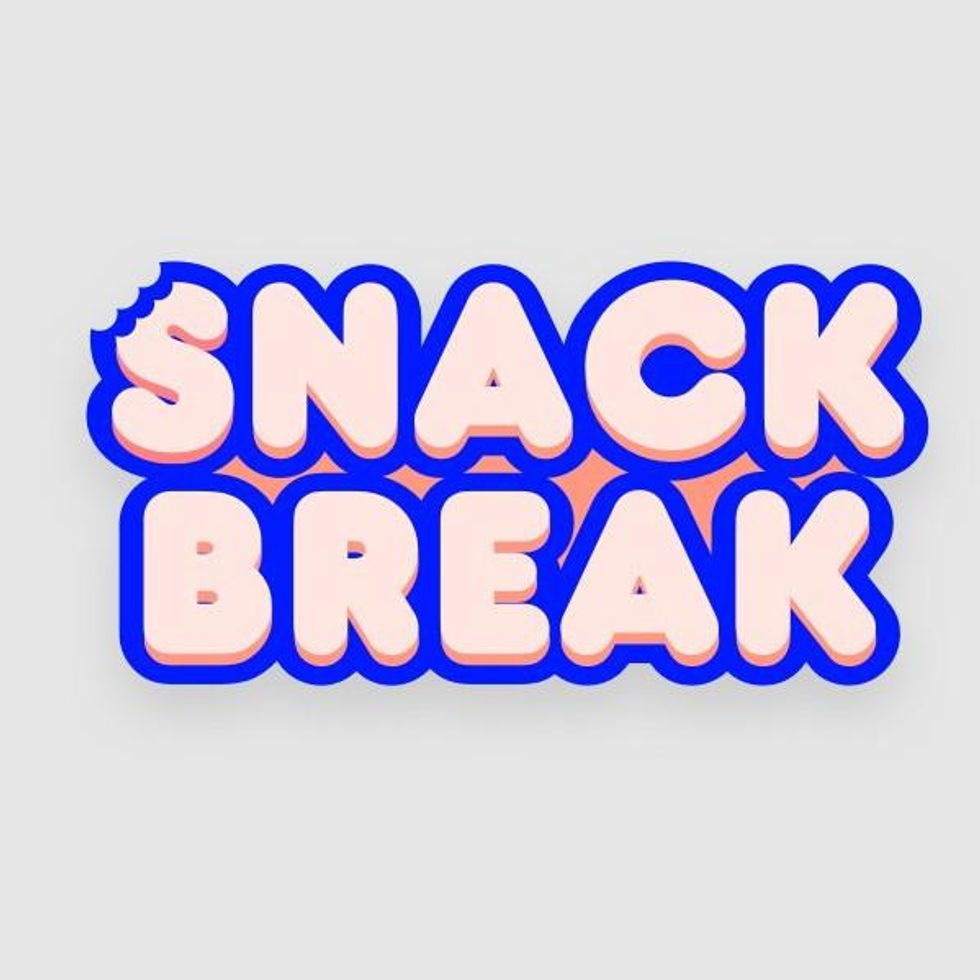 An L.A-based app-building company that focuses on "bitesize" communication to create shared experiences

Snap Integration: Arteest, Snack Break's newest app, uses Snap's dynamic lens to allow users to make drawings based on a friend's suggestions, then share their creations on Snapchat.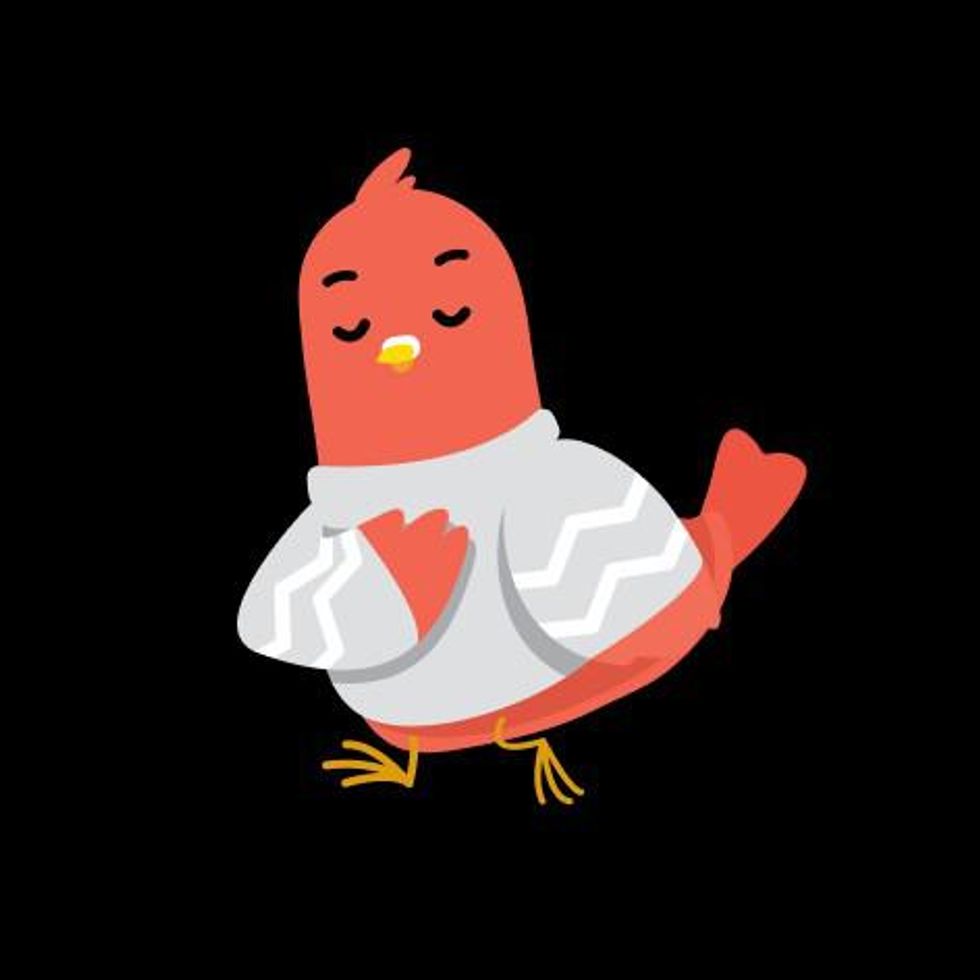 A social video studio that helps users to discover, remix and share video and gif memes
Snap Integration: A Snap Mini that enables users to share, edit and react to video and gif memes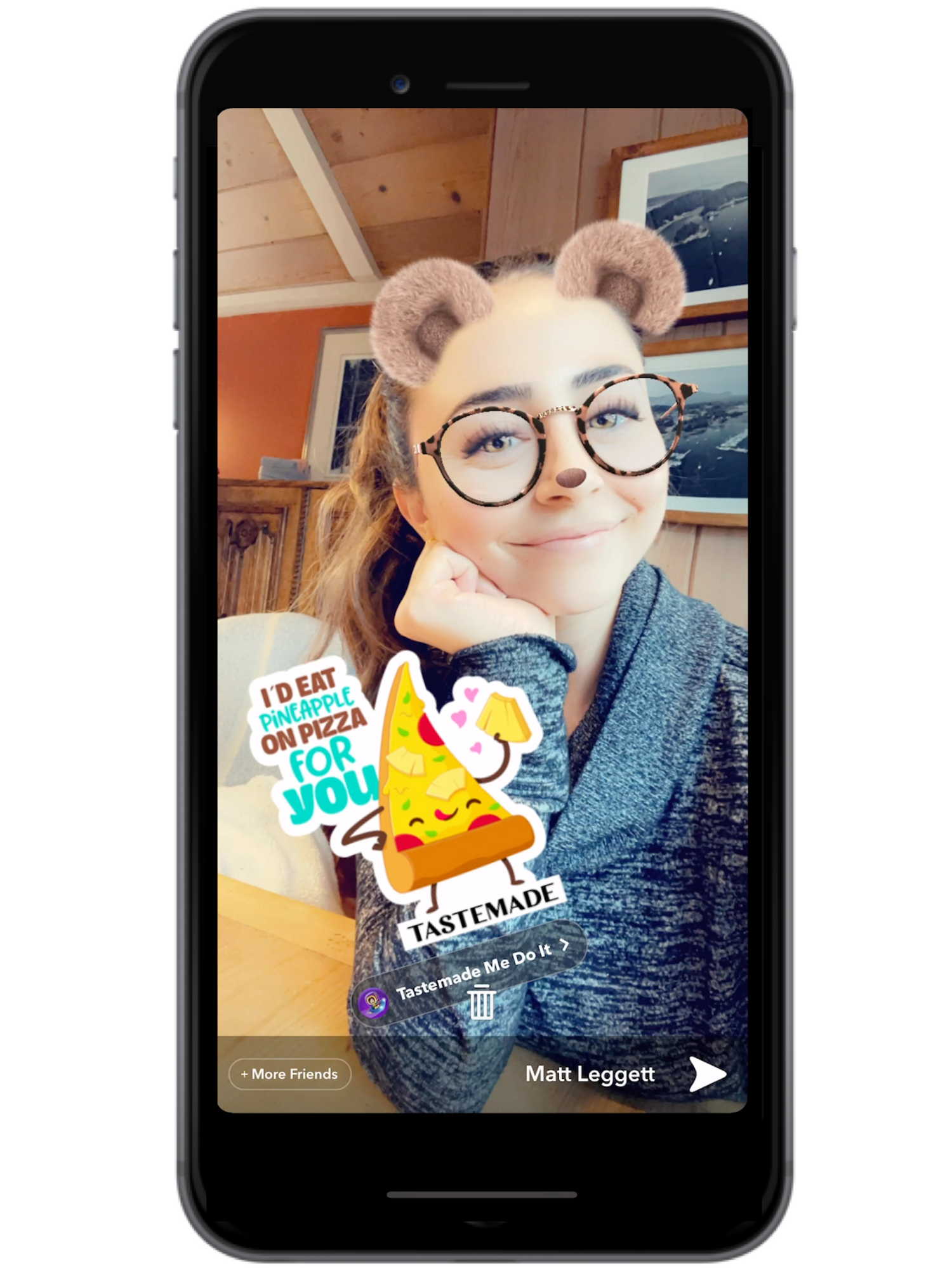 An L.A.-based media company focused on food, travel, and home & design content; it reaches 300 million monthly viewers and has been working with Discover, Snap's curated content platform, since its launch in 2015
Snap Integration: A Snap Mini, "Tastemade Me Do It", that offers weekly recipe and DIY challenges, along with polls and stickers that users can share with friends
"We really see this as a huge opportunity to grow our audience and build an even bigger business through Snapchat," said Tastemade general manager of social, Lauren Arso.
"We love the work we do on Discover, and with the Mini platform, we were excited that we could have a little more control over the experience," she continued. "We're also working with the Snap team to create new ways to connect the Discover platform with the Mini platform."
Snap's Yellow ecosystem is now comprised of three programs – Collabs, Accelerator, and Community – but the company's developer and integration tools are not limited to program participants; most are available via a quick application process.

---
Sam Blake primarily covers media and entertainment for dot.LA. Find him on Twitter @hisamblake and email him at samblake@dot.LA

From Your Site Articles
Related Articles Around the Web