Snap Beats Wall Street's Q1 Expectations, Aims to Expand AR Use Globally
Sam Blake
Sam primarily covers entertainment and media for dot.LA. Previously he was Marjorie Deane Fellow at The Economist, where he wrote for the business and finance sections of the print edition. He has also worked at the XPRIZE Foundation, U.S. Government Accountability Office, KCRW, and MLB Advanced Media (now Disney Streaming Services). He holds an MBA from UCLA Anderson, an MPP from UCLA Luskin and a BA in History from University of Michigan. Email him at samblake@dot.LA and find him on Twitter @hisamblake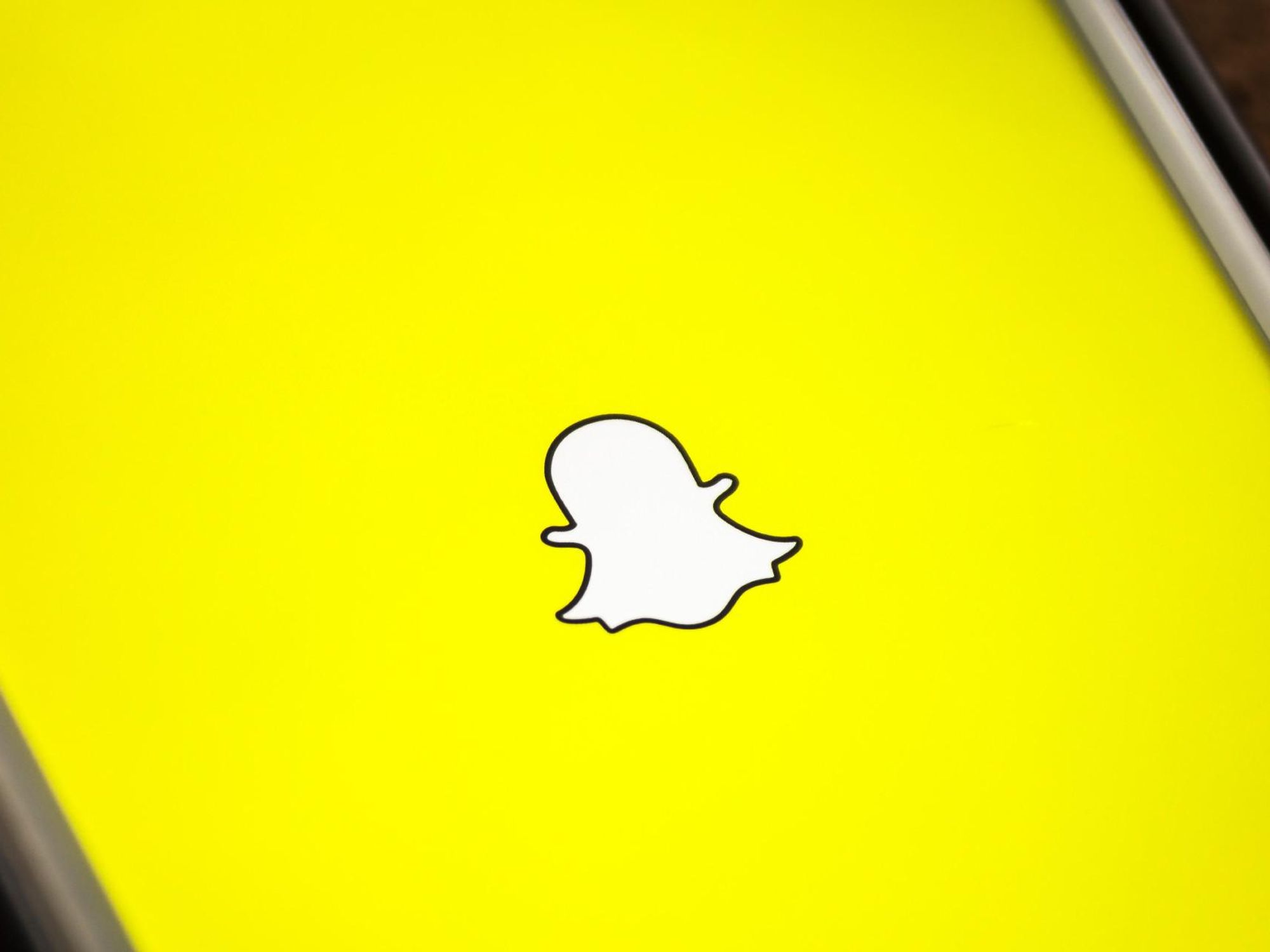 Snap grew faster year-over-year in the first quarter this year than it has in any of the previous twelve quarters, in terms of both revenue and users.
In its Q1 earnings call, the Santa Monica-based company — Snapchat's parent company — reported its daily active user count grew to 280 million, up 22% year-over-year, while revenues increased 66%, to $770 million. Both figures surpassed Wall Street's expectations.
---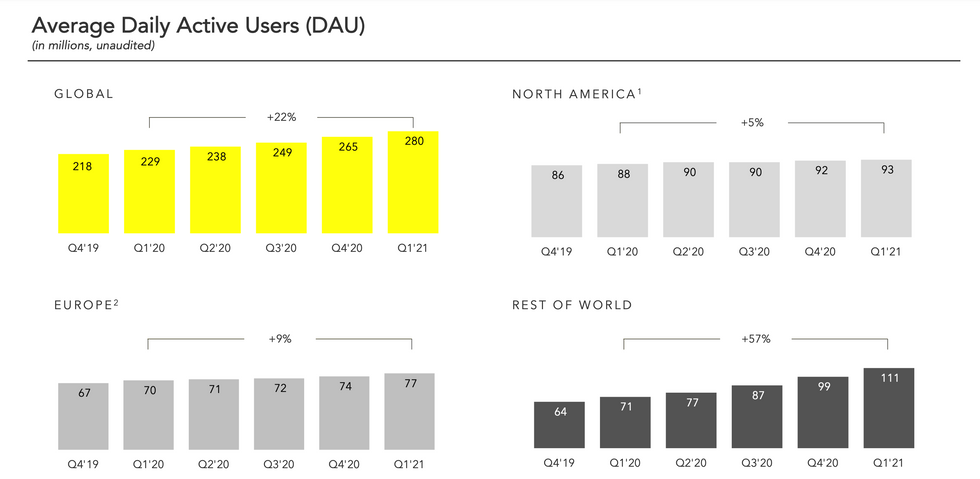 Snap's daily active user count grew to 280 million, up 22% year-over-year.
In the near term, Snap expects to be able to drive further growth with advertisements that appear in between the disappearing messages that Snapchat users send to each other, and alongside the curated content they watch on Snapchat's Discover platform.

But Snap's big bet is on augmented reality. Executives provided details Thursday on the company's AR strategy. In essence, Snap is aiming to grow AR within and outside its flagship app, building awareness and interest among users and advertisers, and ultimately driving them to spend time and money on the app.
One pillar of that strategy is to incorporate its AR technology into external companies' products, through Camera Kit and Lens Studio, two of its software development kits.
"We are excited to expand our AR capabilities to the Samsung native camera on the latest Galaxy A series, which extends the reach of lenses to a much larger global audience," chief executive Evan Spiegel said in prepared remarks Thursday.
The company also said that, for the first time, a majority of its users used the Android version of its Snapchat app. That's partly a reflection of the company's disproportionate growth in markets outside of North America and Europe, where Android phones are far more popular than the iPhone.
In March, 125 million people used Spotlight, the TikTok-like video curation feature Snapchat launched late last year.
"We are also expanding the reach of Lens Studio through partners like Moj, one of India's top short video apps, who leverage our augmented reality platform by implementing CameraKit in their own application," Spiegel added.

As to how this ultimately benefits Snap, Spiegel said, "the more that we can extend augmented reality into different cameras and other services that people use, the more they can try it out, find out how fun it is, realize the power of augmented reality and then ultimately hopefully come to Snapchat for a much bigger selection of our lenses and to really engage with our entire lens creator community."
That speaks to the other pillar of Snap's strategy, which is its community of "lens creators." These creatives often receive early access to AR tools, training and support, through Snap's Yellow Collabs program and others.
"It's still very, very early for augmented reality advertising and for businesses as a whole to understand how it can really drive results for them," Spiegel said. "One of the ways that we're [driving businesses' familiarity with AR] is helping to connect them with creators. There are now thousands and thousands of people around the world making incredible AR experiences and they can work very closely with brands to bring their ideas to life."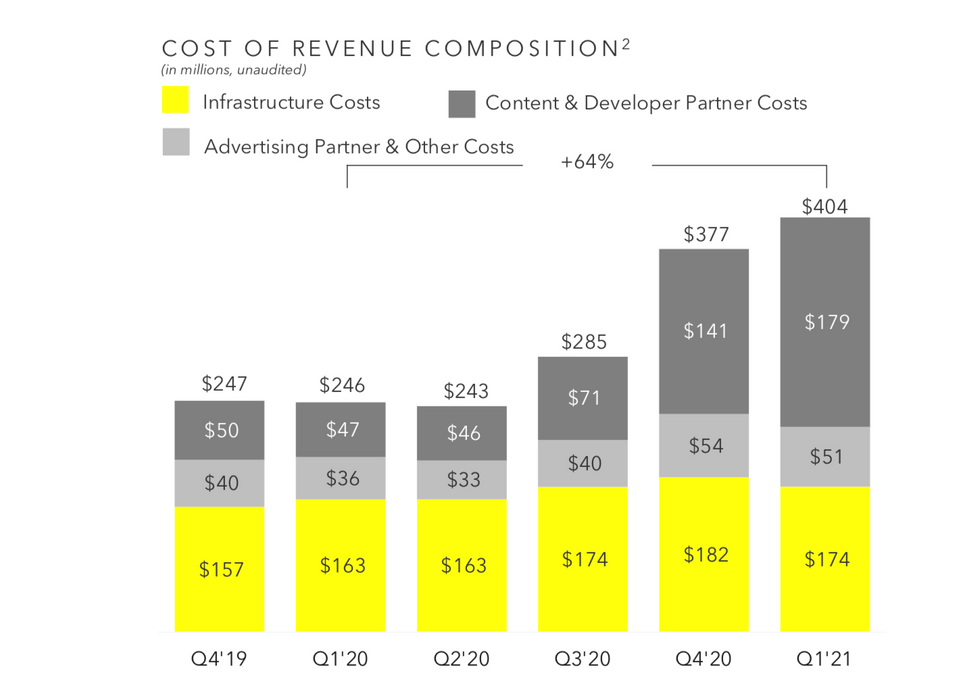 Snap, Inc. has been spending big to develop its partner and creator community.
Chief Business Officer Jeremi Gorman said the pandemic has forced businesses to be more open to experimenting AR advertising, and added that features like virtual try-ons can help reduce the likelihood of product returns. Snap acquired FitAnalytics in March to help users find the right-sized clothing, remotely, and on Thursday announced its intentions to double-down on fashion-oriented AR.

"What we are focused on is tailoring our solution for apparel and accessories, as it's the largest shopping category, by far, among U.S. teenagers," Gorman said.
Gorman also said Snap sees further AR opportunities for brands in many other industries, including travel, entertainment and automotive.
"As shopping online continues to accelerate, we just believe there's a massive untapped opportunity for AR," he added.
Snap, which launched in 2011 and went public in 2017, is still not profitable. It has reduced its quarterly losses, however, to $286.9 million in the first quarter compared to $305.9 million in the same period last year.
Snap executives have previously gushed at the possibilities of blending AR advertising with its Map feature, which Chief Financial Officer Derek Anderson has called a "multibillion dollar opportunity."
Further on the horizon, Spiegel said he sees Snap's AR ambitions extending beyond the confines of a smartphone. Rumblings have emerged that Snap, along with Facebook and Apple, have been investing in AR hardware.
"The promise of augmented reality is that you can interact with computing in a way that's similar to how you interact with the physical world around you," Spiegel said. "As we think about the future of our platform overall, experimenting with hardware informs that software roadmap and helps us think about what we need to be building over the next several years as we work towards this vision for a new hardware platform that brings AR to life in a totally different way."
Since the first quarter of 2020, Snap has grown its user base outside of its two key markets by 57%, compared to 9% in Europe and 5% in North America. Monetization in these international markets is weaker, however, with revenues having grown 46% over the same time period, compared to 49% in Europe and 75% in North America.
Shares were up as much as 6.5% in after-hours trading, following a slight dip earlier in the day.
Sam Blake
Sam primarily covers entertainment and media for dot.LA. Previously he was Marjorie Deane Fellow at The Economist, where he wrote for the business and finance sections of the print edition. He has also worked at the XPRIZE Foundation, U.S. Government Accountability Office, KCRW, and MLB Advanced Media (now Disney Streaming Services). He holds an MBA from UCLA Anderson, an MPP from UCLA Luskin and a BA in History from University of Michigan. Email him at samblake@dot.LA and find him on Twitter @hisamblake
https://twitter.com/hisamblake
samblake@dot.la