film production
Streaming is sidelining TV pilots. That's one of the findings in a pair of new reports released Wednesday by the nonprofit that manages most of L.A. County's film-permitting process.

The reports document the pandemic and how the rise in streaming services is changing the film-production world and challenging California's place in it.
The percentage of scripted TV projects that have foregone a traditional pilot episode and instead gone "straight-to-series" (STS) has skyrocketed, from 6% in 2012 to 66% in 2020. That's a trend largely driven by streamers, who distributed nearly 90% of their 2020 projects using that model, compared to 76.3% for cable and 15.3% for broadcast.
"We've been told (streamers' projects) get vetted a lot more heavily upfront," said the nonprofit FilmLA's president, Paul Audley. That, alongside streaming's rise, has ushered in the shift away from shooting a pilot and then shopping it to buyers.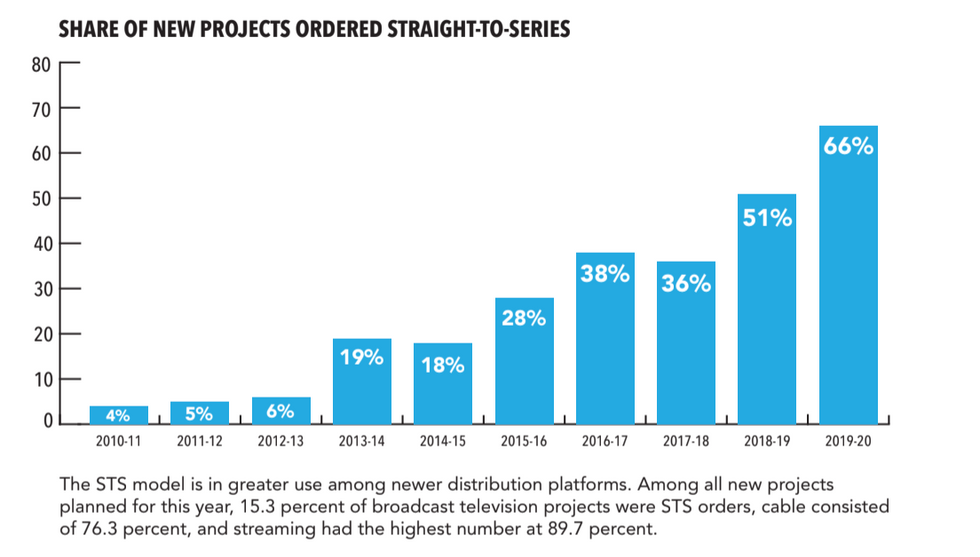 Data and graphic from FilmLA
And for the second straight year, streaming made up the largest portion of scripted-TV projects. Of the 215 total such projects in FilmLA's 2020 cycle, streaming led the way with 97 projects, up 27.6% from 2019. Scripted cable projects rose 11.3% to 59, while broadcast fell 11.9% from 67 to 59. 2019 was the first year streaming projects eclipsed broadcast, and that margin has now widened.
California retains its spot as the top location for new scripted-TV projects. But there is increasing competition from other suitors trying to lure Hollywood productions. In 2018, the Golden State hosted 52.4% of scripted-TV projects. That fell to 43.1% in 2019 and further to 41.1% in 2020.

The state is still king when it comes to streaming, but its overall share is steadily falling. California hosted 29 new scripted projects last year, compared to Canada's 24 and New York's 17. Georgia, which has made a play for Hollywood's films, only hosted six scripted productions.
Last year was the bleakest year on record for production in the nonprofit FilmLA's 25-year history. After a nearly three-month pandemic-induced shutdown, film and TV production in L.A. returned slowly in 2020 under new restrictions. Those rules extended shooting timelines but limited what could be produced, cutting on-location shooting days in L.A. County 48% year-over-year, according to a new year-in-review report from the nonprofit.
Still, there were some bright spots, including the re-emergence of reality television. In the last quarter of 2020, overall television production days rose 6% year-over-year, with reality TV leading the way with a 93% increase from 2019. That's a reflection of reality's simpler production requirements compared to scripted shows, which make it easier to adhere to public health and industry guidelines.
Scripted television, on the other hand, plummeted. Drama shoot-days in 2020 fell 45.8% year-over-year, and comedy dropped 75.9%. Those figures likely underestimate the damage, because of FilmLA's methodology. The organization measures production volume by shoot-days; but due to the new health and safety protocols, Audley said productions are now requiring more time, meaning it takes more shoot-days to create the same amount of output.
"It's a double-edged sword," Audley said. "One edge is real gratitude that the industry and public health have found a way for the film industry to work at least at some level, because there are thousands of small businesses dependent on this industry and whatever work we can get out is really helpful. The other side is this pandemic has really decimated this industry that has a huge impact on Los Angeles."
From Your Site Articles
Related Articles Around the Web
The Netflix comedy "The Kominsky Method," HBO's "Curb Your Enthusiasm and LIfetime's "You" were some of the few television productions filming in Los Angeles last month.

Production in Hollywood dropped in November for the first time since filming resumed in June partly due to the holidays, the election and, of course, the pandemic.

FilmLA, the nonprofit that issues city permits, is averaging just 39 new production permits a day. That's a 7.6% decrease since October, said FilmLA president Paul Audley.
The dip in activity isn't surprising, he added. Audley said last year saw a steeper decline during November.
This year, he said the film industry is trying to catch up after months of reduced business. He expects a similar slow period to take place in December.
In addition to the television series in production, 40 feature films also began filming in the city including "To Leslie" starring Allison Janney and "He's All That," a remake of the 90s romantic comedy, "She's All That," with TikTok star Addison Rae.
Advertising projects like still photography and commercials still make up the majority of production across the city, accounting for 44% of all issued permits. Feature films followed, representing 25% of permits, and TV production lagged behind with 5%.
Audley said public health officials have not yet added additional restrictions to filming. Talent agencies and guilds in L.A. have set their own protocols for testing and social distancing on site.
"I think it's because they're already under such extreme conditions to operate," he said.
Commercials will likely lead most production this month, Audley said, as those projects are smaller and work on shorter timelines.
Still, he's preparing for a plateau in production until large populations are vaccinated or case numbers across the city begin to improve.
Film and television production in Los Angeles picked up last month, driven by shows such as Netflix's "Dear White People" and Showtime's "Shameless."
But the threat of a second wave of coronavirus has studios worried that the filming uptick — still far below pre-COVID levels — may not last, said FilmLA president Paul Audley.
FilmLA granted 880 film permits in October and received 40 applications daily, a sign that the thorough testing protocols set in place by Hollywood guilds and unions were helping build confidence that the industry could create a safe workplace.
There hasn't yet been one outbreak on set, Audley said, in part due to the new studio safety protocols. But state public health officials could soon suggest that unions and guilds pause production if cases in L.A. County continue to rise.
Overall production still remains just under 47% of what FilmLA would expect under "normal filming conditions."
"When [coronavirus case] numbers start going up...that's where we start worrying that [public health officials] may have to start pulling back on some of the permissions they've given," he said.
A recent jump in transmission rates in Los Angeles County is being linked to essential workplaces, restaurants and places of worship as well as household gatherings. In a press conference Monday afternoon, L.A. Mayor Eric Garcetti said he was concerned about the surge and that an "over exuberant" public could get lax with the prospect of a vaccine around the corner.
It's that "COVID exhaustion" Audley says studios are worried about.
In an effort to set their own protocols, Hollywood entertainment unions passed a set of guidelines around testing which includes protections like paid sick leave and "quarantine pay" if state laws send employees back home.
Meanwhile some studios and production companies, like other industries across the country, have created their own safety procedures that involve partnering with pop-up testing labs.
"They're now beginning an outreach to their employees to remind them that when they're not at work, they have a responsibility to follow pretty much the same rules," he said.
Santa Monica-based Quantgene, a biotech startup that builds on-site lab pods for business, said it has been running tests for two months for one A-list feature film project in Los Angeles. And there's even more demand, said account manager Rachel Strohmeyer.
The company built two mobile labs for unnamed studios in L.A. and will deliver one to a client out of state.
In the meantime, feature film work is picking up.
Last month, local studios started work on films "Soggy Bottom" starring Bradley Cooper and "King Richard" with Will Smith and Dylan McDermott.

But commercials and TV account for the majority of in-person shoots across the city. Ads that filmed locally in October came from brands like Instagram and Uber and retailers including Walmart and Starbucks. Campaigns like Vote Safe California and Get Out the Vote 2020 also shot ads.
"We all need to recognize it's more expensive and takes a lot more time now to produce," Audley said.
He expects the earliest FilmLA would see a return to normal production levels would be late March or early April. But that return is most likely to come in July.
From Your Site Articles
Related Articles Around the Web