film production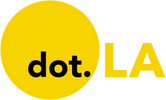 Get in the KNOW
on LA Startups & Tech
X
film production
Photo provided by Gritty In Pink
Shira Yevin's lifelong crusade against a male-dominated music industry began with a pink RV.
After attending the Vans Warped Tour in 2004 and seeing far too few women on the bill, the punk rocker decided to take matters into her own hands: She crashed the tour by parking a pink RV on the campus of Cal State Fullerton and performing on a makeshift stage with her band, Shiragirl. The impromptu show was such a hit that Warped Tour welcomed Yevin back to run an official "Shiragirl Stage," where female-fronted bands—including artists like Joan Jett and Paramore—performed in the following years.
Now, Yevin is taking an entrepreneurial approach to carve out more space for women in music. She's the founder and CEO of Los Angeles-based startup Gritty In Pink, which runs an online "marketplace network" that connects music industry professionals with female talent—from musicians and songwriters to engineers and producers. Having launched in beta earlier this year, the startup's InPink platform lets employers search for talent by skill and demographic.
"Businesses now know they need to find diverse women to hire—but they have no idea where to go to find them," Yevin told dot.LA.
Whether Gritty In Pink can help solve that imbalance remains to be seen—but what's clear is that there's still a huge gender disparity in the music industry that needs addressing. A recent University of Southern California-sponsored study found that there's been little to no improvement over the last decade in the number of women credited as artists, songwriters or producers on popular songs.
"Women's contributions are often dismissed or devalued," according to Katherine Pieper, program director at USC's Annenberg Inclusion Initiative, which conducted the study on women in music. "They're not given the opportunity to work on these songs, or when they are, their work is not being credited to them."
The USC study examined credits for 1,000 songs that landed on the year-end Billboard Hot 100 chart over the last decade. Researchers found that just 23.3% of artists on the annual chart were women in 2021—a marginal improvement from 22.7% in 2012. The report's authors blamed stereotypes around women and their abilities as well as the situations in which they must work, noting women in the music industry are often sexualized by their colleagues.
The music industry is not alone in these dynamics; the film industry has made little progress in addressing its own gender imbalance. Women made up only 25% of all directors, writers, producers, executive producers, editors and cinematographers working on top-grossing films in 2021, according to the latest study by the Center for the Study of Women in Television and Film at San Diego State University. That's an improvement of just 6 percentage points from 19% in 2015, and up only 8 percentage points from 17% in 1998.
"The findings of my research suggest that progress will be slow—evolutionary as opposed to revolutionary," Martha Lauzen, the center's director, told dot.LA.
But just as Gritty In Pink is trying to diversify the music industry's ranks, so are there startups now looking to bring more women into film production. Launched in 2018, L.A.-based Crewvie is a platform connecting film projects with production workers and vendors, with a focus on advancing diversity, equity and inclusion. Crewvie allows talent to create profiles that voluntarily self-identify their gender, race, sexual orientation or disabilities; productions can use Crewvie to hire such talent, track the composition of their crew and use demographic data to ensure they're eligible for awards and tax incentives.
"We see Crewvie as a resource for women and other underserved people to be found," co-founder and CEO Marcei Brown told dot.LA. "So there's no more excuses [like] 'I can't find'—because they're all collected here in one place."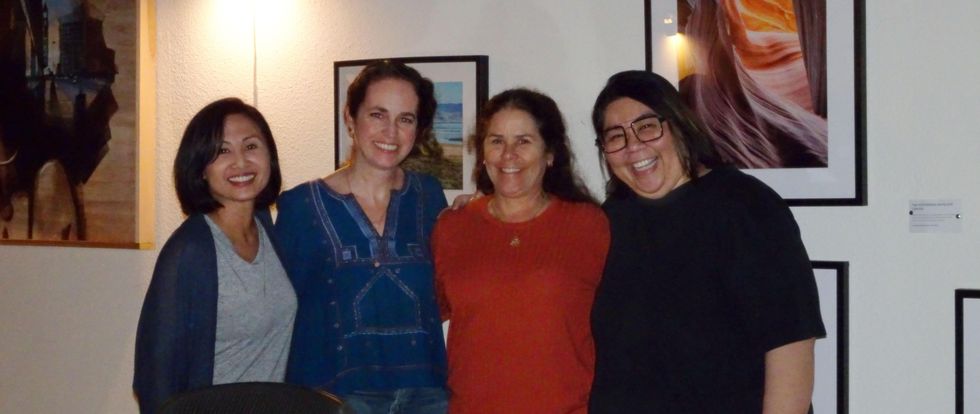 From left, Crewvie founders Sandra Jimenez, Jeanette Volturno, Marcei Brown and Camille Alcasid.Photo provided by Crewvie
Film studio Endeavor Content recently struck a deal with Crewvie to deploy the startup's software across all of its productions. YouTube productions use the platform as well, according to co-founder Jeanette Volturno. Crewvie charges rates ranging from $200 to $1,500 for individual projects, while rates for enterprise clients (such as film studios) depend on the number of people and projects expected to use it.
With less than 10 employees, Crewvie is currently looking to close a seed funding round, with eyes on a larger future funding round to expand the platform into other territories and languages. Crewvie is also considering an expansion into live events like theater productions, as well as a foray into the music industry, Volturno said.
Likewise, Gritty In Pink is still in its "baby stages," Yevin said, having raised $100,000 from Irvine-based Sunstone Management and the Long Beach Accelerator, with plans for a $1 million pre-seed round. The startup can count singer-songwriter Melissa Etheridge, of "Come to My Window" fame, among its supporters; Etheridge recently joined Gritty In Pink as a strategic advisor and has a stake in the company.
It also has dreams of expanding beyond the music industry, Yevin noted. "Our big vision is actually to become the global destination to hire female freelancers in every industry," she said.
Related Articles Around the Web
Streaming is sidelining TV pilots. That's one of the findings in a pair of new reports released Wednesday by the nonprofit that manages most of L.A. County's film-permitting process.

The reports document the pandemic and how the rise in streaming services is changing the film-production world and challenging California's place in it.
The percentage of scripted TV projects that have foregone a traditional pilot episode and instead gone "straight-to-series" (STS) has skyrocketed, from 6% in 2012 to 66% in 2020. That's a trend largely driven by streamers, who distributed nearly 90% of their 2020 projects using that model, compared to 76.3% for cable and 15.3% for broadcast.
"We've been told (streamers' projects) get vetted a lot more heavily upfront," said the nonprofit FilmLA's president, Paul Audley. That, alongside streaming's rise, has ushered in the shift away from shooting a pilot and then shopping it to buyers.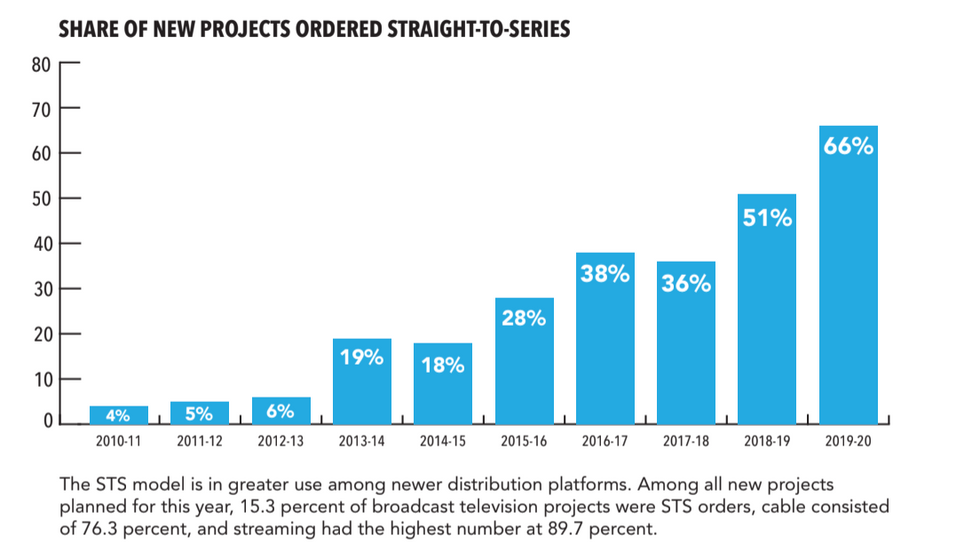 Data and graphic from FilmLA
And for the second straight year, streaming made up the largest portion of scripted-TV projects. Of the 215 total such projects in FilmLA's 2020 cycle, streaming led the way with 97 projects, up 27.6% from 2019. Scripted cable projects rose 11.3% to 59, while broadcast fell 11.9% from 67 to 59. 2019 was the first year streaming projects eclipsed broadcast, and that margin has now widened.
California retains its spot as the top location for new scripted-TV projects. But there is increasing competition from other suitors trying to lure Hollywood productions. In 2018, the Golden State hosted 52.4% of scripted-TV projects. That fell to 43.1% in 2019 and further to 41.1% in 2020.

The state is still king when it comes to streaming, but its overall share is steadily falling. California hosted 29 new scripted projects last year, compared to Canada's 24 and New York's 17. Georgia, which has made a play for Hollywood's films, only hosted six scripted productions.
Last year was the bleakest year on record for production in the nonprofit FilmLA's 25-year history. After a nearly three-month pandemic-induced shutdown, film and TV production in L.A. returned slowly in 2020 under new restrictions. Those rules extended shooting timelines but limited what could be produced, cutting on-location shooting days in L.A. County 48% year-over-year, according to a new year-in-review report from the nonprofit.
Still, there were some bright spots, including the re-emergence of reality television. In the last quarter of 2020, overall television production days rose 6% year-over-year, with reality TV leading the way with a 93% increase from 2019. That's a reflection of reality's simpler production requirements compared to scripted shows, which make it easier to adhere to public health and industry guidelines.
Scripted television, on the other hand, plummeted. Drama shoot-days in 2020 fell 45.8% year-over-year, and comedy dropped 75.9%. Those figures likely underestimate the damage, because of FilmLA's methodology. The organization measures production volume by shoot-days; but due to the new health and safety protocols, Audley said productions are now requiring more time, meaning it takes more shoot-days to create the same amount of output.
"It's a double-edged sword," Audley said. "One edge is real gratitude that the industry and public health have found a way for the film industry to work at least at some level, because there are thousands of small businesses dependent on this industry and whatever work we can get out is really helpful. The other side is this pandemic has really decimated this industry that has a huge impact on Los Angeles."
From Your Site Articles
Related Articles Around the Web
Photo by Jakob Owens on Unsplash
The Netflix comedy "The Kominsky Method," HBO's "Curb Your Enthusiasm and LIfetime's "You" were some of the few television productions filming in Los Angeles last month.

Production in Hollywood dropped in November for the first time since filming resumed in June partly due to the holidays, the election and, of course, the pandemic.

FilmLA, the nonprofit that issues city permits, is averaging just 39 new production permits a day. That's a 7.6% decrease since October, said FilmLA president Paul Audley.
The dip in activity isn't surprising, he added. Audley said last year saw a steeper decline during November.
This year, he said the film industry is trying to catch up after months of reduced business. He expects a similar slow period to take place in December.
In addition to the television series in production, 40 feature films also began filming in the city including "To Leslie" starring Allison Janney and "He's All That," a remake of the 90s romantic comedy, "She's All That," with TikTok star Addison Rae.
Advertising projects like still photography and commercials still make up the majority of production across the city, accounting for 44% of all issued permits. Feature films followed, representing 25% of permits, and TV production lagged behind with 5%.
Audley said public health officials have not yet added additional restrictions to filming. Talent agencies and guilds in L.A. have set their own protocols for testing and social distancing on site.
"I think it's because they're already under such extreme conditions to operate," he said.
Commercials will likely lead most production this month, Audley said, as those projects are smaller and work on shorter timelines.
Still, he's preparing for a plateau in production until large populations are vaccinated or case numbers across the city begin to improve.