fashion tech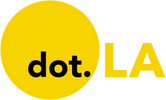 Get in the KNOW
on LA Startups & Tech
X
fashion tech
Courtesy of Brain McDonell.
Brain McDonell didn't have the stereotypical rags-to-riches story.
On this episode of PCH Driven, the Melin Hats co-founder joins the show to talk about losing everything, working when he was young and how he built his company.
With his dad as a successful entrepreneur, an 11-year-old McDonell got to experience family vacations at ski resorts and having family outings in Cabo, Mexico. But that all changed when his father's business went bankrupt and the family was forced to sell off everything.

"I remember going to my parents at one point and saying, I want to go to the movies, and I would just go to them expecting to get some money… And my mom put her head down, she goes, 'We're not going to have money for a while'," said McDonell.
Without totally understanding what had happened, McDonell promised he would never let this happen to his family again; he began hustling.
Today, McDonell is the co-founder of a premium baseball hat company called Melin Hats.
His idea came out of a problem that bedevils baseball cap wearers: the funky smell and sweat stains that accompany heavy use.
"I really want to solve [problems] like the sweat stains and like the product integrity of the shape… that basically we could make the hat stay looking and smelling and feeling new, much, much longer," said McDonell.
Building in features like a moisture-wicking lining that would actually draw the sweat off your forehead.
McDonell said he wasn't always the smartest or most athletic person in the room, but he was always careful with his decisions and did everything possible to reduce risk, including vetting everyone he works with.
"Don't lose the stupid way," he advised. "If the business idea was wrong. Fine. Be judged for that. But don't die off in some random, silly circumstance," said McDonell.
Now a father, McDonell thinks often about what he'd want his own son to learn from him. He acknowledged that making a business will always come with many challenges, but he hopes those will become teachable moments.
"I think just having the aptitude to understand that everything in life is within our control, so long as we're committed to the outcome that we desire, and how [we] treat people."
Subscribe to PCH Driven on Apple, Stitcher, Spotify, iHeart, Google or wherever you get your podcasts.
dot.LA Engagement Fellow Joshua Letona contributed to this post.
Related Articles Around the Web
Photo by Joshua Letona
When you first move to Los Angeles, one of the strangest sights is the blocks-long queues of people waiting patiently to get into a handful of micro-boutiques on Fairfax Avenue, where four doors down from the Supreme store you could go for a nosh at Cantor's Deli.

One line on Friday stretched impossibly long—past the intersection of Rosewood, where it swapped to the other side of the street, young men leaning against the chainlink fences of Walt Whitman High School's football stadium. If you squinted, it almost looked like the line stretched all the way past Melrose, a third of a mile away.
Every single person in line was hoping to get into eBay's three-day sneaker pop-up, Wear 'Em Out. Yes, the "We Sell Your Stuff on eBay" store seen in "The 40-Year-Old Virgin" is now a reality—except for the notable difference that eBay is the one doing the selling, off-platform.
The location's proximity to Supreme doesn't seem like a coincidence; the store's real estate, tiny space and limited selection cultivated an air of exclusivity and scarcity. This can boost hype, but also emboldens entrepreneurial-minded buyers with deep pockets to take advantage of the small supply—snatching up as much stock as possible to resell at a future date.
To combat this phenomena while still trying to stoke the "hype" in hypebeast was the challenge; a "one pair per customer" rule can be enough to thwart some potential buyers from going near the place, while not exactly being the hardest system to game. But Wear 'Em Out had found a different kind of incentive system—offering steep discounts to anyone willing to actually put the shoes on their feet and walk them out the door. The catch was that they'd first have to navigate a short obstacle course of gravel, fake grass and sooty rocks; say bye-bye to the coveted NIB (New In Box) label that bumps shoes up from their retail price to thousands of dollars or more on secondary selling platforms like Grailed, GOAT, StockX, and eBay itself.
"People are treating sneakers like investments," according to Garry Thaniel, eBay's general manager of sneakers. "We love our sellers, but wanted to embrace the idea that everything doesn't have to be a business decision. Sometimes it's just about enjoying them."
Thaniel was wearing a fresh pair of Nike Air Force Ones, a blinding white sneaker notoriously unforgiving to scuff marks. That's kind of the point; growing up in Baltimore, Thaniel recalled, come April or May everyone would show up wearing the pristine sneakers only to see them worn out by the end of the summer. The next spring would bring new shoes, and the cycle began again.
Here's a taste of what was in stock on Friday:
The New Balance 2002R "Protection Pack" in Sea Salt ($385)
A Nike x Travis Scott Air Max 270 "Cactus Trails" collab ($400)
2 different versions of the Yeezy Boosts: a 700 Bright Blue ($355) and the 350 V2 Dazzling Blue ($415).
4 different Air Jordans: Retro 1 "'Cool Grey" 2021, ($335); Retro 6 "UNC White" ($325); 1 Retro High "OG Patent Bred" ($330); 1 Retro High 85 "Georgetown" ($425);
The Union x Nike Dunk Low "Passport Pack - Pistachio" ($650).
Each pair would cost $100 less to wear out the door.
While he couldn't give us any more specifics on the following days' selection, Thaniel told dot.LA that every collection was put together by Offset, he of the popular hip-hop group Migos.
And what did Thaniel think about moving eBay's sneaker game to a permanent brick-and-mortar location, a la Amazon Style's new store on the other side of town in Glendale?
"That would be a great idea," Thaniel mused. "We'd have to talk internally about it." He mentioned that eBay's policy of collaborating with sellers had led to this prime real estate, since they were technically operating in a portioned section of SoleStage's already diminutive interior.
Leaving the store, a scroll through my phone revealed an interesting development: Gucci, the renowned legacy Italian loafer brand, had just opened its first location in the metaverse.
From Your Site Articles
Related Articles Around the Web
Image by Joshua Letona
Starting today, Glendale's most meme-able outdoor mall, The Americana at Brand, will be home to the Amazon Style store—the ecommerce giant's first foray into brick-and-mortar apparel retail. We got an early sneak peak inside the new digs (located on the corner with Sprinkles Cupcakes, next to H&M and the Apple store) and were able to try out some of its tech-enabled features, which—as ever with Amazon—seek to make the act of shopping as easy as possible.
1. It's Bigger Than It Looks—Even From the Inside

The floor is massive—laying out original products from Amazon's own apparel lines alongside name brands like Theory, Adidas and Calvin Klein, as well as several other lines that have up until now only existed online. But the actual store is much larger than the two floors that most customers will only ever see.
Amazon Style is just the front—the homepage, if you will—behind which a large warehouse facility keeps a gigantic surplus of inventory. A floor-to-ceiling glass window on the main floor gives shoppers just a peak behind the scenes, as employees help load industrial-sized elevators with racks of goods to send upstairs to the dressing rooms.
2. Online Shopping IRL

When perusing the store's bouquet of cottagecore maxi dresses, Kendall & Kylie blazers and, yes, a whole section dedicated to Y2K apparel, one doesn't just pick an item off the rack and take it with you while you shop. Instead, each rack has a barcode that you can scan via the Amazon Shopping app, which has your sizes pre-loaded from previous purchases. (You can opt for a different size if you choose.) That cues an AI-enabled algorithm to start searching through the store's warehoused catalog and zip the desired item over to the second floor, where the dressing room provides its own glimpse into the future of shopping.
The store also boasts a version of The Drop, an Amazon staple that allows online customers to shop entire influencer-curated collections for a 30-hour flash window.
3. Changing Stations of the Future—Today
Your phone also acts as your keycard to get into your personal dressing room. To prevent waiting, you are put in a virtual cue the moment you scan your first item; should the Amazon app prompt that your room is ready while you're still shopping, a tap of your screen allows you to hold your spot in the queue while freeing up the room for someone else. (And if your phone dies while you're waiting, Amazon says a Style employee on the floor will be happy to help you keep your place in line, or hook you up with a charge.)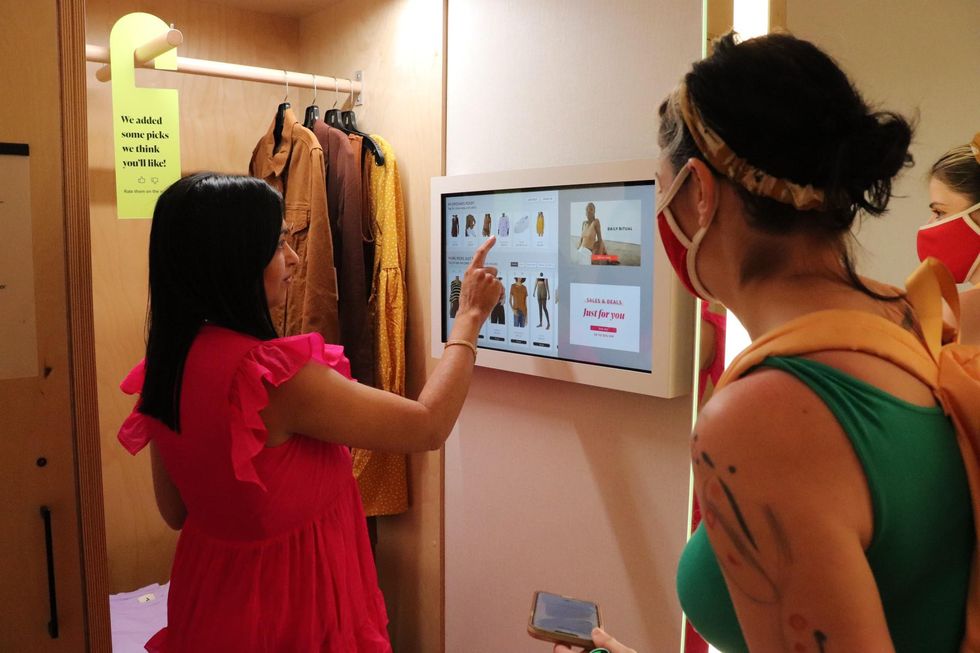 Amazon Style's dressing rooms offer a tech-enabled twist to trying on clothes.Image by Joshua Letona
The changing room is like its own parlor trick. Designed to look like a walk-in closet, one wall has a full-length mirror and a giant touchscreen while another has all the clothes you scanned in your style and size preference. Expect to see a few surprises in there, as Amazon's algorithm picks out other stuff you might want to try on based on your picks. It would be spooky if it wasn't so convenient—an IRL mashup of the online retailer's "Recommended Based on Your Purchases" and "Frequently Bought Together" features.
If an item doesn't fit quite right or you want to see how a skirt looks in blue instead of black, just tap the touchscreen to request a variant. Or an entirely new outfit, as the screen makes available everything in the facility. Then just bring it down to checkout—perhaps the wildest part of this ride.
4. Palming the Bucks
Checking out of Amazon Style's flagship store is what really blew my mind—although apparently it's because I haven't been to one of the Amazon Go, Amazon Fresh or Whole Foods locations where cashless checkouts have been an option in select stores since 2020.
I assumed you could just walk out the door with your purchase, because I watch "Saturday Night Live" sketches for news. While the Go payment option isn't available at Amazon Style, there are several checkout options to keep the experience as frictionless and non-cumbersome as possible.
One way is to take the clothes you want out of the dressing room and go directly to Amazon's palm-enabled checkout kiosks. That's right: Register on the spot for an Amazon One account, and you need merely to wave your hand over a little black device that reads your palm and charges your on-file payment method. It's super convenient for everyone except $10 boardwalk psychics, who just may be put out of business by such technology.
For the more traditional set, you still have the option of paying via credit card or cash.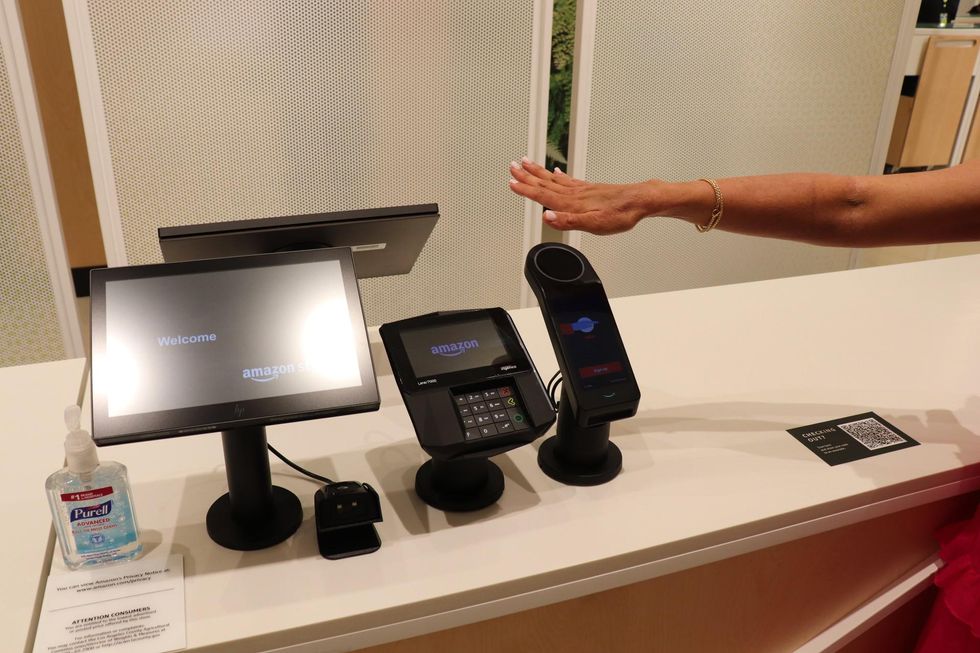 Shoppers can check out of Amazon Style with the wave of a palm. Image by Joshua Letona
5. Supply & Demand & Return
Amazon Style's brick-and-mortar location opens up a variety of new ways to shop, return and exchange clothing. For instance, you can order a load of clothes online and pick them up in the store; anything you don't want can be returned in the store without you ever having to print a shipping label.
See something you like but don't have time to try it on? Just scan the barcode, pick it up at the front of the store and pay on your way out without ever going into a dressing room.
The Amazon Shopping app also boasts a Deals feature, which automatically sorts for the best price on items to help customers either save money (or believe they are).
While Glendale is home to the only Style store so far, Amazon isn't ruling out more locations. With fewer retailers able to afford rents on America's main strips and shopping malls, Amazon's resources—and its unique position at the intersection of tech and retail—make it easy to envision more Style stores on the horizon.
From Your Site Articles
Related Articles Around the Web