fashion
Bitmojis are getting an upgrade on Snapchat with a new 3-D design that rolls out Monday.
Snap Inc. is decking out its avatars with more than 1,200 combinations of poses, gestures and backgrounds like cow prints and beach locations. The new avatars are full-body designs with new "Pixar"-like quality that can be shared on and off the platform.
It comes the same day Snap confirmed that it acquired Culver City-based Vertebrae. The AR and 3-D platform helps brands and retailers translate their clothes and accessories digitally. Terms of the deal weren't disclosed. But both moves illustrate Snap Inc.'s intentions to move further into virtual fashion.

The new avatars show much more detail from stitching on outfits to the sparkle of jewelry. That level of detail could help entice brands. Already, users are able to buy some of the clothes featured on Bitmoji. With the addition of accessories, there is the potential for more revenue sources.
Snap has used Bitmoji, which it acquired from Bitstrips in 2016, as an entry into gaming, merchandise and other areas. The company has used the avatars to partner with fashion brands from Levis to Ralph Lauren. Last year, Snap made a big push into gaming with Bitmoji Paint, a game that lets users collaboratively paint a pixelated canvas. The company also announced last year it was creating Bitmoji TV.
From Your Site Articles
Related Articles Around the Web
Daria Shapovalova and Natalia Modenova want to sell you clothes, but not the type that hangs in your closet.
Their virtual outfits can be cropped into your next Instagram post to make followers think you paid thousands of dollars for a dress designed by Alexander McQueen's nephew.
Their Los Angeles-based digital fashion startup DressX is building a library of designer dresses, sweatshirts and purses that cost far less than the real thing. And, they say, without the environmental cost of production, shipping and waste.
"It's for content creators who don't want to spend additional money on clothes," said Shapovalova, DressX's co-founder. "They can shoot their prerecorded videos for Stories and TikTok just from the camera."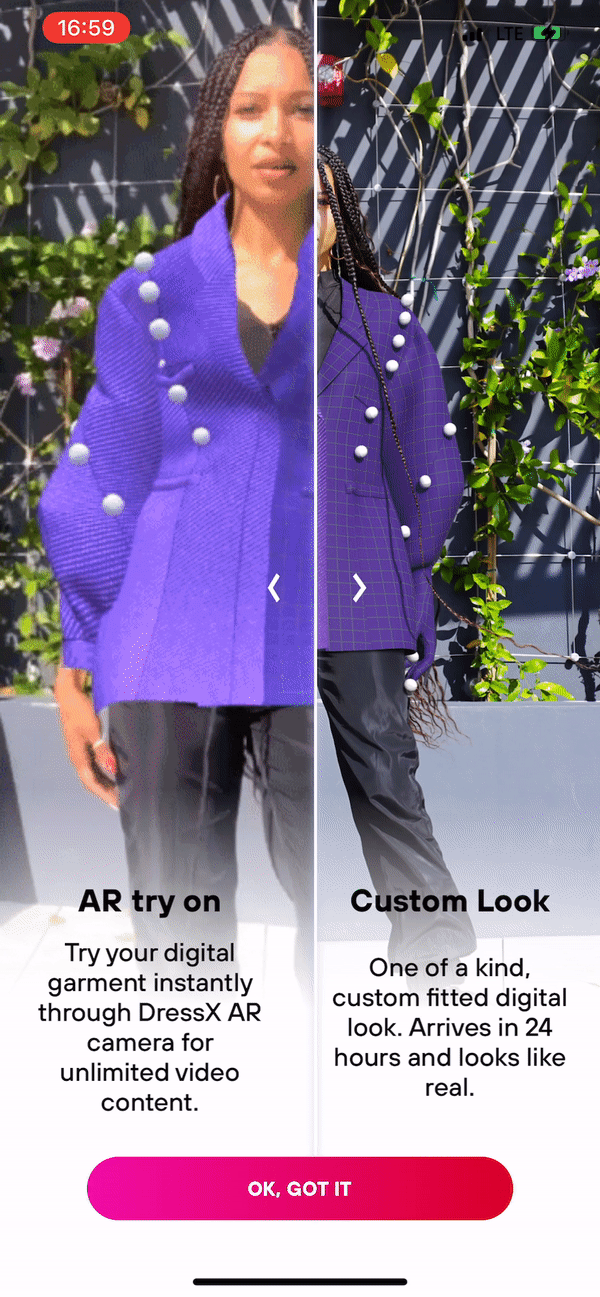 After scrolling through pages of clothes, customers check out with a credit card and upload a photo of themselves with any special requests.
"They're like style notes," said Modenova. "For example, I want to have my bag on top of the dress."
The DressX team then gets to work, layering the digital clothes on top of the customer's picture. A day later, a finalized image is emailed back to the user along with a file of the item.
Once the startup's mobile app goes live later this month, users can pay a monthly subscription fee to access certain garments as augmented reality filters. Think of it like premium Snapchat filters for couture fashion, where content creators can film YouTube videos or Instagram Stories while wearing virtual outfits.
On Tuesday, DressX closed a $2 million seed round to launch that platform and build out its NFT marketplace.
Before COVID-19, the DressX executive team ran a pop-up showroom in L.A. called More Dash, where customers could film digital content in rented outfits. They transitioned online last August and started marketing to millennial and GenZ-aged consumers pushing back against the fast fashion industry.
"Imagine you're 15 years old, you don't have enough money to buy dresses that you wish to buy," Shapovalova said. "In digital fashion, you can wear almost anything."

The company now lists clothes and accessories from over 100 3-D and traditional fashion designers including Ukraine-based Paskal and shoe brand Buffalo London. Between 12% to 30% of each sale goes back to the designer, excluding items from DressX's own clothes designed in-house.

There's a $25 sweatshirt printed with a Paul Cezanne painting and a $100 interactive couture dress programmed with Google technology. In April, DressX hosted an online fashion show with Gary James McQueen — nephew of designer Alexander McQueen — who sold the clothes for digital purchase only.
"This is breaking the boundaries of the existing fashion industry," said Shapovalova, a former fashion TV show host who helped launch Ukraine's Fashion Week.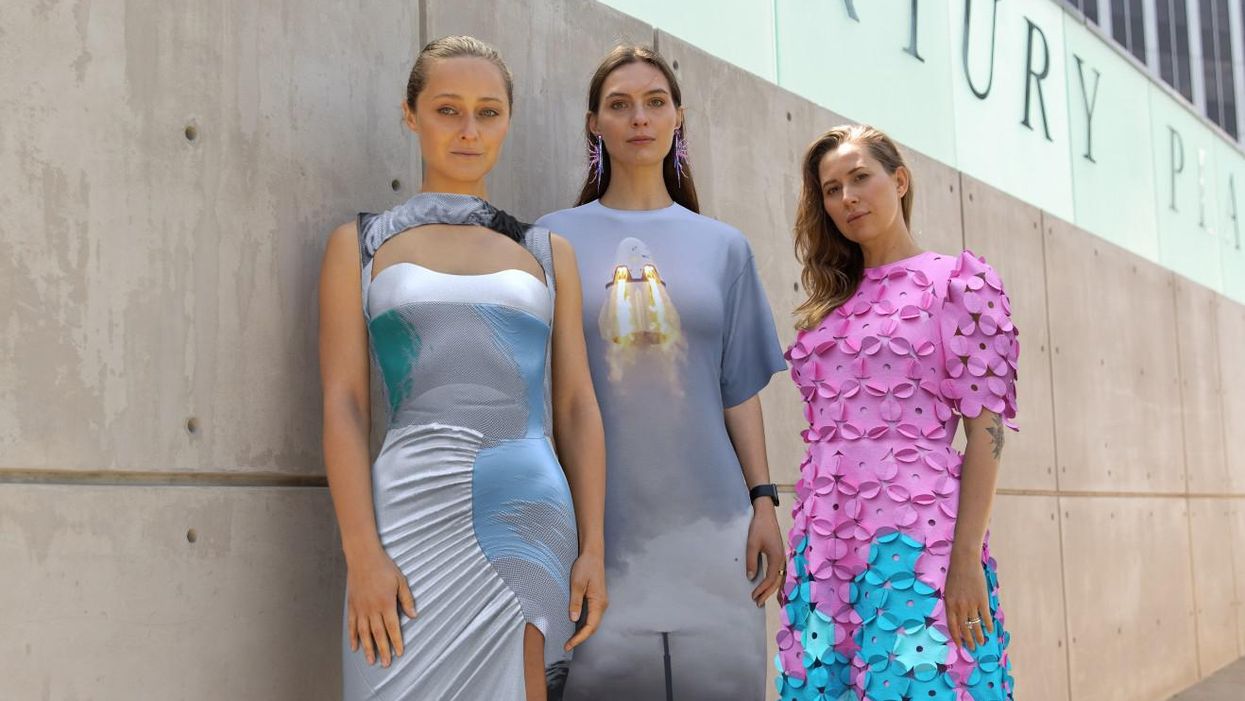 From left: DressX CEO Daria Shapovalova, COO Natalia Modenova and Head of Product Julie Krasniienko. (All the clothes featured are 100% digital).Photo by Olga Helga
Next year, she said the company aims to launch new features for users to wear DressX clothes on Zoom or Google Meet.

The seed round was led by The Artemis Fund and Alpha Edison. Additional funding came from Unlock Venture Partners, One Way Ventures, Signal Peak Ventures, TLF Ventures, Startup Mavericks and Angel investors from fashion, tech and blockchain industries, the company said.
From Your Site Articles
Related Articles Around the Web
While the fashion industry reckons with female body image positivity, investors embraced plus-size retailer Torrid in its Wall Street debut Thursday.
Torrid, an apparel company for women who wear sizes 10 to 30, shares rose 15% closing at $24.15. The City of Industry-based company trading on the New York Stock Exchange under the ticker "CURV" priced its IPO of 11 million shares at $21 each, putting the company at a $2.3 billion valuation.
In 2020, Torrid generated $974 million in net sales, slightly lower than its 2019 sales because some of its stores closed during the pandemic, while its online sales grew.
The apparel company is designing for women aged 25 to 40 years old who are looking for stylish, sexy clothing that fits well.

It is part of the growing movement to focus less on size 0 models and to promote body positivity, female empowerment and style, regardless of size.
"Growing celebration of femininity, inclusivity and self-identity, along with the emergence of plus-size celebrities and influencers, inspires young curvy customers to demand more flattering and stylish clothing they are proud to wear," Torrid wrote in its prospectus filed with the Securities and Exchange Commission.
The company described its products as delivering "a superior fit for the curvy woman that makes her love the way she looks and feels."
Plus-size apparel and intimates are an $85 billion market in the U.S., Torrid estimates. And as of 2019, two-thirds of all women in the U.S. wore plus-size clothing.
Victoria's Secret, which has been criticized for its lack of diversity in models, announced last month it was retiring it's "Angels" and replacing them with women such as soccer star Megan Rapinoe, actress and tech investor Priyanka Chopra Jones and Paloma Elsesser, a plus-size model and inclusivity advocate.
Torrid said surveys have found that 69% of plus-size women find it difficult to find clothes that fit well and are stylish. Many clothing companies use a "grading up" method, offering their regular sized clothes in larger sizes rather than design clothes for a curvy body.
"Through our product and brand experience, we connect with customers in a way that other brands, many of which treat plus-size customers as an afterthought, have not," the company wrote.
Torrid did not respond to a request for comment, but believes plus-size women would spend more on clothing if they had more options.
More than half of Torrid's customers in 2020 were younger than 40 and the average size of clothing purchased was 18. It sold to 3.2 million customers in 2020. Net income in 2020 was $25 million, down from $42 million in 2019.
But the company which relies in part on its mall sales, is facing stiff competition from online brands.
Relive all the action from the @Torrid (NYSE: $CURV) IPO 🎥 https://t.co/Z1ovHSLcJd

— NYSE 🏛 (@NYSE 🏛)1625240205.0