Courtesy of FCTRY LAb
Last week, Los Angeles-based prototyping footwear company FCTRY LAb announced the launch date of its second drop of Knight RNR, pronounced as "Night Runners," which is the company's first footwear product. This drop comes a month after its first release of the shoe.
As previously reported by dot.LA, Omar Bailey launched the lab with Abhishek Som with the intention of helping independent designers cut down the time it takes for their designs to reach the market.
Within 24 hours of the first product going live, over half the batch of Knight RNR sold and the rest were sold out a few days after.
In the run up to the release, I was invited to visit FCTRY LAb in the heart of Downtown Los Angeles to check out the company's shoe technology.
As soon as I walked down two flights of stairs, I was quickly transported to a lush-like jungle with palm trees planted on every corner. The one story structure's walls were draped with vibrant, green leaves and teal glass panels that lined the center causing natural light to make its way in.
Entering the facility, I saw FCTRY LAb's sign shining right through the two glass doors which led me to its headquarters, where all the shoe making magic begins.
The prototyping lab has several shoe making posts that look a lot like sewing machines, a wall dedicated to Bailey's footwear designs, an assembly process room and plenty of office space and one very large 3D printer which Head of Innovation Satyan Gohil walked me through.
Currently, FCTRY is using a J850 from Stratasys, a manufacturer of 3D printers, software and materials for polymer additive manufacturing as well as 3D-printed parts on-demand.
Gohil said, "the 3D printer is what FCTRY calls the heart of the prototyping experience."
"Traditionally, what happens is you take a sketch, and you send it to Asia," Gohil added. "Asia is then trying to figure it out, you're doing the back and forth and that takes 12 to 18 months to get it dialed to the end result."
Head of Innovation Satyan Gohil demonstrating how to use the 3D printer. Courtesy of FCTRY LAb
But at FCTRY, it only took the team a month and half to sketch, create prototypes and build the Knight RNR in its final form.
Depending on the complexity of the design, the team can take anywhere from one to two weeks to hand it off to be 3D printed. Some of the software the team utilizes to design the shoes include Rhino, a 3D computer graphics and design application and a visual ideation, modeling, prototyping and project management tool called solidworks.
In addition the team uses Maya, another application that generates 3D assets, and is widely used in film and television. And Volumental, a platform used to build accurate 3D body models for the customization of products.
Gohil shared that depending on the design, it only takes the team between 12 to 24 hours to 3D print a prototype. Some of the materials they use to create their footwear prototypes include plastic resin or thermal polyurethane (TPU).
"Basically it(TPU) just has a powder and it gets centered," Gohil said. "Centered means a laser hits it and solidifies it. This process gives you a little more perception of what it's going to be in its final form."
The biggest advantage in having the 3D printer in-house, according to Gohil is "the ability to simulate different materials. Both rigid and flexible can be printed on both static and flexible materials. Speeding up the process of creation allows us to be fully in control of the entire design and development cycle."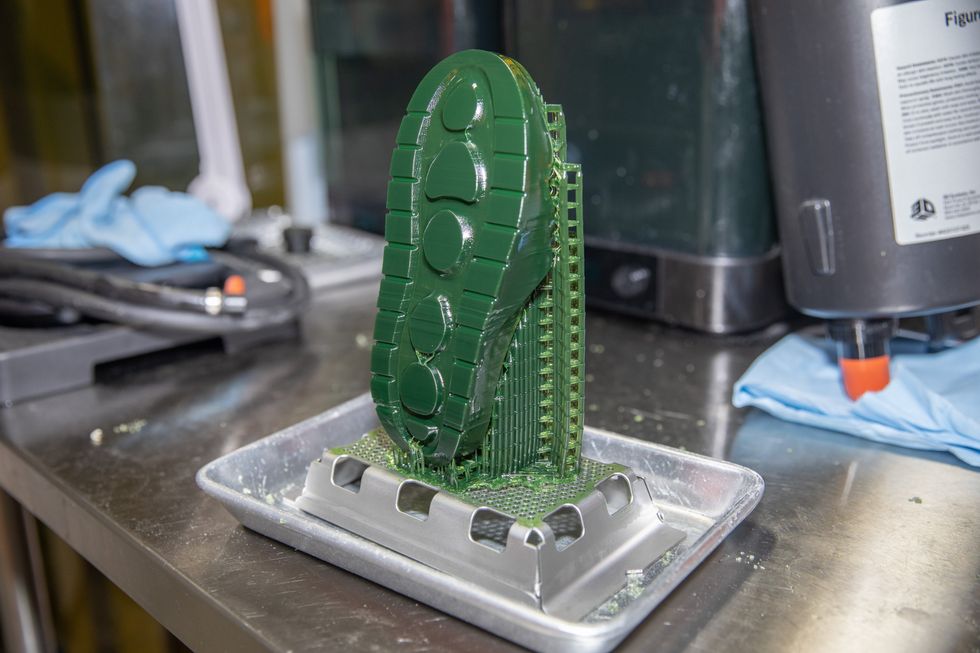 A sample of FCTRY's prototypeCourtesy of FCTRY LAb.
So far, FCTRY has already collaborated with former Los Angeles Rams cornerback Jalen Ramsey and has plans to work with other NFL players, music artists and a large publicly traded multinational company.
"There's a lack of know-how on how to build footwear and the lack of equipment and technology to really prototype it," Som said. "So it's a unique positioning that there are not that many other end to end independent sneaker prototyping labs that will work with any creator and any brand."
An earlier version of this story referred to the product as Night Runner.