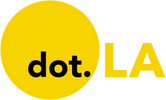 Get in the KNOW  
  on LA Startups & Tech  
X
Photo courtesy of Art Hearts
Fashion Tech Works Opens New Coworking Space for Emerging Designers
Decerry Donato
Decerry Donato is a reporter at dot.LA. Prior to that, she was an editorial fellow at the company. Decerry received her bachelor's degree in literary journalism from the University of California, Irvine. She continues to write stories to inform the community about issues or events that take place in the L.A. area. On the weekends, she can be found hiking in the Angeles National forest or sifting through racks at your local thrift store.
06:00 AM | March 29, 2022
For Cindy Keefer, CEO of Fashion Tech Works, sustainability has always been a way of life. The woman behind Downtown Los Angeles' new coworking incubator for designers and artists grew up a far cry from Hollywood, on an organic farm in Wisconsin.

"I've been an environmentalist since I was born," said Keefer, a vegetarian since childhood. "So for me, I never had a breakthrough moment."
Sustainability is at the heart of Fashion Tech Works' mission: The incubator is particularly interested in giving a home to designers and technologies "that improve the sustainability of apparel design and production," according to its website.
---
"The passion is just so alive that I could actually change the trajectory of apparel manufacturing, to be sustainable and clean," Keefer told dot.LA. "I want to be that hub for these young designers who want to make a difference," Keefer said.
Earlier this month, the third floor of The New Mart in Downtown L.A. was bustling with designers and models preparing for Art Hearts Fashion, an annual Los Angeles Fashion Week event for local designers. Keefer partnered with Art Hearts to host a "fashion hub" that gave young talents the opportunity to network with brands like Doc Martens and Bellaria, as well as industry veterans like Condé Nast Latin America senior editor José Forteza.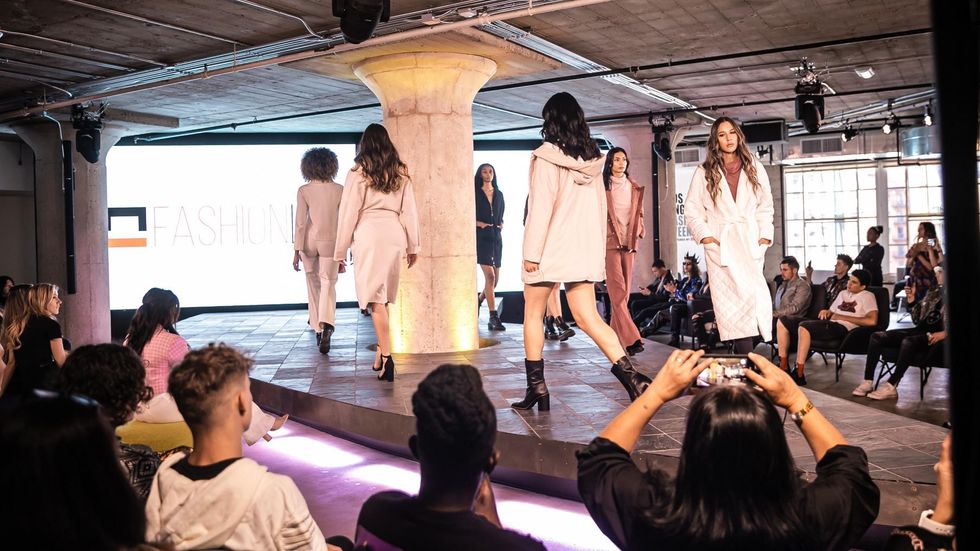 Photo courtesy of Art Hearts
"There's a void in the fashion program in Los Angeles, especially," Art Hearts founder Erik Rosete said. A designer and long-time attendee of fashion weeks in Milan and Paris, Rosete noticed L.A. Fashion Week's lack of a space for people to meet designers and get a hands-on experience of the clothing being showcased on the runway.
"It was very natural and synergistic that the partnership happened, because it created the opportunity to fill the void in L.A. Fashion Week," he told dot.LA.
In 2015, Keefer and her husband Tom hosted Melange, a fashion tech conference held at The New Mart. The panelists included Liz Heller of TOMS shoes, Ashley Crowder of VNTANA and Kristine Upsuleja of Madison Innovative Materials, whom Keefer considers innovators in the fashion space.
During the first five years after the Melange conference, Keefer and her husband laid the groundwork for their business and created strong relationships with founders of other fashion incubators like Arizona-based FABRIC. Keefer used the pandemic as an opportunity, accepting a small business grant from the government which she used to launch Fashion Tech Works.
What was once storage space for The New Mart is now Fashion Tech Works' incubator and coworking space, equipped with a content creation studio, events spaces and private offices.
Among the designers who showcased their work at the Art Hearts Fashion Hub was Symone Carter, designer of Le Mo'ney and a member of Fashion Tech Works.
"I just needed to be somewhere where I can get creative and meet other creatives," Carter said. "I stumbled upon Fashion Tech Works on Instagram, set up an appointment to do a walkthrough and fell in love with it that first day."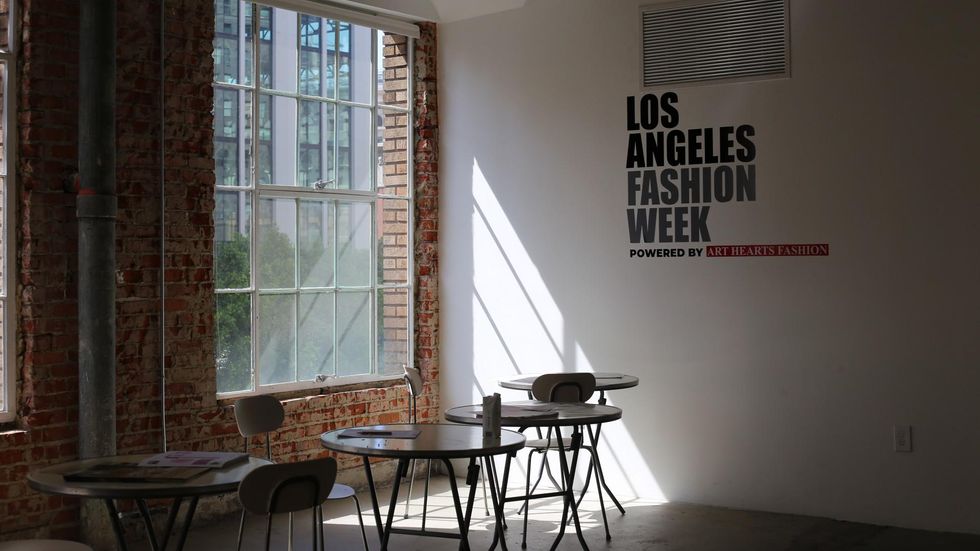 Photo by Decerry Donato
Each designer is required to have a fashion degree to become a member. There are three different tiers: silver ($60 per month), which is a remote membership that has access to the space two days out of the week; gold ($95), which includes daily access to the building; and premium ($750), which provides the designer with a private office space, access to the content creation studio for six hours a month and an opportunity to showcase their line on the runway.
Designers who become Fashion Tech Works members will receive the support of both FABRIC and garment producer Lefty Production Co. and access to the ORB360 machine, a 3D photographic technology that offers a 360-degree view on models. Keefer said Fashion Tech Works is also collaborating with other companies that focus on photographic printing, digital layouts, and cutting; she did not name those companies but said partnerships will be announced soon as negotiations are being finalized.
Decerry Donato
Decerry Donato is a reporter at dot.LA. Prior to that, she was an editorial fellow at the company. Decerry received her bachelor's degree in literary journalism from the University of California, Irvine. She continues to write stories to inform the community about issues or events that take place in the L.A. area. On the weekends, she can be found hiking in the Angeles National forest or sifting through racks at your local thrift store.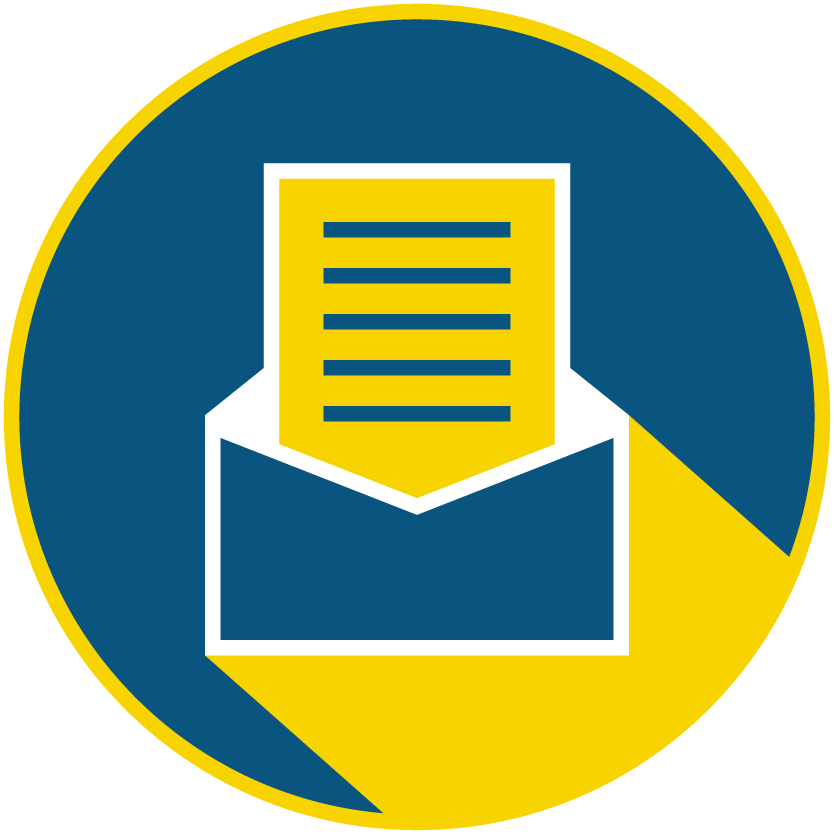 Subscribe to our newsletter to catch every headline.
07:28 AM | January 04, 2021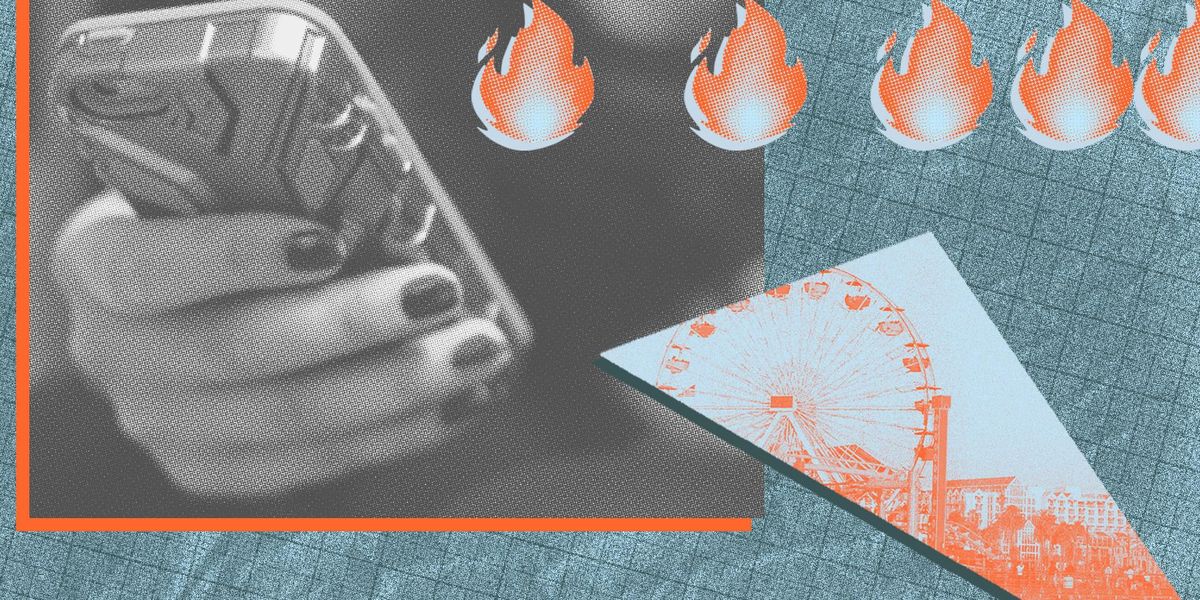 Despite — or in many cases because of — the raging pandemic, 2020 was a great year for many tech startups. It turned out to be an ideal time to be in the video game business, developing a streaming ecommerce platform for Gen Z, or helping restaurants with their online ordering.
But which companies in Southern California had the best year? That is highly subjective of course. But in an attempt to highlight who's hot, we asked dozens of the region's top VCs to weigh in.
We wanted to know what companies they wish they would have invested in if they could go back and do it all over again.
Startups were ranked by how many votes each received. In the case of a tie, companies were listed in order of capital raised. The list illustrates how rapidly things move in startup land. One of the hottest startups had not even started when 2020 began. A number doubled or even 16x'd their valuation in the span of a few short months.
To divvy things up, we delineated between companies that have raised Series A funding or later and younger pre-seed or seed startups.
Not surprisingly, many of the hottest companies have been big beneficiaries of the stay-at-home economy.
PopShop Live, a red-hot QVC for Gen Z headquartered out of a WeWork on San Vicente Boulevard, got the most votes. Interestingly, the streaming ecommerce platform barely made it onto the Series A list because it raised its Series A only last month. Top Sand Hill Road firms Andreessen Horowitz and Lightspeed Venture Partners reportedly competed ferociously for who would lead the round but lost out to Benchmark, which was an early investor in eBay and Uber. The round valued PopShop Live at $100 million, way up from the $6 million valuation it raised at only five months prior.
Scopely, now one of the most valuable tech companies in Los Angeles, was also a top vote getter.
The Culver City mobile gaming unicorn raised $340 million in Series E funding in October at a $3.3 billion valuation, which nearly doubled the company's $1.7 billion post-money valuation from March. It is no coincidence that that was the same month stay-at-home orders began as Scopely has benefited from bored consumers staying on their couch and playing ScrabbleGo or Marvel Strike Force.
The company's success is especially welcome news to seed investors Greycroft, The Chernin Group and TenOneTen ventures, who got in at a $40 million post valuation in 2012. Upfront Ventures, BAM Ventures and M13 joined the 2018 Series C at a $710 post-money valuation.
Softbank-backed Ordermark, which flew more under the radar, also topped the list. The company's online ordering platform became a necessity for restaurants forced to close their dining rooms during the pandemic and raised $120 million in Series C funding in October.
On the seed side, two very different startups stood out. There was Pipe, which enables companies with recurring revenues to tap into their deferred cash flows with an instant cash advance, and Clash App, Inc., a TikTok alternative launched by a former employee of the social network in August.
We will have the list of Southern California's top seed startups out tomorrow.
Lead art by Candice Navi.
Ben Bergman
Ben Bergman is the newsroom's senior finance reporter. Previously he was a senior business reporter and host at KPCC, a senior producer at Gimlet Media, a producer at NPR's Morning Edition, and produced two investigative documentaries for KCET. He has been a frequent on-air contributor to business coverage on NPR and Marketplace and has written for The New York Times and Columbia Journalism Review. Ben was a 2017-2018 Knight-Bagehot Fellow in Economic and Business Journalism at Columbia Business School. In his free time, he enjoys skiing, playing poker, and cheering on The Seattle Seahawks.
05:31 PM | August 01, 2022
Image courtesy Arkive
Historical documents, records and important artifacts are sometimes locked away in vaults (until a museum or library wants to showcase them), and under restricted access. Thomas McLeod believes that these artifacts hold great value and have the potential to impact communities, so he founded Arkive, the first decentralized, physical museum.
The inspiration for Arkive came from McLeod's previous company, Omni, a physical storage company acquired by Coinbase in 2019.
"We thought it would always be like utility items and we started getting full sneaker collections, vintage posters, records, comic books that were valuable and we kind of had a panic attack," McLeod told dot.LA. "The business [Omni] was built around storing bikes, and you can't put a vintage record next to a dirt bike. They just don't store in the same manner."
McLeod was fascinated by the items and collections that came through the door. To him, it felt like browsing a museum of curated items that everyday people collect.
That's when McLeod knew he was onto something.
McLeod has built startups before. Past projects included Pagelime, acquired in 2015 by SurrealCMS, and in 2012 LolConnect was acquired by Tencent.
The items in Arkive's collections are hand-selected by members who vote on what items they want to acquire. The organization currently has 300 active users, and there are hundreds on the waiting list. McLeod confirmed to dot.LA that they will increase the number of members admitted to 50 people each week with plans to cap admissions at 1,000 for the first phase. He added that while membership is free today, that will likely change in the future.
People interested in becoming members must apply on Arkive's website, where they will answer individual questions about their interests and occupations.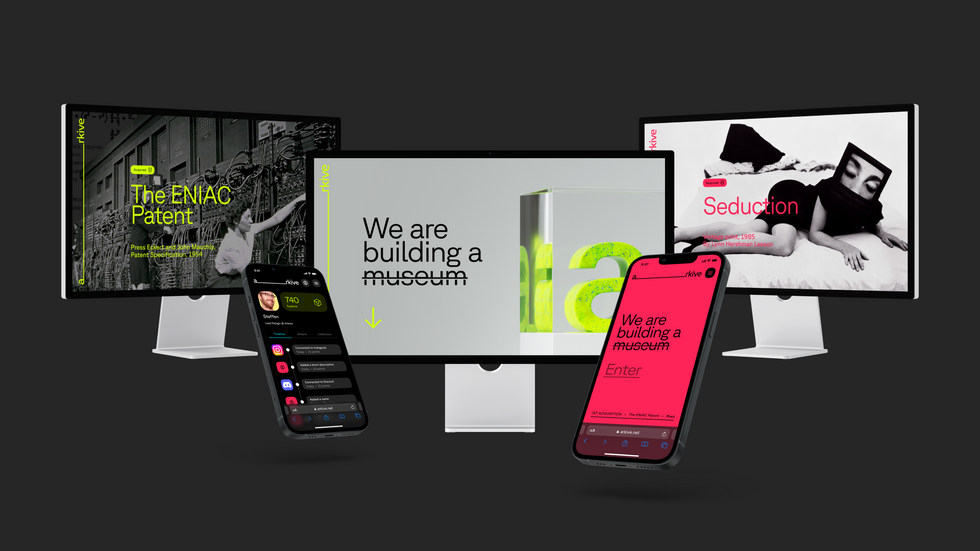 Arkive's physical, blockchain-inspired museum is coming to Santa Monica. Courtesy of Arkive
Just as museums have a lobby, Arkive has its "atrium." In this space, every member enters and registers their cryptocurrency wallets. Once registration is complete, members can vote on the blockchain for the artifact or piece of art they want Arkive to acquire. Prior to voting, to ensure they are well informed, members will have the opportunity to learn about each artifact from the artist, the gallery or the collector who previously held the item.
Since there is a surplus of artifacts around the world, Arkive's team of curators handpick options that are relevant to the current theme: "When Technology Was a Game Changer." While each round of voting is different, McLeod said the voting window for members usually lasts five days (M-F).
Arkive has acquired two items since coming out of stealth mode, the first one being the original patent for the ENIAC – known as the world's first programmable, electronic general-purpose computer. In addition to ENIAC's patent, members also voted to acquire Seduction (1985), a vintage print by Lynn Hershman Leeson, which will be part of Arkive's first public exhibition at the Art Basel Miami Beach in December 2022. Once items are acquired, they will be loaned to museums or galleries to be placed on display for the public to enjoy—at locations Arkive members believe have the most significant cultural impact.
"For instance, the ENIAC patent, we would love it if it lived at the Computer History Museum in San Mateo. If we acquired a Frida Kahlo, we would love it if it was in Mexico City or somewhere that mattered to her art or the family that she was a part of," McLeod said.
The Santa Monica-based startup announced last week that it raised $9.7 million in a seed funding round led by Offline and TCG Crypto. Other participants included NFX, Freestyle Capital, Coinbase Ventures, Not Boring Capital, Precursor, Chainforest, Coil, Julia Lipton, Joe McCann, Chris Cantino, Marty Bell and Paul Veradittakit.
"People who committed were all the way in and did not hesitate to support and be a part of the journey," McLeod said. "It got us the right people that are in it for the long haul and really care about not just the business but the potential cultural impact that it could have. So having the right investors to me is more important than just money."
Some of the funding will be allocated towards expanding the team, but a majority of the capital raised will go into acquiring more artifacts. McLeod said Arkive has three more acquisitions lined up in the next three months, but the eventual goal is to acquire two pieces a month.
Correction: An earlier version of this piece misspelled Thomas McLeod's last name.
Decerry Donato
Decerry Donato is a reporter at dot.LA. Prior to that, she was an editorial fellow at the company. Decerry received her bachelor's degree in literary journalism from the University of California, Irvine. She continues to write stories to inform the community about issues or events that take place in the L.A. area. On the weekends, she can be found hiking in the Angeles National forest or sifting through racks at your local thrift store.