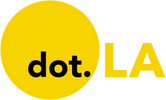 Get in the KNOW  
  on LA Startups & Tech  
X
Photo courtesy of Art Hearts
Fashion Tech Works Opens New Coworking Space for Emerging Designers
Decerry Donato
Decerry Donato is a reporter at dot.LA. Prior to that, she was an editorial fellow at the company. Decerry received her bachelor's degree in literary journalism from the University of California, Irvine. She continues to write stories to inform the community about issues or events that take place in the L.A. area. On the weekends, she can be found hiking in the Angeles National forest or sifting through racks at your local thrift store.
06:00 AM | March 29, 2022
For Cindy Keefer, CEO of Fashion Tech Works, sustainability has always been a way of life. The woman behind Downtown Los Angeles' new coworking incubator for designers and artists grew up a far cry from Hollywood, on an organic farm in Wisconsin.

"I've been an environmentalist since I was born," said Keefer, a vegetarian since childhood. "So for me, I never had a breakthrough moment."
Sustainability is at the heart of Fashion Tech Works' mission: The incubator is particularly interested in giving a home to designers and technologies "that improve the sustainability of apparel design and production," according to its website.
---
"The passion is just so alive that I could actually change the trajectory of apparel manufacturing, to be sustainable and clean," Keefer told dot.LA. "I want to be that hub for these young designers who want to make a difference," Keefer said.
Earlier this month, the third floor of The New Mart in Downtown L.A. was bustling with designers and models preparing for Art Hearts Fashion, an annual Los Angeles Fashion Week event for local designers. Keefer partnered with Art Hearts to host a "fashion hub" that gave young talents the opportunity to network with brands like Doc Martens and Bellaria, as well as industry veterans like Condé Nast Latin America senior editor José Forteza.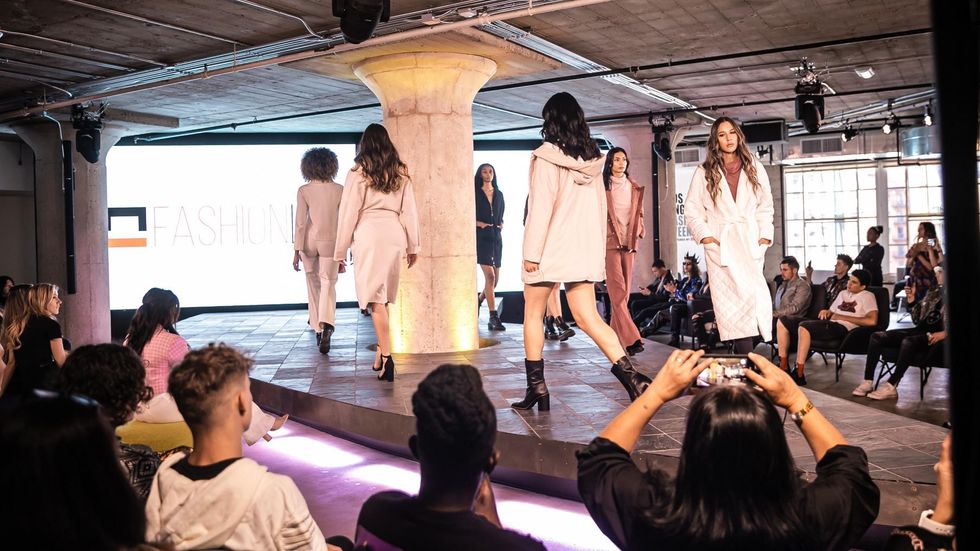 Photo courtesy of Art Hearts
"There's a void in the fashion program in Los Angeles, especially," Art Hearts founder Erik Rosete said. A designer and long-time attendee of fashion weeks in Milan and Paris, Rosete noticed L.A. Fashion Week's lack of a space for people to meet designers and get a hands-on experience of the clothing being showcased on the runway.
"It was very natural and synergistic that the partnership happened, because it created the opportunity to fill the void in L.A. Fashion Week," he told dot.LA.
In 2015, Keefer and her husband Tom hosted Melange, a fashion tech conference held at The New Mart. The panelists included Liz Heller of TOMS shoes, Ashley Crowder of VNTANA and Kristine Upsuleja of Madison Innovative Materials, whom Keefer considers innovators in the fashion space.
During the first five years after the Melange conference, Keefer and her husband laid the groundwork for their business and created strong relationships with founders of other fashion incubators like Arizona-based FABRIC. Keefer used the pandemic as an opportunity, accepting a small business grant from the government which she used to launch Fashion Tech Works.
What was once storage space for The New Mart is now Fashion Tech Works' incubator and coworking space, equipped with a content creation studio, events spaces and private offices.
Among the designers who showcased their work at the Art Hearts Fashion Hub was Symone Carter, designer of Le Mo'ney and a member of Fashion Tech Works.
"I just needed to be somewhere where I can get creative and meet other creatives," Carter said. "I stumbled upon Fashion Tech Works on Instagram, set up an appointment to do a walkthrough and fell in love with it that first day."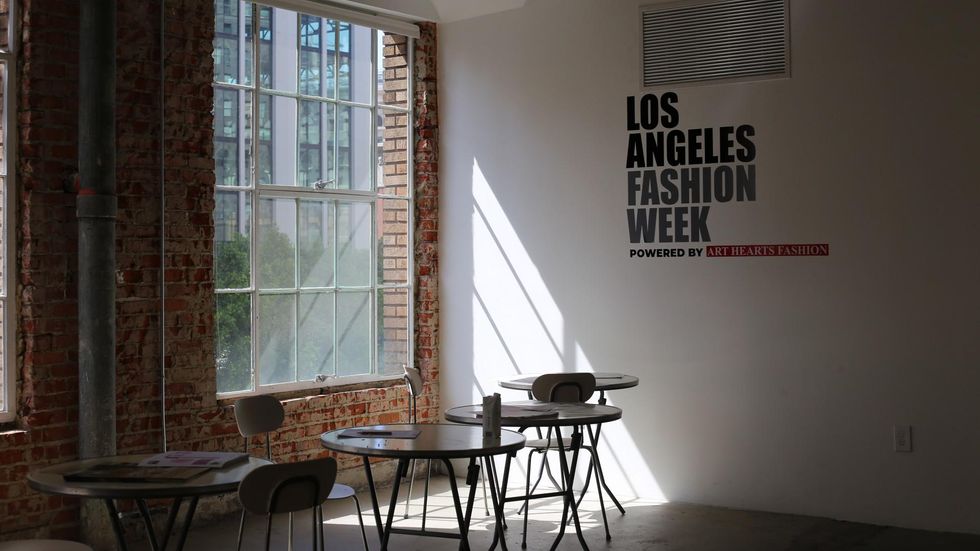 Photo by Decerry Donato
Each designer is required to have a fashion degree to become a member. There are three different tiers: silver ($60 per month), which is a remote membership that has access to the space two days out of the week; gold ($95), which includes daily access to the building; and premium ($750), which provides the designer with a private office space, access to the content creation studio for six hours a month and an opportunity to showcase their line on the runway.
Designers who become Fashion Tech Works members will receive the support of both FABRIC and garment producer Lefty Production Co. and access to the ORB360 machine, a 3D photographic technology that offers a 360-degree view on models. Keefer said Fashion Tech Works is also collaborating with other companies that focus on photographic printing, digital layouts, and cutting; she did not name those companies but said partnerships will be announced soon as negotiations are being finalized.
Decerry Donato
Decerry Donato is a reporter at dot.LA. Prior to that, she was an editorial fellow at the company. Decerry received her bachelor's degree in literary journalism from the University of California, Irvine. She continues to write stories to inform the community about issues or events that take place in the L.A. area. On the weekends, she can be found hiking in the Angeles National forest or sifting through racks at your local thrift store.
08:45 AM | March 28, 2023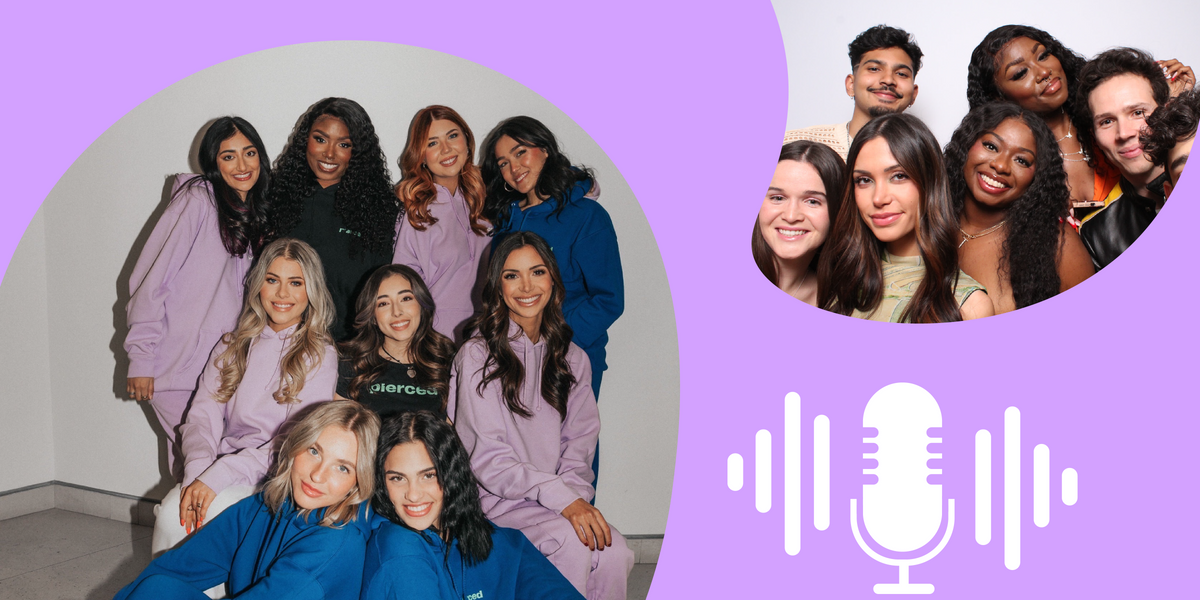 Evan Xie
It's no secret that men dominate the podcasting industry. Even as women continue to grow their foothold, men still make up many of the highest-earning podcasts, raking in massive paychecks from ad revenue and striking deals with streaming platforms worth hundreds of millions of dollars.
But a new demographic is changing that narrative: Gen-Z female influencers and content creators.
A growing wave of creators starting their own podcasts has begun to take charge of the industry. Building up a dedicated following on video-first platforms like TikTok and YouTube by talking to the camera about their daily lives, relationships and friendships, or advice on navigating the world as a young person, these creators often try their hand at podcasting to find out if their audiences extend to other platforms.
Pierced Media, a Gen Z-focused podcast studio that will only house podcasts hosted by women, is working to create a centralized place for these creators-turned-podcasters.
Launched in March, the company, which Katyal said is currently distributed but plans to set up its headquarters and recording studio in West Hollywood this summer, will debut seven shows by 10 creators this spring, with both audio and video podcasts discussing topics like fashion, beauty and relationships.
At the Pierced Media launch party in early March, hosted at a sleek mansion in the hills of Bel Air, founder and CEO Shweta Katyal told me the goal of the company is to empower Gen-Z women to express themselves and connect with their audiences. "Gen-Z girls are the funniest, smartest, most entertaining people," Katyal said. "I love strong, smart women that want to share their point of view."
Komal Nambiar, one of Pierced Media's first podcast hosts, said that the company's focus on young women was a big draw to coming on board. "Especially for women of color, I feel like there needs to be more representation in the podcast world," she told me. "(Pierced's) initiative is to empower women in the podcast space and give women a bigger platform."
Katyal views social media creators as a "tuning fork" for what resonates with audiences, and TikTok as the best way to find talent and "scout people who feel confident to share their opinion" that would fit well into a podcast. Pierced is banking on this as a solid recipe for success, but Katyal's background in venture capital has influenced her to view the studio in a similar way to that of a VC's startup portfolio.
"We're creating a portfolio of podcasts," said Katyal. "I think one or two of them will hopefully become homerun winners that will probably support the entire platform, others I think will cover their own costs and get enough of an audience to continue, and some just won't resonate at all. Media financing and production is very similar to venture, it's just on a different scale."
And while the industry may seem oversaturated, there is still money to be made if a podcast becomes popular. For example, a podcast episode with roughly 10,000 downloads can earn its creator up to $5,000, according to estimates from online recording studio Riverside.fm. And advertisers are pouring more money into the sector: A study published last year by PriceWaterhouseCoopers and the Interactive Advertising Bureau estimated that U.S. podcast ad revenue would grow to $4.2 billion in 2024.
To help its podcasters capitalize on affiliate marketing, whereby a creator receives a commission from sales or website visits that are generated through them, Katyal said Pierced Media is currently developing an AI tool that can automatically generate affiliate links based on products mentioned organically during a podcast episode. The tool will launch in beta this summer.
As for how Pierced Media's creators plan to grow their audience, most are following the creator-to-podcaster roadmap laid out by successful influencers like Emma Chamberlain (host of Anything Goes); Hannah Berner (host of Berning in Hell); and Drew Afualo (host of The Comment Section). What these creators bring to the table over a typical podcast isn't just the content of their discussion, but their personal brand.
"We're so used to talking to the camera, I think that's why it's so natural," Brianna Renee Price, Pierced podcast host, told me.' "It's different, but it's not that different."
Before joining Pierced, the 25 year old had never thought about starting a podcast. Price, who has a following of more than 600,000 on TikTok, built her audience through short form content about her daily life, outfits, trends and unfiltered advice videos. She frequently teams up with Sahar Dahi, 23, a fellow TikTok creator with more than 4 million followers, for these kinds of videos, and felt like their social media chemistry would translate well to a longer-form podcast.
Dahi said the podcast, "You're on Your Own Girl," will mainly be "girl talk" for other early- to mid-20's women, talking about everything from chaotic personal stories to advice on love, relationships and friendship.
"Your early 20s is a time where you feel like you're an adult, but you're still figuring it out," Dahi said. "We're there to kind of help you navigate it, but we're also navigating it at the same time."
For 19-year-old TikTok creator Komal Nambiar, when Pierced approached her about starting her own podcast, taking the opportunity felt like a no-brainer. She's been creating content on the internet since she was 14 years old, and is now studying journalism in college in the U.K. with the hopes of becoming a TV or radio host. Starting the podcast "Before You Call Me Crazy," felt like a great career move, she told me, as it's an opportunity to fuse her existing work as a content creator with her future goals.
"I feel like (being a content creator) will kind of give me a step up when it comes to finding an audience," Nambiar told me. "I already have a devoted audience, and I do think I have a pretty good grasp on how to keep an audience engaged."
In large part, having a podcast gives creators the ability to dive deeper with their audience than they otherwise could on a minute-long TikTok. But while making the jump from short-form content to hour-long podcasts might seem like a challenge, 24-year-old Becca Moore, co-host of upcoming podcast 'The B Word' with Brooke Schofield, said she feels the opposite will be true.
"I can only talk for three minutes on Tiktok, which drives me crazy," Moore said. "I feel like the funniest parts of stories are the details which you can't really get into in a three minute-long video."
While starting a podcast network from scratch has its challenges, the audience built by the Pierced podcast on other platforms may give the company a leg up in gaining listeners and sponsors in the crowded industry. "We're really bootstrapping from their existing social media audiences to pre-sell the idea," Katyal said. "But we're telling brands that they're investing in the vision of Gen-Z women. If they want to sell to that demographic, we are the partner of choice."
Nat Rubio-Licht
Nat Rubio-Licht is a freelance reporter with dot.LA. They previously worked at Protocol writing the Source Code newsletter and at the L.A. Business Journal covering tech and aerospace. They can be reached at nat@dot.la.
nat@dot.la
04:00 AM | January 30, 2023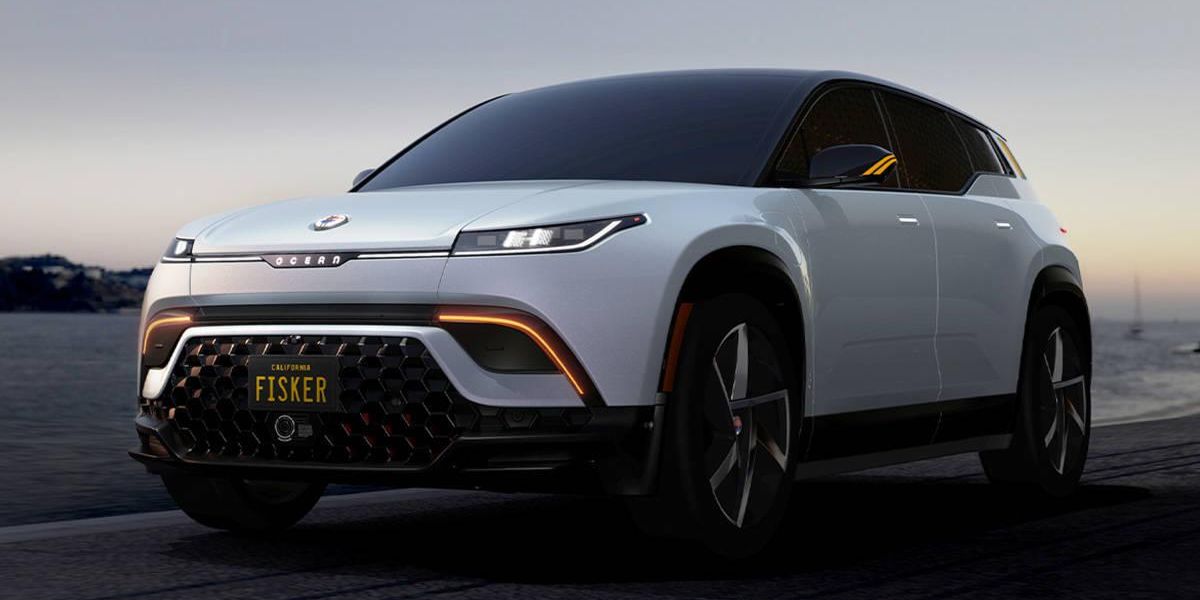 Courtesy of Fisker
Last week in the dot.LA newsletter I wrote about Tesla's decision to slash prices by as much as 20% on their vehicles and how the decision might impact Southern California's EV startups. I called the price cuts a "tough pill to swallow" for Fisker in particular since they would make many of Tesla's price points more competitive with Fisker's first production model, The Ocean.
The Ocean is currently undergoing homologation, but Henrik Fisker, the company's CEO, confirmed to dot.LA that the company hopes the process to be completed at the end of February. From there, it could take several weeks to ship the SUVs from Austria to the United States.
The earliest versions of the car arriving on U.S. soil will be the launch edition—"Ocean One," which carries a price tag of $68,889. Tesla's Model Y SUV, for comparison, is now $53,490 for the base model even before the rebates of up to $7,500 offered from the Inflation Reduction Act (IRA). Fisker is planning to release a "Sport" version of the Ocean that will retail for $37,499, but that trim isn't expected until late in 2023.
As I pointed out in the newsletter, online forums, especially reddit, were rife with users claiming that they had or would cancel their Fisker Ocean reservations in light of the Tesla price cuts. But Henrik Fisker said the company hasn't noticed any decline. "Everyone sees cancellations, but at this point we have not seen an overall reduction in our reservations," he said. The CEO also claimed the company had new intention to reduce pricing at this point due to strong demand. "I don't think we need to do it because we have sold out until pretty much mid '24," he said.
However, even if Fisker's total reservation numbers haven't been impacted by Tesla's price cuts, Jessica Caldwell, executive director of insights at Edmunds, says it's still a "David versus Goliath" narrative, especially in light of Tesla's better-than-expected Q4 earnings last week. Adding that, "I think selling a $70,000 limited production SUV isn't particularly going to keep Tesla up at night. "Fisker's best shot at success, according to Caldwell? Getting its cheaper versions of the Ocean to the market as quickly as possible. At less than $40,000, Fisker's electric SUV with 250 miles of range would be a game changer for the industry. Likewise, the company's second vehicle, the Pear, is still on track for 2024 production at a price point of just $29,900, according to Henrik Fisker.
In addition to the extremely low MSRP, that platform will be manufactured by Foxconn in Ohio, meaning it will be eligible for some–if not all–of the $7,500 cash back from the IRA. For comparison, Tesla's base level Model 3 is still priced at $43,990 even after the price cuts.
That said, Henrik Fisker is reluctant to expound on how the company is going to hit such an ambitious price point with the Pear, equating the trade secrets to Coca-Cola's recipe. "If you're in the car industry–and you can ask any expert–you pretty much start out with a couple thousand components that should be in a car," said Fisker. "Nobody's really questioning that, because that's how you have to build a car. We went in and questioned a lot of that."
However the drama of Fisker's future unfolds, it seems Los Angeles will remain the backdrop for now. "I think it's one of the best places on Earth to live," said Fisker. "I've lived in many countries in Europe and I just love LA. I also think Los Angeles is really a place where anything is possible and people take risks."
David Shultz
David Shultz reports on clean technology and electric vehicles, among other industries, for dot.LA. His writing has appeared in The Atlantic, Outside, Nautilus and many other publications.