curbivore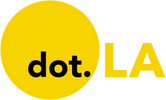 Get in the KNOW
on LA Startups & Tech
X
curbivore
Photo by Victor Avdeev on Unsplash
Sign up for dot.LA's daily newsletter for the latest news on Southern California's tech, startup and venture capital scene.
It may look like unassuming concrete at first glance, but the curb could be the most valuable piece of real estate in Los Angeles.

"There's gold in those hills—we gotta monetize the curb!" is the general sentiment, according to Seleta Reynolds, general manager of the L.A. Department of Transportation. Reynolds joined other panelists at the Curbivore conference in Downtown L.A. on Friday to discuss the opportunities and challenges that curbside spaces present for businesses and municipalities alike.
Reynolds noted that there's a gap between the value that the curb holds for private stakeholders and the ability of cities like L.A. to enforce rules and regulations. By and large, she added, many businesses don't consider the curb as public space entitled to what she termed "the public right of way."
"You have companies like UPS and FedEx that consider parking tickets part of the cost of doing business," Reynolds said. "We have not figured out either a pricing or enforcement mechanism that's been able to get us to our goal, which is mainly making it easier for people to get around this town without getting in a car."
Yet there are ongoing efforts to address that dynamic. A group of 160 city, business and tech leaders are building a Curb Data Specification (CDS) program to help cities better manage their street curbs. The hope is that delivery and ride-sharing companies are able utilize CDS to build their own curb management systems.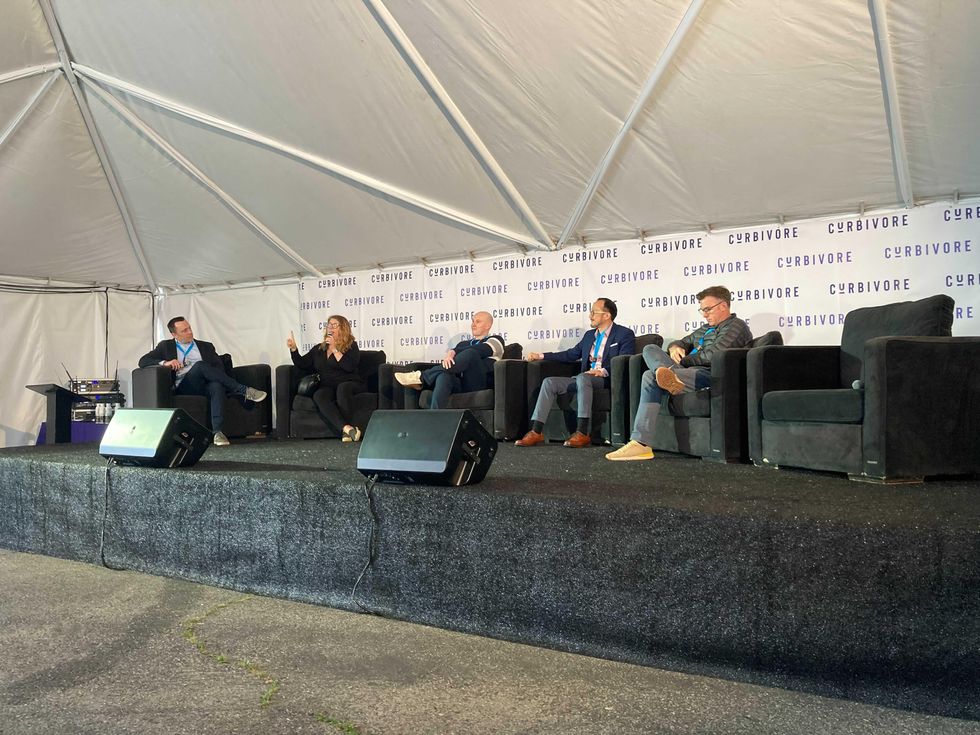 LADOT general manager Seleta Reynolds (holding microphone) speaks at the Curbivore Conference in Downtown L.A. on Friday.Photo by Maylin Tu
According to Reynolds, CDS defines the curb in digital language, monitors curbside players like delivery and ride-sharing vehicles, and measures and reports that activity back to the city.
Just as Santa Monica is piloting a zero-emissions curb management program in collaboration with the Los Angeles Cleantech Incubator, now LADOT, Automotus and Urban Movement Labs are piloting zero-emissions curbs across wider L.A. Automotus, which uses computer-vision technology to monitor electric vehicles, gas-powered cars and other vehicles, received a $4 million grant from the U.S. Department of Energy last year—the first such grant awarded to a curb management company.
Gene Oh, CEO of microbility management platform Tranzito, said that the future of the curb is in networked mobility hubs. Tranzito is working with the city of L.A. to create neighborhood-based public transit and micromobility hubs that have the potential to become social spaces for neighbors to connect.
"Ultimately, what we believe is that this space is owned by the public, is paid for by tax dollars, and it should be managed for everyone," Oh said.
An overarching theme that emerged among panelists was the need for collaboration between public agencies like LADOT and private companies trying to make a profit—and the role that data plays in both regulation and commerce. Reynolds noted that private companies have no obligation to provide their data to the city.
"I have no regulatory oversight of Uber and Lyft. I have no regulatory oversight of Caviar, Postmates, Amazon, all the rest of them," she said. "I think Amazon has a whole digital plan of the city of Los Angeles, but all of that data is confidential, tribal and private. So I have none of it, and I don't have a way to force them to give me any of it. So my only way forward is to find wins for them, to enforce where I can and to figure out how I can make it easier for [them]."
From Your Site Articles
Related Articles Around the Web
Sign up for dot.LA's daily newsletter for the latest news on Southern California's tech, startup and venture capital scene.
If you want to save the restaurant industry, you're going to have to pay as a consumer, according to panelists at the Curbivore conference in Downtown Los Angeles on Friday.

During a panel moderated by dot.LA reporter Keerthi Vedantam, restaurateurs and founders weighed in on the highs and lows of the industry since the pandemic first shut down in-person dining establishments nationwide in early 2020.
While profitability has always been a challenge for the restaurant business, it's only been exacerbated amid pandemic-induced supply chain and labor issues, according to Josh Kopel, a restaurateur and president of California Restaurant Association's Los Angeles chapter.
"We can't make any money and there are a variety of reasons why, but the biggest is that we haven't figured out how to explain to you how much food costs in a way that will make you willing to pay for it," Kopel said. "Your burger costs $24—it just does."
What's more, online platforms like DoorDash and Uber Eats have faced criticism for cornering the market for online ordering and deliveries while charging hefty fees. In turn, some restaurateurs have opted instead for emerging platforms like Snackpass and Shef.
Restaurant tech journalist Kristen Hawley noted that third-party apps are "building a wall" between the customer and the restaurant, even as consumers become more aware than ever of the industry's razor-thin profit margins. She and other panelists urged customers to talk to restaurant owners about how to support them to keep the industry afloat.
Heather Kuklin, founder and chef of gluten-free vegan bakery Madame Shugah, noted that she sometimes gets grief from customers for charging $7 for a moist loaf, her version of muffins.
"They think I sit around with influencers all day while fairies are making my s---, but here I am with carpal tunnel," Kuklin quipped.
From Your Site Articles
Related Articles Around the Web
Image courtesy of Miso Robotics
This is the web version of dot.LA's daily newsletter. Sign up to get the latest news on Southern California's tech, startup and venture capital scene.
How much would you pay for a cheeseburger?
After all, the material cost of a burger is probably between $20 to $30, according to Josh Kopel, founder and president of the Los Angeles chapter of the California Restaurant Association.
That probably tracks. A few weeks ago, I went to the Port of L.A. in San Pedro and watched workers unload produce from South America off of massive cargo ships. It occurred to me that someone, at some point, would have to pay for the cost of growing that produce, shipping the produce, loading and unloading it through various distribution centers and—if that produce made its way to a restaurant—cooking and serving it to me.
"We don't charge what it costs," Kopel said of the food supply chain. "We charge what you're willing to pay."
As the world gradually emerges from the pandemic, everyone is still scratching their heads trying to find ways to solve "the restaurant problem." Tomorrow, I'm moderating a panel at the Curbivore conference in Downtown L.A., where I'll be chatting with Kopel, small business owners and startup founders looking for ways to keep the restaurant industry afloat.
It's been two years since the pandemic shuttered establishments across the U.S., and as restaurant tech reporter Kristen Hawley told me, delivery services like Uber Eats and DoorDash have pretty much solidified their place in the industry's infrastructure—effectively adding another link in the supply chain that someone has to pay for.
All the while, restaurants are still operating on razor-thin margins amid rising commodity prices and labor costs, bracing themselves for the possibility that another coronavirus variant could come along and shut them down again. Forget about profitability—the name of the game is survival.
You have to wonder if "the restaurant problem" is one that technology can even fix. Rather, it seems to depend on whether consumers and restaurants can radically change their outlook on the value of a burger. Kopel says restaurants don't want to be the first to drastically hike prices when they're barely clinging on—yet consumers have already decided they're willing to pay the cost of a sandwich just to get that sandwich delivered to them. So why can't restaurants band together and raise their prices to reflect the reality of the supply chain?
Kopel offers an analogy: Imagine two armies squaring off in battle, one with 500 soldiers in its ranks and the other 1,000 soldiers strong. "The 1,000 are obviously going to win, right? That matters very little to the people in the front row." — Keerthi Vedantam