scooters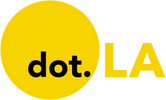 Get in the KNOW
on LA Startups & Tech
X
scooters
Image courtesy of Lime
The first Lime electric scooters hit the streets of Los Angeles in June 2018, some nine months after rival e-scooter startup Bird first took flight in Santa Monica. In the years since, Lime has battled Bird and a wave of other micromobility operators for market dominance—seeking to transform the urban transportation landscape while facing losses, regulatory backlash and even destructive anti-scooter sentiment.
Now, Lime is upping the ante in the great e-scooter wars once again by bringing its latest e-scooter model—the Lime Gen4—to the streets of Los Angeles, with the goal of replacing all 7,000-plus vehicles in its L.A. fleet by this summer. Lime has already rolled out the Gen4 globally in markets from Denver to London.

The San Francisco-based company told dot.LA that it designed the Gen4 to be more eco- and user-friendly—with a swappable battery, bigger wheels, a lower center of gravity and swept-back handlebars akin to a bicycle.
"As of [the week of April 17], you'll start to see them in Hollywood, West Hollywood and in some of the Hills area," said Alyssa Edelen, Lime's general manager for the southwest region.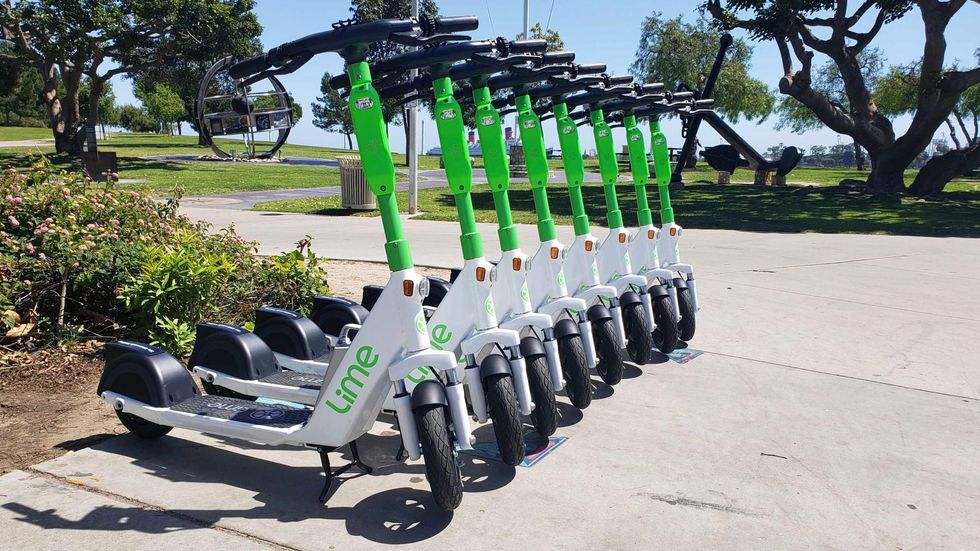 Lime's new Gen4 e-scooter features a swappable battery, bigger wheels, a lower center of gravity and swept-back handlebars.Image courtesy of Lime
The Next Generation
Originally a bike-sharing company, Lime launched its e-scooter fleet in 2017 with the Segway Ninebot, a popular choice for operators at the time. However, early e-scooters were not built for the harsh conditions of shared use. One 2018 study by Quartz of Bird scooters in Louisville, Ky., found that the vehicles lasted less than 29 days on average before breaking down or falling prey to vandalism or theft.
The next Lime generation to hit L.A. streets in 2018 was the Gen2.5, a hardier model built to last 18-to-24 months. Then last year, the company swapped out the Gen2.5 for Okai scooters inherited through its 2020 acquisition of Uber's micromobility business, Jump. Instead of recycling the Jump scooters, Lime wanted to deploy them in select markets.
Now, Lime says that its latest model—designed and manufactured completely in-house—is built to last for up to five years. In comparison, competitor Bird's latest model, the Bird Three, has an estimated shelf life of two years.
Lime didn't share details on how much the company invested in R&D for the Gen4. The scooter was initially developed by Jump, with Lime continuing the work after acquiring the former Uber subsidiary.
How Eco-Friendly Are E-Scooters?
The lifespan of an e-scooter doesn't only affect a company's bottom line—it also has a significant impact on sustainability.
In a 2019 study conducted at North Carolina State University, researchers calculated the life-cycle emissions of shared e-scooters. The study found that although riding one was better for the environment than driving a car, it was not as green as riding an electric bike or even taking a gasoline-powered bus.
And that's not just because of the energy required to charge e-scooters, which represented only 5% of their total emissions. According to the study, most of the greenhouse gas emissions from shared micromobility comes from manufacturing a device's parts, as well as the logistics of collecting and charging the vehicles. In other words: the longer a scooter's lifespan and the easier it is to charge it, the lower its carbon footprint will be
To address the environmental impact of charging scooters and returning them to the streets, Lime and other micromobility operators are now embracing models that feature swappable batteries. According to Lime, the Gen4's swappable battery makes the charging process more streamlined and energy-efficient; vehicles no longer need to be transported to a warehouse for charging. Lime's new Gen4 e-bike model is also using the same swappable battery.
While some competitors, like Bird and Superpedestrian, have called into question the environmental benefits of swappable batteries, the industry at large seems to be trending in their favor. Veo CEO Candice Xie told dot.LA earlier this year that the micromobility firm is using its Cosmo seated scooter to tow trailers filled with batteries that are swapped into its vehicles in Santa Monica.
"We don't need to collect all the devices back to the warehouse to charge and then roll [them] out again," Xie said. "All we need to do is swap the battery on site, and that increases our efficiency and reduces our operations by 40-to-50% compared to other vendors."
West Hollywood-based Wheels is testing out a similar strategy in Austin, Texas, where it's using its own electric seated scooter to swap batteries and service its vehicles, with plans to implement this method in L.A. Meanwhile, a Lyft spokesperson said many of the company's maintenance teams are using electric golf carts and e-cargo tricycles to swap batteries on its own micromobility vehicles.
Lime has yet to use electric vehicles in L.A. for charging and maintenance operations, but said it's in the process of acquiring and implementing them.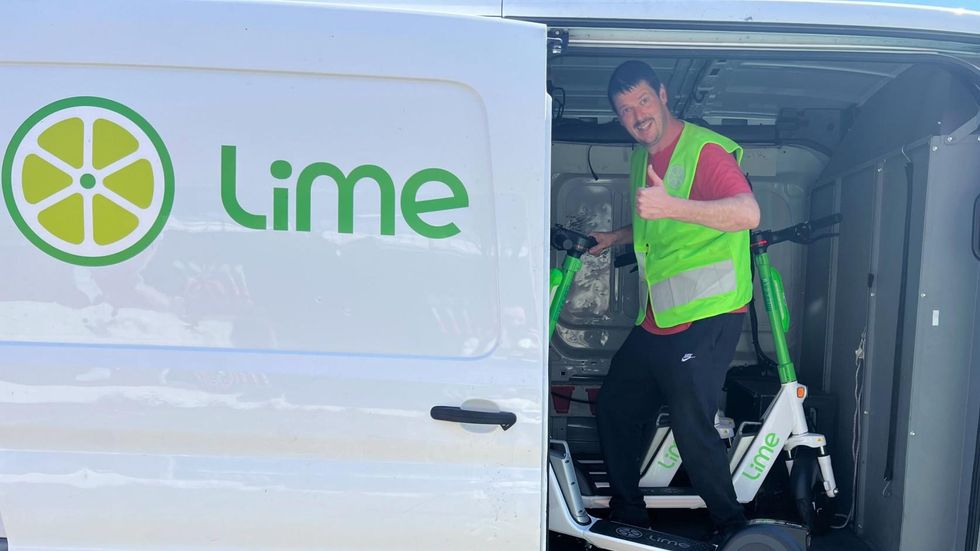 Lime says the Gen4's swappable battery makes the process of recharging its e-scooters more streamlined and energy-efficient.Image courtesy of Lime
The Adoption Issue
Lime's more eco-friendly approach comes as Angelenos are increasingly turning to shared transit options to avoid record-high gas prices. As of mid-April, Lime had seen its ridership in L.A. grow "about 35%" in the preceding two-to-three weeks, Edelen said. The company's Lime Access equity program, which provides discounted rides to underserved Angelenos, logged 12,000 rides in March, the highest number since its inception.
But despite the lofty environmental goals of micromobility companies—Lime is aiming to have a zero-emissions operations fleet by 2030—some experts note that their impact on the greater transportation sector is limited.
In a study released in February, researchers at Carnegie Mellon University examined the environmental impact of replacing short car trips with micromobility vehicles during peak travel hours. For context, in the U.S., almost 50% of car rides are three miles or less—a sweet spot for bicycles, e-bikes and scooters. Using the city of Seattle as a model and factoring in weather conditions, trip type and user demographics, the study found that only 18% of short car trips could be replaced, leading to just a 2% reduction in overall emissions.
Carnegie Mellon assistant professor Corey Harper, a co-author of the study, noted that most carbon emissions come from long-distance travel. "We have a lot more work to do if you really want to reduce emissions in our transportation sector," Harper told dot.LA. "Because even if we were able to fulfill every single trip that could be done by bike or scooter, 98% of emissions would still be there."
The study suggests that e-scooters have the most impact when combined with public transit as a first- and last-mile option. Choosing to take an e-scooter instead of driving a car has other benefits as well, such as reducing traffic congestion. Ultimately, Harper believes that for people to choose more eco-friendly transportation options, companies and cities have to make those modes more appealing to riders.
Lime is gambling that its redesigned e-scooter—with its bigger wheels, swept-back handlebars and improved suspension—will attract even more riders, and not just because it's the more eco-friendly option.
In a promising sign, Edelen said that L.A. users are riding the Gen4 longer and rating it higher compared to the previous model.
"Ridership is up compared to last year and previous years," she noted. "Comparing this model to our Okai, we are seeing close to double the utilization."
From Your Site Articles
Related Articles Around the Web
Courtesy of Bird
This is the web version of dot.LA's daily newsletter. Sign up to get the latest news on Southern California's tech, startup and venture capital scene.
After a pandemic-induced slowdown, electric scooters are returning to full speed, forcing city dwellers to once more cope with sharing the roads. But this time around, Santa Monica-based scooter startup Bird is working to make sure its riders don't run anyone over on sidewalks.

L.A.'s reliance on e-scooters isn't unique—Bird is active in 350 cities worldwide—but SoCal embraced the technology first. That's at least partly due to L.A. County's historically troubled and ineffective public transportation system, which has long left commuters looking for affordable last-mile solutions.
But relying on electric scooters is complicated by the fact that they aren't as safe as they may seem. A new UCLA study published this week found that L.A. e-scooter riders have a higher rate of injury than motorcycle riders nationally. The study pegged the injury rate for e-scooter journeys in L.A. at 115 per every 1 million trips—well above the national average of 104 injuries for every 1 million motorcycle trips and 15 injuries for every 1 million bicycle trips. The caveat here is that the study included not just injured drivers, but pedestrians who were either hit by or tripped over e-scooters, while the motorcycle numbers only accounted for injuries sustained while riding a hog. (Because who trips over a motorcycle?)
E-scooters have shown to pose a potentially fatal threat to passerby, and companies including Bird have faced criticism from businesses and municipalities alike for years—even resulting in outright bans, including in Santa Monica and Beverly Hills. What's more, Bird's fine print looks to absolve the company from responsibility in personal injury lawsuits; in fact, as one case showed, you might even find yourself paying their legal fees.
Many e-scooters—whether Bird's or those of competitors like Jump, Lime or Wheels—come with bold-faced warnings asking riders to stay off of sidewalks. But for anyone who's tried riding a bicycle with an electric motor that taps out at 30 miles per hour through the streets of Los Angeles, it often feels safer to scoot off the roads.
This week, Bird is beta-testing some new precautionary measures for its products in West Hollywood. Working with Swiss tech firm U-blox, its new geofencing technology promises to disable a scooter's throttle and bring it to a slow halt if the system detects the vehicle on a sidewalk. The scooter won't move until the rider repositions it on the road.
Here's hoping that Bird's new tech will make its products a little safer for both passengers and pedestrians alike. They can certainly afford it: Having raised more than $400 million after going public in November, Bird recently announced that it's expanding its fleets in New York City and Washington D.C. — Samson Amore

Courtesy of Bird
Sign up for dot.LA's daily newsletter for the latest news on Southern California's tech, startup and venture capital scene.

Electric scooter startup Bird more than doubled its revenues in 2021 as pandemic restrictions eased and riders returned to its shared micromobility network, while CEO Travis VanderZanden talked up the possibility of high gas prices forcing drivers to consider its electric vehicles instead.
On Tuesday, the Santa Monica-based company reported fourth-quarter revenues of $54 million that were up 126% from the same period in 2020. Likewise, Bird's full-year 2021 revenues of $205 million more than doubled the nearly $95 million that it generated in 2020. The startup continued to bleed money, however, with a net loss of nearly $40 million in the fourth quarter contributing to total losses exceeding $208 million last year.
Bird's surging revenues were driven by rebounding ridership, with its total number of rides increasing more than 100% year-on-year in the fourth quarter "despite macro-related headwinds including the surge in Omicron cases late in the period," VanderZanden said in the company's earnings release.
With gas prices escalating thanks to inflation and geopolitical factors like Russia's invasion of Ukraine, VanderZanden noted on an earnings call Tuesday that those conditions could benefit Bird by spurring more drivers to eschew their gas-powered cars in favor of electric bikes and scooters.
"While nobody likes high gas prices, and we obviously don't like how we got here, we do think elevated gas prices will likely accelerate transition to affordable microelectric vehicles such as Bird," he said.
The company provided a 2022 revenue guidance of between $34 million to $36 million for its ongoing first quarter and at least $350 million for the full year, with both figures falling short of analyst expectations. Bird became a publicly traded company in November after merging with a special purpose acquisition company (SPAC) and now trades on the New York Stock Exchange under the ticker BRDS.
Investors appeared to be underwhelmed by the company's revenue guidance: Bird shares were down more than 6% in after-hours trading Tuesday after closing at $3.50.