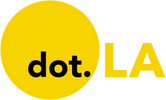 Get in the KNOW  
  on LA Startups & Tech  
X
Courtesy of Rivian
Rivian Misses Earnings Estimates Again As It Fights To Deliver More Electric Cars
Samson Amore
Samson Amore is a reporter for dot.LA. He holds a degree in journalism from Emerson College. Send tips or pitches to samsonamore@dot.la and find him on Twitter @Samsonamore.
03:25 PM | May 11, 2022
Rivian missed earnings expectations in its first quarter as production constraints and supply chain delays continued to slow down vehicle deliveries.
---
The electric automaker reported a first quarter net loss of $1.6 billion and posted first quarter revenue of $95 million, compared to expected revenue of roughly $130.5 million.
The numbers were an improvement over the $2.5 billion net loss the company reported last quarter and barely beat analysts' loss expectations—enough to boost its stock by roughly 8% in after-hours trading Wednesday.
In a shareholder letter Wednesday, Rivian said it expects to continue burning cash as it ramps up production.
"This dynamic will continue in the near term, but we expect it will improve" as production outpaces labor and overhead costs, the company said.
Rivian built 2,553 vehicles and delivered 1,227 in the first quarter, according to its report, bringing the total number of vehicles delivered to 2,148. The company needs to increase production by ten times if it's to hit its revised forecast of 25,000 vehicles this year and 150,000 vehicles per year by 2023.
The direct-to-consumer auto startup said as of May 9 it received over 90,000 orders in the U.S. and Canada for its R1 vehicle. It also has another order to supply Amazon with 100,000 commercial electric delivery vans.
But the company has built fewer than 5,000 cars since it started production, a small figure for a company that plans to one day dominate at least 10% of the global auto market.
"Of course our focus as an organization for 2022 is to get more R1s and EVs on the road," Rivian CEO R.J. Scaringe said during the company's earnings call. "The majority of our time is focused on ensuring our teams are driving towards ramping [up] production and deliveries to customers."
In a bid to compensate for slower-than-expected sales, Rivian earlier this year tried to raise the price of its vehicles by 20%, but buyers quickly objected and one shareholder sued. The company later backtracked.
To meet production goals, Rivian said it's ramping up hiring at its plant in Normal, Ill. and planning to break ground on a new $5 billion, 2,000-acre factory outside of Atlanta, Ga., which came with a hefty $1.5 billion tax break from the local government. That factory is expected to create 7,500 local jobs. Rivian said it will produce 400,000 cars annually once it reaches full capacity.
Between its planned Georgia factory and its plant in Illinois, Rivian expects to produce 600,000 cars each year when it's fully up and running.
Those plans have failed to impress Rivian's big-name shareholders, many of whom have sold off significant portions of their stock, including Ford, which sold 8 million Rivian shares this week – though it still maintains a stake. Ford originally had plans to develop an electric Lincoln SUV with Rivian, but the deal fell through last November.
Amazon backed Rivian in 2019 and said in its April earnings report it had taken a $7.6 billion loss on its investment.
In the last three months, Rivian's stock tanked more than 60%, and since its IPO in November 2021 the stock is down over 75%.
Samson Amore
Samson Amore is a reporter for dot.LA. He holds a degree in journalism from Emerson College. Send tips or pitches to samsonamore@dot.la and find him on Twitter @Samsonamore.
https://twitter.com/samsonamore
samsonamore@dot.la
05:00 AM | October 17, 2022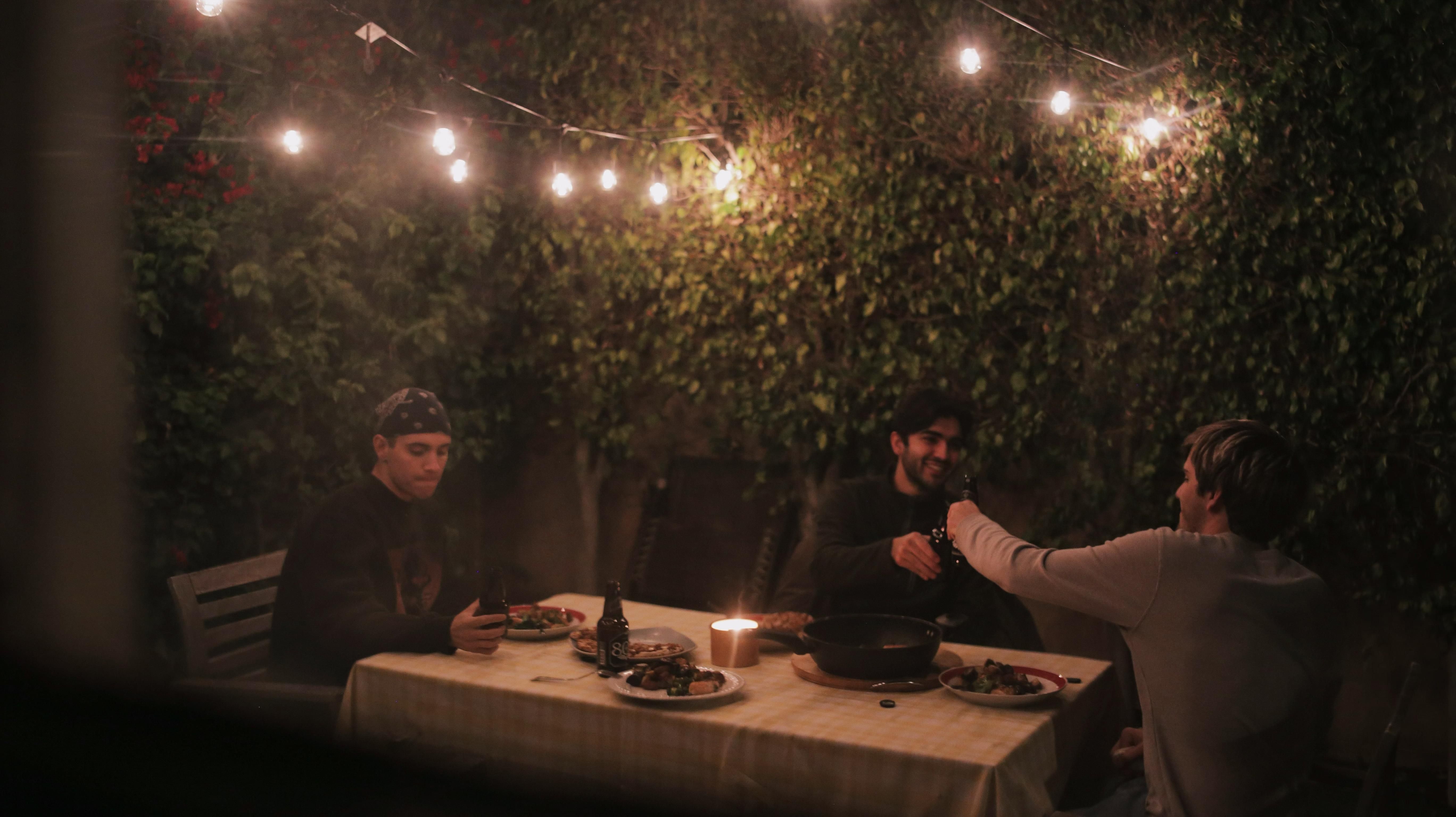 image by 222
Midway through dinner at a West Hollywood restaurant, Arman Roshannai, the 21-year old CTO of 222 brings up 19th century French polymath Pierre-Simon Laplace's demon. Or, rather, the Frenchman's theory of destiny. As Roshannai explains, LaPlace thought that if someone (the demon) knows the precise location and momentum of every atom in the universe, their past and future values for any given time can be calculated from the laws of mechanics. Freewill, Laplace would say, is an illusion.
How did we get to Laplace? Roshannai made a joke about 222 being his demon after I suggested he's Dr. Frankenstein.
"Don't mention that in the article," Roshannai says. He's mostly joking.
But how could I not? 222 is a demon caste from human brain mimicry. But unlike the other demons — consumer predictability, metaverse, surveillance — 222 is offering salvation.
The idea for 222 began with a simple theory: "Meeting people through chance encounters, being at a bar, seeing someone wearing a shirt of a band you like and striking up a conversation just felt much better than getting a follow request on Instagram," says Danial Hashemi, the 21-year-old COO.
To test it, Roshannai and Hashemi began to host events at Keyan Kazemian's house—the 23-year-old CEO of 222.
"We would beg our friends who didn't know each other to come to Keyan's backyard where he lives in Orange County," says Hashemi. "We cooked pasta and served wine." They also had their friends fill out a personality survey that they then used to determine who should sit at which table at subsequent dinners.
People kept coming back. Some people became best friends. Others started dating. And what began as a college research project bloomed into an AI company. "No swiping, no profiles, no dms, just say yes and find the people and places that best match your personality," says Hashemi.
Sound cool? The table next to ours thinks so. They're one of a smattering of four-to-eight person cliques at the West Hollywood restaurant who have been synthesized to have a good time. And by the looks on their faces, bright-eyed and full of expression, 222 is working.
To sign up, you have to be between 18 and 27. For now, 222, is targeting Gen Z. The app, I'm told, is coming soon but until then you enter your phone number on 222's website before being directed to 30-some odd questions that include:
"Would you rather watch an arthouse or mainstream blockbuster?"
"Would you rather go clubbing or have a daytime picnic?"
"Would you rather listen to Tchaikovsky or Megan Thee Stallion?"
Potential members also have to rate how strongly they agree or disagree with statements like:
"I would go to space if there's a chance I wouldn't come back."
"Humans should make an active effort to curb the emission of greenhouse gasses."
"Humans are born with an innate purpose."
The survey also includes a self-assessment of your drug habits and at one point you have to rate your own attractiveness on a scale between one and 10. The goal is to provide the AI with enough data points for it to determine which of the 16 categories your personality falls into.
"Once you get your personality type, you wait until we have an experience," Hashemi says.
For now, 222 experiences are held every other week. Members who are selected by the AI engine to attend the dinner portion of the evening pay $2.22. Those who aren't selected for the dinner portion of the experience can still, if they choose, attend the post-dinner venue.
The way the AI determines compatibility is a bit of a mystery.
"The AI picks up on these social trends itself," says Roshannai. "It may notice that similarity is a great indicator of compatibility, or find other underlying patterns that we didn't even know existed."
Based on feedback from real-life interactions, he continues, "we certainly can and will do some tinkering with what we feed the model." But ultimately, the model itself will start learning what prompts have weight and which questions are best used to predict meaningful connections.
According to Kazemian, "Do you think comedy is becoming too politically correct?" Has been particularly successful in determining compatibility. Political leanings less so.
Back at the restaurant, Kazemian pulls out his laptop, scans the room like a spy, taps a few keys on the keyboard and runs a script. The program sends participating 222 members a text message with info for the post-dining venue.
Tonight, the venue is a rooftop lounge within walking distance of the restaurant and with a 180-degree view overlooking the city. Hashemi confirms there's a section designated for 222 members. While we're standing around the tables, Kazemian's girlfriend dares Roshannai to go talk to a girl. He does. Pays her a compliment on her dress "and it worked," Roshannai exclaims. The look on his face is a familiar one, it's the look of excitement spawning from serendipity. It may seem like typical human behavior but increasingly, it's not.
Every trend report suggests young people just don't care about being in the physical world anymore. Tech companies are obsessed with trying to create increasingly immersive online spaces to hang out in. The average young person spends half their waking life staring into a screen. The office is dead. Third spaces are increasingly scarce. The loneliest generation in the history of the world keeps getting lonelier.
"Have you read Robert Putnam's book "Bowling Alone?" Hashemi asks me. "One of the slides on our pitch deck literally says we're anti-Metaverse."
Not long after our arrival, the trio begins to notice familiar faces from the restaurant pour in. Hashemi says that as their member base has grown steadily at a rate of 30% per month since 222's inception, it's increasingly difficult to differentiate who's been sent by 222 and who hasn't. Based on the RSVPs, of the nearly 40 people who attended the dinner portion of the evening, only four or five replied that they wouldn't attend the post-dinner venue. Which is to say, 222's success rate, at least for this evening is roughly 90%.
The use cases for this technology, Kazemian says, are myriad: choosing seats on airplanes, selecting roommates, providing venues with information about their patrons' likes/dislikes to best curate an unforgettable evening. But the goal, the same one that inspired those backyard dinners, remains the same: Veer people back towards the physical world. Incite meaningful connections IRL. Use the demon to fight the demons.

Andrew Fiouzi
Andrew Fiouzi is an editor at dot.LA. He was previously a features writer at MEL Magazine where he covered masculinity, tech and true crime. His work has been featured in the Los Angeles Times, Long Reads and Vice, among other publications.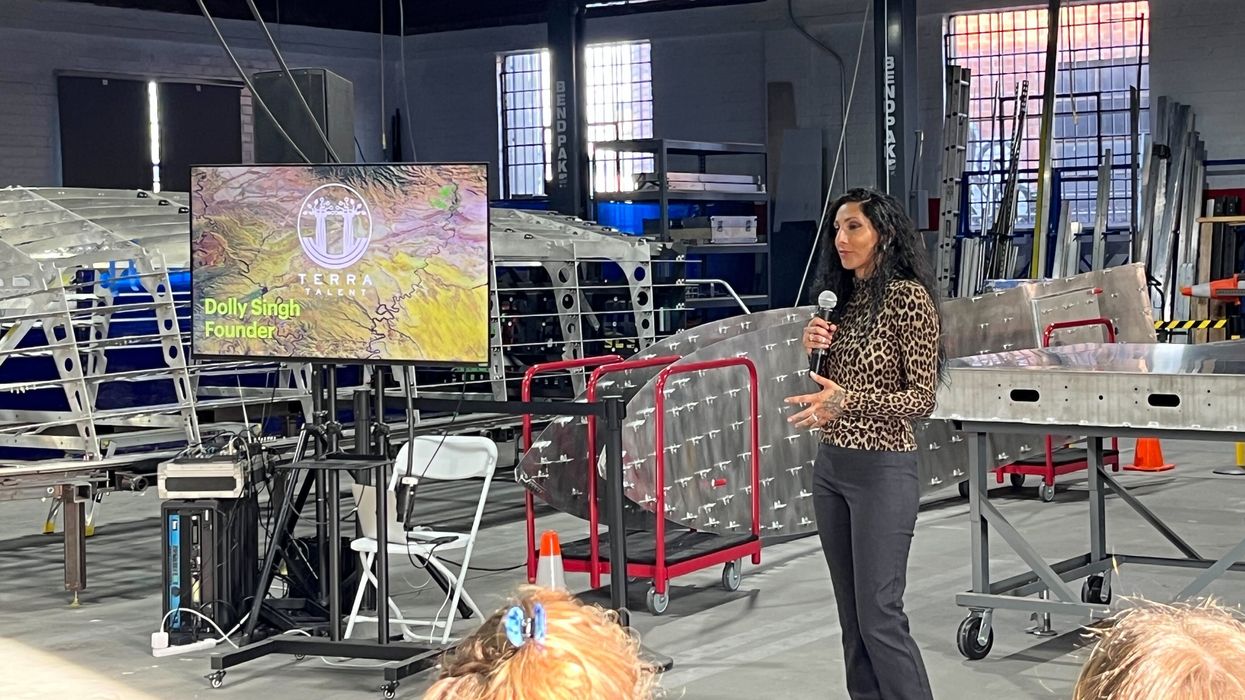 Samson Amore
At Lowercarbon Capital's LA Tech Week event Thursday, the synergy between the region's aerospace industry and greentech startups was clear.
The event sponsored by Lowercarbon, Climate Draft (and the defunct Silicon Valley Bank's Climate Technology & Sustainability team) brought together a handful of local startups in Hawthorne not far from LAX, and many of the companies shared DNA with arguably the region's most famous tech resident: SpaceX.
Here's a look at the greentech startups that pitched during the Tech Week event, and how they think what they're building could help solve the climate crisis.
Arbor: Based in El Segundo, this year-old startup is working to convert organic waste into energy and fresh water. At the same time, it also uses biomass carbon removal and storage to remove carbon from the atmosphere and sequester it in an attempt to avoid further damaging the earth's ozone layer. At the Tech Week event Thursday, Arbor CEO Brad Hartwig told a stunned crowd that Arbor aims to remove about five billion tons of organic waste from landfills and turn that into about 6 PWh, or a quarter of the global electricity need, each year. Hartwig is an alumni of SpaceX; he was a manufacturing engineer on the Crew Dragon engines from 2016-2018 and later a flight test engineer at Kitty Hawk.
Antora: Sunnyvale-based Antora Energy was founded in 2017, making it one of the oldest companies on the pitching block during the event. Backed by investors including the National Science Foundation and Los Angeles-based Overture VC, Antora has raised roughly $57 million to date, most recently a $50 million round last February. Chief operating officer Justin Briggs said Antora's goal is to modernize and popularize thermal energy storage using ultra-hot carbon. Massive heated carbon blocks can give off thermal energy, which Antora's proprietary batteries then absorb and store as energy. It's an ambitious goal, but one the world needs at scale to green its energy footprint. According to Briggs, "the biggest challenge is how can we turn back variable intermittent renewable electricity into something that's reliable and on demand, so we can use it to provide energy to everything we need."
Arc: Hosting the panel was Arc, an electric boating company that's gained surprising momentum, moving from design to delivering its first e-boats in just two years of existence. Founded in 2021, the company's already 70 employees strong and has already sold some of its first e-boats to customers willing to pay the luxury price tag, CTO Ryan Cook said Thursday. Cook said that to meet the power needs of a battery-powered speedboat, the Arc team designed the vehicle around the battery pack with the goal of it being competitive with gas boats when compared to range and cost of gas. But on the pricing side, it's not cheap. Arc's flagship vessel, the Arc One is expected to cost roughly $300,000. During the panel, Cook compared the boat to being "like an early Tesla Roadster." To date Arc Boats has raised just over $35 million, according to PitchBook, from investors including Kevin Durant, Will Smith and Sean "Diddy" Combs.
Clarity Technology: Carbon removal startup Clarity is based in LA and was founded by Yale graduate and CEO Glen Meyerowitz last year. Clarity is working to make "gigaton solutions for gigaton problems." Their aim? To remove up to 2,000 billion pounds of carbon from the atmosphere through direct air capture, a process which uses massive fans to move chemicals that capture CO2. But the challenge, Meyerowitz noted in his speech, is doing this at scale in a way that makes an actual dent in the planet's emissions while also efficiently using the electricity needed to do so. Meyerowitz spent nearly five years working as an engineer for SpaceX in Texas, and added he's looking to transfer those learnings into Clarity.
Parallel Systems: Based in Downtown LA's Arts District, this startup is building zero-emission rail vehicles that are capable of long-haul journeys otherwise done by a trucking company. The estimated $700 billion trucking industry, Parallel Systems CEO Matt Soule said, is ripe for an overhaul and could benefit from moving some of its goods off-road to electric railcars. According to Soule, Parallel's electric battery-powered rail vehicles use 25% of the energy a semi truck uses, and at a competitive cost. Funded in part by a February 2022 grant from the U.S. Department of Energy, Parallel Systems has raised about $57 million to date. Its most recent venture funding round was a $49 million Series A led by Santa Monica-based VC Anthos Capital. Local VCs including Riot Ventures and Santa Monica-based Embark Ventures are also backers of Parallel.
Terra Talent: Unlike the rest of the startups pitching at the Tech Week event, Terra Talent was focused on building teams rather than technology. Founder Dolly Singh worked at SpaceX, Oculus and Citadel as a headhunter, and now runs Terra, a talent and advisory firm that helps companies recruit top talent in the greentech space. But, she said, she's concerned that all the work these startups are doing won't matter unless we very quickly turn around the current trendlines. "Earth will shake us off like and she will do just fine in 10,000 years," she said. "It's our way of living, everything we love is actually here on earth… there's nothing I love on Mars," adding that she's hopeful the startups that pitched during the event will be instrumental in making sure the planet stays habitable for a little while longer.

Samson Amore
Samson Amore is a reporter for dot.LA. He holds a degree in journalism from Emerson College. Send tips or pitches to samsonamore@dot.la and find him on Twitter @Samsonamore.
https://twitter.com/samsonamore
samsonamore@dot.la