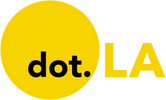 Get in the KNOW  
  on LA Startups & Tech  
X
Photo by Briland Graves
Real Estate Data, Virtual Homes and the Future of Proptech at dot.LA's Salon Event
Decerry Donato
Decerry Donato is a reporter at dot.LA. Prior to that, she was an editorial fellow at the company. Decerry received her bachelor's degree in literary journalism from the University of California, Irvine. She continues to write stories to inform the community about issues or events that take place in the L.A. area. On the weekends, she can be found hiking in the Angeles National forest or sifting through racks at your local thrift store.
04:17 PM | May 11, 2022
On Tuesday evening, dot.LA hosted a Proptech Salon to create space and encourage proptech founders and investors to discuss how Southern California real estate startups are disrupting the industry. Over 70 invited guests gathered at WeWork's Century City location, including Michael Martin of Avenue 8, Nick Marino of TruLiv and Andrew Swerdloff of StayOpen.
---
The event kicked off with a conversation with JoyHub co-founder and CEO Elizabeth Braman, who announced the data aggregation and business intelligence platform will soon change its name to Revolution RE. Prior to starting JoyHub, Braman spent time at crowdfunding real estate platform Realty Mogul as senior managing director.

Braman said the inspiration for creating JoyHub came from the problems she saw in the real estate industry around the lack of data consistency and the overwhelming amount of data that real estate operators of apartments and rental properties have to make sense of. She saw a need for a tool that could simplify the data for real estate companies so they could use it effectively.
"I learned that legacy technology created a lot of problems," she said. "Proptech and all these new innovative solutions were compounding the problem by creating massive amounts of data silos."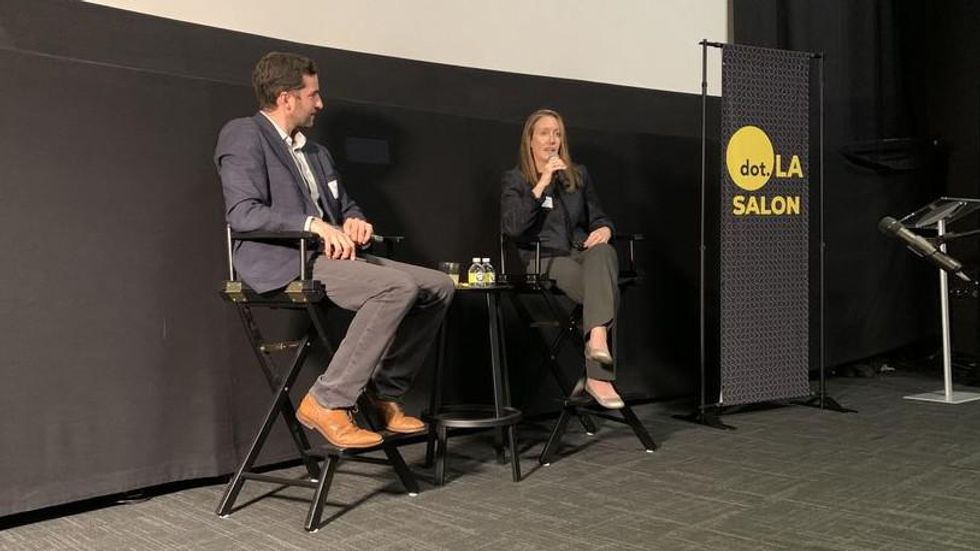 dot.LA CEO Sam Adams and JoyHub co-founder and CEO Elizabeth Braman at dot.LA's Proptech Salon on May 10, 2022.Photo by Briland Graves
With any new venture or startup, there's always a risk of it failing, she said:
"Anyone who tells you that starting a company during a pandemic is easy is not being truthful," she said, adding that she was lucky that she was able to work with a team she already knew well from her first startup experience.
For much of the rest of the startup community, times are looking more challenging than they were not long ago.
"The high-gross C, D unicorn-type companies are having a very challenging time raising up rounds," dot LA Executive Chairman Spencer Rascoff said. "And A and B—not so great."
Rascoff offered some advice to young companies hoping to weather the storm.
"Realistically, you should try to tighten your belt as much as possible to extend the runway as long as possible so that if you can't get a round done this year, you prioritize survival over growth," he said. "Because there'll be time for growth later."
Another hot topic in proptech was virtual real estate. The concept of the metaverse has grown in popularity as new virtual environments go online. Celebrities like Snoop Dogg already own land in some of these new worlds. In December, one of his fans purchased a plot of land for $450,000 just to be the rapper-entrepreneur's virtual neighbor.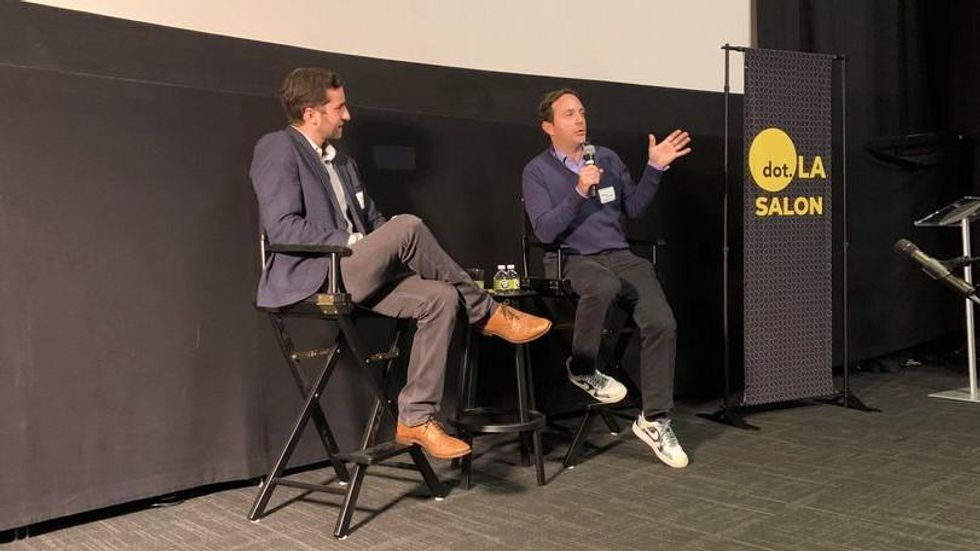 dot.LA CEO Sam Adams and Chairman Spencer Rascoff at dot.LA's Proptech Salon on May 10, 2022.Photo by Briland Graves
As an investor, Rascoff said he's skeptical about buying land in the metaverse.
"The big reason why I'm overall skeptical of this is for some of these things, you need counties to play ball," Rascoff said. "But it's fun and interesting to talk about how title might be disruptive through blockchain."
The night was capped with a question from dot LA CEO Sam Adams:
"If given a million dollars to invest, where would that money go?"
Braman said she would have to diversify and choose cannabis along with venture funds.
Rascoff admitted his answer was less exciting, but said he'd would use the money to buy a "basket of growth tech stocks that are at two-to-five-year lows."
Correction: An earlier version of this post misspelled StayOpen co-founder Andrew Swerdloff's last name.
Decerry Donato
Decerry Donato is a reporter at dot.LA. Prior to that, she was an editorial fellow at the company. Decerry received her bachelor's degree in literary journalism from the University of California, Irvine. She continues to write stories to inform the community about issues or events that take place in the L.A. area. On the weekends, she can be found hiking in the Angeles National forest or sifting through racks at your local thrift store.
04:21 PM | September 20, 2022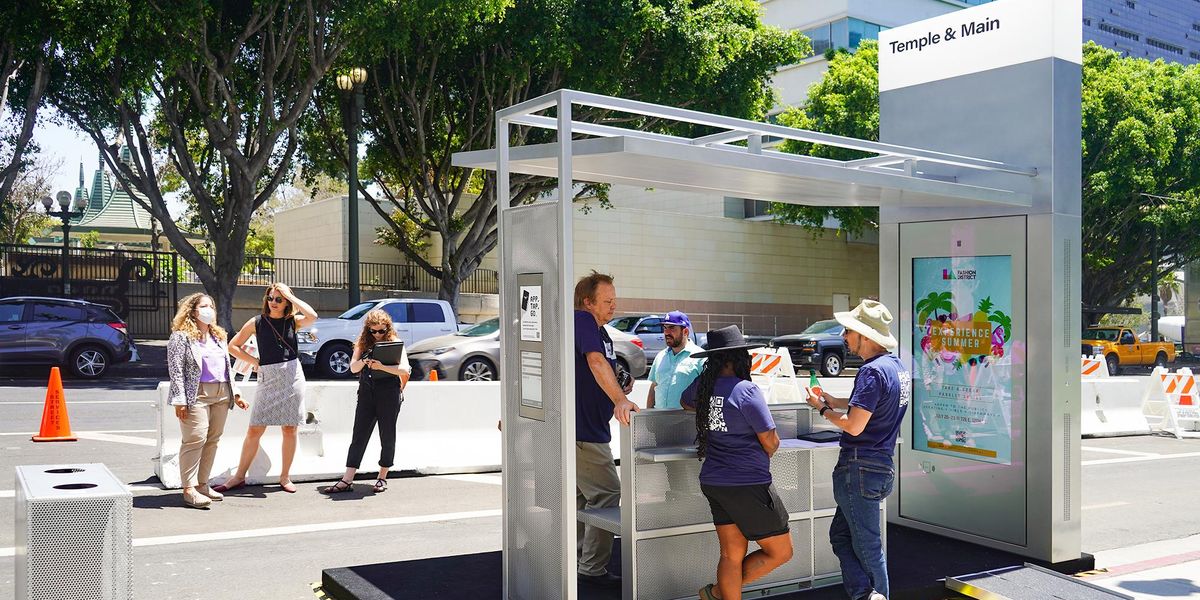 Courtesy of Tranzito-Vector
After over 20 years of failure, Los Angeles has a new contract to add 3,000 high-tech bus shelters to city streets by 2033. The City Council voted 12-1 to approve an agreement with curbside management and micromobility operator Tranzito-Vector.

The new shelters will have amenities like digital e-paper displays with real-time bus information, along with WIFI and phone charging capabilities. With temperatures in the San Fernando Valley hitting 110 degrees in recent weeks, StreetsLA is also looking to add cooling features to bus shelters in the hottest parts of the city. The contract will begin January 2023.
The move comes after the previous 20-year street furniture contract failed to deliver on promises for both an increase in the number of bus shelters and advertising revenue. The city and the previous contractor blamed the arduous permitting approval process for the shortfall. Eight different city agencies and individual Council members were required to sign-off on each bus shelter before it could be built—and there was no enforced deadline to respond. That, and excessive NIMBYism has led to hundreds of bus shelters remaining in limbo, advocates say. The new contract will streamline the process by only requiring two approvals and batch approving requests.
"I really do think it's embarrassing that the city can't provide the most basic infrastructure like bus shelters," said Council President Nury Martinez, pledging to meet with Tranzito and StreetsLA to make sure bus shelters are placed where they are most needed in her district.
Questions remain about where the program's funding will come from, with the city investing in capital expenditures to build bus shelters and actively seeking federal and state funding. Previously, the contractor paid all the costs of installing and maintaining shelters.
"I'm concerned about making a commitment to a mirage," said Councilmember Monica Rodriguez, the sole "no" vote on the contract.
Councilmember Mike Bonin described taking the 33 bus from his home on the Westside to City Hall. "It was brutal. It was hitting close to 100 that day. People were suffering standing there in the heat."
Bonin noted that although he hates digital advertising, he supports providing better amenities for bus riders who are predominantly low-income and transit-dependent. "Not only is this a public health issue, this is a civil rights issue," he said.
So far, the city is still working on acquiring the $42 needed for the first year of the program, with a $5 million grant from Metro, $1 million from the city and $30 million pending from a public works trust fund. L.A. is projected to earn 60.5% of ad revenue over the course of the contract, with $90 million guaranteed over 10 years.
Maylin Tu
Maylin Tu is a freelance writer who lives in L.A. She writes about scooters, bikes and micro-mobility. Find her hovering by the cheese at your next local tech mixer.
05:00 AM | February 15, 2023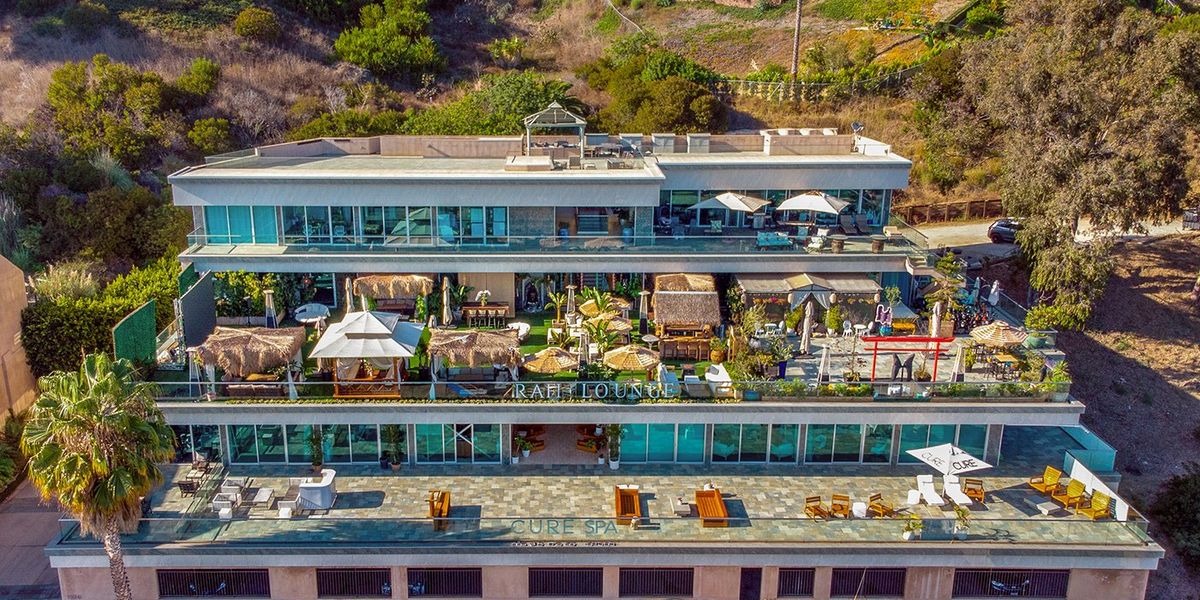 Photo: Rafi Lounge
Set in the foothills of Eastern Malibu across the street from Robert de Niro's Nobu, the Rafi Lounge, a NFT-powered wellness center and coworking space, somehow looks like both a beachfront country club and a swank monastery. On a clear day, you can see Catalina Island across the ocean. The sign above the entrance says, "Welcome, please allow us to reintroduce you to yourself."
Pushing through the braided rope entryway and passing a tranquil stone Buddha head waterfall, I arrived just after a yoga class former playboy model-turned "Dancing With the Stars" host Brooke Burke finished. The central open space that usually houses yoga mats or stationary bikes has been cleared off, and the giant projection screen behind the small stage is playing a tranquil plant video – an hour earlier, a larger-than-life Burke was on it helping clients "booty burn."
The building – which used to belong to a venture capital firm – has been totally transformed to look like nature's reclaimed it, dotted with lemon trees and cloaked in ornamental faux grass carpeting. Buddha statues are in every corner, some larger than five feet. On the way to one yoga room, there's a small shop selling pricey essential oils, Rafi Lounge merch, and CBD gummies. On the wall of the shop hang three breathtakingly detailed portraits of indigenous peoples made by the founder with charcoal. There's some construction ongoing, as they're converting former corner offices into hot yoga saunas and a spa.
On the day of my visit, the place is bustling with staff who are lugging boxes of Himalayan salt panels to install in the hot yoga room. Israeli-born Kung-Fu master and former monk Rafi Anteby, the founder of the eponymously named space, tells me that after our chat he plans to paint them all black to match the walls. No detail is too small to notice, something evident in his Mandala work.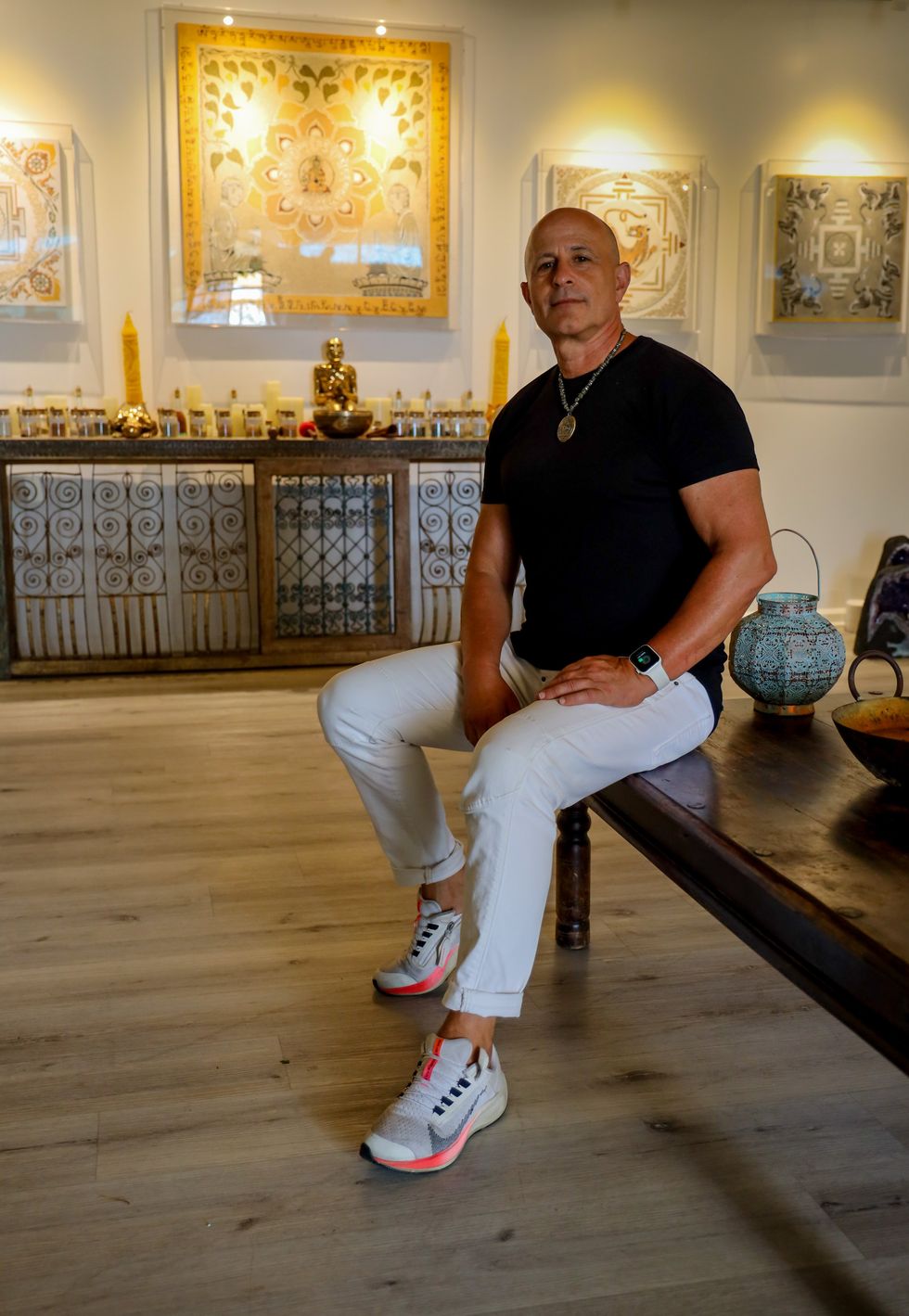 Rafi Lounge founder, Rafi Anteby, pictured here with his Mandala and sand collections. Photo: Rafi Lounge
The Rafi Lounge opened last year on November 10—the day before crypto exchange FTX went bankrupt. "Everyone said Rafi, go into a shutdown, don't do it," Anteby said. "I said I can't, because I pre-sold to members and I promised them [the launch is] what will happen."
Still, Anteby felt he couldn't renege on his promise to open the lounge to those who did buy in, so he forged ahead. So, what do NFTs have to do with a wellness center?
Each, according to Anteby, corresponds to a level of access. The least expensive, Unity, is the lowest tier and gives holders access to virtual classes. The second tier, Mindful, encompasses physical and virtual access to the Lounge. And the highest tier selling for $5,500, Awakened, are the ones Rafi is selling individually that act as an all-access pass to the Lounge and its benefits and events (including, Anteby said, "spiritual yacht parties"). Both Mindful and Awakened NFTs are lifetime memberships to Rafi Lounge, and include free access to annual retreats it hosts.
But facing the changing seasons of the crypto market and unwilling to sacrifice his brand by letting the Rafi Lounge tokens be resold to oblivion on public markets, Anteby took the drastic step to control his NFT inventory – buying up the remainder a mere day after the minting.
Anteby admitted he "lost a quarter of a million dollars" between creating and buying the NFTs back. But he said it was worth it: "I'm going to take each because I want to control who's coming to my lounge. I want to know that they will be my advocates as well."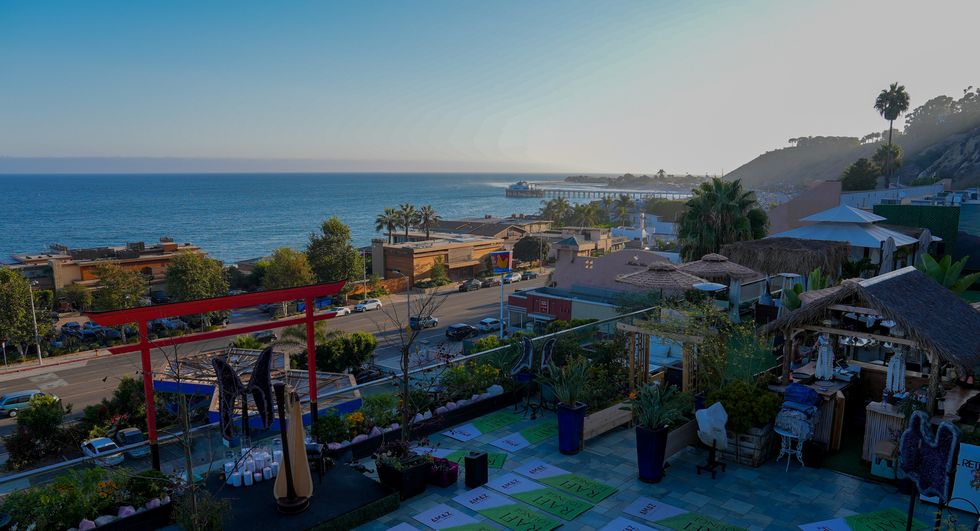 A view of the Rafi Lounge in the afternoon, before a yoga class. Photo: Rafi Lounge
Currently, there are 100 members, 55 of which are lifetime NFT holders. The 6,000 square-foot rooftop lounge is also open to the public. Which is to say, anyone can buy a 10-day pass for $250, pay the $40 fee for individual classes or come to public events. One of those people is Amie Yaniak who was diagnosed with stage four cancer last May that has since metastasized into her bones.
"I've never been anywhere like this. This was the first class I've done since the cancer, and it was just so cleansing," Yaniak says. While she's not a member, Yaniak told me she was interested in returning for more classes.

In addition to people like Yaniak, Anteby is also curating a more select crowd of well-to-do celebrities that can act as brand ambassadors for the lounge. He said he wants it to be a sort of more laid-back SoHo house, where top minds converge on the Pacific Ocean to make deals and network. Some of the names dropped during my tour of the property included Jamie Foxx (who Anteby calls a good friend), Chris Noth, Gladys Knight, and Equinox co-founder Lavinia Errico, whom I actually briefly met, since she's a member of the Lounge's advisory board.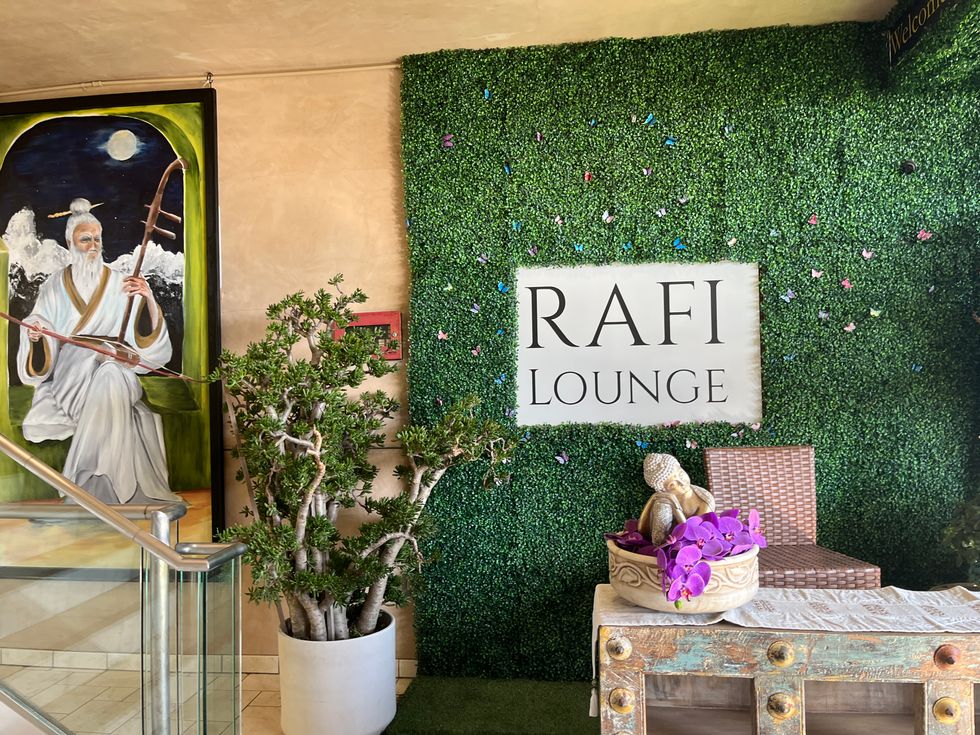 The lounge's entryway and check-in. Photo: Samson Amore
As Tame Impala wafts from the lounge's speakers, Anteby tells me stories of getting Taoist monks drunk at karaoke bars and studying medical qigong and tai chi in China. Anteby hung the intricate mandalas on the walls of a yoga room and he says they take around two years to complete as he carefully places individual grains of sand and uses tree sap to preserve their form. The mandalas are meant to be a contemplation of man's relationship with nature, which is partly why Anteby designed the NFT versions of them to resemble a sort of elemental fusion that combines water, fire and earth.
Owning an NFT also corresponds to owning a fraction of the Malibu Mandala Rafi made that hangs in the lounge.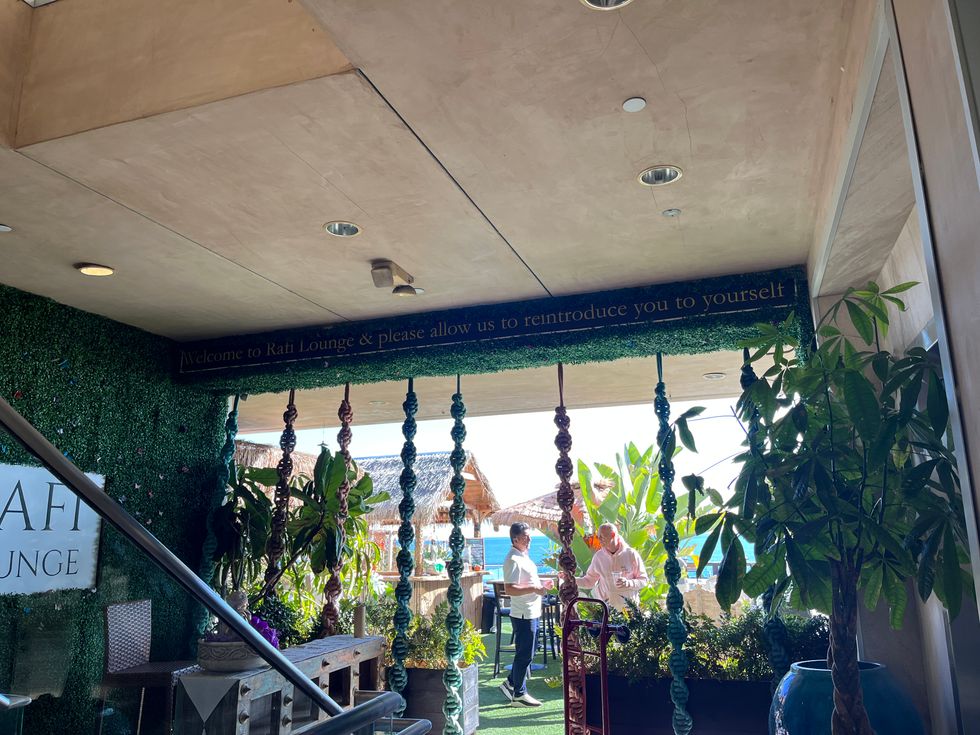 Anteby, right, speaks with a partner at his lounge in Malibu.Photo: Samson Amore
While Anteby admits the launch hasn't netted him any profits yet and said he's out around $1 million launching the place, he's determined to turn the Rafi Lounge into a franchise and has plans to open future locations in other cities big into tech and wellness like Miami, Scottsdale, Ariz., Newport Beach, and Austin.
Besides the obvious cases like Yaniak's, Anteby said he thinks the larger tech community needs a breather. "They all have digital burnout," he said. "It's more than just me helping you to breathe. You need to take care of yourself, and here people do that all the time."
Samson Amore
Samson Amore is a reporter for dot.LA. He holds a degree in journalism from Emerson College. Send tips or pitches to samsonamore@dot.la and find him on Twitter @Samsonamore.
https://twitter.com/samsonamore
samsonamore@dot.la