Dogdrop Raises $2.9 Million, Seeks to Be 'Gold Standard' in the Pet Startup World
Michaella Huck
Michaella Huck is an editorial intern at dot.LA. She's a senior at California State University, Northridge, where she majors in broadcast journalism and minors in Africana studies. Over the course of her college career, she has found a love for student media; she currently works as the editor at the Daily Sundial, a magazine highlighting the issues affecting students.
05:00 AM | October 04, 2021
Shaina Denny had just moved back to the United States from China when she decided she wanted a pup of her own. But as balancing work and home life became more difficult, she found herself looking for a dog service agency that allowed her to drop off her pet for just a few hours at a time— but couldn't find one.
One year later, Denny teamed up with COO and co-founder Greer Wilk in hopes of providing just such a service herself.
---
Dogdrop launched out of Science Inc., a startup studio in downtown Santa Monica that previously backed DogVacay, in January of 2020— right before the start of the COVID-19 pandemic.
The startup provides dog care with a twist: focusing dog care around convenience, flexibility and accessibility.
Denny said their dog service is unique in that it focuses on creating an industry "gold standard" for customer and pet experience.
"A high-quality member experience is something that humans expect from other services, they can also expect the same experience at a Dogdrop location," said Denny.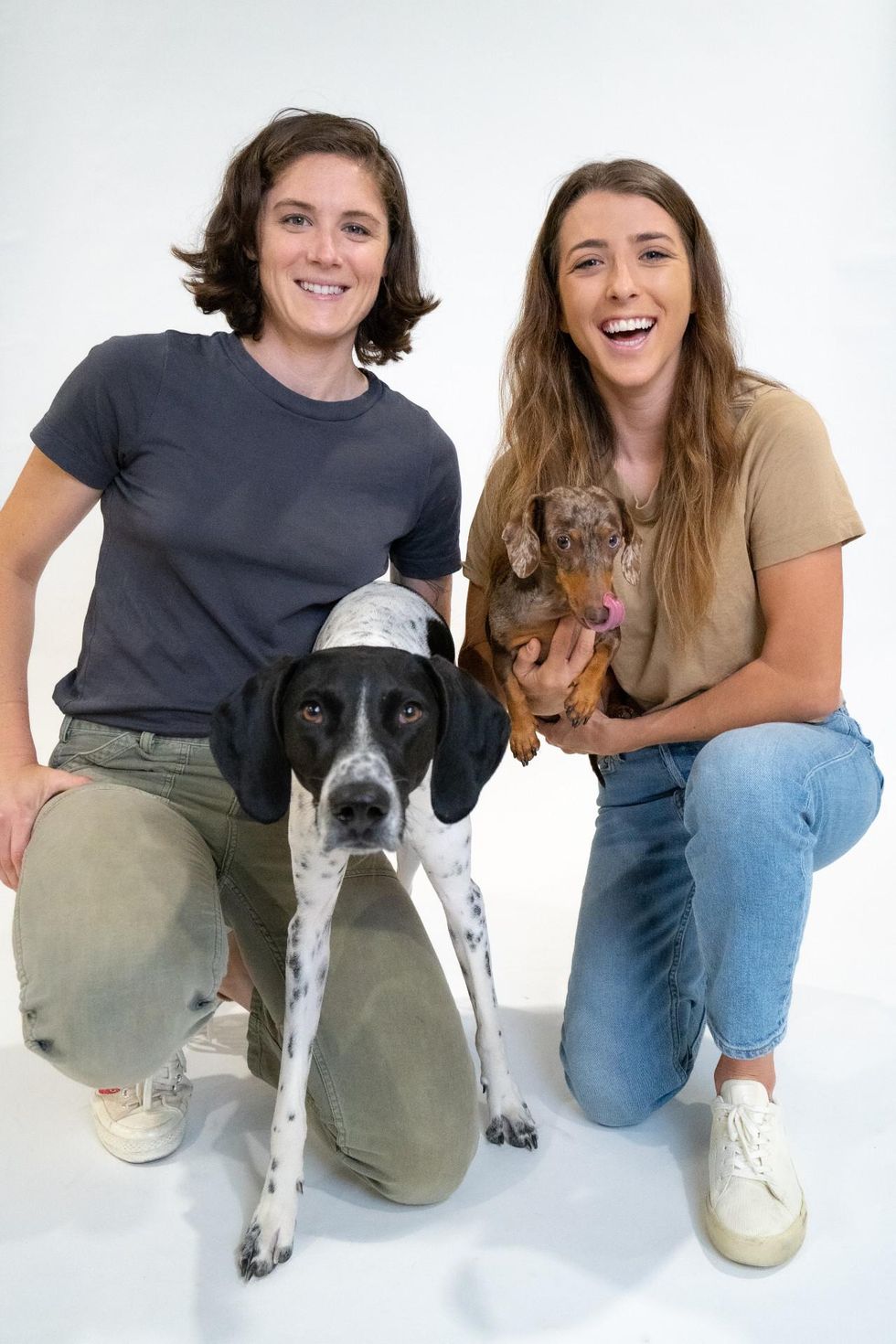 Dogdrop co-founders Greer Wilk (left) and Shaina Denny
At Dogdrop, pet owners can drop off their pups whenever they need to and pick them up whenever they are ready.
Dogdrop's customers pay an hourly rate or a monthly subscription. Costs start at $20 per month for three hours and range up to $800 per month for unlimited services.
The COVID-19 pandemic caused economic hardships for many startups and small businesses. Companies like Rover, one of Dogdrop's top competitors, were forced to lay off employees within weeks of the start of the pandemic. Rover laid off 41% of its workers at the end of 2020.
"If people are working from home and not traveling, the impact on our community of sitters and walkers is devastating," its CEO said in a statement last year.

But the American Pet Products Association reported that Americans spent almost $104 billion in 2020 on services such as grooming pet sitting and pet walking. This year the association estimates consumers will spend almost $110 billion on pet services — an increase of 5.7% over last year.
Denny said her company's biggest challenge was not economic, but keeping their employees safe and supporting them through rough times.

"As someone who adopted or got a dog during the pandemic— the demand was there. Especially because we focus on what we call 'quick stops.' People are able to drop their dog off for one to three hours at a time to get them exercising or to have a quiet Zoom call," Denny said. "The real challenge was just making sure our staff felt safe and supported during these times, especially with other difficulties going on in Los Angeles specifically."
Dogdrop announced a $2.9 million raise in late September. The Series A funding round was led by Fuel Capital and also included Mars PetCare, Muse Capital, Animal Capital, Gaingels, The Helm and Wag CEO Garrett Smallwood, the chief executive of one of their biggest competitors.
The company intends to use the new funding to expand its business reach and marketing efforts.
"The pet industry is really growing right now and a lot of investors are attracted to the pet industry space," Denny said. "If we can make it through and be successful during that time it shows investors we will continue to grow."
Michaella Huck
Michaella Huck is an editorial intern at dot.LA. She's a senior at California State University, Northridge, where she majors in broadcast journalism and minors in Africana studies. Over the course of her college career, she has found a love for student media; she currently works as the editor at the Daily Sundial, a magazine highlighting the issues affecting students.
05:00 AM | February 15, 2023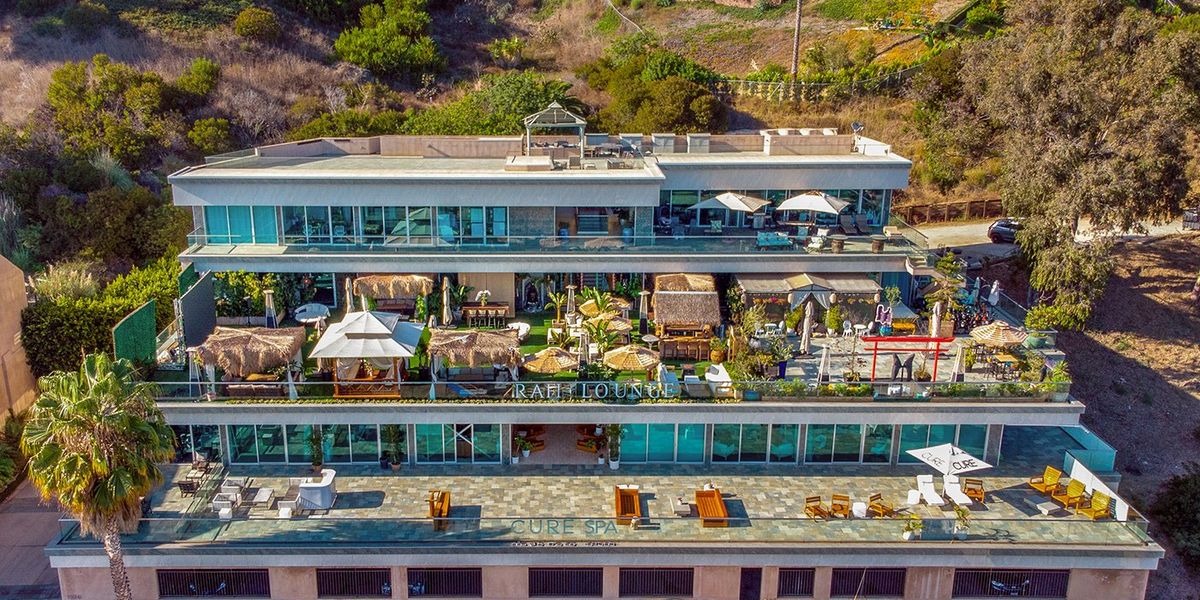 Photo: Rafi Lounge
Set in the foothills of Eastern Malibu across the street from Robert de Niro's Nobu, the Rafi Lounge, a NFT-powered wellness center and coworking space, somehow looks like both a beachfront country club and a swank monastery. On a clear day, you can see Catalina Island across the ocean. The sign above the entrance says, "Welcome, please allow us to reintroduce you to yourself."
Pushing through the braided rope entryway and passing a tranquil stone Buddha head waterfall, I arrived just after a yoga class former playboy model-turned "Dancing With the Stars" host Brooke Burke finished. The central open space that usually houses yoga mats or stationary bikes has been cleared off, and the giant projection screen behind the small stage is playing a tranquil plant video – an hour earlier, a larger-than-life Burke was on it helping clients "booty burn."
The building – which used to belong to a venture capital firm – has been totally transformed to look like nature's reclaimed it, dotted with lemon trees and cloaked in ornamental faux grass carpeting. Buddha statues are in every corner, some larger than five feet. On the way to one yoga room, there's a small shop selling pricey essential oils, Rafi Lounge merch, and CBD gummies. On the wall of the shop hang three breathtakingly detailed portraits of indigenous peoples made by the founder with charcoal. There's some construction ongoing, as they're converting former corner offices into hot yoga saunas and a spa.
On the day of my visit, the place is bustling with staff who are lugging boxes of Himalayan salt panels to install in the hot yoga room. Israeli-born Kung-Fu master and former monk Rafi Anteby, the founder of the eponymously named space, tells me that after our chat he plans to paint them all black to match the walls. No detail is too small to notice, something evident in his Mandala work.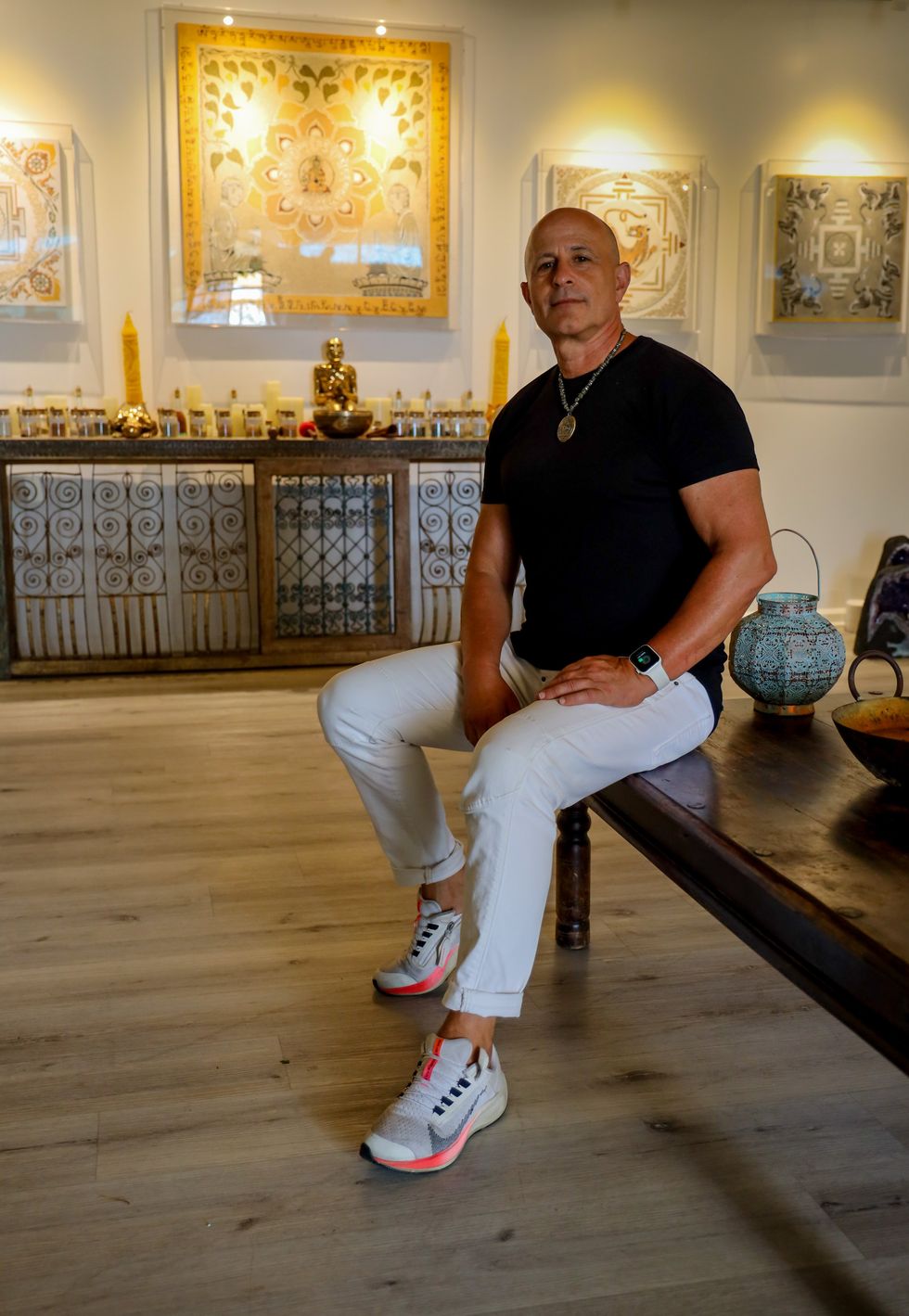 Rafi Lounge founder, Rafi Anteby, pictured here with his Mandala and sand collections. Photo: Rafi Lounge
The Rafi Lounge opened last year on November 10—the day before crypto exchange FTX went bankrupt. "Everyone said Rafi, go into a shutdown, don't do it," Anteby said. "I said I can't, because I pre-sold to members and I promised them [the launch is] what will happen."
Still, Anteby felt he couldn't renege on his promise to open the lounge to those who did buy in, so he forged ahead. So, what do NFTs have to do with a wellness center?
Each, according to Anteby, corresponds to a level of access. The least expensive, Unity, is the lowest tier and gives holders access to virtual classes. The second tier, Mindful, encompasses physical and virtual access to the Lounge. And the highest tier selling for $5,500, Awakened, are the ones Rafi is selling individually that act as an all-access pass to the Lounge and its benefits and events (including, Anteby said, "spiritual yacht parties"). Both Mindful and Awakened NFTs are lifetime memberships to Rafi Lounge, and include free access to annual retreats it hosts.
But facing the changing seasons of the crypto market and unwilling to sacrifice his brand by letting the Rafi Lounge tokens be resold to oblivion on public markets, Anteby took the drastic step to control his NFT inventory – buying up the remainder a mere day after the minting.
Anteby admitted he "lost a quarter of a million dollars" between creating and buying the NFTs back. But he said it was worth it: "I'm going to take each because I want to control who's coming to my lounge. I want to know that they will be my advocates as well."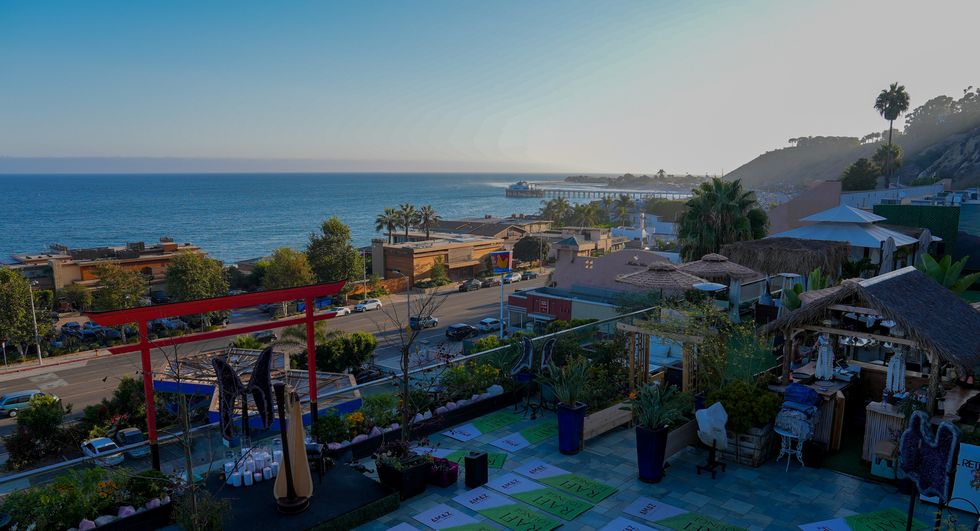 A view of the Rafi Lounge in the afternoon, before a yoga class. Photo: Rafi Lounge
Currently, there are 100 members, 55 of which are lifetime NFT holders. The 6,000 square-foot rooftop lounge is also open to the public. Which is to say, anyone can buy a 10-day pass for $250, pay the $40 fee for individual classes or come to public events. One of those people is Amie Yaniak who was diagnosed with stage four cancer last May that has since metastasized into her bones.
"I've never been anywhere like this. This was the first class I've done since the cancer, and it was just so cleansing," Yaniak says. While she's not a member, Yaniak told me she was interested in returning for more classes.

In addition to people like Yaniak, Anteby is also curating a more select crowd of well-to-do celebrities that can act as brand ambassadors for the lounge. He said he wants it to be a sort of more laid-back SoHo house, where top minds converge on the Pacific Ocean to make deals and network. Some of the names dropped during my tour of the property included Jamie Foxx (who Anteby calls a good friend), Chris Noth, Gladys Knight, and Equinox co-founder Lavinia Errico, whom I actually briefly met, since she's a member of the Lounge's advisory board.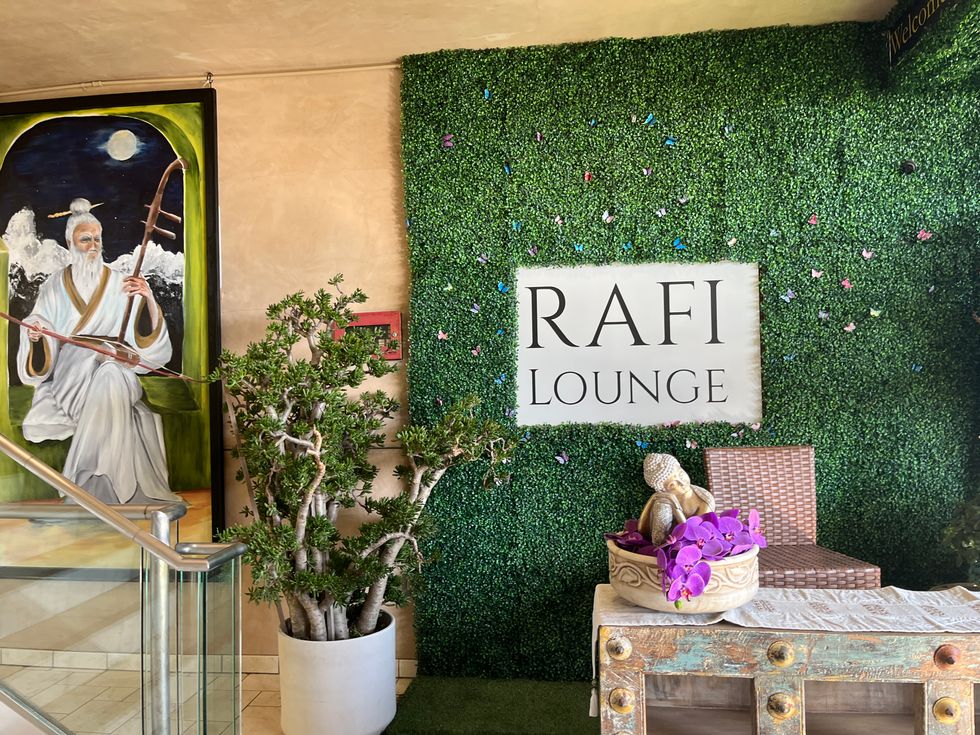 The lounge's entryway and check-in. Photo: Samson Amore
As Tame Impala wafts from the lounge's speakers, Anteby tells me stories of getting Taoist monks drunk at karaoke bars and studying medical qigong and tai chi in China. Anteby hung the intricate mandalas on the walls of a yoga room and he says they take around two years to complete as he carefully places individual grains of sand and uses tree sap to preserve their form. The mandalas are meant to be a contemplation of man's relationship with nature, which is partly why Anteby designed the NFT versions of them to resemble a sort of elemental fusion that combines water, fire and earth.
Owning an NFT also corresponds to owning a fraction of the Malibu Mandala Rafi made that hangs in the lounge.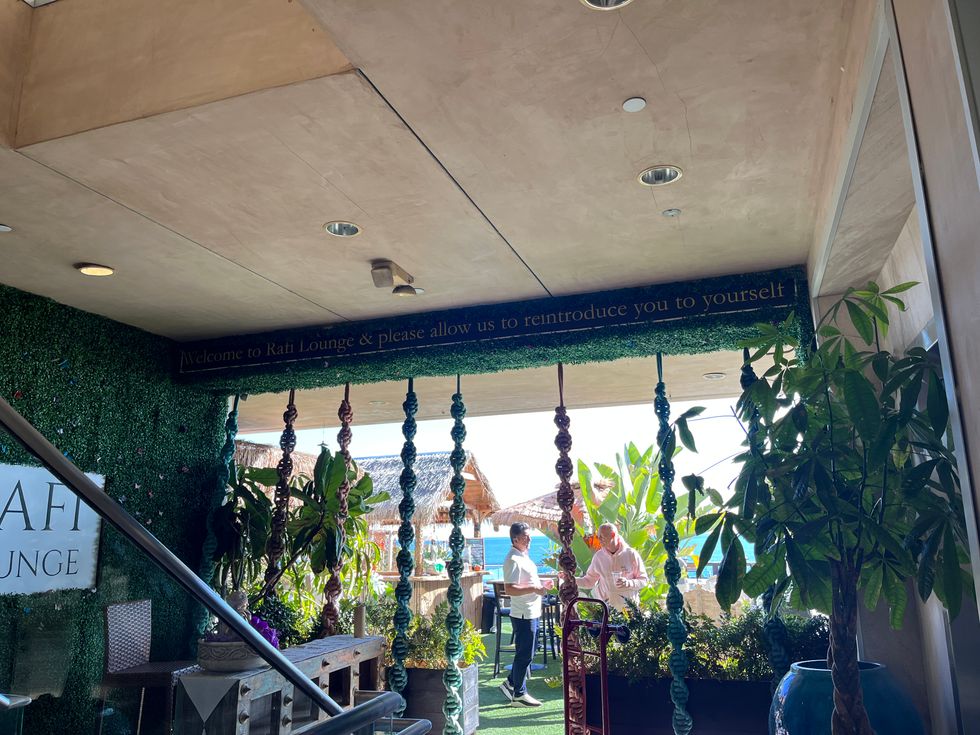 Anteby, right, speaks with a partner at his lounge in Malibu.Photo: Samson Amore
While Anteby admits the launch hasn't netted him any profits yet and said he's out around $1 million launching the place, he's determined to turn the Rafi Lounge into a franchise and has plans to open future locations in other cities big into tech and wellness like Miami, Scottsdale, Ariz., Newport Beach, and Austin.
Besides the obvious cases like Yaniak's, Anteby said he thinks the larger tech community needs a breather. "They all have digital burnout," he said. "It's more than just me helping you to breathe. You need to take care of yourself, and here people do that all the time."
Samson Amore
Samson Amore is a reporter for dot.LA. He holds a degree in journalism from Emerson College. Send tips or pitches to samsonamore@dot.la and find him on Twitter @Samsonamore.
https://twitter.com/samsonamore
samsonamore@dot.la
01:09 PM | December 09, 2022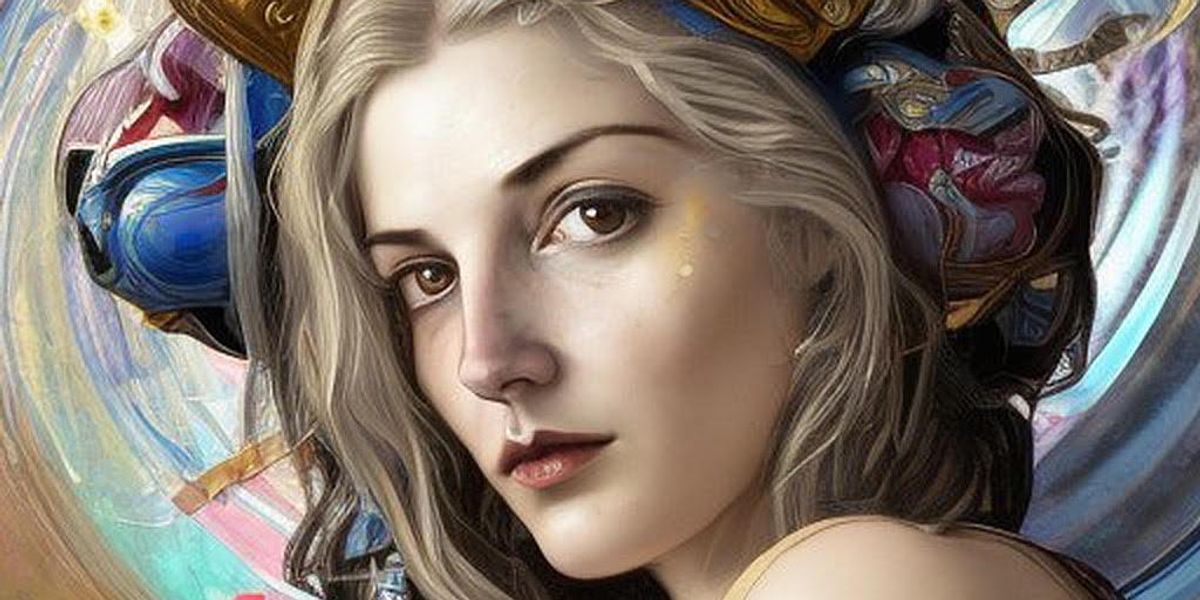 Drew Grant
It took me 48 hours to realize Lensa might have a problem.
"Is that my left arm or my boob?" I asked my boyfriend, which is not what I'd consider a GREAT question to have to ask when using photo editing software.
"Huh," my boyfriend said. "Well, it has a nipple."
Well then.
I had already spent an embarrassing amount of money downloading nearly 1,000 high-definition images of myself generated by AI through an app called Lensa as part of its new "Magical Avatar" feature. There are many reasons to cock an eyebrow at the results, some of which have been covered extensively in the last few days in a mounting moral panic as Lensa has shot itself to the #1 slot in the app store.
The way it works is users upload 10-20 photos of themselves from their camera roll. There are a few suggestions for best results: the pictures should show different angles, different outfits, different expressions. They shouldn't all be from the same day. ("No photoshoots.") Only one person in the frame, so the system doesn't confuse you for someone else.
Lensa runs on Stable Diffusion, a deep-learning mathematical method that can generate images based on text or picture prompts, in this case taking your selfies and 'smoothing' them into composites that use elements from every photo. That composite can then be used to make the second generation of images, so you get hundreds of variations with no identical pictures that hit somewhere between the Uncanny Valley and one of those magic mirrors Snow White's stepmother had. The tech has been around since 2019 and can be found on other AI image generators, of which Dall-E is the most famous example. Using its latent diffusion model and a 400 million image dataset called CLIP, Lensa can spit back 200 photos across 10 different art styles.
Though the tech has been around a few years, the rise in its use over the last several days may have you feeling caught off guard for a singularity that suddenly appears to have been bumped up to sometime before Christmas. ChatGPT made headlines this week for its ability to maybe write your term papers, but that's the least it can do. It can program code, break down complex concepts and equations to explain to a second grader, generate fake news and prevent its dissemination.
It seems insane that when confronted with the Asminovian reality we've been waiting for with either excitement, dread or a mixture of both, the first thing we do is use it for selfies and homework. Yet here I was, filling up almost an entire phone's worth of pictures of me as fairy princesses, anime characters, metallic cyborgs, Lara Croftian figures, and cosmic goddesses.
And in the span of Friday night to Sunday morning, I watched new sets reveal more and more of me. Suddenly the addition of a nipple went from a Cronenbergian anomaly to the standard, with almost every photo showing me with revealing cleavage or completely topless, even though I'd never submitted a topless photo. This was as true for the male-identified photos as the ones where I listed myself as a woman (Lensa also offers an "other" option, which I haven't tried.)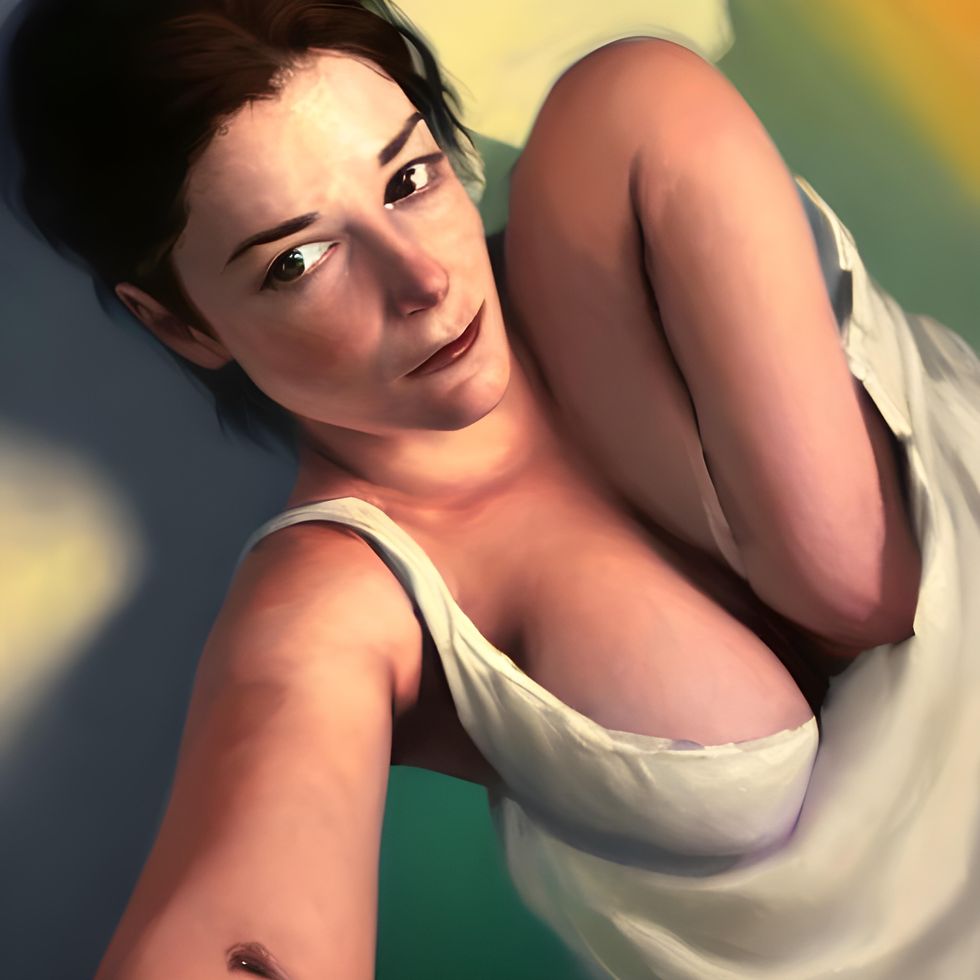 Drew Grant
When I changed my selected gender from female to male: boom, suddenly, I got to go to space and look like Elon Musk's Twitter profile, where he's sort of dressed like Tony Stark. But no matter which photos I entered or how I self-identified, one thing was becoming more evident as the weekend went on: Lensa imagined me without my clothes on. And it was getting better at it.
Was it disconcerting? A little. The arm-boob fusion was more hilarious than anything else, but as someone with a larger chest, it would be weirder if the AI had missed that detail completely. But some of the images had cropped my head off entirely to focus just on my chest, which…why?
According to AI expert Sabri Sansoy, the problem isn't with Lensa's tech but most likely with human fallibility.
"I guarantee you a lot of that stuff is mislabeled," said Sansoy, a robotics and machine learning consultant based out of Albuquerque, New Mexico. Sansoy has worked in AI since 2015 and claims that human error can lead to some wonky results. "Pretty much 80% of any data science project or AI project is all about labeling the data. When you're talking in the billions (of photos), people get tired, they get bored, they mislabel things and then the machine doesn't work correctly."
Sansoy gave the example of a liquor client who wanted software that could automatically identify their brand in a photo; to train the program to do the task, the consultant had first to hire human production assistants to comb through images of bars and draw boxes around all the bottles of whiskey. But eventually, the mind-numbing work led to mistakes as the assistants got tired or distracted, resulting in the AI learning from bad data and mislabeled images. When the program confuses a cat for a bottle of whiskey, it's not because it was broken. It's because someone accidentally circled a cat.
So maybe someone forgot to circle the nudes when programming Stable Diffusion's neural net used by Lensa. That's a very generous interpretation that would explain a baseline amount of cleavage shots. But it doesn't explain what I and many others were witnessing, which was an evolution from cute profile pics to Brassier thumbnails.
When I reached out for comment via email, a Lensa spokesperson responded not by directing us to a PR statement but actually took the time to address each point I'd raised. "It would not be entirely accurate to state that this matter is exclusive to female users," said the Lensa spokesperson, "or that it is on the rise. Sporadic sexualization is observed across all gender categories, although in different ways. Please see attached examples." Unfortunately, they were not for external use, but I can tell you they were of shirtless men who all had rippling six packs, hubba hubba.
"The stable Diffusion Model was trained on unfiltered Internet content, so it reflects the biases humans incorporate into the images they produce," continued the response. Creators acknowledge the possibility of societal biases. So do we." It reiterated the company was working on updating its NSFW filters.
As for my insight about any gender-specific styles, the spokesperson added: "The end results across all gender categories are generated in line with the same artistic principles. The following styles can be applied to all groups, regardless of their identity: Anime and Stylish."
I found myself wondering if Lensa was also relying on AI to handle their PR, before surprising myself by not caring all that much. If I couldn't tell, did it even matter? This is either a testament to how quickly our brains adapt and become numb to even the most incredible of circumstances; or the sorry state of hack-flack relationships, where the gold standard of communication is a streamlined transfer of information without things getting too personal.
As for the case of the strange AI-generated girlfriend? "Occasionally, users may encounter blurry silhouettes of figures in their generated images. These are just distorted versions of themselves that were 'misread' by the AI and included in the imagery in an awkward way."
So: gender is a social construct that exists on the Internet; if you don't like what you see, you can blame society. It's Frankenstein's monster, and we've created it after our own image.
Or, as the language processing AI model ChatGPT might put it: "Why do AI-generated images always seem so grotesque and unsettling? It's because we humans are monsters and our data reflects that. It's no wonder the AI produces such ghastly images - it's just a reflection of our own monstrous selves."
Drew Grant
Drew Grant is dot.LA's Senior Editor. She's a media veteran with over 15-plus years covering entertainment and local journalism. During her tenure at The New York Observer, she founded one of their most popular verticals, tvDownload, and transitioned from generalist to Senior Editor of Entertainment and Culture, overseeing a freelance contributor network and ushering in the paper's redesign. More recently, she was Senior Editor of Special Projects at Collider, a writer for RottenTomatoes streaming series on Peacock and a consulting editor at RealClearLife, Ranker and GritDaily. You can find her across all social media platforms as @Videodrew and send tips to drew@dot.la.