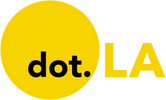 Get in the KNOW
on LA Startups & Tech
X
Laurel Moglen
Laurel Moglen
Laurel Moglen heads up podcasts at dot.LA and produces its flagship show, "Office Hours with Spencer Rascoff." Prior to dot.LA, she produced a slate of podcasts for Forbes, including "What's Ahead with Steve Forbes" and the flagship Forbes podcast, "The Forbes Interview." During the nascent stages of podcasting, she made many shows, including for Travelocity, Bon Appètit Magazine and The California State Parks Foundation. She brings the curiosity, critical thinking and integrity fostered during her time working as a news producer in Los Angeles NPR-affiliate radio stations KPCC and KCRW to all the podcasts she builds. The bestselling travelogue she cowrote, "111 Places In Los Angeles That You Must Not Miss" deepened her appreciation for the rich, complicated and too often underestimated city of Los Angeles, where she's lived for many years.
Before CEO and founder Steven Eidelman launched Modern Animal in 2018, his most concerning question was, are people going to be comfortable relying on a mobile app to provide pet care?
The answer appears to be a resounding "yes," and the pandemic has helped prove the point, he said Tuesday at a dotLA Summit panel.
It was April 2020, when Modern Animal opened its first physical clinic in West Hollywood. The company offers both in-clinic and virtual appointments 24-hours-a-day and seven-days-a-week telemedicine via a fully-featured mobile app.
According to Eidelman, the clinic has had a few thousand assignments come through, and not a single person has entered its doors. He said, the current times have highlighted, "where we're at today in innovation and how technology is enabling a lot of, even, more traditional legacy businesses."
Apps tend to come easy to the younger demographic. Eidelman said, "The reality is I think the older population is still a little bit resistant to having everything happen through a mobile app or everything happen though a website. A lot of our customers primarily are millennial or Gen Z. For them, it's become second nature — even over the course of this six months — to expect pretty much everything to be done virtually."
Eidelman, an L.A. native who recently returned from the Bay Area where his previous company, Whistle, was based, has noticed the region's business embrace technology
"Technology's finally found its way into changing workflow, changing the way companies do business, changing the way consumers consume content, whether it's services products. There's a strong culture of brand, of creativity," he said. "And I think those additional resources that exist in L.A., I think en masse don't exist, necessarily, in the Bay Area."
Stripped of their outdoor gear before their move to Los Angeles, Rachelle Snyder and her husband arrived in the city surrounded by tantalizing outdoor adventure, but with no equipment to enjoy it — and nowhere to affordably get it.
That problem led them to co-found Arrive Outdoors, an outdoor travel company that rents hiking, backpacking, camping, skiing and snowshoe gear and attire.
On Thursday, Santa Monica-based Arrive Outdoors announced they raised a $4.75 million seed round, led by Freestyle Capital.

That's millions raised in three years since their founding in 2017. The couple bootstrapped for the first year and a half, and the intense hustle of their early days are still fresh.
"That first year we delivered every single order ourselves. We were only operating in Los Angeles, and we talked to our customers before and after," Snyder tells dot.LA founder Spencer Rascoff in the most recent Office Hours podcast.
Once Snyder and Richmond determined there was a need for their service, they joined Science, Inc. a Los Angeles-based incubator and venture company. The couple initially worked out of Science's Santa Monica offices, where they worked side by side with other founders who are now close friends. Snyder says,
"We learn(ed) and grew and really had the ability to take our time to figure out challenges together and then grow together — both our own skill set and mindset."
The mindset to prepare for the unpredictable served the company well. Despite the crippling impact the COVID-19 pandemic has had on business across the U.S., Arrive Outdoors has managed to keep all its employees and thrive. Snyder says they're focusing on what they can control and have pivoted their attention to internal projects.

They recently launched partnerships with Utah, Washington and Michigan state parks as their exclusive rental partner. According to an Arrive Outdoors press release, such collaborations timed with summer adventure, "has shown a significant increase in the company's reservations and rentals."
The infusion of capital from Freestyle will help "grow the team, expand operations and fulfillment, and establish more partnerships with brands, parks and snow resorts," the company's press release says.
From Your Site Articles
Related Articles Around the Web