pet tech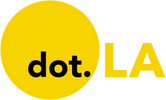 Get in the KNOW
on LA Startups & Tech
X
pet tech
Shaina Denny had just moved back to the United States from China when she decided she wanted a pup of her own. But as balancing work and home life became more difficult, she found herself looking for a dog service agency that allowed her to drop off her pet for just a few hours at a time— but couldn't find one.
One year later, Denny teamed up with COO and co-founder Greer Wilk in hopes of providing just such a service herself.
Dogdrop launched out of Science Inc., a startup studio in downtown Santa Monica that previously backed DogVacay, in January of 2020— right before the start of the COVID-19 pandemic.
The startup provides dog care with a twist: focusing dog care around convenience, flexibility and accessibility.
Denny said their dog service is unique in that it focuses on creating an industry "gold standard" for customer and pet experience.
"A high-quality member experience is something that humans expect from other services, they can also expect the same experience at a Dogdrop location," said Denny.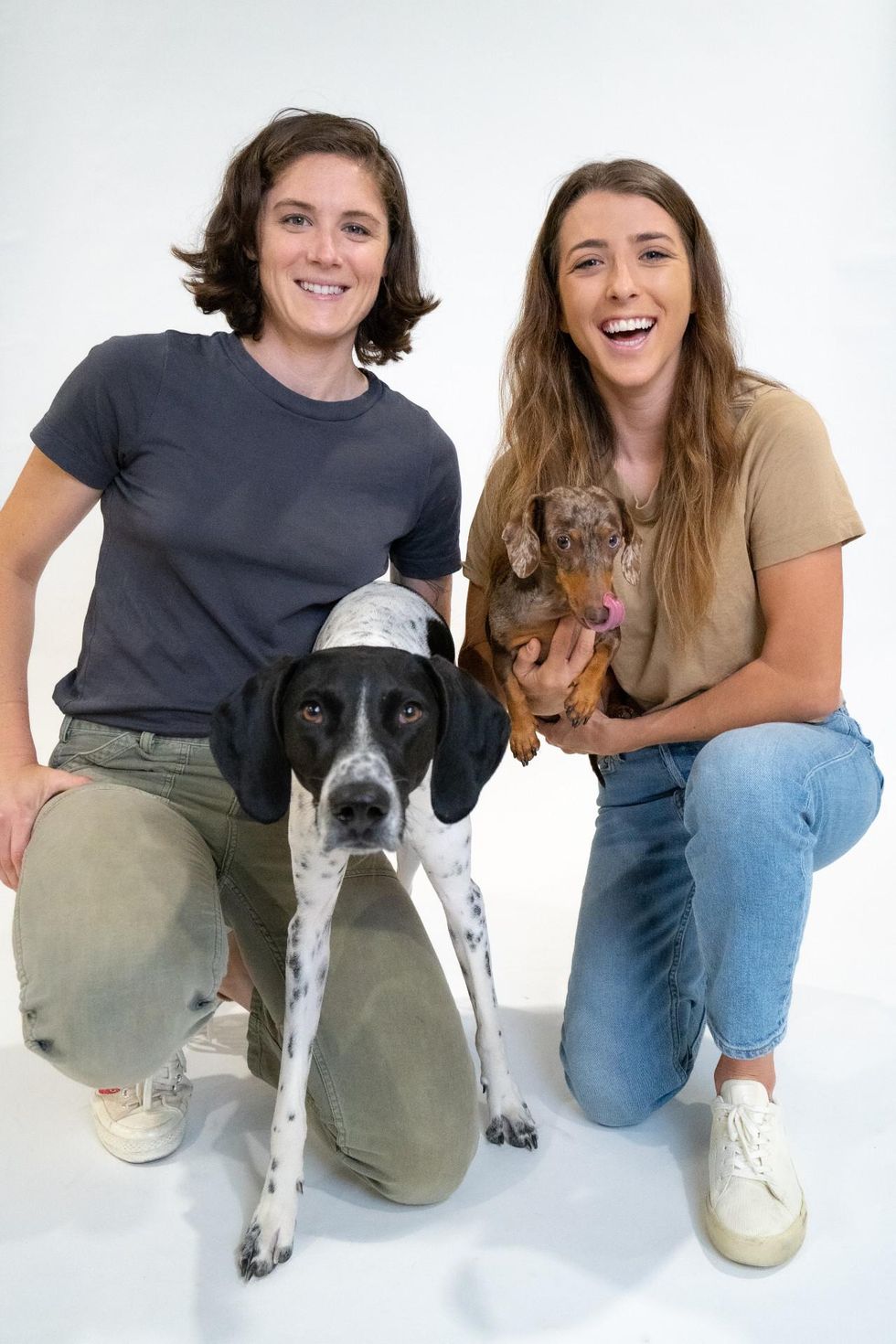 Dogdrop co-founders Greer Wilk (left) and Shaina Denny
At Dogdrop, pet owners can drop off their pups whenever they need to and pick them up whenever they are ready.
Dogdrop's customers pay an hourly rate or a monthly subscription. Costs start at $20 per month for three hours and range up to $800 per month for unlimited services.
The COVID-19 pandemic caused economic hardships for many startups and small businesses. Companies like Rover, one of Dogdrop's top competitors, were forced to lay off employees within weeks of the start of the pandemic. Rover laid off 41% of its workers at the end of 2020.
"If people are working from home and not traveling, the impact on our community of sitters and walkers is devastating," its CEO said in a statement last year.

But the American Pet Products Association reported that Americans spent almost $104 billion in 2020 on services such as grooming pet sitting and pet walking. This year the association estimates consumers will spend almost $110 billion on pet services — an increase of 5.7% over last year.
Denny said her company's biggest challenge was not economic, but keeping their employees safe and supporting them through rough times.

"As someone who adopted or got a dog during the pandemic— the demand was there. Especially because we focus on what we call 'quick stops.' People are able to drop their dog off for one to three hours at a time to get them exercising or to have a quiet Zoom call," Denny said. "The real challenge was just making sure our staff felt safe and supported during these times, especially with other difficulties going on in Los Angeles specifically."
Dogdrop announced a $2.9 million raise in late September. The Series A funding round was led by Fuel Capital and also included Mars PetCare, Muse Capital, Animal Capital, Gaingels, The Helm and Wag CEO Garrett Smallwood, the chief executive of one of their biggest competitors.
The company intends to use the new funding to expand its business reach and marketing efforts.
"The pet industry is really growing right now and a lot of investors are attracted to the pet industry space," Denny said. "If we can make it through and be successful during that time it shows investors we will continue to grow."
On this week's episode of the L.A. Venture Podcast, hear from Drew Taylor, a partner at Digitalis Ventures.
The firm first launched in 2016 with a $100 million fund invested in companies that focus on improving human health. Two years later, Taylor said Digitalis turned its attention from not only supporting companies in human health but also those in animal health.
Among its backers are Mars Inc., which is the largest owner and operator of veterinary clinics in the world, and one its largest owners of pet nutrition brands, Taylor adds.

Today, Digitalis Ventures manages a $100 million pet health fund as well as a $30 million fund for venture creation. It has offices in New York City, Boston, San Francisco and Los Angeles.
A native from California's farming city of Salinas, Taylor says his background is in food packaging. He was first exposed to the business world through his family's business, which cuts and packages fruits and vegetables for grocers.
"Pet ownership has definitely exploded during COVID," Taylor says. "The truth is, it was exploding before COVID. And COVID just accelerated that trend ... and there's some great research that supports just the benefit that pets can have from a companionship standpoint."

Taylor says that investing in pet health space presents a good opportunity to delve further into the human health space, and vice versa.
"[We] joke a little bit [that] our work in the human health gives us a little bit of a crystal ball and what's happening on the pet health side, because so many of the tools and treatments and care delivery methods that we create for ourselves in our own healthcare system, eventually, sort of get ported over to caring for animals as well," Taylor said.
"I think one of our dreams with this is that we'll be able to pioneer things on the animal side that can then sort of go back to the human side," Taylor said.
In the rest of this episode, Taylor also discusses ecommerce's big impact on pet nutrition, the synergy opportunities between human health care and pet care, and the explosion of ownership in cats in metropolitan cities in China.
dot.LA Audience Engagement Editor Luis Gomez contributed to this post.

Want to hear more of L.A. Venture? Listen on Apple Podcasts, Stitcher, Spotify or wherever you get your podcasts.
Correction: An earlier version of this post misrepresented Digitalis Ventures' relationship with Mars, Inc.
From Your Site Articles
Related Articles Around the Web
U.S. pet ownership rose nearly 50% over the last year as Americans, hemmed in by the pandemic, embraced their furry friends. The surge propelled the pet industry past $100 billion in revenues and exacerbated demands on veterinarians already stretched thin.
With its hybrid telemedicine subscription service, Culver City-based startup Modern Animal is looking to grow by appealing to both overtaxed vets and the new rush of pet owners. On Friday, it announced a $75.5 million investment to help do it.
The company believes its model, which relies on 24/7, app-based care, access to beautifully outfitted clinics for users and a streamlined system for veterinarians, can help upend the way the industry traditionally does business.
"The problems we were trying to solve [when we started the company] were not actually related to the animal," said CEO and co-founder Steven Eidelman. They were related to the humans: the pet-owners and the veterinarians.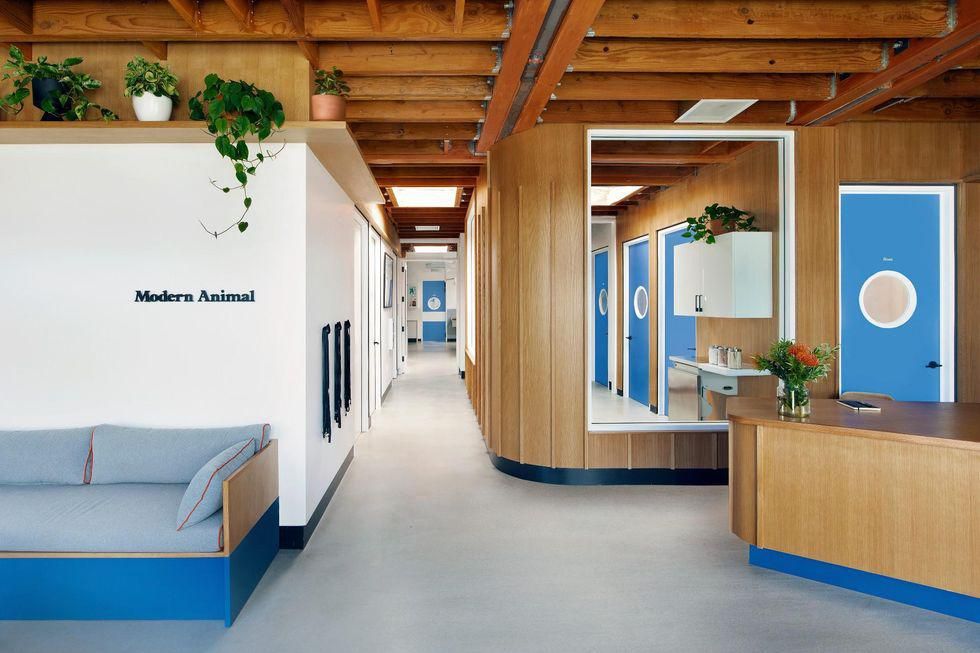 Eidelman is the former founder of Whistle, a pet health startup that made a 'Fitbit for dogs' and was acquired in 2016 for $117 million by Mars. He founded Modern Animal in 2018. It has now raised $89 million.

Its first clinic opened in April last year in West Hollywood. Unlike most drab veterinarian offices, Modern Animal's clinic boasts amenities like a "beautiful Oscar Gronner mural" and "Margo's Bark root beer in our fridge". Customers pay a $100 annual membership fee per pet, which grants them free exams and around-the-clock telemedicine. The company does not offer emergency care.
The new funding is split between a previously unannounced $35.5 million Series A led by True Ventures and Addition, and a $40 million Series B led by Founders Fund. With it, the company plans to open a dozen more clinics around California over the next 18 months — including facilities in Playa Vista, Pasadena and Studio City by the end of the year. The WeHo clinic has maxed out its capacity of around 4,000 fuzzy patients; Eidelman said the new clinics will be similarly sized.
Modern Animal has largely appealed to younger pet owners. Eighty percent of its human members are between 25 and 45 years old; only 10% of the clients are over the age of 55.
"There is a very different type of behavior that younger pet owners are exhibiting, and so we wanted to build a system that, looking to the future, is built for them," Eidelman said. Members make about five visits per year during their first year of membership, which is more than double the frequency of visits to a typical vet's office.
He attributes that stickiness to Modern Animal's free initial exams and how the company pays veterinarians, which discourages them from charging for extra services.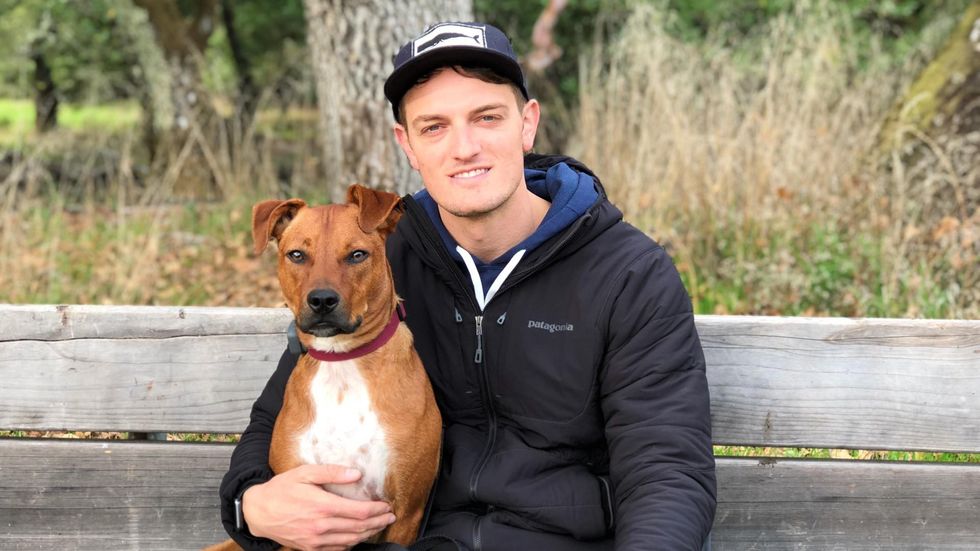 Layla (left), and her human, Modern Animal CEO and co-founder Steven Eidelman.
About 80 employees work at the company, split evenly between the medical staff and the business side. Flush with funds, Eidelman plans to go on a hiring spree, prioritizing operational and human resource roles to support the company's expansion.

Eidelman said one of the company's cornerstones is creating a good place for often stressed out veterinarians to work.
Dr. Christie Long, Modern Animal's head of medicine, said it's one of the reasons she appreciates the company. She has been a veterinarian since 2007.
"As a profession, we give so much of ourselves away, and we have a real problem with drawing boundaries," she said.
Modern Animal takes several steps to change that paradigm, Long said.
The medical team works collaboratively, so that during a telemedicine appointment, the on-call vet has access to the pet's health records, which may have been input by their colleagues from both in-person and remote visits.
Using telemedicine also allows for a more efficient allocation of the clinical staff's time and skills, Eidelman said, as less urgent matters can be addressed without requiring a potentially wasteful visit to the clinic. And unlike much of the vet industry, the company pays its staff a salary rather than on a fee-for-service basis.
"We pay a good salary to a doctor and expect them to work their 40 hours a week and then we expect them to go home. And we want them to go home," said Long. "We are attracting a younger group of veterinarians...I'm excited to see them raise their hands and say, 'the (old) model doesn't work for me.'"
In addition to the new funding, the company also announced three board members: David Bowman, former COO and CFO of Blue Bottle Coffee; Karen Boone, former CFO of Restoration Hardware and current board member of Peloton, Sonos and Rivian; and Tony Conrad, partner at True Ventures.

Eidelman said they bring value from their experience scaling businesses with a physical presence.
"The big opportunity we see is to fix this profession," he said.