Image courtesy of Houseplant
Houseplant, the Los Angeles-based cannabis brand launched by actor and comedian Seth Rogen, is trying to make good on its socially responsible mission with its second annual In-House mentorship program.
This is the first time that Houseplant has opened up its mentorship program to the public; last year's beta-test of the In-House program was invite-only and had only two participants. The program is open to anyone trying to join the supply chain for legalized pot and has received over 500 applications since mid-March, "which [has] exceeded our expectations," according to Houseplant Chief Consumer Officer Melissa Greenberg. (The deadline for applications is May 1.)
The mentorship doesn't come with any funding, but it does offer access to Rogen and Evan Goldberg, Rogen's long-time screenwriting partner and Houseplant co-founder. The mentorship allows participants to tap into resources like Houseplant's network of industry advisors, with the goal of helping mentees in developing, marketing and selling their products.
The first time around, Houseplant helped its mentees with "preparation for their brand and retail launches, [including] advising on social media best practices, reviewing media and marketing plans, creating process documentation, and providing financial planning templates for future use," Greenberg told dot.LA in an email. "Additionally, we used our platform to highlight the entrepreneurs to help drive foot traffic and awareness about their businesses once they launched."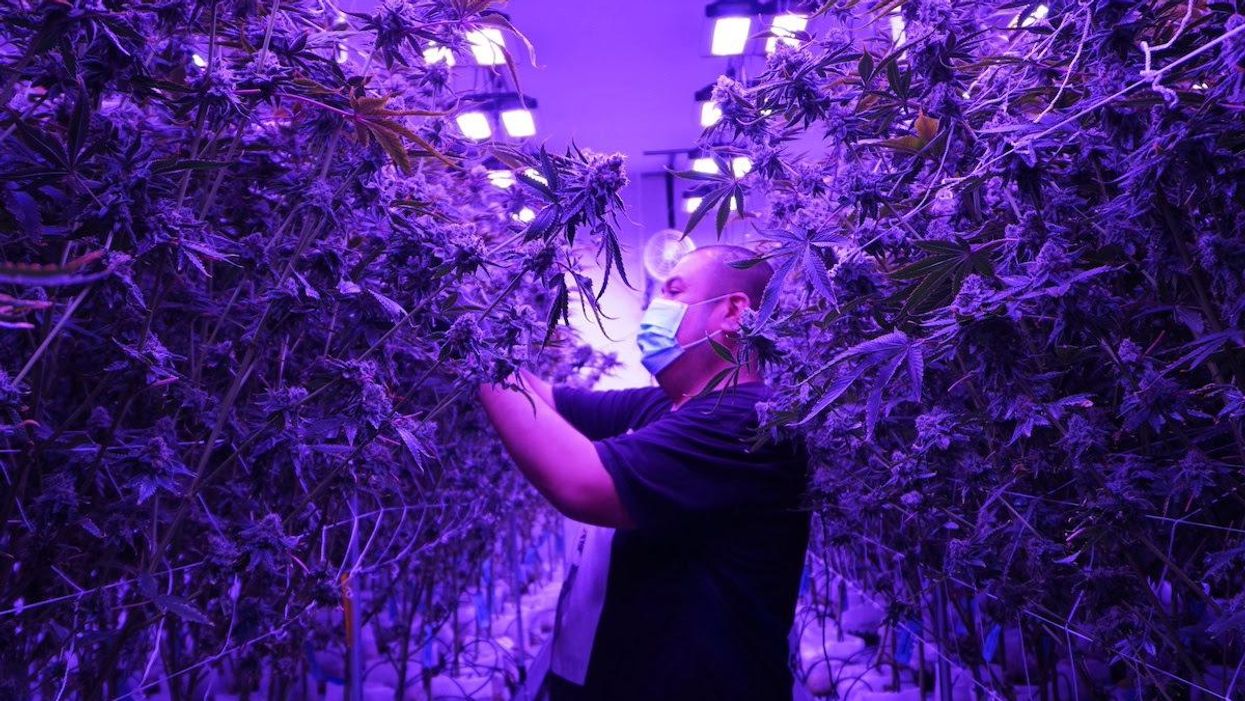 Houseplant In-House participant Moises Estrada growing cannabis.Image from Houseplant
One participant in last year's program was Moises Estrada, a cannabis grower born and raised in East Hollywood who runs Downtown-based pot brand Itty Bitties. Estrada was granted a social equity license for his business from the city of Los Angeles in 2020—part of the city's plan to give people from communities disproportionately affected by the war on drugs the chance to earn a living in the legal cannabis market. Estrada said that without the city offering him a shot at a license, he would never have been able to launch a cannabis business and work with In-House.
"These social equity licenses have been a total blessing," Estrada told dot.LA. "I'm in a much better place than I was four years ago when I began this journey."
He added that the Houseplant team was "very accessible" and gave him valuable insights into how to handle local regulations. "I know cannabis and cultivating very well, but this program helped me think about how to ramp up the business side of things," Estrada said.
Launched in March 2021, Houseplant sells pot to a handful of dispensaries in Los Angeles and elsewhere across California, as well as home goods—including artfully-crafted yet expensive ashtrays and vases based on original designs by Rogen—in all 50 states. Houseplant CEO Michael Mohr told dot.LA that the merchandise is a legal way of reaching the national market, even in states where consumers can't buy its weed.
Rogen has been an outspoken advocate for cannabis legalization and repairing communities impacted by the war on drugs. Houseplant works with Black Lives Matter, the Marijuana Policy Project and Cannabis Amnesty to advance these goals; Greenberg said the company provides funding to those organizations and also amplifies their goals by having Rogen, Greenberg or Mohr participate in their events.
Rogen wasn't available for comment.
Mohr told dot.LA that Houseplant's goal is to prepare cannabis founders for when the drug eventually becomes legal across the country. "Legalization in the United States is inevitable," Mohr said. "The momentum is there, public sentiment and desire is there—it will happen."
From Your Site Articles
Related Articles Around the Web