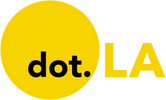 Get in the KNOW  
  on LA Startups & Tech  
X
Augmented Reality
The latest news about augmented reality and AR startups in Southern California from dot.LA
This is the web version of dot.LA's daily newsletter. Sign up to get the latest news on Southern California's tech, startup and venture capital scene.
Like a lot of virtual reality companies, Positron deploys sights and sounds to transport users to far-away places, such as the ancient Machu Picchu citadel in the scenic mountains of Peru.

But besides lifelike visuals, the Los Angeles-based maker of cinematic VR chairs can stimulate other senses to take virtual experiences a step further. In its Machu Picchu video, for instance, viewers feel the bass of rolling thunder in their seats as a storm arrives over the citadel. And once the rain starts to fall, they can even smell wet earth as the chairs dispense a scent near their faces.
Positron—which recently raised an undisclosed amount of funding from Washington-based JB Capital—is part of a crop of startups bringing senses beyond vision and hearing to VR, with the goal of making users feel more immersed in virtual experiences.
Marina del Rey's Emerge, for example, unveiled a device earlier this year designed to let people feel digital objects with their bare hands, using ultrasonic waves. The University of Southern California's Institute for Creative Technologies has also used vibrations and smells in VR exposure therapy for veterans dealing with post-traumatic stress.
Positron plays with viewers' senses of smell and touch to enhance the cinematic experience, founder and CEO Jeffrey Travis told me. Its Voyager VR chairs—lounge-style seats that tilt forward and backwards and spin 360 degrees—come with haptic pillows and optional scent dispensers. The company has a library of 78 scents, some of which verge on the esoteric; the Machu Picchu film includes the smell of tomato leaf, Travis said.
At first glance, adding scents and sensations to virtual reality sounds like a neat way to help users suspend their belief while in simulated 3D environments, but one can also imagine it being a bit gimmicky, too. Travis, a filmmaker by trade who founded Positron in 2014, said that scents, in particular, can create stronger emotional connections to stories for viewers—if done subtly and sparingly. VR technology has the potential to make audiences feel more immersed in a movie, but ultimately it still comes down to good storytelling, Travis acknowledged.
"For the first 50 years of cinema or so, there was no sound—it was purely visual, right? Then sound came in and added this whole other level," Travis said. "Maybe 30 years from now, we'll have Oscar categories for best motion or scent design."
Positron's Voyager chairs are most commonly found in museums, cinemas and theme parks. The company has sold or rented out 121 units so far, with plans to distribute 350 more this year; it's also moving into leasing models that offer the chair, content and maintenance for about $6,000 a month, plus 10% of ticket revenue, in total. Buying a chair outright would cost between $50,000 and $60,000, Travis said.
While Positron considers itself a business-to-business company at the moment, a handful of wealthy consumers have brought the chairs into their homes, Travis told me. "It's a market we're starting to explore," he said. "Frankly, it was not originally on our radar." — Christian Hetrick

Photo by Mallika Singh
As the "metaverse" slowly transitions from a buzzword to reality, the Augmented World Expo—a gathering of augmented reality CEOs, engineers, creators, consumers and investors—showcased what the future of the industry might look like.

Since its first event in 2010, AWE has grown to over 250 augmented and virtual reality companies from around the globe. The 2022 conference, which ran from June 1-3 at the Santa Clara Convention Center in the Bay Area, was the biggest yet—and flush with new experimental formats and new technology.
One example of the conference's new approach: a three-act augmented reality play performed at the conference called "MetaTr@versal: A Day in the Life." Written by extended-reality (XR) technologist Sophia Moshasha, the play used VR screen mirroring to tell the story of an entrepreneur pitching new interoperability standards to investors.
"It was super ambitious, because we were using technologies from ARWall," said AWE Head of Operations Andrea Lowery. "I can't even characterize all the different audio visual inputs and time and energy and creativity and tech that went into this thing."
This year's AWE featured keynotes, breakout rooms and a tech playground that included interactive and immersive experiences. Here are the five standouts from the conference and the advancing technology.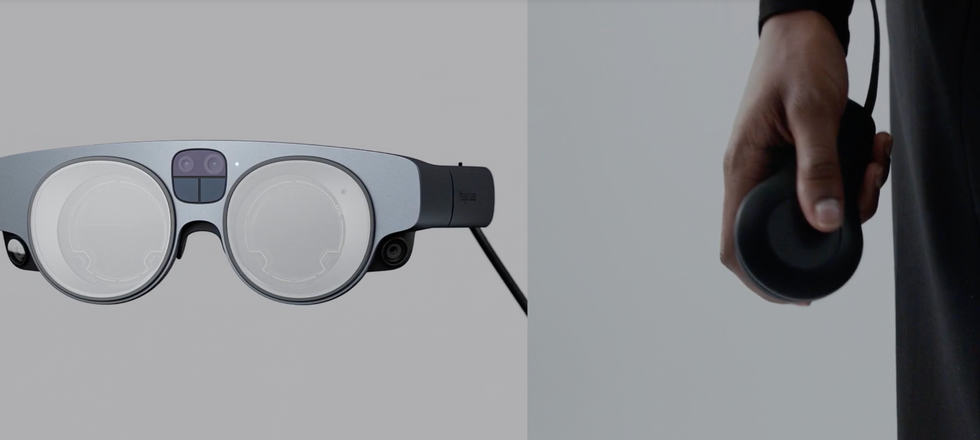 Magic Leap's New Headset
Lines began snaking around the corner of the Magic Leap booth before the exposition floor even officially opened, as crowds gathered to try the Florida-based company's new Magic Leap 2 augmented reality headset.
Participants were paired up and assigned to one of three demos. I was able to try the "wildfire" demo, where the glasses scanned a printed code on a circular tabletop and displayed a topographical map. The demonstrator toggled overlays off and on, showing the spread of weather and fire across the landscape. The company hopes their technology will be used in the future to train first responders, as well as workers in manufacturing, health and defense, among other industries.
The new headset aims to tackle some of the problems with the release of its first incarnation—including a narrow field of view and limited range of applications—by expanding the horizontal field of vision from 50 to 70 degrees and reaching out to more potential partners.
The most impressive part of the Magic Leap 2 was optical dimming, which shuts out nearly all light outside the augmented reality elements on the tabletop, drawing users' focus to the data and cutting down on glare in outdoor environments.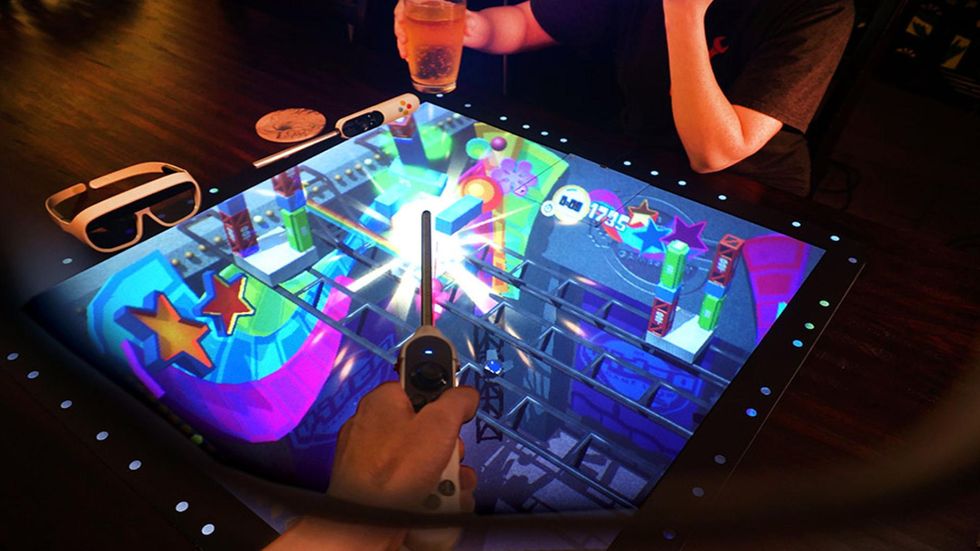 Tilt 5
Tilt Five: Immersive Table-Top Gaming
Tilt Five was another popular booth. The startup produces augmented and virtual reality gaming hardware, and has partnered with third party game developers to build software that integrates turns table-top games in AR experiences. The full system includes a game board, a light pair of AR glasses and a control wand.
The company raised over $1.7 million in fan funding on crowdfunding platform Kickstarter. It's been shipping out completed products to its backers since December and hopes to have them all sent out by the end of the summer. Now, it has set its sights on expanding its offerings.
"We actually just signed with Asmodee Digital, who makes games like Catan, Carcassonne and Gloomhaven," said Tilt Five Head of Communications Stephanie Greenall. "So we'll be taking a select number of their titles and putting them onto the board."
Since last year's AWE conference, Tilt Five has added mixed reality streaming, which allows fans to share their adventures on streaming and social platforms and the "XE Gameboard," a larger board that tilts up so you can see further into the game.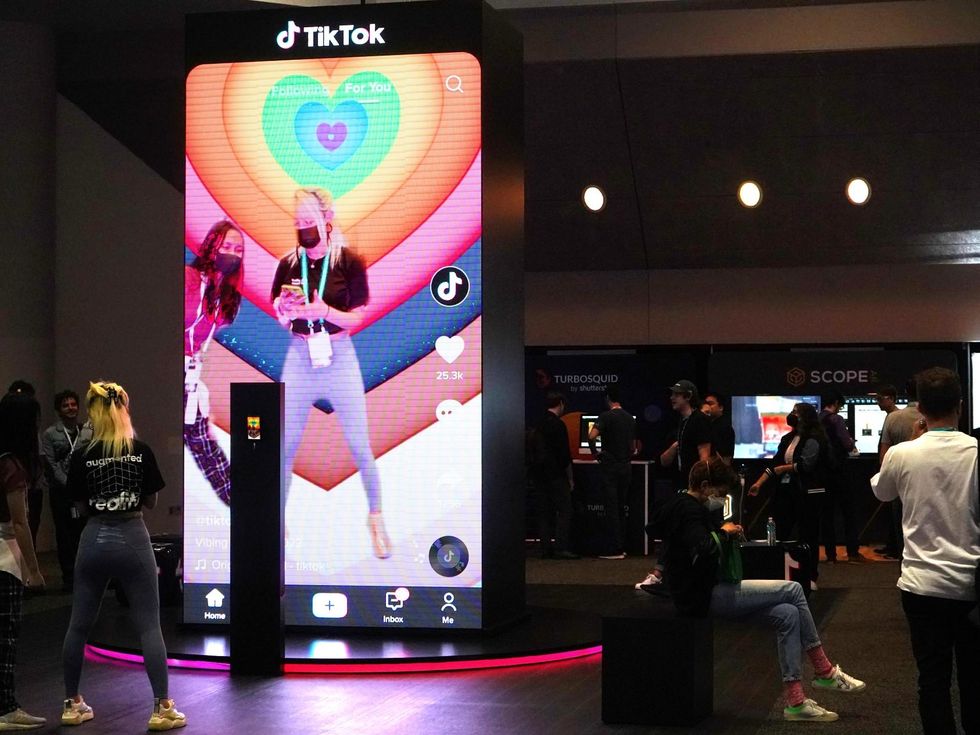 TikTok's booth showcasing its new AR features on June 3, 2022. Photo by Mallika Singh
TikTok Plays Catch Up in AR
About two months ago, TikTok launched Effect House, an AR development platform that plugs right into its mobile app. It's an attempt to catch up on creative studio applications like Meta's Spark AR Studio for Facebook and Instagram and Snapchat's Lens Studio.
Effect House is built on a visual scripting system and a range of popular templates that is meant to make it easier for everyday creators to create their own visuals, without needing to know much about writing code.
According to Greg Feingold, AR ecosystem community lead at TikTok, there are already around 8,000 creators on Effect House's Discord account, and videos using Effect House have already reached over 1 trillion views.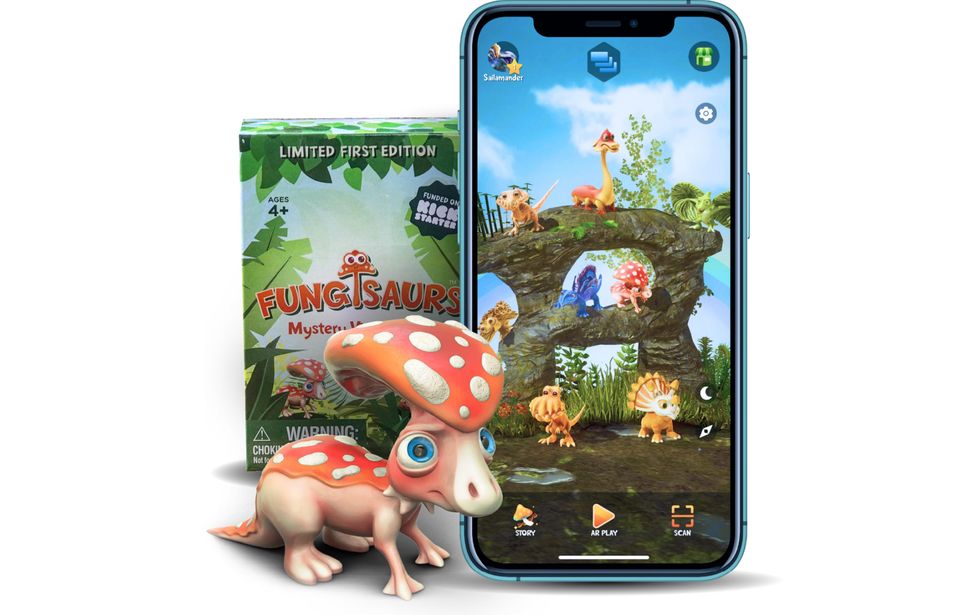 Fungisaurs
Fungisaurs: Augmenting Play with Figurines
L.A.-based artist and digital sculptor Aiman Akhtar's background in 3D modeling and animation at studios including Nickelodeon, Dreamworks and Blizzard prepared him to develop his own line of augmented reality kids' toys–in the form of small "dinosaur mushroom creatures."
Fungisaurs started as a collection of real-life plastic toys in 2017, funded partially on Kickstarter. Three years later, Akhtar partnered with augmented reality company Octagon Studio to build ARise, a camera app that brings the physical toys to life and supports interactive play.
Next up for the company is more app integration, card functionality and a second series of characters.
"If we have a card read as well as the object, then we can trigger animations, we can trigger background changes," Akhtar said. "So we can make narrative board games that can actually convey stories and have more interactivity between players."
Fungisaurs was one of the only companies at AWE with a product tailored towards kids.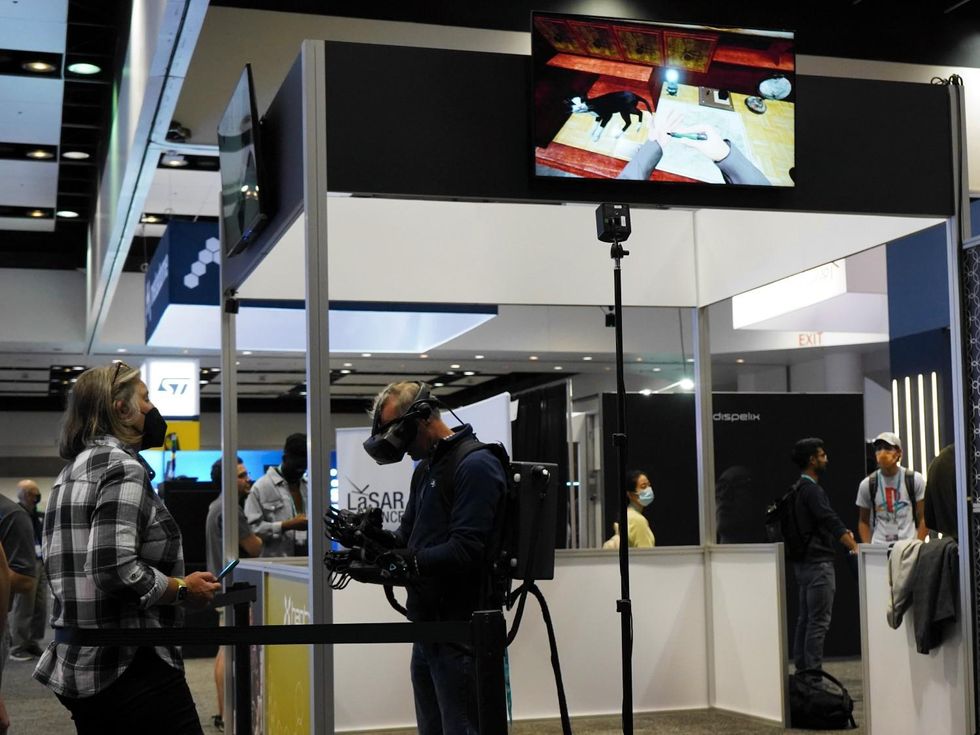 A conference attendee tries the HaptX DK2 Gloves on June 3, 2022. Photo by Mallika Singh
HaptX: Prototype the Training, Not the Product
HaptX, a leading producer in the haptic XR space, makes AR products for customers in training, manufacture, design and telerobotics. The company is based in Redmond, WA with offices in both San Luis Obisbo and San Francisco.

Its development kit, the DK2 Gloves, uses compressed air to simulate resistance by applying braking to the backs of the gloves, up to eight pounds of force per finger and up to 40 pounds per hand. The air contours the shape of the gloves to objects touched in virtual reality worlds.
Recently, HaptX worked with Nissan to mock up its Nissan Leaf electric vehicle virtually. Its system allows designers to touch and interact with the virtual car, obviating the need for wasteful and expensive automotive prototypes, which can cost up to $200,000 per model. HaptX's gloves, meanwhile, cost in the high five figures for enterprise customers.
HaptX had both a stationary and mobile demo station at AWE. The mobile device was set up in a backpack. One woman trying it out at the Expo said the backpack's weight was about the same as two MacBooks.
"This will get significantly smaller in the future," said Victor Oriaifo, an account executive at HaptX.
He said the company aims to shrink the portable device once it's manufacturing at scale.
***
Watch the main stage presentations on the AWE.Live mobile app ( iPhone/ Android), where the remainder of the sessions will appear by the end of next week. View this article in video form on our TikTok page!
Correction: An earlier version of this story stated that AWE had its first conference in 2013. It was in 2010. It's also been updated to more accurately reflect the number of users on TIkTok's Discord account.
From Your Site Articles
Related Articles Around the Web
Image from Pixabay
Disney has poached a top gaming executive from Apple to oversee the media giant's foray into the metaverse.
The Burbank-based company has hired Mark Bozon to be its vice president of Next Generation Storytelling creative experiences, Variety first reported on Friday. In that role, Bozon will play a key part in crafting Disney's strategy for the metaverse—the loosely-defined term for immersive, virtual reality-aided online experiences.
Mark Bozon, VP of Next Generation Storytelling creative experiences.
Courtesy of The Walt Disney Company
Bozon arrives as Disney has looked to beef up its metaverse team in recent months. In February, the company promoted Mike White to senior vice president of Next Generation Storytelling & Consumer Experiences group—a cross-divisional initiative encompassing its wider metaverse ambitions. It has also looked to boost its operations around NFTs, the digital assets verified by blockchain technology that could play a big role in the metaverse.
Bozon spent 12 years at Apple, most recently serving as games creative director at the tech giant's Apple Arcade video game service, according to his LinkedIn profile. He will report to White at Disney, where he will be responsible for leading the Next Generation Storytelling group's creative vision and building a team focused on "interconnected consumer experiences across immersive new storytelling canvases," a Disney spokesperson told dot.LA.
That echoes what Disney CEO Bob Chapek told CNBC in February, when he described the metaverse as "a third dimension of the canvas that we let our creative people paint." Chapek noted that the company could parlay the digital realm across its wide array of assets, from film and media to theme parks and resorts. Thus far, Disney's moves include bringing augmented reality to its theme parks and selling digital artwork using its vast trove of intellectual property.

"If the metaverse is the blending of the physical and the digital in one environment, who can do it better than Disney?" Chapek said.