Augmented Reality
The latest news about augmented reality and AR startups in Southern California from dot.LA
Courtesy of Eyedaptic
A longtime executive at successful companies, Jay Cormier had been thinking about retiring in 2010.
At the time, Teridian Semiconductor, where he served as vice president and general manager, was acquired for $315 million. Cormier was working on a side project helping some entrepreneur friends with an augmented reality idea.
Around the same time, macular degeneration forced his grandmother into an assisted living facility.
That got him wondering whether AR could help the visually-impaired.
Twelve years later, Eyedaptic — the company that was born of Cormier's curiosity — is booming.
The company creates augmented reality (AR) software to help the visually-impaired.
A recent deal with Vispero, a more-established firm that makes visual aids, has greatly increased the exposure of its augmented reality glasses, giving the Orange County-based company access to a national dealer network, and jumpstarting its ability to sell its new technologically advanced AR glasses.
Sales have skyrocketed, Cormier–who serves as Eyedaptic's CEO–said, though he declined to release any specific numbers. He expects revenue to grow this year, as he works on securing more deals for sales channels, especially internationally.
OC's Tech Epicenter for Ophthalmology
Eyedaptic's success is a win for the tech community in Orange County, which has long been an epicenter for ophthalmology and eye care in general.
"The resources available [here] for that are some of the best, perhaps, in the world," Cormier said.
Eyedaptic officially launched in 2016. Its original headquarters were in Laguna Beach.
Early on, it participated in an accelerator that's part of Octane OC, a multi-faceted organization based in Aliso Viejo. Octane also hosts an annual Ophthalmology Tech Summit at the Balboa Bay Resort.
Eyedaptic was a presenter at one of the early summits, which increased the company's exposure to investors, Cormier said. He added that he finds easy access to strong tech talent on the software side in Orange County, "that is more stable than being in the Bay Area."
The company recently moved its headquarters to Laguna Hills, in close proximity to the sprawling retirement community of Laguna Woods. Cormier said that makes it much more convenient for potential customers to come to Eyedaptic's office to try out their newest products.
The company has raised around $11 million from angel investors and a recent crowdfunding round, according to Pitchbook.
A Growing Need for Vision-Enhancing Products
The market for vision-enhancing products is large, and growing. There are approximately 7.2 million visually-impaired adults in the U.S., according to the National Federation of the Blind. By 2050, the number of Americans experiencing vision loss is expected to increase — by 114% due to macular degeneration and by 169% due to glaucoma.
During the pandemic, many who were experiencing declining vision believed that what they were dealing with wasn't critical and could be delayed, Cormier said, making the problem worse.
Low vision is a common type of vision loss, occurring in about one in six people over 45. It's loss of sight that cannot be fixed by a variety of means, including contact lenses, prescription glasses or surgery, according to the Cleveland Clinic. It's not total blindness, but does include blind spots, poor night vision and blurry sight.
Legally blind means someone can not see any better than 20/200 with correction, and/or a restricted field of vision that's less than 20 degrees wide.
Eyedaptic claims it can help those with vision up to 20/800, using
AR to enhance a person's natural vision.
The company currently has four patents and another 14 are pending.
How It Works
AR is technology that overlays a digital image onto the real world. That's in contrast to virtual reality (VR), which totally immerses a user in a computer-generated scene — blocking everything else out.
Eyedaptic uses a hybrid of the two. It employs what's known as video see-through — so that users can see an enhanced image of the natural world coming through the lens of their glasses.
Unlike typical AR, there are no overlaid images. Those with low vision can't resolve overlays, Cormier said.
"It confuses them," he said.
So instead of overlaying, the company's glasses re-display images from a user's surroundings, after manipulating the images and enhancing the pixels.
The glasses are also open on the sides, to enable the wearers to continue using their peripheral vision.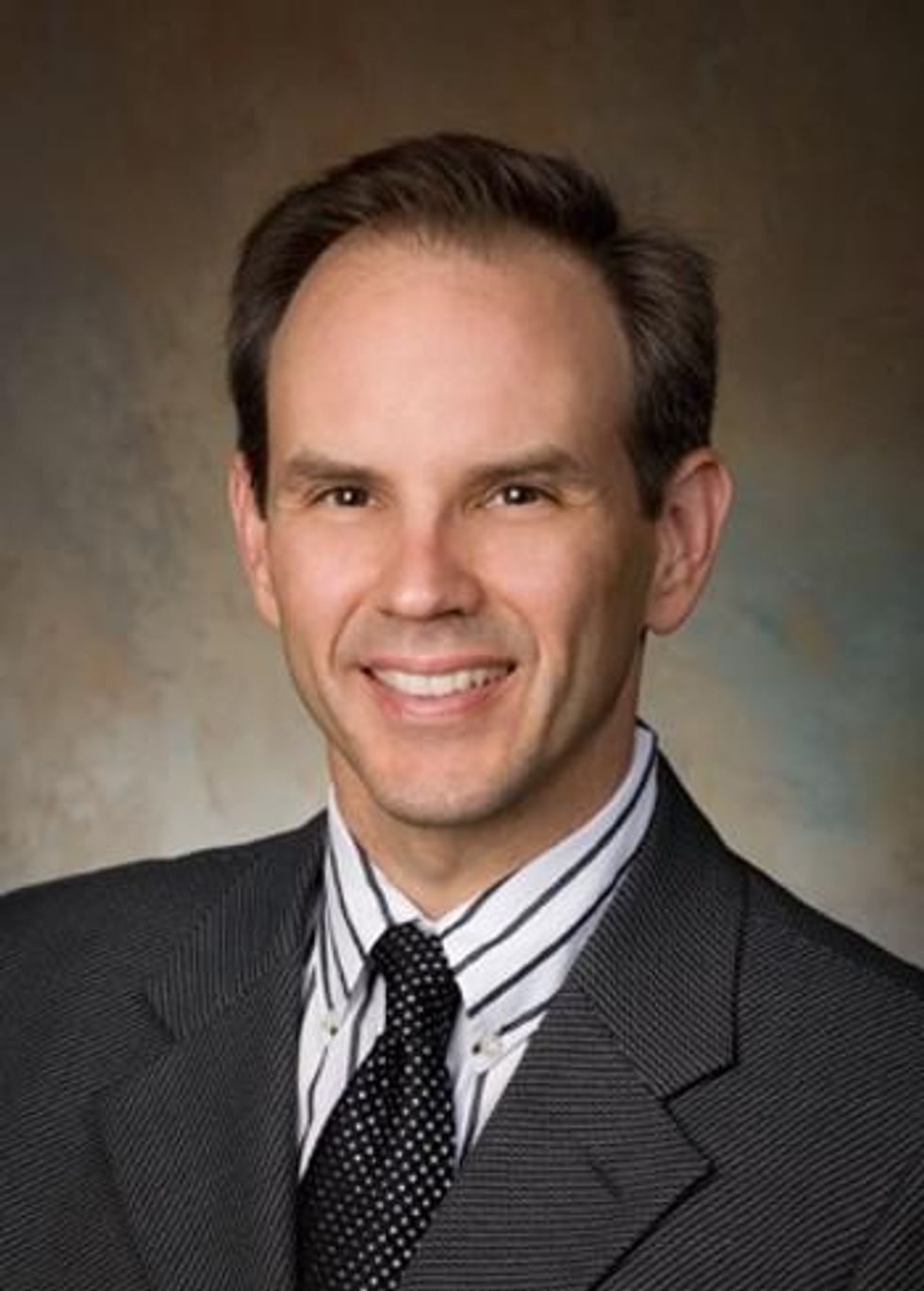 Eyedaptic CEO Jay Cormier.
Image courtesy of Eyedaptic
Eyedaptic recently launched what it says are two major upgrades: its premiere Eye3 and its Eye4 glasses.
The Eye3 is completely wireless and hands-free, with a 55-degree field of view. In addition to its internal battery, it has an external battery. This magnetic, clip-on battery enables users to swap it out as needed.
Special features of these glasses include multiple viewing modes, so users can toggle among auto zoom, plain zoom and image stabilization. There's also more available modes for contrast enhancement. Magnification is provided up to 10 times. The glasses can be used for more than 4 hours continuously, without cords or recharging.
The Eye4 is lightweight, weighing three ounces. Its features include an auto zoom mode, image stabilization and contrast enhancement.
Both models come with phones. With the Eye3, the phone is a separate accessory and used to control the glasses.
Providing high resolution is very important for Eyedaptic's customers, Cormier said. The upgraded software provides 1080p, also referred to as "full high definition."

The Eye3 sells for approximately $5,995 and the Eye4 sells for about $1,999.
The company's main competition comes from Toronto-based Esight and Pleasanton-based Iris Vision.
For Eyedaptic, "ease of use, and being able to accomplish a range of activities are very important," Cormier said.
"We have algorithms that survey the scene the customer is looking at, and will take autonomous action for the user," he said. "They don't have to be pressing any buttons or do anything. That really does set us apart. On the software side."
Cormier contrasted Eyedaptic's glasses with Google glasses, the consumer version of which only was on the market for two years, starting in 2013. Cormier described those glasses as having low-resolution, a narrow field-of-view and not evenly distributed, as the optical display was mounted above only one eye.
Our glasses "are like two high-def TV's right in front of your eyes," he said.
Eyedaptic partners with Samsung to provide its Galaxy phone, and while it focuses exclusively on software, it does work with manufacturing partners to customize the hardware.
"I think it's better for our business model and investors, and for our customers, because we can be more nimble and take advantage of the best hardware as it comes to market," Cormier said.
He declined to disclose any of his "several" hardware partners around the world, and how Eyedaptic works with them to customize the hardware.
Keeping People Independent
For Cormier, it's not just about helping people see better. It's about keeping them independent for as long as possible. He noted recent studies that show a strong link between visual impairment and cognitive decline.
Mitul Mehta, a vitreoretinal surgeon at the Gavin Herbert Eye Institute at UCI and one of the optometrists Cormier initially sought out to help him fully understand the condition, is now a co-founder of the venture. He serves as chief medical officer.
The other co-founders are Dave Watola, the company's CTO, and Brian Kim, an opthalmologist who functions as a medical advisor.
His grandmother, for one, would have benefitted from Eyedaptic's glasses, Cormier said.
"I wish she was here to use these," he said. "I think they would have greatly helped her stay independent and enhanced her quality of life."
His father is now experiencing macular degeneration, "so the glasses can help him and others across the world," he added.
From Your Site Articles
Related Articles Around the Web
Shutterstock
Thunder Studios bet big on the metaverse—and it's now paying off.
The Long Beach-based production studio and Infinite Reality, the metaverse platform in which it was the lead investor, were acquired this week by Display Social, a social media network that pays creators for their original content. The deal will see Thunder Studios and Infinite Reality integrate their virtual production capabilities into Display's creator network. Known for producing virtual live events, Thunder Studios notably utilized Infinite Reality's platform to create a virtual Burning Man experience.
The acquisition is part of a larger foray into the metaverse for Display Social. In November, the company acquired an intellectual property patent from digital content platform LookWithUs.com that allowed it to expand its metaverse capabilities. Now, it has Thunder Studios' 150,000-square-foot Long Beach facility at its disposal; the studio's virtual production capabilities include an esports arena, a dedicated XR stage, and motion capture and volumetric stages—all of which allow Display to work with creators and entertainers looking to produce metaverse content.
"The metaverse is, in essence, the reinvention of television," Thunder Studios CEO Rodric David told dot.LA. "It's the new TV, as we will go there to entertain and be entertained and interact and socialize. We recognize that it's also the convergence of the three primary behaviors that youth culture exhibits on a mobile device: gaming, entertainment, and social media."
While the companies declined to disclose the financial specifics of the deal, Display co-founder and CEO John Acunto said it values the combined company at "over a billion dollars." Acunto will continue to serve as CEO of Display while David will become its president. Though Display is based in Connecticut, the combined entities will have a significant presence in Los Angeles and New York.
Display prides itself on being creator-centric and promises creators a payout rate of up to 50% on ad revenues generated by their content. With the merger, Display can now provide those creators with a metaverse platform and an app enabling them to distribute content, engage with their fans, and build virtual stores.
"It's always live, it's always on," Acunto said of the metaverse. "We believe fundamentally that being able to bring the best possible content to that live environment is super important."
From Your Site Articles
Related Articles Around the Web
The Democrats' trifecta victory in 2020 marked a significant change in the way Washington views tech policy. The Biden administration has signaled consistently that they're looking to get more involved in tech policy than their predecessors, whether through regulations or reworking previous legislation. The administration is populated with officials who are knowledgeable and opinionated on issues like consumer privacy, cryptocurrency and antitrust and as the Democrats fight to enact their policies, we are likely to see at least some major changes in 2022 — here's what to watch for.
Section 230
Everybody in Washington agrees that Section 230 of the Communications Decency Act is a problem. Enacted in 1996, the policy protects internet platforms from liability for third parties content. Section 230 was a hot button during the 2016 and 2020 elections, when misinformation ran rampant on social media. Republicans believe Section 230 gives tech companies cover to censor their content on social media; Democrats say the law gives tech companies too much immunity for content posted on their platforms. Donald Trump has been a vocal opponent of the law, framing it as a general boogeyman. Given that he still carries the banner of the GOP, Republican lawmakers hoping to get his support are likely to attack the policy. As a candidate for the presidency, Biden said he would revoke Section 230, but his Justice Department is now defending the constitutionality of the statute in Trump's lawsuit against Meta.
Facebook's Overseas Acquisition of Giphy
Meta faces a difficult battle overseas (and one that may set a tone in the States) after the UK's antitrust regulatory agency blocked their $315 million acquisition of Giphy. It was a major step in the ongoing tech antitrust battle; Facebook will begin 2022 by challenging the ruling. But with the agency making such a substantial move, it's unlikely they'll back down. Federal Trade Commission Chairwoman Lina Khan, a known antitrust advocate, is sure to be watching how Facebook and the Europeans battle it out.
DMCA Section 1201
Section 1201 of the Digital Millennium Copyright Act has become a hot issue in tech policy over the past few years as iPhones became the standard communication and Apple's lawyers have proven themselves tenacious on copyright issues. Section 1201 deals with right-to-repair issues—that is, the right of consumers to fix their own hardware or to take it to third-party repair shops. The Biden administration has come out on the side of the right-to-repair movement and in a 2021 executive order, he encouraged the FTC "to issue rules against anticompetitive restrictions on using independent repair shops or doing DIY repairs of your own devices and equipment." Section 1201 is updated every three years, and new exemptions to the law were issued in 2021, meaning they are likely to be tested in court in 2022.
ISPs and Title II
When Federal Communications Commission Chairman Ajit Pai repealed the Open Internet Order in 2017, it meant removing Internet Service Providers from their classification under Title II of the Internet Communications Act. Pai's move took away the regulatory powers the FCC previously had over ISPs, meaning that the job of overseeing regulation has fallen to the FTC, which is a law enforcement agency rather than a regulatory one. But the Biden Administration has been critical of how ISPs have operated and monetized the data they get from consumers and Federal Communications Commission Chair Jessica Rosenworcel has previously supported reclassifying ISPs under Title II. In an October report, the FTC blasted ISPs, saying they collect troves of data, surveil users and "place consumers into sensitive categories such as by race and sexual orientation; and share real-time location data with third-parties." Restoring the FCC's regulatory powers over ISPs is a top priority for a number of Democrats, including Sens. Elizabeth Warren and Ed Markey and we can look for that conversation to continue in 2022, especially with FTC Chairwoman Lina Kahn remaining vocal on the issue.
A New Look at the Office of Technology Assessment?
Washington is slowly beginning to talk about restoring the Office of Technology Assessment, the nonpartisan congressional agency that for two decades informed members of Congress on tech and science issues (until then-House Speaker Newt Gingrich abolished the OTA in 1995). The Brookings Institution, an influential and left-leaning D.C. think tank has come out in favor of restoring the Office of Technology Assessment. This is likely to be a Democratic priority, a The duties of the OTA have been taken up by the Government Accountability Office, but critics say the GOA is woefully equipped to examine critical issues like AI ethics.
SEC & Crypto
Cryptocurrency has boomed in an unregulated market over the past decade but that era may soon be coming to an end. SEC Chairman Gary Gensler has been vocal about his desire to have crypto regulated at the SEC, though Republicans have pushed back upon those ideas. When Biden signed the infrastructure bill into law, it included a provision that would tax cryptocurrencies, but that language was broad and upset many in the crypto space. The SEC hasn't put a timeline on when they might try to strap regulations on cryptocurrencies, but in December the agency charged Ripple Labs with selling $1.3 billion in unregistered securities. The procession of that case in 2022 will tell us a lot about the SEC's power in the industry. The appetite for crypto regulation stretches across the Biden Administration — in November, the Treasury Department published a report on stablecoins which quoted Treasury Secretary Janet Yellen as saying "the absence of appropriate oversight presents risks to users and the broader system."
California Privacy Law
The California Consumer Privacy Act is viewed as one of the most important pieces of tech-related legislation in the United States. In 2020, the ballot proposition created the California Privacy Protection Agency, which will not begin enforcement activities until 2023. The agency is headed by Ashkan Soltani, who has a long pedigree and has worked on federal investigations into multiple big tech companies. His agency will enforce the California Consumer Privacy Act, which gives users more control over their data — consumers will be able to know who is collecting their data and how it is being shared. The Act also limits the usage of sensitive personal information like race and sexual orientation. The CCPA is aimed at large industries — those with a gross annual revenue of over $25 million and sell consumers' information. In 2022, the bill may be amended again. But more interesting is how other states aim to copy California's law which might hint at some federal statutes in the distant future. And some states, like Nevada, have brought on similar legislation. Look for more of those bills to pop up in statehouses next year.