Augmented Reality
The latest news about augmented reality and AR startups in Southern California from dot.LA
Anyone wishing to relive the drive-by shooting of Notorious B.I.G., aka Christopher Wallace, can do so later this month through the true crime augmented reality app, CrimeDoor.
The upcoming release will coincide with the 24th anniversary of the Brooklyn native's murder outside the Peterson Automotive Museum, where he was attending a Vibe Awards after-party. CrimeDoor will also be releasing a door into the murder scene of rapper Tupac Shakur, Notorious B.I.G.'s West Coast rival.
The app has a number of new additions slated and has seen users surge since it paid $1,000 to Olivia Snake, a true crime TikToker with 1.1 million followers, to promote it in mid-January, founder Neil Mandt said. Before that point, about 11,000 people had downloaded CrimeDoor since its October launch; in the subsequent 72 hours, 60,000 more piled in.
Over the last six weeks, Mandt said CrimeDoor has been downloaded 220,000 times. Even as it faces criticism from victims' rights advocates, it climbed as high as number four among news apps on the iOS App Store, which uses an algorithm to rank apps based on factors including downloads and user engagement.

Those data were confirmed by third-party analytics firms Apptopia and Sensor Tower.
"We hit the market [with the TikTok influencer], we got a lot of publicity, we saw immediate growth," said Mandt.
CrimeDoor allows users to explore unsolved crime scenes recreated with augmented reality (AR). The app opens onto a map that shows users nearby historic crime scenes. Each crime comes with a case file that includes a list of articles, documents, photos, audio clips and videos curated by crime journalists and researchers. For an additional fee, users can explore select crime scenes via AR environments the company creates with Unity, a gaming engine.
Mandt, a Hollywood veteran and true crime enthusiast, said CrimeDoor now has around 700 case files, comprising about 60,000 total hours worth of content, and that at least three new cases appear on the app every day. There are currently 20 "doors" — augmented reality portals through which users can enter various crime scenes — which will increase by about one per month, Mandt said.
CrimeDoor Pushback
A local NBC station in Arizona ran a segment in December highlighting concerns that the app exploits victims. Mandt responded that they are only sharing facts, and not glorifying violence.
The company maintains it can actually help victims' family members who want to bring new light to the unsolved crimes that stole their loved ones.
But not everyone may want that. Ferroll Robin, executive director of L.A.-based Loved Ones Victims Services, lost her brother to homicide.
"This is a very sensitive issue," she said. "[CrimeDoor] could trigger all kinds of emotions that families and loved ones have kind of moved past, so this could actually re-victimize them in a sense." Some families might see CrimeDoor as helpful, she said, "because they want their crime solved so bad." On the other hand, Robin reiterated, "I've had clients say 'I don't even want them found at this point,' because they've already dealt with it and moved on with their life."

Mandt pointed to families of two unsolved murder victims who have helped build out their respective crime door scenes on the app.
Kelsi German, sister of Libby German, one of two victims slain in Delphi, Indiana, in 2017, has given CrimeDoor details on what her 15-year-old sister looked like at the time of her murder, and the murder scene itself, Mandt said. Family members of Rebecca Zahau, murdered in Coronado, California in 2011, have also helped build out an AR re-creation.

"The awareness on those cases has significantly jumped, as a result of our efforts," Mandt said.
As CrimeDoor continues to release new material, Mandt and company partner Paul Holes, a former crime investigator, think the app can help crowdsource valuable information for cracking unsolved cases. Holes formerly worked on the Golden State Killer case, which was ultimately solved after decades of empty leads thanks in part to true crime enthusiasts who conducted their own investigations.
Mandt said he is expecting soon to partner with media companies interested in giving viewers an opportunity to dig deeper into crimes they feature on their programs, pointing to a hypothetical example of Dateline NBC. He previously told dot.LA that such an arrangement would involve a revenue share; he did not cite specific partners but noted that announcements should be forthcoming.
CrimeDoor is free to use, but accessing a door costs $1.99. Users can also purchase unlimited door access for $4.99 per month. Mandt would not say how much money the company has earned but noted that 7% of users make a purchase, suggesting about 15,400 of the 220,000 downloads over the past six weeks brought in some cash.
Influencer marketing has been key to the app's rise, Mandt said, noting that the $5,000 or so the company has spent on that channel represents the vast majority of its advertising expenses.
After Snake shared the hype clip on her TikTok, other influencers chimed in, for free. A YouTuber who goes by cjades, with 287,000 subscribers, narrated a side-by-side walkthrough of a crime door, saying, "I thought this was absolutely insane and I thought I have to make a video about this." That video, Mandt said, captured about 40,000 views over the next several days.
From Your Site Articles
Related Articles Around the Web
Four cymbal crashes precede the heavily distorted electric guitar chords that ring out just as a hologram of Palaye Royale's lead singer jolts to life and slowly rises from a grave — which is embedded in the floor of the viewer's home.
So begins the AR experience created by Los Angeles startup 1RIC, also known as Jadu, released last week: another example of musicians' ongoing experimentation with new ways to engage fans and make up for revenues lost to the frozen touring circuit.
For Palaye Royale, composed of three Canadian-American brothers, typical livestreamed performance lost its appeal as a replacement for in-person concerts once it became evident to the band that virtual shows didn't offer much of a way for them to differentiate themselves.
The new, 10-minute experience, entitled "Curse of Calypso," features three songs from the group's latest album. For the band, it offered a way to stand out. "It's a completely different avenue of content that no one's ever done," said Sebastian Danzing, the group's guitarist.
The experience costs $4.99, which Danzing conceded will require some getting used to by fans who've grown accustomed to receiving music for free. There are accompanying posters and t-shirts, which – like the AR story itself — expand on the band's macabre aesthetic. 1RIC covered production costs, and will split revenues 50-50 with the band.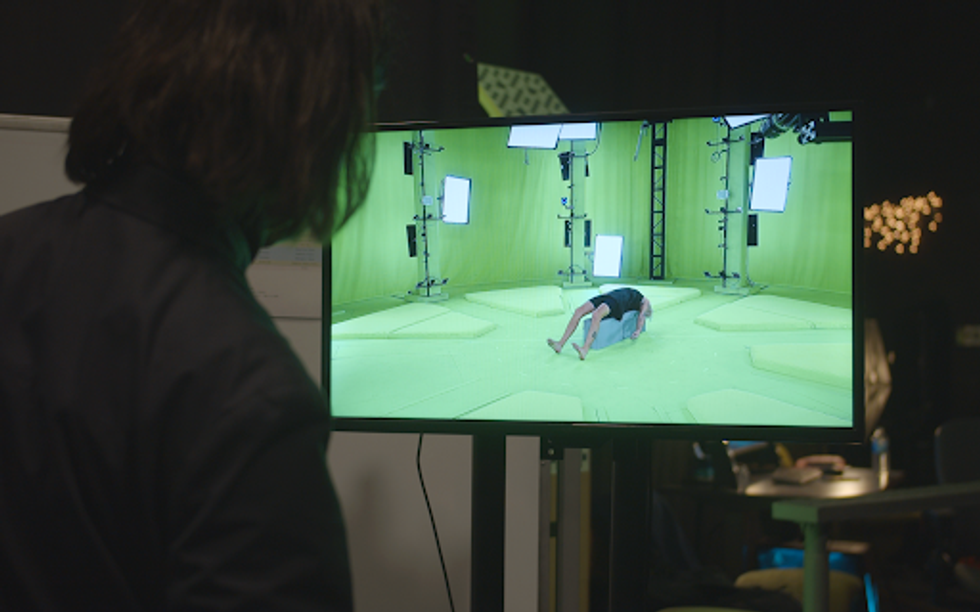 1RIC's Rise
First available on iOS, this project is the latest step in founder Asad Malik's quest to build a new platform for AR storytelling. His company has worked with various partners, including embattled AR studio Magic Leap, but eventually decided to go it alone after determining they were better off designing both the content and the platform for the still-nascent format.
Born and raised in a small town in Pakistan, Malik looked to tech as a way to "interface with the world" as a boy and began to sneak into his father's bedroom to build websites on his old PC.
Malik, who was named to Forbes' 30 Under 30 in December, started tinkering with creative AR projects at Bennington College in Vermont, where he met his right-hand man and de facto chief technology officer, Jack Gerrard. Together they completed two interactive AR-enhanced stories with L.A.-based documentary studio, RYOT, while at school; the projects debuted at the Sundance and Tribeca film festivals.
Both "Terminal 3" and "A Jester's Tale" received positive coverage in the press, and Malik and Gerrard received an approximately-$900,000 contract from RYOT's parent company Verizon to make two more projects. Those will be released later this year.
Wanting to reach a bigger audience and inspired by the rise of TikTok, 1RIC launched its flagship app, Jadu (meaning "magic" in Malik's native Urdu) in March 2020 and is now rebranding the company as Jadu. Jadu's most prominent feature is a digital library filled with dozens of 15-second video clips, each one a human hologram, usually of somebody performing a dance. Users can create their own videos of themselves interacting – usually dancing – with the hologram, and then post them on social media.
"Curse of Calypso" heralds the newest iteration of Jadu, which now includes an "Experiences" section in addition to its creation tools.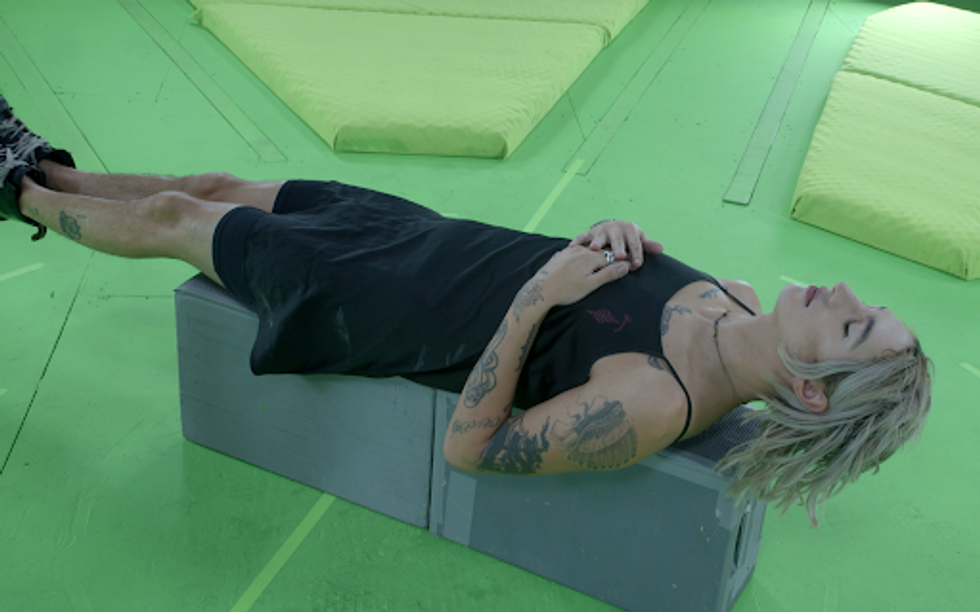 Behind the Scenes
Performers begin their transformation into holograms in front of 106 "volumetric video-capture" cameras at Metastage, a dome-shaped, greenscreen-cladden studio in Sylmar. The Jadu team then renders that footage into the final product using software from Microsoft and Unity.
The first acts that Jadu turned into holograms included a member of Pussy Riot; artists Poppy, Vic Mensa and Sir Chloe — and Palaye Royale, now the vanguard of Jadu's latest evolution.
This month, as Jadu hustled to finish up the new production, the company expanded its full-time team from four to 15, funded by a recent infusion of angel investment of about $1 million from high-net-worth Pakistani-Americans. The company had previously raised a separate $950,000 angel round, which included an equity-deal with Metastage. Malik sees that relationship as a big win, since it gets his company competitive studio-time rates for what normally costs around $70,000 per day, he said.
Jadu is not yet profitable, and has scarcely made money outside of project fees. But money has not been the company's focus.
Malik believes in the promise of AR and immersive storytelling, and feels confident that by enabling more creativity and distribution the format will catch on.
It remains an open question as to whether holograms and AR can prove useful to musicians or if they are mostly hype. A 2018 tour by a hologram of long-deceased music legend Roy Orbison was a financial success according to Rolling Stone, and spurred follow-on versions by other late stars Amy Winehouse and Whitney Houston. But Magic Leap's flameout and the consistent uncertainty over whether AR will ever be widely adopted provide reason for caution.
Jadu is planning to release two more AR experiences by May, Malik said, adding he's in "advanced talks" with Lil Nas X's and Ashnikko's teams, as well as representatives from Interscope Records and Warner Music Group.
Danzing thinks the creative competition of the music business will spur further interest.
"This is the start of something for generations to come, to be using this kind of technology, and it's cool that we got to be at the front lines of it," he said.
Music remains the focus for now; with artists releasing albums and labels providing budgets to promote them, Malik sees it as a good fit. And the 15-second holograms core to the previous iteration of Jadu will continue to provide free, user-generated marketing for the latest step.
In the future, he sees something bigger.
"Imagine if Netflix started with only original content and then over time built the resources so other people could also build content for it," he said.
Inside Jadu, the team feels they are on the cusp of a revolution. On a recent Zoom meeting, one employee said the company's adoption of AR storytelling reminds him of what the Lumiére brothers must have felt like as they pioneered modern film.
Sam Proctor, a newly full-time programmer and animator at Jadu, said "I feel like I'm a part of history right now."
The time for online shopping is now.
The pandemic has ushered in the era of ecommerce as Americans embrace curbside pickup, next day deliveries and grocery pick-up services. There's likely no going back as an increasing number of consumers get accustomed to shopping online.
Now, retailers are taking experience to another level with streaming, data personalization, augmented reality and other features that are only likely to grow digital shopping habits.
Here are three trends sweeping ecommerce and the Los Angeles companies that are fueling it:
AR and Livestreaming Usher in New Virtual Shopping Experiences
Makeup and clothing retailers that relied on in-store shoppers have turned to augmented reality features to lure customers — from their own homes where they don't have to social distance.
YouTube and Amazon both launched livestreaming services this year, letting consumers shop for clothes or try on makeup from their phone screens. Meanwhile, Google's new augmented reality platform built with Toronto-based ModiFace pairs ecommerce sites with the virtual try-on technology.
In Los Angeles, two venture-backed livestreaming shopping companies are making waves. Popshop Live launched in 2019 and this year closed a $3 million round in July as CEO and founder Danielle Li watched users spike in a push from businesses to stay afloat.
"Retailers who have one to three locations quickly realized they're getting nearly the same amount of traffic," said Philip Soriano, Popshop Live's head of operations. "People come to us and will probably stick around even if the foot traffic comes back."
Meanwhile, L.A.-based NTWRK offers livestreamed shows featuring limited-edition gear launched by celebrities and designers. The video commerce platform, founded in 2018 and backed by Live Nation Entertainment, recently partnered with Snap to stream interviews with designers and creators about items they're preparing to drop.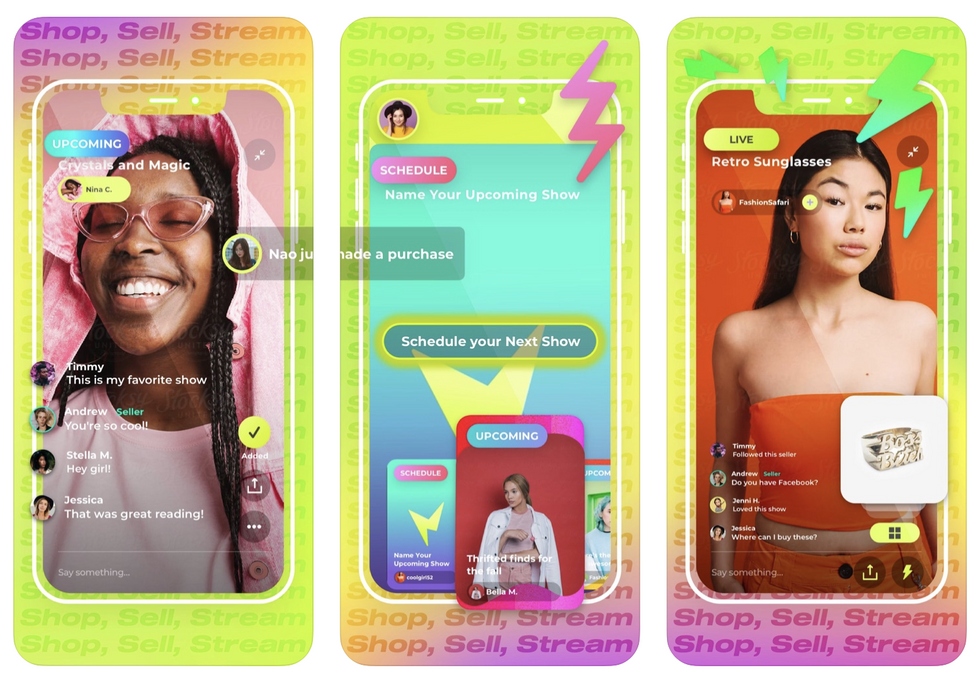 Popshop Live Became Essential for LA Boutiques During the Shutdown. Now It's Got $3M to Grow
Entertainment and Shopping Have Teamed Up
From platforms like Popshop Live to Instagram's new Reels feature, tech companies are harnessing influencers and networks of users to promote consumer products.
As companies feel the pressure to build an online presence, many are turning to influencer marketing campaigns to ramp up sales. And marketers only expect that trend to continue.
MagicLinks, an L.A. social media marketing company, found that across a sample of 4,500 ecommerce retailers, sales directed through YouTube influencers jumped 80% year over year in the quarter from June through August. The company said influencer-driven sales were up 115% across customers, including Target, L'Oreal and Best Buy.
Other marketing agencies said they've increased budgets for influencer content since the pandemic. Even bigger companies are giving it a shot: Tito's Vodka and Superdry to name a couple.
"Any brand that wants to connect with Gen Z, and sell whatever product or service they have, has to engage (with these platforms)," Glenn Ginsburg, SVP of global partnerships at influencer marketing agency The QYOU told dot.LA. "Moving forward I think we'll see brands start to build deeper relationships with influencers."
Better Recommendations Are on the Way
Personalization has swept ecommerce as companies are ramping up product recommendations online. AI is now becoming more precise in helping companies steer shoppers toward products that fit their profile.
Gabriel Nipote is the co-founder and COO of Halla, the L.A.-based machine learning company builds algorithms for online groceries to make smarter food recommendations. Unlike retail where shoppers are comfortable, online grocery shopping is starting to gain market traction.
It's there that the gaps to machine learning are clear. For instance, some online markets during the pandemic offered customers product substitutions that didn't resemble what they ordered.
"There are special places on Twitter and Reddit for people to complain about their tortillas being replaced by bags of flour, or receiving recommendations for hygiene products while browsing bagels," Nipote said.
And because shoppers have only recently started coming around to grocery shopping online, data is still scant and difficult to draw broad conclusions from. As more shoppers fill shopping carts online, Nipote, whose startup team has doubled since March, expects more tech solutions for personalized shopping to launch in 2021.
From Your Site Articles
Related Articles Around the Web