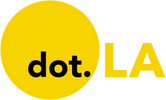 Get in the KNOW  
  on LA Startups & Tech  
X
Here's Why Meta Is Committed to Recreating TikTok's Algorithm
Kristin Snyder
Kristin Snyder is dot.LA's 2022/23 Editorial Fellow. She previously interned with Tiger Oak Media and led the arts section for UCLA's Daily Bruin.
02:19 PM | July 26, 2022
TikTok's algorithm is dominating the social media landscape.
Instagram recently increased its push to re-create TikTok's success, with the company changing its platform to prioritize Reels. Facebook is also shifting its interface to prioritize algorithmic content over posts from friends—and as companies try to increase user engagement and ad revenue, some users long for distinctly different platforms. Both Kim Kardashian and Kylie Jenner shared a petition via Instagram stories urging the app to "stop trying to be tiktok." The petition, which has over 160,000 signatures, was launched by photographer Tati Bruening and requests a return to a focus on photos.
---
"We have TikTok for a reason, and let's face it, the only reels uploaded are recycled TikToks and content that the world has already seen," Bruening wrote in the petition. "What's innovative and unique about old stale content? Nothing!"
Instagram head Adam Mosseri took to Reels Tuesday morning to reassure users that the app will still support photos, even though "more and more of Instagram is going to become video over time," he said.
Evan Britton, founder of Santa Monica-based Famous Birthdays, told dot.LA that the pivot to video stems from advertising trends. It's harder for advertisers to place a video ad between photos than between videos. Switching mediums allows Instagram to make more revenue per user, Britton said. Some analysts believe Reels has the potential to surpass TikTok in ad revenue.
Britton also said Instagram's previous model of chronological, friend-based feeds would eventually lead to a lack of content to view, whereas algorithms provide an endless loop of content and increase engagement.
Though users are more comfortable controlling their feeds, Britton said drawing in viewers through the algorithm helps with post interaction. Gen Z, in particular, uses TikTok more than other social media platforms because of its interest-driven algorithm. He said pushback stems from the late-in-the-game shift from Instagram's original interface. Despite complaints, Britton believes there is no practical reason for Meta to abandon its commitment to video.
"When people open up Instagram and it is slowly morphing, more and more, into Tik Tok, people are going to stay longer," Britton said. "If people didn't love Instagram so much they wouldn't be concerned about it changing."
Major influencers like the Kardashian-Jenner clan probably want their preferred social media platforms to have distinct differences, as do the microinfluencers who have struggled to navigate the ever-changing algorithms. But, Kim, there's people that are dying—including social media companies that have to make a profit off of free content.
"It's going to [result in] higher revenue per user for watching videos, and there'll be more engagement in time in the app because there's an endless supply of content because it's based on interests versus who you follow," Britton said.
Kristin Snyder
Kristin Snyder is dot.LA's 2022/23 Editorial Fellow. She previously interned with Tiger Oak Media and led the arts section for UCLA's Daily Bruin.
https://twitter.com/ksnyder_db
10:20 AM | November 22, 2022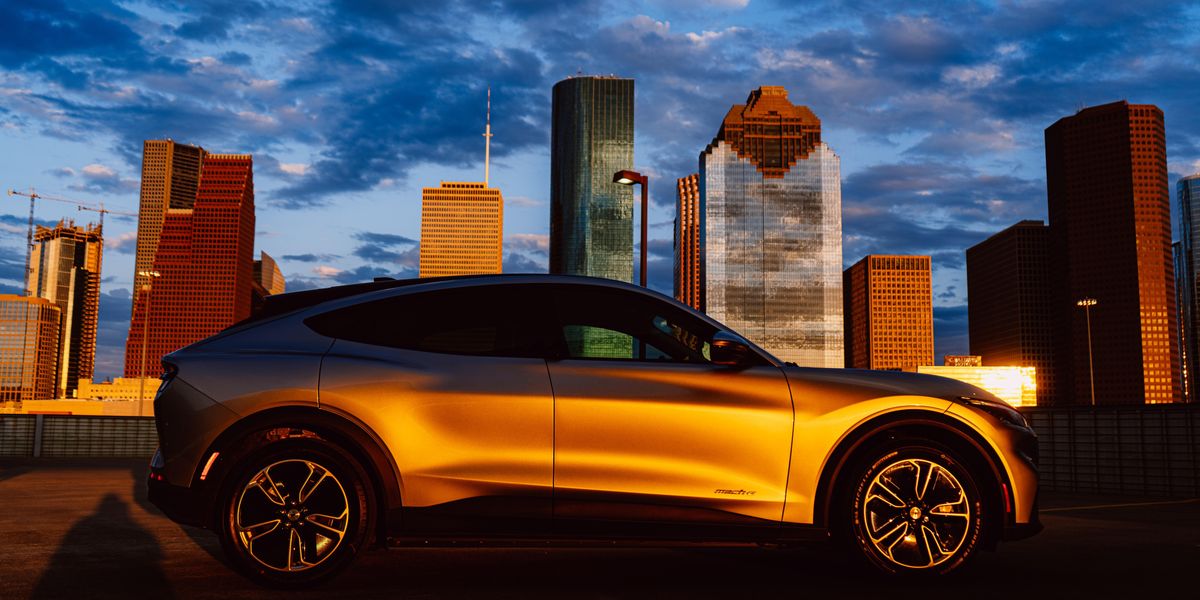 How We Calculated Cost
It is difficult to pinpoint one figure that will apply to every EV driver. Even within a single state, there's variables – such as mileage driven, the type of vehicle and battery, plus the type of charger as well as if the car owner is opting to fuel up at a public station versus installing a personal home charging point.
But the general formula for calculating how much charging an electric car will cost is pretty simple: divide your car's maximum range by its range per kWh, then multiply it by the average cost of electricity per kWh.
That figure, range per kWh, is an estimate that can vary greatly depending on vehicle and also driving factors. More intense driving, say, uphill in the wind, would lower your overall range per kWh since the car needs more power.
Regardless of driving conditions, though, you're always likely to pay more to charge an EV in California than other parts of the country.
California's average electricity cost in August was about 27 cents per kilowatt hour (kWh). Compared to the national average price of around 16 cents per kWh, that's quite high. In part because California's "fixed" costs of operating its electric system are used to offset public programs including wildlife mitigation.
Based on data from the Department of Tax and Fee Administration and Energy Commission, as well as the U.S. Energy Information Administration we also calculated the average California driver spends around $230 on gas monthly, or around $2,760 per year.
How Much Does It Cost To Charge a Tesla?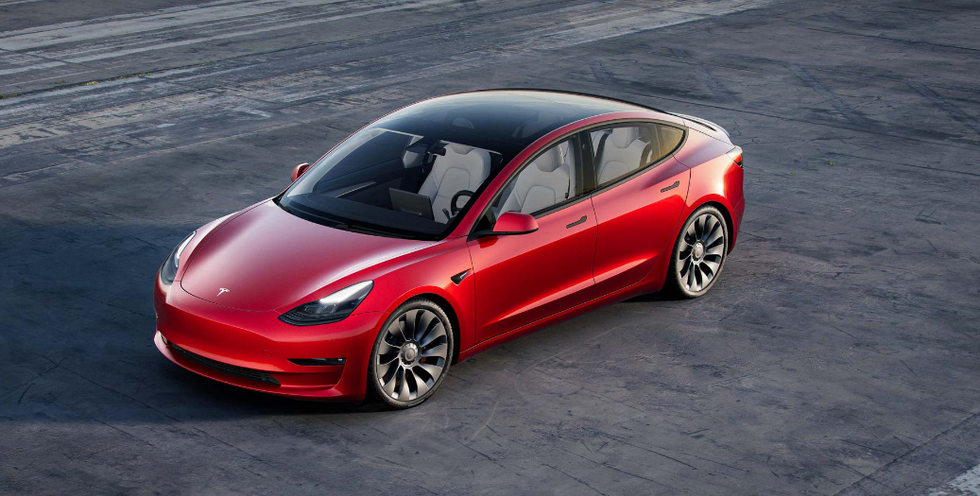 Tesla Model 3.
Photo courtesy of Tesla
So, say you drive a Tesla Model 3, one of the most popular Tesla cars.
Tesla says the standard 2022 Model 3's long-range battery has a top range of 350 miles per full charge, and while it doesn't report range per kWh, auto analysts at Edmunds estimate it to be around 25 kWh/100 miles or 2.5 miles. All told, it should cost about $29.36 to fully fuel a Model 3 in California – but bear in mind that you can only use Tesla's network of proprietary Superchargers unless you have an adapter.
Or, as the U.S. Department of Energy (DOE) estimated, charging a Tesla Model 3 costs about $550 per year.
Tesla's 2022 Model S sports car, on the other hand, requires more charging for higher performance. It costs $39.05 per charge, or around $1 per 25 miles.
Teslas are more expensive to charge than most of their counterparts in part because of their Supercharger network – which most drivers will find a worthy trade-off, given that they're fast, and can charge an EV from 0% to 80% in about 30 minutes.
How Much Does It Cost to Charge a Rivian?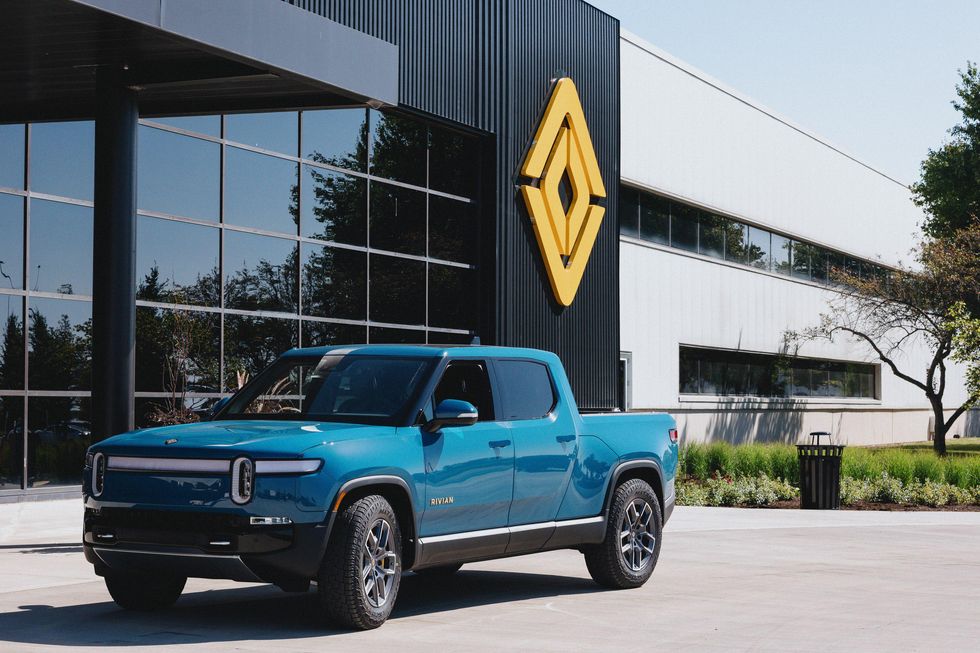 An R1T in Rivian Blue at the main entrance to the plant in Normal, IL.
Courtesy of Rivian
If you're one of the few driving a 2022 Rivian R1T electric truck, it'll cost around $17.66 per charge. Rivian's battery models have varying range, but on the high end, contain 400 miles on a full charge. The DOE estimates that driving 25 miles in a 2022 R1T will cost about $1.68 or about $1,000 annually.
Rivian's other model, the R1S, is almost identical in price (it costs about 20 cents less than the R1T, by our estimates).
How Much Does It Cost to Charge a Nissan Leaf?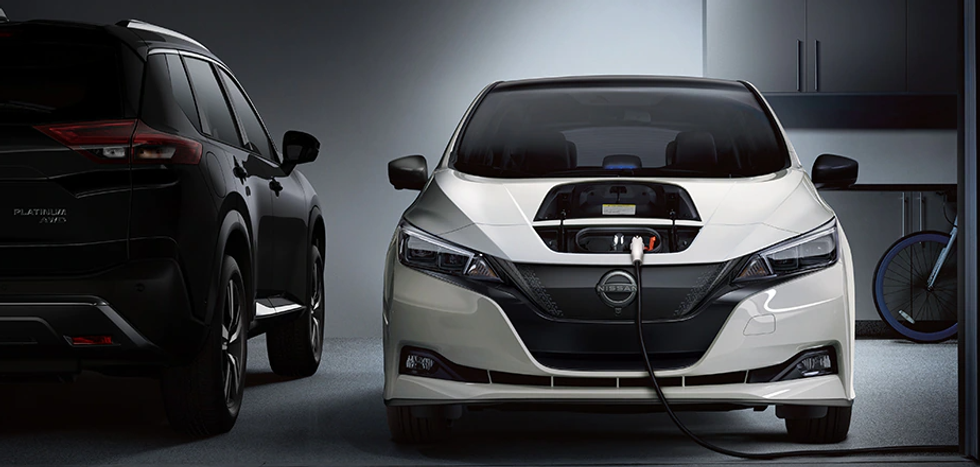 2023 Nissan Leaf charging.
Photo courtesy of Nissan
A 2022 Nissan Leaf's base model comes with a 40 kWh battery pack. The DOE estimates this version of Nissan's affordable commuter car has a maximum range of 149 miles, and gets about 3 miles per kWh, pretty much on par with the overall average for electric vehicles.
Using this information, we can estimate that the Nissan Leaf will cost around $13.41 to charge once. The DOE calculates that a 2022 Leaf's annual fuel cost will total $650.
How Much Does It Cost to Charge a Ford F-150 Lightning EV?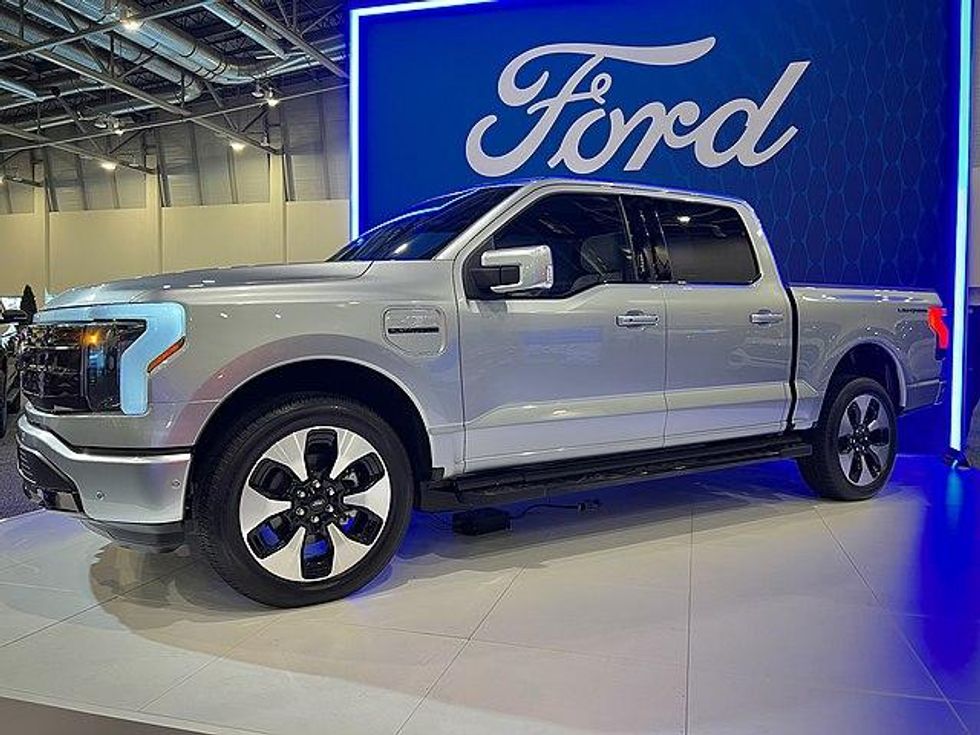 2023 Ford F-150 Lightning
Photo courtesy of Wikimedia Commons
Ford's much-hyped electric F-150 all-wheel drive truck debuted last May to much fanfare, including a test drive from President Joe Biden.
The F-150 Lightning has a max range of 230 miles, and on average a higher fuel cost than competing electric trucks like Rivians. On average, it'll cost roughly $12.67 for one charge, though the DOE estimates this will amount to around $1,050 annually.
This year Ford also released an electric Mustang, the Mach-E SUV. The standard Mach-E has a top range of 247 miles on a full charge, and gets about 3 miles per kWh. One full charge of the Mach-E will cost around $22.23, and
the DOE surmises
that'll add up to a yearly charging expense of roughly $700.
Samson Amore
Samson Amore is a reporter for dot.LA. He holds a degree in journalism from Emerson College. Send tips or pitches to samsonamore@dot.la and find him on Twitter @Samsonamore.
https://twitter.com/samsonamore
samsonamore@dot.la
08:00 AM | October 21, 2022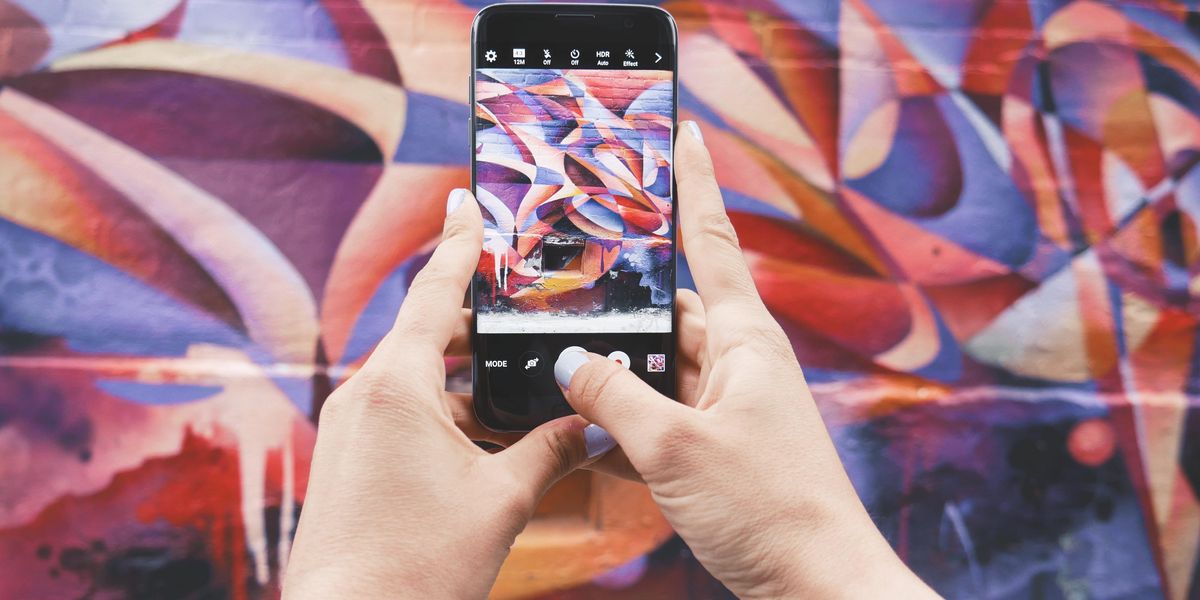 Anasofia Gomez spends her early mornings filming herself journaling, picking up coffee and getting ready for the day. By 9 a.m., she's ready to start her full-time job as a social media marketer.

The Los Angeles-based creator is just one of the 53% of non-professional creators in the United States who maintain a full-time job while also creating monetized content. Colloquially speaking, Gomez is considered a micro-influencer—creators with followers that range from 1,000 to 100,000.
Gomez treats her content creation as a second job: she starts her day at 6 a.m. just to film her content, which often features her outfits and local recommendations, and ends her days at 11 p.m. by posting her daily video. This level of dedication has earned Gomez almost 38,000 TikTok followers and partnerships with brands like perfume company Dossier and FitOn—a fitness app.
Jon Davids, the CEO of influencer marketing company Influicity, says brands often partner with micro-influencers to create a larger volume of content. Similar to their partnerships with normal influencers, companies will send micro-influencers free products in exchange for a promotional video. Depending on the influencer, some companies will pay over $200 per video.
The difference, of course, is that since companies can pay micro-influencers less, they'll get more content for their money. For example, he says a mega-influencer may charge $5,000 for one video, while companies can take that same budget and work with roughly 30 micro-influencers.
"You can get lots and lots and lots of content without paying massive amounts of money for it," Davids says. "And, frankly, the supply is just there."
But Gomez says the money is often inconsistent. A month-long deal can briefly boost her income, but that doesn't guarantee a partnership for the upcoming months. The inconsistency isn't without its benefits, however. Gomez says that since she doesn't rely on these partnerships for income, she can be more particular about what companies she works with.
Gomez has even turned her micro-influencing, work-life balance into content. Her series documenting her attempts to make the most of her time outside of work has taken off. Gomez's first video about her "promise to get off the couch and seize life" has over 10 thousand likes. As such, she's since maintained a series of videos focused on how she uses her time outside of work.
In fact, the "5 to 9" trend, which features people showing off their detailed routines before and after work, often with homemade meals and elaborate skincare routines, can get creators thousands of views. Other micro-influencers highlight content specifically about their careers: lawyers translate legal jargon, nurses discuss their work hours and teachers share their classroom management strategies. Which is to say, for many non-professional creators, quitting their full-time job would likely alter their content and potentially alienate their audience.
To that end, Davids says, these niche communities, such as influencers who make content about engineering or waste management, are often where micro-influencers thrive.
"The micro-influencers that we have today really didn't exist five or six years ago," Davids says. "People who had very, very small audiences on social weren't doing it to have any kind of professional presence—they were just kind of creating content for their friends and family."
Which is why, Davids adds, amateur content creators can actively engage their followers on a more personable level than many mega-influencers.
Nonetheless, Gomez has thought about pursuing content creation full-time. But, she finds that she enjoys the security her traditional job provides compared to the lack of financial consistency from her influencing endeavors.
"You just never know what the future is with social," Gomez says. "I think you really do have to be in a really good place [financially] to be able to say, 'I'm going to quit my job and just do content creation.'" Amen.
Kristin Snyder
Kristin Snyder is dot.LA's 2022/23 Editorial Fellow. She previously interned with Tiger Oak Media and led the arts section for UCLA's Daily Bruin.
https://twitter.com/ksnyder_db