google
google
A security guard who worked at Google's Venice campus has sued the company, saying it did not adequately respond to his complaints that he was sexually harassed and physically assaulted by a supervisor because of his race and sexual orientation.

David Brown, who is Black and gay, alleged his supervisor called him racial and gay epithets, and physically abused him by "grabbing him on the buttocks, kicking him in the groin, throwing him through a window head first and brutally grabbing his nipples."
Brown is employed by both Google and security company Allied Universal, according to the lawsuit filed Sept. 29 in Los Angeles County Superior Court. He is seeking unspecified monetary damages for the alleged abuse which began in 2012, continued at Google in 2014 and ended when he went on leave last year.
The lawsuit comes in the wake of a year of racial reckoning, during which many major tech companies, including Google, announced efforts to make more inclusive workplaces for Black workers. Google employees have drawn attention to the issue of workplace sexual harassment at the tech giant .About 20,000 Google employees and contractors staged a walkout in November, 2018. In April, more than 2,000 workers signed an open letter, saying the problems haven't been adequately addressed.
"Google, basically, they give lip service to wanting to deter discrimination and harassment, but here, when they had the opportunity to do the right thing, they struck out," V. James DeSimone, Brown's attorney, said in an interview.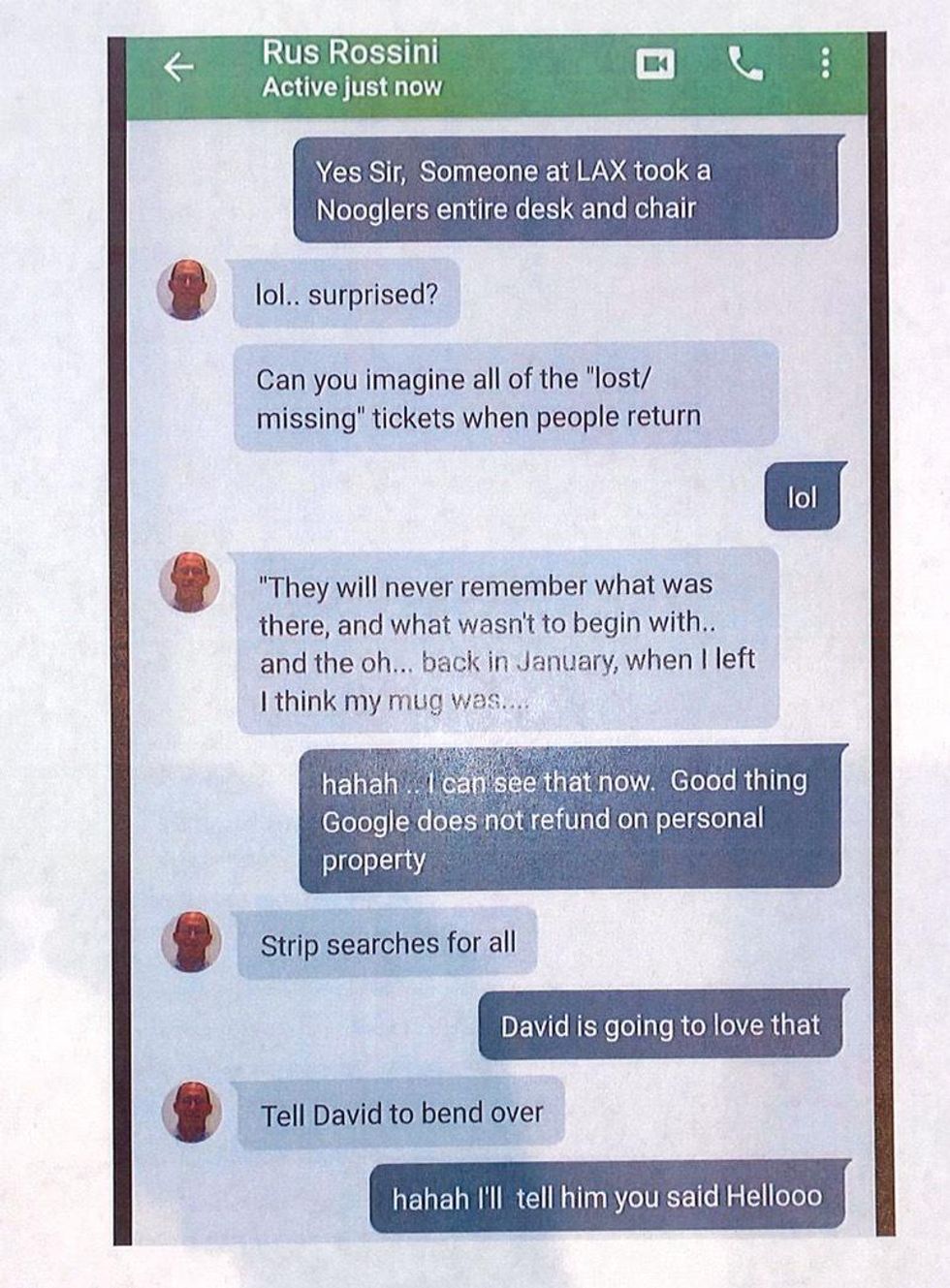 A screenshot of the conversation between Allied/Google employees.
The lawsuit also points to an exchange of text messages between Brown's supervisor, Henry Linares, and Google's senior manager for global community operations, Rus Rossini, in which Rossini and Linares allegedly mocked Brown's sexual orientation.
"Strip searches for all," Rossini texted, according to the lawsuit. To which, Linares responded, "David is going to love that." Rossini wrote, "Tell David to bend over," and Linares replied, "hahah I'll tell him you said Hellooo."
The lawsuit alleged Rossini "participated in the discrimination and sexual harassment and took no corrective action."
Google did not respond to a request for comment.
An Allied spokeswoman sent a statement: "Allied Universal is dedicated to fostering a workplace that is free from discrimination. We are committed to treating all people fairly, protecting safety and privacy and upholding ethical business practices at all times. We take seriously all claims against the company but are unable to comment on pending litigation."

Brown's supervisor, Linares, was fired for reasons unrelated to this complaint, according to the lawsuit. A person named Henry L. who worked at Allied through July 2021 did not respond to a LinkedIn message requesting comment.

In an emotional interview, Brown said he lived in fear of being killed because of the threats Linares made. He didn't tell anyone, including his partner, about the abuse for years.
"It took courage that I didn't even think that I had to voice it to my partner, to voice it to my other coworkers who I told what was going on," Brown said. "It took a lot out of me, but I didn't want to be selfish. I said, 'what if someone else is going through what I'm going through and they're scared like I was for all those years to tell anyone'."
The alleged verbal and physical abuse began in 2012 when Brown and Linares worked at the Santa Monica Mall. Two weeks after Brown filed a complaint, he was moved to Google's Venice campus.
Brown was relieved and ready for a fresh start, but a year later Linares was transferred to Google.
"I thought it would be completely different, especially because I did what I had to do as far as reporting it. I just thought that I would be more protected," Brown said of his time at Google.
"The companies have an obligation to keep the workplace safe and to take all reasonable steps to prevent harassment from occurring and these companies are being called out on that publicly," DeSimone said. "In terms of this lawsuit, we hope to be part of this movement across the country that is holding the companies accountable for the harassment that unfortunately still is prevalent in many workplaces especially, it appears, tech companies."
On Monday, a jury ordered Tesla to pay nearly $137 million in damages to an employee who was exposed to racist abuse, discrimmination and harassment at the company's factory in Fremont.
Brown said he filed the lawsuit so that others don't feel like they have to be silenced.
"I want someone else who's going through something similar, or maybe the same thing, to know it's OK to tell," he said. "I wish I just had the courage and I blame myself so much that I didn't say anything sooner. I just want justice. I just want awareness. That's all I want."
A Feb. 1 hearing is scheduled in the case.
From Your Site Articles
Related Articles Around the Web
On this week's episode of the L.A. Venture podcast, meet Omar Hamoui, a partner at Mucker Capital. Hamoui is the founder of AdMob, a cornerstone of modern mobile advertising. He discusses being one of the first apps in the app store, and early negotiations with Steve Jobs. Hamoui also talks about how entering the venture world was difficult both then and now, despite his early success selling AdMob to Google for $750 million.
After his time with Google, Hamoui became a partner at Sequoia Capital, the venture firm that funded giants like YouTube, Zoom, Instacart and Zappos. He left in 2019 to join Santa Monica's Mucker Capital — a pre-seed and seed stage venture firm that helps early companies scale their brand. In this episode he also discusses why he thinks it's difficult to raise a Series A round outside of the Bay Area.
Hear Hamoui give first-hand accounts on how he learned to create startups, negotiate, when to sell and how to find the right team.
"Sometimes people build businesses that aren't working at their scale. They have to raise money to keep going, but they're really just covering the problem with more money. It's actually not a functional business in the first place." — Omar Hamoui
Omar Hamoui is a partner at Mucker Capital. He currently resides in Santa Monica.
dot.LA Engagement Intern Colleen Tufts contributed to this post.
Want to hear more of L.A. Venture? Listen on Apple Podcasts, Stitcher, Spotify or wherever you get your podcasts.
Facebook's Mark Zuckerberg and Google CEO Sundar Pichai brushed off their platforms' role in the January Capitol insurrection, facing a congressional panel on Thursday.
It marked the tech giants' first appearance before Congress since hundreds of people fueled by social media messages stormed the building.
"The responsibility here lies with the people who took the actions to break the law and do the insurrection," Mark Zuckerberg told the Democratic-led House Energy and Commerce Committee via videoconference. "And the people who spread that content," he added. "Including the president."
Twitter's Jack Dorsey was the only social media CEO testifying to admit his platform bears responsibility.
Pichai said his company "always feels a deep sense of responsibility." But in this case, he said, "I think we worked hard. This election effort was one of our most substantial efforts."
Congress members pushed the three executives on platforms' algorithms and their role in spreading false and violent content. The powerful trio is under increased scrutiny as Congress considers revamping Section 230, a law protecting big tech companies such as Facebook, Twitter and Google from taking the hit when it comes to misinformation.
Rep. Jan Schakowsky (D-IL) asked directly about a Reuters interview in which Facebook CEO Sheryl Sandberg said planning ahead of the siege mostly took place on smaller platforms.
"Certainly there was content on our services," Zuckerberg replied. "From that perspective I think there's further work that we need to do to make our services and moderation more effective."
In his written testimony, Zuckerberg urged Congress to consider dialing back Section 230. His proposal would grant liability protections only to companies with systems in place to oversee those posts.
And Dorsey acknowledged that Twitter can "do more" when it comes to building and exposing the platform's algorithms that impact the content users see.
But behind their calls for tighter regulation is an army of lobbyists working to keep the nation's most influential — and profitable —companies on top.
A recent report from the nonprofit Public Citizen found that Facebook and Amazon are the two biggest corporate lobbying spenders in the nation. And 94% of Congress members with authority over antitrust and privacy issues have taken money from a big tech lobbyist or PAC.
Some say the proposals would ultimately benefit the tech giants. Small companies, meanwhile, may struggle to build new systems and teams dedicated to overseeing dicey content. Whatever happens is likely to have profound implications for how users experience social media.
In response to concerns about how the platforms moderated harmful and false posts, the tech titans defended their strategies. Zuckerberg cited the tags added to some 150 million posts that misrepresented the 2020 presidential election. Pichai said YouTube removed 13,000 channels for promoting violence and extremism between October and December 2020.
"There's a lot of impressive numbers in there," Carmen Scurato, president of the advocacy group Free Press, said during a livestream event prior to the hearing. "They're grading their own homework."
"Don't get wowed by these statistics," Dr. Joan Donovan from the Shorenstein Center at Harvard said during the YouTube livestream with Scurato.
Coalitions like the Real Facebook Oversight Board want more than numerical evidence.
The group of advocacy organizations and nonprofits formed in late 2020 to tackle the slew of Spanish language posts that violate Facebook's policies but aren't caught by its algorithms.
"What kind of investment is Facebook making on the different languages to make sure that we have more of an accuracy?" asked Rep Tony Cárdenas, a Democrat representing a heavily Latino portion of the San Fernando Valley.
Zuckerberg pointed to Facebook's international fact-checking program, an initiative he said is "something we invest a lot in and it will be something we continue to invest more in."
But advocates cast doubt.
"We are not convinced one bit by Zuckerberg's empty promises and roundabout answers meant to distract us from the truth," said Brenda Victoria Castillo, president and CEO of the National Hispanic Media Coalition.
From Your Site Articles
Related Articles Around the Web