google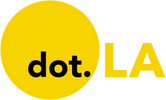 Get in the KNOW
on LA Startups & Tech
X
google
Image from Shutterstock
A teenage girl has sued social media giant Snap after she was coerced into sending nude photos of herself through its Snapchat app, claiming that the company has failed to protect minors like her from child sexual exploitation.
The lawsuit, first reported by the Washington Post, accuses Santa Monica-based Snap of fostering a "safe haven for child sexual abuse"—contending that Snapchat's disappearing messages empower sexual predators to engage in criminal behavior with less fear of being caught. At the same time, Snap's systems for detecting sexually exploitive content are "ineffective," according to the complaint filed this week in federal court in Southern California.
The proposed class action—which seeks to represent all U.S. Snapchat users who were teens over the last decade and appeared in photos and videos on the app—also names Apple and Google as defendants. That's because the tech giants' app stores allegedly hosted third-party apps that allowed predators to distribute child pornography—including images of the teen girl, identified in the lawsuit as "L.W.," who is suing the tech giants. The suit seeks at least $5 million in damages and aims to force the companies to invest more into protecting teens from sexual exploitation.
"By engaging in unfair, deceptive business practices… and by enabling sexual predators to perpetrate crimes against minor children while financially benefitting from the same, Snap has caused severe harm to Plaintiff L.W. and putative Class members," the complaint reads.
The lawsuit is the latest attempt to hold social media giants like Snap accountable for the harm that their platforms can inflict on children. California legislators are considering a bill that would let parents sue social media companies for addicting their children to those companies' apps. State attorneys general, meanwhile, have urged Snap and Culver City-based TikTok to strengthen their parental controls and have launched multiple investigations into their operations, including over content involving human trafficking.
In a statement to dot.LA, Snap spokesperson Katie Derkits said the company wouldn't comment on active litigation, but said the sexual exploitation of L.W. was "tragic and we are glad the perpetrator has been caught and convicted."
"Nothing is more important to us than the safety of our community," Derkits said. "We employ the latest technologies and develop our own tools to help us find and remove content that exploits or abuses minors. We will continue to do all that we can to protect minors on our platform."
L.W.'s lawsuit contends that Snap's systems to detect child sexual abuse material (CSAM) are ineffective at preventing the sexual grooming of teens. It claims that while Snap's software identifies previously reported images and videos that match content in a database of known CSAM, new illegal content produced or distributed on Snap often fails to match anything in the existing database.
"Snap's enforcement relies upon reports from individual users who have been harmed, an inherently reactive approach that waits until a child is harmed and places the burden on the child to voluntarily report their own abuse," according to the complaint.
According to the Post, Snap representatives have argued that more aggressive scanning of personal messages to take down CSAM could harm user privacy and trust on the platform.
A security guard who worked at Google's Venice campus has sued the company, saying it did not adequately respond to his complaints that he was sexually harassed and physically assaulted by a supervisor because of his race and sexual orientation.

David Brown, who is Black and gay, alleged his supervisor called him racial and gay epithets, and physically abused him by "grabbing him on the buttocks, kicking him in the groin, throwing him through a window head first and brutally grabbing his nipples."
Brown is employed by both Google and security company Allied Universal, according to the lawsuit filed Sept. 29 in Los Angeles County Superior Court. He is seeking unspecified monetary damages for the alleged abuse which began in 2012, continued at Google in 2014 and ended when he went on leave last year.
The lawsuit comes in the wake of a year of racial reckoning, during which many major tech companies, including Google, announced efforts to make more inclusive workplaces for Black workers. Google employees have drawn attention to the issue of workplace sexual harassment at the tech giant .About 20,000 Google employees and contractors staged a walkout in November, 2018. In April, more than 2,000 workers signed an open letter, saying the problems haven't been adequately addressed.
"Google, basically, they give lip service to wanting to deter discrimination and harassment, but here, when they had the opportunity to do the right thing, they struck out," V. James DeSimone, Brown's attorney, said in an interview.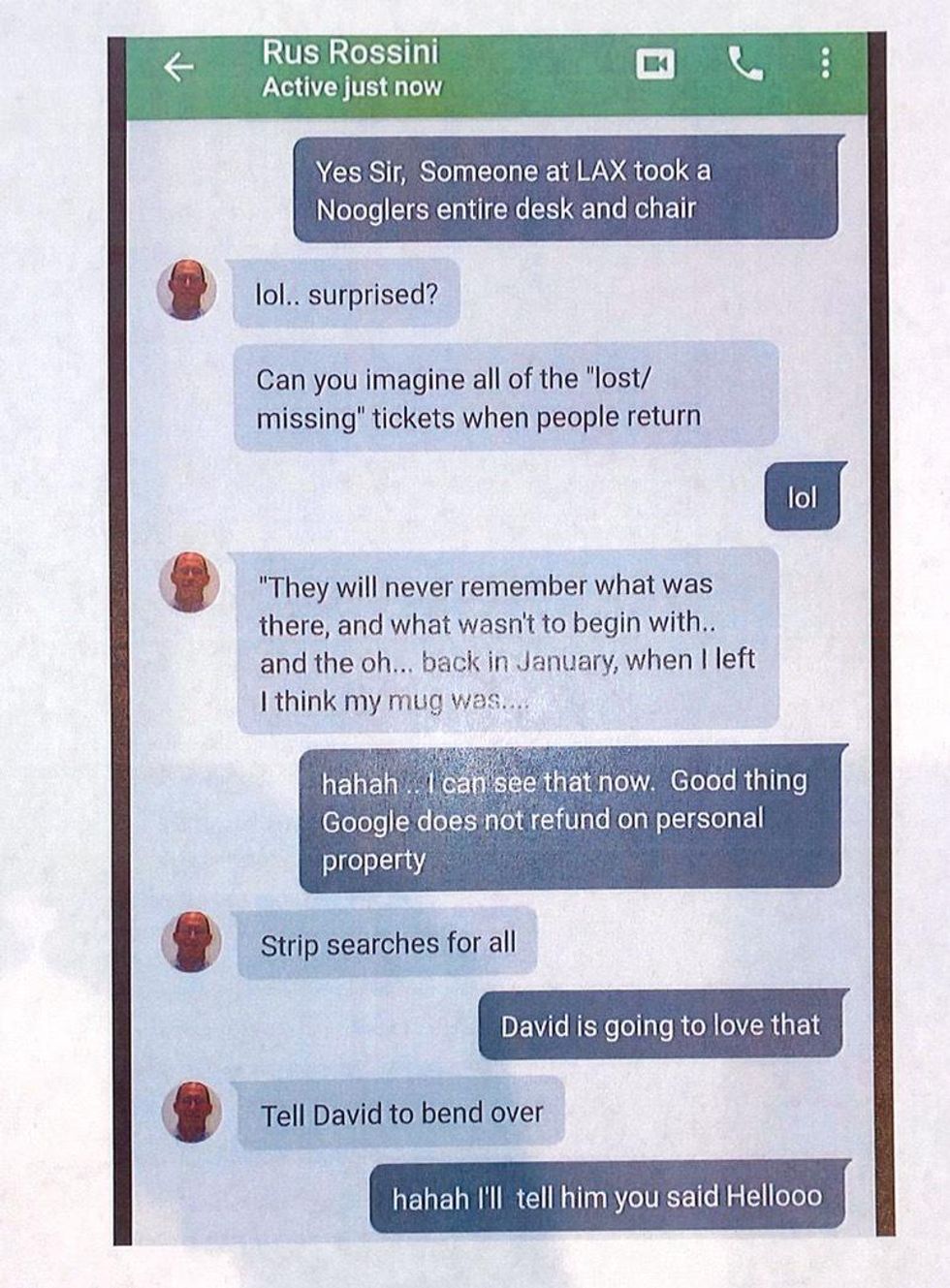 A screenshot of the conversation between Allied/Google employees.
The lawsuit also points to an exchange of text messages between Brown's supervisor, Henry Linares, and Google's senior manager for global community operations, Rus Rossini, in which Rossini and Linares allegedly mocked Brown's sexual orientation.
"Strip searches for all," Rossini texted, according to the lawsuit. To which, Linares responded, "David is going to love that." Rossini wrote, "Tell David to bend over," and Linares replied, "hahah I'll tell him you said Hellooo."
The lawsuit alleged Rossini "participated in the discrimination and sexual harassment and took no corrective action."
Google did not respond to a request for comment.
An Allied spokeswoman sent a statement: "Allied Universal is dedicated to fostering a workplace that is free from discrimination. We are committed to treating all people fairly, protecting safety and privacy and upholding ethical business practices at all times. We take seriously all claims against the company but are unable to comment on pending litigation."

Brown's supervisor, Linares, was fired for reasons unrelated to this complaint, according to the lawsuit. A person named Henry L. who worked at Allied through July 2021 did not respond to a LinkedIn message requesting comment.

In an emotional interview, Brown said he lived in fear of being killed because of the threats Linares made. He didn't tell anyone, including his partner, about the abuse for years.
"It took courage that I didn't even think that I had to voice it to my partner, to voice it to my other coworkers who I told what was going on," Brown said. "It took a lot out of me, but I didn't want to be selfish. I said, 'what if someone else is going through what I'm going through and they're scared like I was for all those years to tell anyone'."
The alleged verbal and physical abuse began in 2012 when Brown and Linares worked at the Santa Monica Mall. Two weeks after Brown filed a complaint, he was moved to Google's Venice campus.
Brown was relieved and ready for a fresh start, but a year later Linares was transferred to Google.
"I thought it would be completely different, especially because I did what I had to do as far as reporting it. I just thought that I would be more protected," Brown said of his time at Google.
"The companies have an obligation to keep the workplace safe and to take all reasonable steps to prevent harassment from occurring and these companies are being called out on that publicly," DeSimone said. "In terms of this lawsuit, we hope to be part of this movement across the country that is holding the companies accountable for the harassment that unfortunately still is prevalent in many workplaces especially, it appears, tech companies."
On Monday, a jury ordered Tesla to pay nearly $137 million in damages to an employee who was exposed to racist abuse, discrimmination and harassment at the company's factory in Fremont.
Brown said he filed the lawsuit so that others don't feel like they have to be silenced.
"I want someone else who's going through something similar, or maybe the same thing, to know it's OK to tell," he said. "I wish I just had the courage and I blame myself so much that I didn't say anything sooner. I just want justice. I just want awareness. That's all I want."
A Feb. 1 hearing is scheduled in the case.
From Your Site Articles
Related Articles Around the Web
On this week's episode of the L.A. Venture podcast, meet Omar Hamoui, a partner at Mucker Capital. Hamoui is the founder of AdMob, a cornerstone of modern mobile advertising. He discusses being one of the first apps in the app store, and early negotiations with Steve Jobs. Hamoui also talks about how entering the venture world was difficult both then and now, despite his early success selling AdMob to Google for $750 million.
After his time with Google, Hamoui became a partner at Sequoia Capital, the venture firm that funded giants like YouTube, Zoom, Instacart and Zappos. He left in 2019 to join Santa Monica's Mucker Capital — a pre-seed and seed stage venture firm that helps early companies scale their brand. In this episode he also discusses why he thinks it's difficult to raise a Series A round outside of the Bay Area.
Hear Hamoui give first-hand accounts on how he learned to create startups, negotiate, when to sell and how to find the right team.
"Sometimes people build businesses that aren't working at their scale. They have to raise money to keep going, but they're really just covering the problem with more money. It's actually not a functional business in the first place." — Omar Hamoui
Omar Hamoui is a partner at Mucker Capital. He currently resides in Santa Monica.
dot.LA Engagement Intern Colleen Tufts contributed to this post.
Want to hear more of L.A. Venture? Listen on Apple Podcasts, Stitcher, Spotify or wherever you get your podcasts.