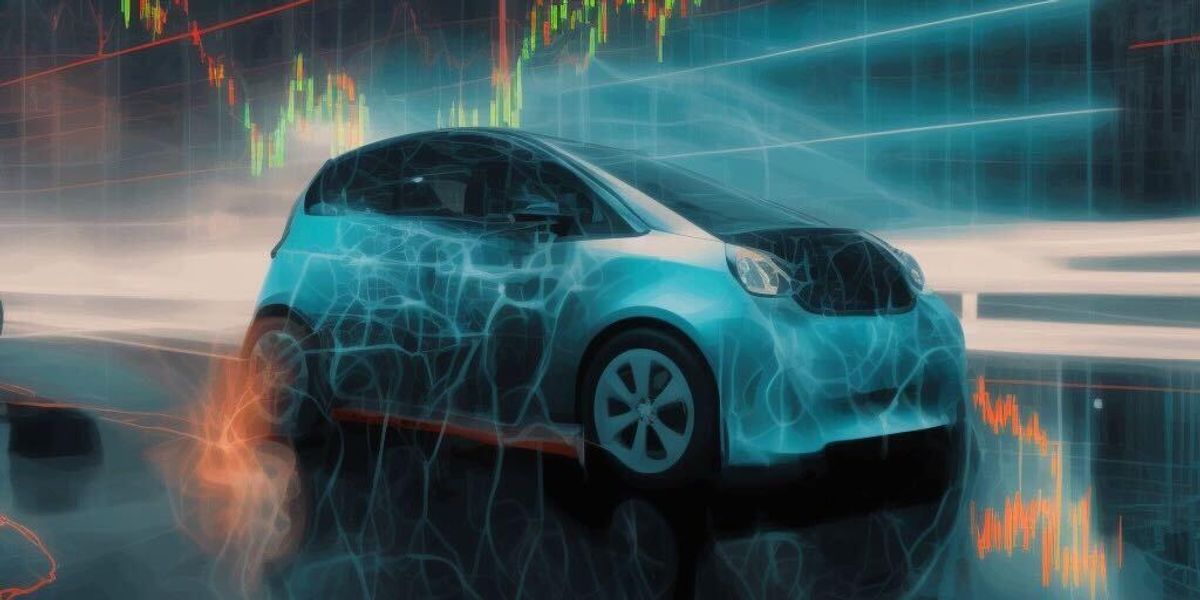 Image from Dall-E2
This is the web version of dot.LA's daily newsletter. Sign up to get the latest news on Southern California's tech, startup and venture capital scene.
This week's newsletter sponsor is WeWork. Unlock coworking spaces near you with WeWork All Access. Get 25% off WeWork All Access monthly membership fees for 5 months. Terms apply. Visit wework.com to get started.
It's a new year and everyone and their mother is making forecasts for the electric vehicle industry in 2023. I've already thrown my hat in the ring here for the SoCal startups, and you may have noticed most of my predictions weren't exactly awe inspiring. But as we round out our 11th day in this new year it seems the consensus on the internet is that a recession may be looming for the United States, and that could be a problem for an already struggling electric vehicle industry. Here's a quick look at what the headlines say:
"Auto executives are less confident in EV adoption than they were a year ago" -CNBC
" Stellantis CEO Warns That A Recession Could Slow EV Adoption" -Carscoops
" The electric vehicle recession may be here - watch these stocks" -Seeking Alpha
" Electric Vehicle Stocks Plunged in 2022. Here's Why It Could Worsen in 2023" -The Motley Fool
---
If you believe the above, it could be a brutal year for EV companies and their stock prices. To combat rapidly rising inflation, the Federal Reserve Board repeatedly raised interest rates over the course of 2022. While the Fed has signaled that these rate hikes should begin to level off this year, economists are beginning to lose hope that the central bank can engineer a so-called "soft landing" for the US economy. If that's the case, and the US economy really does enter a full-blown recession, there are plenty of good reasons to believe the EV industry will suffer more than most.
First, car purchases are a large expense for the average American. They're also cyclical in nature, and many buyers have the flexibility to wait–at least a few months or a year–to time their purchase strategically. The high interest rates imposed by the Fed effectively make cars more expensive for buyers. If they can, smart buyers will simply delay purchases until interest rates come back down.
The internal combustion engine auto industry has also shown time and time again that the country buys fewer automobiles during recessions, even if interest rates are favorable. The EV industry faces a (potential) recession and high interest rates and car prices that are 35% more expensive than ICE alternatives and many of the new entrants into the space are still spending dramatically more cash than they're making. That's a lot of "ands."
But wait, there's more. Supply chains, while improving, are still an issue. Though demand for EVs remains strong, Tesla's price cuts in China suggest that it is beginning to taper off. Speaking of Tesla, the company's stock is down 65% since January 11th 2022. Granted an ape with an iPad probably could have guessed that the company was overvalued at the height of the stock craze. But as the American bellwether for the EV industry, such a massive dip doesn't bode well no matter how you slice it or no matter how much of it can be attributed to Elon Musk's behavior on social media. And it's not like Tesla is alone here either. Lucid has lost 83% in the last year. Rivian is down 80% over the same time period. Ford is down 46%. Don't even get me started on Faraday Future or Mullen—though I am watching the latter closely for a short squeeze.
Despite all this, EVs will almost certainly increase their market share considerably. It can't go without saying that we are still in the very early days of this transition: EVs still make up less than 1% of all cars on the road nationwide. Just 6% of all new car sales were battery electric vehicles nationally in 2022. Even if the EV industry does experience a recession, the number of EVs that are sold in 2023 is still poised to grow substantially. Whether or not it will grow fast enough to meet the nation's goal of 50% EV sales by 2030 remains to be seen, but there's no doubt a recession won't be helpful on that front. - David Shultz