Courtesy of Alto
Since dot.LA covered its launch two years ago, Santa Monica-based rideshare company Alto has hired 300 staff members to join its growing team of drivers. But unlike its competitors, Alto classifies every driver as a W-2 employee.
"They're not gig economy workers that show up whenever they feel," general manager Sevag Konialian tells dot.LA, "they have hours that correlate with the schedule they signed up with."
Applicants that are interested in joining the Alto family, as Konialian puts it, must fill out a form online with their desired schedule. Once the application is complete, an Alto member reaches out to the applicant for a remote interview. After the interview, the potential driver will receive a driver training course list that they must complete.
Konialian says the course load is robust because, "it includes what your expectations are, what the app navigation looks like and what the culture is all about which is all getting embedded before you show up here (Alto headquarters), so we're not starting from zero in person."
Because Alto drivers are classified as employees of the company, they have access to a 401k, guaranteed hourly pay, company sponsored health benefits, professional training and dispatch support and opportunities for advancement within the company.
The startup dubs itself as the "safer" ride sharing option, so last week, I took a ride in one of Alto's SUV's to Santa Monica pier for a test run to understand how it all works.
How Alto Works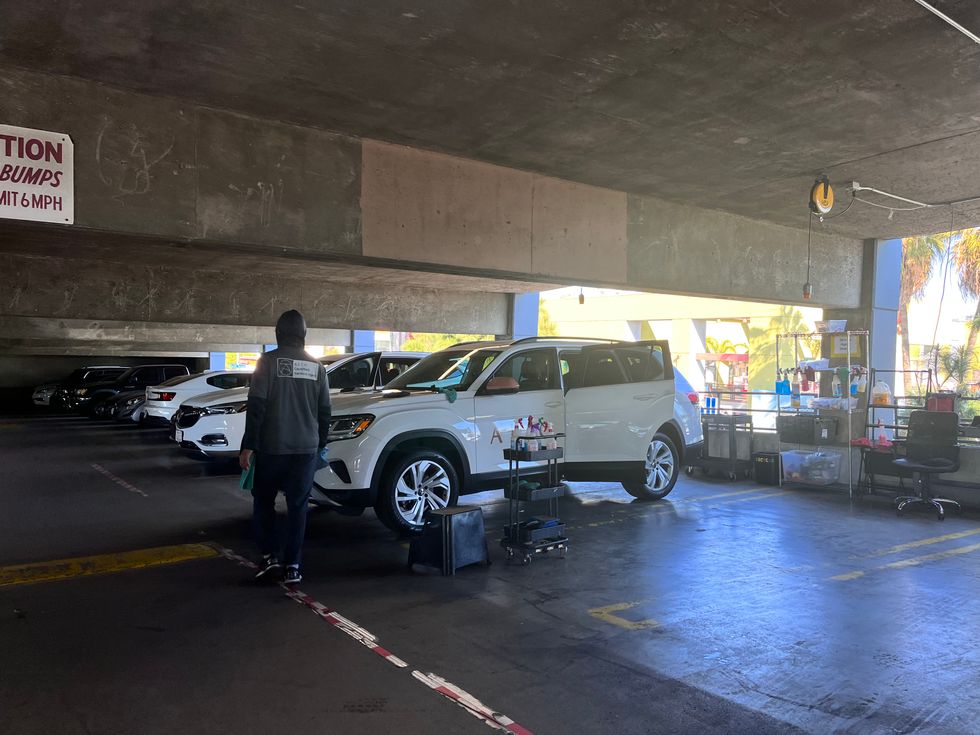 Service agents getting ready to clean Alto cars before they head out for the day. Photographed by Decerry Donato
As I was waiting at the Alto depot, there was a line of pearly white SUV's parked ready to be wiped and disinfected by the company's service agents (this is what Alto calls their cleaning crew). Service agents clean all Alto vehicles before and after every shift, but drivers will clean the car between every ride to ensure each passenger has the same clean vehicle as the previous person.
Similar to other apps, you must enter your credit card information to set up a ride and while Alto is a membership-based ride hail service, the company allows non-members to request rides, like myself.
Alto's annual membership costs $99, but those who don't want to commit to a full year can pay a monthly fee of $12.95. Being a member allows passengers to save 30% on every ride and unlocks priority booking during peak hours.
Members also have access to exclusive offers with Alto's partners including a 50% off membership with Soho Friends, $250 in booking credit with Wander, $30 off your purchase with Mizzen + Main and many more.
Once your ride is confirmed, the app will provide you with a bio of the driver, along with the license plate of the car.
Within ten minutes, my ride came and the driver, Chauncey Dennis, opened the car door and welcomed me in. He asked if he could take any of my bags to the trunk and I was shocked at this gesture because the hospitality I received was drastically different compared to other ride services I've experienced.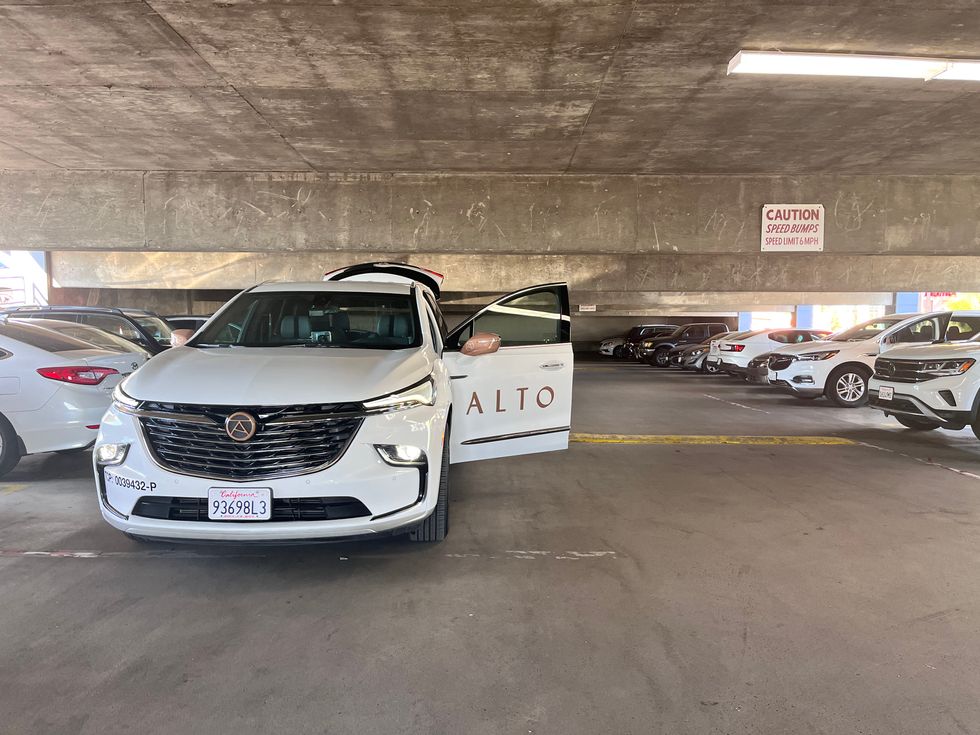 Alto car waiting for the driver. Photographed by Decerry Donato
The Ride
Similar to other ridesharing apps, Alto gives the passenger the option to select a do not disturb button. If the passenger has it on, it notifies the driver that you want a conversation-free ride. But if the feature is turned off, you can expect to learn a little more about your driver.
My fare to Santa Monica cost $24 and Konialian confirms that Alto rides are 30-40% cheaper than other luxury ride hail options.
"In a five day work week, I'll get at least 75% repeat customers." Dennis says who has been driving for Alto for a little over a year now.
"As a driver, I observe first time riders and see how shocked they are with what they're getting," Dennis says.
Some of the comments he receives include everything from how safe it feels to ride with Alto to the cleanliness of the cars.
During the car ride, I learned that I could control the temperature and music and volume from the app. The app currently has a set of eight different vibes you can select from which are Latin, Yeehaw, Reverie, Quest, Fizz, Liftoff, Sanctuary and Void. Each vibe is associated with a genre of music or selection of sounds you can enjoy during the ride. I chose Reverie and the songs that were playing had a lo-fi feel to them and still allowed me to talk to my driver.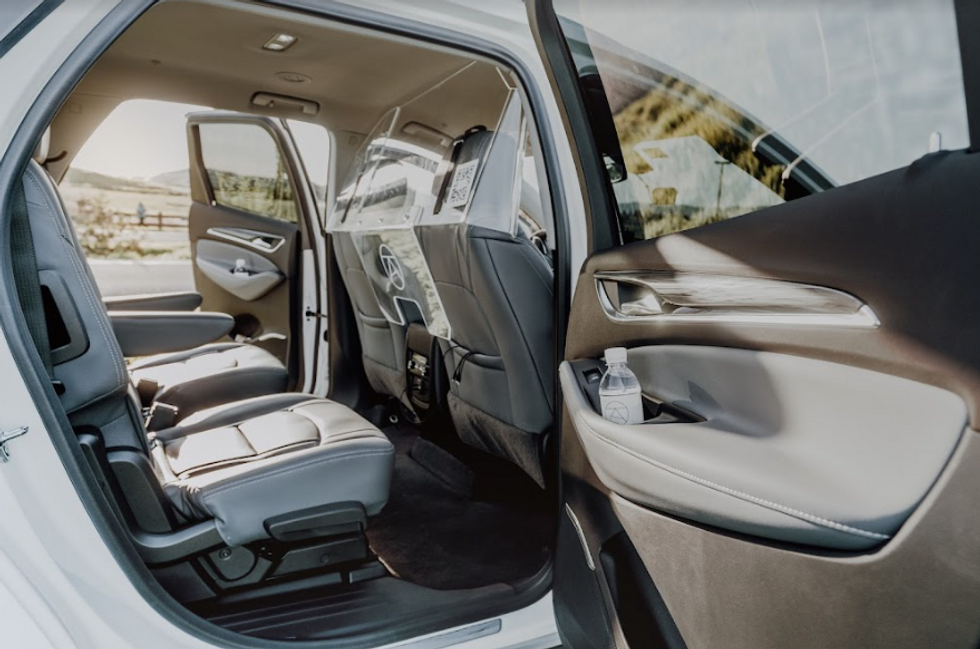 An inside look of an Alto vehicle. Courtesy of Alto
The Safety Factor
Aside from the plexiglass barriers and air filters that are installed in each Alto car, the company also equips each vehicle with a cloud based camera that allows management to monitor the drivers when they are out in the field.
Konialian adds that, "it helps us keep a more accountable system of our drivers and make sure that they are at the top level of safety and the footage can be used in liability cases when it comes to any sort of accidents that occur."
In the case of a flat tire or a battery issue on the road, the driver must contact dispatch where they will relay the message to Alto's fleet coordinator, Wayne Gretzky (not the hockey player) or the driver lead on duty. Then Alto will get a fleet roadside assistance to go out and pick up the vehicle.
When Alto first came to Los Angeles, consumers that had access to the ride hailing service were from cities including Santa Monica, Venice, Marina del Rey and West Hollywood. Now, the startup has expanded its services into the Valley, Studio City, North Hollywood Arts District, Sherman Oaks and Van Nuys.
Next year, the ride-hailing service will add 600 more vehicles to its fleet that will be divided across its six markets: Los Angeles, San Francisco, Dallas, Houston, Washington DC and Miami.