mahi de silva
Since acquiring a controlling stake in Triller in 2019, Hollywood financier Ryan Kavanaugh and his partner at Proxima Media, Bobby Sarnevesht, have transformed the company. They've made at least five acquisitions, expanded the scope of their platform far beyond short-form, user-generated music videos and reportedly explored going public. Earlier this month, they brought on a new chief executive, Mahi de Silva, who took the helm from Mike Lu, who is now president and focused on investor relations.
De Silva, who joined Triller's board at the same time Kavanaugh and Sarnevesht took control, offers a decidedly different tone than his predecessor Lu. The former executive for Verisign and most recently the head of Bay Area-based Amplify.ai, a digital chatbot tool that lets brands interact with customers, De Silva said he's focused on creating strong relationships with partners after some very public disputes.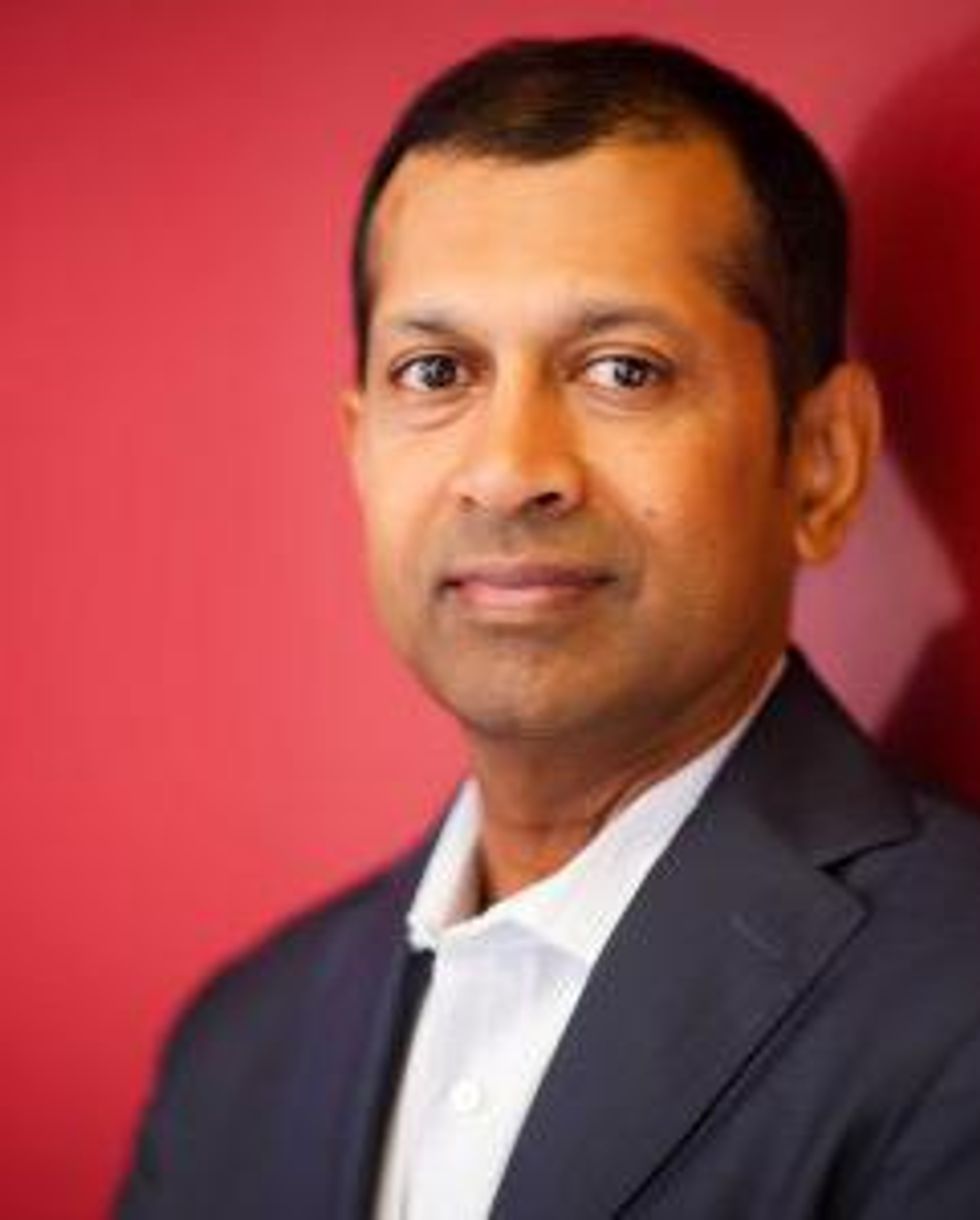 Mahi de Silva is Triller's new CEO.
Universal Music Group pulled its extensive catalog off the app in February, claiming that Triller "has shamefully withheld payments" and that its public statement about the situation was "removed from reality." Late last year, Wixen Music Publishing sued Triller for copyright infringement, and Triller has been called out in the past by the head of the National Music Publishers' Association for playing loose with its copyright obligations.
Triller, which launched in 2015, originally focused entirely on helping musicians create mobile video content but has expanded into livestreaming, live entertainment and even TrillerTV, which includes long-form content, including its own boxing brand, Triller Fight Club.
Along the way, Triller has faced accusations of inflating its user figures and flouting the need for proper music licensing.
Nevertheless, Triller has continued to grow its user base and balance sheet. As of late 2021, the company claimed around 18 million daily active users and 65 million monthly active users. That is well short of the many social media companies with which de Silva hopes to compete. dot.LA interviewed the new CEO to discuss his plans to change that, his views on Triller's public disputes and whether rumors are true that Triller plans to go public.

This interview has been edited for clarity and brevity.
Triller now looks like much more than a short-form social video app. Was that the plan when Ryan and Bobby got involved and brought you in as a board member?
Mahi de Silva: The original thesis was to say, look, we think we can do this better than it being a simple short-form video app. If you think about the progression of YouTube to TikTok – and we have to give TikTok credit; they've done a pretty good job of taking content, making it super bite size, and making it easy to consume – we felt that we could help curate content, particularly bringing in tier-one, top-shelf content, and creating kind of a gateway to broader content, whether it be long-form or even movies. I think the reason Ryan brought me in was that back in the early 2000s, when I ran the wireless business at VeriSign, I built the largest ringtone business in the world. And it was about taking the power of music and making it into these super bite-sized things that were part of your mobile phone experience and it blew up and we built that into half a billion dollar a year business. So it was kind of a confluence of all of that, and being able to bring content and creators together to drive better awareness, better distribution, better monetization of that content.
Boxing isn't exactly a growth industry. Why was that the choice as the first step toward expanding your entertainment footprint beyond music?
Mahi de Silva: Boxing is iconic when it comes to pay-per-view. We saw an opportunity particularly in working with folks like Mike Tyson, to create really a tentpole event out of that. But we've taken a very different approach to boxing: the theatrical production of the event, the camera angles; it's using the most sophisticated technology that you'd see in very high-value production television and movies enter into the sporting arena. We also brought in lots of different artists, lots of different voices, that would appeal to an audience that wasn't a boxing fan. It's the ability to broaden the appeal of an event like this, and then really understanding how people respond to it.
To what extent do you see that expansion into different types and formats of entertainment playing into the Triller app?
Mahi de Silva: The center of our universe today is the app, so the first thing we do is we put the world's best creator tools into the app, so it's super easy to use the content you might have on your phone or the content you created, be able to integrate that with video, mix it, do effects, do filters. And then we do this unusual thing which is we make it easy for you to spread that anywhere and everywhere. You can send it to Instagram and YouTube and Snapchat and wherever you want to. We think by doing that, we are creating a different sort of distribution strategy for creators. And at the same time, we're creating tools where creators can track those posts, those shares, and draw more consumers into that content, and try to create a more lasting relationship with them. So it's not this, "let me go and build my Instagram audience, my Snapchat audience or my TikTok audience"; we're trying to enable them to think about, "okay, here's my content, here's where I distribute it, and here's my audience." We also want to help them monetize that in different ways. We think about the network effect starting with our app, but syndicating content all over the digital universe. And we also think that that snacky, 10-15 second video can be parlayed into more long-form experiences. You can do that even on our platform, moving from the short-form to TrillerTV, or being part of the content that we create for these pay-per-view types of experiences. Today that could be everything that's enabled in the FITE TV world, things that are created through the Verzuz world, and on these other platforms as well.
Sources have told me that Triller has been looking into going public, through a SPAC. Is that still the plan?
Mahi de Silva: We're at that magic threshold where as a company, we have the income statement – in terms of revenue, earnings, growth potential – we have everything that you need to be a U.S. listed public company. So whatever vehicle we use to get there –whether an IPO, a SPAC, a direct listing – we've been very thoughtfully exploring all those options, and doing the right thing for both our shareholders and what's in the best interest of creating a growth vehicle for the company.
Do you expect Triller to go public one way or another this year?
Mahi de Silva: The timeline is something that we're not wedded to, because the public markets have different envelopes of opportunity. But we certainly think that it's possible to do it this year.
Triller has faced accusations that it's inflated its user accounts and shunned the need for proper music licensing. Why do you think the company continues to find its way into the middle of so many controversies?
Mahi de Silva: Those types of controversies are almost inevitable in a) the fact that we play in a very competitive environment, and b) everybody has a different way of measuring things. I think where people tend to get a little sideways is that we've talked about total engagement numbers, and we've talked about app engagement numbers, and those numbers are different. One of the reasons I'm here as CEO is to bring a little bit more rigor into how we do planning, how we focus on priorities and what numbers are really meaningful from a monetization standpoint, and what we make public.
As to music licensing, the labels are some of our most important partners in this journey. We absolutely take music licenses very seriously. I think we have disagreements with some of these entities because they look at numbers that maybe may have been talked about, like the total engagement numbers, versus what happens with content on our app. But we are quickly converging to resolving some of those, I'd say, misunderstandings. We totally embrace license holders and we think we're one of their most important partners.
Universal Music Group had some pretty harsh words for Triller, calling the company's response to the spat over publishing rights "removed from reality." As a board member at the time, were you concerned about that? And as CEO, do you see yourself in a position of power to try to correct some of those characterizations?
Mahi de Silva: I stand behind the conduct of the company throughout the history, ever since I've been involved, ever since Ryan and Bobby have been involved, about being very forthcoming about the facts of our business. Never have we tried to deceive anyone in the industry, particularly those people that we have commercial relationships with. Many of us have been in this business and had to negotiate these licenses. I myself, like I mentioned, in the ringtone business, negotiated with all these companies. Unfortunately, there's a tactic that says that, look, I'm going to use public opinion or sentiment to shape the outcome of a commercial relationship. And it's unfortunate when it gets to that. There may have been some misunderstandings, but we will quickly resolve them and we'll continue to have a very fruitful relationship with the labels.
What kind of misunderstandings are you referring to?
Mahi de Silva: This notion of what are the total users, how many people are we touching, in terms of our reach, with our network and our content, versus what is the reach of the app and what should be counted in the licensing conversation.
But the criticism that Triller received was related to its statement that it didn't need a license with Universal (note: Triller's statement at the time included, "Triller does not need a deal with UMG to continue operating as it has been since the relevant artists are already shareholders or partners on Triller, and thus can authorize their usage directly. Triller has no use for a licensing deal with UMG."). What's your view about the conversation escalating to that level?
Mahi de Silva: People try to use the public and press sentiment to try to shape commercial relationships. It's unfortunate that we get into that kind of noise. It's all just kind of positioning; it's not based in any kind of reality. The fact of the matter is we work with a very, very broad spectrum of creators and content. We want to facilitate the legal exchange of that content across our community of creators and users. So we want to invite in the maximum amount of content on our platform. If there are certain parties that feel they need extraordinary compensation to have that content work in our ecosystem, then they need to be ultimately disabused of that idea. We're not about trying to create an un-level playing field for folks that create, produce and distribute content. We're trying to democratize that. We think that there are very sane, fair terms to do that. We've been able to agree with a vast majority of content licensors around that concept, and I'm very confident that we'll do that with just about everyone.
You mentioned you're going to be bringing more rigor to the numbers. Would you say your style is a little different than Mike's? Was he a little more prone to getting involved in some of these public disputes than you plan to be?
Mahi de Silva: I think Triller has assembled a really amazing team of operating execs. We all have our strengths, we all have our weaknesses. I think the things that may be different is that a CEO kind of tries to set the tone, because our job is to create followership. As much as we like to lead, you have to have followers that buy into a vision and buy into a strategy. And I'm confident that we'll be able to bring that about.
Social video app Triller's parent company TrillerNet announced two acquisitions Wednesday, along with a new CEO.

The startup acquired Palo Alto-based Amplify.ai, which offers brands an AI chatbot tool to interact with consumers. It was previously integrated into Triller and will now become a wholly-owned subsidiary of TrillerNet, which says it will use the tool to "offer brands and advertisers a unique, fully comprehensive branded content experience, starting with influencer-created short-form content from [Triller] which is pushed through the wider internet while using Amplify's AI tools to properly match the content to consumer," according to a statement.
As part of the deal, Amplify AI's CEO Mahi de SIlva, who was already a TrillerNet board member, will become TrillerNet's CEO. Mike Lu will shift from TrillerNet's CEO to president, and will focus on investor relations.
In a separate deal, TrillerNet also has acquired FITE, a live-events and pay-per-view streaming platform focused on sports. The two companies had previously collaborated to distribute Triller-sponsored boxing matches, and FITE will now become the exclusive global distributor for Triller Fight Club, another of TrillerNet's relatively new subsidiaries.
"The deal represents our ambitions to not only expand Triller Fight Club and grow FITE's distribution relationships, but also to reimagine what, how and when premium music, sports and entertainment is delivered to today's audiences," said Bobby Sarnevesht and Ryan Kavanaugh, who together own the majority of the company's shares, in a joint statement.
Terms of the deals were not disclosed.
The moves represent a continuation of Kavanaugh and Sarnevesht's expansion of Triller, over which they took a controlling stake in late 2019. Late last year the company sponsored a fight between Mike Tyson and Roy Jones Jr., which reportedly generated $80 million in pay-per-view revenue. The company has also recently created its own star-studded content network TrillerTV, launched an NFT marketplace and acquired online rap-battle platform Verzuz.
Sources familiar with the company previously told dot.LA that Triller has explored going public via a SPAC. Those sources said the valuation of the potential move would be dependent on the completion of a series of potential acquisitions. It is not immediately clear whether Verzuz, Amplify.AI or FITE were the targets, nor whether the SPAC plan will still go through.
From Your Site Articles
Related Articles Around the Web