shark tank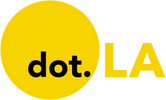 Get in the KNOW
on LA Startups & Tech
X
shark tank
Photo courtesy of Curie
One Sunday afternoon last September, Sarah Moret was hiking through Griffith Observatory when she received a voicemail from the producer of "Shark Tank," ABC's hit entrepreneurial reality show. The voice message notified her that she had just two hours to get to the "Shark Tank" studio and pitch Curie, her aluminum-free deodorant brand, to the show's "Sharks"—its panel of investor judges featuring Mark Cuban, Lori Greiner, Barbara Corcoran, Daymond John and Kevin O'Leary.
"I just jumped in the car; my fiancé was driving, and he brought me home as fast as possible in the carpool lane," Moret told dot.LA. "I curled my hair, got ready in 20 minutes and did my makeup in the passenger seat of his car for a primetime TV show."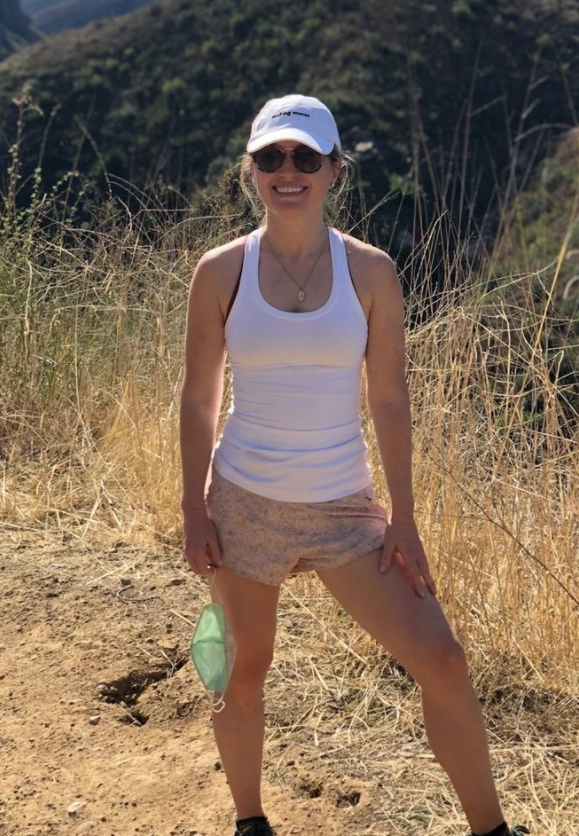 Sarah Moret at the top of her hike, moments before she received a call from the producers of "Shark Tank."
Photo courtesy of Curie
Moret first applied to be on "Shark Tank" in 2020, but didn't receive a callback. She heard back from the show after reapplying the following year, with initial plans to film in July—but the producers bumped her filming date and put her on standby until September.

"I compare it to being like an understudy in a play," she explained. "I didn't have a set filming date. I was just told that I would get a phone call if there was space in the schedule for me to film."
But Moret was confident she had a product worth waiting for, and the entrepreneurial know-how to scale it into a successful business. Most conventional antiperspirants in the market are made out of aluminum that can cause armpit irritation; while there are natural, aluminum-free deodorant brands, Moret said they also irritated her skin or left her smelling like a gym bag. Curie, her solution to these problems, uses sage oil and probiotics to beat the stink, arrowroot powder to absorb the sweat, and chamomile and aloe to soothe the armpits.
Prior to launching Curie in 2018, Moret worked as an associate at Santa Monica-based venture capital firm Crosscut Ventures, where she earned a spot on the investing team. There, she learned the ins and outs of the startup world.
"Curie started from a personal need," Moret said. "I'm an athlete and at the time was a marathon runner, and just couldn't find anything that worked."

Curie generated revenues of $125,000 in its first year of selling deodorant sticks. The following year, the startup had $700,000 in sales. At the start of 2020, she raised $1 million through a convertible note capped at $5 million to continue growing the brand. It has gradually expanded its product offerings to include body wash, moisturizing body oil, a detox mask and hand sanitizers.
Before appearing on "Shark Tank," Curie's body products were already sold in over 300 stores nationwide including Nordstrom, Anthropologie and fitness gym Soulcycle. It had also frequently appeared on shopping network QVC.
Fast forward to September 2021, and Moret finally entered "the Tank" with her eyes set on Corcoran and Greiner. She wanted to make a deal with one or both of them because, as Moret put it, "I just gravitate towards female investors or founders."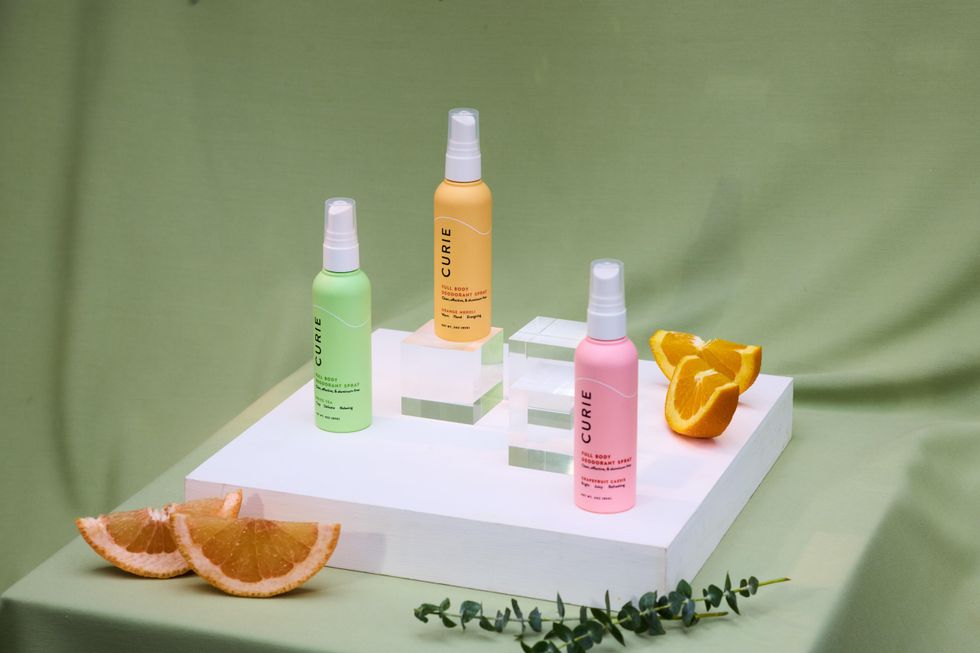 Curie's line of deodorant sprays in three scents. Photo courtesy of Curie
When Moret's episode of "Shark Tank" finally aired last month, she was surprised to find herself the first one up. Moret confidently introduced Curie on national television without a hint of sweat on her face or dirt from the hiking trail. She charmed the Sharks with her background and solid numbers—her opening pitch was for a $300,000 investment in exchange for a 5% equity stake—but four out of the five Sharks didn't bite, saying she had raised too much money early on and had too many products.

This wasn't new to Moret: Her first efforts at pitching Nordstrom and QVC had been rebuffed as well. "Rejection is a part of being an entrepreneur," she said. "You're always going to get no's; you can't let those no's stop you or discourage you."
It all came down to the final Shark, Daymond. When he produced an offer—$300,000 for 20% equity—that Moret deemed too low, she shot back: "I know my worth, I know the company's worth and I'm not backing down."
After Moret countered with $300,000 for 12% equity, Cuban and Corcoran combined on an offer of $300,000 in exchange for 14% equity. Moret took the deal, as Cuban quipped: "I never thought I would be in a women's deodorant business, ever."
After the show aired, Curie sold out all of its deodorant products in 24 hours and now has some 5,000 customers on its waitlist. Moret said the company has plans to roll out further products, but supply chain issues have impacted their progress.
"Our biggest hurdle right now is just getting back in stock quickly, so we can get people their deodorant," she said.
Courtesy of Outer
It turned out 2020 was the perfect breakout year for Outer, the Santa Monica-based direct-to-consumer outdoor furniture brand that first came to prominence after impressing Shark Tank judges in late 2019.
Consumers – forced to spend practically all their time at home last year – were eager to upgrade their patios, backyards and decks. And they did not want to venture into stores and talk to pushy salespeople when they could just as easily order online.
The company saw a 1000% increase in sales last year from 2019, when it was founded by Terry Lin, a product designer who made his name at Casper, IDEO and Pottery Barn, and Jiake Liu, an angel investor who was born and raised in China.
Outer announced Tuesday it has raised $10.5 million in Series A funding led by Sequoia Capital China that will be used to further expand its product line and open a thousand of what it calls "neighborhood showrooms" by the end of the year. Those are where satisfied customers open up their backyards to evangelize Outer furniture – putting a modern sharing economy twist on the multilevel marketing companies like Mary Kay that have been around since the 1960s. But there's a key difference: To avoid high pressure sales tactics, hosts are only compensated for their time, $50 a visit.
The Series A comes after a $4.3 million seed funding round in September led by Mucker Capital, which also participated in a 2018 $1.5 million seed round.
Lin and Liu responded to dot.LA's questions via email about why they think the brand has caught on, and how they plan to use the new capital to jumpstart growth even as stay-at-home orders lift.
What do you attribute the 1000% increase in sales to?
Since launching our inaugural product, the Outer Sofa, in May of 2019, we have been consistently getting raving reviews from our early customers. We were featured on Shark Tank at the end of 2019, which drummed up even more interest for our brand for 2020.
Our Neighborhood Showroom program has been integral to our growth. Hosts have been incredible brand partners and refer new customers to us every day. Knowing that we hit product-market fit and having found a few sustainable customer acquisition channels, we doubled down on growth in January 2020. Our growth curve became even more steep come April, when people started sheltering in place and finding sanctuary in their own outdoor spaces.
What has been the most popular product?
Our Pacific Gray five-Piece Outdoor Sofa has been hands down the most popular product due to its modularity, mattress-level comfort, camping-gear level ruggedness and our patented OuterShell integrated cushion cover.
How has the pandemic changed what people buy from you?
Our modular outdoor sofa collection has been the only product we offered until we released our 1188 eco outdoor rugs (1188 recycled plastic bottles went into each rug), which sold out in record time. As weather cooled in the last few months, we released our tailor-designed, all-weather cover collection that also sold out in less than two weeks.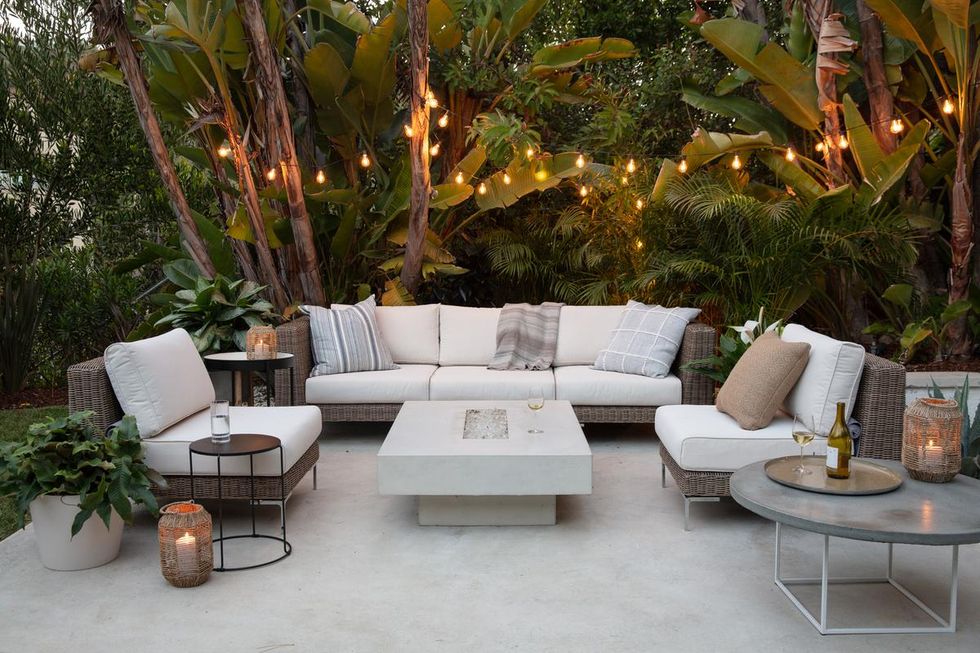 Outer's popular five-piece outdoor sofa set retails for $5,850Courtesy of Outer
Do you worry that you won't be able to sustain this level of growth once the virus subsides and people are not spending as much time at home?

We actually foresee an even stronger year in 2021 for outdoor living. There has been a historic number of homes bought and sold in 2020 in the "Great Reshuffling." According to recent real estate market research, sales of million-dollar homes doubled, and all of those homes are waiting to be furnished with beautiful and functional outdoor furniture. Businesses, offices, and homes will continue to value open/outdoor spaces as people ease back into socializing safely. We are also exploring B2B opportunities as the travel industry bounces back, and hotels, restaurants, and other travel destinations are seeking durable outdoor furniture in droves.
This past year has been like nothing we've seen before and will shape our generation and future generations to come. While we don't have a crystal ball to tell us how we are going to maintain our growth, we believe that the world will not go back to the way it was.
For example, retail continues to transform to meet the needs of expectations of today's consumer. Companies are rethinking what the future of the workplace will be. Employees may never go back to the typical five 5 days in the office every week. The uncertainty has shown us how important it is to create a sanctuary at home - the one place that gives your family a sense of security.
Can you provide more context for what you plan to use the new capital for? What new products can we expect?

The new capital will be used for product development, team expansion and community building. What made us successful in the first place was the fact that our team spent well over a year designing and developing the first product down to the nuts, bolts and yarns of the fabrics. As we evolve from a single-product company to an outdoor lifestyle company with many more highly sought-out products like tables, loungers and chairs, we will continue to invest heavily into material research and product development in order to differentiate our offerings even more from everything else in the market. We will also tackle tangential products beyond furniture in order to make outdoor living even more comfortable, hassle-free and sustainable for all. We grew our team from ten in the beginning of 2020 to 30 by the end of the year, and the new funding will allow us to double or even triple our team again this year. We are hiring across the board.
How did Sequoia Capital China come to be the lead funder? (As opposed to a domestic firm?)
We were fortunate that we had an oversubscribed round with multiple competing term sheets. There are many reasons why we went with SCC, who has been behind the fastest growing consumer startups in the world. One specific reason is because our partner at SCC has deep domain expertise in furniture, global supply chain and international consumer markets. They are uniquely qualified to help us in product R&D and supply chain in the immediate term, paving the way for us to build a global outdoor living brand.
The Q&A has been edited for brevity and clarity.
From Your Site Articles
Related Articles Around the Web
The most cut-throat competition for startups isn't happening in a shark tank — it's being played out in an auditorium at Pepperdine University. And the stakes are high with contestants vying for a $1 million prize.
The Malibu campus hosts the Startup World Cup's regional final on Tuesday with 10 contestants pitching ideas, from an emergency device alerting that someone is drowning to a robotic kitchen assistant named "Flippy." The winner is sent to San Francisco for a global grand finale that pits 40 rivals hailing from L.A.'s backyard to Mongolia to Kenya.
Startups aren't treating this like a game show. The competition is a chance to see and be seen by deep-pocketed business leaders and venture capital investors who pump some $254 billion globally into nascent companies. And about half that amount lands in the U.S. alone.
Even losing can be life changing.
"It was this great momentum-building event that we've been riding ever since," said Chris Ellis, whose Santa Monica-based AudioCardio competed in last year's regional competition. "It really helped build confidence in us. In ourselves."
Ellis, whose sound therapy app listed on Apple's App Store is designed to strengthen hearing, nabbed the 2019 Southern California final. But he lost out in the million-dollar prize to A.I.-based shipping management startup Abivin. (The Hanoi-based company was also a 2019 winner of Vietnam's version of Shark Tank). The 36-old chief executive, who founded the company in 2018 as his grandfather battled hearing loss, said the contest taught him how to pitch his business better: "I was able to go to anyone, tell them what we do, and my goal was to see if I can make their eyes light up about what we could do in the first 30 seconds."
To be sure, a vast majority of startups in the U.S. — and the rest of the world — fizzle out. Research firm CB Insights found that 70 percent of upstart tech companies fail, with consumer hardware startups among the hardest hit. The study, published last year, found that running out of cash and not finding the right venture capital partners were chief among reasons behind their demise.
That's why Len Lanzi, an advisor and former executive director at the Los Angeles Venture Association (LAVA), sees the competition as a boon for fledgling companies. The $1 million prize, backed by Pegasus Tech Ventures and its partners, gives Ellis and other contestants a chance to get experience pitching investors who can help grow their business. That's why Pepperdine's Graziadio Business School's Peate Institute for Entrepreneurship and LAVA is organizing this week's regional finals.
"We build communities around individual silos, industry silos, like global or digital media, clean tech, healthcare, or life science," said Lanzi, who last year helped sift through "about 120 or so applications for ten spots for people to pitch."
Among last year's regional contestants that competed with Ellis' AudioCardio was Los Angeles-based travel search engine Baarb; Encino's Ready, Set, Food!, which protects kids from baby food allergies; and Laguna Beach software maker Eyedaptic that's tackling blindness and macular degeneration.
Lanzi is ready for a fierce battle this year. He describes the current crop of judges as a "blue-ribbon panel." They include Dan Peate, the founder of Los Angeles-based Peate Ventures. Others casting votes are Austin Clements, who is a partner for venture capital firm OPV, Backstage Capital director Greer Engonga, and Frontier Venture Capital managing director Frank Foster.
They could send someone to the world finals with a cool million at stake. And, by comparison, that's a decent sum considering the average deal amount on CNBC's 10-year run on Shark Tank is $286.000.
The contestants for this year's Startup Up World Cup regional championship are:

Coral Drowning Detection Systems, the Los Angeles developer of the Coral Manta, an A.I. powered device that gives an alert when it detects a person drowning in a residential pool.
HomeZada, a platform to help homeowners manage information such as finances or home improvements, based out of El Dorado Hills.
vRotors, a Los Angeles-based platform allowing users to fly real drones around the world using a computer or VR headset from home.
MyShoperoo, an Orange County-based A.I. powered platform allowing users to have errands run for them while they are at work.
Miso Robotics, a Pasadena developer of a "robotic kitchen assistant" called Flippy, capable of working grills and fryers, switching tools, and more.
Gifts for Good, the Los Angeles-based startup that helps companies curate ethical and sustainable corporate gifts.
Limbix, who assists with mental health treatment using VR.
OPKIX, a Costa Mesa maker of small cameras that can be attached to hats, sunglasses, necklaces, and other kinds of apparel.
LexSet, a platform that generates data optimized for retail, augmented reality, warehouses, supply chains, and more.
Saya Life, a Los Angeles-based platform designed to help property owners conserve and monitor water usage.
The event is scheduled to begin at 5:30 p.m. on Tuesday, January 28th at the Smothers Theater on Pepperdine's Malibu campus. Tickets are $25, and can be purchased at
https://pepperdinearts.ticketforce.com/
. The Startup World Cup grand finale will be held on May 22nd at the Hilton Union Square in San Francisco.