electrify america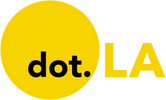 Get in the KNOW
on LA Startups & Tech
X
electrify america
This is the web version of dot.LA's daily newsletter. Sign up to get the latest news on Southern California's tech, startup and venture capital scene.
Well, well, well. It's Wednesday again, and your favorite dot.LA EV reporter is back from vacation. And boy let me tell you, there aren't too many electric vehicles in Greece yet. Just a whole bunch of gasoline-powered scooters…and sardines. I think I saw more EVs in 15 minutes waiting for the bus outside of LAX than I saw in 2+ weeks in Greece and Italy. Though I did see an electric Smart Car parked on the sidewalk in Rome. Neat!

Anyway, the point I'm trying to make here is that California is among the world leaders in EV adoption, and it's easy to forget how far ahead the state is until you leave. But never fear, the Biden-Harris administration is here to remind us of all the progress the country is making.
In a fact sheet released last week, the White House claims that Biden's leadership has spurred massive private investment in the sector and highlights a few Californian companies leading the charge. Let's break it down by the numbers.
$7.5 billion: The total fraction of Biden's infrastructure bill earmarked for charger expansion.
$700 million: The total amount of private investment in the EV charging space.
50%: The fraction of new car sales that the administration hopes will be electric by 2030.
This is certainly not a new number from the Biden administration, but their commitment to it suggests that the White House either still thinks that the milestone is attainable or still thinks there's political advantage in its repetition.
The number seems very optimistic from where I sit mostly due to how persistent and painful the country's supply chain issues remain. Right now, only about 4.5% of new car sales are electric. While that number has been steadily accelerating, manufacturers are more often in the headlines for falling short of production targets and raising prices rather than meeting or exceeding goals. If there's any chance at reaching such a lofty target, it feels like there needs to be a big reversal soon.
250,000: The number of new EV chargers the United States should be able to manufacture and install each year.
The Biden administration has previously stated that they hope to get 500,000 chargers installed along America's highways as part of the infrastructure bill, and other industry experts have calculated that the country might need as many as 1 million total chargers by 2030 to service the ever growing fleet of EVs. The new fact sheet does give concrete timelines for when the country will reach this 250,000 charger per year manufacturing capacity, but as long as it comes before 2031, the country may be able to meet demand…assuming it can also keep them running.
2,000: The number of new jobs created to install, service, and operate the expanding network.
The fact sheet then breaks those numbers down a little bit more granularly. The details paint a picture of a country seeking to standardize charging infrastructure while making sure business goes–at least in part–to American workers or companies as per the Buy American Act. Tucked away towards the bottom the administration also announced that "Tesla will begin production of new Supercharger equipment that will enable non-Tesla EV drivers in North America to use Tesla Superchargers." This is actually a pretty big deal because until this point, Tesla has limited their Supercharger access to Tesla vehicles. The winds, they are a-shifting. More numbers now:
$450 million: A newly announced investment in Electrify America from Siemens and Volkswagen Group that will "support the rapid deployment of up to 10,000 ultra-fast chargers at 1,800 charging stations."
1 million+: The number of charging stations that Siemens is slated to build states side over the next four years thanks to $250 million of investment into expanding their manufacturing sites in Grand Prairie, TX and Pomona, CA.
20,000: The combined number of DCFC and Level 2 charging stations (10k of each) that Chargepoint will be able to produce by 2026 thanks to an expanded partnership with SMTC Corporation—a move that the White House says will add 250 new manufacturing jobs.
30,000: The number of chargers to be provided by FLO, a Canadian company that recently announced a $3 million investment to build an assembly facility in Auburn, Michigan, which should provide 730 jobs and $76 million to the state's economy.
30,000 (again): The number of chargers we can expect annually from Tritium, an Australian company with a manufacturing facility in Lebanon, Tennessee that may employ up to 500 new workers.
$250,000: The amount of money committed by philanthropies, including the Hewlett Foundation, for training women and workers of color for the EVITP-certification.
That's a lot of moving and shaking—and there are even more details in the fact sheet if your eyes haven't already glazed over. — David Shultz
Photo by Zac Estrada
As the White House continues its push for electric vehicles, the demand for semiconductors – a key component in electric vehicles – is about to surge. That spike will mean big business for German semiconductor producer Infineon Technologies, which has its 300-person U.S. headquarters in El Segundo.

Microchips and semiconductors have established vital roles in everyday devices. While laptops, phones and other mobile devices might be the first things to come to mind, transportation—in particular cars—takes a sizable portion of the demand.
Infineon is a significant semiconductor supplier to the automotive and transportation industry, in particular to the Volkswagen Group, which is beginning to deliver on its promises of many electric vehicle launches throughout the decade. Infineon has more than 50 of its semiconductors in the VW ID.4, a compact electric SUV that went on sale in the U.S. earlier this year. It also supplies semiconductors to Electrify America, an EV charging company owned by VW Group of America.
VW's push has come in a year when a global microchip shortage caused by production curtailing in last year's onset of the Covid-19 pandemic. Automakers, in particular, have scrambled to continue building new cars. Dealership lots across the country are running out of inventory and used car prices remain high. At the same time, President Biden has called for a massive increase in electric, hybrid and fuel cell vehicles production. He aims to have half of all vehicles sold by 2030 be non-gas powered.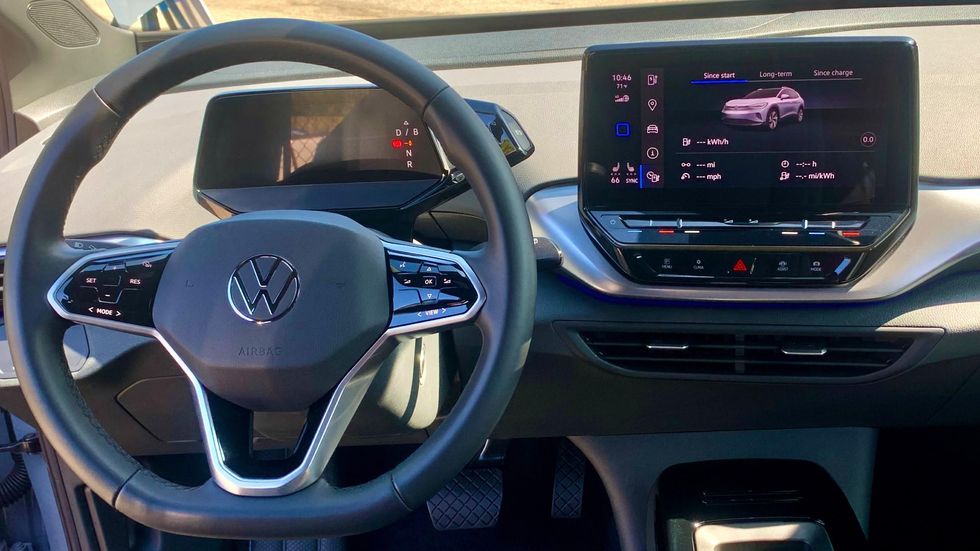 "It's an industry problem," said Shawn Slusser, Infineon senior vice president for marketing and distribution in El Segundo. "The industry overall is in a situation where production and demand are not matched."
A typical car has about $450 worth of power semiconductors to operate features that go from the radio and navigation system to the automatic headlights and windshield wipers, said Slusser. However, that number roughly doubles for EVs when factoring the microchips needed for Infineon's power module to power the car.
The company also supplies semiconductors to Electrify America, an EV charging company owned by VW Group of America. Infineon has more than 50 of its semiconductors in the VW ID.4, a compact electric SUV that went on sale in the U.S. earlier this year.
Auto industry analysis firm IHS Markit predicted in the Wall Street Journal last week that microchip and semiconductor production will allow auto production to get closer to normal by the end of 2022, although some of the problems are likely to stretch into 2023.
And it's a problem that's been brewing long before stay-at-home orders.
"There's a misconception that chips have only been going into EVs recently, but it's been happening since the '80s," IHS Markit analyst Phil Amsrud told dot.LA. "But what it used to be was that there was automotive and everything else. Now there's much more commonality."
Slusser said Infineon has seen demand for semiconductors steadily rising over the last several years. In 2018, the company decided to add capacity with a facility in Austria. But doing so takes between two to three years and billions of dollars — even in a well-functioning climate. And at the time, there were fewer government pushes and mandates to get consumers to buy EVs.
"The timing of how much capacity we need is also dependent on EV adoption," Slusser said. "Is [demand] going to look like a steady incline or a sharp curve?"
Amsrud said EV production may be helped because the semiconductors going into EV power modules don't go into consumer electronics.
"In this case, it may end up being a benefit," he said. "Those are fairly specialized and won't be competing with consumer products or as many markets for the silicon carbide components."
Correction: An earlier version of this post mischaracterized the number of semiconductors in a typical car and the cost of upgrading a semiconductor facility.
Related Articles Around the Web
As the nation waits for electric vehicle charging stations to be as accessible as gas stations, Atwater Village-based Xos Inc. thinks it can get big rig operators charged up quickly.

The company introduced one of the first portable charging stations for fleet operators on Thursday. The station, which looks like a large metal truck trailer, can charge up to five vehicles at a time in a parking lot or fleet yard that doesn't yet have permanent charging facilities.
Big rigs are among the state's largest polluters. Last year, the state enacted a zero-emissions truck and delivery van mandate beginning in 2024, with the goal that all heavy duty trucks sold in California are electric by 2045.
Known as Xos Hub, the stations allow for a movable charging infrastructure in parking lots being used temporarily or without existing vehicle chargers. The company hopes that the mobile stations can be distributed widely and persuade more fleets to adopt battery electric technology. The units may also offset operators' concerns that electric commercial vehicles have a short range and few charging options.
"Everything from individual state regulations, to commitments by large fleet operators to convert to zero-emission electric vehicles, to President Biden's infrastructure plan, is pointing to electric vehicles as our future," CEO and co-founder Dakota Semler said in the announcement. He said fleet customers shouldn't have to wait for traditional fixed charging stations.
The Hub is part of a new subsidiary, Xos Energy Solutions, which will also offer Xos Serve, which will perform site evaluations, installations and other services related to the infrastructure.
Some infrastructure investments are starting to appear around ports. In May, Electrify America and the ports of Los Angeles and Long Beach announced a $25 million investment for commercial vehicle chargers. Electrify America is a subsidiary of Volkswagen Group of America.
The push for zero-emission fleets at the ports of Los Angeles and Long Beach is even more pressing after Los Angeles Mayor Eric Garcetti and Long Beach Mayor Robert Garcia called for the elimination of diesel trucks at the port by 2035. The two ports are the nation's busiest seaport hub where thousands of diesel trucks haul billions of dollars worth of cargo but there is still little electric vehicle infrastructure.
There are more than 100 zero-emissions vehicles being tested with various partners, such as Toyota, using battery electric or hydrogen power at the port, said Phillip Sanfield, a spokesperson for the Los Angeles port. But more infrastructure will be needed down the line.
"Right now, our focus is to help identify a variety of different options the market may determine for zero-emissions vehicles," he said.
A focus on charging comes as Xos is putting more of its commercial vehicles on the road.
The company said earlier this week it will provide FedEx with 120 electric vehicles for use as FedEx Ground delivery trucks. These vehicles will be operated by the parcel delivery company's Independent Service Provider arm in California, Massachusetts, New Jersey, New York and Texas beginning at the end of this year. Xos says more trucks will be put into service into 2022, with ongoing discussions with FedEx on additional vehicle deliveries in other states next year and in 2023.
In March, FedEx announced a $2 billion initiative to go carbon-neutral by 2040, including purchasing only electric parcel pickup and delivery vehicles from 2030 on.
Xos is preparing an SPAC merger with Florida-based NextGen Acquisition Corp. and a $2 billion valuation. A shareholder meeting is scheduled for Aug. 18.
Correction: An earlier version stated Xos Inc. is located in North Hollywood. It recently moved to Atwater Village.