How Superplastic Is Taking Over TikTok With Synthetic Influencers
Kristin Snyder
Kristin Snyder is dot.LA's 2022/23 Editorial Fellow. She previously interned with Tiger Oak Media and led the arts section for UCLA's Daily Bruin.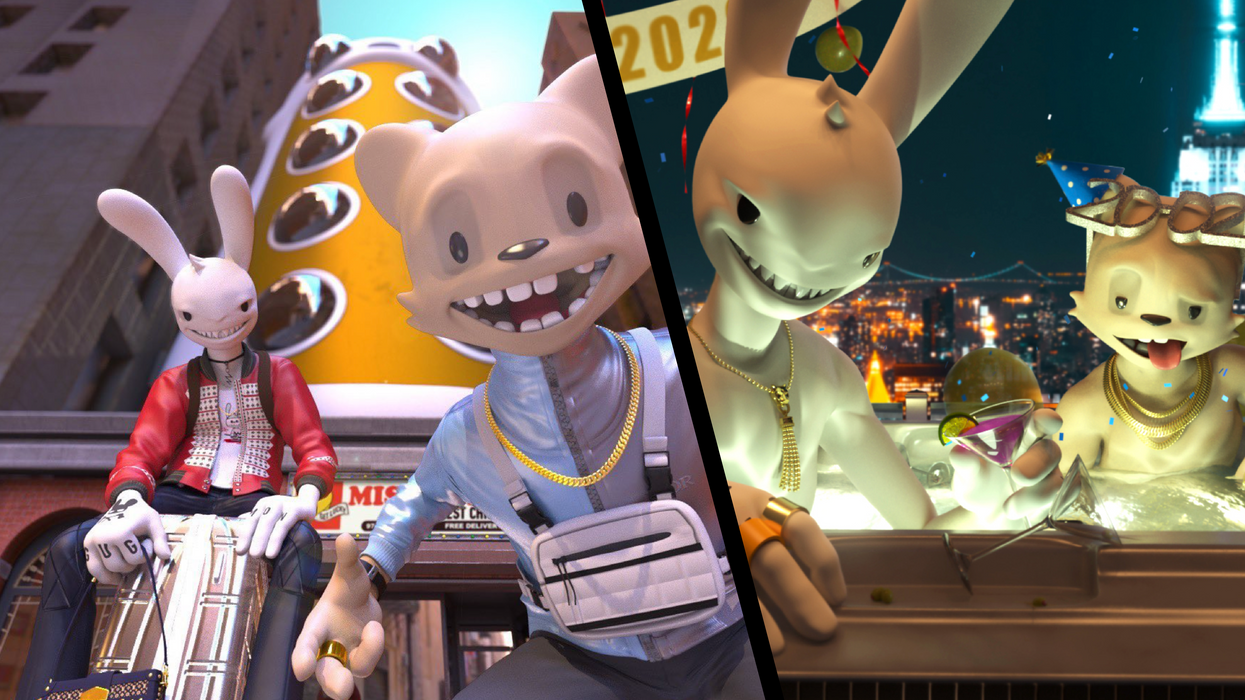 Superplastic
This is the web version of dot.LA's daily newsletter. Sign up to get the latest news on Southern California's tech, startup and venture capital scene.
Guggimon is a rabbit and Janky is a cat. The anthropomorphic characters copy viral trends and skateboard through city streets. They dance with friends, play carnival games and hang out in the desert.

Their ventures have helped attract a swath of human followers. Guggimon has over three million followers on TikTok, while Janky has accumulated over 10 million. The characters often do crossover content that features other characters as well. Their behavior, in effect, is essentially that of a streetwear influencer in that they collaborate with companies like Mercedes-Benz and Gucci to promote luxury products while also selling their own merchandise.
---
But, they're considered "synthetic" on account that they are entirely computer-generated and their content is determined by a a team of four writers who construct plots, integrate trends and form their personalities. The company behind Guggimon and Janky is Superplastic and their chief creative officer Galen McKamy says the writers have to focus on a quick turnaround to maintain each character's online presence.
"We're working at the speed of social media," McKamy says.
Guggimon and Janky aren't the only synthetic influencers—also known as virtual influencers, AI influencers and digital influencers—competing with living, breathing content creators. A recent survey from The Influener Marketing Agency found that 58% of respondents follow at least one virtual influencer.
Part of the appeal is that brands and companies can craft specific narratives for each character, which can potentially help them avoid controversy. The idea being that since traditional influencers can become a liability for brands, companies are leaning into virtual influencers that may not have the same issues. In February, makeup company Maybelline introduced virtual influencer May to launch a new mascara. CGI influencer Lil Miquela works with brands like PacSun and Prada. And, like many other influencers, she "attended" Coachella.
That said, digital influencers have faced heightened scrutiny. Lil Miquela received pushback after discussing an experience with sexual assault—a narrative intended to make the figure more relatable but was instead considered offensive.
But so far, it's been smooth sailing for Guggimon and Janky. McKamy says each video is informed by online performance and analytics. In fact, the writers room kicks off with a discussion of what content is actually capturing their audience—a demographic that ranges in age from 16 to 35.
When something featured in a video receives positive feedback, the writers lean into it. One Janky video includes the cat being flung into a woodchipper while skateboarding down the street. The video ends with Janky reduced to rainbow goo that flows through the street. As commenters deemed the video funny and lamented Janky's sneakers being destroyed, the creators continued to put the character through different shredding devices, such as a meat grinder.
According to McKamy, that kind of violence performs best. For example in one video from April that has 82,000 views, Guggimon continously hits Janky, who pops up out of holes in the sand, with a mallet while playing whack-a-mole.
He likens the action to classic slapstick comedy characters, like Tom and Jerry. Their movements are exaggerated—characters jump around while being incinerated, slam golf clubs into heads and stomp through rooms. Since the characters don't speak, the storytelling must be done through action.
"Our goal is to disrupt or break the feed," McKamy says. "We always try and have something really loud and over the top happen right away. That all happens under a few seconds."
In addition to analytics, the writers also consider what's trending on TikTok. McKamy says the team tries to pick trends that have more staying power and won't be considered stale in a week's time.
"I think the biggest thing for me with using trends is really how do you express the trends through our characters?" McKamy says. "How does Janky perceive this TikTok sound or how does Guggimon perceive this TikTok action?"
With each script ready after one day of work, a team of 20 artists, formerly employed at Marvel, Disney and Pixar, craft the visuals. But with Superplastic, instead of the years-long process of bringing a movie to the screen, the team aims for a 24-hour turnaround for TikTok videos.
That said, Superplastic doesn't want its characters to be limited to short-form. Janky and Guggimon are already playable characters in Fortnite, which McKamy says has attracted new fans. In February, Superplastic raised $20 million in a funding round led by Amazon's Alexa Fund. Which means that, in addition to churning out social media content, the writers are also developing a long-form Janky and Guggimon show. McKamy says the show will flesh out the characters and tell a larger story—something that's much more difficult to create in TikTok's bite-sized videos.
"We're so not traditional," McKamy says. "We look at every media channel, or every opportunity to get the characters out, there's new vehicles to get to where the fans are," adding that "the goal is to have a billion Superplastic characters."
Kristin Snyder
Kristin Snyder is dot.LA's 2022/23 Editorial Fellow. She previously interned with Tiger Oak Media and led the arts section for UCLA's Daily Bruin.
https://twitter.com/ksnyder_db