partner post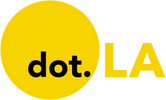 Get in the KNOW
on LA Startups & Tech
X
partner post
Photo by Sutton Capital Partners
Read Part One of our coverage here.

The Recurring Revenue Conference, hosted by Sutton Capital Partners, returns to Culver City on June 23 for the first time in two years with a new hybrid live and virtual model.
The conference, which centers on Software as a Service (SaaS) and its connection to Fintech, started in 2015, after Sutton Capital Partners co-founder Peter Cowen attended Salesforce's annual DreamForce conference in Northern California and recognized the need for a companion event down south.
"There were 150,000 people at the pulse of what's going on," Cowen recalled. "You leave that micro environment and people didn't even know what recurring revenue was. Even smart, capable software people, investors and the like."
2022 Recurring Revenue Conference
At the time, there weren't any events in Southern California specifically dealing with this growing side of the technology business, offering entrepreneurs who were new to the space an opportunity to learn. It was Nancy Hammerman, Sutton's co-founder, who first suggested the concept for the conference.
By this point, Sutton Capital Partners were already embedded in the software and technology scene in Los Angeles as angel investors and limited partners in a number of local early-stage funds. (Cowen is also a professor at UCLA's business school.)
Cowen and Hammerman saw the conference as a way to spotlight new trends in the industry, surface founders and startups with exciting new ideas and business models, and to grow a local community of like-minded founders, investors, and other entrepreneurs.
"We look at the conference as a wonderful way to stay connected with the tech community on the specific focus of SaaS and subscription businesses, but also to watch the cross-fertilization---you might have an ecommerce merchant talking with a SaaS founder in completely different verticals," Hammerman said.
Bringing together individuals from different corners of the tech world to foster greater collaboration and innovation has always been at the heart of the project. But what neither co-founder could have been predicted was how Los Angeles would find itself at the dynamic center of the SaaS world.
"Southern California has always been a hotbed of creativity, with the entertainment community out here," Cowen said, noting that the emergence of the influencer economy has upended the traditional Hollywood studio model as the main barometer of success in Tinseltown. "The power of these influencers can really be measured in marketing. Many companies in Southern California now are coming in and offering influencers as a channel."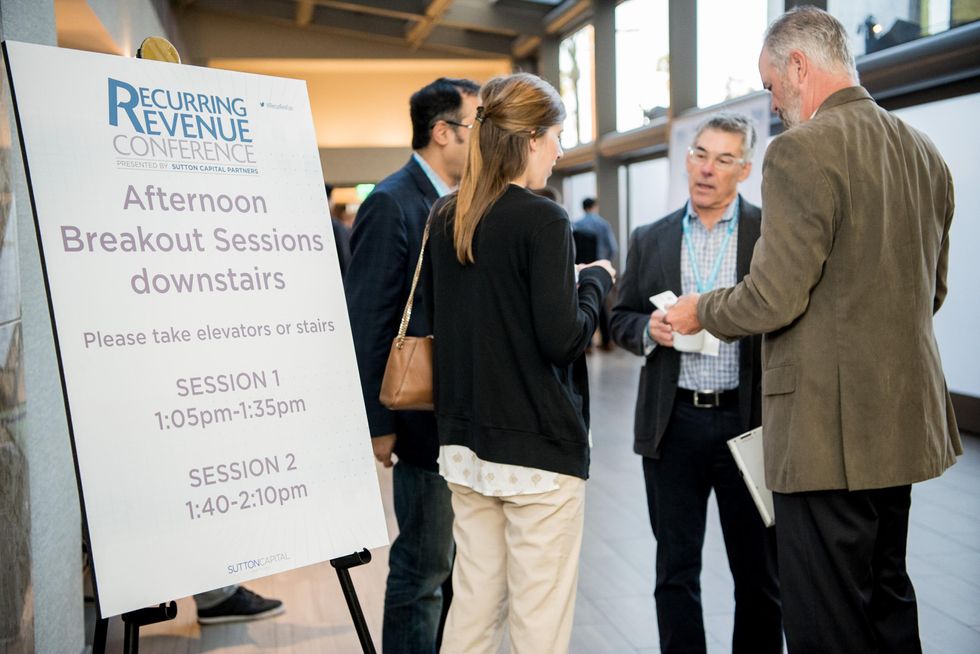 Attendees at the Recurring Revenue Conference (Photo via Sutton Capital Partners)
"We have really enjoyed great entrepreneurs who can articulate so clearly not only strategies but actual, usable tactics that can bring immediate, measurable results," said Cowen. "Among my favorites have been Perry Wallack, co-founder of Cornerstone OnDemand, who talked about how to keep great talent; and Kevin McGibben, CEO of LogicMonitor, who discussed key interviewing techniques to optimize hiring. And of course, there are always discussions about when and how to raise capital. Alan Rich, serial entrepreneur, talked about how empowering it was to self-fund initially, which gave him more control in the early stages."
Beyond marketing and promotion, the financial and funding side of the business has also shifted dramatically.
"When we started seven years ago, there wasn't that strong of a venture community here," Cowen noted. "The tech people had always been in Los Angeles, despite recent articles claiming that the city is only newly a tech hub. But on the business end of things, the number of businesses being founded and headquartered in Los Angeles were few and far between. Now, fast-forward, you have serial entrepreneurs; and you've got serial entrepreneurs who have funds. You've got lots of funds, period, not just the ones popping down from Silicon Valley."
And when it comes to SaaS specifically, the changes have been even more dramatic and propulsive: a boon for revenue, but compounding exponential stressors for founders. These are the kinds of challenges that the conference attempts to address through ongoing education and refinement.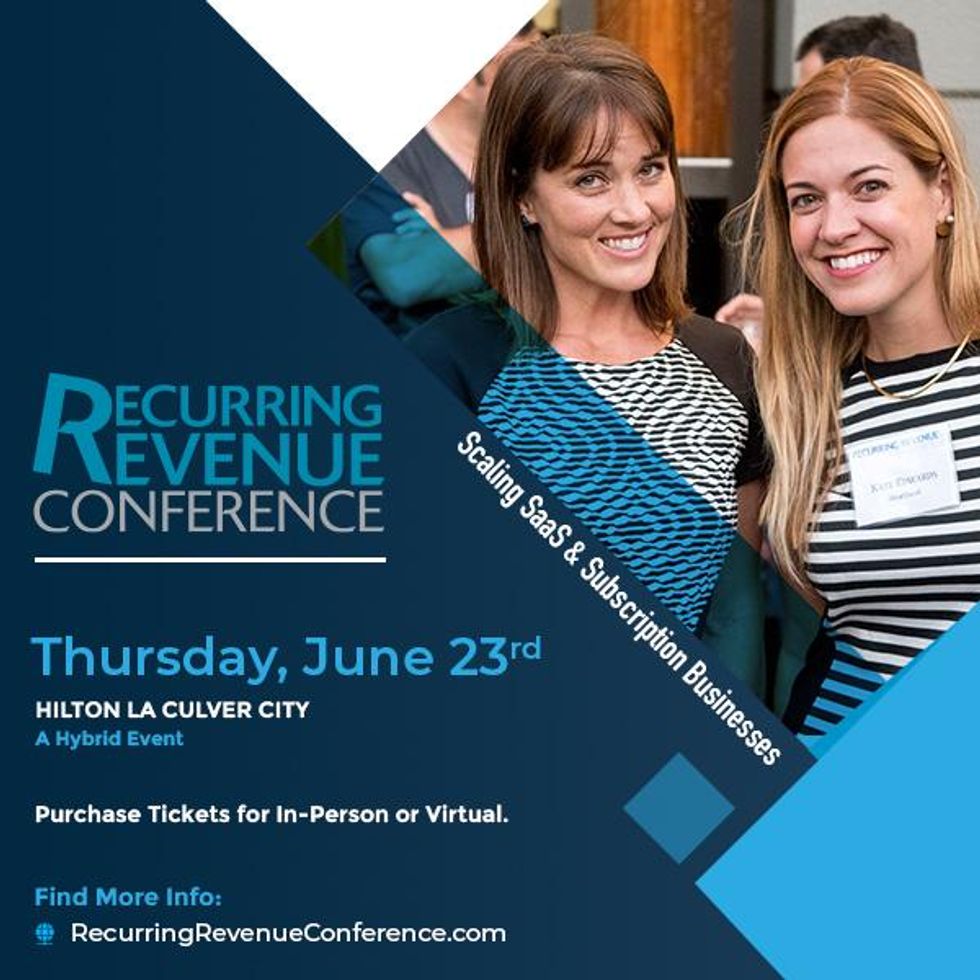 The Recurring Revenue Conference returns June 23rd to Culver City. (Photo by Sutton Capital Partners)
"The whole software industry has become so SaaS-centric, it's replaced the legacy systems that were out there," Cowen said. "Now it's become much more sophisticated, because companies need to compete against other scrappy SaaS companies. The flywheel effect sees the next round of SaaS startups scaling faster than their predecessors, and LA has been by far one of the largest beneficiaries of that."
Somehow the conference covers all of this ground and more within the span of a single day, through a combination of keynote speeches, informative panels, breakout sessions, and of course networking opportunities.
This year's agenda includes an opening panel focused on leading edge analytics and AI, with moderator and CRM pioneer Jon Ferrara in conversation with two leading customer insight company founders: Emad Hasan of Retina and Saumya Bhatnagar of Involve.ai.
Another key theme, raising capital, will be the focus of the returning Meet the Money panel, featuring 3 of the most active and well respected VCs in Southern California: TX Zhou of Fika Ventures, Alex Rubalcava of Stage Ventures and Minnie Ingersoll of TenOneTen Ventures. Another hot panel will center on valuation trends and the impact of the recent stock downturn on funding, and features some surprising data.
"We think the conference is very much the style of LA," said Cowen. "It's informative, it's meaty and it's easy to follow up and talk to somebody." Turns out one of the S's in SaaS actually stands for schmooze.
Venue information: Hilton Los Angeles Culver City
For tickets and info: Recurring Revenue Conference
Enter Promo Code: DOTLA229 and save over $200 for dot.LA readers (limited availability).
From Your Site Articles
Related Articles Around the Web
"Most people don't think of SaaS as sexy," said conference co-founder Nancy Hammerman. "Maybe it's crazy, but we thought otherwise." Along with Peter Cowen, Hammerman founded the technology investment banking firm Sutton Capital Partners, which specializes in selling and raising capital for founder-based fintech and SaaS (software-as-a-service) companies.
In 2015, they hosted the first annual Recurring Revenue Conference at the Luxe Summit Sunset Boulevard, which grew to over 700 attendees before the pandemic in 2020 halted live events.

Few other industries have weathered the storm of COVID-19 better than the tech industry, and within even that competitive space, SaaS companies saw a boom growth period as customers found themselves in need of accelerated technology to enhance remote working and distributed teams. It was rare to find a company that made it through the pandemic without SaaS digital collaboration platforms like Zoom, Gmail or Slack.
For a host of reasons, the Southern California tech community particularly benefited from the recent uptick in working from home. Aided by a large influx of new and larger VC funds, successes grew exponentially in sales, with several local startups reached IPOs or large equity rounds.
"It's really about the new strategies, tactics and increasing level of sophistication subscription companies need to survive," Cowen told dot.LA about the conference. "It's what makes this year truly exciting."
"The past couple of years have seen a marked increase in funding, bringing greater competition through virtually all sectors," he added, pointing to companies like ServiceTitan, Appetize, ZipRecruiter, ReCharge, Snap Raise! and Bambee as examples.Not to be underestimated is the sheer scale of the number of smaller companies in SoCal that started or exploded in the past two years; it's now the nation's third-densest region for funded companies.
This year's hybrid attendance model will allow people from all over the country access to top thought-leaders in the subscription economy, providing networking opportunities that previously have only been available to locals. Since 2015, the conference has featured panels and keynotes from such luminaries as ZipRecruiter founder and CEO Ian Siegel, Snap's Justin Sternberg, Nextbite founder Alex Cantor, Blackline's Therese Tucker and "Predictable Revenue" author Aaron Ross.
The theme of this year's Conference is "Deep Customer Engagement." The morning's keynote speaker is Nick Mehta, founder of Gainsight, the leader in analyzing customer engagement and deploying strategies to improve engagement.
The afternoon keynote from dot.LA's Spencer Rascoff will touch on SoCal's rapid rise to prominence.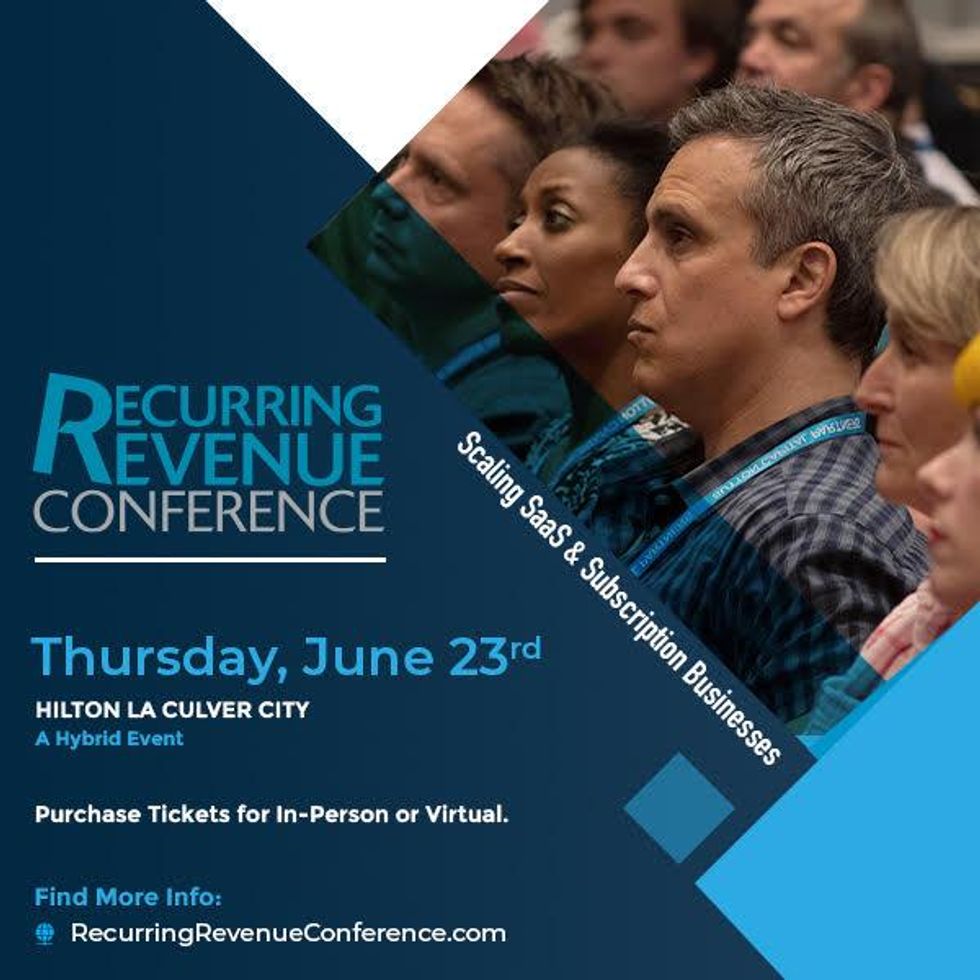 The Recurring Revenue Conference returns June 23rd. (Photo via Sutton Capital)
"We are particularly excited to have Spencer, given his experience in co-founding Zillow, more recently Pacaso and his active seed investing. He is at the pulse of the market and can impart insights to entrepreneurs plus discuss the rapid changes in the marketplace" Cowen told dot.LA.

"Each year, we feature a special panel 'Recurring Revenue Rockstars: Hidden Gems that Might Surprise You,' featuring our region's next generation of breakout companies," Hammerman told dot.LA. "Over a dozen previous rockstars have received major funding or been sold."
"We pride ourselves on creating great and relevant content for the local tech community," she added. This year's panel includes one on analytics, one on fintech, another on winning the talent war and a VC panel called 'Meet the Money," featuring panelists like TX Zhou of Fika Ventures, Minnie Ingersoll of TenOneTen, and Alex Rubalcava of Stage Venture Partners.The event's full agenda can be found here.
The quality of the panels themselves aside, perhaps the most significant reason people attend the Recurring Revenue Conference remains the opportunity to network and reconnect with others in the community. After a two-year hiatus, the Sutton Capital Partners team are looking forward to seeing everyone back together again and connecting with many new innovators who are helping make SaaS one of the most exciting—and dare we say—sexy sectors of emerging technology.
Venue information: Hilton Los Angeles Culver City
For tickets and info: Recurring Revenue Conference
Enter Promo Code: DOTLA229 and save over $200 for Dot.La Readers (limited availability).
March Capital's Jamie Montgomery. Illustration by Dilara Mundy.
When we list the attributes most associated with successful founders, investors, billionaires, and industry leaders, we often think of things like determination, grit, fortitude and even obsessiveness. The winners are the most relentless, the ones who work the hardest, know the most, start the earliest in the morning on four hours of sleep and won't accept no for an answer.
While discussing the venture capital world, and his upcoming technology conference in Santa Monica, The Montgomery Summit 2022, March Capital co-founder and Managing Partner Jamie Montgomery doesn't necessarily contradict this formula for success, but adds a new attribute to the mix that's sometimes left out: curiosity.
Montgomery's a believer that there's no one right way to go about things, and no surefire process for success. Sometimes, the best company emerges from not just the best data and team but the most creative approach. "If something isn't clear, invert," Montgomery explained. "Then invert again. Soon the subject becomes clear."
The best investors and leaders have an innate inquisitiveness about the world around them, and seek out opportunities not just based on market trends but genuine observations about problems in desperate need of solutions.
"You sort of have to be a very heuristical thinker," Montgomery said. "Sometimes I find some people I talk to are very smart and interesting, and I think, "That person's very thoughtful. They're going to be a good investor.' Sometimes you meet people and you think 'Well, they come across smart, but they're always preparing what they're going to say in response to what you have to say, they're not really listening.' Being a good investor, you've got to be a good listener. You've got to figure out, what's the signal and what's the noise? Filter out the noise and say 'What's real?'"
Thoughtfulness, attentiveness and curiosity are typically the sort of attributes that we think of as innate, as opposed to skills you can improve via on-the-job training. Montgomery noted, "I always ask entrepreneurs why rather than what. You get a more interesting answer." Reading and research and investigation can help, but innate curiosity remains an essential ingredient in business success.
"I think, to be an investor, not just a VC but an overall investor, one benefits from an incredible amount of reading and knowledge," Montgomery explained. "You have to have a voracious appetite, so it's really a high-level curiosity. Some people have it, some don't."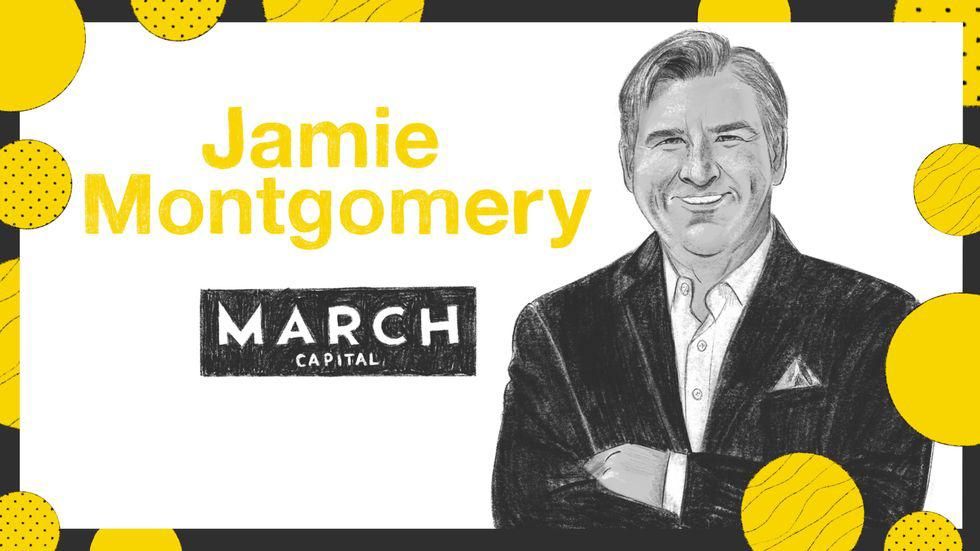 March Capital Founder Jamie Montgomery. Illustration by Dilara Mundy
One subject that's on Montgomery's mind these days is quantum computing, and its potential impact on cybersecurity, a major area of focus for March. His process starts by asking core questions about the next 5-10 years and what they'll look like, before even considering potential solutions.

"If you're investing, you have to look at something that's inevitable," Montgomery explained. "Is it gonna happen or not. If it's inevitable, then the question is, is it imminent? And is it investible? Start with inevitable. Eventually you're going to have quantum computing, and that's gonna create an existential threat to cybersecurity. Is that imminent?... What is the post-quantum cyber world like, with all this information that's been siphoned out of America by China… what do they have and how do we prepare for a post-quantum cybersecurity? It's almost existential."
This holistic question-based approach also drives Montgomery as he plans and organizes the annual Montgomery Summit, the largest such event of the L.A. tech calendar year (Montgomery refers to it as the "Rose Bowl of Conferences.")
He expects around 1,200 people to attend this year – the event's big return post-pandemic – for panels and sessions that don't just cover areas in which March Capital specializes, but a vast and diverse variety of subjects and topics, designed to intrigue and inspire curious minds.
Over 175 speakers in total have signed on for the 19th annual Montgomery Summit, to be held on May 24 and 25, from the worlds of technology, economics, geopolitics, public policy, the sciences and beyond. Montgomery gets animated as he tells me about the voluminous range of topics being covered, from the Federal Reserve's response to inflation to the war in Ukraine to the stories behind companies like Bill.com and CrowdStrike. One session will feature Chapman University Presidential Fellow Jack Horner, one of the world's leading paleontologists and a key inspiration for the "Jurassic Park" character Dr. Alan Grant.
"It's the interaction, the entrepreneurs with the investors and the executives," Montgomery told me. "It's fantastic, it's enjoyable, it's fun, and it's candid. There are no big egos. The speakers will actually come and talk to you, they don't come in the back door and leave through the back door. You actually can go to any one of seven sessions, and it's going to be interesting, and they're all short. 25-45 minutes each."
The shorter 25-45 minute sessions help to stave off boredom and mean that attendees can sample a wider range of subjects and sessions than they might at other conferences. It helps keep things moving and makes them fun, a theme Montgomery returned to a few times in our discussion.
"There's a lot of conferences that are very professionally run or research-driven or they're very commercial. People come here and they're gonna have a blast, right?"
The Montgomery Summit runs May 24th-25th at Santa Monica's Fairmont Miramar Hotel & Bungalows. Find out more information on their website.
From Your Site Articles
Related Articles Around the Web