autism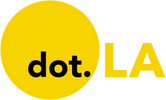 Get in the KNOW
on LA Startups & Tech
X
autism
This is the web version of dot.LA's daily newsletter. Sign up to get the latest news on Southern California's tech, startup and venture capital scene.
Every time I'm at a doctor's appointment, I spend the first few minutes answering questions from my physician while patiently waiting for them to finish typing my responses. Usually, there's no eye contact involved, and I'm left to stare at the wall or the pamphlets that line the bulletin board.

For most individuals, this isn't an issue. But for children diagnosed with autism, the attention and care of a health care provider can be of utmost importance—since it's during these sessions that they can learn about their patient's behaviors and tendencies.
Yesterday I spoke with Ling Shao, an Orange County mother to four children on the spectrum, who shared what it was like for her sons to receive high-quality care and the positive impact that had made on their lives. Unfortunately, that isn't the case for every child.
"Every moment that we're not enabling more capacity and better quality of care is a moment where there's a child out there that's not getting services, and that's impeding them from living their best life or having the opportunity to have friends, to live independently, to get a job someday," Shao told dot.LA. "As a mom, that's terrifying for me."
Last year, Shao—a health care industry veteran who worked for UnitedHealth for eight years—founded SpectrumAi, a digital health company looking to innovate autism care through technology. On Thursday, the Los Angeles-based startup unveiled a $9 million seed funding round co-led by Cambridge, Mass.-based F-Prime Capital and Nashville-based Frist Cressey Ventures (the venture capital firm co-founded by former U.S. Senate Majority Leader Bill Frist). Also participating was the Autism Impact Fund, a Florida-based VC firm that invests in companies, like SpectrumAi, that aim to improve life for people on the spectrum.
The funding will help Shao's startup with its goal of raising the quality of Applied Behavior Analysis (ABA) therapy, currently the only treatment covered for autism by most health insurers. SpectrumAi's technology looks to make it easier for physicians to record ABA outcomes data and creates AI models to automate more of the documentation process.
"I am witnessing providers literally labeling behaviors with paper and pencil, and then trying to graph it out and decipher it," Shao said of her experiences with ABA therapy to date. "There's got to be something that I can do to marry the two and take all this great tech that I work on during my day job [in health care] and apply it in this field."
That work is particularly important given autism's rising prevalence in the U.S., where cases have spiked to a 1-in-44 rate in 2022, compared to a 1-in-150 rate in 2000, according to the Centers for Disease Control and Prevention. Our healthcare system may not be perfect, but companies like SpectrumAi speak to how the health tech startup scene is working to improve on the status quo for patients and providers alike. — Decerry Donato

Image courtesy of Auticon
Technology consulting firm Auticon just received a boost to its mission of helping companies hire more autistic employees.
Auticon (which styles its name "auticon") announced Wednesday that it has received over $4 million in funding from the Autism Impact Fund, a Florida-based venture capital firm that invests in companies that look to move the needle for people with autism.
Auticon certainly appears to meet the fund's criteria. Since launching in 2011, the Germany-based tech consulting firm—which has its U.S. headquarters in Woodland Hills—has made it a priority to give employment opportunities to adults on the spectrum. Today, 250 of Auticon's 350 employees are autistic.
"We believe that the principles of business are needed in order to help solve some of society's challenges," Auticon U.S. CEO David Aspinall told dot.LA. "The challenge that we focused on is that of employment in the autistic community."
Research suggests that between 50% to 75% of the 5.6 million autistic adults in the U.S. are either unemployed or underemployed, while nearly half of 25-year-olds with autism have never held a paying job. Oftentimes, those on the spectrum who are applying for a job can be hindered during the interview process due to a lack of eye contact or discomfort in social situations.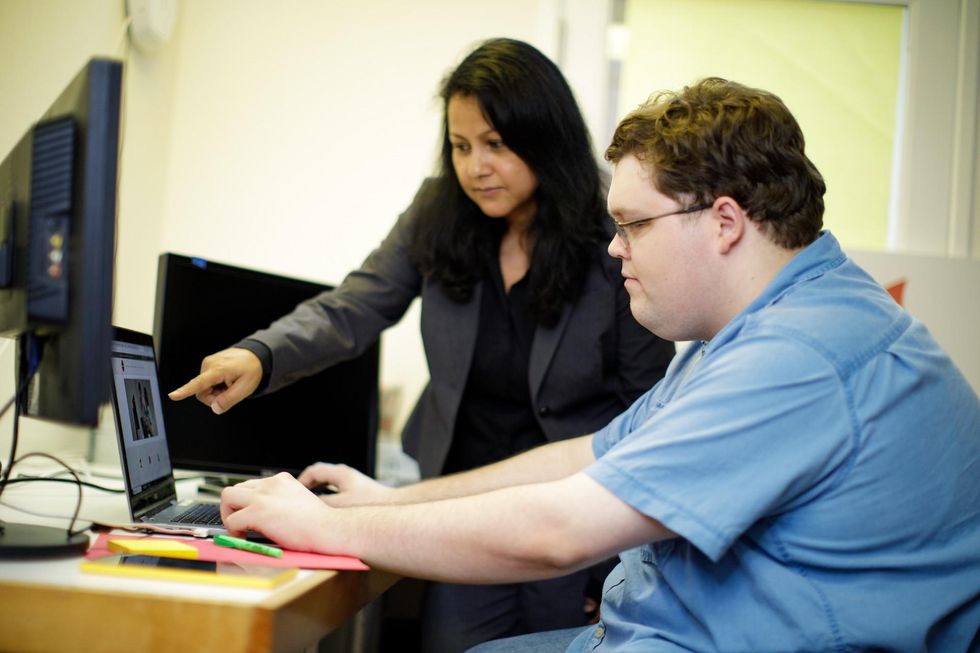 The new funding from the Autism Impact Fund will help propel Auticon's hiring efforts in the Los Angeles region.Image courtesy of Auticon
Auticon's hiring process takes that bias into account, stripping away the traditional interview process and instead placing more focus on an individual's technical skills. In addition, Auticon applicants participate in a series of chats with the company's head of recruitment, Louise Stone, and its chief technology officer, Mark Fister, both of whom are on the spectrum.
"We want to make our offices a place where somebody might want to [work]," Aspinall said.
Auticon supplies business analytics, software development and cybersecurity services to clients including Disney, Warner Bros., IBM, Salesforce and Merck. Previous investors in Auticon—which declined to disclose its revenue figures, but said it ended its 2021 fiscal year EBITDA-positive—include Virgin Group magnate Richard Branson, the Porsche family, Ferd AS and Ananda Impact Ventures.
The new funding from the Autism Impact Fund will help propel Auticon's hiring efforts in the Los Angeles region and back its development of training programs to teach organizations how to hire and accommodate autistic talent.
"We had our highest-growth year last year," according to Aspinall. "The investment from the Autism Impact Fund is only just going to accelerate and amplify that."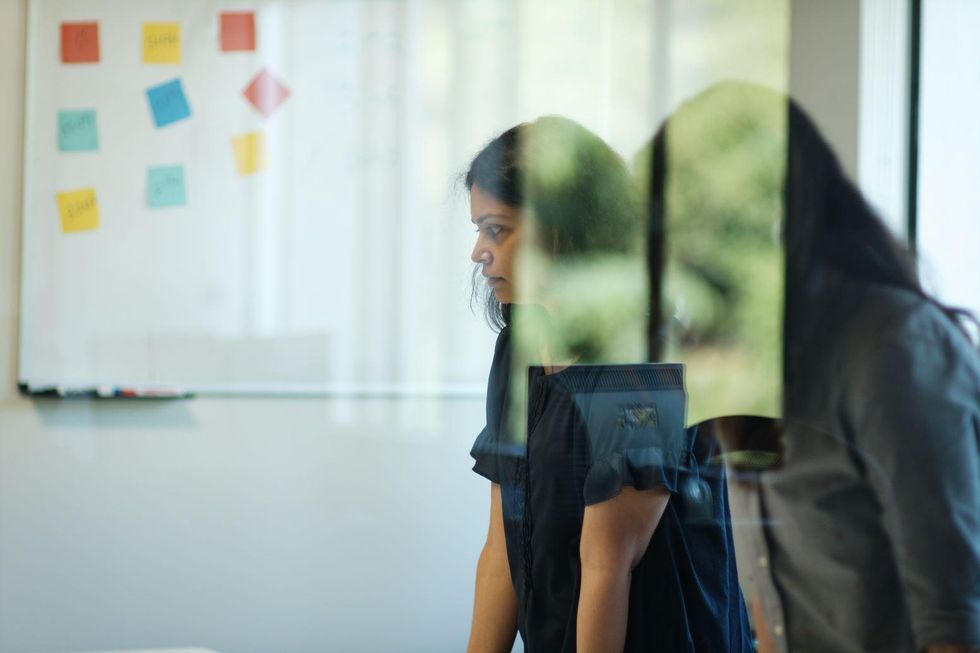 Image courtesy of Auticon
Launched just last year, the Autism Impact Fund has already invested in companies such as Los Angeles-based digital health startup SpectrumAI and San Francisco-based AI company Suggestic.
"People with autism don't need more charity—they need real opportunities," said Autism Impact Fund co-founder Christopher Male, whose own son was diagnosed with autism at age three. Male, a private equity industry veteran, said that before his son's diagnosis, he knew very little about autism. But after pouring himself into research, he learned about the myriad obstacles that autistic people face around diagnosis, therapies and cultural acceptance.
"I saw something was wrong," Male told dot.LA. "It took six months to get into a pediatric developmentalist."
Alarmed by the lack of information and services, Male teamed with his co-founder Brian O'Callaghan to launch the Autism Impact Fund. He said the investment fund looks to deploy "the venture model to help drive innovation and disrupt the status quo for living, diagnosing and servicing autism."
Male sees Auticon as an ideal example of a company that creates opportunities and makes an impact for a community that has been marginalized for too long.
"They're a global leader in this," he said. "They've clearly demonstrated that they are filling a need, and can operate in scale and grow."
From Your Site Articles
Related Articles Around the Web
Wide-eyed and sweet, meet Moxie, the $1,500 robot for children.
The creators of the one-foot tall emotive machine want Moxie to become your child's newest companion. Geared toward autistic children, the company believes Moxie embodies "the very best of humanity" in a form of technology that fuels learning.
"What we are trying to do with this product is to amp up the benefit of social or, if you like, emotional intelligence," said its creator Paolo Pirjanian. "I want every child to be able to access this."

Over the last four years, Pirjanian, the former chief technology officer at iRobot, and his team of therapists, designers and engineers at Pasadena-based Embodied built a battery-powered creature that makes eye contact, reads facial expressions and converses with children. Pirjanian eventually hopes to develop these robots for older adults in isolation or those with Alzheimer's or dementia.
The venture-backed company has raised $34 million in the process, securing money from the funds of big name companies looking to bring artificial intelligence into our everyday lives including Amazon, Intel and Toyota.
"What Paolo has built with the team at Embodied is a new way for humans and machines to interact that involves emotional intelligence, emotional awareness and really tries to infuse humanity into a field of machines," said Jason Schoettler an investor and co-founder of Calibrate Ventures. "This is not an evolution in my view, this is a revolutionary step forward."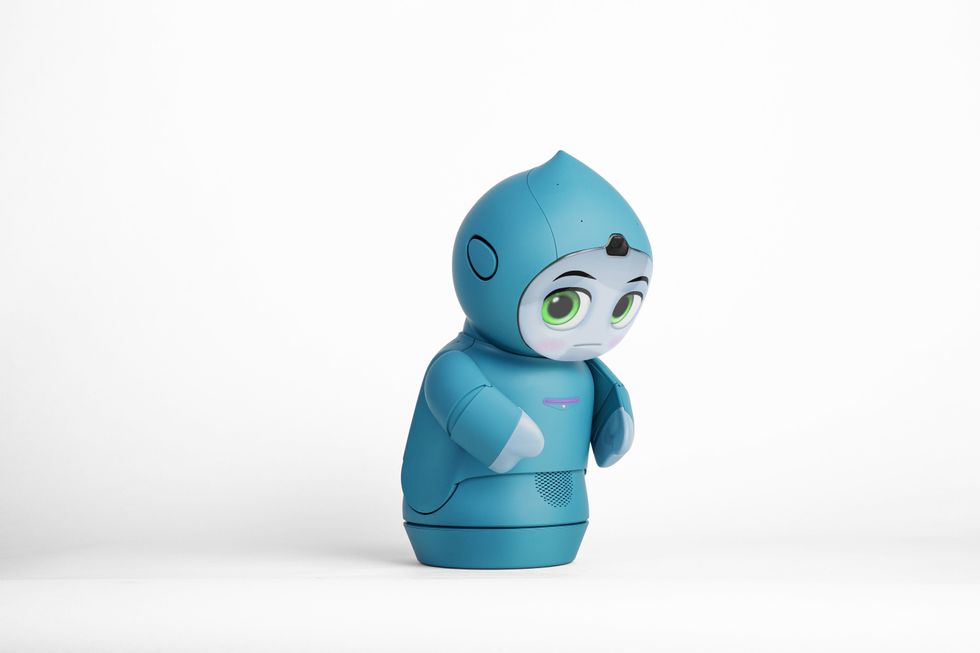 Moxie Makes eye contact, reads facial expressions and converses with children. Image courtesy of Embodied
The robot looks less like Stars Wars C-3PO than a character out of a Pixar movie with giant green eyes, rosy cheeks and a round head. It's pre-programed lessons are intended to guide children through development with discussions about feelings and relationships- difficult areas for children with autism to navigate.
The U.S. Centers for Disease Control and Prevention estimates that one in 54 U.S. children have autism spectrum disorder, a neurodevelopmental disorder that makes interaction and communication challenging.

Researchers have become increasingly interested in the use of so-called social robots to help children with autism develop social skills.
"The robot actually does personalize its interactions for that particular child over time using machine learning," Pirjanian said. "The data that we are collecting will potentially help the healthcare community to have better insights into what techniques work for what kind of a child, because it has to be individualized for every single child."
But such personal data can become prey for hackers. Pirjanian said there's sufficient protections. The robot's information is encrypted and can only be unlocked by a parent's unique key. It's also audited by Privo for compliance with regulations governing children's online protection.
In a six-week study conducted by Embodied, their researchers found Moxie improved eye contact, self-esteem and emotional regulations for school-aged children with autism after regularly interacting with the robot. But, the company's study is of a small sample size and may not actually reflect real life outcomes.
Moxie the Robot: AI for Autistic Children www.youtube.com
Other companies have sought to jump into the market.

SoftBank Robotics has bankrolled NAO, an educational robot that sells a version aimed at autistic children for about $17,000. RoboKind, a Texas-based robotics company built Milo, a $6,500 robot for autistic children that includes plus a $3,500 subscription fee. Both have versions that are aimed at the wider $3.9 billion educational robotics market that includes bots that teach STEM. But the market has yet to really take hold.
Moxie could change that and it could shake up the $20.4 billion consumer robotics market. The company opened up its site for pre-orders this week and will give customers access to a full-year subscription which includes so-called behavioral analytics and new content that includes "missions," which are often task or challenges that Moxie presents to children.
John Lee, a partner at JAZZ Ventures and investor in the company, said that he found the technology intriguing because it really improved people's lives. Parents with autistic children often struggle with diagnosis and learning how to guide their children toward resources.
"Embodied's mission is to build socially and emotionally intelligent companions that promote positive social skill building in children," he said in an email. "This might open up people's minds to how technology can be used in a positive way and, perhaps, that opens up new products that address other markets."
Maja Mataric is a pioneer in the field of social robotics who was one of Embodied's original co-founders but is no longer associated with the company. Mataric, who holds shares in the company, declined to state why the two parted ways.
But, she said one of the biggest challenges that companies like Embodied face is having the ability to test the robot fully to see if it offers true therapeutic benefits to children.
"Companies usually need to spin out a product in just a couple to three years. That's the startup money that they have. A clinical study altogether will take two to three years just to conduct. So there's no time," she said.
Still, she said robots hold promise. Earlier this year Mataric, the founding director of University of Southern California's Robotics and Autonomous Systems Center was a co-author on a study looking at the ability of robots to improve development for autistic children using the technology at home. In the study, Mataric and her team at USC left Kiwi, a social robot that gauges child interest and tailors response, at the homes of 17 autistic children for a month. The bot played space-themed math games and offered personal feedback. At the end of intervention, all improved math skills while 92% improved social skills.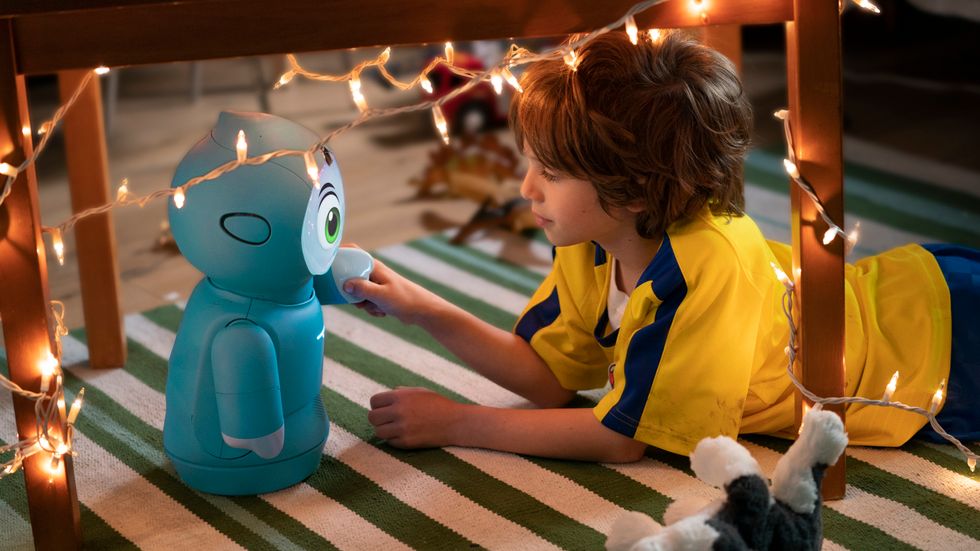 Researchers have become increasingly interested in the use of so-called social robots to help children with autism develop social skills.Courtesy of Embodied
Still, she said there hasn't been wide scale studies on the use of robotics in the home.

"Robots are not aspirin," she said. "What happens in the worst case scenario? What happens in the best case scenario?"
"Sometimes the best case scenario could be the worst case scenario, right? What if the robot is so effective that the child adores it, but they adore it so much that they don't play with anyone else," she said. "Those are the kinds of things, one has to worry about."
The idea for the company can be traced back to Pirjanin's own experiences. Born in Iran, the Armenian Christian fled to Denmark after the Revolution as a teenager. Feeling lost and behind in his studies, Pirjanin eventually bought a computer and became enthralled with its possibilities after seeing a documentary on Pixar Animation Studios.
"I was fascinated. 'How can a computer this simple create something so lifelike?'" he said to himself. "It drew me into technology. I followed that curiosity."
He got a PhD there and moved to California to help develop robots for exploration on Mars at NASA's Jet Propulsion Laboratory. From there, he went on to work with Idealab founder Bill Gross where he eventually helped develop a visual navigation technology that was the foundation of his company Evolution Robotics.
That company was bought in 2012 by iRobot, maker of the self-driven Roomba vacuum, for $74 million and he became the company's chief technology officer. iRobot, which last year recorded selling its 30 millionth robot, is arguably one of the few companies that has successfully mass marketed robots, a useful background for somebody attempting to convince parents that their children need robots to develop emotional skills.
Pirjanian said he left the company because he felt he hadn't been doing the work that had originally sparked his imagination. Embodied, he said, was a way to bring all the skills he had learned as a roboticist from machine learning to natural language processing to life. At first he eyed building a robot for the elderly, but learned about the benefits it was having on children.
Children who have social emotional and cognitive challenges were seeing benefits from a robot companion that improved their chances in society, he said.
"I knew very well this was a complete moonshot," Pirjanian said. "It's been a challenge but we are finally ready to launch."
Do you have a story that needs to be told? My DMs are open on Twitter @racheluranga. You can also email me.