moxie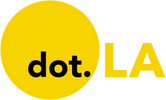 Get in the KNOW
on LA Startups & Tech
X
moxie
The creator of the emotive robot called "Moxie" sees a new wave of machines that recognize human emotions and will change how business is done.
"We are seeing a future that's a lot better than the dystopian future of robots taking over the world," Paolo Pirjanian, founder and chief executive officer at Embodied, Inc. told dot.LA in a virtual strategy session on May 5.
The session, featuring Pirjanian and Calibrate Ventures co-founder Jason Schoettler, featured discussion of Los Angeles' role in making the next wave of emotionally intelligent robots, the ethical dilemmas of having machine companions and how social robots will change people's lives.
Watch below, and sign up for our newsletter to be notified of new strategy sessions.
Strategy Session: The Rise of Robotics www.youtube.com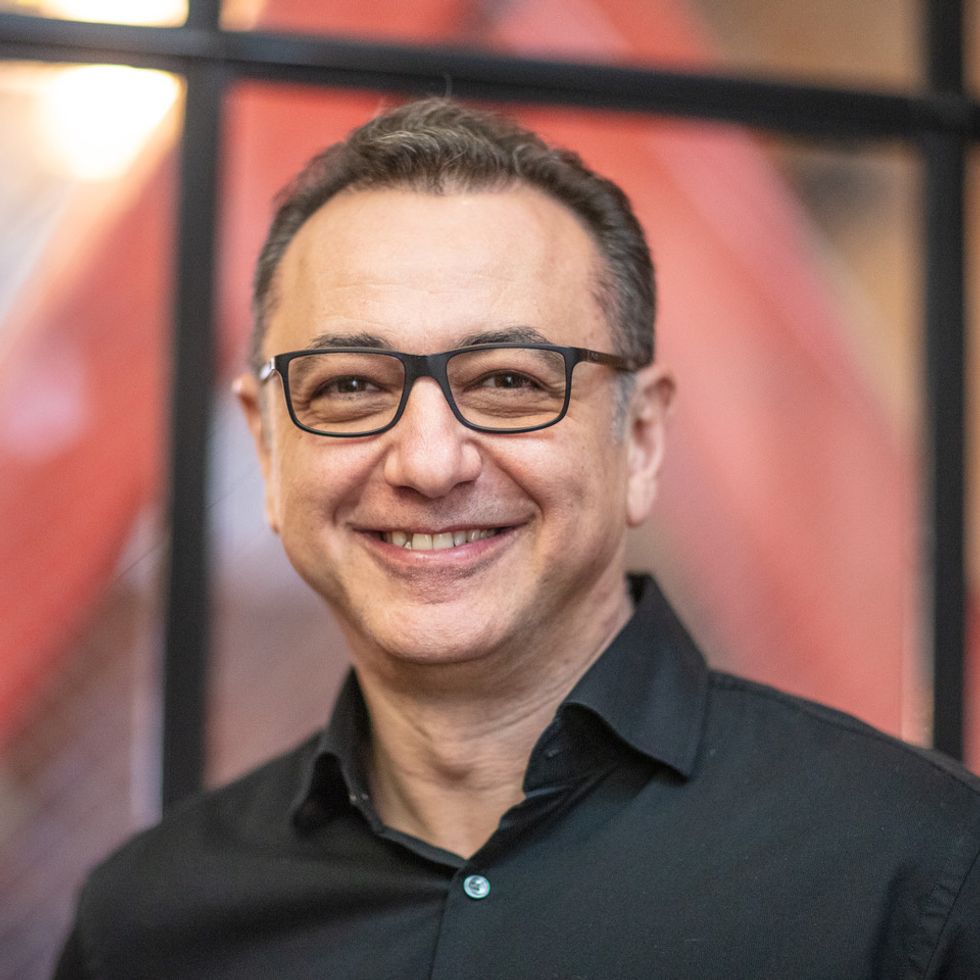 Dr. Paolo Pirjanian, Founder and Chief Executive Officer at Embodied, Inc.
Dr. Paolo Pirjanian oversees technology, research and advanced development. Prior to joining iRobot, he served as chief executive officer of Evolution Robotics, Inc. for seven years. Before that, Pirjanian was the company's chief technology officer. Earlier in his career, he worked as a lecturer in the computer science department at the University of Southern California and as a researcher at the NASA Jet Propulsion Laboratory where he received the Technical Leadership Award. Pirjanian is the former U.S. chairman of IEEE Robotics and received the IEEE Robotics and Automation Society Early Career Award in 2004. He holds a Ph.D. in robotics from Aalborg University.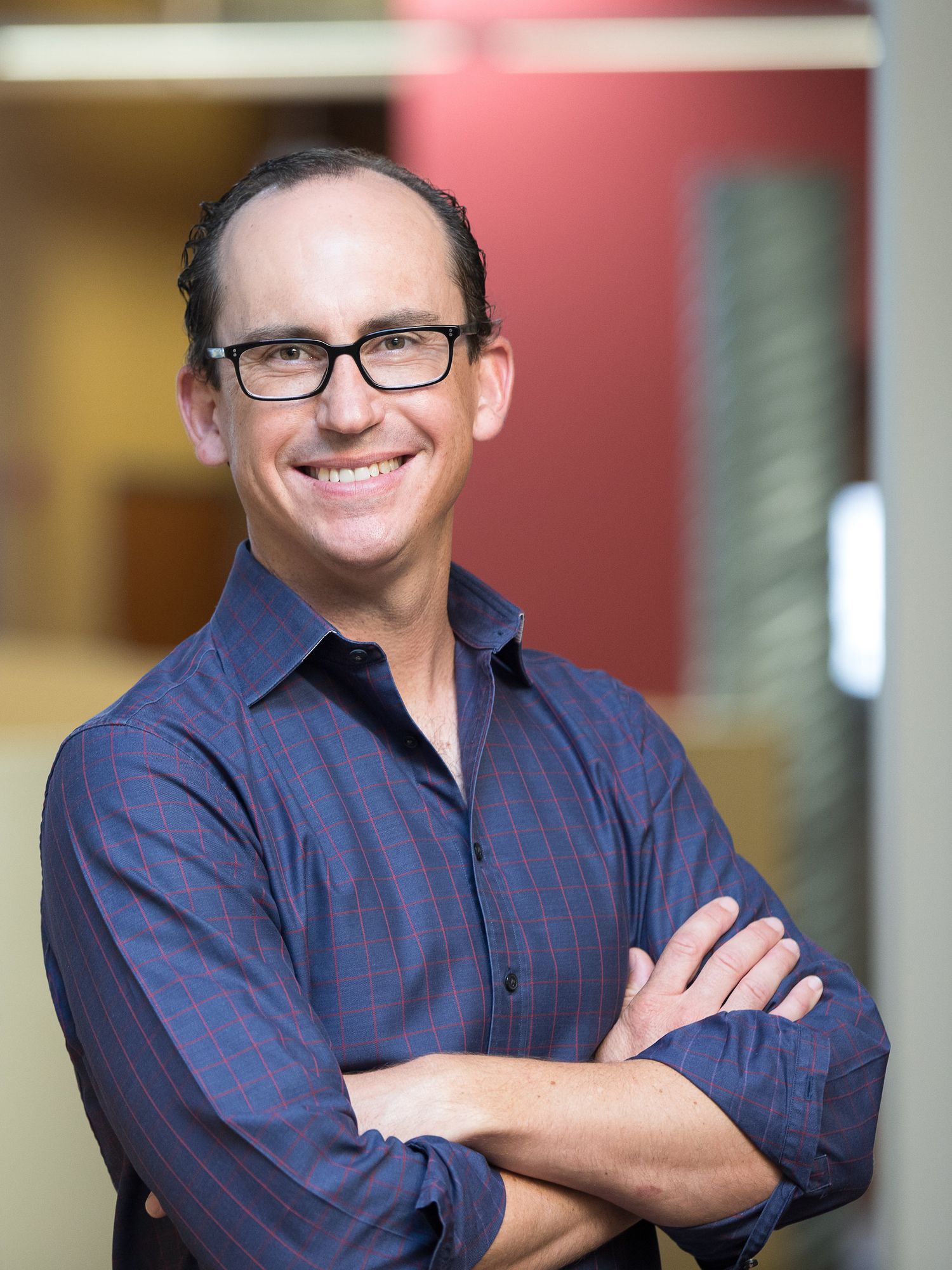 Jason Schoettler, Partner at Calibrate Ventures
Jason Schoettler, Partner at Calibrate Ventures 
Jason Schoettler is a partner at Calibrate Ventures, a venture capital firm he co-founded in 2017.
He leads investments for Calibrate Ventures across its areas of focus: advanced automation, B2B SaaS, and managed marketplaces, including its investments in Alpha, Built Robotics, Embodied, FarmWise, Pared and XStream Trucking.
Jason has a proven track-record of identifying disruptive businesses and facilitating their development while generating outsized returns. Before forming Calibrate, he served as a Managing Director for over a decade at Shea Ventures, where he was responsible for numerous investments with notable exits, including: Dollar Shave Club (acquired by Unilever), Evolution Robotics (acquired by iRobot), Osmo (acquired by Byju's), SI-BONE (SIBN), and VictorOps (acquired by Splunk).
Prior to Shea Ventures, Jason served in an operating role at Oak Grove Systems, an enterprise software spin-out from the Jet Propulsion Laboratory and Caltech, and as a management consultant at Ernst & Young.
Jason grew up in Central California and holds a BA from University of Notre Dame and MBA from Claremont Graduate University.
From Your Site Articles
Related Articles Around the Web
Wide-eyed and sweet, meet Moxie, the $1,500 robot for children.
The creators of the one-foot tall emotive machine want Moxie to become your child's newest companion. Geared toward autistic children, the company believes Moxie embodies "the very best of humanity" in a form of technology that fuels learning.
"What we are trying to do with this product is to amp up the benefit of social or, if you like, emotional intelligence," said its creator Paolo Pirjanian. "I want every child to be able to access this."

Over the last four years, Pirjanian, the former chief technology officer at iRobot, and his team of therapists, designers and engineers at Pasadena-based Embodied built a battery-powered creature that makes eye contact, reads facial expressions and converses with children. Pirjanian eventually hopes to develop these robots for older adults in isolation or those with Alzheimer's or dementia.
The venture-backed company has raised $34 million in the process, securing money from the funds of big name companies looking to bring artificial intelligence into our everyday lives including Amazon, Intel and Toyota.
"What Paolo has built with the team at Embodied is a new way for humans and machines to interact that involves emotional intelligence, emotional awareness and really tries to infuse humanity into a field of machines," said Jason Schoettler an investor and co-founder of Calibrate Ventures. "This is not an evolution in my view, this is a revolutionary step forward."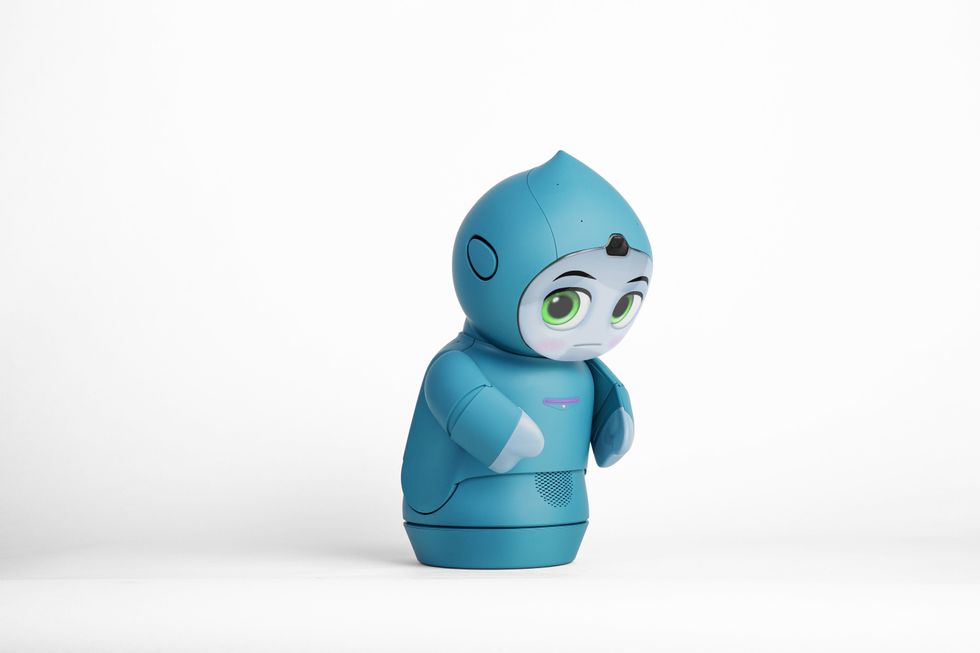 Moxie Makes eye contact, reads facial expressions and converses with children. Image courtesy of Embodied
The robot looks less like Stars Wars C-3PO than a character out of a Pixar movie with giant green eyes, rosy cheeks and a round head. It's pre-programed lessons are intended to guide children through development with discussions about feelings and relationships- difficult areas for children with autism to navigate.
The U.S. Centers for Disease Control and Prevention estimates that one in 54 U.S. children have autism spectrum disorder, a neurodevelopmental disorder that makes interaction and communication challenging.

Researchers have become increasingly interested in the use of so-called social robots to help children with autism develop social skills.
"The robot actually does personalize its interactions for that particular child over time using machine learning," Pirjanian said. "The data that we are collecting will potentially help the healthcare community to have better insights into what techniques work for what kind of a child, because it has to be individualized for every single child."
But such personal data can become prey for hackers. Pirjanian said there's sufficient protections. The robot's information is encrypted and can only be unlocked by a parent's unique key. It's also audited by Privo for compliance with regulations governing children's online protection.
In a six-week study conducted by Embodied, their researchers found Moxie improved eye contact, self-esteem and emotional regulations for school-aged children with autism after regularly interacting with the robot. But, the company's study is of a small sample size and may not actually reflect real life outcomes.
Moxie the Robot: AI for Autistic Children www.youtube.com
Other companies have sought to jump into the market.

SoftBank Robotics has bankrolled NAO, an educational robot that sells a version aimed at autistic children for about $17,000. RoboKind, a Texas-based robotics company built Milo, a $6,500 robot for autistic children that includes plus a $3,500 subscription fee. Both have versions that are aimed at the wider $3.9 billion educational robotics market that includes bots that teach STEM. But the market has yet to really take hold.
Moxie could change that and it could shake up the $20.4 billion consumer robotics market. The company opened up its site for pre-orders this week and will give customers access to a full-year subscription which includes so-called behavioral analytics and new content that includes "missions," which are often task or challenges that Moxie presents to children.
John Lee, a partner at JAZZ Ventures and investor in the company, said that he found the technology intriguing because it really improved people's lives. Parents with autistic children often struggle with diagnosis and learning how to guide their children toward resources.
"Embodied's mission is to build socially and emotionally intelligent companions that promote positive social skill building in children," he said in an email. "This might open up people's minds to how technology can be used in a positive way and, perhaps, that opens up new products that address other markets."
Maja Mataric is a pioneer in the field of social robotics who was one of Embodied's original co-founders but is no longer associated with the company. Mataric, who holds shares in the company, declined to state why the two parted ways.
But, she said one of the biggest challenges that companies like Embodied face is having the ability to test the robot fully to see if it offers true therapeutic benefits to children.
"Companies usually need to spin out a product in just a couple to three years. That's the startup money that they have. A clinical study altogether will take two to three years just to conduct. So there's no time," she said.
Still, she said robots hold promise. Earlier this year Mataric, the founding director of University of Southern California's Robotics and Autonomous Systems Center was a co-author on a study looking at the ability of robots to improve development for autistic children using the technology at home. In the study, Mataric and her team at USC left Kiwi, a social robot that gauges child interest and tailors response, at the homes of 17 autistic children for a month. The bot played space-themed math games and offered personal feedback. At the end of intervention, all improved math skills while 92% improved social skills.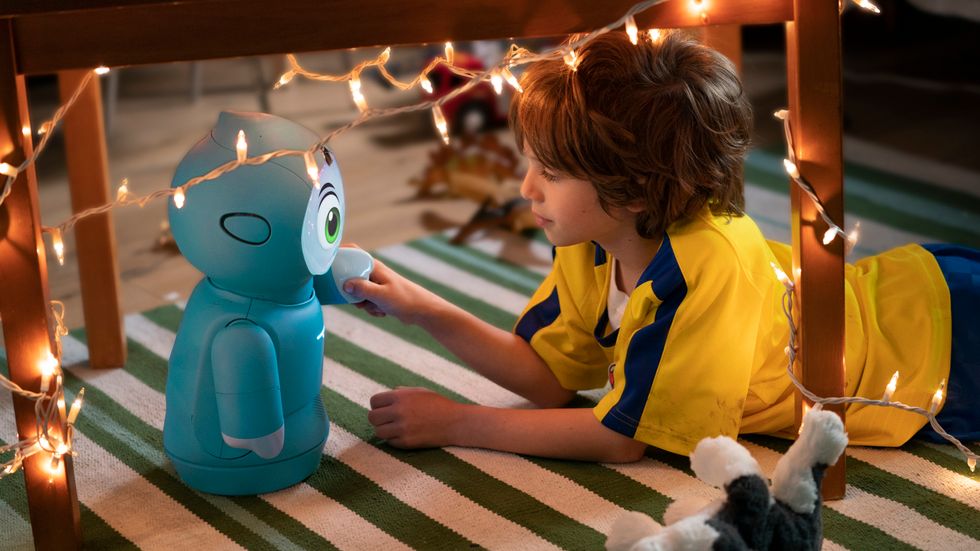 Researchers have become increasingly interested in the use of so-called social robots to help children with autism develop social skills.Courtesy of Embodied
Still, she said there hasn't been wide scale studies on the use of robotics in the home.

"Robots are not aspirin," she said. "What happens in the worst case scenario? What happens in the best case scenario?"
"Sometimes the best case scenario could be the worst case scenario, right? What if the robot is so effective that the child adores it, but they adore it so much that they don't play with anyone else," she said. "Those are the kinds of things, one has to worry about."
The idea for the company can be traced back to Pirjanin's own experiences. Born in Iran, the Armenian Christian fled to Denmark after the Revolution as a teenager. Feeling lost and behind in his studies, Pirjanin eventually bought a computer and became enthralled with its possibilities after seeing a documentary on Pixar Animation Studios.
"I was fascinated. 'How can a computer this simple create something so lifelike?'" he said to himself. "It drew me into technology. I followed that curiosity."
He got a PhD there and moved to California to help develop robots for exploration on Mars at NASA's Jet Propulsion Laboratory. From there, he went on to work with Idealab founder Bill Gross where he eventually helped develop a visual navigation technology that was the foundation of his company Evolution Robotics.
That company was bought in 2012 by iRobot, maker of the self-driven Roomba vacuum, for $74 million and he became the company's chief technology officer. iRobot, which last year recorded selling its 30 millionth robot, is arguably one of the few companies that has successfully mass marketed robots, a useful background for somebody attempting to convince parents that their children need robots to develop emotional skills.
Pirjanian said he left the company because he felt he hadn't been doing the work that had originally sparked his imagination. Embodied, he said, was a way to bring all the skills he had learned as a roboticist from machine learning to natural language processing to life. At first he eyed building a robot for the elderly, but learned about the benefits it was having on children.
Children who have social emotional and cognitive challenges were seeing benefits from a robot companion that improved their chances in society, he said.
"I knew very well this was a complete moonshot," Pirjanian said. "It's been a challenge but we are finally ready to launch."
Do you have a story that needs to be told? My DMs are open on Twitter @racheluranga. You can also email me.
By Tami Abdollah
It's been a dream of scientists for generations: actually studying samples of Martian soil for signs of life. With Monday's announcement of President Donald Trump's 2021 budget for NASA, that dream appears likely to be funded and on the cusp of becoming reality.
The more than $25 billion budget is a 12% increase from last year's and would be NASA's largest in decades, investing in a variety of ongoing scientific, technological and aerospace goals. It is in contrast to the proposed deep cuts that would hit domestic programs, like food stamps, federal housing assistance, and Medicaid, federal disability and student loan programs.
The Trump Administration has prioritized American astronauts returning to the moon by 2024 and the use of it as a "launching pad to ensure that America is the first nation to plant its flag on Mars," the president said during his State of the Union address last week.
"We're going back to the moon to stay this time, and to build a sustainable presence at the moon and Mars eventually," said NASA Administrator Jim Bridenstine said, speaking in front of rocket engines at NASA's Stennis Space Center near Bay St. Louis, Mississippi.
NASA is also working with commercial "partners" at SpaceX and Boeing, Bridenstine said, to launch Americans on U.S. soil back to the space station this year.
Other technological efforts that will be undertaken on the red planet as part of Mars 2020 mission include the use of technology to turn the carbon dioxide on Mars into oxygen as well as the first ever helicopter to fly in another world, which would be a feat especially due to the extremely thin atmosphere on Mars that makes such flight much more challenging.
The Mars rover is in the process of being shipped to Cape Canaveral, where it will be launched this summer. NASA's budget included roughly $12.4 billion to send astronauts to the moon and prepare for the exploration of Mars and beyond.
The Mars sample return, however, is what has many people at the Jet Propulsion Laboratory in La Cañada Flintridge, psyched.
"These are missions and programs that we've talked about for decades," said Michael Watkins, JPL's director. "These are not just another Mars mission. Mars sample return is a campaign that's been top ranked by the decadal survey (done every 10 years to identify priorities) for a number of (its) years. As a mission we've been trying to get going for more than 20 years."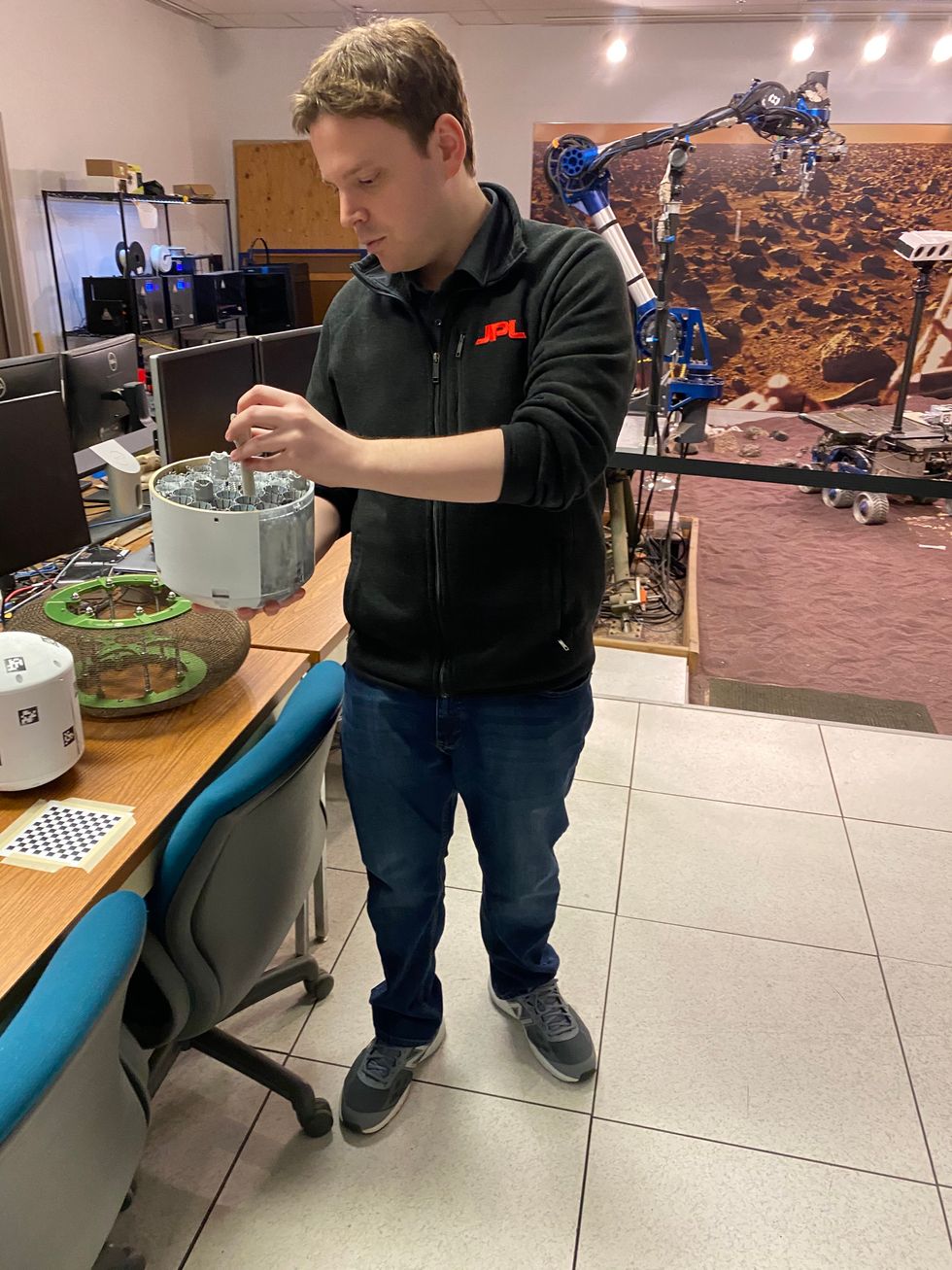 Austin Nicholas, the Mars sample return lead mission engineer, spoke to dot.LA during an interview in the test bed area at the Jet Propulsion Laboratory in La Cañada Flintridge where small sample tubes were strewn about on imaginary Martian soil as a demonstration. He demonstrates how these tubes will end up loaded into a circular sample container that gets placed on a rocket.
By Tami Abdollah
Austin Nicholas, the Mars sample return lead mission engineer, spoke to dot.LA during an interview in the test bed area at JPL on Monday, where small sample tubes were strewn about on imaginary Martian soil as a demonstration.
The Mars 2020 rover will drill into the the ground and capture samples of Martian soil in small tubes that will then be sealed and placed inside the rover for storage. The rover will have the capacity to capture samples for as many as 43 tubes from diverse regions of the red planet, depending on how the rover's exploration goes.
Once the tubes are all filled, they will be dropped in a cluster at a spot on the surface of Mars so that they can be picked up during a mission to retrieve the samples.
The next steps involve the launch of both a lander and orbiter in 2026. Once the lander arrives on Mars in 2028, it will deploy a "fetch rover" to pick up the tubes left on the ground years earlier. They'll be retrieved and loaded onto a rack and the fetch rover will drive to the lander, which will use a long mechanical arm to transfer the rack, and load the tubes into a circular sample container on the rocket.
The return of that container is complex. It requires a highly intricate choreography that includes the first-ever launch of a rocket off the surface of another planet. Once the rocket reaches space, it will eject the sample container. The orbiter will travel more than a thousand miles to the container and use a basket to catch the container filled with soil samples.
If all goes well, the return of the orbiter back to Earth with the samples would occur in 2031 at which point there would be efforts to isolate and quarantine samples before they are ultimately doled out to scientists around the world to study.
Scientists are searching for evidence of past habitable life and for fossilized ancient microbial life in the samples, but such an analysis requires instruments that are truly massive - as large as a major city block, for example - which is why the samples must be brought back to Earth for study.

__
Do you have a story that needs to be told? My DMs are open on Twitter @latams. You can also email me, or ask for my Signal.
From Your Site Articles
Related Articles Around the Web