astrolab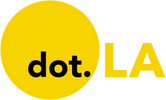 Get in the KNOW  
  on LA Startups & Tech  
X
astrolab
Photo by Samson Amore
This is the web version of dot.LA's daily newsletter. Sign up to get the latest news on Southern California's tech, startup and venture capital scene.
Local Los Angeles-area startup Astrolab Inc. has designed a new lunar vehicle called FLEX, short for Flexible Logistics and Exploration Rover. About the size of a Jeep Wrangler, FLEX is designed to move cargo around the surface of the moon on assignment. It's a bit larger than NASA's Mars rovers, like Perseverance, but as it's designed for transport and mobility rather than precision measurement, it can travel much faster, at speeds of up to 15 miles per hour across the lunar surface.
In the short-term, this "cargo" would be mostly scientific equipment, but down the road, it's possible that FLEX could also contribute to larger-scale projects, such as building out a "lunar infrastructure." Astrolab founder Jaret Matthews told The New York Times that his goal, ultimately, would be to serve as a kind of "UPS for the moon," providing a "local distribution solution" once private companies had figured out the logistical challenge of getting their products to the lunar surface in the first place.
To that point, Astrolab plans to get FLEX itself on to the moon with help from SpaceX. Specifically, the company's new giant spacecraft, Starship, which will reportedly be ready for uncrewed lunar cargo missions as soon as 2026. Matthews – an engineer by trade, and a veteran of both SpaceX and NASA's Jet Propulsion Laboratory – assured the Times that FLEX will be part of the very first SpaceX commercial cargo flight to the moon. For their part, SpaceX has not yet made any specific announcements about when this might actually be happening, and didn't respond to requests for comment.
Starship is the largest and most powerful rocket ever built, surpassing even NASA's own Saturn V and Space Launch System. It's unconventional in a few other ways as well. Starship is constructed from stainless steel, the first time this particular metal has been used in a space rocket since the 1950s. Steel is heavy, so launching a steel rocket into orbit requires more fuel than alternate metals such as aluminum or titanium. Nonetheless, SpaceX prefers steel as it apparently works better in extreme temperature conditions, such as during launch and atmospheric re-entry. The use of stainless steel also gives Starship a distinct, rather stylish silver appearance.
SpaceX's plans for the Starship megarocket lie not just in its massive size but reusability. Being able to launch heavy payloads into orbit and beyond without having to construct an enormous new rocket each time significantly lowers costs, and gives SpaceX a potential leg-up in terms of transporting satellites and spacecraft, along with cargo and even passengers on space tourism getaways.
The vehicle has flown a few times before, but only low-powered versions on quick roughly 6-mile trips above the Earth's surface. SpaceX had hoped to launch some early orbital tests in 2022 but faced numerous delays. The new goal – pending FAA approval – is to get orbital tests going in late April, which founder and CEO Elon Musk predicts have about a 50% chance of success. (Yes, this could potentially include one of Musk's personal favorite dates in the annual calendar: 4/20.)
Once FLEX arrives, it will actually rank among the first-ever American-made rovers to hit the lunar surface. Though NASA previously sent a famed "moon buggy" up there which astronauts used during the Apollo 15, 16, and 17 missions, and both the Soviet Union and China have deployed robotic rovers, the US has previously preferred to do its moon exploration in person. That's all about to change, though, with not only FLEX's debut, but NASA's Volatiles Investigating Polar Exploration Rover, or VIPER. This rover, about the size of a golf cart, will explore the area around the Moon's South Pole looking for water ice ahead of the arrival of the Artemis Program – and human astronauts – in 2025.
Astrolab isn't the only local company hoping to leverage SpaceX's Starship plans for its own purposes. K2 Space, founded by brothers Karan and Neel Kunjur, are developing large-scale "satellite buses," physical structures that can move and power entire spacecraft, which are about as large as any objects humans have ever attempted to blast into space. While previous efforts to innovate space travel on the commercial side have focused on making vehicles smaller, and thus cheaper to launch, K2 views the progress of SpaceX as a sea change, indicating that – one day soon – manufacturers will have a variety of "launch providers" for getting their products on to the moon and beyond.
Image courtesy of NASA
This is the web version of dot.LA's daily newsletter. Sign up to get the latest news on Southern California's tech, startup and venture capital scene.
NASA's state-of-the-art Space Launch System (or SLS) employs the most powerful set of rockets in the agency's history, and in just a few days will be ready for its closeup.

August 29 sees the launch of the Orion capsule for a test flight around the moon, and while this first mission – dubbed Artemis I – will be unmanned, the capsule is designed to eventually ferry real astronauts to outer space. (It's going to carry three mannequins in order to test flight suits and safety protocols, though. Which is kind of creepy!)

The test flight will take Orion farther out into space than any craft ever designed for human passengers has traveled. It works by first setting off a 5.75 million-pound explosion through two 17-story-high rocket boosters, packed with a fuel known as polybutadiene acrylonitrile. (Six tons of this fuel will burn up every second during launch. It takes Taylor Swift WEEKS to go through that much on private flights.)
In addition to the twin white cylinders boosters on either side of the craft, the 212-foot orange-colored rocket core contains 537,000 gallons of liquid hydrogen and 196,000 gallons of liquid oxygen. With all this power behind it, the Orion capsule will be blasting through the sky at a speed of around 17,000 miles per hour after around 8.5 minutes.
Sending actual people back up to the moon is itself a newsworthy achievement, somewhere between a small step for a man and a giant leap for mankind. No humans have actually set foot on the lunar surface since Apollo 17 back in 1972. But Artemis I is just the first step in what NASA is already referring to as the Artemis Program, a contemporary update of the famed Apollo Program which first sent astronauts to the moon back in the 1960s. (In Greek mythology, Artemis is Apollo's twin sister! See what they did there?)
Artemis I has a few more components of interest to any space super fan. Within hours of launch, the craft will deploy 10 small satellites, known as "cubesats," designed for a variety of functions. The first cubesats to deploy will map ice deposits across the lunar surface. The hope is that a map of lunar ice could one day direct future exploration; Artemis 3 actually aims to land a team on the moon's South Pole to survey the ice up close.
Artemis I will also scour the moon for signs of hydrogen, even using an infrared spectrometer and other gadgetry to look for water deposits beneath the surface. A different cubesat will measure radiation levels on the moon's surface, while yet another will head away from the moon and toward a tiny asteroid known as 2020 GE, which it will attempt to photograph.
Beyond just kicking the tires on SLS (OK, space capsules don't have tires, but you get what we mean), a revitalized space program with new high-tech launch capabilities is great news for a number of Los Angeles tech companies, many of which are already on the bleeding age of relevant applications and innovations. It's also a shot in the arm to America's space program, promising a vast variety of new scientific and research opportunities across both the private and public sector.
Hawthorne-based Astrolab, for example, has designed a new human-piloted lunar rover, the FLEX, capable of carrying payloads of up to three times its own weight. Meanwhile Long Beach's Rocket Lab produced the Electron launch vehicle that delivered NASA's CAPSTONE satellite back in June. CAPSTONE briefly orbited Earth before pushing forward toward the moon, where it will arrive next month. Ultimately, the small satellite – about the size of a microwave oven – will be used to chart a new elliptical path around the moon, turning it into a potential launchpad for deeper space exploration. (NASA lost contact with CAPSTONE for a bit back in July, but has managed to reconnect.)
These early Artemis missions also potentially lay the groundwork for what could be the next major space industry: mining. A number of US aerospace companies are already looking to build commercial space stations and jumpstart mining operations on the moon, asteroids and potentially even the Martian surface.
Hey, it worked for "Armageddon."
I mean, mostly. We lost Bruce Willis but at least Earth was saved, and who doesn't love that Aerosmith song? — Lon Harris

--
The sponsor of today's newsletter is Fenwick, one of the world's top law firms focused on technology and life sciences, including leading games, digital media, entertainment, blockchain and NFT practices. Attorneys in Fenwick's Santa Monica office and nationwide represent more than 1,000 greater Los Angeles-based startups, established companies and venture capital investors in corporate, IP, litigation, regulatory and tax matters.

Photo by Samson Amore
The last time NASA put a human-piloted lunar rover on the Moon was 50 years ago, back in 1972. Since he began his career in aerospace in 2000, Venturi Astrolab CEO Jaret Matthews has been dreaming of a return. A former engineer at NASA's Jet Propulsion Laboratory as well as SpaceX, Matthews is hoping that the next time NASA touches down on the surface of our celestial neighbor, it will take one of his company's lunar rovers with it.
Hawthorne-based Astrolab's entry into the market is the FLEX rover. Coming in at over six feet tall and 1,100 pounds, FLEX is capable of holding payloads three times its weight. The goal is to use the vehicle as a transportation shuttle to ferry people and goods across the Moon.
"Its utility comes from whatever payload it happens to be moving—so that could be construction equipment, or it could be energy infrastructure, or people," Matthews told dot.LA.
Though Astrolab only launched in 2020, the startup is in sprint mode and already has a working prototype of the FLEX, which dot.LA was invited to test drive last week.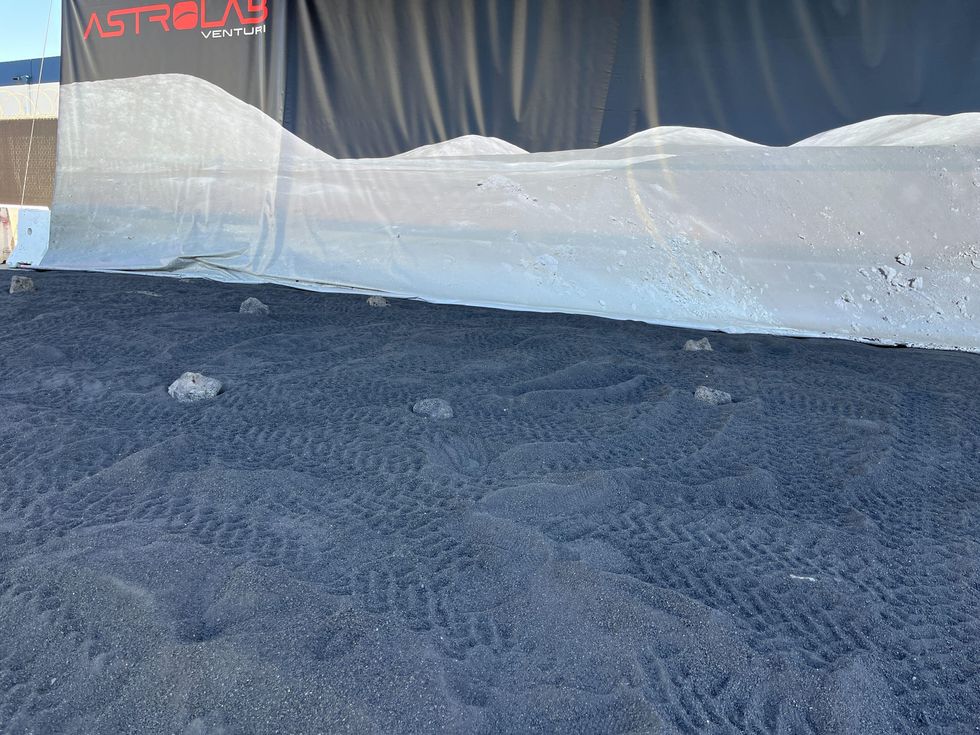 Astrolab created a "mock Moon yard" in the parking lot of its Hawthorne headquarters.
Samson Amore
"It's not that much bigger than the Curiosity and Perseverance rovers that are on Mars right now," Matthews said, referring to the most recent NASA models. While approximately the same size as the Apollo lunar rover, the FLEX features unprecedented payload capability.
In order to test the FLEX out on equitable terrain, Astrolab created a "mock Moon yard" in the parking lot of its Hawthorne headquarters. A pit of basalt littered with lava rocks, it's a close simulation of the Moon's surface—though expansion plans include a "mock Moon crater," which would test FLEX's ability to meet NASA's requirement that rovers be able to climb a 20-degree slope.
For now, Astrolab hauls FLEX out to the desert for test runs, including a recent demonstration with former International Space Station commander Chris Hadfield, who called driving it "huge fun."
The chariot-style rover's platform descends to let us climb into its two-seat open cockpit. With a pilot at the helm, FLEX can drive side-to-side, in circles, or pitch forward and backward to climb up and down steep slopes. The rover can be controlled by someone on Earth, but because of the delay in transmitting data, Matthews said it's more ideal to have a driver on board. Still, he added that Astrolab plans to pre-program the rover's computer with instructions and tasks, so it can run automatically once it lands with the supervision of an earthbound engineer.

Steering FLEX is almost deceptively easy. The entire rover is controlled by an arcade-style joystick, with three buttons for speed adjustments. When driving the vehicle in-person, the driver must engage a "trigger" at all times to keep it in motion—ensuring that the rover stops immediately if an astronaut falls off.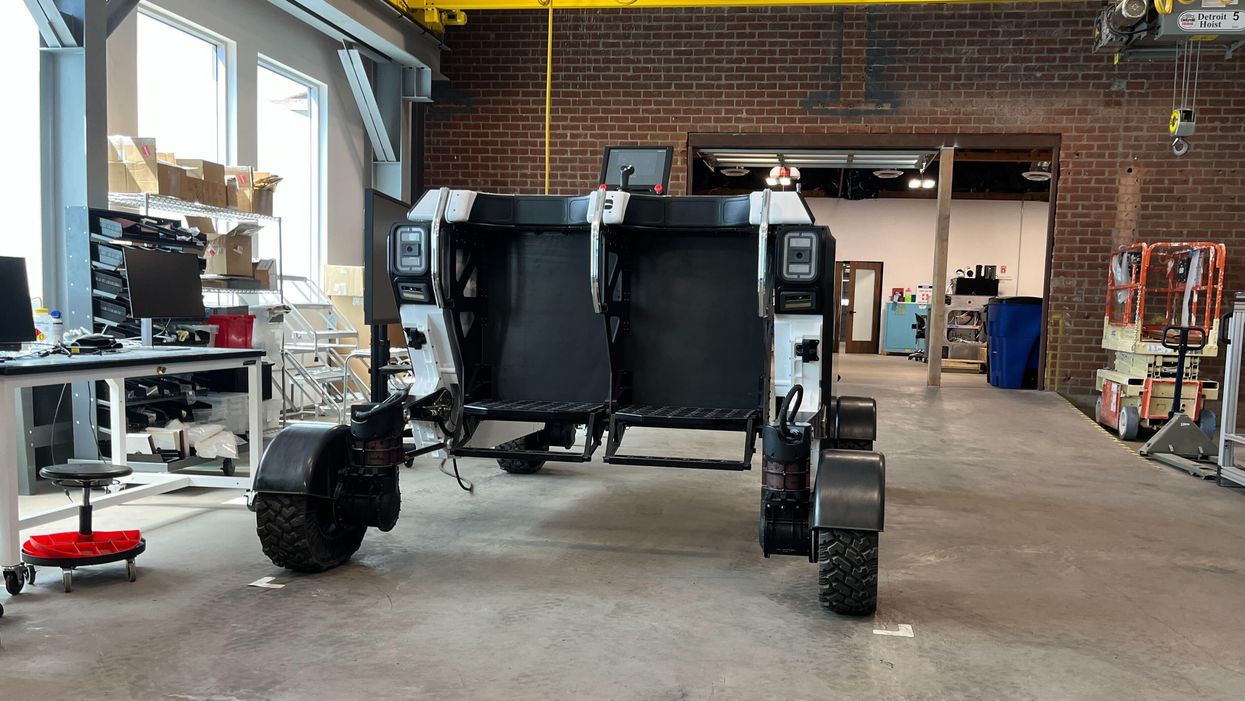 The Astrolab FLEX rover parked in the warehouse.Samson Amore
Matthews showed off several test payloads that FLEX uses, including a kit for collecting Moon samples, spare tires, a cable spool and crucially, a vertical solar array for backup power that could also carry cell service on the Moon. Already, a fully-charged solar battery gives the rover up to eight hours of drive time, with enough energy reserves to weather a cold night at the lunar south pole.
Four front-facing cameras equipped with headlights feed visuals to the computer on the rover's dash. (These were also transmitted to the Astrolab employees standing several yards away, adjusting settings on a laptop.) Every part of the rover was tested rigorously against thermal vacuums, extreme vibrations, heat, cold and shock simulations to make sure it'll hold up on the Moon's tough, airless climate.
But first, it will have to get there. NASA has contracts out with six companies besides Astrolab, pitting them against each other to see which can create a viable lander for the 2025 Artemis mission. FLEX faces stiff competition from rovers by the likes of Jeff Bezos' Blue Origin, which acquired rover startup Honeybee Robotics in January, as well as the team of Lockheed Martin and General Motors.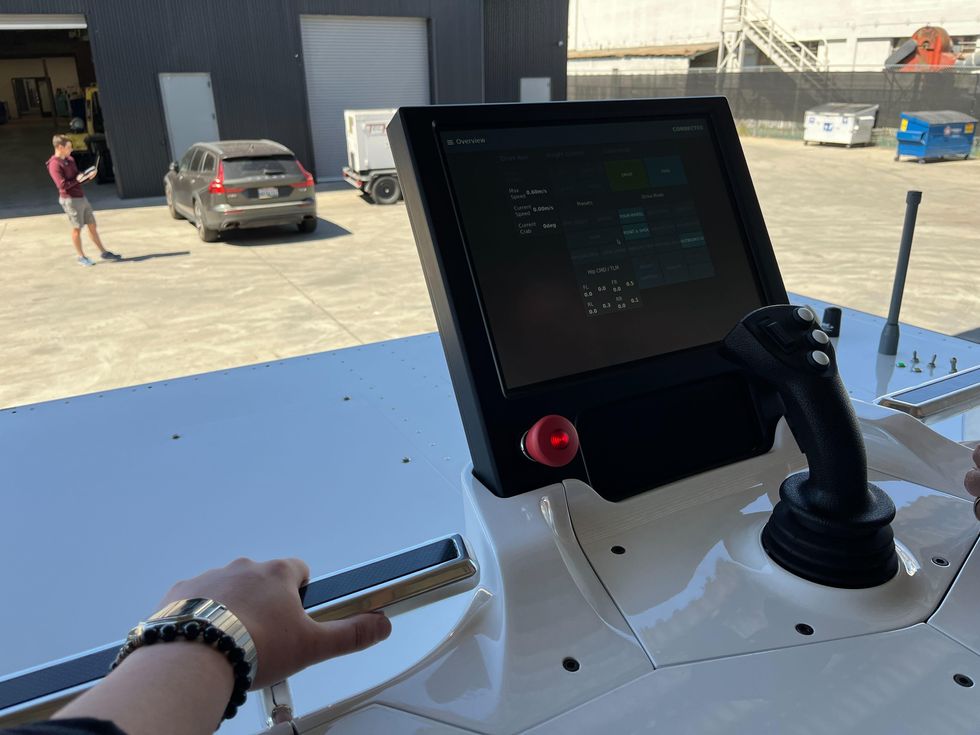 dot.LA reporter Samson Amore rode in the front seat of the FLEX rover.Samson Amore
"We want to have first-mover advantage, and it's important we move as fast as possible," Matthews said.
He noted that Elon Musk's SpaceX now plays a critical role in NASA's launch programs. Since working at both NASA and SpaceX, Matthews said he's seen their goals merge.
"NASA and Elon [Musk] are both interested in ultimately seeing sustained human presence on the Moon and Mars," Matthews said. "The goals of NASA and SpaceX are well-aligned: They both are trying to enable this future in which humanity is living and working in space continuously."
In the meantime, Matthews said Astrolab might look to sell rovers for terrestrial use, delivering relief supplies to disaster areas or working construction jobs.