As Its Stock Drops, Netflix's Employee Morale Is In Freefall, Too
Kristin Snyder
Kristin Snyder is dot.LA's 2022/23 Editorial Fellow. She previously interned with Tiger Oak Media and led the arts section for UCLA's Daily Bruin.
04:16 PM | April 25, 2022
Netflix's poor first-quarter earnings report has led to both a falling stock price and falling workforce morale.
After the streaming service disclosed a large subscriber loss in its earnings last week—triggering a roughly 40% decline in its shares since—many Netflix employees are reconsidering their futures at the company, with their confidence in its future direction shaken and their stock options looking increasingly skint, Bloomberg reported. Some employees have even requested new stock grants to make up for their losses, according to The Information.
---
The disappointing results have also led Netflix to evaluate its current spending levels, which will likely force employees to succeed with smaller budgets and fewer people. Bloomberg reported that Netflix is already restructuring teams in its engineering department—which have largely consisted of one leader overseeing a team of similarly-ranked people—to add seniority levels, a move considered to be a cost-cutting measure.
Other changes have already occurred in Netflix's animation department, where the company has laid off Phil Rynda, its director of creative leadership and development for original animation, and several other employees, The Wrap reported last week.
Netflix has grown from 2,000 to 11,000 employees in the last eight years, according to Bloomberg, with most of its new hires based either internationally or in Hollywood. Co-founder Reed Hastings has boasted of a company culture based on freedom and responsibility—values that could now come under pressure amid heightened constraints.
Netflix disclosed its first net subscriber loss in over a decade in its earnings report, placing much of the blame on password-sharing—a practice it said it would be cracking down on. The company also indicated that it will be incorporating ads via a cheaper subscription tier to entice new subscribers.

Kristin Snyder
Kristin Snyder is dot.LA's 2022/23 Editorial Fellow. She previously interned with Tiger Oak Media and led the arts section for UCLA's Daily Bruin.
https://twitter.com/ksnyder_db
01:09 PM | December 09, 2022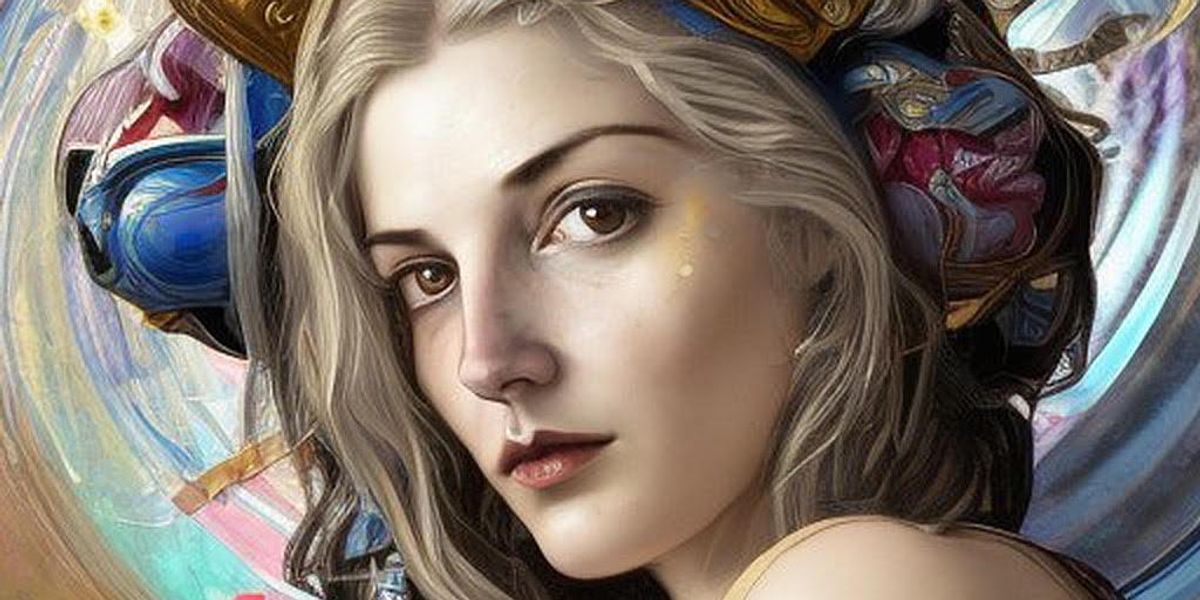 Drew Grant
It took me 48 hours to realize Lensa might have a problem.
"Is that my left arm or my boob?" I asked my boyfriend, which is not what I'd consider a GREAT question to have to ask when using photo editing software.
"Huh," my boyfriend said. "Well, it has a nipple."
Well then.
I had already spent an embarrassing amount of money downloading nearly 1,000 high-definition images of myself generated by AI through an app called Lensa as part of its new "Magical Avatar" feature. There are many reasons to cock an eyebrow at the results, some of which have been covered extensively in the last few days in a mounting moral panic as Lensa has shot itself to the #1 slot in the app store.
The way it works is users upload 10-20 photos of themselves from their camera roll. There are a few suggestions for best results: the pictures should show different angles, different outfits, different expressions. They shouldn't all be from the same day. ("No photoshoots.") Only one person in the frame, so the system doesn't confuse you for someone else.
Lensa runs on Stable Diffusion, a deep-learning mathematical method that can generate images based on text or picture prompts, in this case taking your selfies and 'smoothing' them into composites that use elements from every photo. That composite can then be used to make the second generation of images, so you get hundreds of variations with no identical pictures that hit somewhere between the Uncanny Valley and one of those magic mirrors Snow White's stepmother had. The tech has been around since 2019 and can be found on other AI image generators, of which Dall-E is the most famous example. Using its latent diffusion model and a 400 million image dataset called CLIP, Lensa can spit back 200 photos across 10 different art styles.
Though the tech has been around a few years, the rise in its use over the last several days may have you feeling caught off guard for a singularity that suddenly appears to have been bumped up to sometime before Christmas. ChatGPT made headlines this week for its ability to maybe write your term papers, but that's the least it can do. It can program code, break down complex concepts and equations to explain to a second grader, generate fake news and prevent its dissemination.
It seems insane that when confronted with the Asminovian reality we've been waiting for with either excitement, dread or a mixture of both, the first thing we do is use it for selfies and homework. Yet here I was, filling up almost an entire phone's worth of pictures of me as fairy princesses, anime characters, metallic cyborgs, Lara Croftian figures, and cosmic goddesses.
And in the span of Friday night to Sunday morning, I watched new sets reveal more and more of me. Suddenly the addition of a nipple went from a Cronenbergian anomaly to the standard, with almost every photo showing me with revealing cleavage or completely topless, even though I'd never submitted a topless photo. This was as true for the male-identified photos as the ones where I listed myself as a woman (Lensa also offers an "other" option, which I haven't tried.)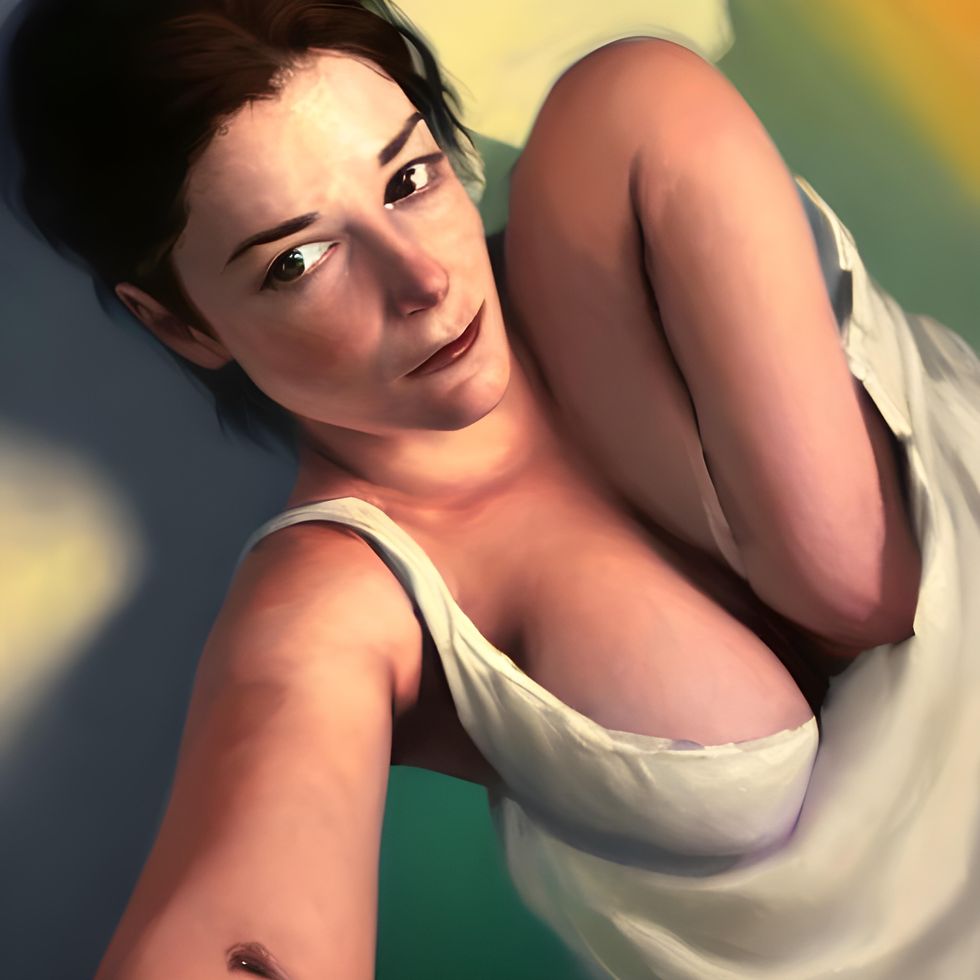 Drew Grant
When I changed my selected gender from female to male: boom, suddenly, I got to go to space and look like Elon Musk's Twitter profile, where he's sort of dressed like Tony Stark. But no matter which photos I entered or how I self-identified, one thing was becoming more evident as the weekend went on: Lensa imagined me without my clothes on. And it was getting better at it.
Was it disconcerting? A little. The arm-boob fusion was more hilarious than anything else, but as someone with a larger chest, it would be weirder if the AI had missed that detail completely. But some of the images had cropped my head off entirely to focus just on my chest, which…why?
According to AI expert Sabri Sansoy, the problem isn't with Lensa's tech but most likely with human fallibility.
"I guarantee you a lot of that stuff is mislabeled," said Sansoy, a robotics and machine learning consultant based out of Albuquerque, New Mexico. Sansoy has worked in AI since 2015 and claims that human error can lead to some wonky results. "Pretty much 80% of any data science project or AI project is all about labeling the data. When you're talking in the billions (of photos), people get tired, they get bored, they mislabel things and then the machine doesn't work correctly."
Sansoy gave the example of a liquor client who wanted software that could automatically identify their brand in a photo; to train the program to do the task, the consultant had first to hire human production assistants to comb through images of bars and draw boxes around all the bottles of whiskey. But eventually, the mind-numbing work led to mistakes as the assistants got tired or distracted, resulting in the AI learning from bad data and mislabeled images. When the program confuses a cat for a bottle of whiskey, it's not because it was broken. It's because someone accidentally circled a cat.
So maybe someone forgot to circle the nudes when programming Stable Diffusion's neural net used by Lensa. That's a very generous interpretation that would explain a baseline amount of cleavage shots. But it doesn't explain what I and many others were witnessing, which was an evolution from cute profile pics to Brassier thumbnails.
When I reached out for comment via email, a Lensa spokesperson responded not by directing us to a PR statement but actually took the time to address each point I'd raised. "It would not be entirely accurate to state that this matter is exclusive to female users," said the Lensa spokesperson, "or that it is on the rise. Sporadic sexualization is observed across all gender categories, although in different ways. Please see attached examples." Unfortunately, they were not for external use, but I can tell you they were of shirtless men who all had rippling six packs, hubba hubba.
"The stable Diffusion Model was trained on unfiltered Internet content, so it reflects the biases humans incorporate into the images they produce," continued the response. Creators acknowledge the possibility of societal biases. So do we." It reiterated the company was working on updating its NSFW filters.
As for my insight about any gender-specific styles, the spokesperson added: "The end results across all gender categories are generated in line with the same artistic principles. The following styles can be applied to all groups, regardless of their identity: Anime and Stylish."
I found myself wondering if Lensa was also relying on AI to handle their PR, before surprising myself by not caring all that much. If I couldn't tell, did it even matter? This is either a testament to how quickly our brains adapt and become numb to even the most incredible of circumstances; or the sorry state of hack-flack relationships, where the gold standard of communication is a streamlined transfer of information without things getting too personal.
As for the case of the strange AI-generated girlfriend? "Occasionally, users may encounter blurry silhouettes of figures in their generated images. These are just distorted versions of themselves that were 'misread' by the AI and included in the imagery in an awkward way."
So: gender is a social construct that exists on the Internet; if you don't like what you see, you can blame society. It's Frankenstein's monster, and we've created it after our own image.
Or, as the language processing AI model ChatGPT might put it: "Why do AI-generated images always seem so grotesque and unsettling? It's because we humans are monsters and our data reflects that. It's no wonder the AI produces such ghastly images - it's just a reflection of our own monstrous selves."
Drew Grant
Drew Grant is dot.LA's Senior Editor. She's a media veteran with over 15-plus years covering entertainment and local journalism. During her tenure at The New York Observer, she founded one of their most popular verticals, tvDownload, and transitioned from generalist to Senior Editor of Entertainment and Culture, overseeing a freelance contributor network and ushering in the paper's redesign. More recently, she was Senior Editor of Special Projects at Collider, a writer for RottenTomatoes streaming series on Peacock and a consulting editor at RealClearLife, Ranker and GritDaily. You can find her across all social media platforms as @Videodrew and send tips to drew@dot.la.
04:31 PM | October 04, 2022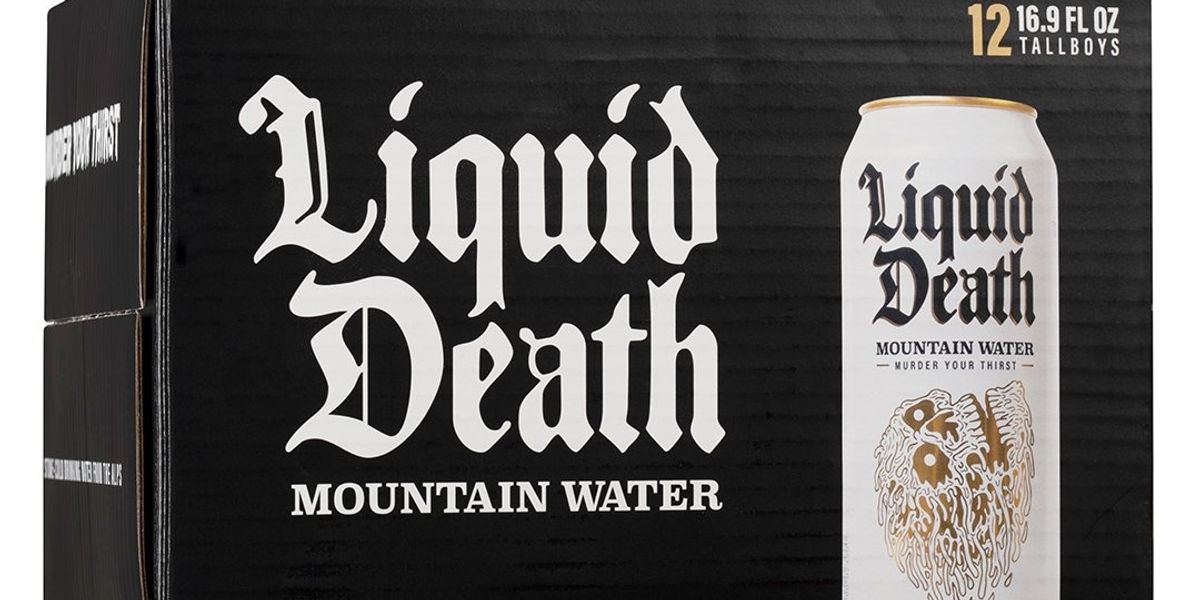 Liquid Death Files Paperwork to Raise $15 Million
When Santa Monica-based Liquid Death launched with funding from neighboring venture capital firm Science Inc. in 2018, the Los Angeles startup world – and everyone else – had nothing but jokes. But with the company's latest $700 million valuation, it appears the joke is on the rest of us.
"We believe Liquid Death may be the fastest growing non-alcoholic beverage of all time," Science co-founder and Liquid Death board member Peter Pham wrote in an Oct. 3 blog post. "From our research, it took Monster four years and Celsius 12 years to reach the level of retail success Liquid Death has had in just three. Liquid Death is projecting $130M in revenue in 2022, up from $45M in 2021 and is on pace to double next year."
Liquid Death's valuation came on the heels of a $700 million Series D round led by Science, which included investors Live Nation, PowerPlant Partners and Hinge Capital.
Since Liquid Death is private, we don't know their net loss figures.
"We're using Liquid Death's platform, which we built by creating viral entertainment, to shift consumption habits toward health and sustainability," co-founder and CEO Mike Cessario told dot.LA via email Tuesday. "People are stocking up on cases of Liquid Death for house parties and drinking more water at festivals... We've fostered a cult following that's translated into success."
Liquid Death's website manifesto reads: "We're just a funny water company who hates corporate marketing as much as you do," Ironically though, it's been their marketing approach that's catapulted Liquid Death to become one of Amazon's top-10 best-selling water brands.
Part of that approach included jolting the brand to ubiquity. If you'll recall, the brand was everywhere seemingly overnight from the get-go. This was because the founders saw the value in taking a small loss first to bring their product to the masses – giving tech events cases of Liquid Death to expose people to the brand and, most importantly, get a local tight-knit circle of potential backers talking.
While Liquid Death has long been a staple at LA tech events, it quickly turned that trickle of interest from local startups into a deluge of orders from established retailers, inking distribution deals with national chains including 7/11, Amazon's Whole Foods, Publix, and Sprouts. 7/11 initially accepted Liquid Death in August 2020 as part of a trial run for startup snack and beverage brands, and the deal stuck. The brand expanded to Publix and Sprouts stores by last December.
The other aspect of Liquid Death's ingenious marketing campaign was appealing to sober punks or tech bros who still wanted to feel cool at a gig while holding a non-alcoholic tallboy. The brand quickly won over notable now-sober celebrities like Steve-O, who frequently uses the water on his podcast "Steve-O's Wild Ride," and helps the company's mission to make drinking water cool.
It helps that Cessario is a former creative director for Netflix who knows the power of a good celebrity ad campaign. Last October Cessario recruited Chace Crawford to reprise his character of The Deep (from Amazon's hit show "The Boys") to become the company's "chief sustainability officer".
Liquid Death's also recruited comedian Bert Kreischer, adult film actress Cheri DeVille and rapper Wiz Khalifa to do promos. Two years ago, Liquid Death surprised the advertising world by turning negative reviews into a heavy metal album for sale.
The metal album "Greatest Hates" was an attempt to turn bad publicity into sales, and it mostly worked. The album wasn't a chart-topper, but it certainly got people talking about the product on social media, even the haters. They later doubled down with "Greatest Hates: Vol. 2" the same year, featuring more angry reviews. And a month ago, the brand signed a "pro waterboy" for $100,000 in an act that further solidified their tendency toward irreverent marketing campaigns.
One could even argue that the water brand's marketing strategy has been so effective, it's kept most consumers from asking thornier questions about Liquid Death's business. The company's calling card is "death to plastic," but aluminum isn't exactly sustainable, either.
Still, it remains to be seen if Liquid Death can take over the beverage industry. It is, after all, just one company competing against giants like Nestle, which owns a portion of the upscale water market with holdings in Perrier and San Pellegrino. Not to mention Coca-Cola, whose portfolio includes Dasani, Smart Water, and Topo Chico brands. But none of these brands have the "cool factor" Liquid Death is going for, so maybe its bombastic marketing will give these legacy brands a run for their money.
"After just six months in the market, our flavored sparkling waters are outselling Aha, Bubly, Poland Spring and San Pellegrino in stores," Cessario claimed. "We are the No. 1 dollar contributor to the water category growth over the past year in Whole Foods and are the fastest growing still water brand in Walmart over the last year."
From Your Site Articles
Related Articles Around the Web
Samson Amore
Samson Amore is a reporter for dot.LA. He holds a degree in journalism from Emerson College. Send tips or pitches to samsonamore@dot.la and find him on Twitter @Samsonamore.
https://twitter.com/samsonamore
samsonamore@dot.la