Fifteen years after her death, science-fiction author Octavia E. Butler has joined an exclusive pantheon of space luminaries memorialized on Mars.
Today NASA announced that the Red Planet locale where its Perseverance rover touched down last month is called Octavia E. Butler Landing, in honor of a Black author who emphasized diversity in tales of alternate realities and far-out futures.
"Butler's protagonists embody determination and inventiveness, making her a perfect fit for the Perseverance rover mission and its theme of overcoming challenges," Kathryn Stack Morgan, deputy project scientist for Perseverance, said in a news release. "Butler inspired and influenced the planetary science community and many beyond, including those typically under-represented in STEM fields."
Butler grew up poor in Pasadena and attended Pasadena City College, where she focused on writing. She published her first book in 1976 and broke into the mostly white, male dominated world of science fiction writing. In 1995, she was awarded a fellowship from the MacAurthur Foundation, She moved to the Seattle area in 1999, where she died unexpectedly in 2006 at the age of 58, after sustaining a head injury in a fall on a walkway outside her home in Lake Forest Park, Wash.
In his own tribute to Butler, Thomas Zurbuchen, NASA's associate administrator for space science, emphasized the connection to Southern California, the home of NASA's Jet Propulsion Laboratory and Perseverance mission operations.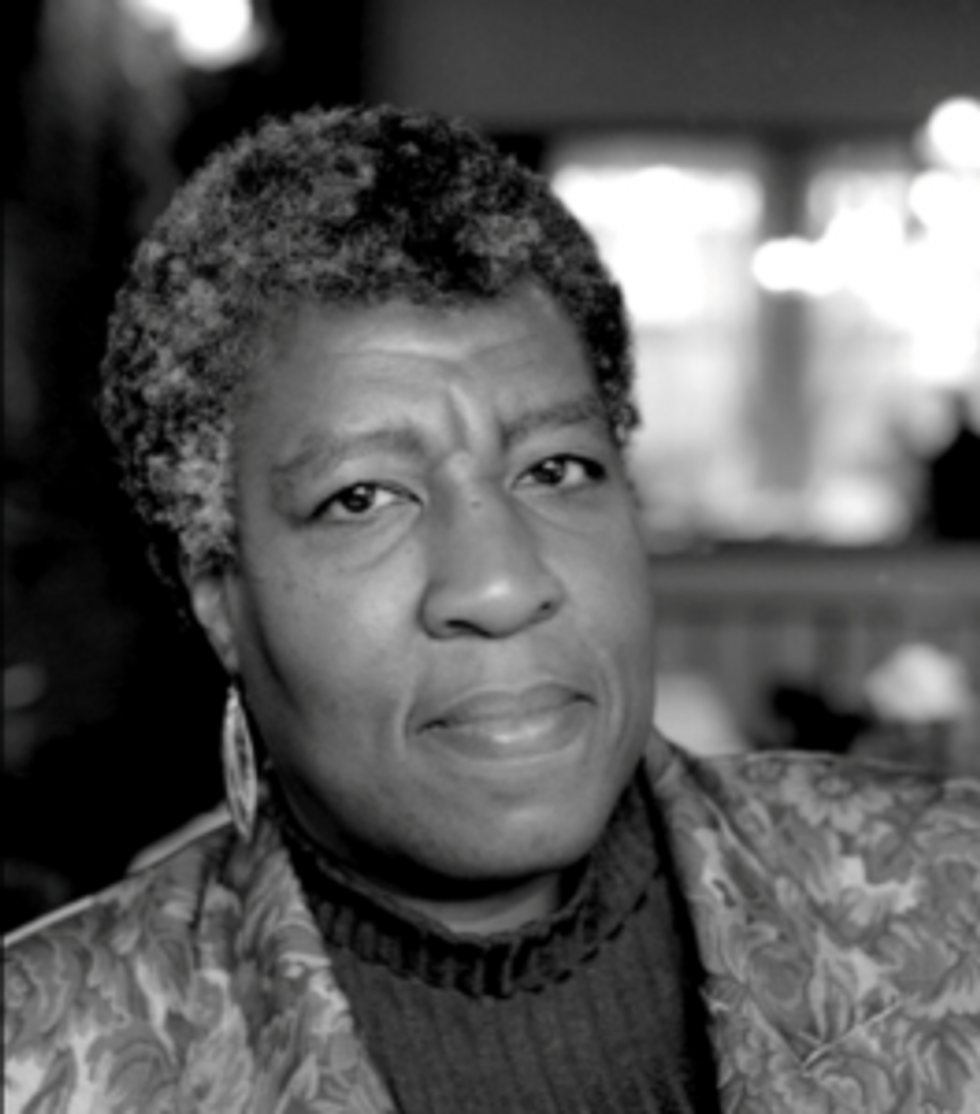 Science-fiction author Octavia E. Butler grew up in Pasadena and spent the last years of her life in the Seattle area. (Writers House Literary Agency / Courtesy Ching-Ming Cheung)
"I can think of no better person to mark this historic landing site than Octavia E. Butler, who not only grew up next door to JPL in Pasadena, but she also inspired millions with her visions of a science-based future," Zurbuchen said. "Her guiding principle, 'When using science, do so accurately,' is what the science team at NASA is all about. Her work continues to inspire today's scientists and engineers across the globe – all in the name of a bolder, more equitable future for all."
The official names of geographical features on other planets must be approved by the International Astronomical Union, but NASA has a tradition of giving its own names to off-world landing sites – for example, Tranquility Base, the place on the moon where Apollo 11 touched down in 1969.
The 1997 landing site for NASA's Pathfinder mission to Mars is known as Carl Sagan Memorial Station, in honor of the late astronomer and author of "Contact."

In 2004, NASA designated the landing sites for the Opportunity and Spirit Mars rovers as Challenger Memorial Station and Columbia Memorial Station, respectively. Those names honor space shuttle crews who lost their lives in 1986 and 2003.

The place where NASA's Curiosity rover touched down in 2012 is called Bradbury Landing, as a tribute to Ray Bradbury, the author of "The Martian Chronicles" and many other works of science fiction.
Perseverance has already begun to venture out from Butler Landing: In addition to announcing the landing site's name, members of the mission team shared imagery from the 1-ton, six-wheeled rover's first drive since its Feb. 18 touchdown.
Perseverance's first drive on Mars
Thursday's traverse lasted about 33 minutes and put 21 feet (6.5 meters) on Perseverance's odometer. Color pictures sent back from Perseverance's hazard avoidance cameras show the tread marks left in Mars' red dirt as the rover took its first spin. Such imagery will be used to assess the dynamics of Perseverance's retro-rocket landing, which kicked up dust and exposed rock formations at Butler Landing.

"When it comes to wheeled vehicles on other planets, there are few first-time events that measure up in significance to that of the first drive," said Anais Zarifian, rover mobility testbed engineer at JPL. "This was our first chance to 'kick the tires' and take Perseverance out for a spin. The rover's six-wheel drive responded superbly. We are now confident our drive system is good to go, capable of taking us wherever the science leads us over the next two years."
The rover's software has already been updated to replace the program for landing with the program for surface operations. Mission controllers have also conducted procedures for deployment and checkout of Perseverance's RIMFAX, MOXIE and MEDA instruments, as well as its heavy-duty robotic arm.
"Tuesday's first test of the robotic arm was a big moment for us. That's the main tool the science team will use to do close-up examination of the geologic features of Jezero Crater, and then we'll drill and sample the ones they find the most interesting," said Robert Hogg, Perseverance's deputy mission manager. "When we got confirmation of the robotic arm flexing its muscles, including images of it working beautifully after its long trip to Mars – well, it made my day."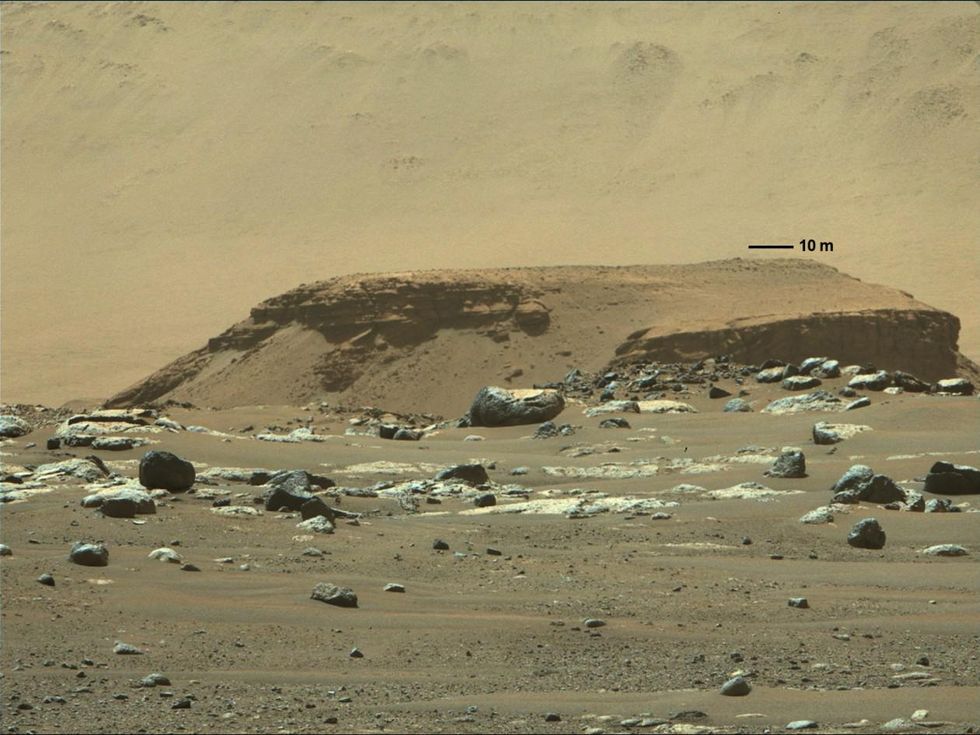 From its vantage point at Octavia E. Butler Landing, NASA's Perseverance rover can see a remnant of a fan-shaped deposit of sediments known as a delta (the raised area of dark brown rock in the middle ground) with its Mastcam-Z instrument. (NASA / JPL-Caltech / ASU)
More than 7,000 raw images have been sent back to Earth and are available online in a gallery supported by Amazon Web Services. That stockpile is sure to grow as Perseverance ramps up full science observations.

The mission plan calls for the rover to make regular commutes of 650 feet (200 meters) or more to sites of scientific interest. "We're going to do some longer drives," Zarifian said. "This is really just the beginning."
The primary goal of the $2.7 billion Perseverance mission is to analyze the composition of Martian soil for traces of ancient life, and store up promising samples for return to Earth by later missions over the next decade.
This story first appeared on GeekWire.
For the first time ever, NASA has captured video of a rover landing on the surface of Mars, plus audio of the wind whistling past it after the landing.
The stars of the show are NASA's Perseverance rover and the hundreds of scientists and engineers supporting the mission to Mars at NASA's Jet Propulsion Laboratory and other institutions around the world. But Amazon Web Services is playing a key role in making all those gigabytes of goodness available to the world.
More than 23,000 images, amounting to 30 gigabytes of data, were gathered during the final minutes of Perseverance's journey to Jezero Crater on Mars, said Dave Gruel, camera suite lead for entry, descent and landing at JPL.

A couple of cameras looked up from the spacecraft's back shell to document the deployment of the parachute. Another camera looked down from the "Sky Crane" descent stage to watch the rover's touchdown. Meanwhile, cameras on the rover looked up at the Sky Crane and looked down and out to survey the surrounding terrain.
All those perspectives were put together in a three-minute video that documented the milestones of the descent, from the time the parachute popped open to the rover's dusty touchdown. At the end, video from the rover shows the descent stage flying away to its safe disposal, powered by a set of thrusters built by Aerojet Rocketdyne.
"It gives me goosebumps every time I see it," Gruel said at today's news briefing, conducted under COVID-19 conditions at JPL in Pasadena, Calif. "I hope everybody kept their hands and arms inside the vehicle at all times while it was in motion."

That's not all: A modified off-the-shelf microphone was hooked up to the rover, with the intention of recording the sounds of the air whistling past during the descent.
No sounds were recorded as the rover dropped, but once Perseverance had settled on its landing spot, the microphone captured the rumble of Martian wind gusts.
Gruel said the characteristics of the sounds suggest that the gusts were blowing at about 11 mph (5 meters per second).
As the mission proceeds, the microphone could capture the crunch of rocks beneath the rover's wheels as they roll, deputy project manager Matt Wallace said.
Both the video and the audio broke new ground for NASA: Although there's been descent imagery from past space odysseys, including the Apollo moon missions and the Mars Curiosity rover mission, this was the first time a video camera clearly captured the moment of touchdown on another planet.
As for the audio recordings, Soviet landers have previously recorded sounds on the surface of Venus, and NASA's Mars InSight lander has documented wind vibrations using an air pressure sensor. But Perseverance is the first to pick up the sounds of Martian winds directly with a microphone.
Thomas Zurbuchen, NASA's associate administrator for space science, said this is "how it feels to make history."
"The video of Perseverance's descent and landing, and the amazing panorama and the first wide landscape shot of Jezero Crater seen with human eyes, and the first Martian sounds are the closest you can get to landing on Mars without putting on a pressure suit," Zurbuchen said.
Releasing the raw images, video and the sounds should fire up the imagination — not only for future billion-dollar space missions, but for creative crowdsourcing here on Earth.
"Please go take a look at these data and play with them, especially those of you … that have signed up for our educational campaign," Zurbuchen said. "What can you find in these pictures? And who's going to compose the first piece of music with actual Mars sound?"
During the first couple of days of the mission, there was a fair amount of grumbling about the paucity of pictures released by the Perseverance team. But the situation changed dramatically today: The tally of raw images in NASA's Perseverance gallery jumped from less than 200 to close to 5,000 over the course of just a few hours.
Amazon Web Services said NASA is using its cloud computing platform to process image data from Mars, and to power NASA's Mars mission website. "The website will be able to scale up to meet demand at any given time, with millions of visitors expected at peak times," AWS said.
The navigation cameras on NASA's Perseverance rover captured this view of the rover's deck on Feb. 20. This view provides a good look at the PIXL instrument on the rover's stowed robotic arm. (NASA / JPL-Caltech)
The plutonium-powered Perseverance probe is only four days into a mission that's expected to last at least two Earth years, and most likely much longer. The $2.7 billion mission's primary goal is to identify and store up samples that could hold evidence of past life on Mars. NASA plans to bring such samples back to Earth in about a decade for detailed lab study.

Leaders of Perseverance's science team say they're already seeing intriguing geological features to dig into, including an assortment of "holey" rocks that could be volcanic in origin.
"If they are volcanic rocks, that is enormously important to us, because it potentially provides an opportunity to get a really nice radiometric age, or an absolute date, if a sample like that comes back to Earth," deputy project scientist Ken Williford said.
Virgin Galactic has taken the wraps off a concept for an airplane capable of flying three times the speed of sound, to be developed with support from Boeing and Rolls-Royce.
The project would be distinct from Virgin Galactic's SpaceShipTwo suborbital space plane program, which is closing in on the start of commercial operations at Spaceport America in New Mexico.
Today's announcement follows through on the company's heightened focus on high-speed aircraft development, which is backed by a $20 million investment from Boeing HorizonX and supported by a deal with NASA to collaborate on supersonic projects.
Such an initiative seems likely to pit Virgin Galactic against aerospace industry players that have a head start in the race to revive supersonic travel — ranging from SpaceX and Lockheed Martin to Boom Supersonic, a startup that Virgin Galactic partnered with years ago.
Virgin Galactic says it has signed a non-binding memorandum of understanding with Rolls-Royce for the development of the plane's engine propulsion system, has put the design through a mission concept review in cooperation with NASA representatives, and is working with the Federal Aviation Administration to lay out a certification framework for the plane.
George Whitesides, who recently transitioned from CEO to a new position known as chief space officer to work on new projects, said the company has made "great progress so far" on the concept.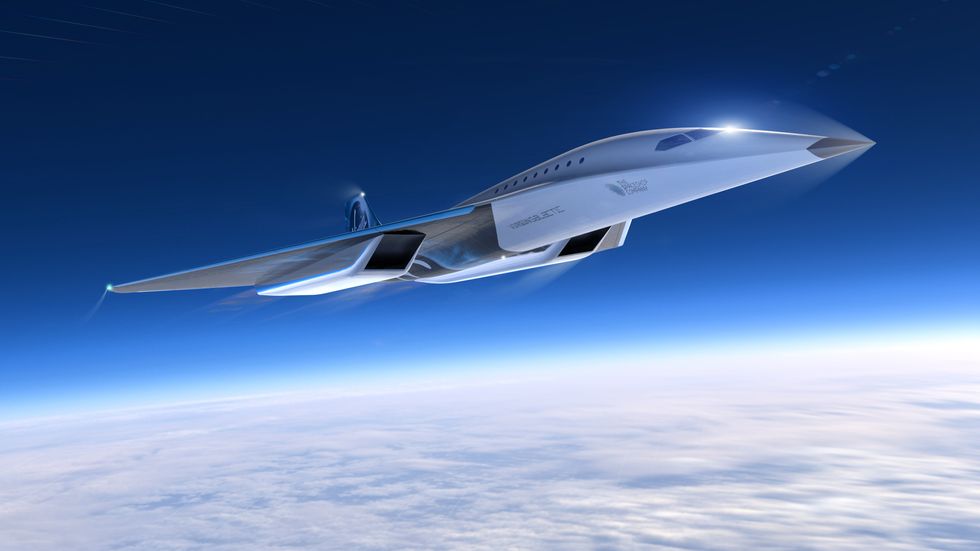 Mach 3 Aircraft Design Courtesy of Virgin Galactic
"We are excited to complete the mission concept review and unveil this initial design concept of a high-speed aircraft, which we envision as blending safe and reliable commercial travel with an unrivaled customer experience," Whitesides said in a news release.

The basic parameters of the design call for a Mach 3 delta-wing aircraft that would have the capacity to fly nine to 19 people at an altitude above 60,000 feet. Virgin Galactic could provide customized cabin layouts to address customer needs, including business-class or first-class seating.
The plane would be designed to use existing airport infrastructure and lead the way in the use of sustainable aviation fuel.
The company provided no timetable for development. Nevertheless, the stock market's initial reaction to the news was positive — boosting Virgin Galactic's share price in early trading today.
Commercial supersonic travel faded away in 2003 with the retirement of the British-French Concorde, due to concerns about cost and sonic-boom restrictions. In recent years, NASA and a variety of aerospace ventures have been looking into "quiet-boom" technologies that might make supersonic flight more palatable (and satisfy regulators).
NASA has partnered with Lockheed Martin to build a test aircraft known as the X-59 QueSST, or Low-Boom Flight Demonstrator. The X-59's first flight is due in the 2021-2022 time frame.
Mach 3 Aircraft Design Courtesy of Virgin Galactic
Meanwhile, Aerion Supersonic, Boom Supersonic and Spike Aerospace are among a new crop of supersonic startups hoping to field planes and win FAA certification in the years ahead.

Back in 2016, Virgin Galactic founder Richard Branson said his company would assist Boom with engineering, design, manufacturing, flight testing and operations — and would take a purchase option on the first 10 airframes. Today's announcement suggests that Virgin Galactic is now moving in a different direction.
For what it's worth, Boom is due to roll out its prototype XB-1 supersonic jet in October.
Some wondered whether Virgin Galactic will be arriving too late to the supersonic soiree, or whether its plans for a high-speed aircraft were sufficiently realistic.
"Had to recheck the date on the calendar. Nope, not April 1," Aviation Week's Steve Trimble tweeted.
Mars Society President Robert Zubrin, meanwhile, tweeted an illustration showing SpaceX's planned Starship super-rocket and wrote, "Mach 3 won't cut it. The competition will be doing Mach 25."
If Virgin Galactic's supersonic airplane turns out to be vaporware, at least it's cool-looking vaporware.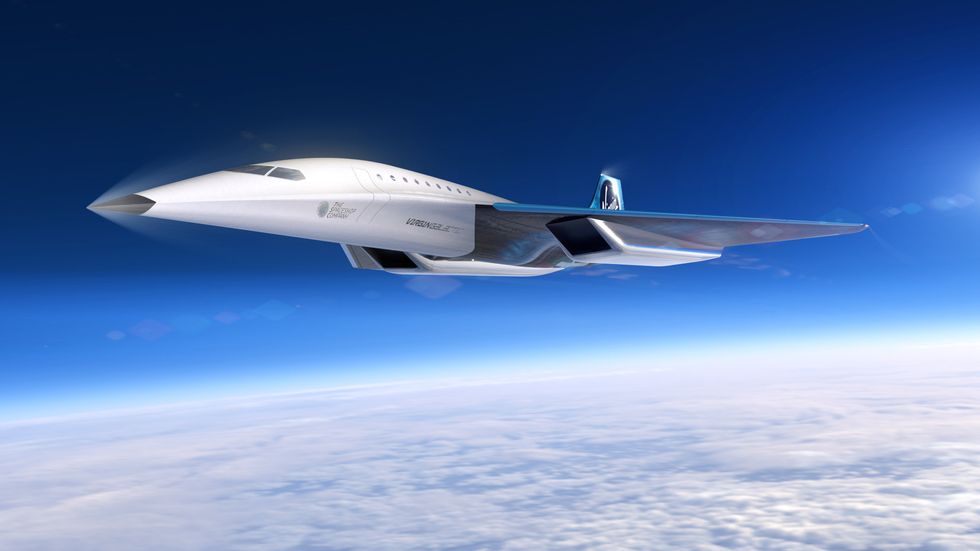 Mach 3 Aircraft Design for High Speed Travel Courtesy of Virgin Galactic