heal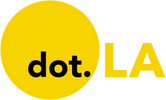 Get in the KNOW
on LA Startups & Tech
X
heal
After Renee Dua's father underwent a surgical procedure, he was saddled with a slew of specialists to talk to, medications to take, and lifestyle modifications to make. Dua, the co-founder of Pacific Palisades-based on-demand doctor service Heal, became the person responsible for juggling the different points of care for her father; she began scheduling appointments, picking up prescriptions and reminding him to take his medication.
"I'm a doctor and I'm a daughter. I love my father very much. What do people do when they don't happen to have a daughter who's a doctor that can guide them through all of this task management and decision making?" Dua asked dot.LA.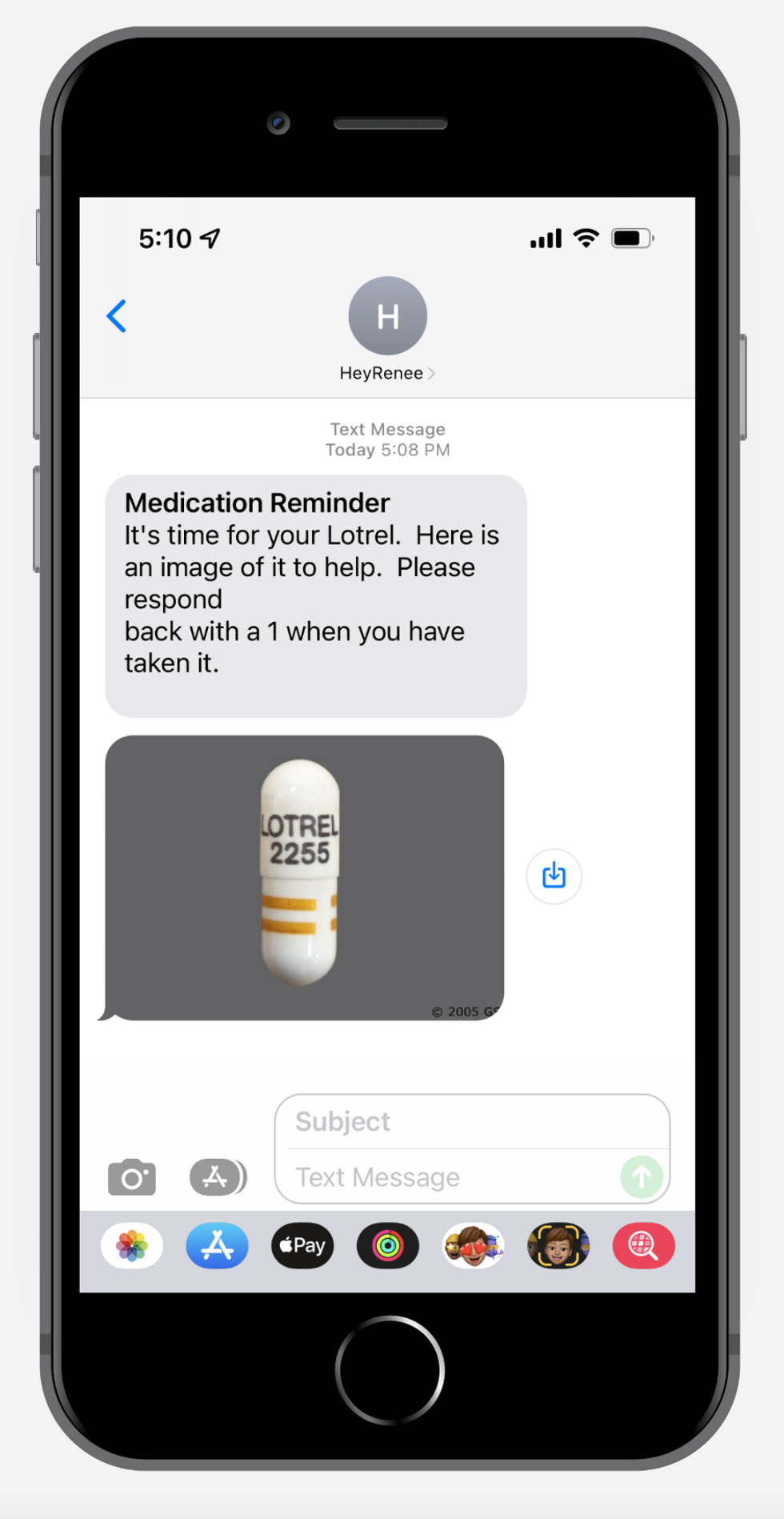 That was the inspiration for HeyRenee—a new venture from Dua and her husband and Heal co-founder Nick Desai that aims to help seniors, the chronically ill and those with disabilities manage their medical care. The startup announced Thursday that it has raised an additional $4.4 million in seed funding led by Quiet Capital, with participation from the likes of Westwood-based Fika Ventures and Santa Monica-based Mucker Capital. The new funding adds to an initial $3.8 million in seed funding that HeyRenee raised in August, taking its total capital raised to $8.2 million.
The company aims to address a problem that the public health ecosystem has long braced for: Baby Boomers are expected to be the longest-living senior population to date, which will create an abundance of demand for health care services as they age. One potential solution to the strain that will be placed on the health care system is preventative care, and ensuring that patients are following doctors' orders when they're not at the doctor's office.
Otherwise, patients "don't take their medications, they don't do their screenings, [and] they forget to show up at doctor's appointments. And then by that time, they're very sick; they're also very expensive," Dua noted. "We can't have it both ways. We can't ignore people and then expect them not to become an expense on the health care system."

HeyRenee essentially acts as a task manager tool. The startup onboards patients by asking them a series of questions about their medical background and conditions; users can then set up reminders to take their medications, pick up prescription refills and go to their appointments. It can also schedule appointments with different specialists that are in a patient's network, and then send blood work or procedure results to their primary care physicians. The platform also loops in physicians, caretakers and family members.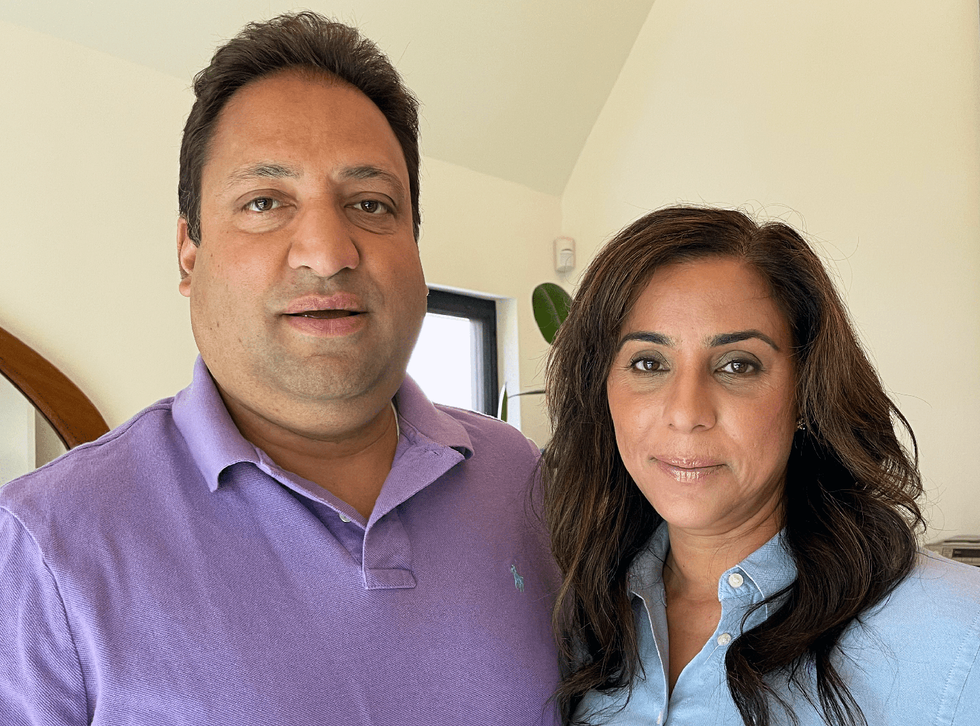 HeyRenee co-founders Nick Desai and Renee Dua.Image courtesy of HeyRenee
The company joins a cadre of other startups aiming to ease access to what can be a scattered and convoluted health care industry. Within Health, co-founded by Los Angeles-based entrepreneur and investor Abhilash Patel, launched in October to coordinate doctors, dieticians and therapists for those recovering from eating disorders. Boston-based Bicycle Health raised $27 million in June to tackle opioid addiction using coordinated medical and behavioral services.
HeyRenee is currently piloting with a small subset of people, including Dua's father. The platform is expected to launch this spring.
Related Articles Around the Web
Santa Monica-based healthcare startup Heal announced a $100 million investment and partnership with health insurance provider Humana, a move that will vastly extend the reach of their on-demand doctor service.
Humana hopes to use Heal's applications for its Medicare Advantage program, providing more in-home care to seniors. It will also bring the service to major metro areas including Chicago, Houston and Charlotte.
Heal's CEO Nick Desai, who is fond of saying that the traditional doctor's office is dead, said it will help his company grow nationally and develop more predictive tools to guide doctors with care.
"You want a headline?" Desai joked after making the joint announcement, "Heal wins $100 million to bring concierge care to all Americans."
"We want to expand, so we go nationwide," Desai said. "We like to think the real winners in this is the millions of Americans who get health care this way. "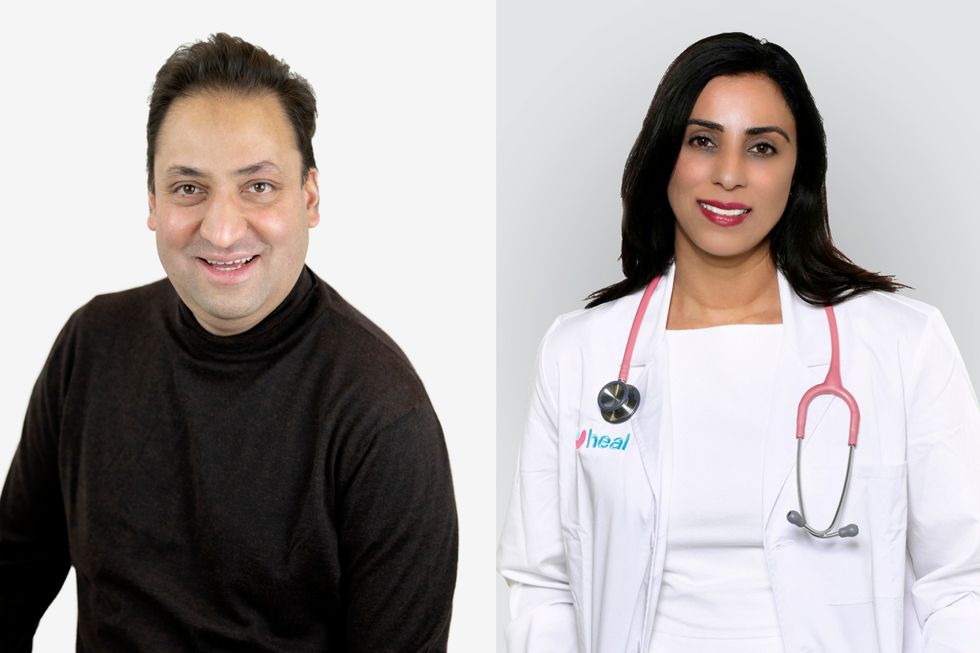 Heal CEO Nick Desai and Chief Medical Officer Renee Dua are married.
Heal boasts 200,000 home visits since it launched five years ago and expects to see 250% revenue growth between this and next year. Started by Desai and his wife, a medical doctor, after waiting seven hours for their then one year old to see an emergency doctor, the company has been on fast growth trajectory as traditional insurers look to startups for new ways to deliver care. He wouldn't provide revenue, but said it was in the tens of millions of dollars.

Humana, with about 17 million members, will use the services for its government-subsidized Medicare Advantage program as it seeks to build on its 34% penetration — as of 2019 — in the market.
"Our goal is to make the healthcare experience easier, more personalized and caring for the people we serve," said Susan Diamond, Humana's segment president for home business, who is joining Heal's board. "We continue to see high levels of customer satisfaction and improved health outcomes when care is delivered in the home,"
Humana said the partnership will help it fulfill its mission of addressing the needs of the whole person by giving doctors greater insight into health with at-home visits. There, doctors can see the social factors that may be impacting patients' health, such as a steep staircase or exposure to environmental hazards like pollution.
Most doctors see 8 to 10 patients, much fewer than regular physicians who often see dozens of patients in a day. The model, he said, brings down emergency room visits and elevates preventive care, making it appealing to insurers.
It's also a throwback.
"In 1970, 50% of all primary health care in America was delivered by house calls. Today it's less than 10%," he said. "That went away with insurance and fee-for-service care, Medicare. We are bringing it back."
But unlike the 70s, Heal monitors blood pressure, blood sugar and other vitals remotely using cloud connected devices to provide insight into patient care.
Last fall, the company, which operates fully in seven states and Washington D.C., bought Doctors on Call in New York City. That allowed it to make an entrance into the nation's largest city that was also, at one time, its largest coronavirus hotspot.
To deal with the pandemic, Heal protocol was to schedule an initial telemedicine call before scheduling a house visit to make sure their doctors weren't going to be exposed to the coronavirus.
"You know today, you don't want to go to the doctor's office because of COVID, but tomorrow it will be something else," he said. "You will never want to go to the doctor's office. Why would ever go to the doctor if the doctor comes to your house?"
Heal investors include former Qualcomm CEO and Executive Chairman Paul Jacobs, who is the company's chairman of the board, IRA Capital, Fidelity ContraFund, Jim Breyer, singer Lionel Richie and former Florida Governor Jeb Bush.
**This story has been update to include an interview with Heal's CEO.
Do you have a story that needs to be told? My DMs are open on Twitter @racheluranga. You can also email me.
Jiake Liu is the founder of a startup outdoor furniture company, but lately he feels like he's running a second company — one that's helping supply local hospitals with thousands of protective masks and, in the process, rallying Los Angeles' tech community.
Liu started SoCal Tech for Hospitals in early March with the goal of raising $60,000 to purchase 30,000 masks for hospitals facing shortages. He's now helped raise nearly $200,000, delivered 50,000 hospital-grade masks and is looking to up the ante with the region's vast tech community to do good beyond the pandemic.
Over the past months, he's enrolled some of the most well-known startups in town to pitch in for the logistical effort of distributing the masks. After the workday ends, Liu jumps on the phone with other founders to orchestrate the effort.
"We are really able to leverage everyone's expertise," he said. "It really is the spirit of entrepreneurship. You don't necessarily have the right answers. But you come to figure things out."
His own company, Outer, uses their warehouse to store palettes of masks he's helped procure. Trucks from on-demand storage company Clutter distribute the medical supplies. While, Well Health pitches in by gauging the needs at local hospitals. Others, like the head of the rental furniture company Fernish rally venture capital donations.

Early on Liu found that venture capital firms had already been bombarded with requests for donations, but his pitch was that this effort would benefit local hospitals and was different.
"We are really the only group that's like 'let's really reach the L.A. tech community,'" he said. "If you work in L.A. tech you should donate to us. It was a call to action."
It got attention. He's pulled in donations from some of the region's top firms including Wonder Ventures, GreyCroft, Upfront Ventures. He also pulled in donations from the online coupon cutter Honey Science Corp. and carpet seller Ruggable. dot.LA is also a contributor. In return, companies get a shout out on their website.
Among the hospitals that have received the masks are Adventist Health Glendale, Children's Hospital of Los Angeles, Dignity Health - California Hospital Medical Center, Pomona Valley Medical Center, St. Francis Medical Center, LA+USC Medical Center, Arrowhead Regional Medical Center, White Memorial Community Health Center, Harbor UCLA Medical Center and Olive View UCLA Medical Center.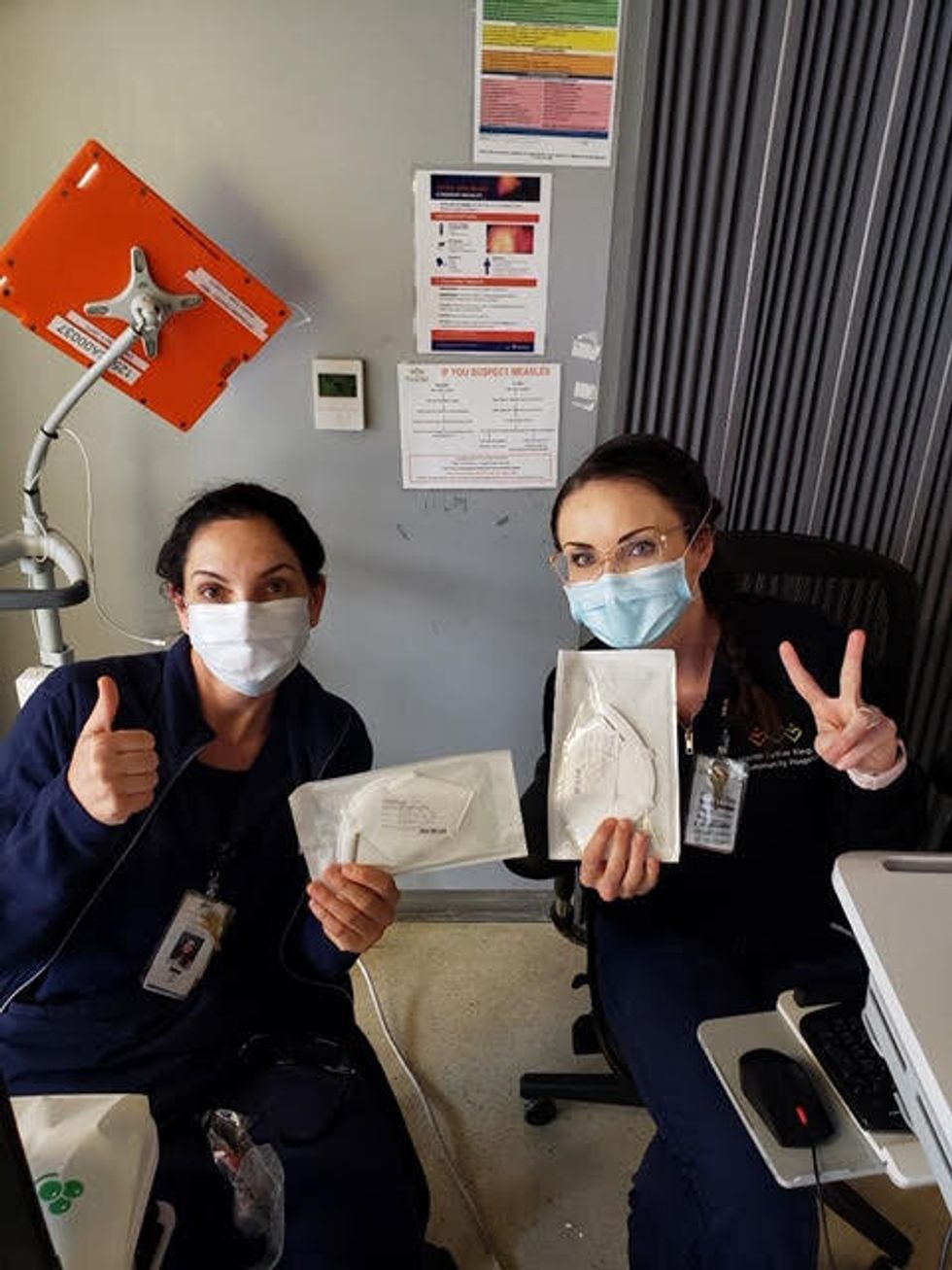 Liu began the effort because a doctor couple he knew that worked at Cedars Sinai Medical Center were worried about the supply of masks, so he started a GoFundMe page.
"When I started, I just wanted to get masks for my friends, but as I started talking to folks and getting a sense of the desire to do good," he said.
Someone at the location data software company Factual saw the page and introduced Liu to the nonprofit the Count On Me Family Foundation, which is now handling the funds.
Liu's next goal is to hit $250,000 in donations, but he has a larger one. With non-profit LA-Tech.org recently joining the effort, he's looking at ways to keep the momentum going beyond the pandemic.
"Now that we have attention of the tech community, the question is can we diverge some of the energy that we captured to continue to do good?"
Editor's note: dot.LA is a contributor to the fund.

From Your Site Articles
Related Articles Around the Web