At the beginning of 2020, LNKBOX, a Los Angeles startup that had quickly established a niche helping major festivals such as Coachella and Bonnaroo with last-mile transportation, was poised for a breakthrough year.
The company had secured over $4 million in bookings for concerts across the country, inking deals with industry giants AEG and LiveNation that would quadruple revenue. It planned to expand from four to 20 full-time employees to handle the rush of contracts.
Then, in Mid-March as co-founder CEO Joseph Bradley was driving his Ford pickup across the country from a gig in Florida, when the pandemic hit. The concert business faced its worst possible nightmare. A company that took three years to build was decimated in days. Bookings vaporized and all Bradley could think about was trying to get recurring payments as close to zero as possible so his once-promising startup didn't run out of cash.
"The wheels fell off and a very full calendar ended up going to zero in 96 hours," Bradley remembers.
But this is not a story about how COVID decimated a promising young startup. LNBOX used the crisis to pivot towards something completely different: maintaining industrial-sized commercial decontamination units which use ultraviolet light to disinfect thousands of N95 masks an hour. The technology can also be used to sterilize medical equipment, professional sports gear, grocery carts — or anything that needs to be made germ free.
As it turns out, Bradley thinks the new company, MK Reactors, will be far more lucrative than LNKBOX and he has no plans to return to the concert business, even when live events resume.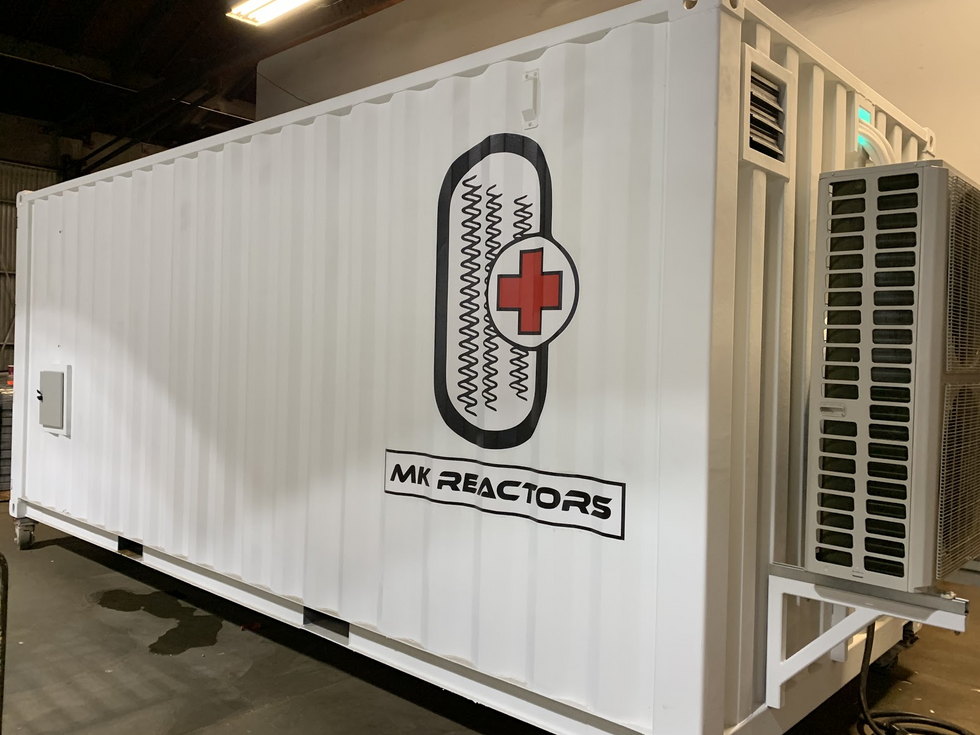 "It was a forced pivot, but with that caveat considered when you do the math the marketplace is much bigger," he said.

Ultimately, a big part of LNKBOX's success depends on getting government approval to sterilize N95 masks, which Bradley hopes to receive in the next month under the FDA's Emergency Use Authorization process. The company won't share the names of any clients yet, but says it is in the process of securing its first large strategic partner to clean durable medical equipment.
"Pivoting from non-regulated space to a regulated space has been a journey in itself," he said.
From Coachella to Disinfecting Wheelchairs
The transition from concerts to decontamination is not as far fetched as it would first appear. Many of the vehicles LNKBOX used to ferry people and goods around concert venues and sporting events were powered by very large lithium ion batteries, which required their own unique way to be transported and stored. To do that, the company built an industrial-sized, climate-controlled lithium ion battery charging reactor inside a 20-foot-high shipping container.
In April, Bradley got the idea that those shipping containers could be repurposed into large decontamination units after he happened to read an article published by the University of Nebraska about how ultraviolet radiation could be used to decontaminate N95 masks. He called the authors of the report to see if his equipment might work and they quickly replied: "How many can you build and how fast?"

"Once we started looking into it we thought this was crazy because we've already built his thing," Bradley said. "What we knew how to do was basically design esoteric tech that was highly portable."
At this time last year, LNKBOX's five-person team was helping the Denver Broncos move people and equipment around and planning for a summer concert season that would see them attending upwards of 20 events. Now, the same group is trying to drum up business with hospitals and get FDA approval. It is an entirely different business in an entirely different market, but Bradley says being nimble is a requisite for any startup executive.
"As people who run businesses we have to constantly triangulate and look at how the market is reacting to your product," he said. "In a world where the marketplace blows up and you don't have any way to do that transition, we looked at what we could control."
From Your Site Articles
Related Articles Around the Web