Women in Tech
The latest news about women in technology in Southern California from dot.LA.
Join us for Wonder Women Tech's first-ever HYBRID National Conference on Tuesday, October 26th – Friday, October 29th, 2021. Our uniquely curated Wonder Women Tech experience will include an IN-PERSON event held at the Long Beach Convention Center, featuring state-of-the-art safety precautions, and a wide-open arena with an outdoor venue for safe distancing and interaction.
We will also have a virtual summit experience happening inside of our exclusive Wonder Women Tech Online Community where we will host workshops, Mentor Magic™ sessions, speaker series, networking hangouts, virtual career fair, and more!
This multi-day hybrid event is designed to offer interactive experiences, thoughtful conversations, impactful solutions, empowering talks, and the opportunity to hear from some of the most inspirational speakers and thought leaders in STEAM (Science, Technology, Engineering, Arts, Math).
Entering its eighth year, Wonder Women Tech typically draws thousands of diverse people to attend presentations, coding classes, and career development workshops to spotlight women, diversity in tech, and the pioneers leading the way for technology innovation.
2019 was a groundbreaking year for Wonder Women Tech with the first-ever all deaf main stage panel, a Smart Cities Fest, and a multilingual panel. 2020 we launched our first-ever Virtual Summit. This year we are embracing the unprecedented COVID-19 landscape, as interactive experiences and inspiring speakers are now accessible for everyone, no matter where you are located, from students to professionals, including those with disabilities. Our Wonder Women Tech Hybrid National Conference offers:
Main Stage with over 150 Speakers
Virtual Stage with over 100 Speakers
Amplify Stage featuring BIPOC first-time speakers and fresh voices
Ignite Stage featuring pre-recorded talks from women in STEAM
Empower Talks aggregated from previous WWT Conference Speakers
Virtual Career Fair
Open space Career Fair and Expo
Outdoor sessions
Resume Review Lounge
Fireside Chats with industry professionals and thought leaders
Keynote Speeches
Masterclasses and workshops
Movie Screening with Q&A
Virtual Mentor Magic Sessions
Interview Bootcamp Sessions
Multi-generational discussions
College Student Hangout & High School Sessions
Virtual Art Gallery
Musical Performances
Ticket Scholarships
And more!
The Wonder Women Tech National Conference will bring you several days of experiences designed to innovate, inspire, and ignite you!
Hundreds of Activision Blizzard employees in Irvine and many more remotely walked off the job on Wednesday to protest a misogynistic workplace culture. They carried signs like "Send the Frat Boys Back to School" and "Every Voice Matters."
The move came after California filed a blistering lawsuit against Activision Blizzard last week that portrayed the company as having a pervasive "frat boy" culture where male workers and bosses torment women and executives don't deal seriously with the complaints. The company's initial reaction, it later admitted, was "tone deaf," but infuriated employees and organizers said it galvanized the workers.
"It's no longer about individual victims. The time for individual victims to be heard is in the lawsuit. The time for us to enact systemic change is here," said an Activision employee and one of the organizers, who requested anonymity for fear of retaliation.
The protests sparked a nerve among gamers who called for a day boycott of the company's titles, which include Call of Duty, World of Warcraft and Overwatch.
It comes as the largely white, male tech and gaming industry grapples with a lack of diversity. At Activision, the lawsuit found only 20% of the employees are female.
Activision Blizzard's CEO Bobby Kotick issued an apology ahead of the protest.
"We are taking swift action to be the compassionate, caring company you came to work for and to ensure a safe environment. There is no place anywhere at our company for discrimination, harassment, or unequal treatment of any kind."
It was too little, too late for the hundreds of employees who'd spent the weekend organizing the walkout and drafting an open letter calling for an end to forced arbitration, more pay transparency and worker participation in hiring, among other demands. Kotick's response didn't address those issues, organizers said ahead of the walkout.
Employees gathered in the shaded grass surrounding the gated Blizzard campus in Irvine, stocked with snacks and water in tubs filled with ice. Activision Blizzard was on damage control and has promised that employees who walked out will be paid.

Outside the front gate of Blizzard employees hung blue hearts with notes expressing solidarity and sharing their own experiences.
"A male coworker repeatedly 'checked to see if my clothes were see through.' Believe women!" one note said.
Organizers said they were pleased they had "convinced leadership to change the tone of their communications," but noted that their key concerns remain unaddressed.
"We want to work with leadership," said the same employee, who declined to be named. "Statements are a start but they are the start of a long conversation that has to be had."
Protesters, many wearing Blizzard t-shirts, sat on picnic blankets and lawn chairs and held posters bearing slogans including "Walking Out For A Better Blizzard." There were even a few pet dogs.
"This is a problem that permeates throughout the gaming industry," said another employee, who also requested anonymity. "We have an opportunity to serve as a form of ignition for this movement to soar."
Activision Blizzard's shares closed up on Wednesday.
Read organizers' demands below:
While the predominantly young, white Los Angeles tech scene has made strides to improve diversity, deep inequities remain.
Women earn 78 cents for every dollar made by a male tech worker. Black and Latinx investors are underrepresented at venture firms and the majority of venture investments goes toward white and Asian-owned businesses, according to PledgeLA's survey of Los Angeles tech companies and venture firms released Wednesday.
"Tech oftentimes likes to think of itself as a very equal, egalitarian space," said Jasmine Hill, a UCLA sociology professor who analyzed the data for PledgeLA. "But the data shows something different."
The third annual report shows some improvement in representation but persistent pay disparities and lack of inclusion among L.A.'s tech scene.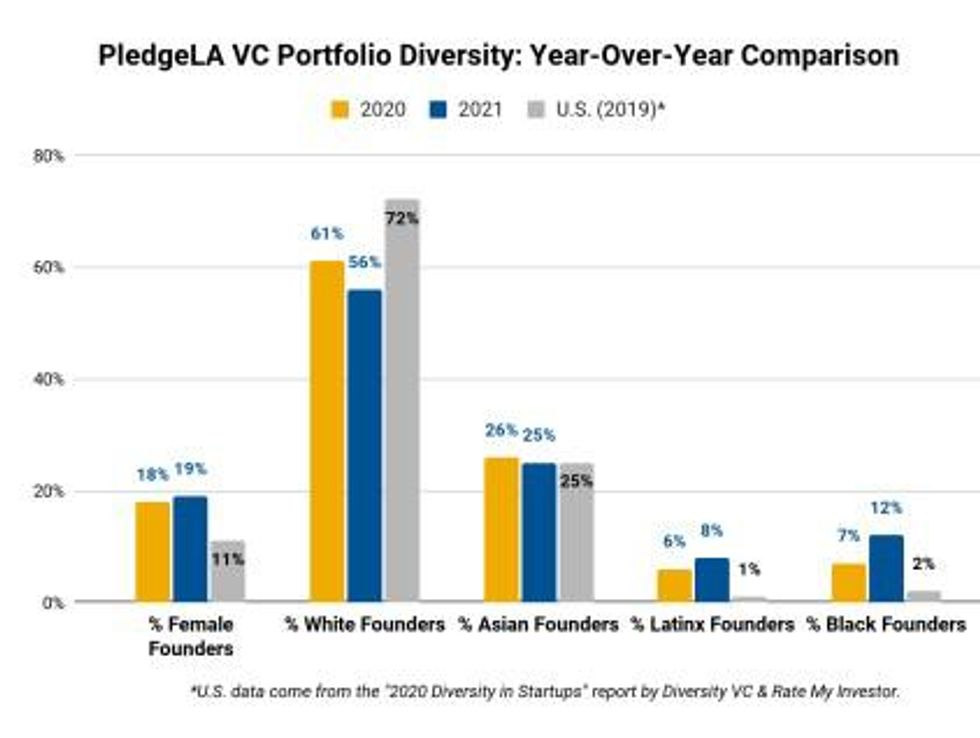 The findings are based on self-reported data from 173 companies that have signed onto PledgeLA's initiative, including Bird, sweetgreen and Dollar Shave Club.

The report found Black and Latinx workers make less money than their peers. On average, East Asians made $120,000, South Asians made $100,000, white workers made $90,000, while Black and Latinx workers made $75,000 and $60,000 on average, respectively — a disparity shared even at higher levels of experience.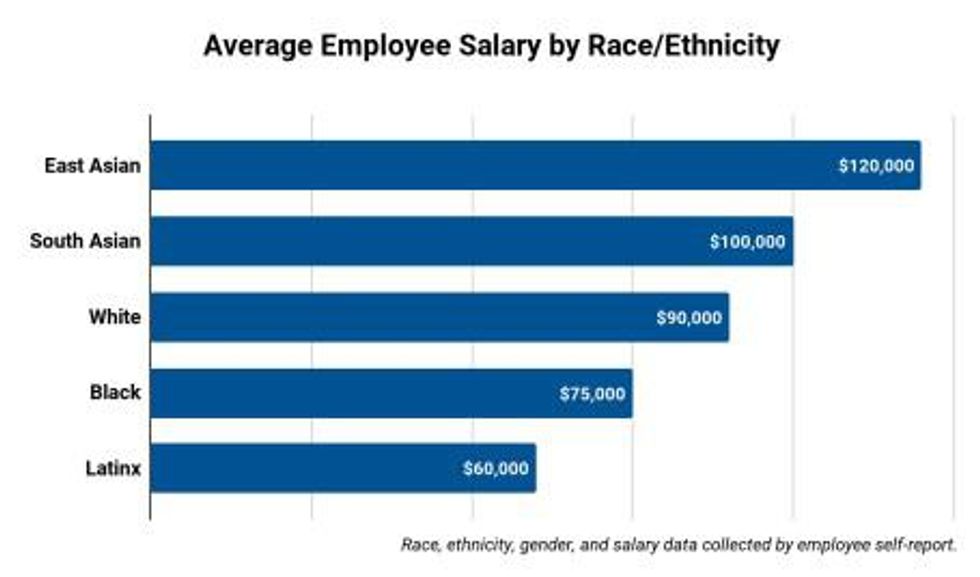 Employees who identify as LGBTQ+ and employees with disabilities responded that they "cover" a part of their identities at work, and said they "felt the need to avoid conversations about their identity at work."
"We're paid – and I'm saying 'we're' because I'm Black – significantly less than our white, Asian counterparts," said Qiana Patterson, the chair of PledgeLA. "And I think we all know that that's just not because Black and Latinx people don't have the degrees, or the experience, but that there's just bias embedded in our hiring practices."

Hill said the report is not representative of the entire L.A. tech scene because it only includes data from the participating PledgeLA companies. PledgeLA was able to get a higher participation rate from PledgeLA companies for its survey this year – from around 65% to around 81% – which allowed the nonprofit to break down earning data by race.
Other findings of the report include:
Workers reported improvements in company culture and transparency in hiring. Workers at mid and large-sized companies also reported improvements.
Though PledgeLA VCs predominantly funded white and Asian-owned businesses, they are more likely to fund female, Latinx and Black-owned businesses compared to the U.S. average.
Investments to businesses with Black founders increased by 71% from 2020.
Investors at PledgeLA VCs are predominantly white, though VCs reported increases in investors who identify as LGBTQ+ and investors with disabilities.
Women earned an average of $20,000 less than men regardless of role or experience, and women who have over 20 years of experience earned $90,000 less than men with a similar level of experience.
Nearly a third of workers reported feeling "neutral to very uncomfortable" when reporting workplace issues and nearly half said their coworkers were the source of improper conduct at work.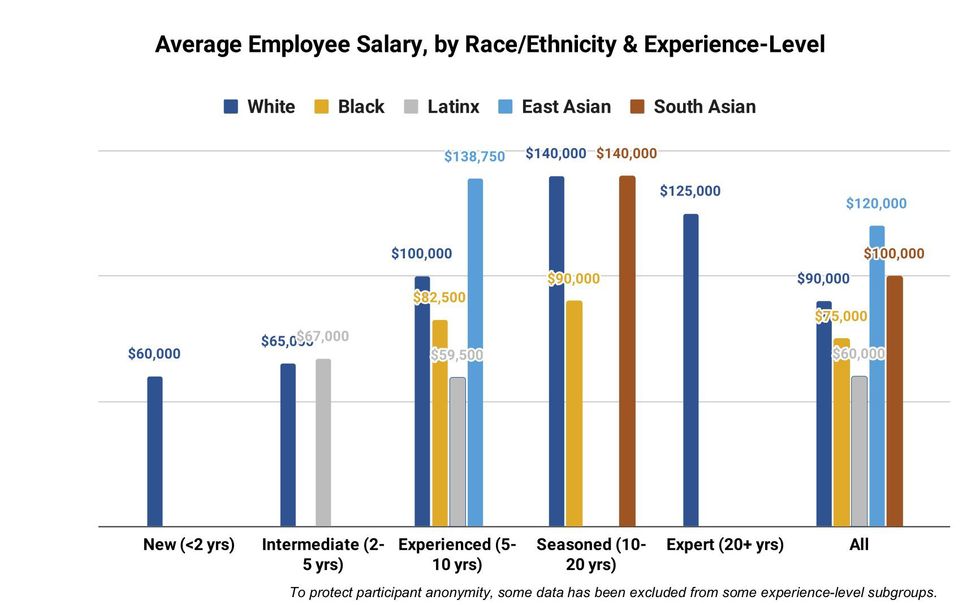 PledgeLA is hoping to carry the momentum built after the nation experienced a racial reckoning following the death of George Floyd in May 2020.
Calvin Selth, a program lead at Annenberg Tech, said he was encouraged to see lots of VCs and companies continue to support underrepresented groups after the summer of 2020 – shown by the increase in VC funding to Black founders – but emphasized the need for improvement.
"We're tracking this every year because we want to know that it's not a blip," Selth said. "I'm encouraged by more open dialogue about this, but I think there needs to be continued focus and more effort from VCs to track this kind of data themselves."
In addition collecting the data, PledgeLA hosts the PledgeLA Founders Fund, which gives $25,000 grants to Black and Latinx-owned businesses, and a VC internship program aimed at women, people of color and underrepresented groups.
PledgeLA also plans to raise $1 million in the next two years for the PledgeLA Founders Fund and is aiming to create a task force to help companies address racial and gender pay equity.
"The data itself is only as powerful as the action that we take," Patterson said. "And I hope that, in reading this analysis and the data around it, It spurs more people to sign the pledge, more people to be a part of this ecosystem in a meaningful and an intentional way."
Editor's note: dot.LA is a participant in PledgeLA and co-founder Spencer Rascoff sits on the board.
From Your Site Articles
Related Articles Around the Web