mental health
It's been a prolific run for Headspace since closing a $93 million round last year. The Santa Monica-based startup inked a series of corporate partnerships and even launched a Netflix special called Headspace Guide to Meditation.
In its latest move to push out the meditation app—and eventually land FDA approval—Headspace has brought on an ex-Hulu executive to lead marketing.
Val Kaplan Zapata, who begins as its chief marketing officer next month, helped double Hulu's subscriber base in under three years, Headspace said in a statement announcing her new role. She's also worked at Instagram and an e-commerce mattress company called Helix Sleep.
In an emailed statement, Zapata said the company's recent partnerships with brands like Sesame Street "bring mindfulness and meditation to consumers in new and creative ways."
She said Headspace sits at the intersection of a few market trends—the consumer's demand for digital content and a new appreciation for mental health and mindfulness.
"I see so much opportunity to continue to meet consumers where they are and leverage useful, relevant content to build even deeper connections and daily habits with Headspace members," she added.
Among the company's pushes for this year will be the release of its second Netflix series, Headspace Guide to Sleep, and an interactive experience.

Subscriptions to venture-backed meditation apps spiked during the pandemic as the world fell into a state of collective anxiety. The company offered free subscription plans to K-12 educators and healthcare professionals and signed deals with Starbucks to offer customers free trials and with Google to produce a video series aimed at young children. Among its other brand partners are Amazon, Apple, Nike and the NBA.
The company has 70 million users in 190 countries, spokesperson Steven Bram said, and downloads were up 20 percent towards the end of 2020 since mid-March.
"It's a strange feeling for the team. We're happy that we're able to reach more people, but we're also aware that that's at the cost of a really difficult year," co-founder Andy Puddicombe told Vulture in January.
The company has also expanded their work with companies looking to offer perks to employees.
The Netflix series are 20-minute sessions that help viewers work through their anxieties. Among the episodes are: How to let go; How to fall in love with life; How to deal with pain.
"Our lives are filled with distraction, filled with stimulation," the narrator begins the first episode of the eight-part series. "But imagine if there was a way to slow things down."
Editor's note: The story has been updated with Zapata's comments.
By Tania Tbul's own admission, she's not "a drug person." But the memories of the sexual and physical abuse she endured starting at 12 stayed with her through a marriage, the birth of four children, a divorce and a handful of suicide attempts along the way.
And so, at the age of 45, she walked into Ketamine Clinics Los Angeles in Culver City.
"I was actually pulled out of my body and I was hugging my 12-year-old self and forgiving myself... I was actually out of my body," Tbul said about the first treatment. "After the first treatment, I felt like that gaping wound was starting to heal up. It was like closing up and it wasn't sore anymore."
The growing body of evidence that ketamine — once known as club drug "special k" — can be used to treat mental health disorders along with its increasing acceptance has caused a spring of clinics in Los Angeles ready to cash in on psychedelic mental health treatments. Ketamine Clinics Los Angeles was the first to open its doors to L.A. in 2014, and now Toronto-based psychedelic company Field Trip is establishing a presence in the city, utilizing ketamine as a vehicle for therapy.
"Cognitive behavioral therapy works, it just tends to take a long time to break down the defenses, get past the ego and get to really what's happening," said Field Trip co-founder Ronan Levy. "Psychedelic therapy just accelerates the process of breaking down those walls so you can start to do the work and the processing."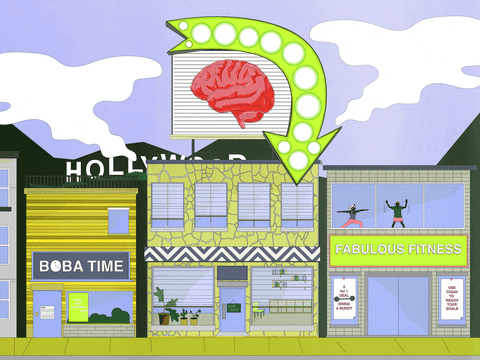 History of Ketamine
Developed in the wake of the Vietnam War, ketamine replaced phencyclidine (better known as PCP) as an anesthetic before its antidepressant properties were well-studied.
This allowed physicians like anesthesiologist Steven Mandel, who co-founded Ketamine Clinics Los Angeles in 2014, to use it for off-label purposes to treat depression and other mental health disorders.
At the same time, people were using it to get high. The Drug Enforcement Agency lists it as a Schedule 3 drug, along with low doses of codeine and testosterone.
In 2019, the FDA approved a version of ketamine called esketamine for mental health treatment. The drug is an antidepressant nasal spray. The move was a landmark for psychiatrists who were operating with an arsenal of oral drugs that stemmed from the 1950s.
"For the last 30 years, we've basically been using old old drugs," said David Olson, a professor at University of California, Davis. "And ketamine was really the first new exciting drug that worked differently than a lot of these previous drugs and that really opened up a whole bunch of new horizons"
Mandel has a brisk clientele. His Westchester clinic has administered more than 12,500 treatments, which consist of six ketamine intravenous treatments over a two- to three-week period. HIs patients run the gamut, between ages 18 and 80. Most come in for anxiety, post traumatic stress disorder and depression. But the treatments are also used to battle issues stemming from postpartum depression and suicidal ideation.
"Ketamine works for disorders, PTSD, and especially for suicidality — works in hours to a few days," he said. "This is the quickest, the safest and the most effective of all the agents that address major depression, bipolar depression and suicidality."
But the treatment has critics. Some argue the FDA was too eager to embrace the esketamine antidepressant, saying there wasn't enough evidence in the trials that the drug was better than a placebo. And, of course ketamine still has addictive properties.
Blue Cross Blue Shield Massachusetts is the only insurance company that covers intravenous ketamine injections. Treatments can cost thousands of dollars. Other insurance providers normally don't cover the procedure because it is not FDA approved, making it accessible only to those who can afford it.
Tbul came across ketamine while researching alternative treatments to the cocktail of medications she was put on as a child. She listened to a podcast interview in which Lamar Odom talked about using ketamine to cope with his struggles with mental health. Her daughter pointed out its reputation as a club drug, but after taking it, Tbul vehemently disagreed.
"It's completely wrong. Completely wrong," Tbul said. "It's somebody who's suffering from something they cannot erase from their mind."
Tbul's first treatment at Ketamine Clinics Los Angeles, in which she said she was able to console her teenage self, allowed her to forgive herself for the emotions that had weighed her down for years.
"After the treatment, it's like an acceptance. I'm very at peace with my own body," Tbul said.
The experience is common. Often patients say the drug allows them to confront traumatic situations from a distance, and look at situations with more objectivity and empathy.
New Drug Horizons
There are more than two hundred ketamine clinics scattered across the U.S., but Santa Monica caught the eye of Field Trip, which opened a clinic in September with the goal of collecting data from ketamine-based therapy sessions and studying the effects of psychedelic drugs, while also developing and testing its own psilocybin-based treatments.
"Because we're going to have access to so much data about what makes a difference in these therapies, we can actually take that data and make sure that when we pair the therapy with our own products, we're going to get to the best outcomes," co-founder Levy said.
The Canadian company — created in 2019 by former cannabis startup founders — is best known for its research and development into psychedelic drugs. The company rolled out an app to enhance the psychedelic experience and went public in October on Canada's stock exchange.
The clinic is outfitted with mid-century furniture, fluffed-up cushions and shaggy rugs, almost like an Architectural Digest spread came to life. In-person ketamine injections and subsequent therapy sessions at its Santa Monica center offer depression, anxiety and PTSD-related treatments for upwards of $5,000.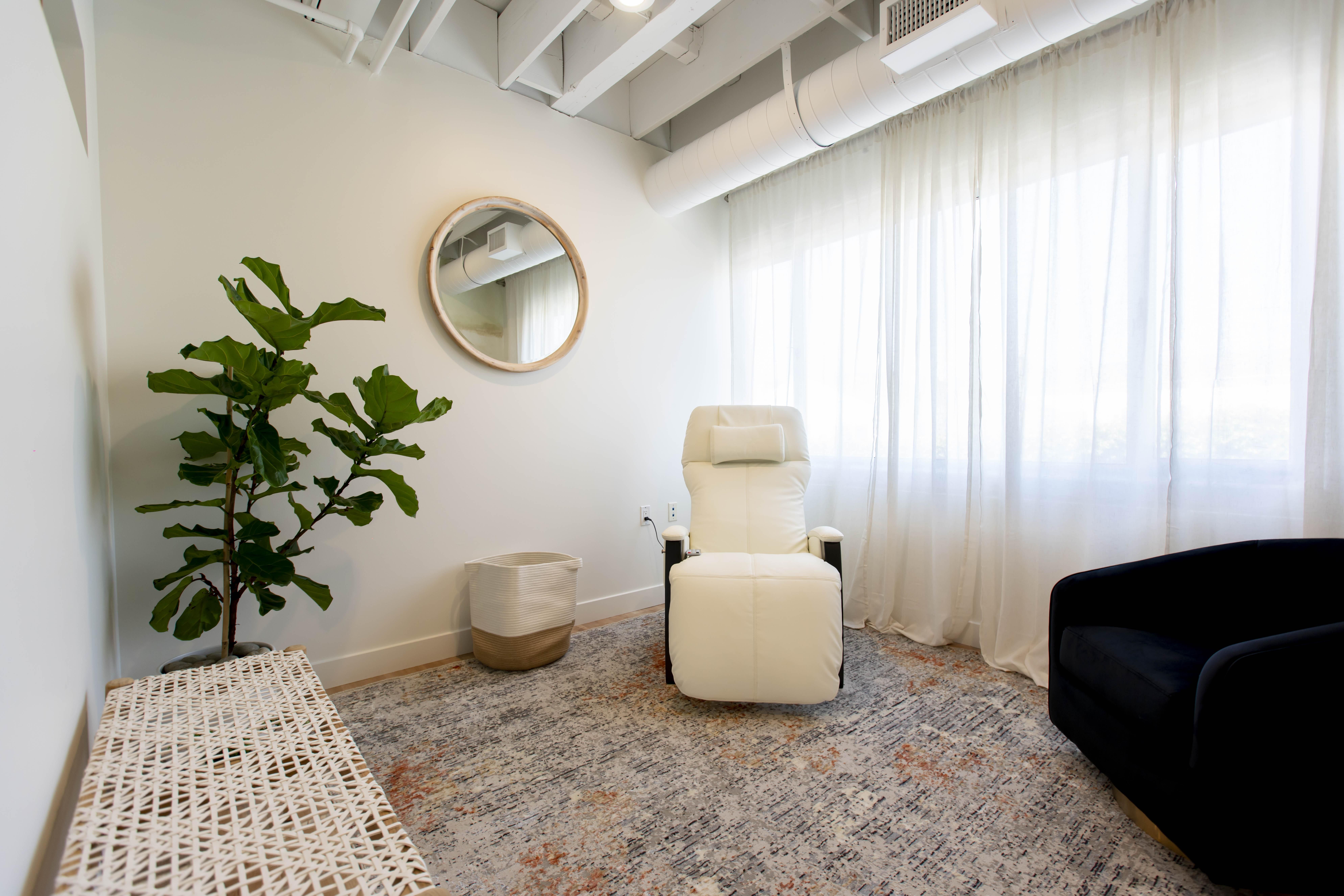 Ketamine Administration Room
It's a hefty price for depression treatment (insurance doesn't cover it — the ketamine injection at Field Trip is administered through the muscle, not the vein). The price covers six sessions, each involving a ketamine shot that lasts 45 minutes to an hour followed by traditional psychotherapy administered by trained therapists. The process, Levy said, is meant to make therapy sessions more productive and allow patients to get more out of each session.
"The psychiatrist's arsenal — what they use to treat these illnesses — a lot of these drugs were identified kind of by accident many, many years ago and haven't really identified anything new," Olson said.
The world looks much different now.
Alternative treatments to health problems are becoming increasingly popular, and legal bodies are working to invest in their research. Oregon became the first state to legalize psychedelic mushrooms to treat depression — though the rules and restrictions around it are still being hammered out — and the FDA is conducting clinical trials on the efficacy of psilocybin as a mental health treatment. Field Trip itself is researching and developing psilocybin-based treatments.
Meanwhile, innovation around ketamine has fallen by the wayside, in part due to the fact the patent expired in 2002. Any new drugs that could emerge from it, through financially-intensive research and development and clinical trials, would not be as profitable as new patented compounds.
"They're super, super expensive," Olson said. "Companies want to ensure they can recoup those costs associated with the development."
Even as ketamine clinics continue to pop up their development, experts said, is likely to be limited. But, the use of these once recreational drugs isn't likely to die down for people like Tbul who are willing to shell thousands of dollars every year for treatment.
"I wish it was more accessible to people who are really suffering," she said. "Because not everybody can afford how much it costs per treatment."
Lead art by Carolyn Figel.
The focus on mental health and wellness has become increasingly more prevalent in recent years. But not only can it be extremely difficult to find the right resources as a patient and a provider, there still exists stigma around the act of seeking help. Mental wellness network Frame seeks to fix that, and not a moment too soon during the pandemic.
In this installment of dot.LA Dives In, we talk with Kendall Bird and Sage Grazer, the co-founders of Frame, a mental wellness network that seeks to help people find a form of therapy and a therapist.
When Kendall moved to New York City after college, she found herself struggling to adjust to her new life. Identifying a therapist to help her work through those issues was not an easy task, but when she found the right person, she realized how powerful that relationship was.
When she returned to her hometown of Los Angeles, she found herself again struggling to find a therapist. She reached out to her childhood friend Sage Grazer, a therapist herself. Sage was grappling with her own set of challenges trying to run her own practice without any business training.
"I was sharing with Kendall how difficult, as a new therapist, it is to get clients, and she was sharing with me how hard it was for her to find a new therapist. And this was something that me and my colleagues were all experiencing, so Kendall proposed that we build our own platform," says Grazer.
Having started a company before, Bird emphasizes how critical it was to find the right founder fit.
"It was important for me to partner with someone that had a very different perspective, and was also an expert in the field in her own sense," says Bird. "We thought about all the other services that were out there and identified what we felt like was missing. And so we built this unique experience which is now Frame."
What started as an app to connect users with therapists has evolved into a platform to match potential clients with therapists, a "business in a box" to help therapists grow their practices, and as 30-45 minute digital discussions run by licensed therapists that introduce potential patients to the basics of therapy and help dispel the stigma around mental health and wellness.
"What we're trying to do with the discussions is really show you concrete examples of how therapy can be applied in different scenarios," says Bird. "The more we tell those stories, the more people will hear them, and understand how (therapy) is relevant in their specific life and situation."
As remote care becomes more common during the pandemic, Frame has leveraged its toolbox to help clients adapt by making it easier to connect virtually. Not only are they providing training for therapists that have been forced to run their practices remote, but the digital discussions have provided a path for the founders to give back to the community.
"Our digital discussions have been a real gift as a part of Frame to be able to give during this time when people are in lockdown," says Grazer. "Maybe they can't get to a therapist, maybe they can't afford a therapist because they lost their job. So we are able to offer these free workshops and give people actionable tools that they can start putting into play immediately."
While you might think launching a startup during a pandemic would be tough, the co-founders credit Los Angeles as setting them up for success. With how spread out the city is, Frame was already built to be Telehealth-oriented before COVID hit.
"Starting in L.A. really set us up for success when this whole pandemic happened, because we were already built to sustain Telehealth and people being able to work remote," says Bird.
Watch the full interview to learn more - in this conversation, we dive deep into Frame's history, talk about their experiences during the pandemic, and discuss what companies can do to create a more inclusive environment when it comes to mental wellness.
dot.LA Dives In: Frame Co-Founders Discuss How They Built the Mental Wellness Network www.youtube.com
---

Kelly O'Grady runs video and serves as the chief host & correspondent for dot.LA. Find her on Instagram @kfogrady and email her at kelly@dot.LA.
From Your Site Articles
Related Articles Around the Web