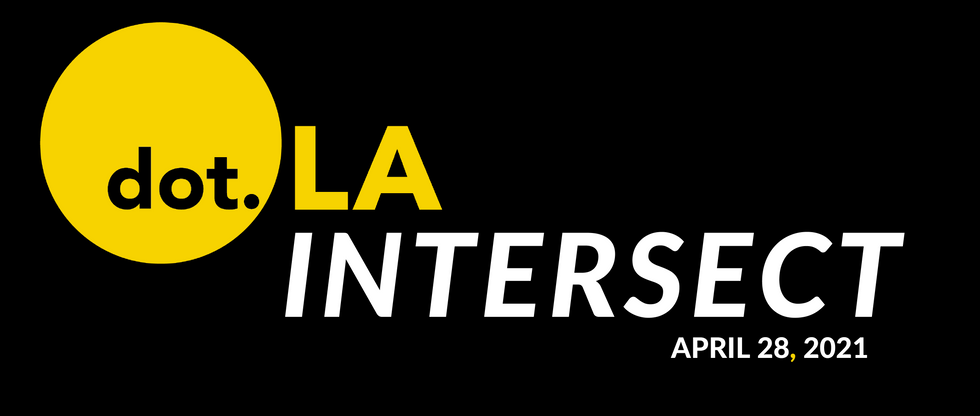 From NFTs to augmented reality and streaming services, a new frontier reshaping entertainment and technology has exploded in Los Angeles. It's ripe with media talent and fueled by venture capital.

Dot.LA will explore that intersection of media and tech during our inaugural Intersect summit. We'll be talking to Los Angeles executives, entrepreneurs and investors at the forefront about trends moving the industry.
The event kicks off Wednesday with a keynote address from the CEO of Kevin Hart's Laugh Out Loud Productions and concludes with a pitch competition featuring three SoCal startups. Join the live event by applying to attend at the Intersect site. Follow us here for coverage.
The Live Events Industry Braces For a New Normal, and a 'Roaring' Return to In-Person
As more people get vaccinated, venues and stadiums are opening up, leaving a looming question: what will events look like in the future?
Leaders in the entertainment and event space said events in the near term will be hybrid, with organizers ensuring attendees feel and are safe. The industry is hoping that those watching at home will see others experiencing the in-person event, and become more comfortable with the idea of returning in person.
While some companies have found success in remote events, panelists said, it isn't equivalent to standing shoulder-to-shoulder with friends and strangers on the concert hall floor as they're experiencing their favorite artists.

"I'm looking forward for live to come back," said Robert Ellin, founder, CEO and chairman of LiveXLive.
LiveXLive will be testing the waters for its return to live events in June with an in-person matchup in Miami called "Social Gloves," which will pit YouTubers against TikTokers in the boxing ring. It will also be livestreamed.
VidCon will return as a live event in October in Anaheim. It's also selling digital tickets for remote access.
"I know they're going to enjoy the experience so much they're going to want to go to a VidCon somewhere else around the world when it comes near them in '22 or '23," Jim Louderback, GM and senior vice president of VidCon at Viacom, said of at-home viewers.
Ellin said he feels like we are moving into the Roaring 20s based on his experience of the excitement in Miami.
"We're all in the digital space right now," he said. "No matter what we do, the live experience is nothing like it. You're actually interacting with people and so there's going to be audiences."
In Los Angeles, SoFi stadium will host Vaxx Live on May 8, a charity concert featuring Selena Gomez. Organizers said it will host thousands of fully vaccinated frontline health care and essential workers.
Even as things return, more or less, to normal, industry insiders say the future live events will use more technology than it once did, including touchless purchasing at the ticket booth and concession stand, as well as more virtual and augmented reality experiences.
Louderback said at VidCon they're thinking of ways to incorporate those technologies, maybe a scavenger hunt or secret party through AR.
"I think there's really creative unique ways to integrate them," he said. "I think we all have to be thinking about those and those special ways to make it more interesting," he said.
Ellin said Social Gloves will feature NFTs in the form of a digital card, but also a physical card.
"As you can touch it and feel it, you're going to want to really have a responsibility of protecting those assets long term," he said.
When it comes to touchless technology at venues or processes like mobile ordering and individual packaging, Wroan said it might seem cumbersome and costly upfront, but it will put more people in seats.
"I think, once they're up and running, we're actually going to be more efficient — probably in the long run, better," she said. "Part of it, too, is just people feeling confident and safe to get off the couch and come experience a live event."
Snap Inc's AR Play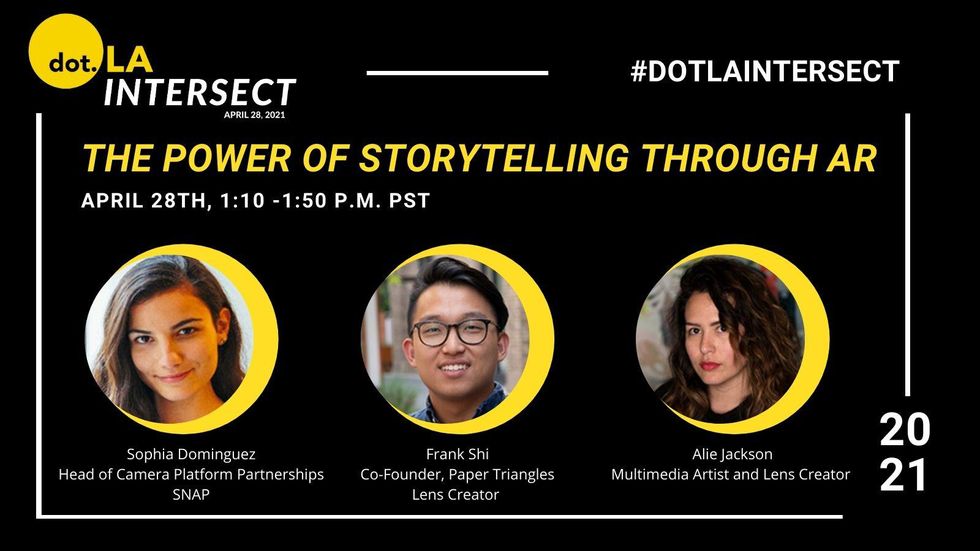 Snap Inc. is placing big bets on AR technology.
Last year, it announced a $3.5 million fund for augmented reality (AR) creators building their own lenses for the app.
---
The fund will help the Santa Monica-based company keep products fresh for its 280 million users and potentially reel in big revenue for developers and artists like Frank Shi, who co-founded a boutique AR studio called Paper Triangles.
But perhaps most importantly, it feeds Snap's advertising deals as brands look for new ways to sell products.
Shi remembers the first time he showed Crocs how to use Snap's AR try-on feature, which lets users step into shoes and clothes virtually.
"That experience to us was magical," Shi said. "I think when it comes to brands, they're a little hesitant at first, but once they see the magic...how easy it is to use AR, their eyes kind of twinkle."
As advertising remains a key component of Snap's business model, AR represents a natural avenue for companies scouting new customers. Fashion-oriented AR is a promising market given how shopping habits have moved online since the pandemic. Last month, Snap acquired FitAnalytics to help shoppers find the right clothing sizes.
"Before, it was a question of who's using AR," said Sophia Dominguez, who heads camera platform partnerships for Snap. "Brands have seen the value."
During its first quarter Q1 earnings call last week, Snap focused on two of its software development kits — Camera Kit and Lens Studio — and its community of "lens creators" like Shi who get early access to AR tools, training and support.
"Those who want to build AR on Snap," Dominquez said, "we hear you and we're looking for more ways to create streamlined sources of monetization."
How SportsTech is Remaking the Game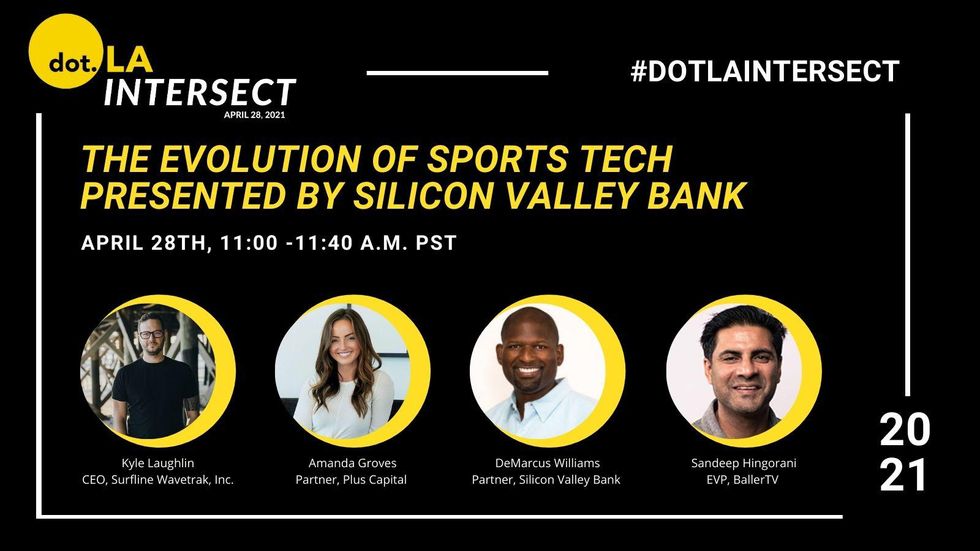 Athletes are moving from the court or the playing field into boardrooms. Increasingly they are shunning traditional endorsements for a stake in startups and other companies. It comes amid rapid-fire changes in sports tech and is altering the landscape for both investors and founders.
---
"What makes [athletes] really, really interesting partners is not only their ability to command an audience with their social following or their conversations on the court and in interviews and whatnot, but also their ability to support business development," said Amanda Groves, a partner at Plus Capital. The Marina del Rey-based venture advisory firm helps celebrities across entertainment and sports facilitate investments and equity-based partnerships.
Groves said athletes are particularly good storytellers and team players who are passionate about their underlying investments and can tell a complicated story in a way that's approachable and interesting for the consumer.
"It's not just a service day to go do this photoshoot to support a product line. It's like, 'this is my baby and I want to help grow it and so I'm going to give it to all my friends and I'm going to to talk about it every chance I get'," she said.
DeMarcus Williams, a partner at Silicon Valley Bank, which supports early stage entrepreneurs and VC firms, said athletes are cultural influencers, using NBA legend Michael Jordan as an example.
"I would say for startups that are pursuing athletes, it's really important that you really sit down and understand what they're passionate about and appeal to that passion point," Williams said.
Athletes' journeys through training from a young age to achieving success at a professional level is similar to the growth startups face, Groves said.
These changes are unfolding as the technology people use to interact with sports is changing.
For instance, the panelists think bite-sized highlight clips will be key to delivering sports that air on traditional regional networks.
Williams said he thinks these networks will still be around for the next 20 to 30 years, but he used the example of his 8-year-old son to highlight how younger audiences want to engage with sports.
"Can he sit down and watch a game for its entirety for three hours? No, for an hour, no, for 30 minutes, maybe, 15, maybe," he said. "A lot of these sports leaders and sports leagues, they're going to have to meet their audience where they are."
Kyle Laughlin, CEO of Surfline Wavetrak, Inc., a Huntington Beach-based company that specializes in surf forecasting and surf reports, said the World Surf League has demonstrated how to use digital platforms.
"I think there's a real range from a league perspective, from the little niche league to the mass, that is embracing technology to engage ether fans in new and interesting ways from both an athlete and a technology perspective," he said.
But it's not only in professional sports that tech is altering viewership. Pasadena-based BallerTV live streams and shows replays of youth basketball and volleyball, mainly targeting the audience of parents who can't make it to their kid's games. Since being founded in 2016, it has broadcasted more than 500,000 games, typically showing 10,000 games each weekend.
It is looking to expand into different vertices with the launch of youth soccer this summer.
"In this industry, we like to say that we're sort of first to market or category definers with respect to video at scale in this market," said Sandeep Hingorani, EVP, Founding Team at BallerTV.
PlayVS CEO Delane Parnell Has Ambitions Beyond HS, College Esports
Founder and CEO of PlayVS Delane Parnell was living in Detroit and developing the idea for his company, when he had a chance meeting at South by Southwest with Peter Pham, co-founder of Santa Monica venture fund Science Inc.
Darnell recounted that Pham encouraged him to come to L.A., saying 'You can be a millionaire in Detroit or a billionaire in L.A., but don't waste my time.'
The startup has been on a remarkable ascendency since.
PlayVS has raised $107 million since it entered the esports marketplace for high school teams in 2018 and now 43% of all high schools in the country have an esports team, playing Fortnite, SMITE, League of Legends and other games using the PlayVS platform.
It expanded into the college market last year and now has 30% of colleges in the country on the platform.
"We wanted to build an environment to actually reengage and reactivate that community," he said.
While there are only 1,000 professional gamers in North America, there are 2.8 billion gamers globally, many of whom don't have aspirations to become professional. Parnell wanted to tap into that market starting with high schoolers, who sometimes are prevented from playing because they are under 18.
He said the beauty of amateur esports is "there's more gamers who care about actionality and don't necessarily care or have aspirations of going pro, and so they just want to play their favorite game at the time with their friends and teammates."
Eventually he'd like to expand, building PlayVS digital playground beyond school sports.
"I still want to build the digital playground in which every gamer can compete whether they're high school-aged or college-aged or in their 40s in any sort of context of competition," he said.
But, Parnell said, the company relies on partnerships with game publishers, who drive the content.
"We don't just add any game to our platform," he said. "We're really thoughtful in which titles we decide to partner with and integrate with."
NFTs Are 'No Get Quick Rich Scheme'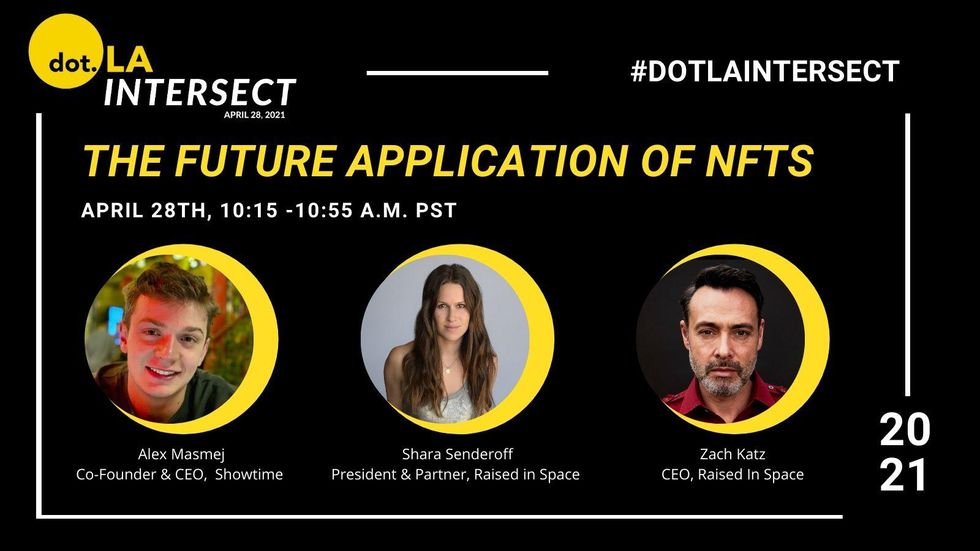 The underpinning of the hottest new trend, NFTs or "non-fungible tokens," is blockchain and it's here to stay.
At least in the eyes of Zach Katz, CEO of the music-tech investment firm Raised in Space.
"Blockchain is finally finding its footing in supporting something that fans and artists have wanted to do for a long time," Katz said.
As the pandemic reshaped how businesses and creatives made money, NFTs have boomed as a new market for digital commerce. Artists and musicians can now build new and profitable relationships with fans — ones that do away with "traditional financing" they once relied upon, he said.
NFT sales have spiked in the first three months of the year. And artists and creators are looking at new ways to use the tokens to provide fans exclusive, paid experiences.
"Graphic artists and 3D designers now have a way to monetize their creativity and monetize the art that had been previously really, really hard to sell," added Shara Senderoff, president and partner at Raised in Space.
But in the world of NFTs, "there's no get quick rich scheme," Senderoff said. "This is about being able to show your loyalty and follow the people you admire and respect."
And the environmental consequences are looming.
"When you're putting in that level of energy and using that level of computing power at scale, it's absolutely doing something," Senderoff said about the climate change risks of blockchain technology. "Entrepreneurs need to be accountable and responsible for what the products they create are doing."
​'It's About Reading The Room': How Kevin Hart's LOL Connects with Audiences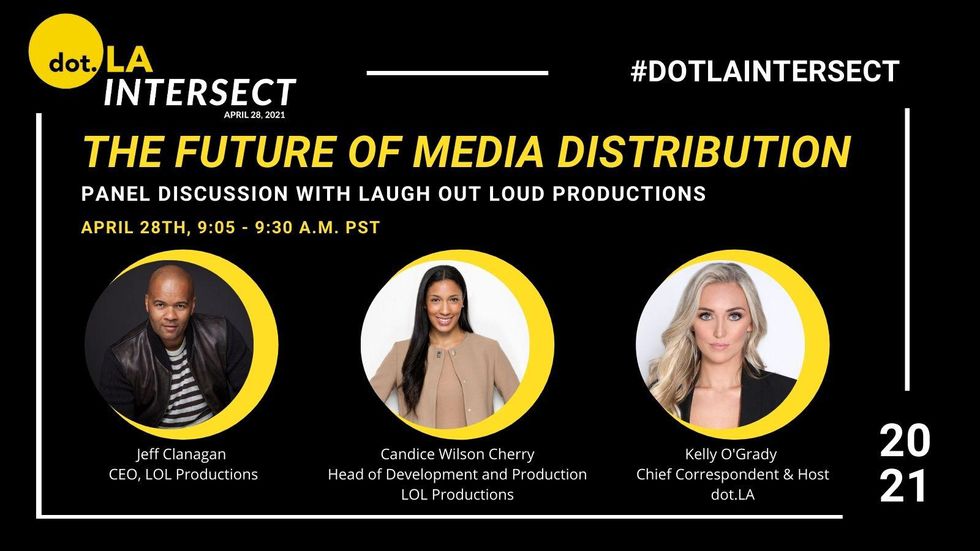 Created by comic Kevin Hart, the four-year-old startup Laugh Out Loud, or LOL, is quickly becoming a force, carving out its own space for comedy across multiple platforms.
The company, which originally began as a joint venture between Hart and Lionsgate, now has a deal with NBCUniversal and estimates it reaches over 100 million people on streaming and audio platforms with original scripted and unscripted series, stand-up specials, live broadcasts and other events.
Last year, it inked a deal with Snapchat for "Coach Kev," a show in which the comedian doles out wisdom and advice. The move pushed LOL's content further across media channels having already been on Roku Channel, ViacomCBS's PlutoTV, SiriusXM and YouTube. It has also given an expansive platform to comedians of color.
"An entertainment media company, you have to be involved with tech," said CEO Jeff Clanagan. "You have to embrace tech because the worldwide consumer accesses content through technology."
That's become key as demographic shifts have been playing out in media. Gen Z, for instance, would rather scroll through social media, play video games and stream music than watch TV or catch a film.
"Comedy is about keeping your finger on the pulse," said Candice Wilson Cherry, the company's head of development and production. "It's about reading the room, reading the cultures, seeing what's changing and it's changing so quickly."
Sam Blake
NFTs, or non-fungible tokens, have exploded in popularity in 2021, but what's hype, and what's here to stay? That's the main question dot.LA will be exploring with a panel of experts during one session of our inaugural Intersect conference this Wednesday.
NFTs have helped create scarcity among digital assets. Consider a photo, GIF, video or any other type of online item: previously these could be endlessly copied, with limited ability to reliably distinguish the copies from the original. Using blockchain, an NFT injects scarcity by serving as a unique, traceable certificate of ownership of that digital asset.