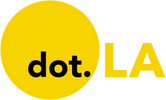 Get in the KNOW  
  on LA Startups & Tech  
X
Meet the dot.LA 2021 Summit Lineup
Fairmont Miramar, 101 Wilshire Blvd, Santa Monica, 90401,
October 28, 2021 - 5:00 pm
October 29, 2021 - 5:00 pm
$200.00
We are thrilled to announce the dot.LA Summit!

Don't miss the go-to Summit for L.A.'s booming startup community, held October 28th – 29th at the Fairmont Miramar hotel. Guests will include early-to-late stage VCs, as well as growth-stage and angel investors. The Summit will encompass cutting-edge programming, fast pitch competitions, an awards show, networking, social events and more!
---
The dot.LA Summit will feature a curated selection of disruptive and innovative L.A.-based startups, keynote speakers and panelists made up of founders, CEOs and C-level executives working in tech, media, entertainment and healthcare.

The conference will draw guests throughout our ecosystem including early-to-late stage venture capitalists, as well as growth-stage, and angel investors. The Summit will be an in-person event full of exciting keynote programming, interactive panels, a pitch competition, an awards show and relationship-building.
Speakers Include:
Alex Israel, Co-Founder & CEO, Metropolis
Alison LaSov, Co-Founder & CEO, Advekit
Andrew Klungness, Partner, Fenwick
Audra Everett Gold, Co-Founder & CEO, Vurbl Media
Calvin Selth, Program Lead, AnnenbergTech
Dana Settle, Founding Partner, Greycroft
Dr. Mike Dow, Psychotherapist, Field Trip Health
Derek Smith, Founder, Plug in South LA
Dulma Altan, Founder & CEO, Makelane
Elisabeth Tuttass, Head of Community, Grid110
Florencia Bollini, Founder & CEO, NANA
Jessica Nouhavandi, Co-Founder, Co-CEO & Lead Pharmacist, Honeybee Health
Josh Yguado, Co-Founder & President, Jam City
Kara Nortman, Partner, Upfront Ventures
Kara Weber, President of Brud
Kavodel Ohiomba, CTO, BallerTV
Keerthi Vedantam, Bioscience Reporter, dot.LA
Krista Berlincourt, Co-Founder & CEO, Kenshō
Leila Lee, Community Business Manager, Mayor's Office of Economic Development
Michelle Munson, Co-Founder & CEO, Eluvio
Miki Reynolds, Founder & CEO, Grid110
Nicole de Ayora, Chief Content Officer, Brud
Rachel Horning, CEO, Startup Coil
Ricardo Vasquez, Economic Policy Specialist, Mayor's Office of Economic Development
Robyn Ward, Founder & CEO, FounderForward
Sam Adams, CEO, dot.LA
Samson Amore, Reporter, dot.LA
Scott Greenberg, CEO, Blockchain Creative Labs
Shan Aggarwal, Head of Corporate Developments & Ventures, Coinbase
Spencer Rascoff, Co-Founder & Chairman, dot.LA and Pacaso
Trevor McFedries, Co- Founder & CEO of Brud and the creator of virtual pop star Lil Miquela
Tricia Biggio, CEO, Invisible Universe
We look forward to welcoming you to a fun and informative, not-to-be-missed event!Stay tuned for more speaker announcements and the latest dot.LA Summit news!

Save the Date: dot.LA's 2021 Summit!
More Similar Events:
1212 Santa Monica, 1212 3rd Street Promenade, Santa Monica, 90401
June 07, 2023 - 6:00 pm
June 07, 2023 - 10:00 pm
$125
Closing the gap. Expanding capital opportunities in LA.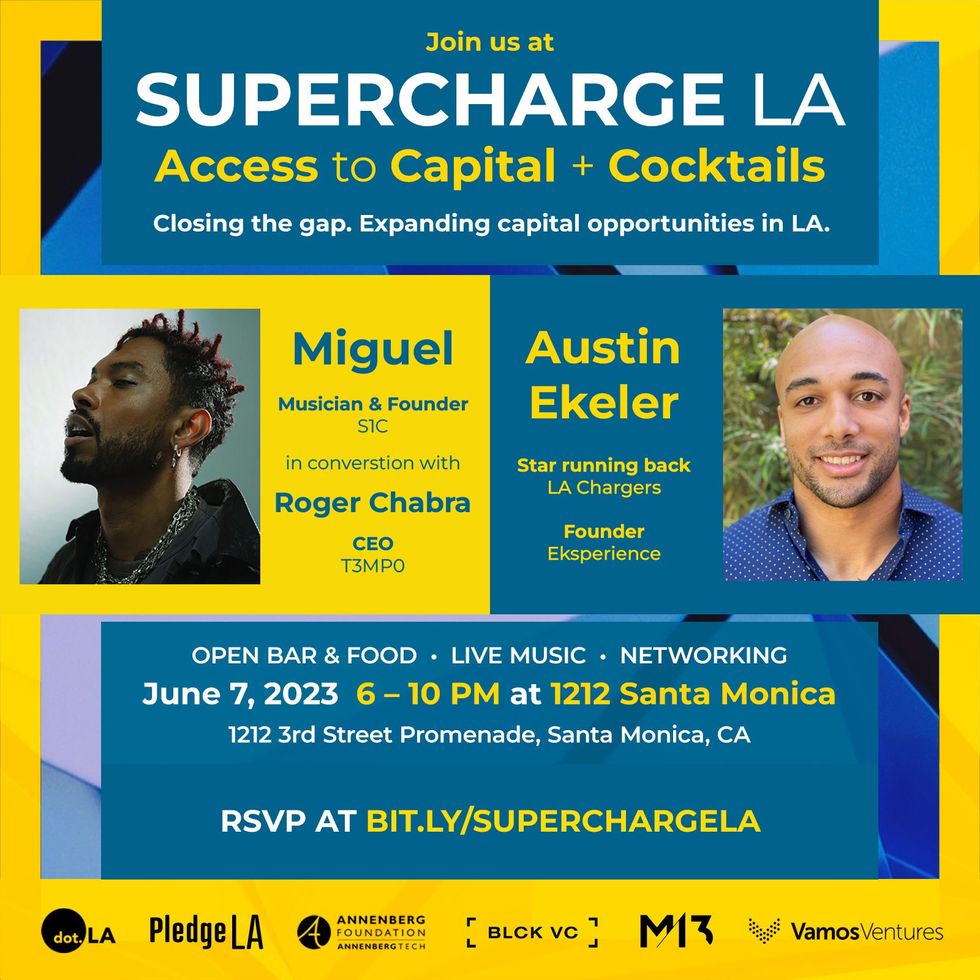 We're thrilled to announce that musician and founder of S1C Miguel will be joining us to discuss web3 with Roger Chabra, CEO of T3MP0! Additionally joining will be LA Chargers running back Austin Ekeler, and more leaders from LA venture capital who will focus on expanding capital opportunities for all founders in LA. Headlining SUPERCHARGE LA's entertainment, renowned Artist, DJ, Producer, and Photographer D-Nice will DJ a set as a tribute to the evening's festivities!

This event is a part of #TechWeek - a week of events hosted by VCs and startups to bring together the tech ecosystem

For all other event inquiries, reach out to events@dot.LA

If you would like to Sponsor our event, reach out to partnerships@dot.LA
Hosted by:
dot.LA, PledgeLA, and The Annenberg Foundation
Event Sponsors:
Bank of America, Amazon Web Services, Justworks, Riot Games, Perkins Coie, Alto, 1212 Santa Monica
Community Partners:
BLCK VC, M13, VamosVentures, Grid110