What's the Deal With NFTs? What They Are and What's Coming Next
Sam Blake
Sam primarily covers entertainment and media for dot.LA. Previously he was Marjorie Deane Fellow at The Economist, where he wrote for the business and finance sections of the print edition. He has also worked at the XPRIZE Foundation, U.S. Government Accountability Office, KCRW, and MLB Advanced Media (now Disney Streaming Services). He holds an MBA from UCLA Anderson, an MPP from UCLA Luskin and a BA in History from University of Michigan. Email him at samblake@dot.LA and find him on Twitter @hisamblake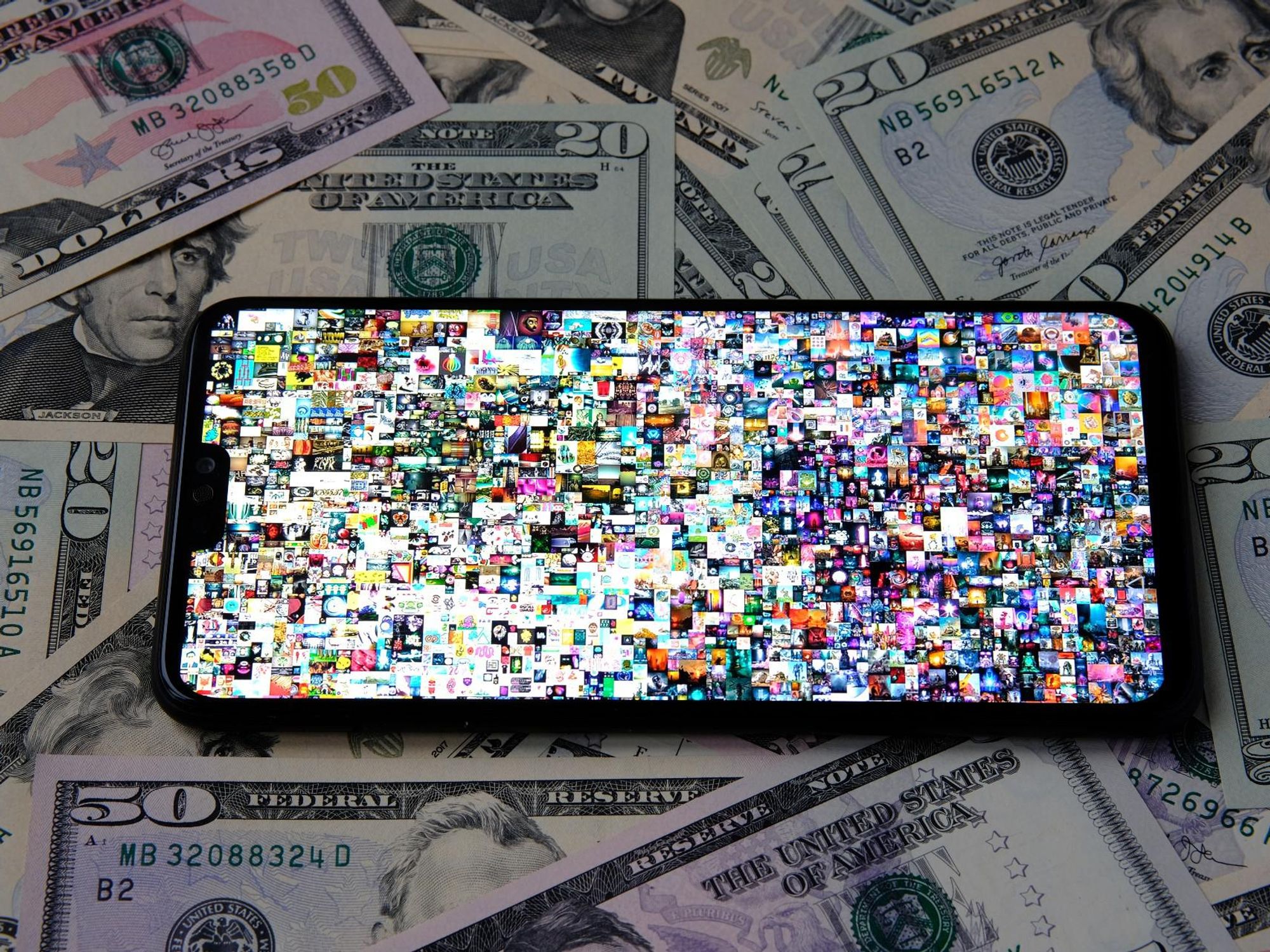 Shutterstock
NFTs, or non-fungible tokens, have exploded in popularity in 2021, but what's hype, and what's here to stay? That's the main question dot.LA will be exploring with a panel of experts during one session of our inaugural Intersect conference this Wednesday.
NFTs have helped create scarcity among digital assets. Consider a photo, GIF, video or any other type of online item: previously these could be endlessly copied, with limited ability to reliably distinguish the copies from the original. Using blockchain, an NFT injects scarcity by serving as a unique, traceable certificate of ownership associated with that digital asset.
---
Scarcity, in turn, helps to give an asset value. That value can derive from financial speculation – as in a belief that the asset can be sold for a future profit – and/or from a positive emotion one feels toward the asset.
Tracking precisely how much value NFTs have created is tricky, for several reasons, but one trend is clear: minting, buying and trading activity has skyrocketed.
According to data collected by Nonfungible.com, which tracks primary sales and secondary trading of NFTs across numerous platforms, the total value of NFTs in circulation during the first quarter of 2021 was north of $2 billion: about eight times the value of NFTs during the previous three years combined.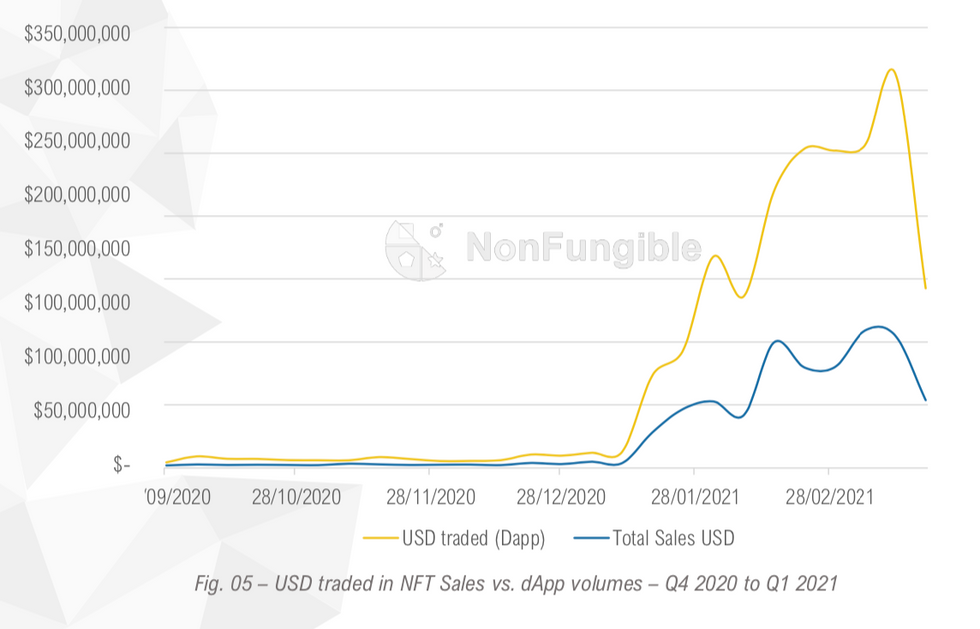 A new report by Nonfungible.com looks at the rise in volume and value of NFTs.
That $2 billion figure must be taken with a grain of salt. For one, the NFT market is fragmented across several platforms that mint and enable trading of the assets, making it difficult to aggregate data. Furthermore, many purchases in both primary and secondary markets have been made by people personally and commercially invested in cryptocurrency—thus harboring ulterior motives beyond acquiring the value associated with any one transaction. Nonfungible.com itself professes a mission of evangelizing NFTs, meaning they are also incentivized to inflate market figures.

Nevertheless, other data sources tell the same story: the first quarter of 2021 marked the widespread arrival of NFTs.
Music journalist Cherie Hu painstakingly researched NFTs issued by musicians, and found that of the $60.2 million in sales since June 2020, $55.7 million occurred between February 25 and April 25 of this year. The same trend is evident in historical data from CryptoSlam, another data aggregator: across two of the largest NFT exchanges — NBA Top Shot and CryptoPunks — huge spikes in sales volume occurred in the first three months of 2021.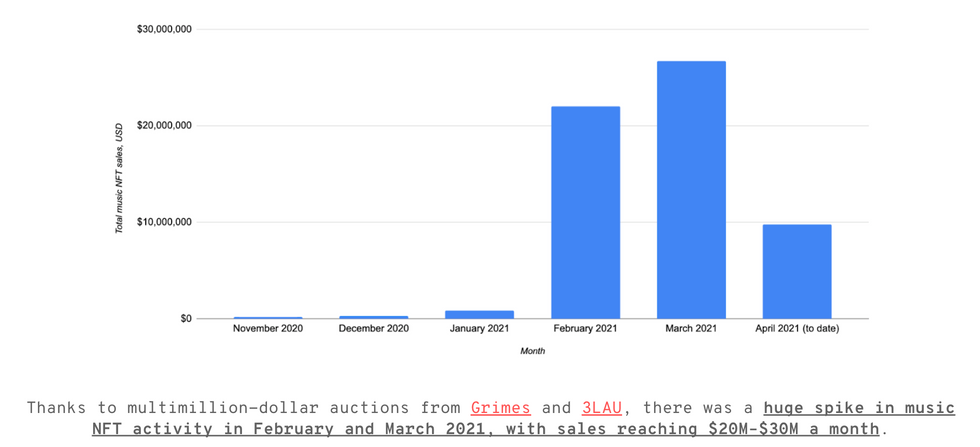 Journalist Cherie Hu's report on the value of NFTs found huge spikes in NFTs around music and musicians.
On Wednesday, Shara Senderoff and Zach Katz of music-tech investment firm Raised In Space will share their views on why this is just the beginning for NFTs – and why they think the next phase will be much different. Alex Masmej, who runs Showtime — a social network for displaying NFTs — and is one of the first people to turn himself into a digital token, will share his vision on the future of NFTs. We'll dig into how NFTs relate to the metaverse, and what to watch for in similar technologies like social tokens and personal tokens. Don't miss it!

Sam Blake
Sam primarily covers entertainment and media for dot.LA. Previously he was Marjorie Deane Fellow at The Economist, where he wrote for the business and finance sections of the print edition. He has also worked at the XPRIZE Foundation, U.S. Government Accountability Office, KCRW, and MLB Advanced Media (now Disney Streaming Services). He holds an MBA from UCLA Anderson, an MPP from UCLA Luskin and a BA in History from University of Michigan. Email him at samblake@dot.LA and find him on Twitter @hisamblake
https://twitter.com/hisamblake
samblake@dot.la