Santa Monica-based healthcare startup Heal announced a $100 million investment and partnership with health insurance provider Humana, a move that will vastly extend the reach of their on-demand doctor service.
Humana hopes to use Heal's applications for its Medicare Advantage program, providing more in-home care to seniors. It will also bring the service to major metro areas including Chicago, Houston and Charlotte.
Heal's CEO Nick Desai, who is fond of saying that the traditional doctor's office is dead, said it will help his company grow nationally and develop more predictive tools to guide doctors with care.
"You want a headline?" Desai joked after making the joint announcement, "Heal wins $100 million to bring concierge care to all Americans."
"We want to expand, so we go nationwide," Desai said. "We like to think the real winners in this is the millions of Americans who get health care this way. "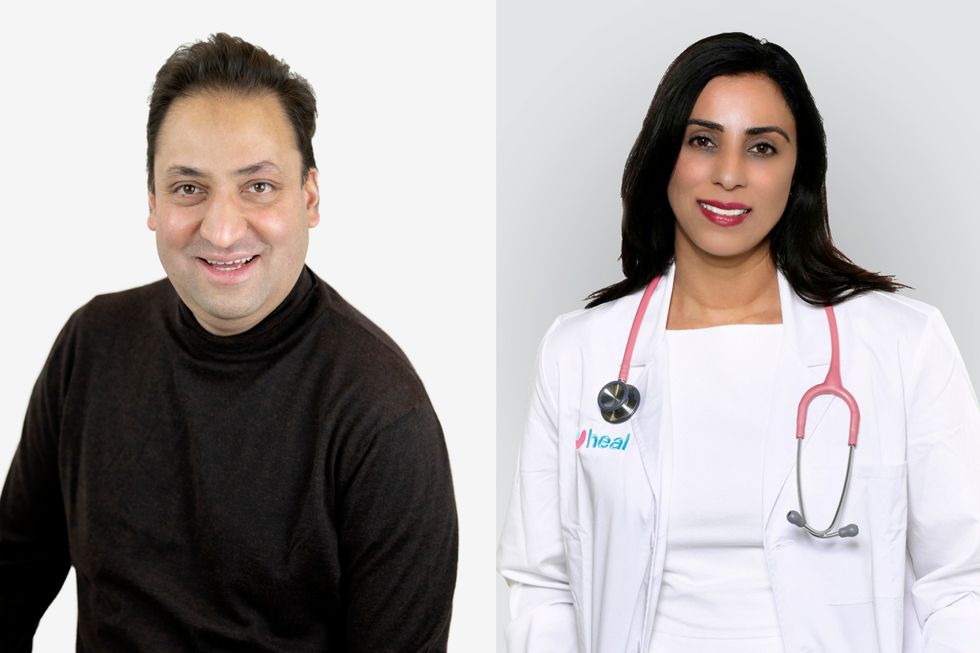 Heal CEO Nick Desai and Chief Medical Officer Renee Dua are married.
Heal boasts 200,000 home visits since it launched five years ago and expects to see 250% revenue growth between this and next year. Started by Desai and his wife, a medical doctor, after waiting seven hours for their then one year old to see an emergency doctor, the company has been on fast growth trajectory as traditional insurers look to startups for new ways to deliver care. He wouldn't provide revenue, but said it was in the tens of millions of dollars.

Humana, with about 17 million members, will use the services for its government-subsidized Medicare Advantage program as it seeks to build on its 34% penetration — as of 2019 — in the market.
"Our goal is to make the healthcare experience easier, more personalized and caring for the people we serve," said Susan Diamond, Humana's segment president for home business, who is joining Heal's board. "We continue to see high levels of customer satisfaction and improved health outcomes when care is delivered in the home,"
Humana said the partnership will help it fulfill its mission of addressing the needs of the whole person by giving doctors greater insight into health with at-home visits. There, doctors can see the social factors that may be impacting patients' health, such as a steep staircase or exposure to environmental hazards like pollution.
Most doctors see 8 to 10 patients, much fewer than regular physicians who often see dozens of patients in a day. The model, he said, brings down emergency room visits and elevates preventive care, making it appealing to insurers.
It's also a throwback.
"In 1970, 50% of all primary health care in America was delivered by house calls. Today it's less than 10%," he said. "That went away with insurance and fee-for-service care, Medicare. We are bringing it back."
But unlike the 70s, Heal monitors blood pressure, blood sugar and other vitals remotely using cloud connected devices to provide insight into patient care.
Last fall, the company, which operates fully in seven states and Washington D.C., bought Doctors on Call in New York City. That allowed it to make an entrance into the nation's largest city that was also, at one time, its largest coronavirus hotspot.
To deal with the pandemic, Heal protocol was to schedule an initial telemedicine call before scheduling a house visit to make sure their doctors weren't going to be exposed to the coronavirus.
"You know today, you don't want to go to the doctor's office because of COVID, but tomorrow it will be something else," he said. "You will never want to go to the doctor's office. Why would ever go to the doctor if the doctor comes to your house?"
Heal investors include former Qualcomm CEO and Executive Chairman Paul Jacobs, who is the company's chairman of the board, IRA Capital, Fidelity ContraFund, Jim Breyer, singer Lionel Richie and former Florida Governor Jeb Bush.
**This story has been update to include an interview with Heal's CEO.
Do you have a story that needs to be told? My DMs are open on Twitter @racheluranga. You can also email me.