gavin newsom
Los Angeles officials are preparing for the next phase of a massive vaccine campaign that will test the region's capabilities. Most Angelenos aren't expected to get the vaccine until the spring or summer.
Among the stickiest of problems is how to ensure patients are given a second vaccine dose or "booster dose" meant to make the inoculation 95% effective and authenticate who has the vaccine.
With no national strategy, individual counties have been desperately looking for solutions. In Florida, Bloomberg reports that officials trying to rollout the vaccination have turned to party reservation system Eventbrite as government websites become overwhelmed.
In Los Angeles, the nation's most populous county, officials have enlisted Healthvana, a healthcare startup that in 2015 began delivering HIV results to users over its platform.
Since April, the company has provided coronavirus test results to patients accessing a number of county testing sites — including one at Dodger Stadium — through its partnership with labs like Curative.
It's likely that a slew of tech solutions will spring up as more vaccinations are administered across the country and the need to show proof of immunization grows.
"There won't be one system across the country that manages all of this, from what we know," said Healthvana CEO Ramin Bastani. "We're not trying to be the only system."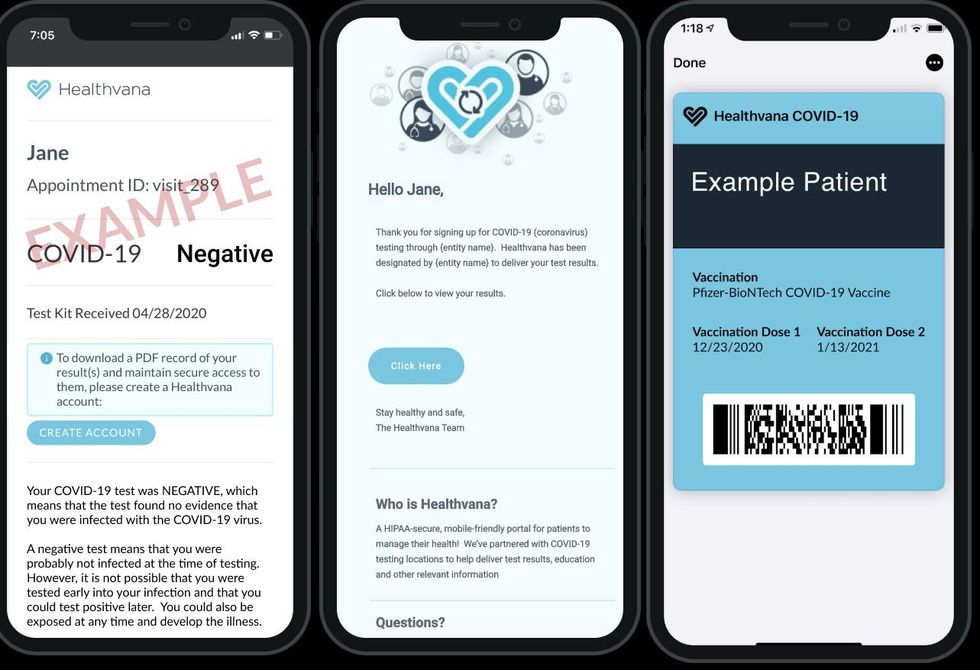 After receiving a dose of the vaccine from a county vaccination site, Healthvana sends the patient an email or text message to view their digital vaccination record. Users can then opt-in to receive text messages and email reminders for the second dose and store the record in their Apple or Google Wallet.

The Department of Public Health said this technology will not replace the paper vaccination cards. Those without smartphones can print a PDF version of the Healthvana record or stick to that hard-copy documentation.
"It's kind of similar to credit cards as a form of payment," Bastani said. "It's not like you can only use an American Express across the country and that's the only form of credit card."
But Bastani is careful about how he's positioning this tool and says these records don't serve as an "immunity passport."
L.A. County has administered 75,015 doses of the Pfizer-BioNTech vaccine and 7,871 doses of Moderna's. Together, that represents just 30.7% of all doses allocated to the county.
In a briefing Monday, Gov. Gavin Newsom said the state remains in phase one of its vaccination plan, which prioritizes the roughly three million health care workers and long-term care residents. Phase 1B will first target people over 75 and workers in education in childcare, emergency services, food and agriculture.
"We are working aggressively to accelerate our pace," he said. "That said, it's gone too slowly."
This post has been updated.
Ahead of the Thanksgiving holiday, county health officials and private labs are ramping up COVID-19 testing capacity as people anxious to visit family flock to centers and cases rise.
Los Angeles County has recently added some 6,000 appointments to testing locations across the region and expanded testing hours. This week, LAX started offering COVID tests to fliers for $150, just ahead of what is normally one of the busiest travel seasons.
It comes as coronavirus cases have surged back to alarming levels and demand for testing rises. Wait times at county testing stations are now running 10 to 20 minutes, and they could grow in the weekend leading up to Thanksgiving as more seek testing.
Experts warn that a test doesn't guarantee that travelers won't bring the virus to Thanksgiving dinner.
"There isn't a testing strategy that makes Thanksgiving 'safe'," said Omai Garner, director of clinical microbiology at UCLA, who oversees testing for UCLA Health. "Thanksgiving should only be celebrated within households that have been pods through the pandemic."
The rise in cases led Gov. Gavin Newsom on Thursday to impose a "limited stay-at-home order" between 10 p.m. and 5 a.m for a month starting Saturday.
Still, as coronavirus cases swell across the country, lines at testing centers are getting longer. And private labs are preparing for the holiday season.
Curative Inc., which has administered two million tests in L.A., saw a 35% increase in testing this week. In that time alone, the startup ran 25,000 COVID tests. And other labs are opening up more sites.
Spokesman Ken Sanderman said the company is gearing up for more by expanding hours of operation at some testing sites including Dodger Stadium. That location will stay open 8 a.m. to 8 p.m.
"We are anticipating a surge in patients coming to get tested through the rest of the year with the holiday seasons and rates rising, and have prepared in anticipation," Sanderman said.
Other labs, like Santa Monica-based Quantgene, are opening new test sites almost weekly. The startup that once supplied mostly production studios opened its second walk-in site — this one in Culver City — on Tuesday.
Spokeswoman Rachel Strohmeyer said the company is looking into opening more locations in East L.A. More clients are scheduling appointments to get nasal swab tests before travel, a trend "we only expect to continue," she said.
This week, the CDC warned Americans against traveling for Thanksgiving and urged them to celebrate at home instead. California has sent more counties back into the most restrictive category in the state's reopening scheme. Over 94% of the state's population rests in that purple tier, including L.A. County.
The county is strongly encouraging residents to "not use testing as a permission slip to engage in unsafe activities," according to an emailed statement from the L.A. County Office of Emergency Management.
Here are the latest updates on news affecting Los Angeles' startup and tech communities. Sign up for our newsletter and follow dot.LA on Twitter for more.
Today:
LA Bars, Gyms and Salons Go Dark Again
Fisker set to go public with $2.9b valuation, EV SUV to roll out by 2022
Apple Allocates $400M to Affordable Housing in California