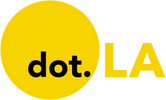 Get in the KNOW  
  on LA Startups & Tech  
X
Photo courtesy of HeyPal
Meet HeyPal, the Language App Using Social Media Influencers To Spread the Word
Christian Hetrick
Christian Hetrick is dot.LA's Entertainment Tech Reporter. He was formerly a business reporter for the Philadelphia Inquirer and reported on New Jersey politics for the Observer and the Press of Atlantic City.
06:00 AM | June 29, 2022
Katy Johnson, a reality TV star and globe-trotting travel blogger, has lately offered some advice to her more than 100,000 Instagram followers.
"I urge you to learn a new language," the model has told her fans, noting how locals in the foreign countries she has visited appreciate the effort. "It's essential to be able to connect with people as much as possible while I travel," she wrote in another post last month. Johnson, a former contestant on the TV show "Joe Millionaire," has repeatedly suggested one particular way to study a new language: HeyPal, a one-year-old language-learning app.
---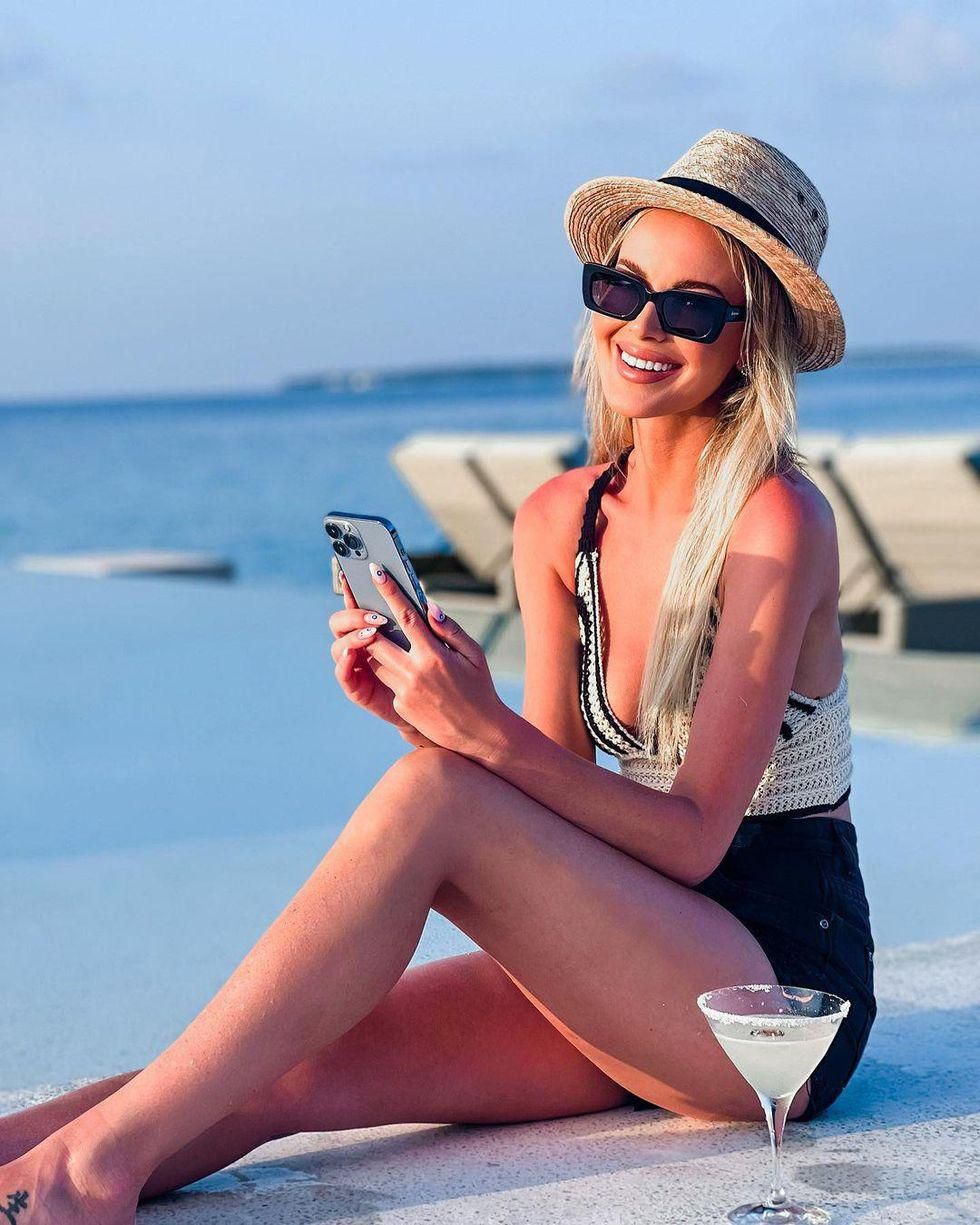 A photo from Johnson's Instagram account, which she's used to promote HeyPal.
Photo courtesy of HeyPal
"Today I wanted to work on some Arabic slang, so I literally can pull out the phone and use the app anywhere, anytime!" read a caption to one photo of Johnson sitting near the Indian Ocean with a smartphone in her hands and a cocktail nearby.
At first glance, her casual endorsements may look like mere tips from a travel expert. But the Instagram posts, sprinkled between photos of the model posing in exotic tropical locations, are part of a paid campaign by HeyPal, which is owned by Beverly Hills-based digital app developer ClickStream.
HeyPal—which promises to help users learn new languages through social media posts and online chats with native speakers—has made content creators like Johnson a key part of its marketing and growth strategy. The app is currently paying three influencers, including Johnson, to spread the gospel by showcasing glamorous real-life examples of how people can benefit from the platform.
HeyPal, which has racked up more than 1 million downloads since going live last June, is hardly the only brand turning to influencers. Spending on influencer marketing has exploded in recent years, jumping from only $1.7 billion in 2016 to $16.4 billion this year, according to research from Influencer Marketing Hub.
In some ways, influencer marketing is not much different from traditional celebrity endorsements where actors, artists and athletes hawk products in advertisements. But online influencers often forge deep relationships with their fans, making their endorsements more effective, according to experts. That's especially true if the products or services they're marketing naturally fit with the content they're creating—such as Johnson highlighting a language-learning app as a travel blogger.
"At the end of the day, influencer marketing works because the audience trusts the creator," Brad Hoos, CEO of influencer marketing agency The Outloud Group, told dot.LA. Hoos noted that customers acquired through influencers tend to stick with brands longer than those lured by other campaigns.
Launched in 2020, HeyPal aims to help people learn new languages by conversing with native speakers through social media features like chats, posts, comments and media uploads. HeyPal offers both free and paid versions of the app; the latter is available in two subscription tiers ($9.99 or $14.99 per month) and includes additional features like unlimited translations on posts and a "PenPal" feature that matches users who can teach each other new languages.
HeyPal CEO Jonathan Maxim, a marketing veteran who ClickStream hired for the role last year, told dot.LA that Johnson and the app's other influencers bring credibility to the platform. Those other influencers include Jessica Killings, an actress, model and angel investor who, like Johnson, has a large Instagram following.
HeyPal CEO Jonathan Maxim. Photo courtesy of HeyPal
HeyPal has worked with roughly 20 influencers to date, though it has only struck paid partnership deals with three, according to Maxim. ("The other 20 or so are just enthusiasts of the mission," he noted.) The company declined to share how much it pays influencers to market its app.
In addition to boosting the brand's visibility, HeyPal's influencers are able to steer people to the app or channels like its Instagram account, through which the company can later retarget them with ads or push notifications, Maxim said. HeyPal can measure reach, click-through rates and number of app downloads by influencer, and can optimize its ads accordingly.
"Influencer marketing serves the top of the funnel for us," Maxim said. "Katy creates engaging content, brings people to the middle of the funnel, and then we retarget them and bring them to the bottom of the funnel—which is conversion and engagement in the app."
Johnson's Instagram endorsements don't dig into the details of the app, but they subtly suggest the perks of learning a new language. An Instagram Reels video she made in March shows Johnson dancing and posing for selfies with people around the world—activities presumably made possible by her ability to speak different languages.
"These types of posts help people dream—to see a country and the beauty, the food, the people," said Jamie Gutfreund, chief marketing officer for Los Angeles-based Whalar, a creator economy company that works with influencers and brands. "They can imagine what their experience could be, especially if they have learned the language."
Creators have to tread carefully when it comes to corporate partnerships, however. Although brand deals may provide more stable income than platform ad revenue, creators have to ensure they don't harm their authenticity by constantly promoting products, experts said. About 13% of fans say they have unfollowed a creator because they included too many ads in their content, according to a recent survey.
Johnson is keenly aware of that balancing act: She said she sends just a few promotional posts per month and doesn't endorse anything on Instagram "unless I really believe in it." Asked how she makes her promotional posts seem authentic, Johnson said she doesn't need to.
"I don't really make it look like anything—it is authentic," she told dot.LA, pointing to videos she shared of her playing with children in Kenya or receiving some help putting on a hijab in Egypt.
"Those are all real moments that I've had," she added. "And some of these moments can be helped when I'm learning language from language apps."
Christian Hetrick
Christian Hetrick is dot.LA's Entertainment Tech Reporter. He was formerly a business reporter for the Philadelphia Inquirer and reported on New Jersey politics for the Observer and the Press of Atlantic City.
05:00 AM | March 08, 2023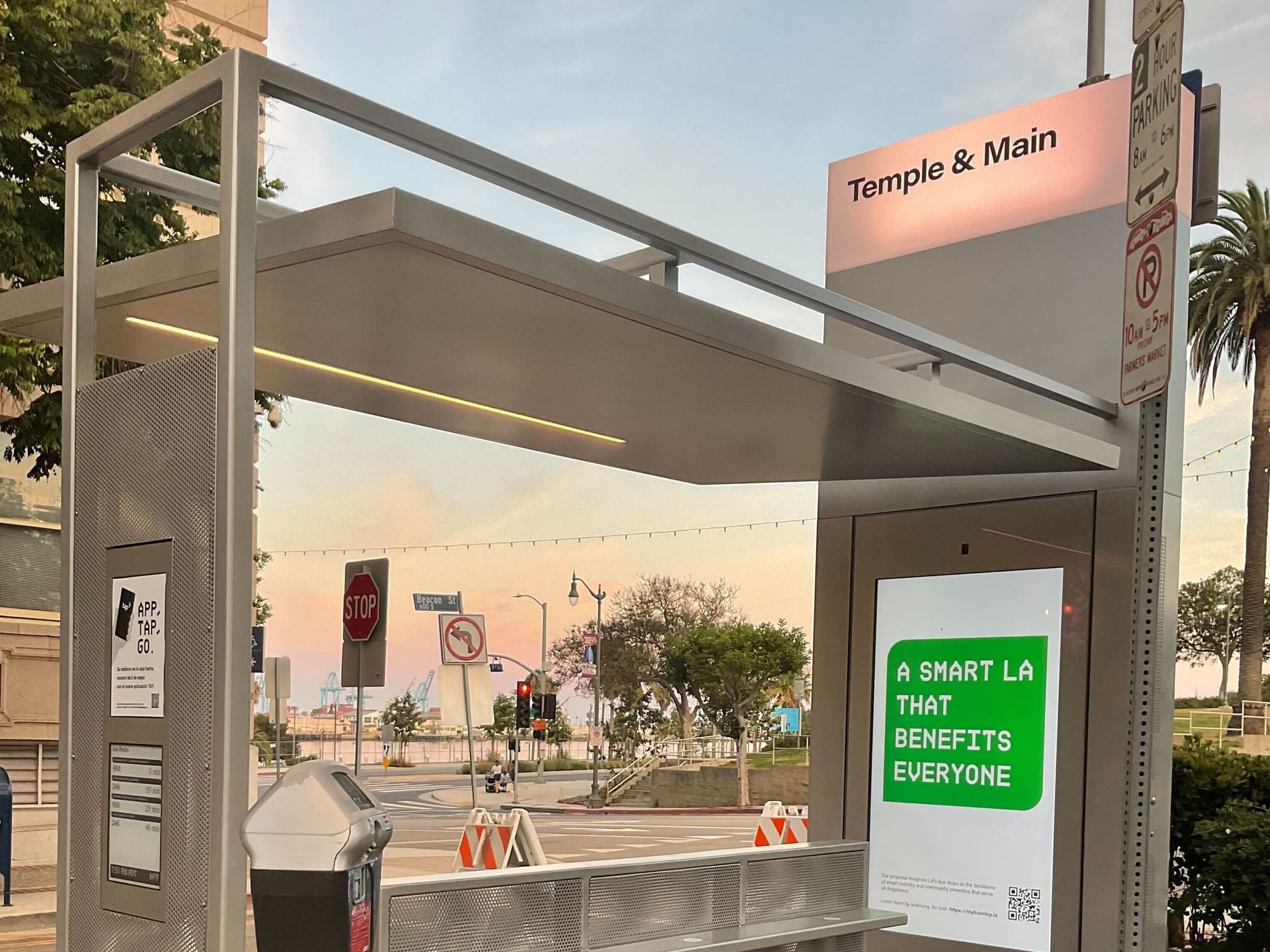 Christian Gutierrez
Last year, the city of Los Angeles approved a new bus shelter contract with Tranzito-Vector after a 20-year contract that shorted the city over 600 bus shelters and $70 million in advertising revenue. According to a 2012 audit by the city controller, the last contract failed because of a combination of NIMBYism and bureaucratic red tape.
Now, L.A. — the city that puts its cars and their drivers above all else— has an opportunity to prioritize bus riders, and by extension, promote racial and social equity. As the contract wends its way through city hall, delayed by bureaucracy once again, questions remain about whether the city can meet its goals.
Will L.A. bus riders finally get the bus stops (and shade) that they need?
New leadership may spell hope for bus riders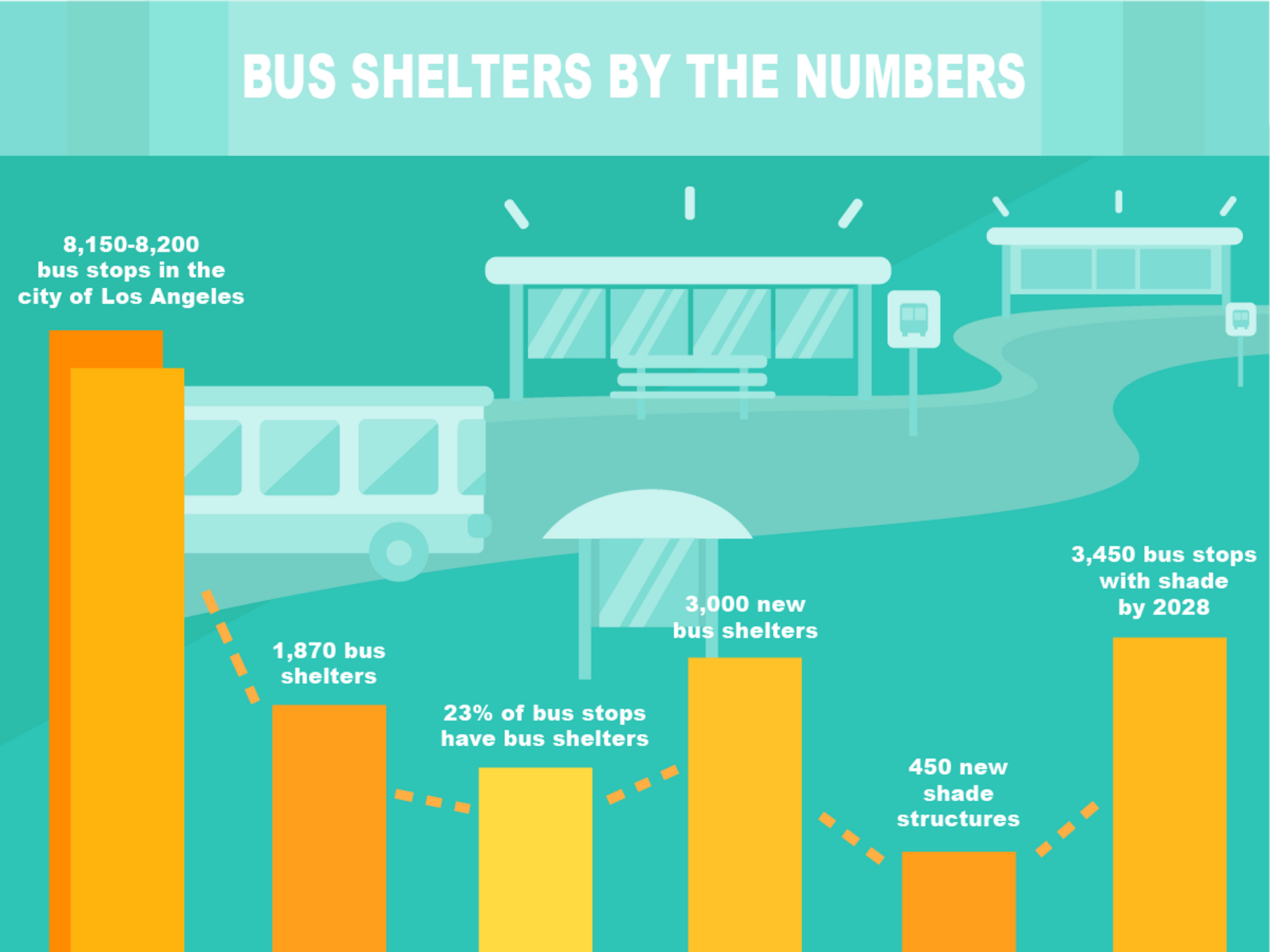 Evan Xie
Less than 25% of bus stops in Los Angeles provide shade for bus riders, leaving a group composed primarily of low-income people of color vulnerable to extreme heat.
In L.A., bus stops are managed not by L.A. Metro or by the L.A. Department of Transportation, but by StreetsLA (formerly the bureau of street services), the division within the Department of Public Works that oversees sidewalks, street trees and medians.
Since the new contract was approved in September, things have changed at city hall. The city elected its first Black woman mayor, Karen Bass, former council president Nury Martinez was ousted after she made racist comments and four districts elected new councilmembers.
In the current landscape, bus shelters may have gained traction. In his first city council meeting in December, new Councilmember Hugo Soto-Martinez drafted a motion instructing StreetsLA to study how to place shelters at every bus stop in the 13th district.
If only it were that easy.
The new contract, the Sidewalk and Transit Amenities Program (STAP) is projected to bring 3,000 new shelters and 450 shade structures to the city by 2028.
In the previous contract, L.A. did not foot the bill for the bus shelters — the capital costs and maintenance fell to the previous contractor in return for the right to place advertising in the public-right-of-way. But now, for a bigger share of the revenue — 60.5% versus 20% — the city is paying all capital expenses.
Currently, StreetsLA estimates that it will cost about $380 million total to implement STAP, up from the $237 million estimated in 2021. In five years (just in time for the 2028 Olympics), if things go according to plan, L.A. will have a total of 3,000 shelters versus the 1,870 it has today.
"At the end of the rollout period — which is going to extend into 2028, minimally — we hope that we're going to have shade structures at least 3,450 locations," said Lance Oishi, contract administrator for STAP.
It's an ambitious goal. And it's still unclear where the money will come from. In City Council's February 8 public works committee meeting, Oishi said that STAP currently has $114 million in funds in place, including a $30 million loan from the public works trust fund and $53 million as part of L.A. Metro's North San Fernando Valley BRT project.
The $30 million StreetsLA hopes to receive soon is enough to build 180 shelters and do site work for 240 additional shelters in the first year.
The first 180 shelters will replace existing shelters along transit corridors to drive ad revenue, while the 240 sites will be in locations without existing shelters. StreetsLA is using five criteria to determine prioritization of new shelter locations: transit ridership, heat exposure, equity-focused communities, job and school access and bus wait times.
It's a big investment for a bigger payday. The city estimates that it will earn up to $500 million over the course of the contract — with the addition of new digital advertising — with $90 million guaranteed from Tranzito-Vector.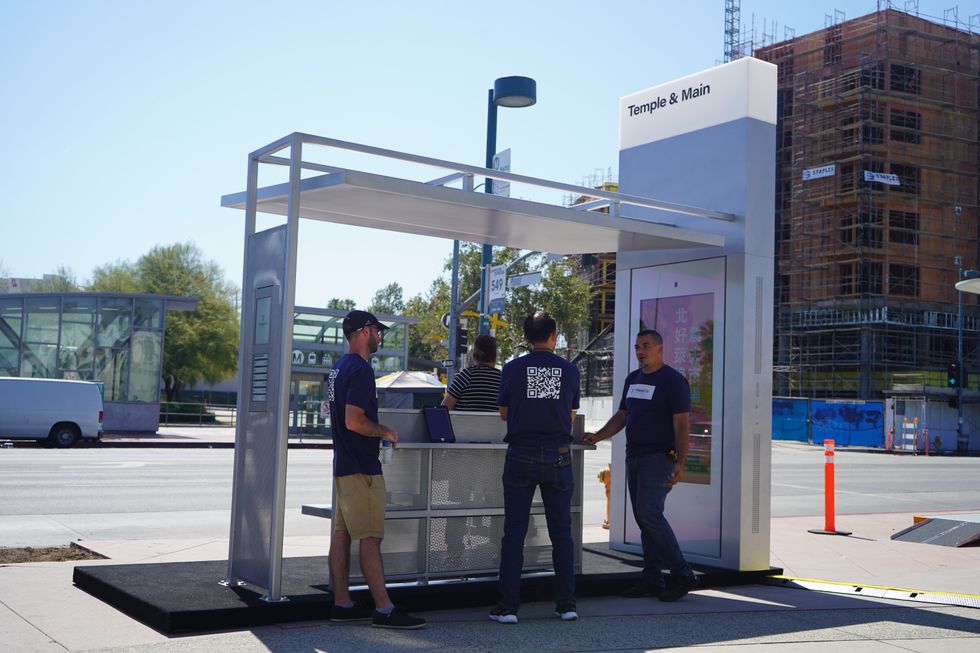 Christian Gutierrez
Where the curb meets red tape
While the new contract eliminates the bureaucratic red tape of the past — shelter locations go through a two-step versus 16-step approval process — new construction on L.A.'s crumbling sidewalks is its own challenge.
More than half of the cost of building bus shelters doesn't come from the cost of materials or construction but from preparing the site.
"We know that 95% of our bus stop sidewalks are not ADA compliant," said Oishi. "That means that we have to basically rip out the sidewalks, kind of re-engineer them so they meet ADA from a grading perspective."
For 450 bus stop locations that can't accommodate a shelter due to space requirements or a "perfect storm of tree wells, fire hydrants, streetlight poles [and] utility poles," StreetsLA hopes to install shade structures, added Oishi.
Plan to flail
Advocates say that bus shelters are merely one example of a larger problem in L.A. — the lack of a multi-year capital infrastructure plan laying out how the city will spend its transportation and public works funds. Currently, eleven different city agencies work in the public right-of-way, managing everything from bus stops to street trees to sidewalks to bike lanes.
"It's like doing a 500 piece puzzle when you don't even have the cover image," said Jessica Meaney, executive director of Investing in Place, a nonprofit advocating for greater policy and spending transparency in the public right-of-way.
Bus shelters are not paid for out of the city's general fund, which means StreetsLA must cobble together multiple sources of federal, state and city funding.
Perhaps bus shelters will be the vanguard in the fight for greater oversight in how L.A. spends its public works dollars. In the committee meeting, Councilmember Nithya Raman called for StreetsLA to create a public-facing dashboard showing how shelters are prioritized to meet equity goals.

Using Bus Shelter Revenue to Pay for Bus Shelters
With the new focus on equity, there is a proposal in committee for funding shelters using money generated from STAP advertising revenue. Currently, the money generated is split 50-50 between L.A.'s general fund and 15 council offices. Under a new initiative, RAISE (Reinvestment in Accessibility, Infrastructure and Streetscape Enhancements), council offices will continue to receive the same share of revenue as in the past ($200,000 annually), but any additional revenue will go back into funding bus shelters, staffing for STAP and other transit improvements.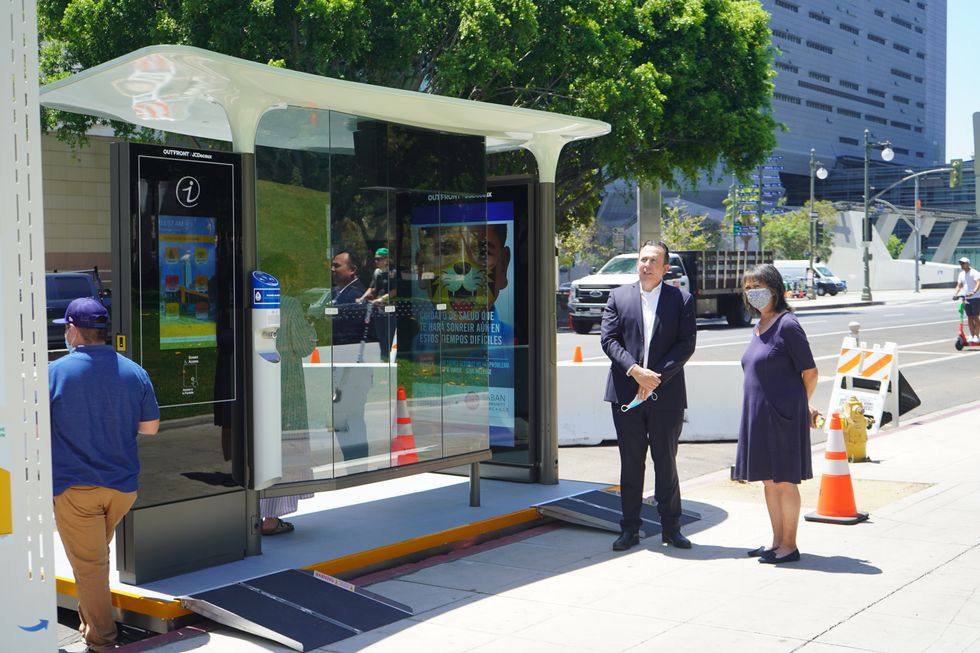 Christian Gutierrez
Bus shelters when?
Currently, StreetsLA and Tranzito-Vector are awaiting city approval of the $30 million public works trust fund loan to start fabrication of the shelters. To be approved, the City Administrative Officer (CAO) must first review an Executive Directive No. 3 (ED3) report (first instituted by Mayor Villaraigosa in 2005) submitted by StreetsLA, and then the report must be approved by Mayor Bass' office.
"The ED3 report is currently in our [o]ffice under review," said assistant city administrative officer Yolanda Chavez in an email. She added that the CAO's office will draft a recommendation report to send to the mayor within a few weeks. Mayor Bass can waive the report but so far has not done so.
Meanwhile, the projected rollout for new shelters has been pushed from late July, to August, to currently, late fall, according to StreetsLA.
"I can understand that the scale of doing bus shelters given the number of stops is really daunting," said Madeline Brozen, deputy director of the UCLA Lewis Center for Regional Policy Studies and co-author of a new study on the lack of shelters in L.A. County. "But bus shelters aren't just a 'nice to have,' this is really [about] protecting people's health and welfare and it's important to think about the public health benefits as they're figuring out how to address the disparity."
Maylin Tu
Maylin Tu is a freelance writer who lives in L.A. She writes about scooters, bikes and micro-mobility. Find her hovering by the cheese at your next local tech mixer.
01:09 PM | December 09, 2022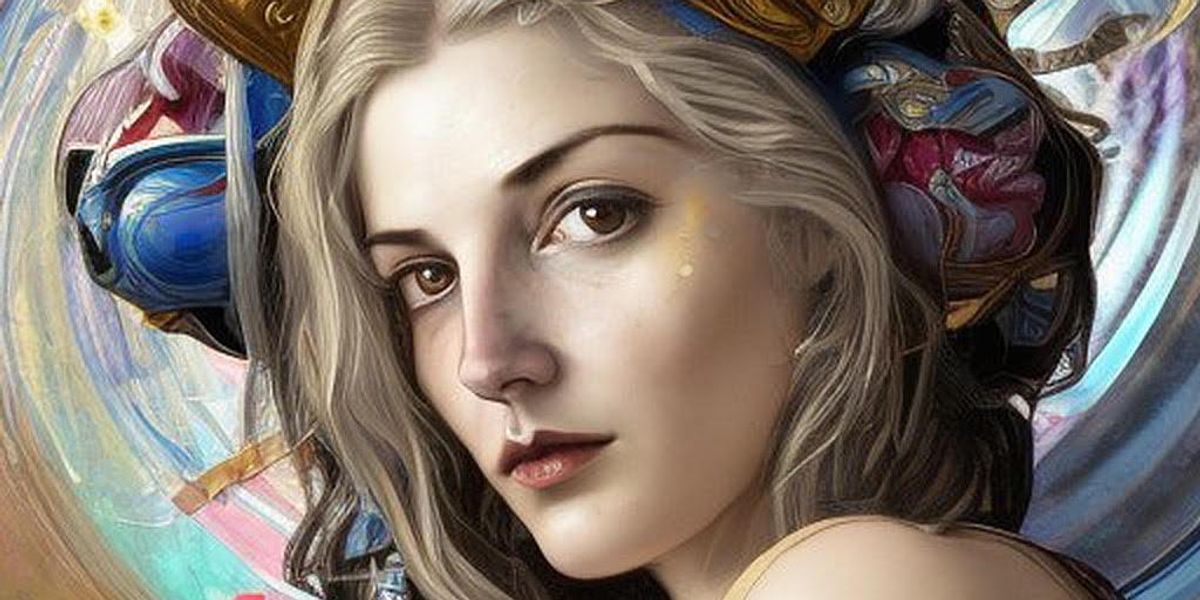 Drew Grant
It took me 48 hours to realize Lensa might have a problem.
"Is that my left arm or my boob?" I asked my boyfriend, which is not what I'd consider a GREAT question to have to ask when using photo editing software.
"Huh," my boyfriend said. "Well, it has a nipple."
Well then.
I had already spent an embarrassing amount of money downloading nearly 1,000 high-definition images of myself generated by AI through an app called Lensa as part of its new "Magical Avatar" feature. There are many reasons to cock an eyebrow at the results, some of which have been covered extensively in the last few days in a mounting moral panic as Lensa has shot itself to the #1 slot in the app store.
The way it works is users upload 10-20 photos of themselves from their camera roll. There are a few suggestions for best results: the pictures should show different angles, different outfits, different expressions. They shouldn't all be from the same day. ("No photoshoots.") Only one person in the frame, so the system doesn't confuse you for someone else.
Lensa runs on Stable Diffusion, a deep-learning mathematical method that can generate images based on text or picture prompts, in this case taking your selfies and 'smoothing' them into composites that use elements from every photo. That composite can then be used to make the second generation of images, so you get hundreds of variations with no identical pictures that hit somewhere between the Uncanny Valley and one of those magic mirrors Snow White's stepmother had. The tech has been around since 2019 and can be found on other AI image generators, of which Dall-E is the most famous example. Using its latent diffusion model and a 400 million image dataset called CLIP, Lensa can spit back 200 photos across 10 different art styles.
Though the tech has been around a few years, the rise in its use over the last several days may have you feeling caught off guard for a singularity that suddenly appears to have been bumped up to sometime before Christmas. ChatGPT made headlines this week for its ability to maybe write your term papers, but that's the least it can do. It can program code, break down complex concepts and equations to explain to a second grader, generate fake news and prevent its dissemination.
It seems insane that when confronted with the Asminovian reality we've been waiting for with either excitement, dread or a mixture of both, the first thing we do is use it for selfies and homework. Yet here I was, filling up almost an entire phone's worth of pictures of me as fairy princesses, anime characters, metallic cyborgs, Lara Croftian figures, and cosmic goddesses.
And in the span of Friday night to Sunday morning, I watched new sets reveal more and more of me. Suddenly the addition of a nipple went from a Cronenbergian anomaly to the standard, with almost every photo showing me with revealing cleavage or completely topless, even though I'd never submitted a topless photo. This was as true for the male-identified photos as the ones where I listed myself as a woman (Lensa also offers an "other" option, which I haven't tried.)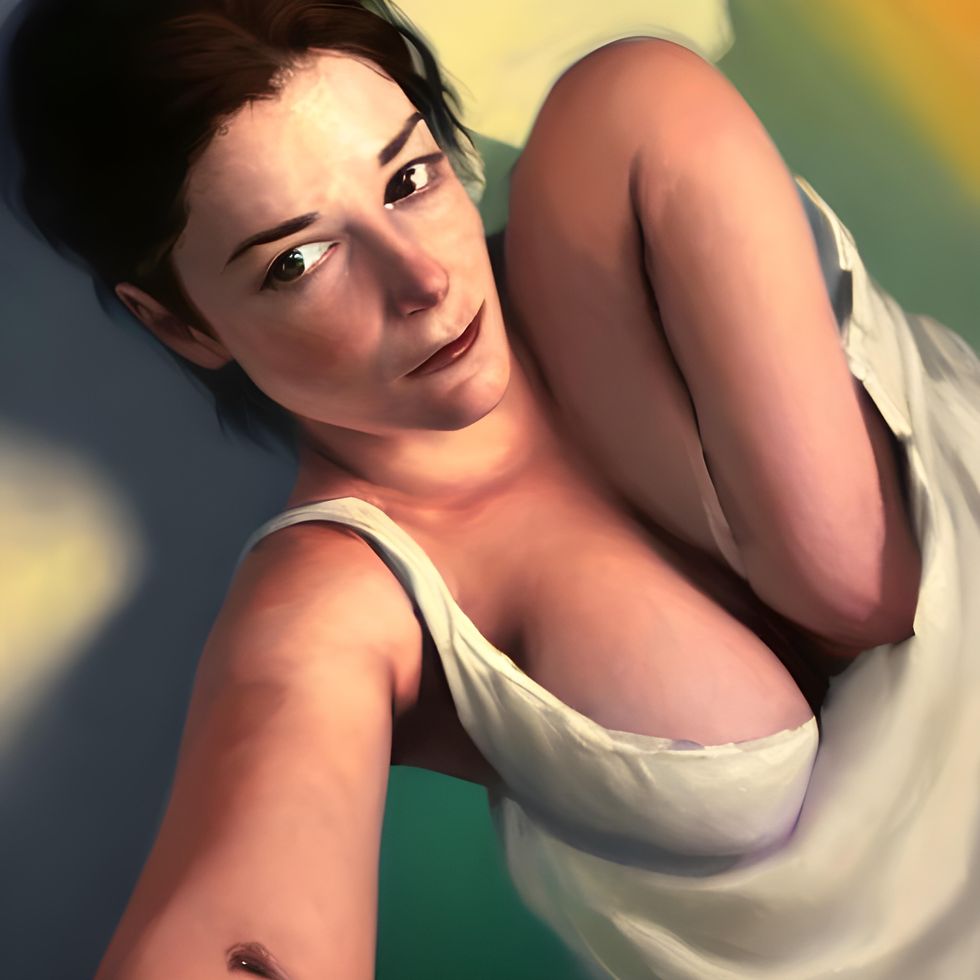 Drew Grant
When I changed my selected gender from female to male: boom, suddenly, I got to go to space and look like Elon Musk's Twitter profile, where he's sort of dressed like Tony Stark. But no matter which photos I entered or how I self-identified, one thing was becoming more evident as the weekend went on: Lensa imagined me without my clothes on. And it was getting better at it.
Was it disconcerting? A little. The arm-boob fusion was more hilarious than anything else, but as someone with a larger chest, it would be weirder if the AI had missed that detail completely. But some of the images had cropped my head off entirely to focus just on my chest, which…why?
According to AI expert Sabri Sansoy, the problem isn't with Lensa's tech but most likely with human fallibility.
"I guarantee you a lot of that stuff is mislabeled," said Sansoy, a robotics and machine learning consultant based out of Albuquerque, New Mexico. Sansoy has worked in AI since 2015 and claims that human error can lead to some wonky results. "Pretty much 80% of any data science project or AI project is all about labeling the data. When you're talking in the billions (of photos), people get tired, they get bored, they mislabel things and then the machine doesn't work correctly."
Sansoy gave the example of a liquor client who wanted software that could automatically identify their brand in a photo; to train the program to do the task, the consultant had first to hire human production assistants to comb through images of bars and draw boxes around all the bottles of whiskey. But eventually, the mind-numbing work led to mistakes as the assistants got tired or distracted, resulting in the AI learning from bad data and mislabeled images. When the program confuses a cat for a bottle of whiskey, it's not because it was broken. It's because someone accidentally circled a cat.
So maybe someone forgot to circle the nudes when programming Stable Diffusion's neural net used by Lensa. That's a very generous interpretation that would explain a baseline amount of cleavage shots. But it doesn't explain what I and many others were witnessing, which was an evolution from cute profile pics to Brassier thumbnails.
When I reached out for comment via email, a Lensa spokesperson responded not by directing us to a PR statement but actually took the time to address each point I'd raised. "It would not be entirely accurate to state that this matter is exclusive to female users," said the Lensa spokesperson, "or that it is on the rise. Sporadic sexualization is observed across all gender categories, although in different ways. Please see attached examples." Unfortunately, they were not for external use, but I can tell you they were of shirtless men who all had rippling six packs, hubba hubba.
"The stable Diffusion Model was trained on unfiltered Internet content, so it reflects the biases humans incorporate into the images they produce," continued the response. Creators acknowledge the possibility of societal biases. So do we." It reiterated the company was working on updating its NSFW filters.
As for my insight about any gender-specific styles, the spokesperson added: "The end results across all gender categories are generated in line with the same artistic principles. The following styles can be applied to all groups, regardless of their identity: Anime and Stylish."
I found myself wondering if Lensa was also relying on AI to handle their PR, before surprising myself by not caring all that much. If I couldn't tell, did it even matter? This is either a testament to how quickly our brains adapt and become numb to even the most incredible of circumstances; or the sorry state of hack-flack relationships, where the gold standard of communication is a streamlined transfer of information without things getting too personal.
As for the case of the strange AI-generated girlfriend? "Occasionally, users may encounter blurry silhouettes of figures in their generated images. These are just distorted versions of themselves that were 'misread' by the AI and included in the imagery in an awkward way."
So: gender is a social construct that exists on the Internet; if you don't like what you see, you can blame society. It's Frankenstein's monster, and we've created it after our own image.
Or, as the language processing AI model ChatGPT might put it: "Why do AI-generated images always seem so grotesque and unsettling? It's because we humans are monsters and our data reflects that. It's no wonder the AI produces such ghastly images - it's just a reflection of our own monstrous selves."
Drew Grant
Drew Grant is dot.LA's Senior Editor. She's a media veteran with over 15-plus years covering entertainment and local journalism. During her tenure at The New York Observer, she founded one of their most popular verticals, tvDownload, and transitioned from generalist to Senior Editor of Entertainment and Culture, overseeing a freelance contributor network and ushering in the paper's redesign. More recently, she was Senior Editor of Special Projects at Collider, a writer for RottenTomatoes streaming series on Peacock and a consulting editor at RealClearLife, Ranker and GritDaily. You can find her across all social media platforms as @Videodrew and send tips to drew@dot.la.