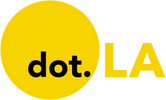 Get in the KNOW  
  on LA Startups & Tech  
X

Design, Bitches
Looking to Build a Granny Flat in Your Backyard? Meet the Firms and Designs Pre-Approved in LA
Sarah Favot
Favot is an award-winning journalist and adjunct instructor at USC's Annenberg School for Communication and Journalism. She previously was an investigative and data reporter at national education news site The 74 and local news site LA School Report. She's also worked at the Los Angeles Daily News. She was a Livingston Award finalist in 2011 and holds a Master's degree in journalism from Boston University and BA from the University of Windsor in Ontario, Canada.
07:10 AM | March 12, 2021
Adding a backyard home in Los Angeles is now nearly as easy as buying a barbecue.
Homeowners who for years have wanted to build a granny flat in their backyard, but dreaded the red tape, can now choose from 20 pre-designed homes that the city has already approved for use.
The shift, made official last week, will speed up a weeks-long process and bring more badly needed units to an overpriced market. It also has the potential to elevate the 14 startups and firms building the next generation of homes.
---
The designs for the stand-alone residences range from a 200-square-foot studio to a 1,200-square foot, two-story, two-bedroom unit. And many of the homes are filled with design flourishes, reflecting the diverse architecture of the city, from a house in the silhouette of a flower to one with a spiral outdoor staircase leading to the roof.
It's no surprise. The program was spearheaded by Christopher Hawthorne, a former architecture critic at the Los Angeles Times and now the city's chief design officer.
The firms are primarily local and startup architecture and design firms, while others are well-known with a history of building granny flats, also know as accessory dwelling units, or ADUs.
The standard plans avoid the Los Angeles Department of Building and Safety's typical four-to six-week review process and can allow approvals to be completed in as quickly as one day.
Some aspects of the plans can be modified to fit a homeowner's preferences. Eight other designs are pending approval.
Mayor Eric Garcetti believes by adding more such units, the city can diversify its housing supply and tackle the housing crisis. Recent state legislation made it easier to build the small homes on the lot of single-family residences. Since then, ADUs have made up nearly a quarter of Los Angeles' newly permitted housing units.
Because construction costs are relatively low for the granny flats – the pre-approved homes start at $144,000 and can go beyond $300,000 – the housing is generally more affordable. The median home price in L.A. County in January was $690,000.
Here's a quick look at the designs approved so far:
Abodu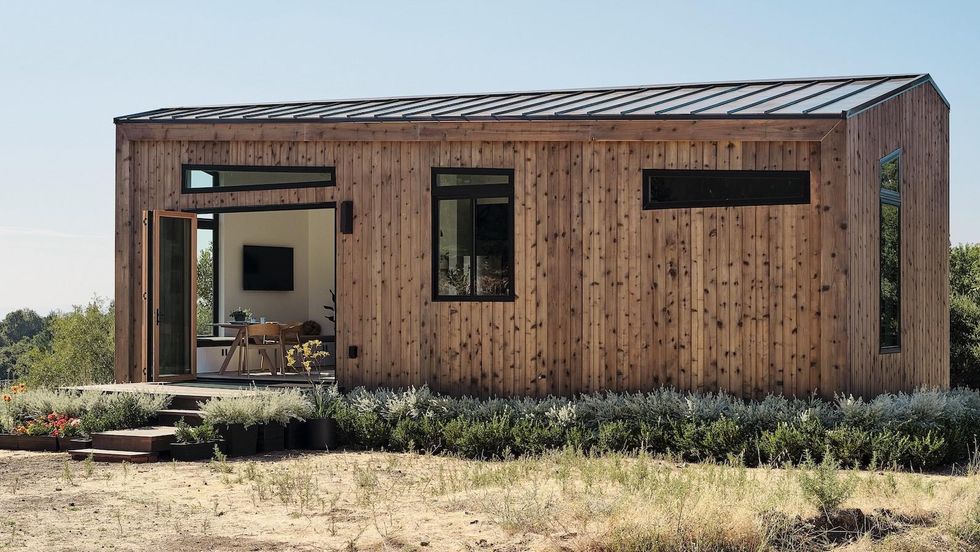 Abodu
Abodu, based in Redwood City in the Bay Area, exclusively designs backyard homes. In 2019, it worked with the city of San Jose on a program similar to the one Los Angeles is undertaking.
In October, it closed a seed funding round of $3.5 million led by Initialized Capital.
It has been approved for a one-story 340-square-foot studio, a one-story one-bedroom at 500 square feet, and a one-story, 610-square-foot two-bedroom.
The pricing for the studio is $189,900, while the one-bedroom costs $199,900 and the two-bedroom is $259,900.
Amunátegui Valdés Architects
Led by Cristobal Amunátegui and Alejandro Valdés, the firm was founded in 2011 and has offices in Los Angeles and Santiago, Chile. Amunátegui is an assistant professor at the Department of Architecture and Urban Design at UCLA.
The firm designs work in various scales and mediums, including buildings, furniture and exhibitions.
Its one-story, two-bedroom with a covered roof deck 934-square-foot unit is pending approval from the city.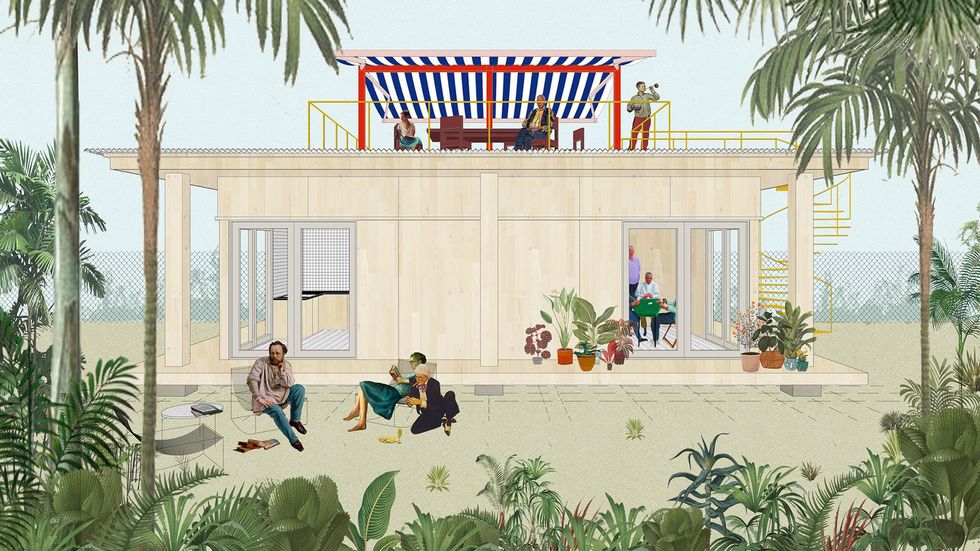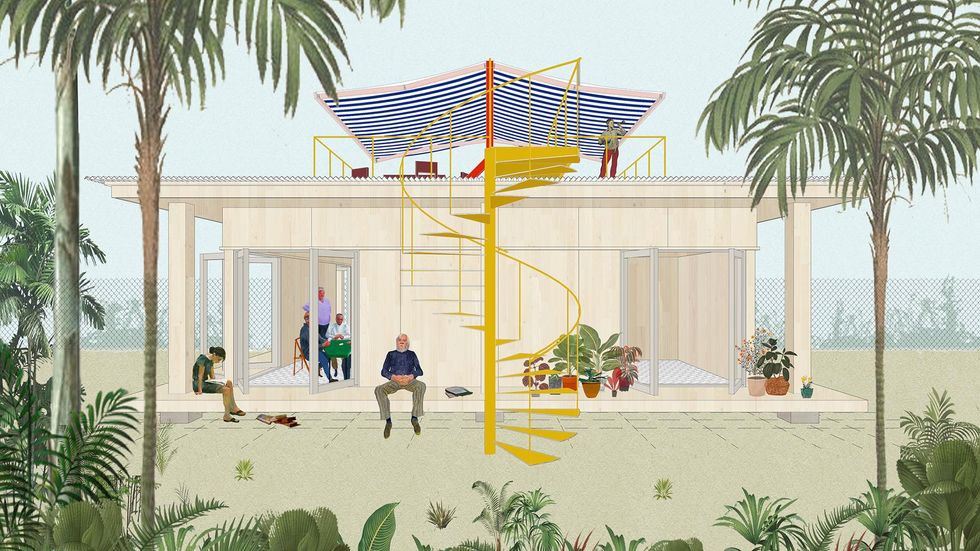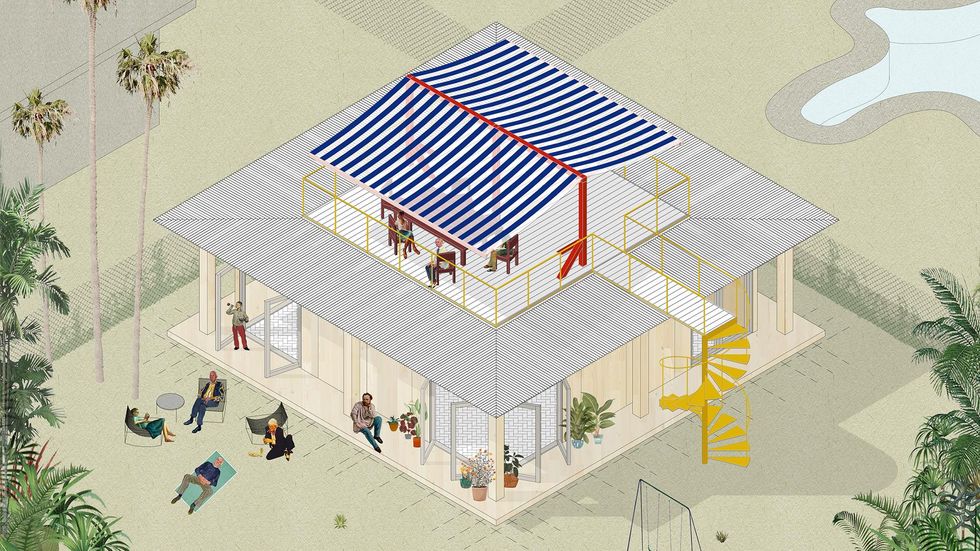 Connect Homes
Connect Homes has a 100,000-square foot factory in San Bernardino and an architecture studio in Downtown L.A.
It specializes in glass and steel homes and has completed 80 homes in California. Its designs have an aesthetic of mid-century modern California residential architecture.
It has two one-bedroom models pre-approved by the city, one is 460 square feet, which costs $144,500 with a total average project cost of $205,000. The other is 640 square feet, which costs $195,200 with a total project cost of $280,000.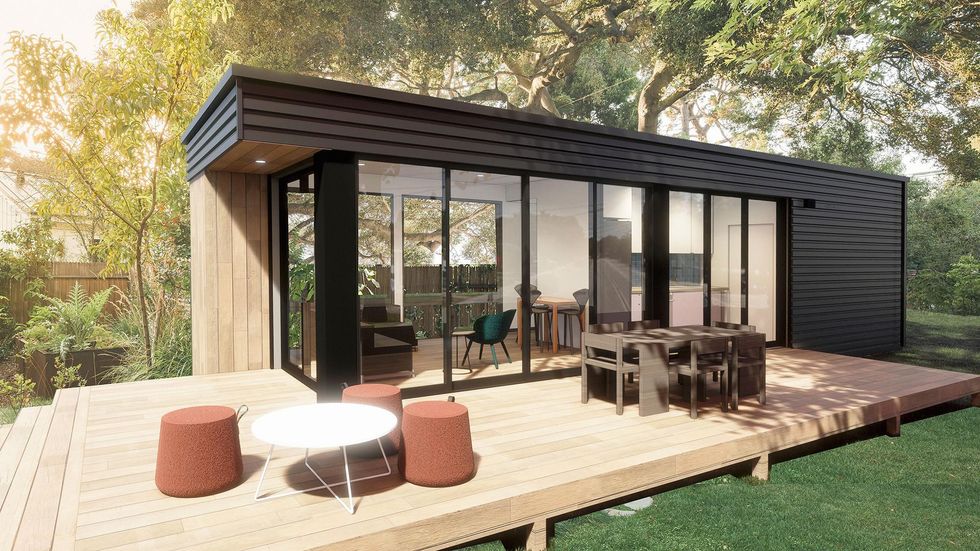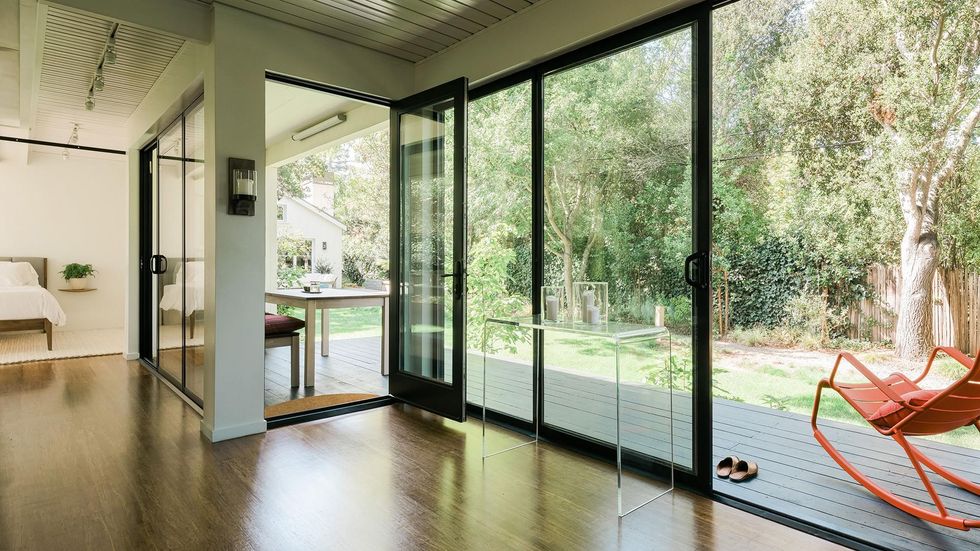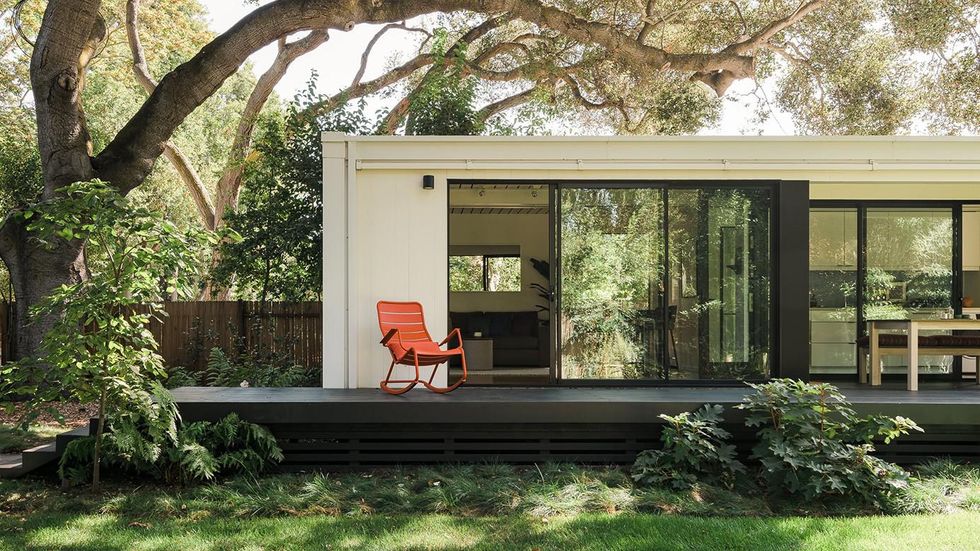 Design, Bitches
The Los Angeles-based architectural firm founded in 2010 describes itself as having a "bold and irreverent vision." Its projects include urban infill ground-up offices to single-family homes, adaptive re-use of derelict commercial buildings and renovations of historic landmarks.
Its pre-approved design, named "Midnight Room," is a guest house/ studio. Its bedroom can be left open for a loft feel or enclosed as a separate room. The design is a one-story, one-bedroom at 454 square feet.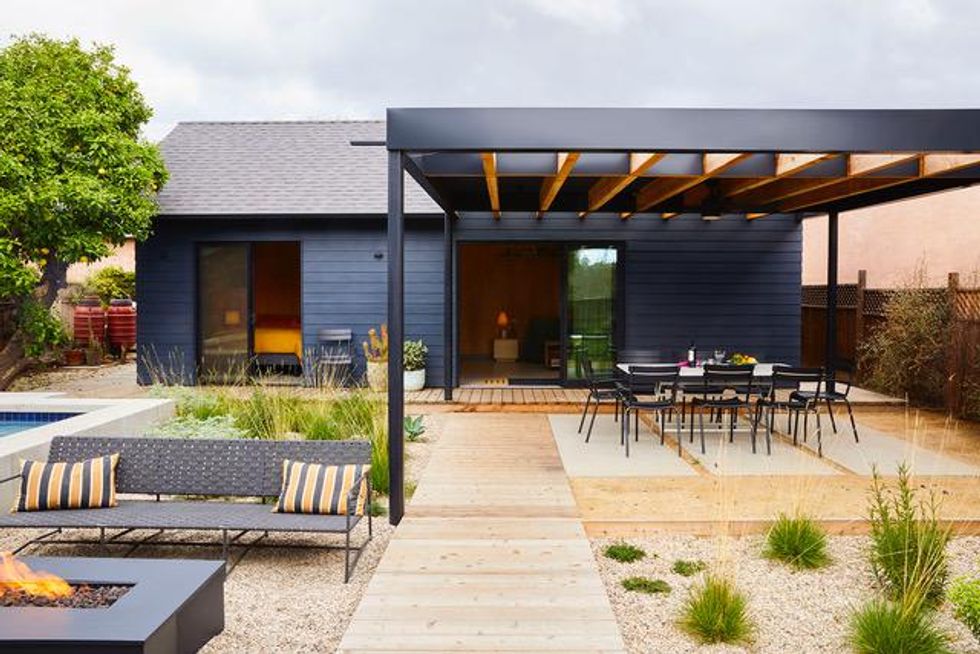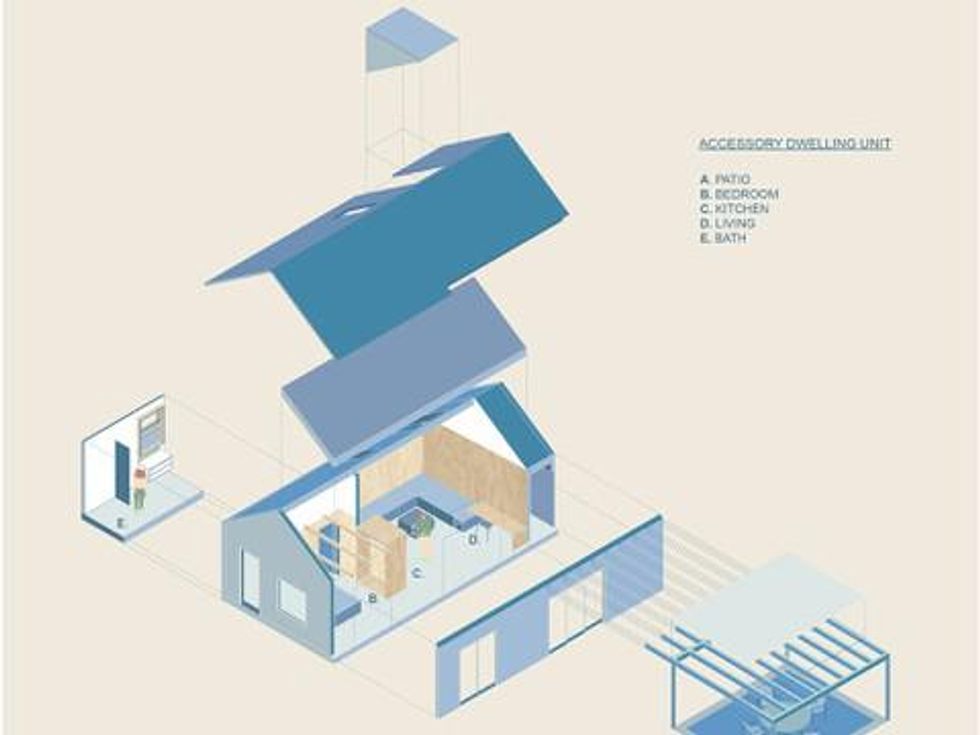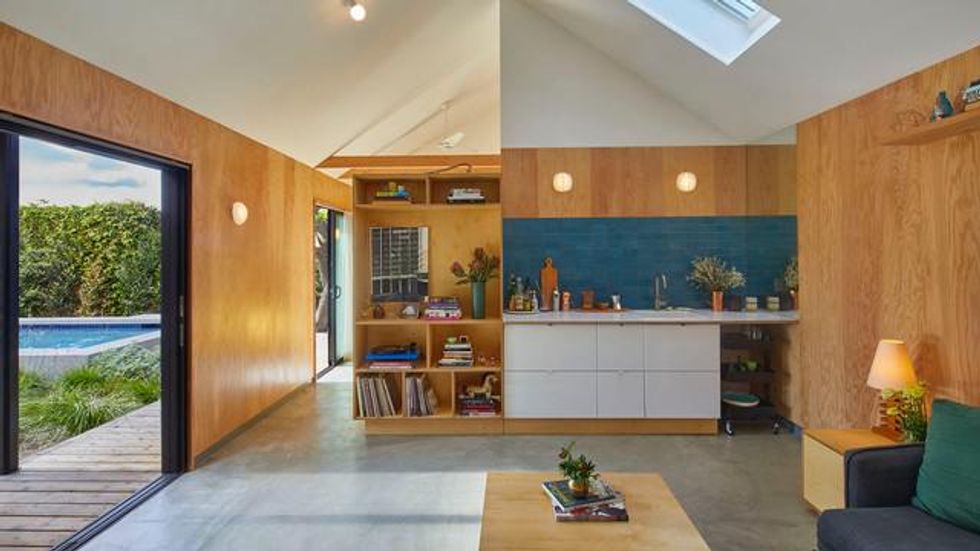 Escher GuneWardena Architecture
Founded in Los Angeles in 1996, Escher GuneWardena Architecture has received international recognition and has collaborated with contemporary artists, worked on historical preservation projects and more.
The company has been approved for two different one-story, one- or two-bedroom units, one at 532 square feet with an estimated cost of $200,000 and another at 784 square feet with an estimated cost of $300,000. The firm noted the costs depend on site conditions and do not include soft costs. Those could add 10% to 12% to the total construction costs.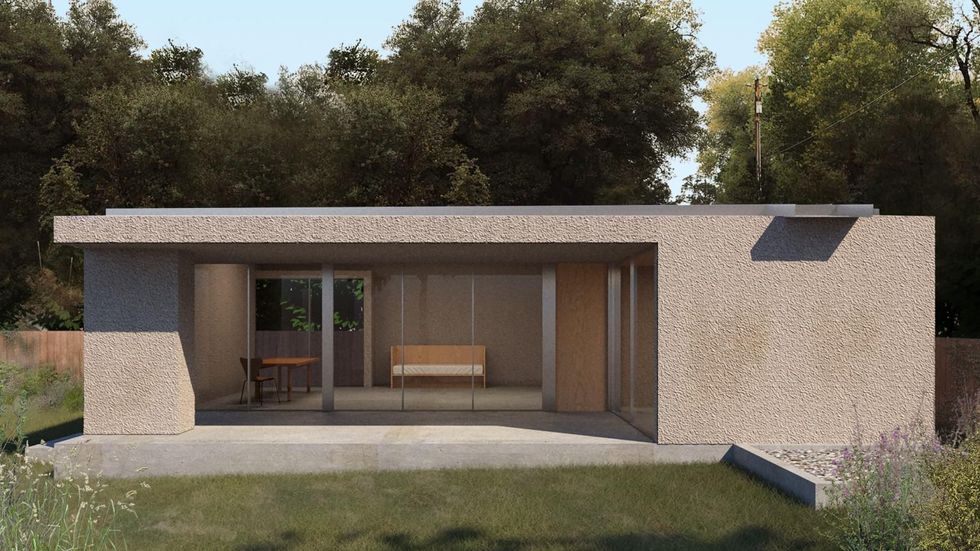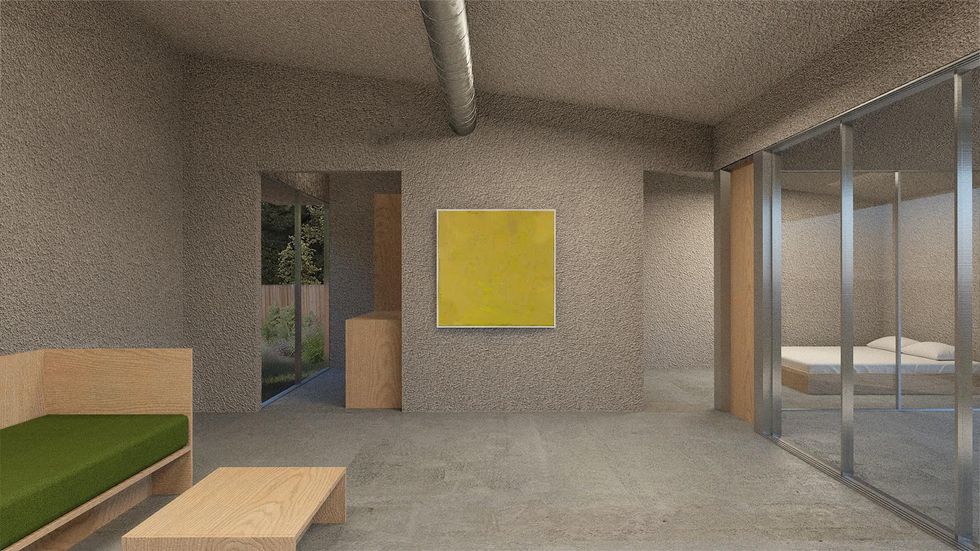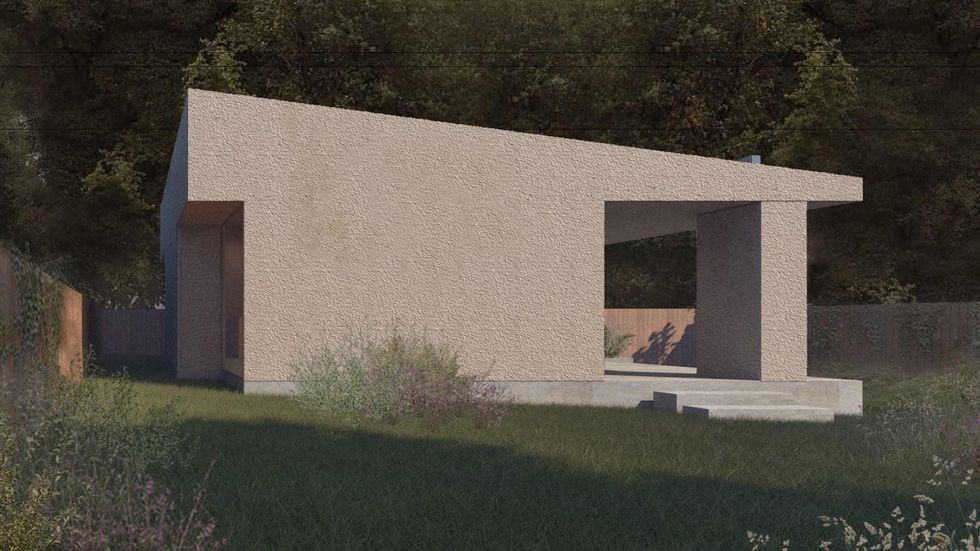 First Office
First Office is an architecture firm based in Downtown Los Angeles. Its approved ADUs will be built using prefabricated structural insulated panels, which allow for expedited construction schedules and high environmental ratings.
The interior finishes include concrete floors, stainless steel counters and an occasional element of conduit.
There are five options:
A one-story studio, 309 to 589 square feet
A one-story one-bedroom, 534 to 794 square feet
And a one-story two-bedroom, 1,200 square feet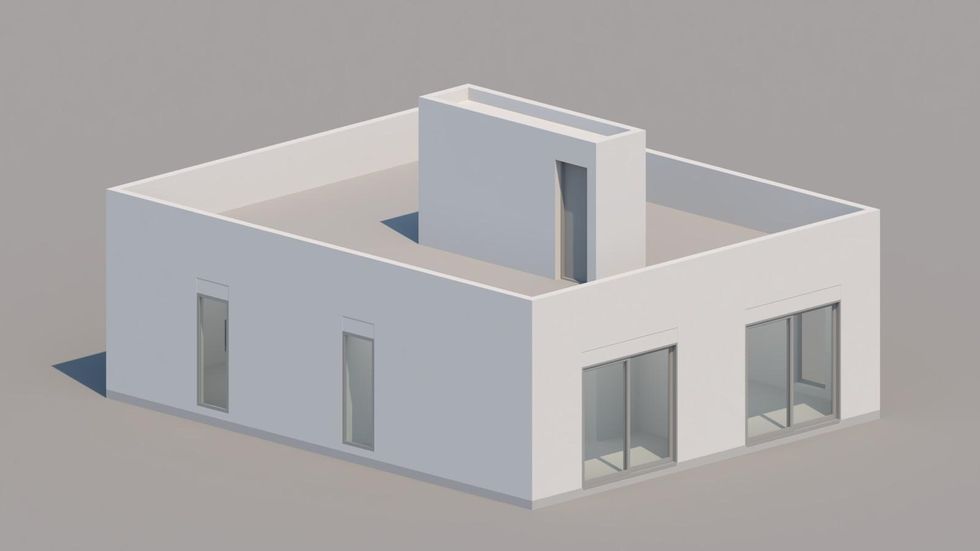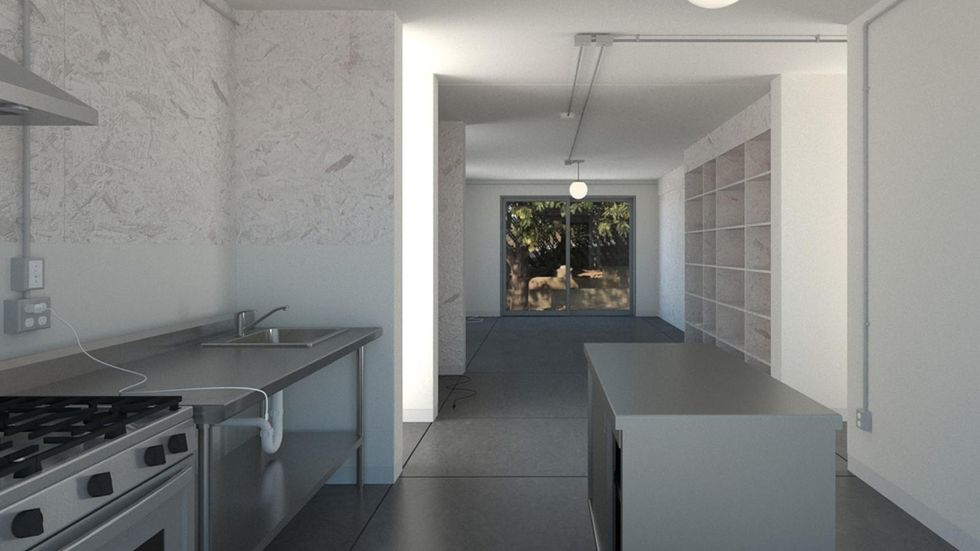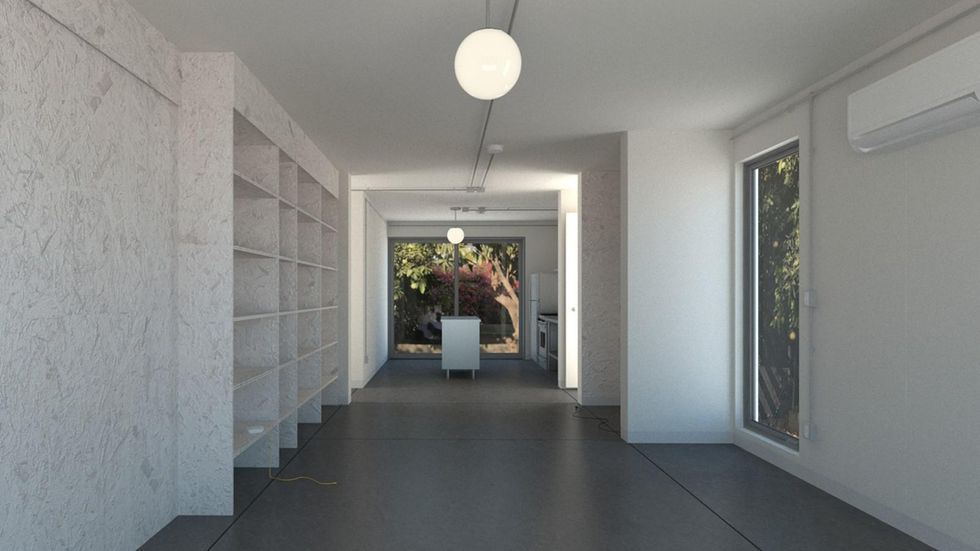 Fung + Blatt Architects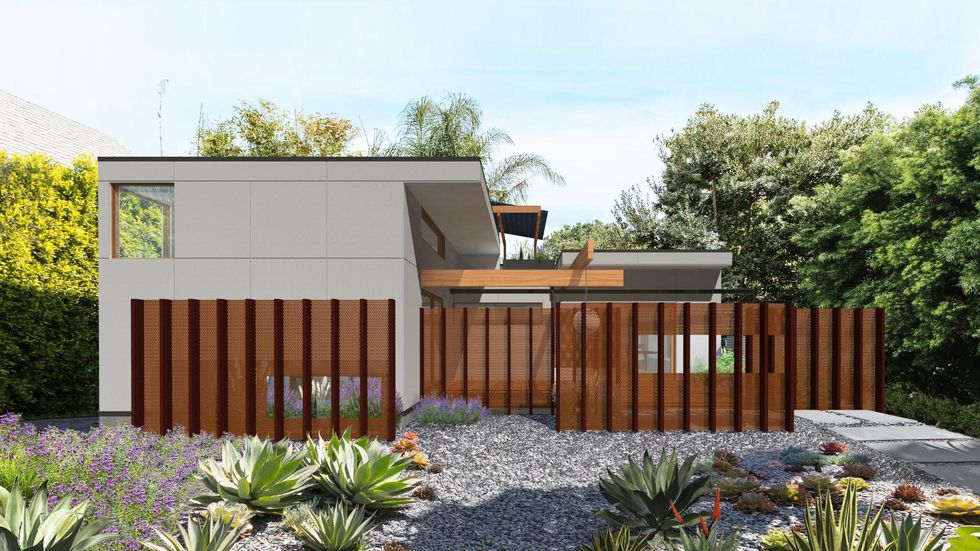 Fung + Blatt Architects is a Los Angeles-based firm founded in 1990.

The city has approved its 795-square-foot, one-story, one-bedroom unit with a roof deck. It estimates the construction cost to be $240,000 to $300,000, excluding landscape, site work and the solar array. Homeowners can also expect other additional costs.
Taalman Architecture/ IT House Inc.
The design team behind "IT House" is Los Angeles-based studio Taalman Architecture. Over the past 15 years, IT House has built more than 20 homes throughout California and the U.S.
The IT House ADU standard plans include the tower, bar, box, cube, pod and court.
The city has approved four options, including:
A two-story including mechanical room, 660 square feet
A two-story including mechanical room, 430 square feet
A one-story studio, 200 square feet
A one-story including mechanical room, 700 square feet
The firm also has another two projects pending approval: a 360-square-foot one-story studio and a one-story, three-bedroom at 1,149 square feet.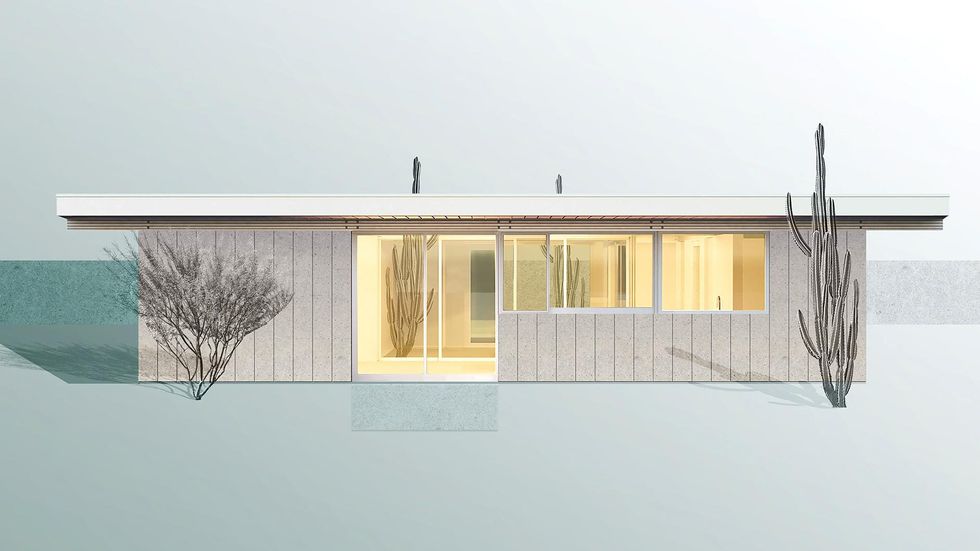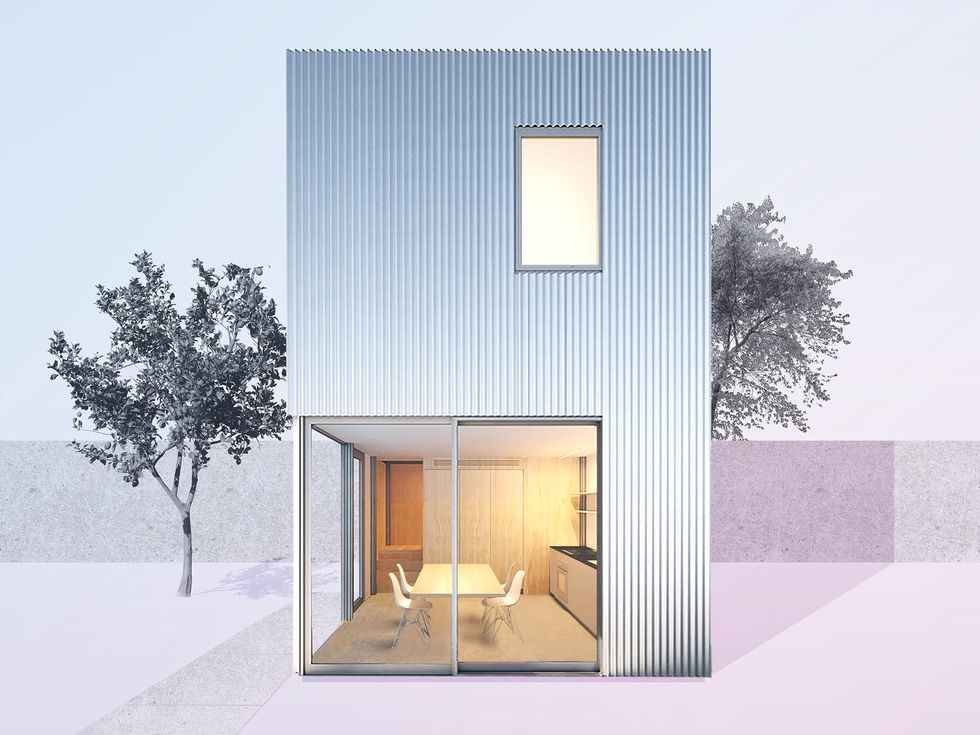 LA Más
LA Más is a nonprofit based in Northeast Los Angeles that designs and builds initiatives promoting neighborhood resilience and elevating the agency of working-class communities of color. Homeowners who are considering their design must commit to renting to Section 8 tenants.
The city has approved two of LA Más' designs: a one-story, one-bedroom, 528 square feet unit and a one-story, two-bedroom, 768 square feet unit. The firm has another design for a one-story studio pending approval. That design would be the first 3D-printed ADU design in the city's program.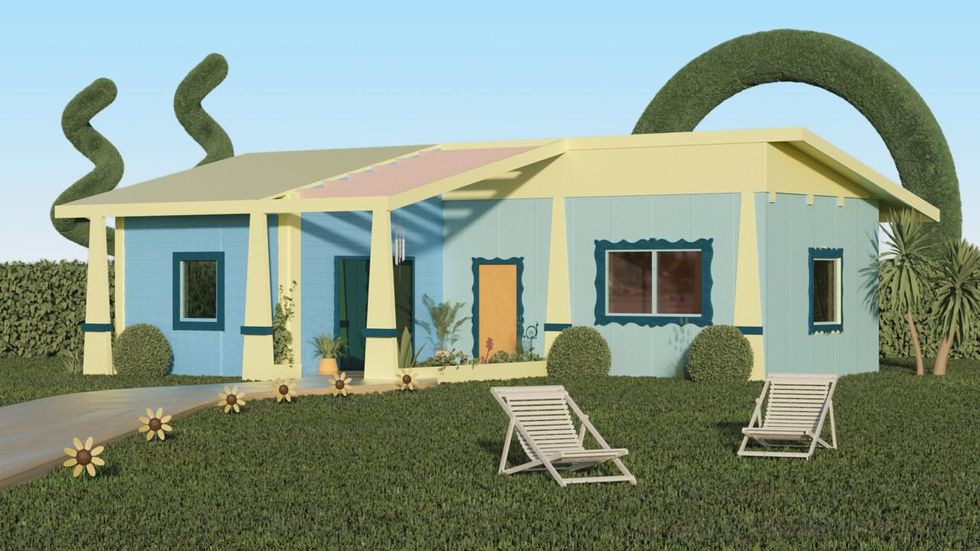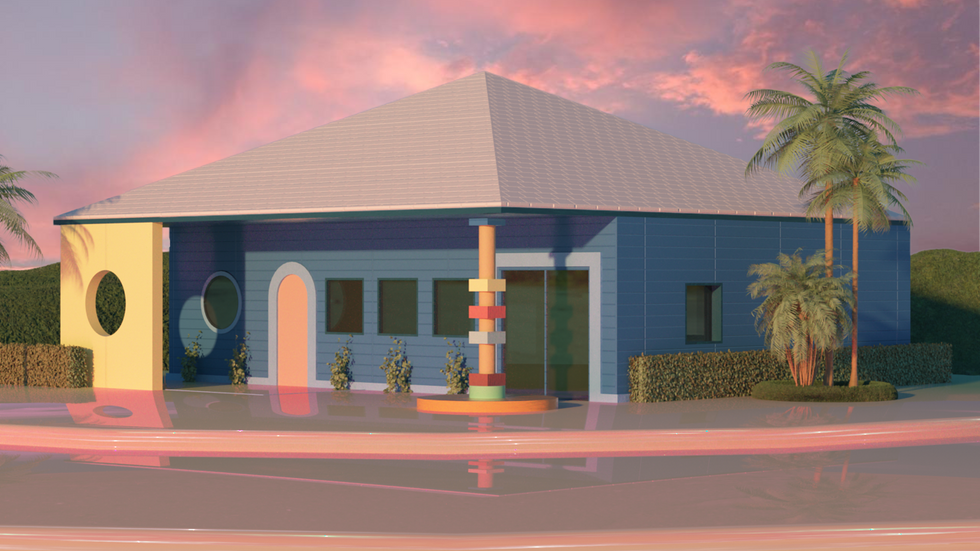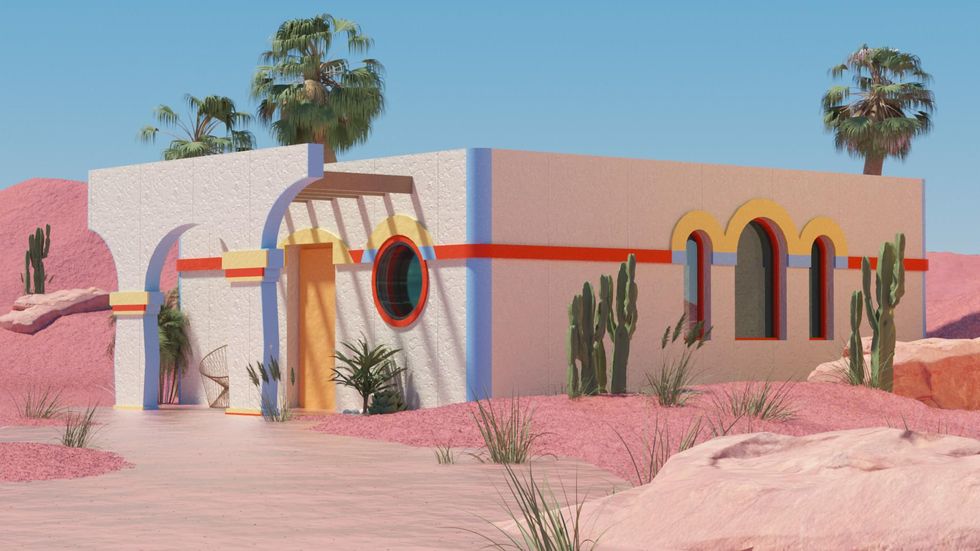 Jennifer Bonner/MALL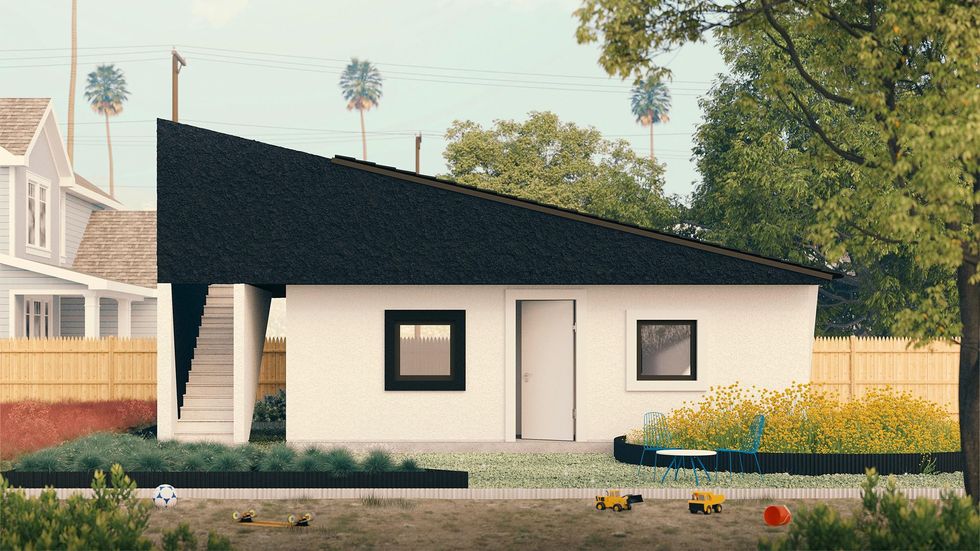 Massachusetts-based Jennifer Bonner/MALL designed a "Lean-to ADU" project, reinterpreting the stucco box and exaggerated false front, both Los Angeles architectural mainstays.
The design has been approved for a 525-square-foot one-story, one-bedroom unit with a 125-square-foot roof deck.
sekou cooke STUDIO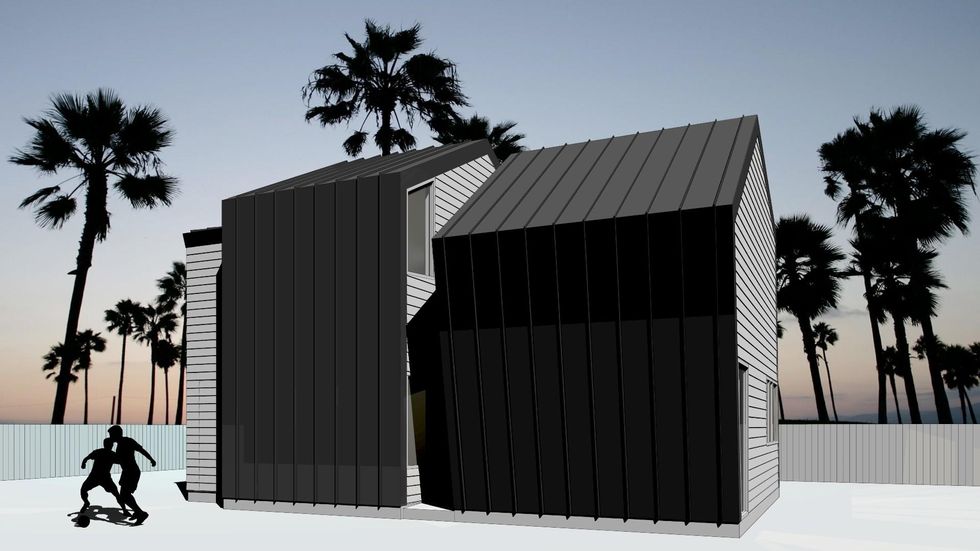 New York-based sekou cooke STUDIO is the sole Black-owned architectural firm on the project.

"The twisted forms of this ADU recalls the spin and scratch of a DJ's records" from the early 90s, the firm said.
Its design, still pending approval, is for a 1,200-square-foot, two bedroom and two bathroom can be adapted to a smaller one-bedroom unit or to include an additional half bath.
SO-IL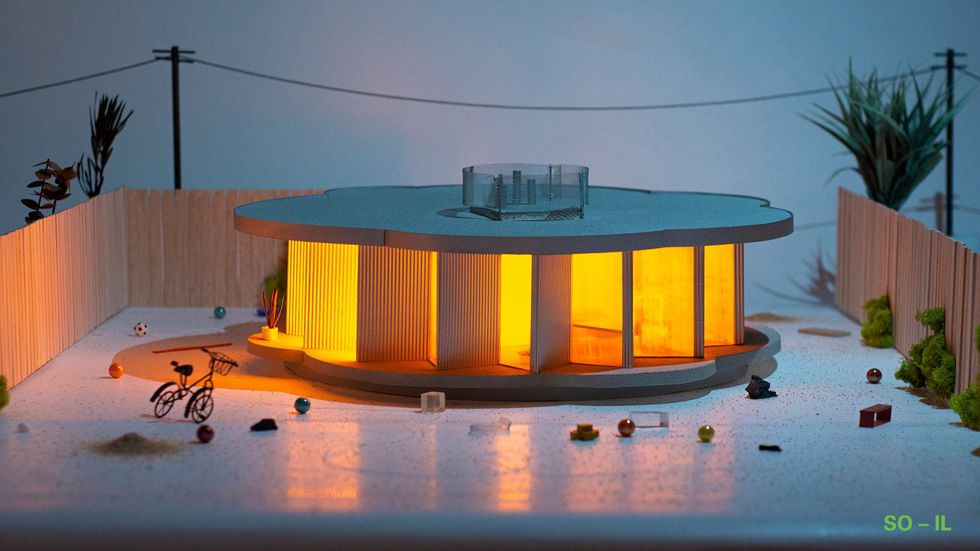 New York-based SO-IL was founded in 2008. It has completed projects in Leon, Seoul, Lisbon and Brooklyn.
Its one-story, one-bedroom 693-square-foot unit is pending approval. It is estimated the construction cost will be between $200,000 and $250,000.
WELCOME PROJECTS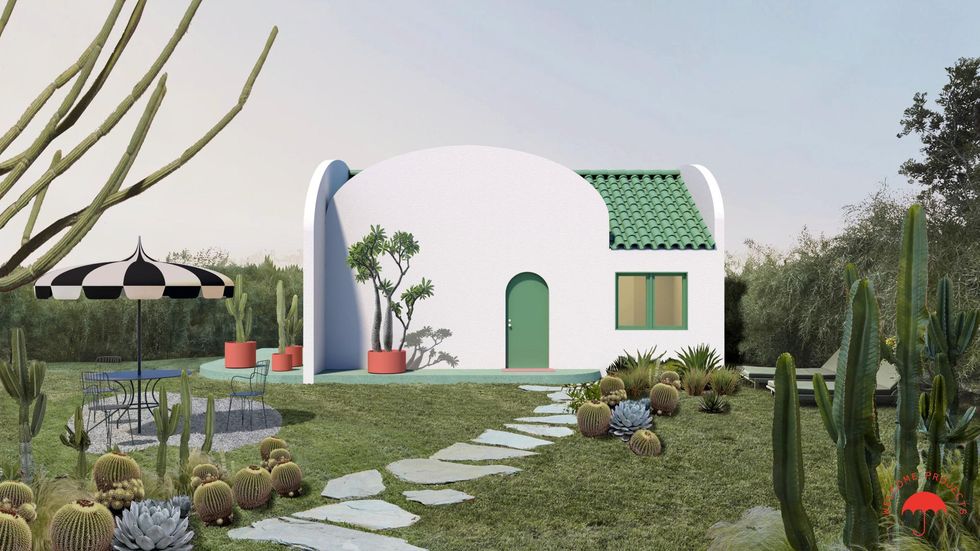 Los Angeles-based Welcome Projects has worked on projects ranging from buildings, houses and interiors to handbags, games and toys.
Its ADU is nicknamed The Breadbox "for its curved topped walls and slight resemblance to that vintage counter accessory."
It has been approved for a one-story, one-bedroom 560-square-foot unit.
wHY Architecture
Founded in 2004, wHY is based in Los Angeles and New York City. It has taken on a landmark affordable housing and historic renovation initiative in Watts.

Its one-story, one- or two-bedroom 480 to 800-square-foot unit is pending approval.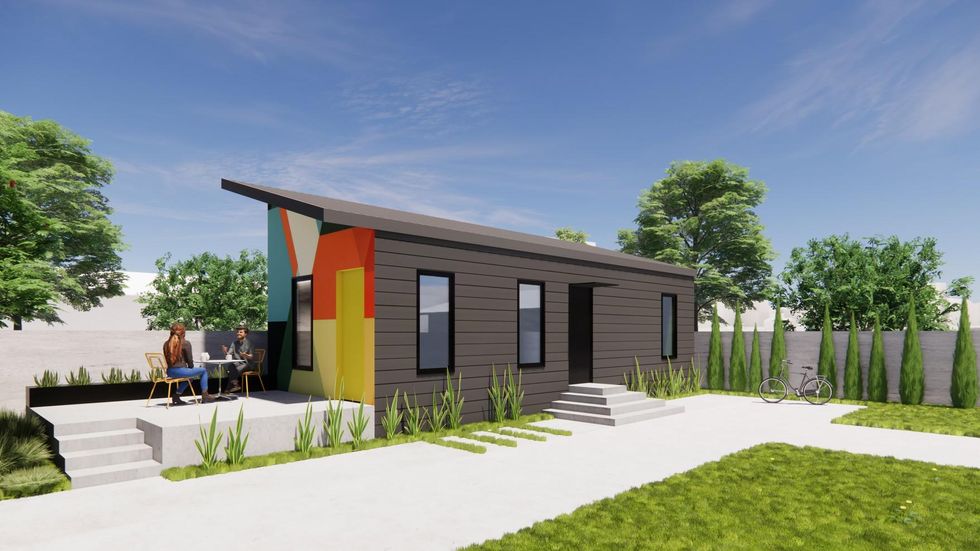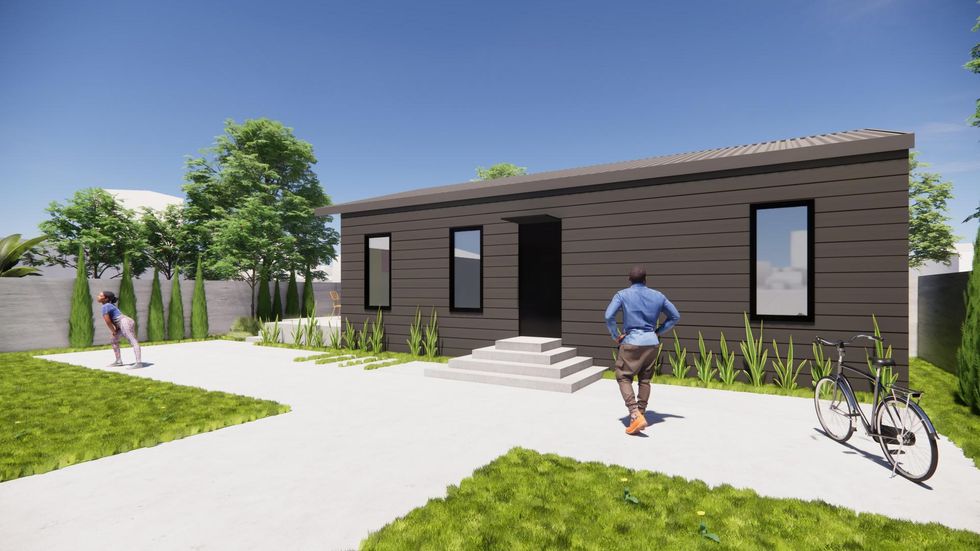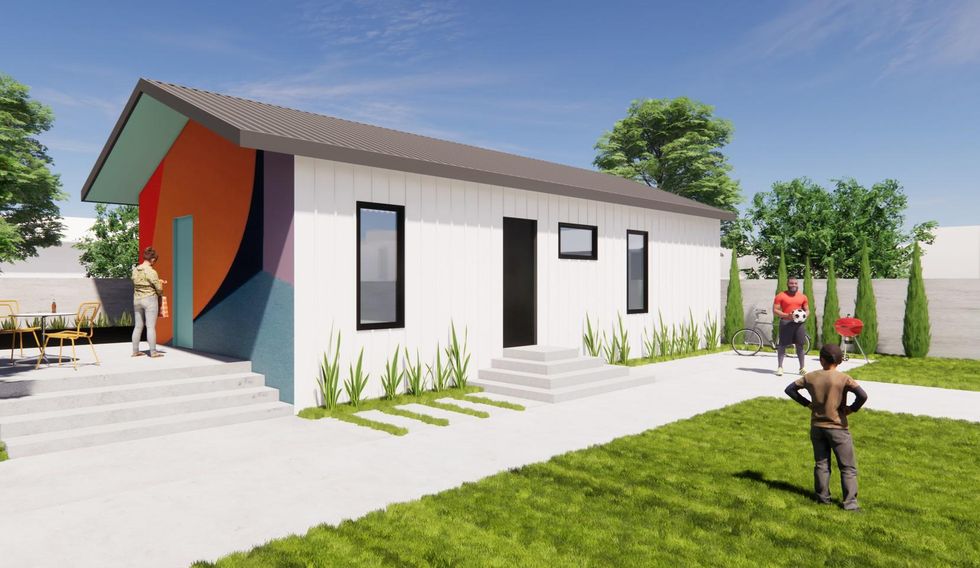 Firms that want to participate in the program can learn more here . Angelenos interested in building a standard ADU plan can learn more the approved projects here.
Sarah Favot
Favot is an award-winning journalist and adjunct instructor at USC's Annenberg School for Communication and Journalism. She previously was an investigative and data reporter at national education news site The 74 and local news site LA School Report. She's also worked at the Los Angeles Daily News. She was a Livingston Award finalist in 2011 and holds a Master's degree in journalism from Boston University and BA from the University of Windsor in Ontario, Canada.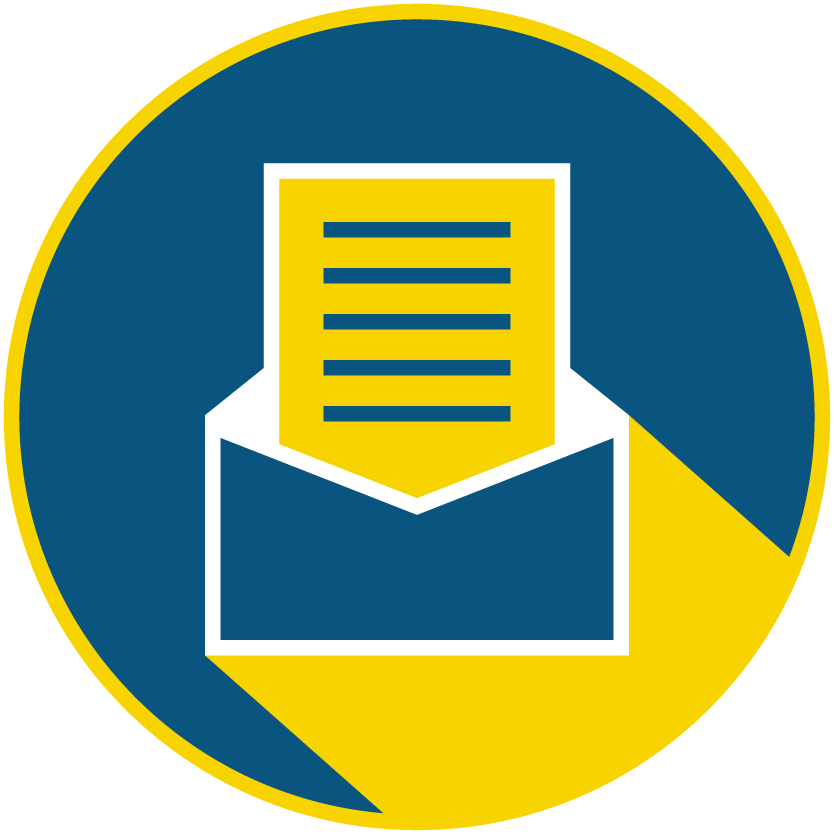 Subscribe to our newsletter to catch every headline.
07:15 AM | August 10, 2021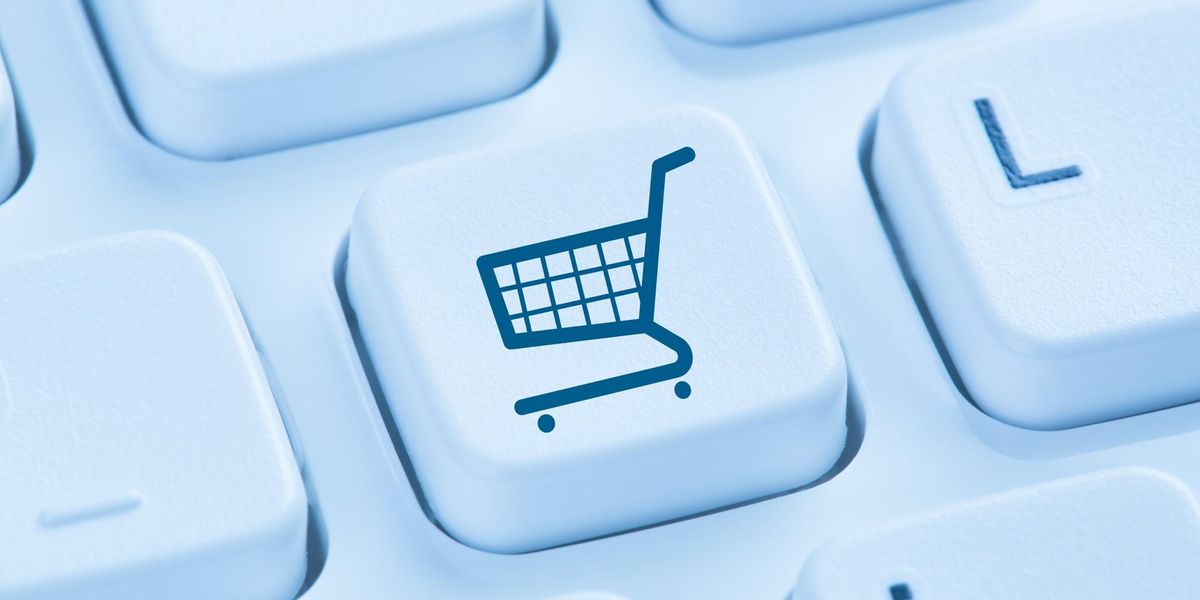 Venture capitalists poured $384 million into ecommerce companies so far this year, according to PitchBook data, with more money being spent so far in 2021 than all of 2020.
In Los Angeles, where there has always been a healthy amount of ecommerce startups, there's an emerging new evolution with more innovation in the marketplace, investors say.
We asked the region's top VCs in our dot.LA sentiment survey to identify the top L.A.-based ecommerce companies. Here's what they told us, ordered by how often each was mentioned.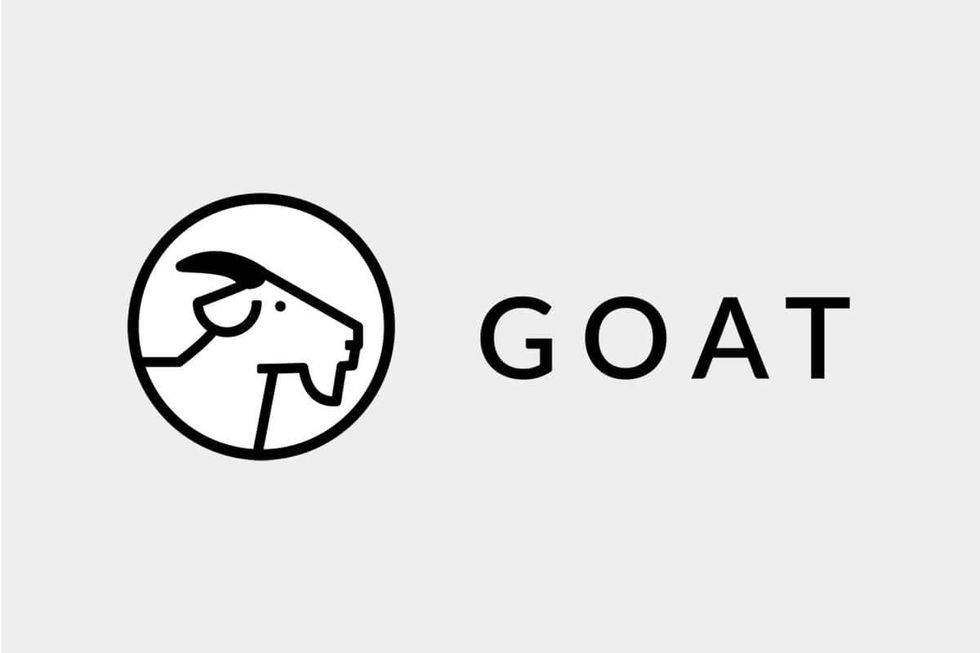 GOAT
Founded in 2015, GOAT has ascended the ranks of L.A.'s startup scene. GOAT hit unicorn status in late 2020, and just about doubled its valuation to $3.7 billion by June this year.
The marketplace platform lets shoe collectors sell and resell shoes and other luxury items. The company sold over $2 billion in merchandise in 2020.
Started by a pair of sneakerheads from UCLA, the company has become a leader in the rising industry of sneaker sales that is projected to rise from $2 billion in global worth to around $30 billion by 2030.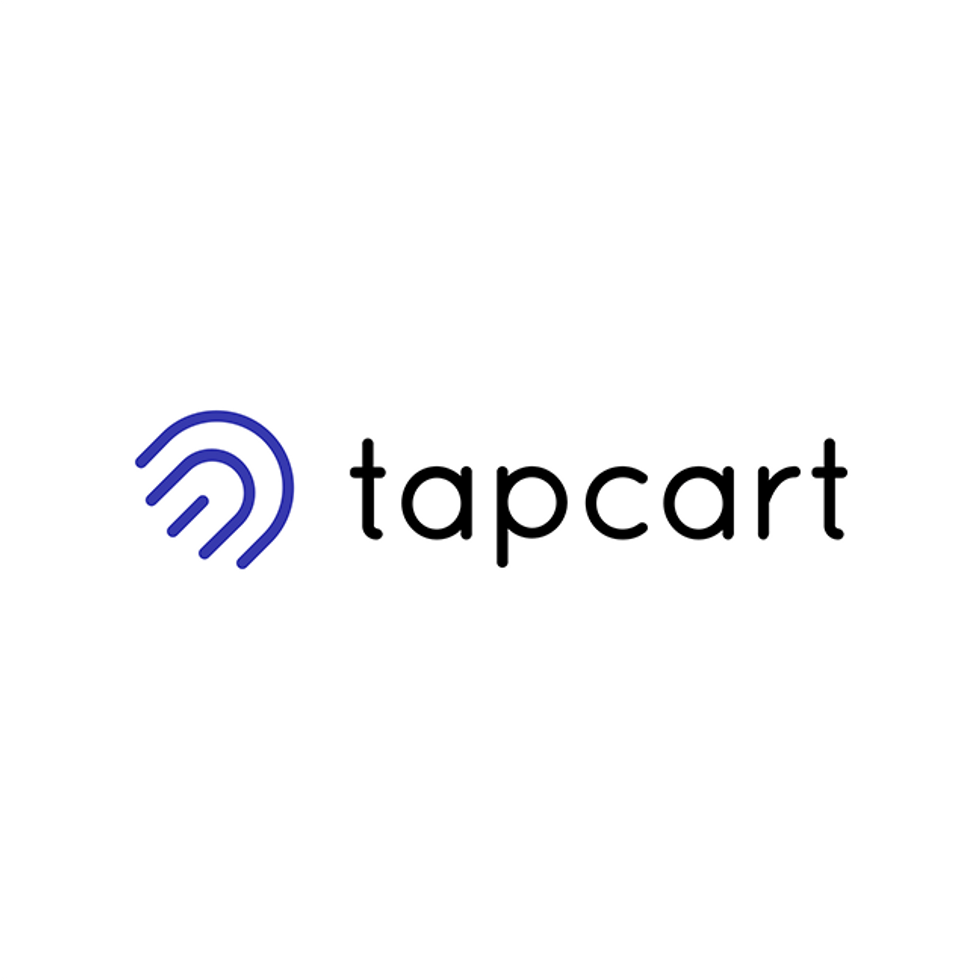 Tapcart
Founded in 2017, Santa Monica-based Tapcart is hoping to ride the wave of online and mobile ecommerce. Its software allows companies to transition Shopify-based stores into mobile apps, and boasts features that drive customer retention.
Tapcart raised $50 million in June. Founded by Eric Netsch and Sina Mobasser, apps created using the SaaS-based service processed over $1.2 billion in sales over the past year.
"The pandemic really just reassured the path that the world was already on," Netsch has told dot.LA. "We knew that mobile was taking the world by storm far before the pandemic happened."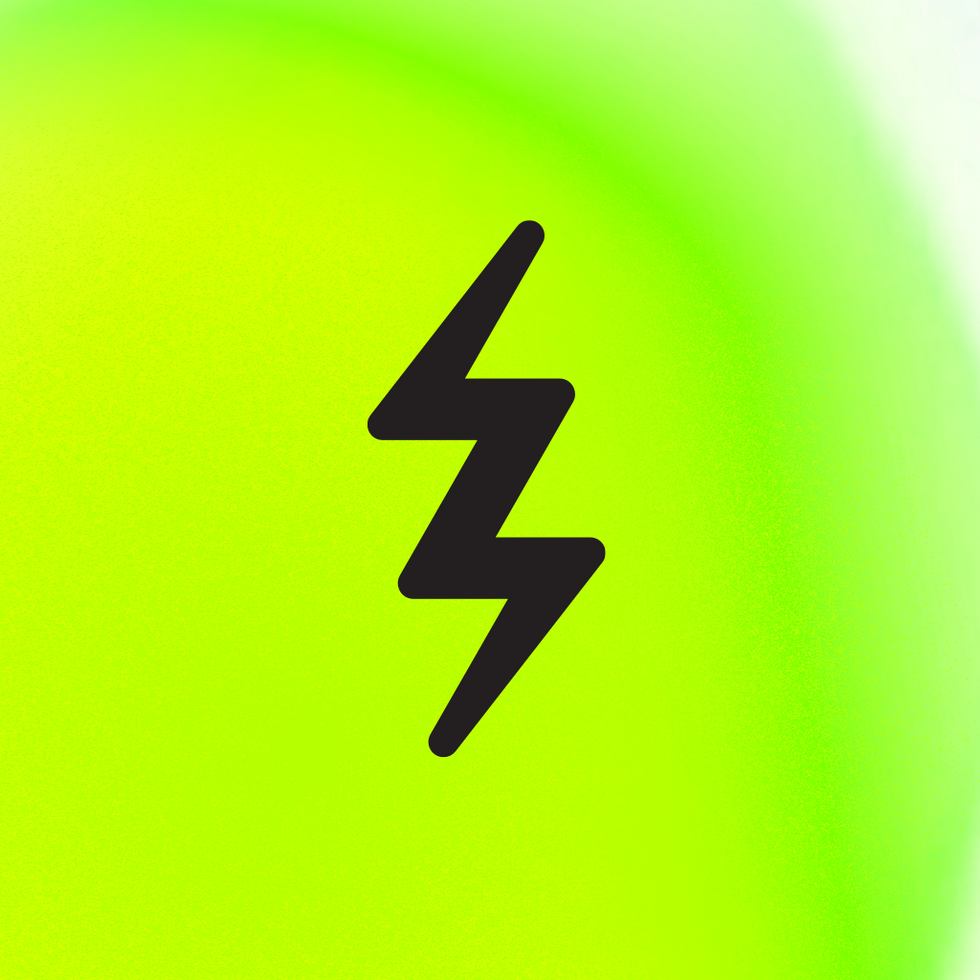 A sudden shift in pandemic-related restrictions lured companies to Popshop's livestreaming platform, allowing Popshop to reach a $100 million valuation by July.
Popshop's app allows stores to livestream from their websites and promote their product. Sales are made directly through the app. The company took inspiration from the Chinese market, where livestream vending platforms was successful, and is hoping the model translates to the U.S. market.
Petra Griffith, managing director of Wedbush Ventures, said she named Popshop Live as one of the most interesting ecommerce companies (that she does not invest in) because of its dynamic founder, Danielle Li.
"I think a lot about commerce and the future of commerce," she said. "You see the popularity in Asia, [where you] have influencers and video and live interaction, kind of like a live QVC that you can interact with is I think is really compelling."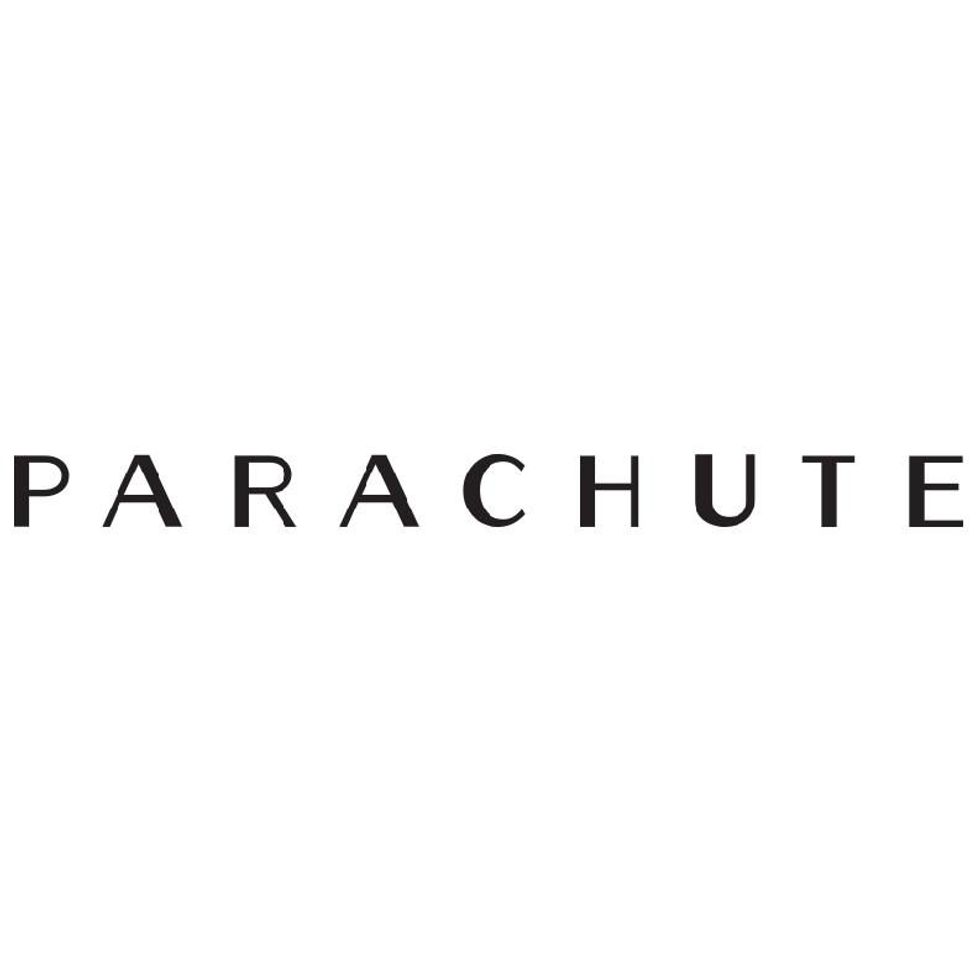 Launched in 2014 as an online-only, direct-to-consumer brand, Parachute began as a high-end bedding company. Since then it has expanded into other home goods products and has opened brick-and-mortar stores across the U.S., including one in Venice and another in Silver Lake.
Ariel Kaye, founder and CEO, launched Parachute's first mattress line in 2019, and the company has created a following among millennials with its bedding and bath linens made from high-quality materials.
Kaye said Parachute's home goods products fared "extremely well" during the pandemic as people spent money to "refresh" or redecorate their living spaces or moved into new homes.
"As a digitally native brand, we were able to meet our customers where they are. We have been very lucky to connect with new and existing customers to offer products as well as services designed to help them enjoy their home," Kaye said in an email.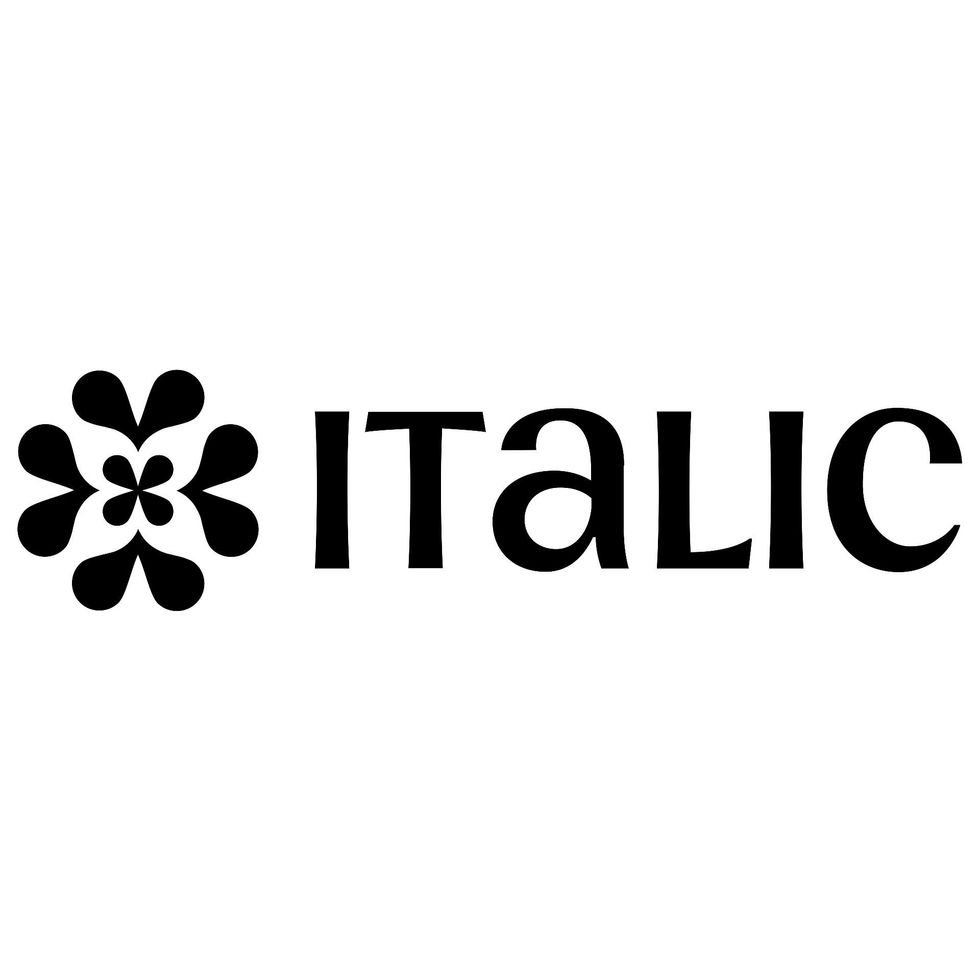 Founded in 2018, Italic is a subscription based, direct-from-manufacturer company. The Los Angeles-based startup partners with manufacturers that work with big-name luxury brands to offer the same type of goods without the cost of branding.
CEO Jeremy Cai said he doesn't see Italic as a traditional ecommerce company because it takes nearly no inventory risk, but rather makes money when customers buy products, using that to pay the manufacturer and taking a cut of it. He said the business is more oriented toward technology, operations and product development, rather than sales and marketing.
"I think the excitement around our business is that we're fundamentally doing something different from a business standpoint and that we have pretty deep customer loyalty," Cai said.
While Italic is membership based, Cai said the company plans to allow customers who aren't members to make purchases later this year.
"In my mind, the future is really like a bifurcation of value-driven shopping and branded shopping," he said. "What we're mostly focused on is driving value on the product side to the customer."
Sarah Favot
Favot is an award-winning journalist and adjunct instructor at USC's Annenberg School for Communication and Journalism. She previously was an investigative and data reporter at national education news site The 74 and local news site LA School Report. She's also worked at the Los Angeles Daily News. She was a Livingston Award finalist in 2011 and holds a Master's degree in journalism from Boston University and BA from the University of Windsor in Ontario, Canada.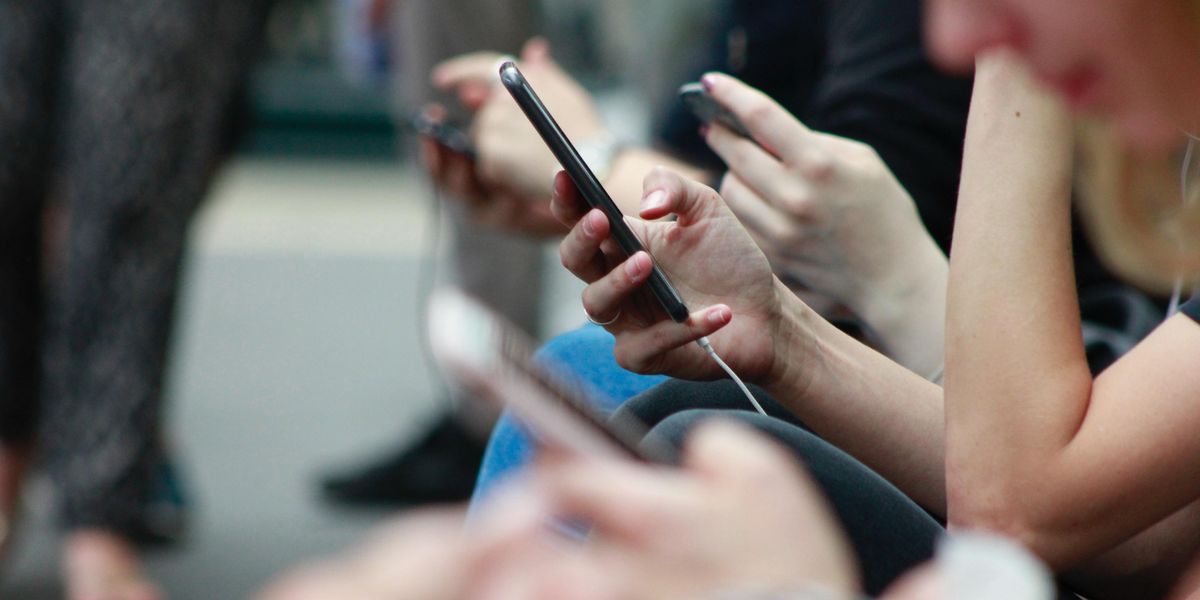 Photo by ROBIN WORRALL on Unsplash
Text message marketing startup Voyage SMS has laid off more than 10% of its staff, including its chief operating officer, dot.LA has learned—as the Santa Monica-based company became the latest local venture to fall victim to worsening economic conditions.
Voyage cut eight people from its roughly 60-person workforce last week, co-founder and CEO Rev Reddy confirmed to dot.LA. Besides COO Dave Link, the cuts affected the company's full-time sales department and some contractors, he said.
"It's unfortunate to let people go—it's never a fun thing," Reddy said. "This is a multi-factor decision, but of course the macro[economic] climate affected [and] was an input in this decision."
Reddy added that the company hopes the downsizing will be temporary and that Voyage plans to eventually hire more staff, specifically people in the Los Angeles area who have expertise in digital marketing. "We are prioritizing growth efficiency over growth at all costs," he said.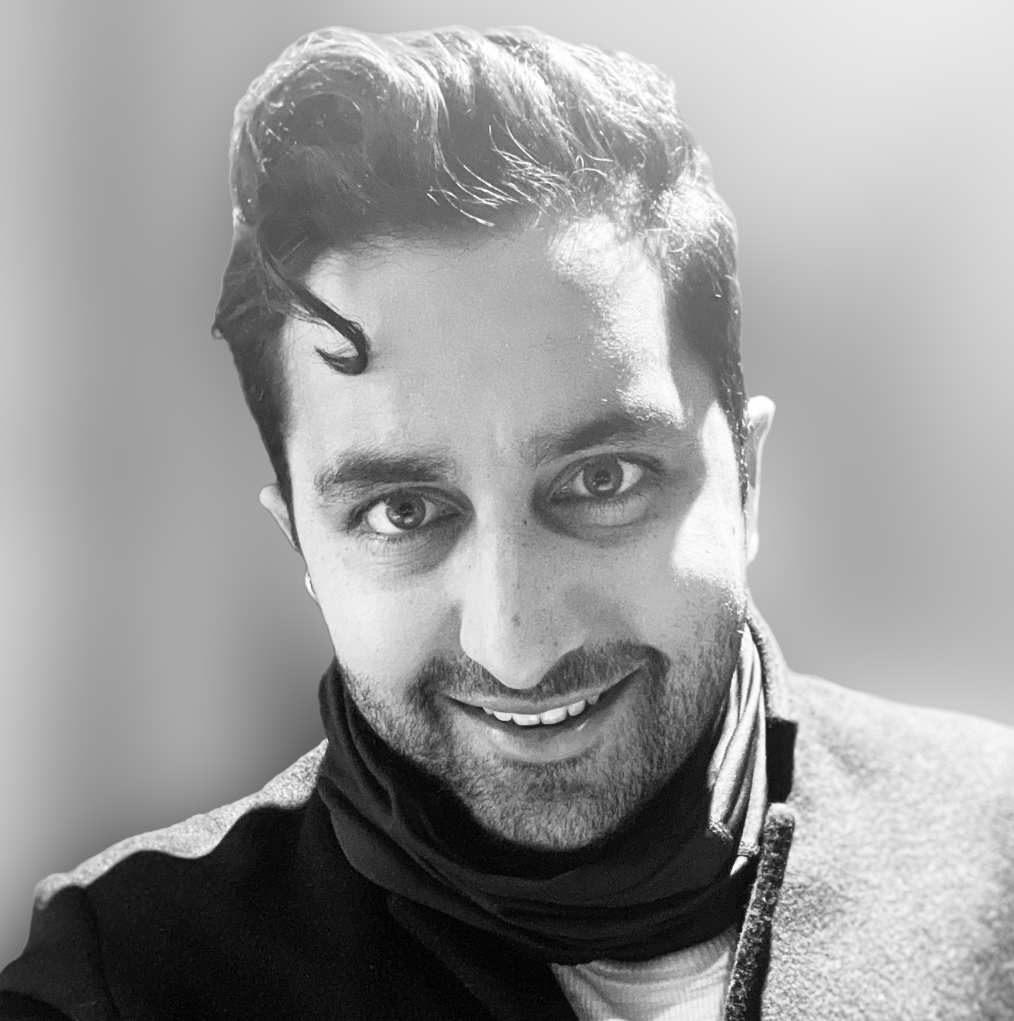 Voyage CEO Rev Reddy.Credit: Voyage SMS
The ongoing economic downturn has not spared the tech and venture capital sectors, spooking investors into pulling back funding and prompting a wave oflayoffs acrossthe industry. It's a sudden change of winds of Voyage, which earlier this year raised a $10 million funding round and acquired rival SMS marketing startup LiveRecover. Voyage's text-based marketing strategy is plugged into ecommerce platforms such as Shopify and ZenDesk—but as consumers have cut their discretionary spending to cope with rising inflation, they're spending less on ecommerce, indirectly hindering Voyage's business.
Link, Voyage's outgoing COO, previously worked for LiveRecover and joined the company in February after the acquisition.
"Technically, [Link] wasn't even an employee—it was a trial," Reddy noted. "The title was internal and it was very much contingent upon execution of results. And candidly speaking, those results were just not hit."
Link could not immediately be reached for comment. Other former Voyage employees confirmed on LinkedIn that they were laid off and looking for new work.
While Voyage is not yet profitable, Reddy said he believes the company is on a "path to profitability in a reasonable timeframe." Still, he acknowledged that the startup's backers—which include former Airbnb executive James Beshara and venture firms RiverPark and Guild Capital—will be eager to see progress if Voyage is to "attract the capital we need" moving forward.
"Limited partners now look at their portfolio and their allocations, and since the public markets have dropped so much, they look overweight in venture," York IE managing partner Joe Raczka, whose New Hampshire-based investment firm is among Voyage's investors, told dot.LA. "So they course-correct a little bit in terms of where their allocations are going, so you see some hesitancy."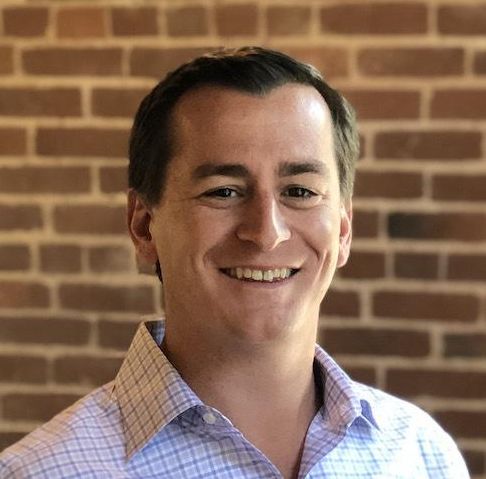 York IE Managing Partner Joe Raczka.
Credit: York IE
Still, Raczka said York IE plans to stick with Voyage. "I think the company has a massive market that they play in [and] they have a really strong product," he said. "I remain very confident in the business."

From Your Site Articles
Related Articles Around the Web
Samson Amore
Samson Amore is a reporter for dot.LA. He previously covered technology and entertainment for TheWrap and reported on the SoCal startup scene for the Los Angeles Business Journal. Send tips or pitches to samsonamore@dot.la and find him on Twitter at @Samsonamore. Pronouns: he/him