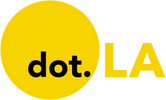 Get in the KNOW  
  on LA Startups & Tech  
X
Design, Bitches
Looking to Build a Granny Flat in Your Backyard? Meet the Firms and Designs Pre-Approved in LA
Sarah Favot
Favot is an award-winning journalist and adjunct instructor at USC's Annenberg School for Communication and Journalism. She previously was an investigative and data reporter at national education news site The 74 and local news site LA School Report. She's also worked at the Los Angeles Daily News. She was a Livingston Award finalist in 2011 and holds a Master's degree in journalism from Boston University and BA from the University of Windsor in Ontario, Canada.
07:10 AM | March 12, 2021
Adding a backyard home in Los Angeles is now nearly as easy as buying a barbecue.
Homeowners who for years have wanted to build a granny flat in their backyard, but dreaded the red tape, can now choose from 20 pre-designed homes that the city has already approved for use.
The shift, made official last week, will speed up a weeks-long process and bring more badly needed units to an overpriced market. It also has the potential to elevate the 14 startups and firms building the next generation of homes.
---
The designs for the stand-alone residences range from a 200-square-foot studio to a 1,200-square foot, two-story, two-bedroom unit. And many of the homes are filled with design flourishes, reflecting the diverse architecture of the city, from a house in the silhouette of a flower to one with a spiral outdoor staircase leading to the roof.
It's no surprise. The program was spearheaded by Christopher Hawthorne, a former architecture critic at the Los Angeles Times and now the city's chief design officer.
The firms are primarily local and startup architecture and design firms, while others are well-known with a history of building granny flats, also know as accessory dwelling units, or ADUs.
The standard plans avoid the Los Angeles Department of Building and Safety's typical four-to six-week review process and can allow approvals to be completed in as quickly as one day.
Some aspects of the plans can be modified to fit a homeowner's preferences. Eight other designs are pending approval.
Mayor Eric Garcetti believes by adding more such units, the city can diversify its housing supply and tackle the housing crisis. Recent state legislation made it easier to build the small homes on the lot of single-family residences. Since then, ADUs have made up nearly a quarter of Los Angeles' newly permitted housing units.
Because construction costs are relatively low for the granny flats – the pre-approved homes start at $144,000 and can go beyond $300,000 – the housing is generally more affordable. The median home price in L.A. County in January was $690,000.
Here's a quick look at the designs approved so far:
Abodu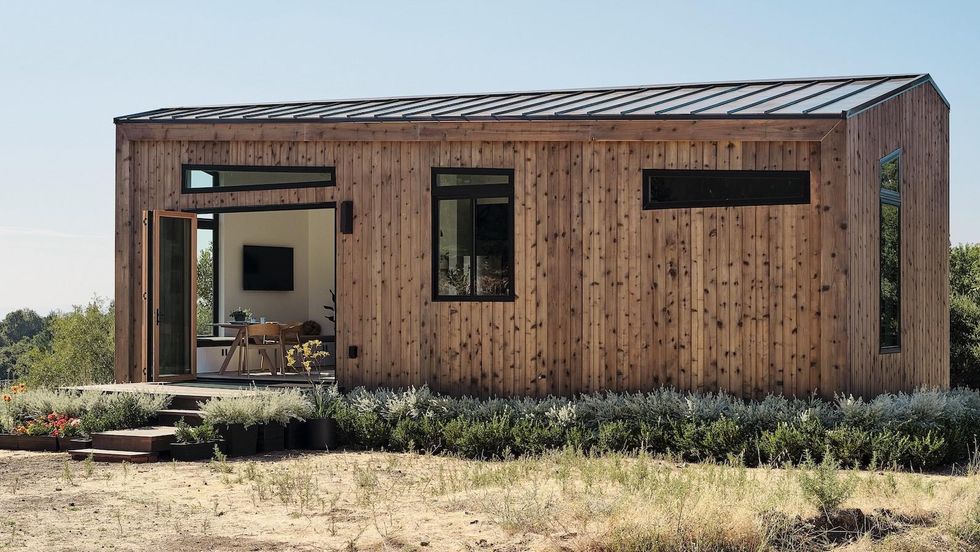 Abodu
Abodu, based in Redwood City in the Bay Area, exclusively designs backyard homes. In 2019, it worked with the city of San Jose on a program similar to the one Los Angeles is undertaking.
In October, it closed a seed funding round of $3.5 million led by Initialized Capital.
It has been approved for a one-story 340-square-foot studio, a one-story one-bedroom at 500 square feet, and a one-story, 610-square-foot two-bedroom.
The pricing for the studio is $189,900, while the one-bedroom costs $199,900 and the two-bedroom is $259,900.
Amunátegui Valdés Architects
Led by Cristobal Amunátegui and Alejandro Valdés, the firm was founded in 2011 and has offices in Los Angeles and Santiago, Chile. Amunátegui is an assistant professor at the Department of Architecture and Urban Design at UCLA.
The firm designs work in various scales and mediums, including buildings, furniture and exhibitions.
Its one-story, two-bedroom with a covered roof deck 934-square-foot unit is pending approval from the city.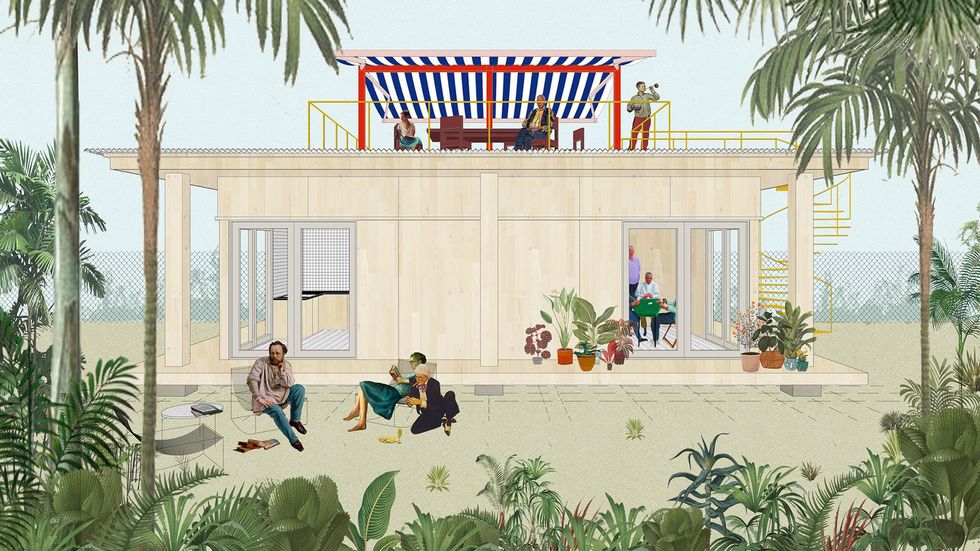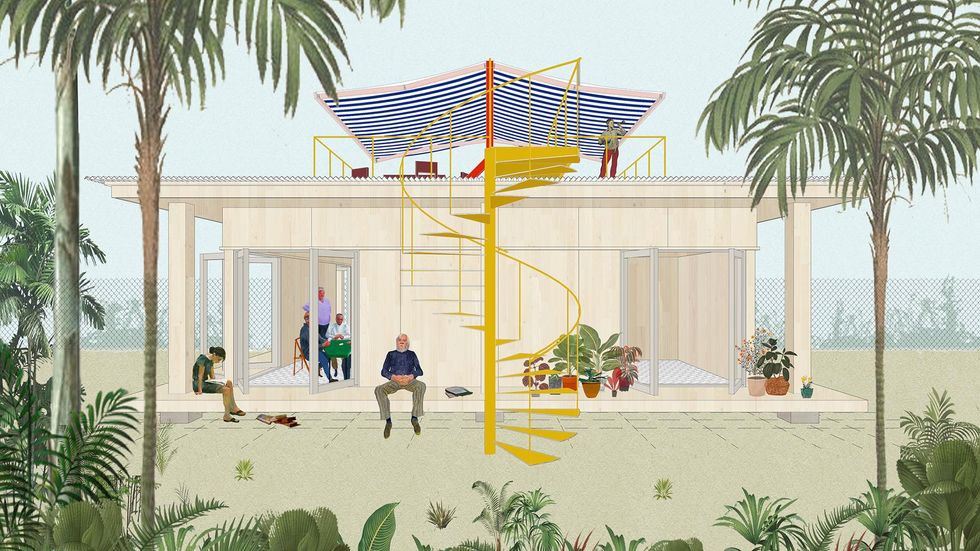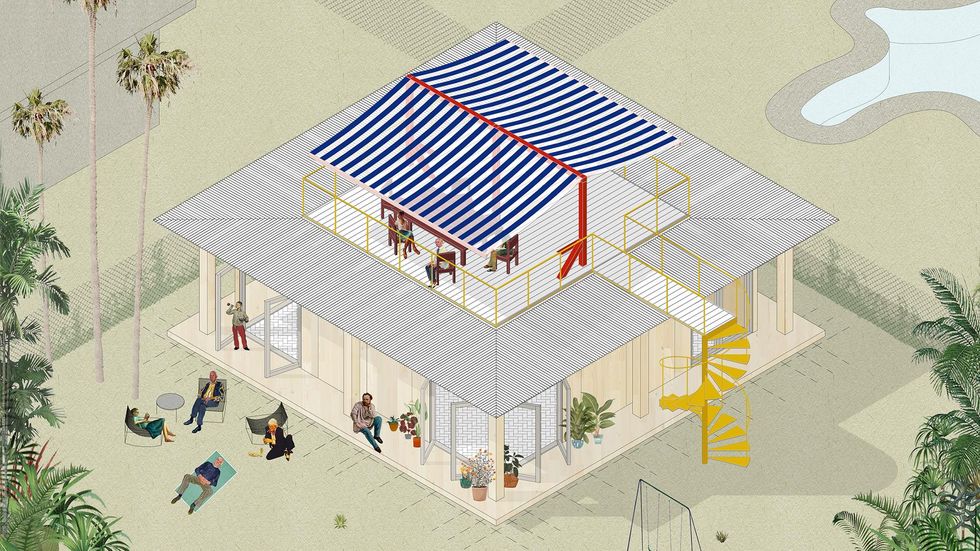 Connect Homes
Connect Homes has a 100,000-square foot factory in San Bernardino and an architecture studio in Downtown L.A.
It specializes in glass and steel homes and has completed 80 homes in California. Its designs have an aesthetic of mid-century modern California residential architecture.
It has two one-bedroom models pre-approved by the city, one is 460 square feet, which costs $144,500 with a total average project cost of $205,000. The other is 640 square feet, which costs $195,200 with a total project cost of $280,000.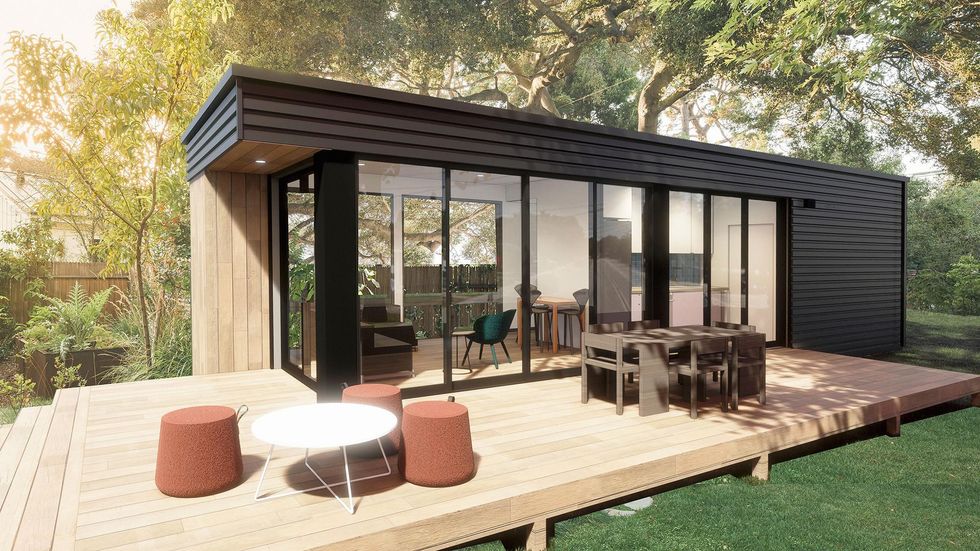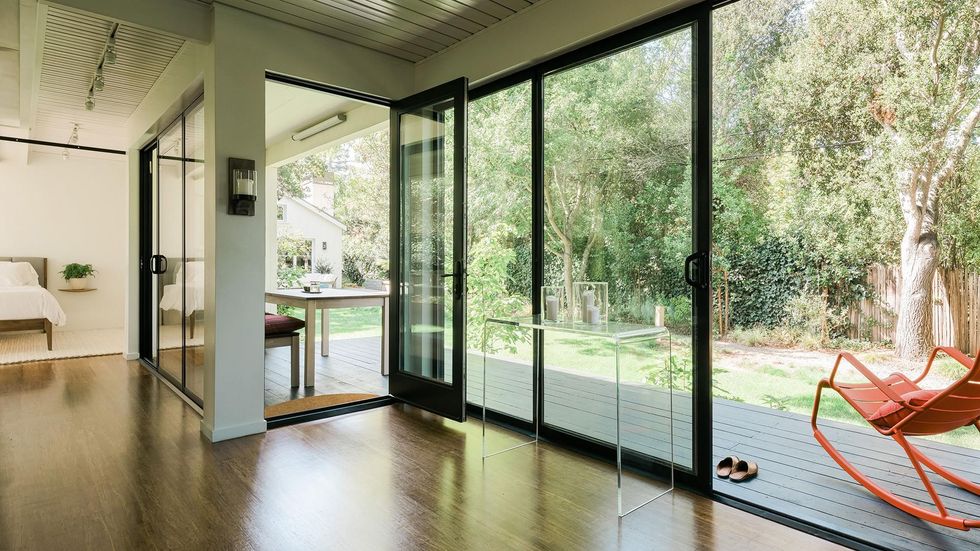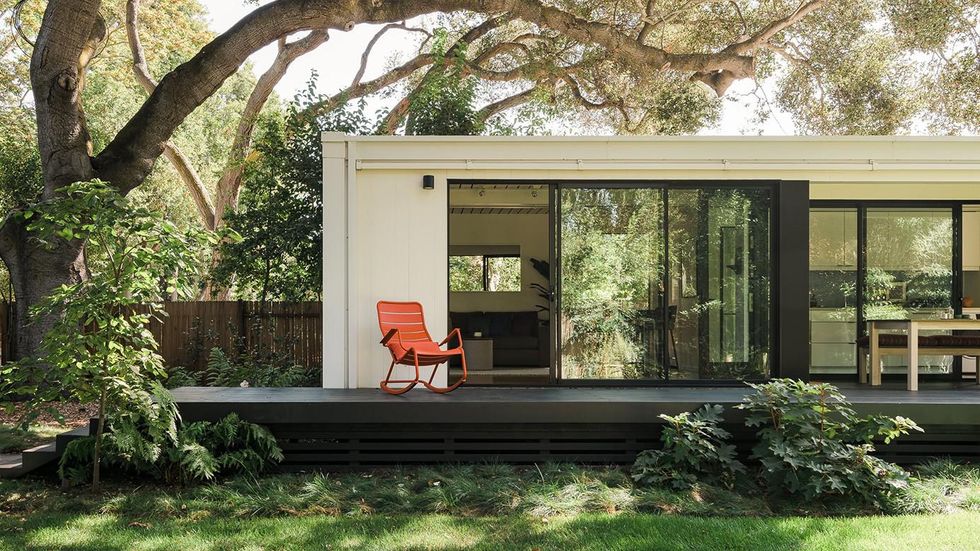 Design, Bitches
The Los Angeles-based architectural firm founded in 2010 describes itself as having a "bold and irreverent vision." Its projects include urban infill ground-up offices to single-family homes, adaptive re-use of derelict commercial buildings and renovations of historic landmarks.
Its pre-approved design, named "Midnight Room," is a guest house/ studio. Its bedroom can be left open for a loft feel or enclosed as a separate room. The design is a one-story, one-bedroom at 454 square feet.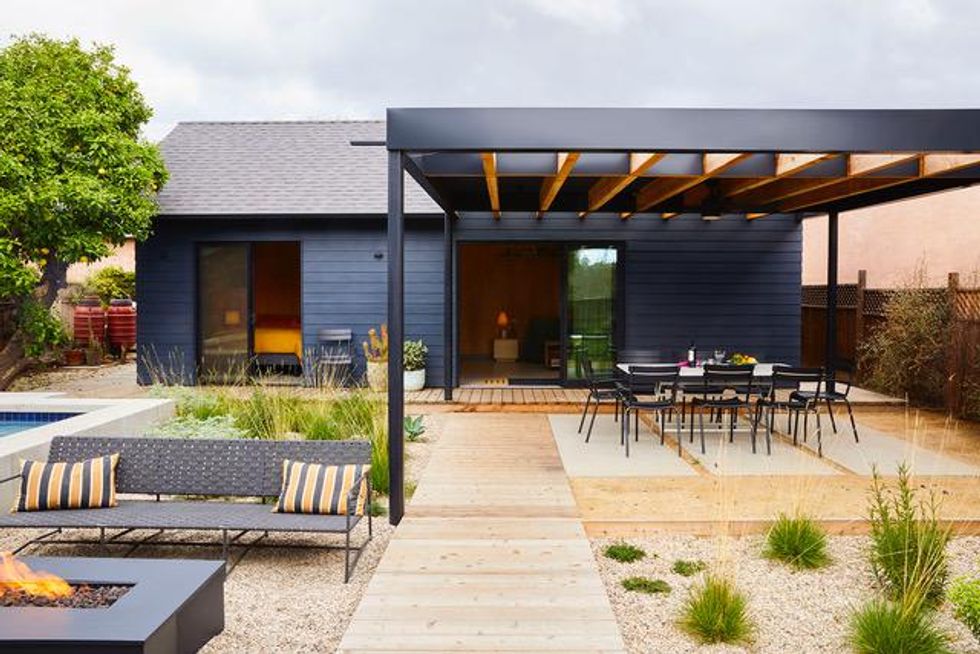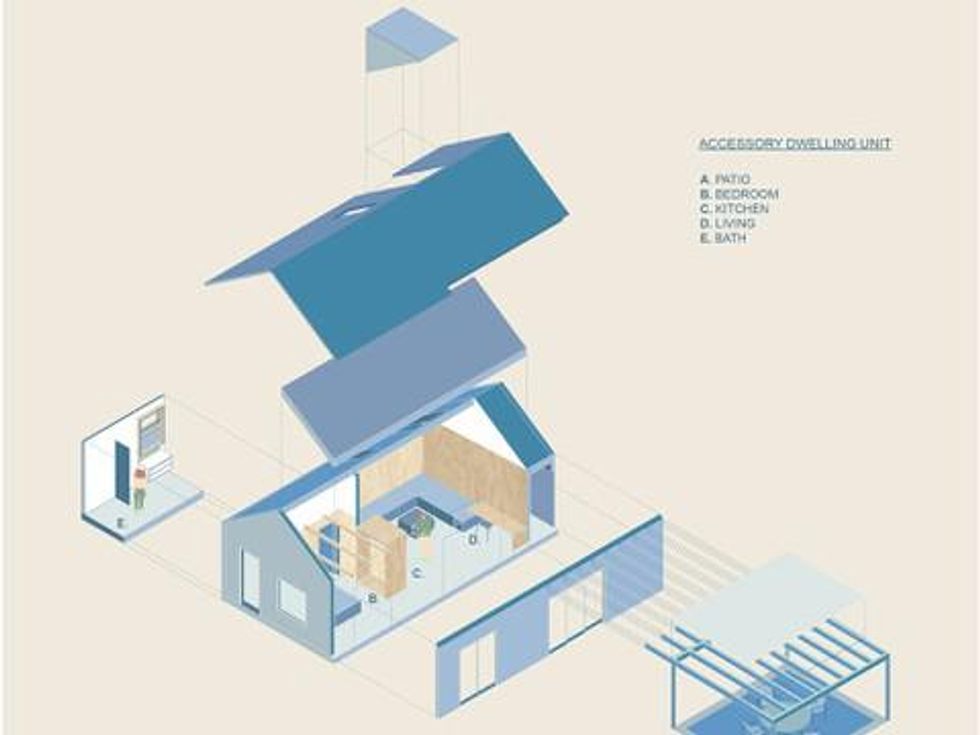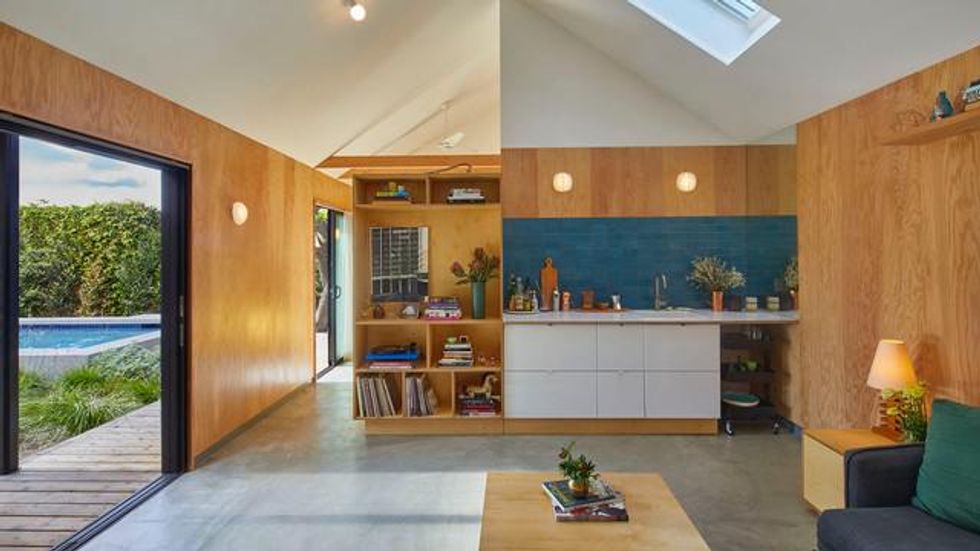 Escher GuneWardena Architecture
Founded in Los Angeles in 1996, Escher GuneWardena Architecture has received international recognition and has collaborated with contemporary artists, worked on historical preservation projects and more.
The company has been approved for two different one-story, one- or two-bedroom units, one at 532 square feet with an estimated cost of $200,000 and another at 784 square feet with an estimated cost of $300,000. The firm noted the costs depend on site conditions and do not include soft costs. Those could add 10% to 12% to the total construction costs.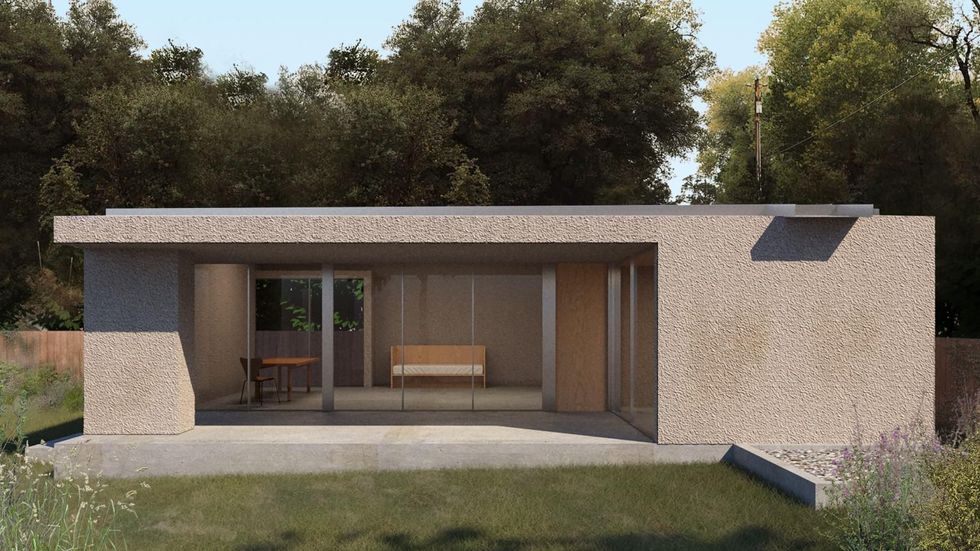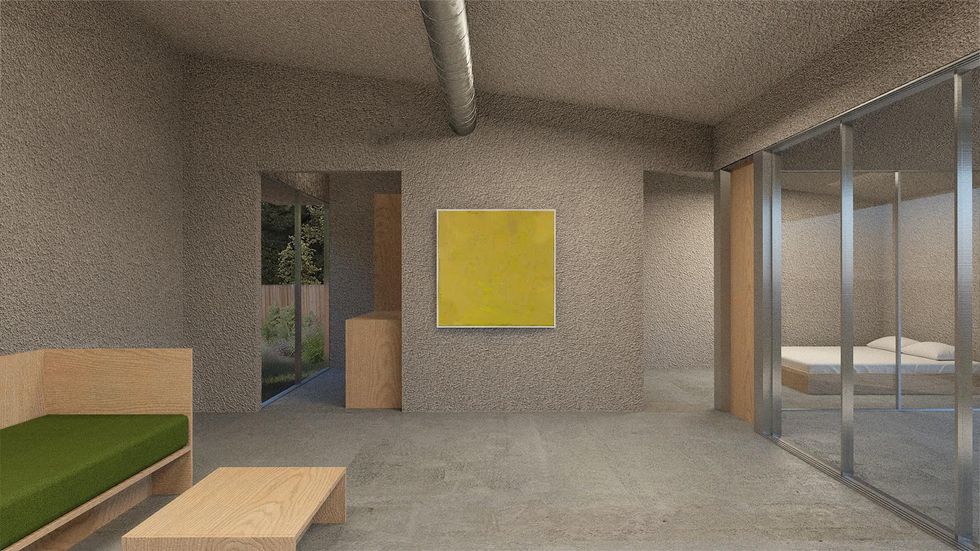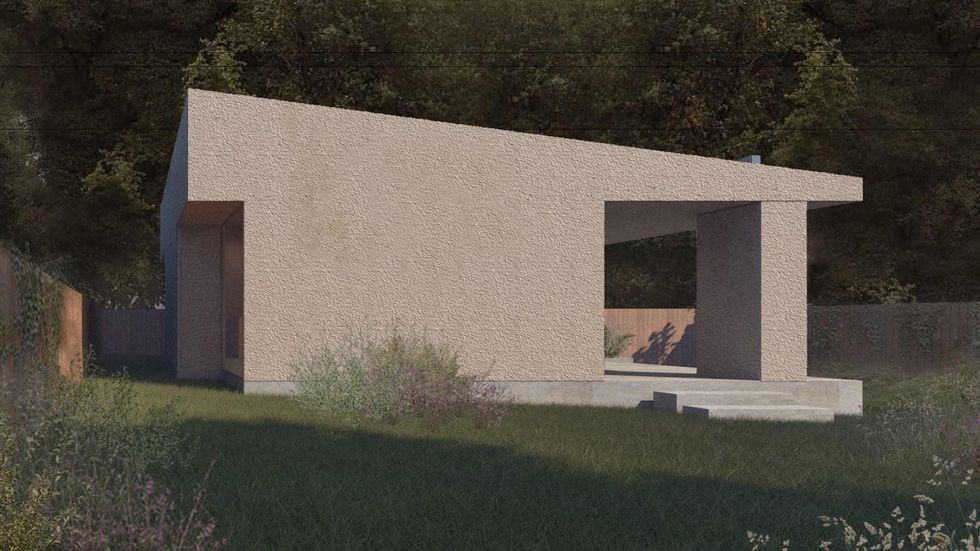 First Office
First Office is an architecture firm based in Downtown Los Angeles. Its approved ADUs will be built using prefabricated structural insulated panels, which allow for expedited construction schedules and high environmental ratings.
The interior finishes include concrete floors, stainless steel counters and an occasional element of conduit.
There are five options:
A one-story studio, 309 to 589 square feet
A one-story one-bedroom, 534 to 794 square feet
And a one-story two-bedroom, 1,200 square feet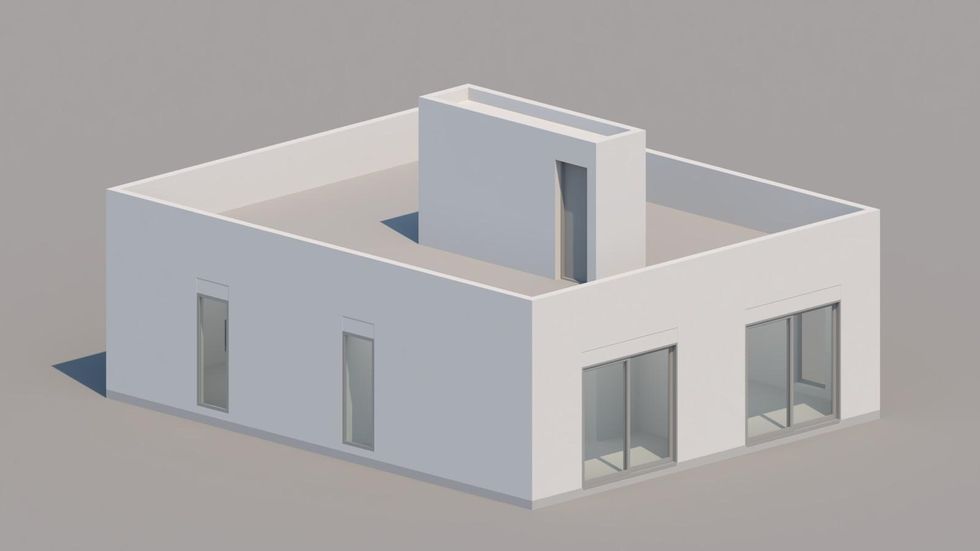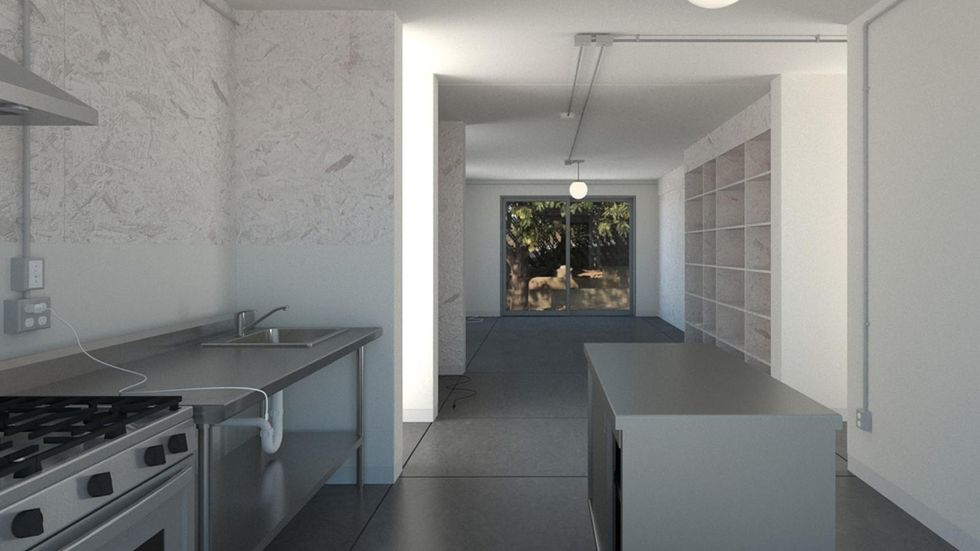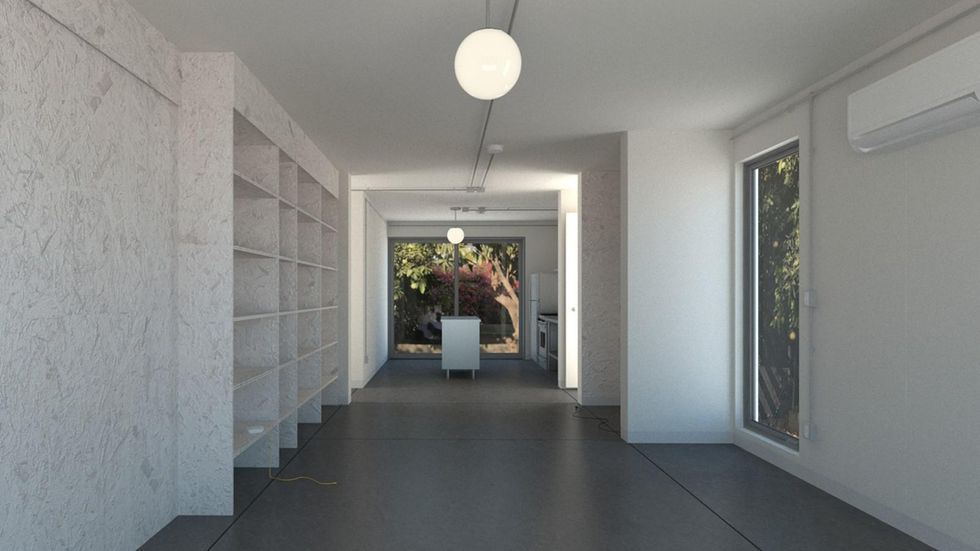 Fung + Blatt Architects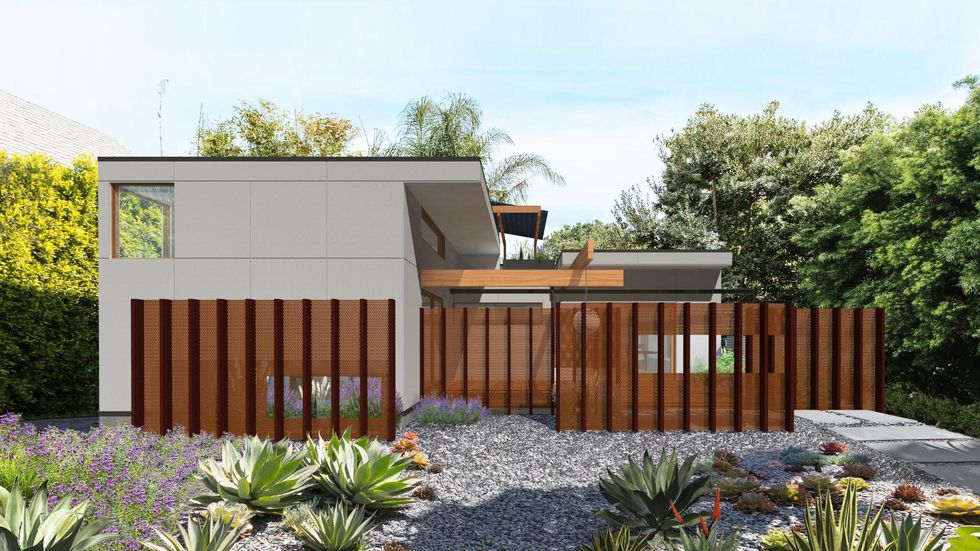 Fung + Blatt Architects is a Los Angeles-based firm founded in 1990.

The city has approved its 795-square-foot, one-story, one-bedroom unit with a roof deck. It estimates the construction cost to be $240,000 to $300,000, excluding landscape, site work and the solar array. Homeowners can also expect other additional costs.
Taalman Architecture/ IT House Inc.
The design team behind "IT House" is Los Angeles-based studio Taalman Architecture. Over the past 15 years, IT House has built more than 20 homes throughout California and the U.S.
The IT House ADU standard plans include the tower, bar, box, cube, pod and court.
The city has approved four options, including:
A two-story including mechanical room, 660 square feet
A two-story including mechanical room, 430 square feet
A one-story studio, 200 square feet
A one-story including mechanical room, 700 square feet
The firm also has another two projects pending approval: a 360-square-foot one-story studio and a one-story, three-bedroom at 1,149 square feet.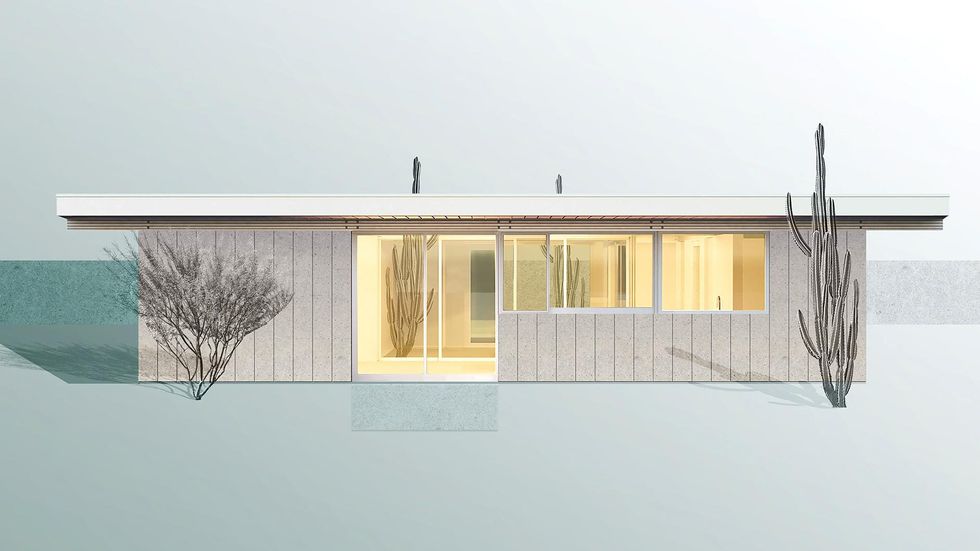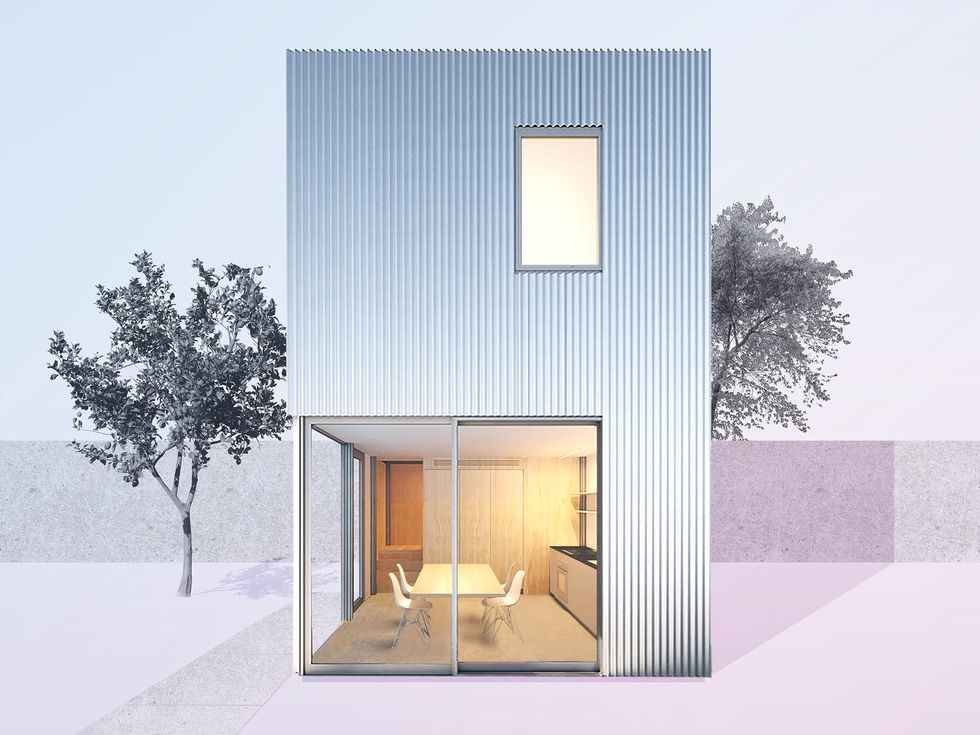 LA Más
LA Más is a nonprofit based in Northeast Los Angeles that designs and builds initiatives promoting neighborhood resilience and elevating the agency of working-class communities of color. Homeowners who are considering their design must commit to renting to Section 8 tenants.
The city has approved two of LA Más' designs: a one-story, one-bedroom, 528 square feet unit and a one-story, two-bedroom, 768 square feet unit. The firm has another design for a one-story studio pending approval. That design would be the first 3D-printed ADU design in the city's program.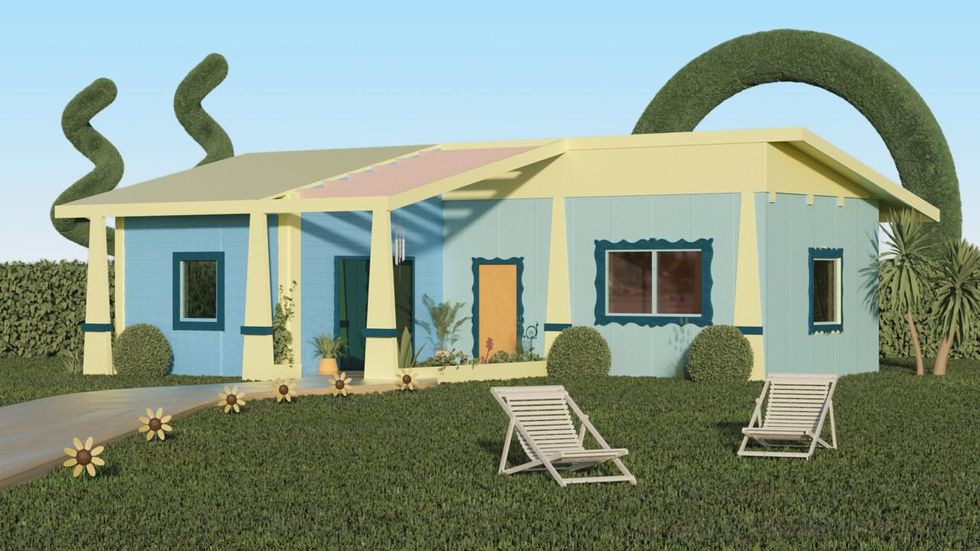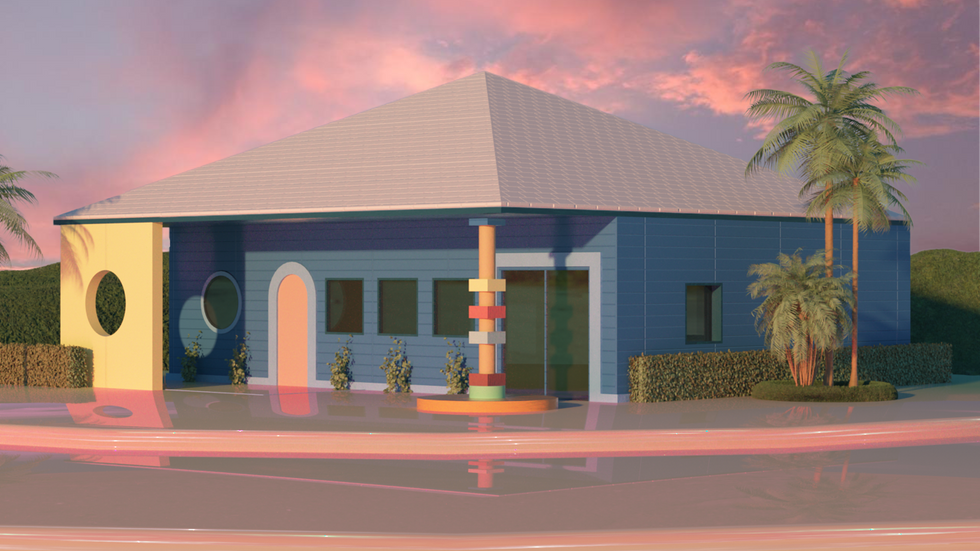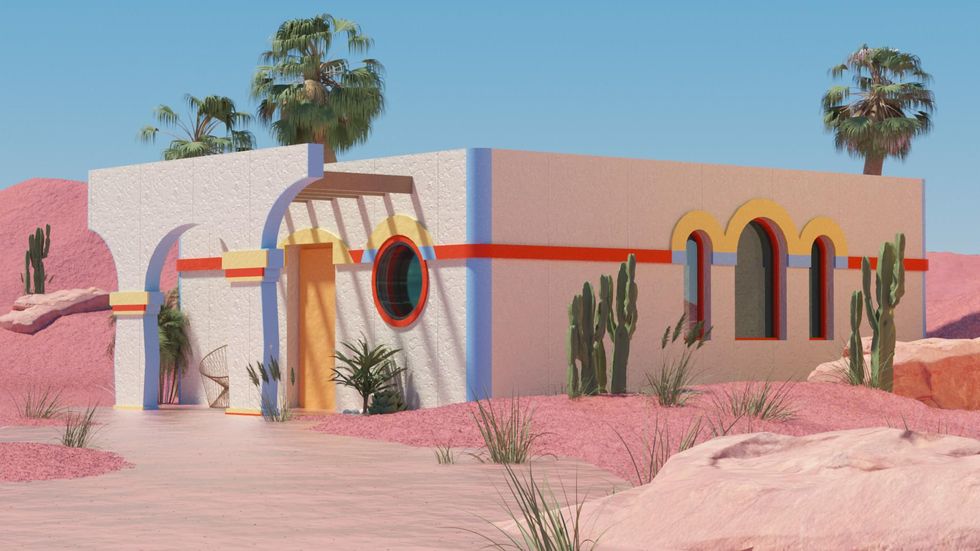 Jennifer Bonner/MALL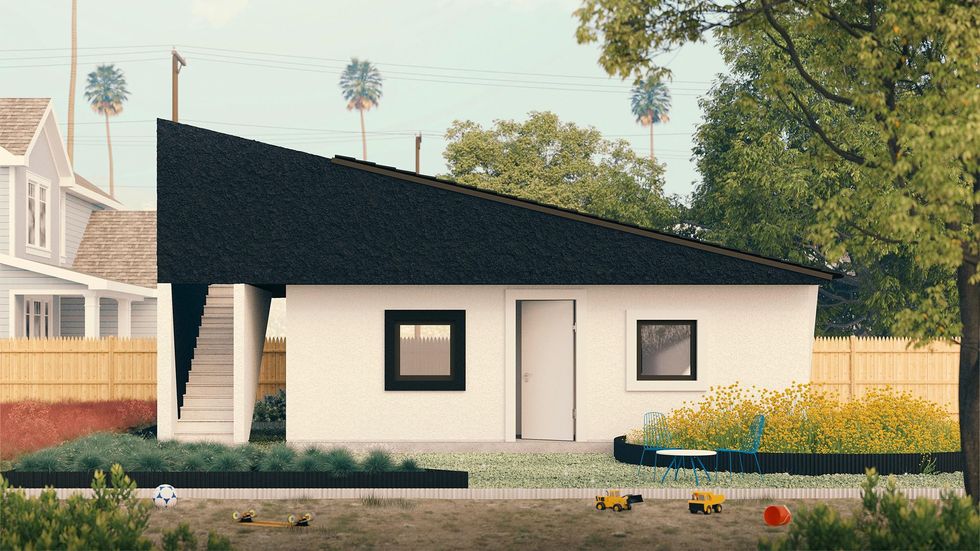 Massachusetts-based Jennifer Bonner/MALL designed a "Lean-to ADU" project, reinterpreting the stucco box and exaggerated false front, both Los Angeles architectural mainstays.
The design has been approved for a 525-square-foot one-story, one-bedroom unit with a 125-square-foot roof deck.
sekou cooke STUDIO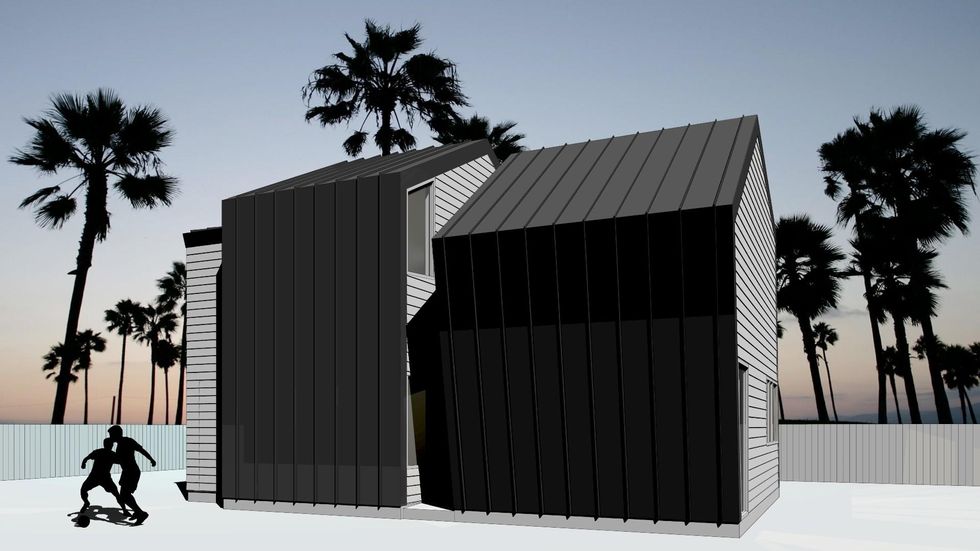 New York-based sekou cooke STUDIO is the sole Black-owned architectural firm on the project.

"The twisted forms of this ADU recalls the spin and scratch of a DJ's records" from the early 90s, the firm said.
Its design, still pending approval, is for a 1,200-square-foot, two bedroom and two bathroom can be adapted to a smaller one-bedroom unit or to include an additional half bath.
SO-IL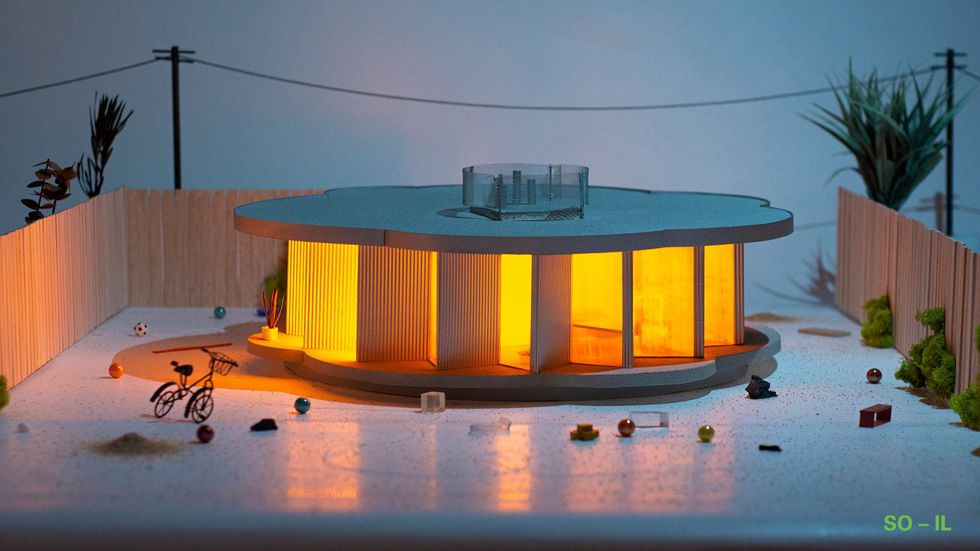 New York-based SO-IL was founded in 2008. It has completed projects in Leon, Seoul, Lisbon and Brooklyn.
Its one-story, one-bedroom 693-square-foot unit is pending approval. It is estimated the construction cost will be between $200,000 and $250,000.
WELCOME PROJECTS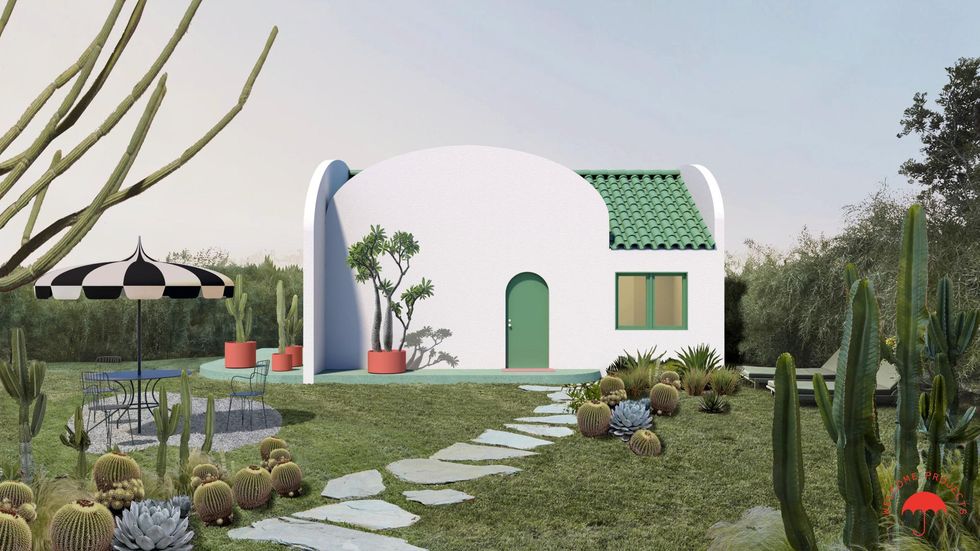 Los Angeles-based Welcome Projects has worked on projects ranging from buildings, houses and interiors to handbags, games and toys.
Its ADU is nicknamed The Breadbox "for its curved topped walls and slight resemblance to that vintage counter accessory."
It has been approved for a one-story, one-bedroom 560-square-foot unit.
wHY Architecture
Founded in 2004, wHY is based in Los Angeles and New York City. It has taken on a landmark affordable housing and historic renovation initiative in Watts.

Its one-story, one- or two-bedroom 480 to 800-square-foot unit is pending approval.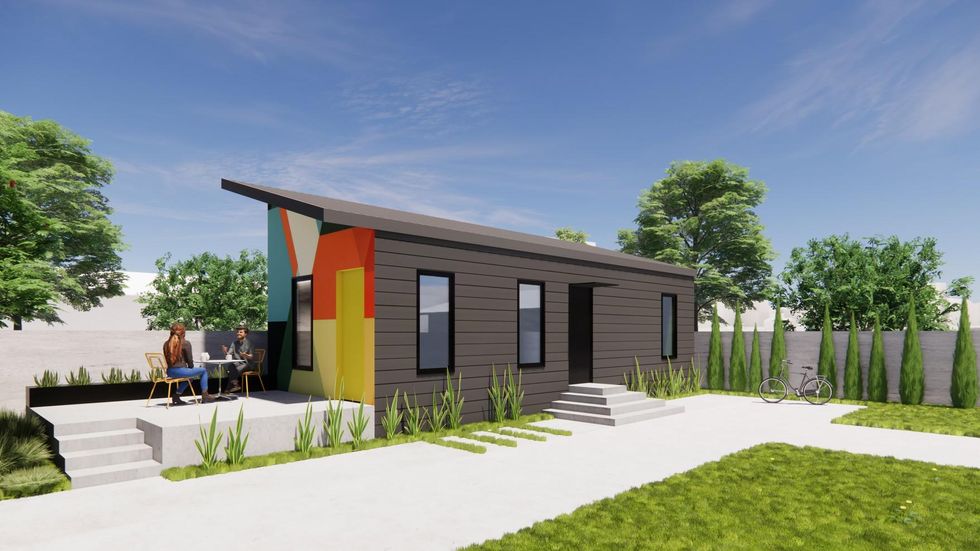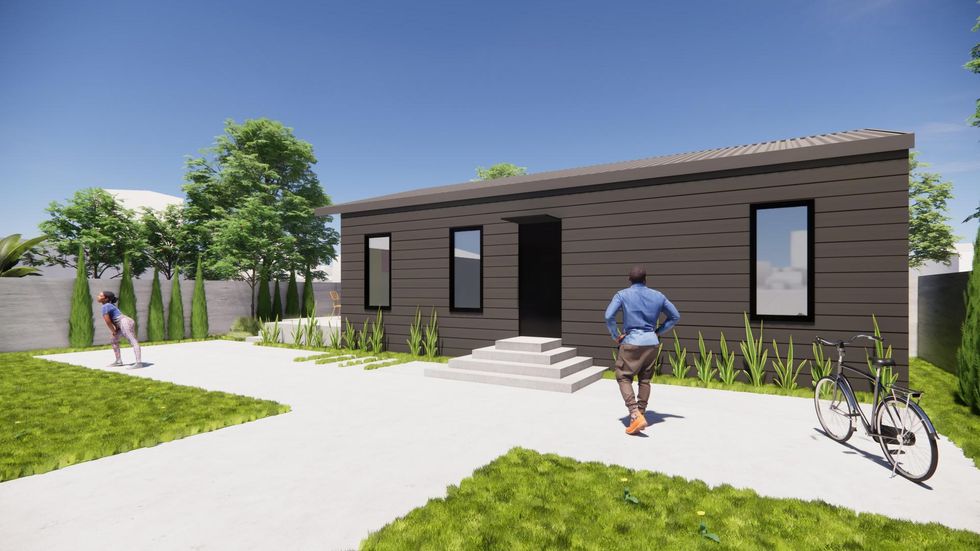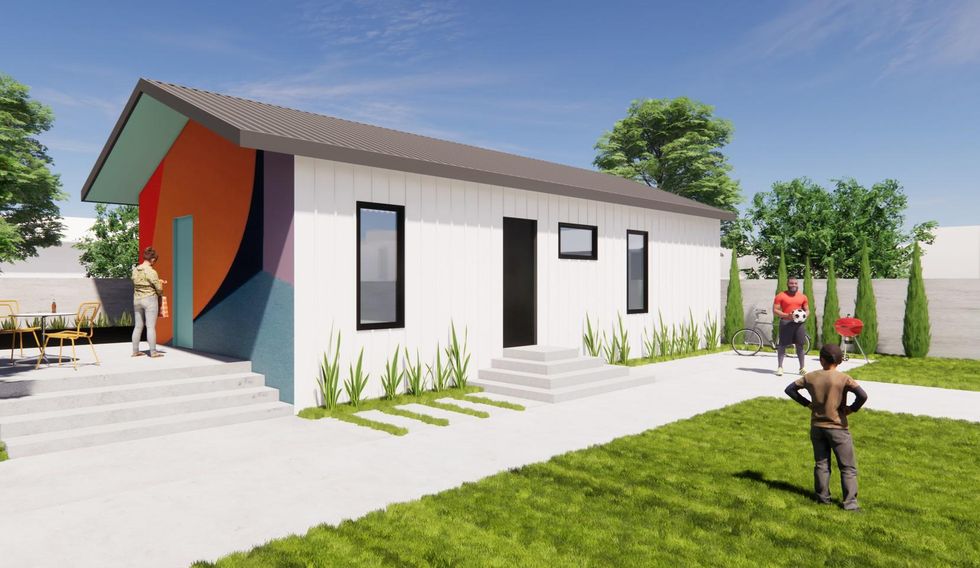 Firms that want to participate in the program can learn more here . Angelenos interested in building a standard ADU plan can learn more the approved projects here.
Sarah Favot
Favot is an award-winning journalist and adjunct instructor at USC's Annenberg School for Communication and Journalism. She previously was an investigative and data reporter at national education news site The 74 and local news site LA School Report. She's also worked at the Los Angeles Daily News. She was a Livingston Award finalist in 2011 and holds a Master's degree in journalism from Boston University and BA from the University of Windsor in Ontario, Canada.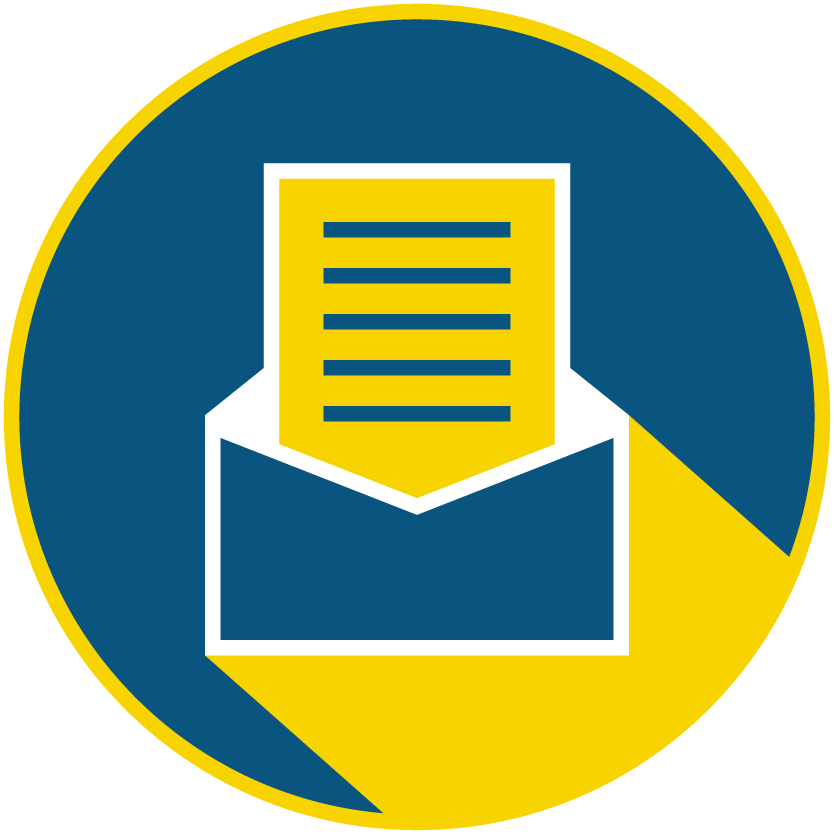 Subscribe to our newsletter to catch every headline.
05:00 AM | February 15, 2023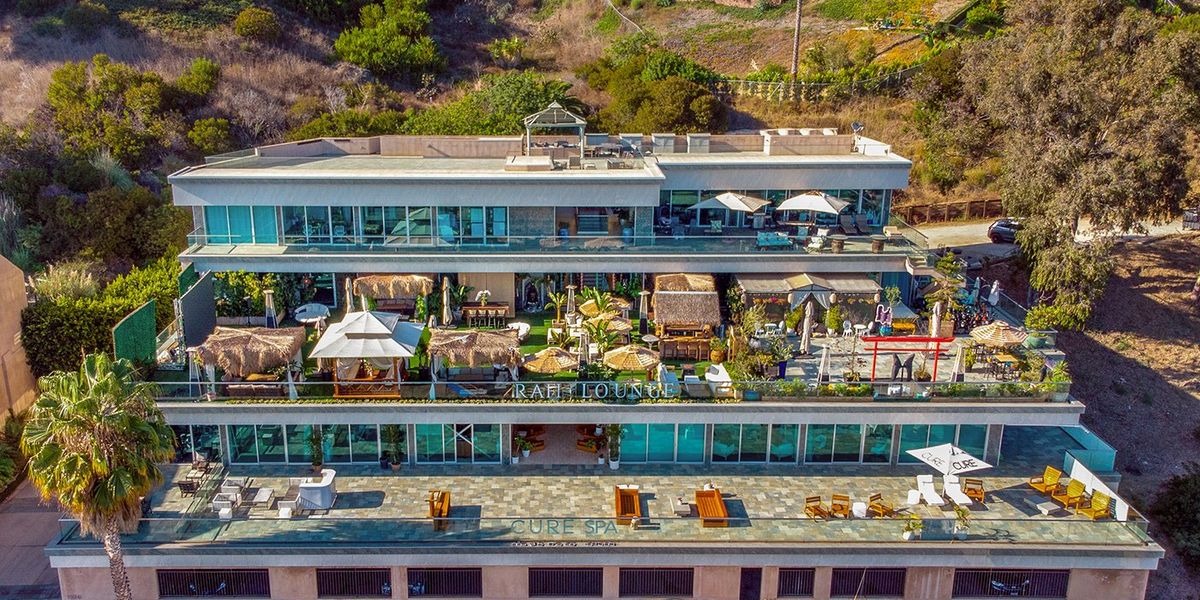 Photo: Rafi Lounge
Set in the foothills of Eastern Malibu across the street from Robert de Niro's Nobu, the Rafi Lounge, a NFT-powered wellness center and coworking space, somehow looks like both a beachfront country club and a swank monastery. On a clear day, you can see Catalina Island across the ocean. The sign above the entrance says, "Welcome, please allow us to reintroduce you to yourself."
Pushing through the braided rope entryway and passing a tranquil stone Buddha head waterfall, I arrived just after a yoga class former playboy model-turned "Dancing With the Stars" host Brooke Burke finished. The central open space that usually houses yoga mats or stationary bikes has been cleared off, and the giant projection screen behind the small stage is playing a tranquil plant video – an hour earlier, a larger-than-life Burke was on it helping clients "booty burn."
The building – which used to belong to a venture capital firm – has been totally transformed to look like nature's reclaimed it, dotted with lemon trees and cloaked in ornamental faux grass carpeting. Buddha statues are in every corner, some larger than five feet. On the way to one yoga room, there's a small shop selling pricey essential oils, Rafi Lounge merch, and CBD gummies. On the wall of the shop hang three breathtakingly detailed portraits of indigenous peoples made by the founder with charcoal. There's some construction ongoing, as they're converting former corner offices into hot yoga saunas and a spa.
On the day of my visit, the place is bustling with staff who are lugging boxes of Himalayan salt panels to install in the hot yoga room. Israeli-born Kung-Fu master and former monk Rafi Anteby, the founder of the eponymously named space, tells me that after our chat he plans to paint them all black to match the walls. No detail is too small to notice, something evident in his Mandala work.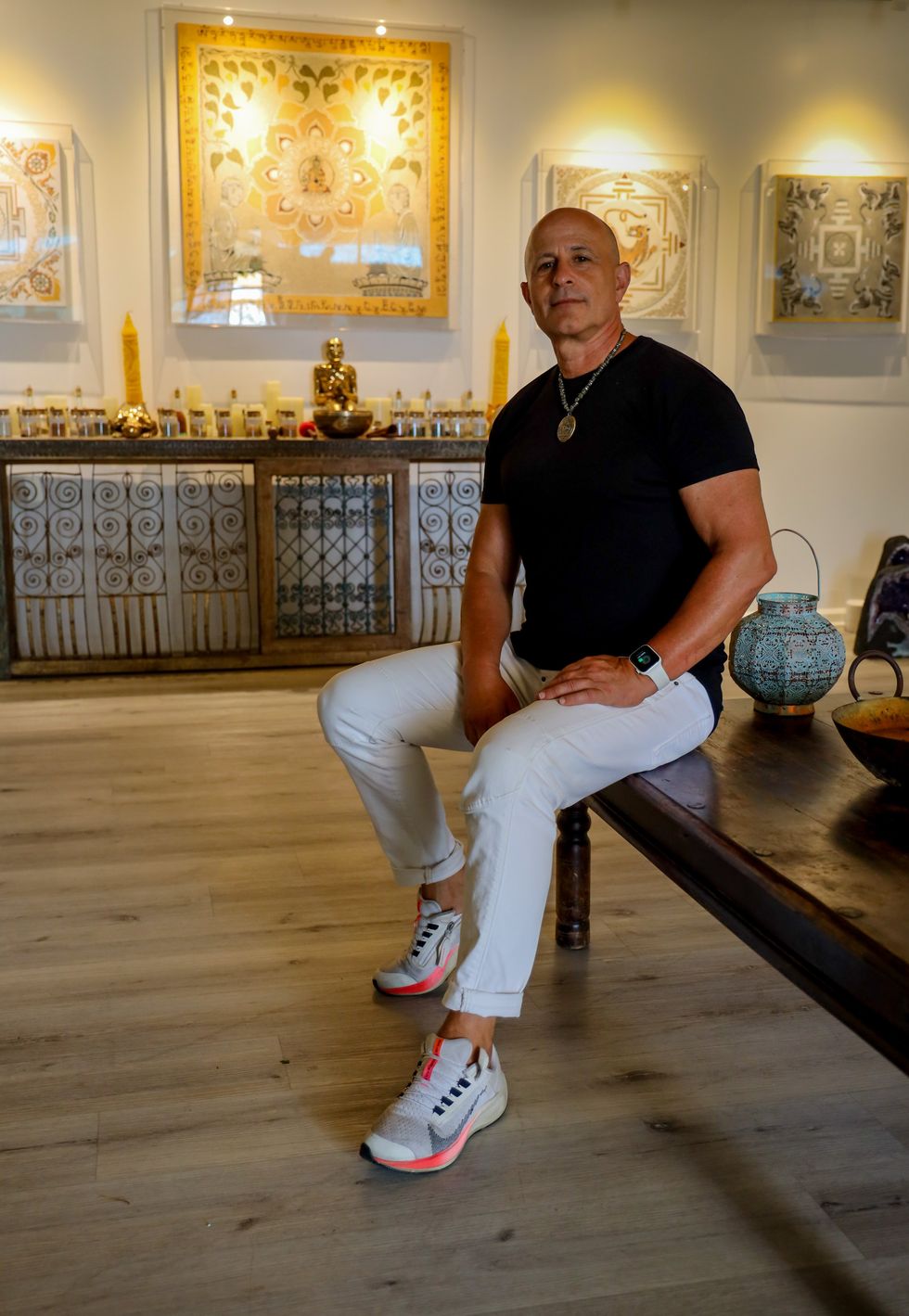 Rafi Lounge founder, Rafi Anteby, pictured here with his Mandala and sand collections. Photo: Rafi Lounge
The Rafi Lounge opened last year on November 10—the day before crypto exchange FTX went bankrupt. "Everyone said Rafi, go into a shutdown, don't do it," Anteby said. "I said I can't, because I pre-sold to members and I promised them [the launch is] what will happen."
Still, Anteby felt he couldn't renege on his promise to open the lounge to those who did buy in, so he forged ahead. So, what do NFTs have to do with a wellness center?
Each, according to Anteby, corresponds to a level of access. The least expensive, Unity, is the lowest tier and gives holders access to virtual classes. The second tier, Mindful, encompasses physical and virtual access to the Lounge. And the highest tier selling for $5,500, Awakened, are the ones Rafi is selling individually that act as an all-access pass to the Lounge and its benefits and events (including, Anteby said, "spiritual yacht parties"). Both Mindful and Awakened NFTs are lifetime memberships to Rafi Lounge, and include free access to annual retreats it hosts.
But facing the changing seasons of the crypto market and unwilling to sacrifice his brand by letting the Rafi Lounge tokens be resold to oblivion on public markets, Anteby took the drastic step to control his NFT inventory – buying up the remainder a mere day after the minting.
Anteby admitted he "lost a quarter of a million dollars" between creating and buying the NFTs back. But he said it was worth it: "I'm going to take each because I want to control who's coming to my lounge. I want to know that they will be my advocates as well."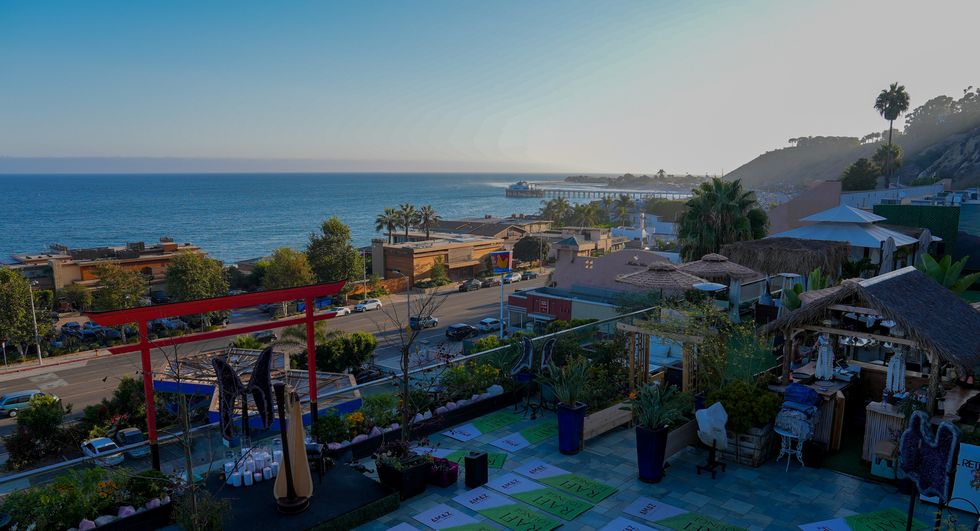 A view of the Rafi Lounge in the afternoon, before a yoga class. Photo: Rafi Lounge
Currently, there are 100 members, 55 of which are lifetime NFT holders. The 6,000 square-foot rooftop lounge is also open to the public. Which is to say, anyone can buy a 10-day pass for $250, pay the $40 fee for individual classes or come to public events. One of those people is Amie Yaniak who was diagnosed with stage four cancer last May that has since metastasized into her bones.
"I've never been anywhere like this. This was the first class I've done since the cancer, and it was just so cleansing," Yaniak says. While she's not a member, Yaniak told me she was interested in returning for more classes.

In addition to people like Yaniak, Anteby is also curating a more select crowd of well-to-do celebrities that can act as brand ambassadors for the lounge. He said he wants it to be a sort of more laid-back SoHo house, where top minds converge on the Pacific Ocean to make deals and network. Some of the names dropped during my tour of the property included Jamie Foxx (who Anteby calls a good friend), Chris Noth, Gladys Knight, and Equinox co-founder Lavinia Errico, whom I actually briefly met, since she's a member of the Lounge's advisory board.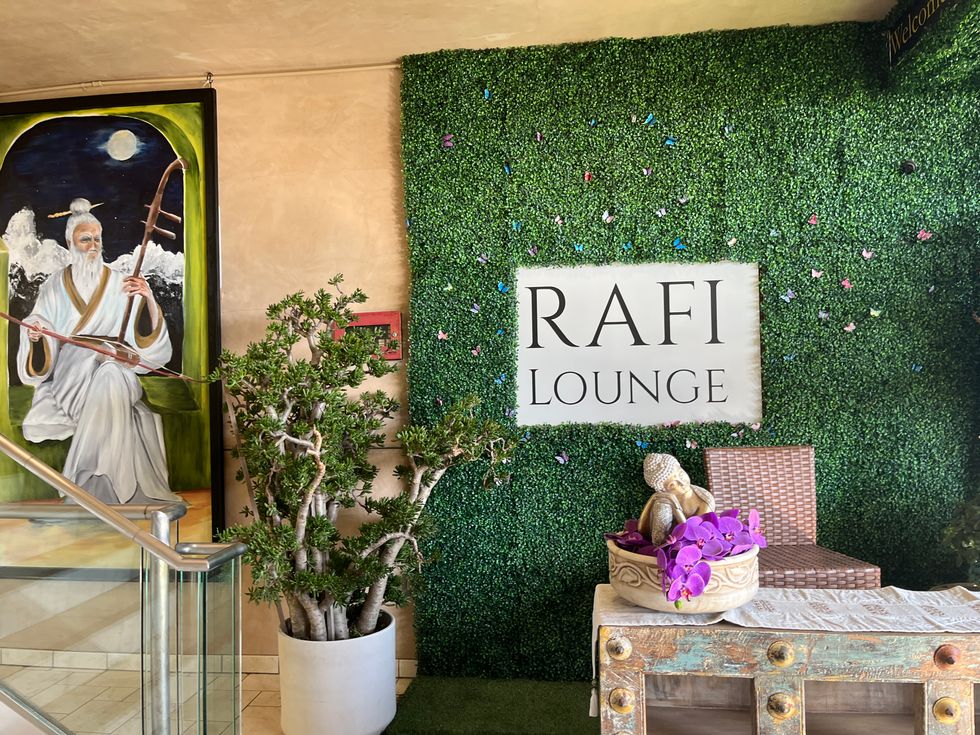 The lounge's entryway and check-in. Photo: Samson Amore
As Tame Impala wafts from the lounge's speakers, Anteby tells me stories of getting Taoist monks drunk at karaoke bars and studying medical qigong and tai chi in China. Anteby hung the intricate mandalas on the walls of a yoga room and he says they take around two years to complete as he carefully places individual grains of sand and uses tree sap to preserve their form. The mandalas are meant to be a contemplation of man's relationship with nature, which is partly why Anteby designed the NFT versions of them to resemble a sort of elemental fusion that combines water, fire and earth.
Owning an NFT also corresponds to owning a fraction of the Malibu Mandala Rafi made that hangs in the lounge.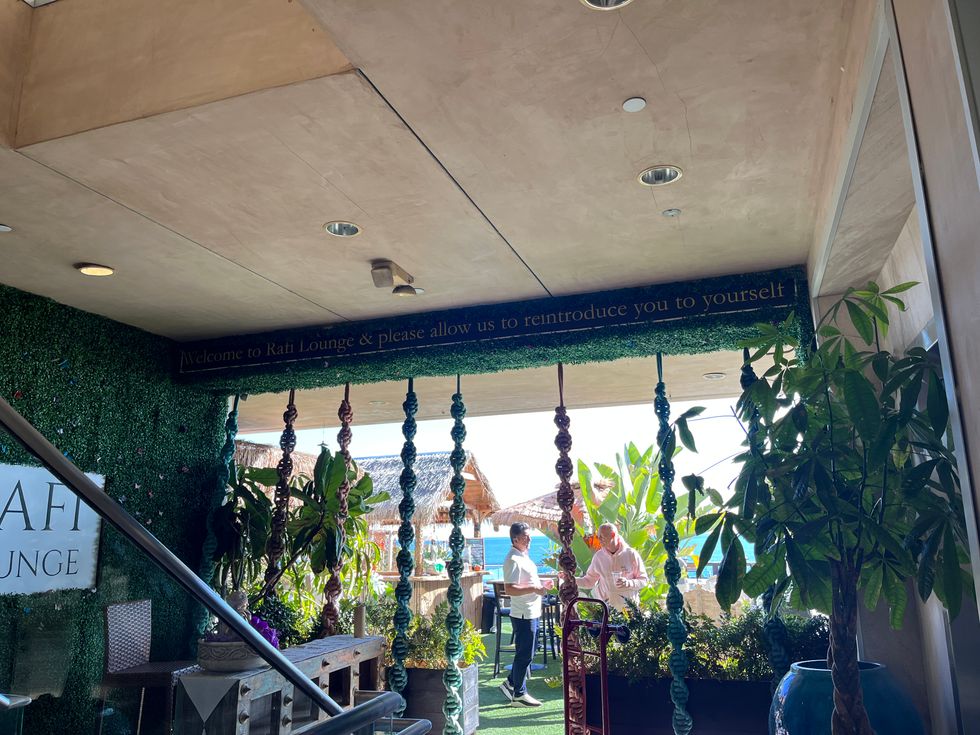 Anteby, right, speaks with a partner at his lounge in Malibu.Photo: Samson Amore
While Anteby admits the launch hasn't netted him any profits yet and said he's out around $1 million launching the place, he's determined to turn the Rafi Lounge into a franchise and has plans to open future locations in other cities big into tech and wellness like Miami, Scottsdale, Ariz., Newport Beach, and Austin.
Besides the obvious cases like Yaniak's, Anteby said he thinks the larger tech community needs a breather. "They all have digital burnout," he said. "It's more than just me helping you to breathe. You need to take care of yourself, and here people do that all the time."
Samson Amore
Samson Amore is a reporter for dot.LA. He holds a degree in journalism from Emerson College and previously covered technology and entertainment for TheWrap and reported on the SoCal startup scene for the Los Angeles Business Journal. Send tips or pitches to samsonamore@dot.la and find him on Twitter @Samsonamore.
https://twitter.com/samsonamore
samsonamore@dot.la
04:00 AM | January 31, 2023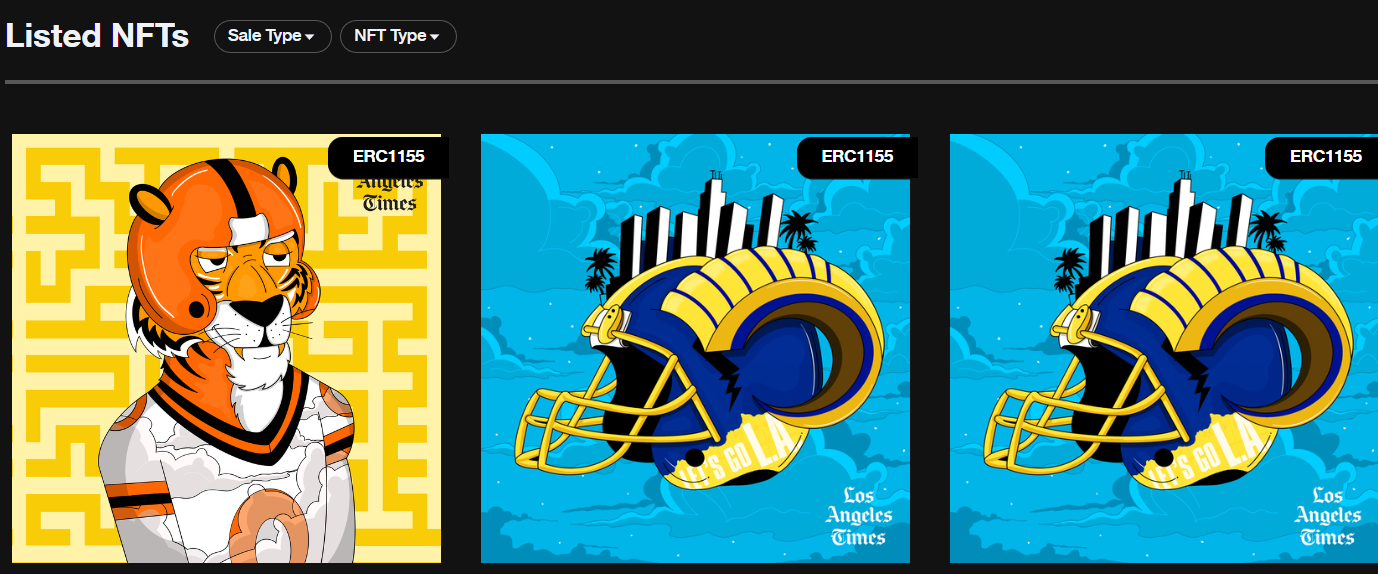 Last year, on the day of the 2022 Super Bowl, the Los Angeles Times announced they would be selling limited-edition collectible NFTs. At the time, a local newspaper getting into the NFT game seemed like an unlikely twist. But given that other publishing brands – including TIME Magazine and the New York Times – jumped headfirst into the hype a year prior, it wasn't so surprising.
But since the announcement, buyers in the official Discord server set up by the Times alleged the entire project was a scam. "You and your team have no credibility," one person said of the LA Times last June. "Just admit that we were scammed and our NFT's are worthless."
The Times sold most of the NFTs for around $30. But the most expensive, a digital copy of the LA Times' front page from Feb. 13 commemorating the Ram's win, received bids as high as $4,000.
The problems with the Times' NFT drop, however, began early. On the day the project went live, some users chimed in to the Discord to question GuardianLink, the Indian blockchain company tapped to set up the infrastructure for selling the NFTs. GuardianLink also operates the exchange BeyondLife.club, where the NFTs were traded.
Within a day of the launch, buyers also expressed concerns about their ability to resell the NFTs, since they were being traded on a foreign exchange where the NFL's brand carries less heft.
Some read the project's fine print, which stated that "you shall have the limited ability to sell or transfer your LA Times NFT," and one user in the Discord noted that the sale would be voided and the owner of the NFT could lose their license if they tried to sell it on another platform. Many users expressed the desire to trade on OpenSea, a popular North American NFT exchange, instead.
In response to these concerns, one moderator from GuardianLink promised users on Feb. 14, 2022 that they would "soon" be able to trade their NFTs on other marketplaces, a promise that the buyers on Discord claim never came to fruition.
As one potential buyer pointed out in the Discord, "this isn't how NFTs work, or any merch/collectives actually. Since when [does] the company you buy something from keep the rights to control what you do with it."
In the months after the announcement, skepticism morphed into concern, then outright anger as mods stopped responding to inquiries last September. "Bunch of crooks," one buyer wrote in the Discord following the radio silence. "None of them give a s—."
That same month, another Discord user said, "mods are not even online on this server. No communication… Just dead. We have been royally rugged!!"
One buyer claimed their only recourse was to take "legal action." Though to date, no one has filed suit against the Times with regard to this situation.
It's unclear how much total money was lost on the Times' NFT sale. Vishal Master, a buyer from India, told dot.LA he lost $150, adding that he bought several NFTs ranging from $30- $50. Another buyer in the Discord said last June they lost $100.
According to LA Times spokesperson Hillary Manning, the blame resides with the crypto market. "While the offering was well-received, the overall NFT market declined – and later crashed – after we concluded the auction," Manning said. "We understand the disappointment the NFT holders have experienced and have worked with our partner in good faith to address the feedback they received from holders, specifically by providing other items of value."
Those items, according to Manning, included free digital subscriptions to the LA Times and discounts to its online store and were granted as a way to provide "other items of value" to disgruntled buyers.
Master, however, said he'd never heard from the Times about any of this. "Many tried but gave up" getting refunds, he added. "That NFT flopped and it surely was to dupe people [out of] money."
In addition, the Times also offered buyers an additional free NFT. Master said he never received the free NFT either. Adding that even if he had, he and other buyers wouldn't be able to sell those NFTs since they were still offered on GuardianLink's BeyondLife platform. Which he added had meager demand, because the exchange is based in Asia, where fewer people have heard of the LA Times.
Ultimately, the ordeal caused some people in the Discord to question whether or not the trusted newspaper brand was even affiliated with the project. That said,
the site
where the NFTs were sold remains live and the Times appears to still be selling them.
Samson Amore
Samson Amore is a reporter for dot.LA. He holds a degree in journalism from Emerson College and previously covered technology and entertainment for TheWrap and reported on the SoCal startup scene for the Los Angeles Business Journal. Send tips or pitches to samsonamore@dot.la and find him on Twitter @Samsonamore.
https://twitter.com/samsonamore
samsonamore@dot.la