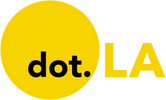 Get in the KNOW  
  on LA Startups & Tech  
X
GR0 Presents: 7 Tips to Dominate SEO For Your Brand
Apr 15 2022
Google doesn't publicly reveal the "secret sauce" that powers their search algorithm, and the company makes tweaks and adjustments all the time to continually make results cleaner and more effective. But despite all of this mystery and complexity, it's still possible to improve your site's performance using a few relatively straight-forward steps.
---
According to Kevin Miller, the co-founder and CEO of the Los Angeles-based digital marketing agency GR0, having a major positive impact on these rankings can be as simple as setting up profiles on major social media sites and web directories. "Platforms like Glassdoor, BuiltIn and Clutch to name a few have incredibly strong domain rankings, allowing those profiles to rank highly on Google searches," Miller explained. "For most companies, if your profile is built out properly, it has a very strong chance of ranking on the first page of your brand name. This allows a brand to basically dominate Page 1 SERPs (Search Engine Results Pages) within a short span of time."
GR0 offers a bespoke B2B service with just one mission: to help brands rank #1 on Google. GR seeks to demystify the SEO process for their clients, allowing them to realize their full potential and deliver unmatched value to every customer. Now, in collaboration with dot.LA/the Founders guide, they are for the first time sharing its secret sauce: 7 tips to get your brand conquering SEO.
STEP 1: GETTING STARTED / BASIC TIPS
The first and most important step of all comes right at the top: making a list of the keywords and phrases, in addition to your brand name, that you most want to emphasize in Google results. Bear in mind that the most popular and commonly searched words and phrases are extremely competitive, so it's wise to choose some secondary or tertiary keywords as well. (Rather than trying to rank for the term "dentist," for example, try "West Philadelphia dentist" or "painless West Philadelphia dentist" or "painless low-cost West Philadelphia dentist.")
You're going to include these keywords in every item about your product or company or service that you post on other sites, so they should be relevant and natural for you to work into sentences.
STEP 2: GLASSDOOR
Glassdoor is a large and very well-established service allowing tech employees to rate and review their employers.
As with Comparably, there are a number of benefits to having an "Employer Profile" on Glassdoor. It's a way to take control of the conversation and showcase your company and brand in the most positive and effective way possible, giving potential hires a clearer idea of what it's like to work for you.
STEP 3: GOOGLE MY BUSINESS PAGE
"My Business" pages are a free tool from Google that helps companies manage their online presence. This is a particularly important tool for local businesses seeking to gain greater exposure in their immediate region or primary area of operation, because Google organizes search results based on your location while searching. This means a business with a clearly marked location will perform better in searches from people in that area.
Google uses the date from the My Business pages to power its "Knowledge Graph," an important component in how the algorithm structures and organizes information. As well, Google creates a Maps location for every My Business listing, so your company will now appear in Google Maps searches and searches within any third-party platform using the Google Maps API.
STEP 4: CRUNCHBASE
Crunchbase collects basic information about startups and industry trends, and contains profiles on individual companies. Because it's a long-standing and trusted resource that also allows business owners to customize and flesh out their profiles, it's also a powerful SEO tool.
When filling out your Crunchbase profile, specifics are always better than vague generalities or "marketing speak." As well, avoid using phrases like "my company" or "our company." Whenever you can, without sacrificing readability, throw your brand name in there.
Fill out the complete profile without missing any major steps. "Founding date" is a popular search among Crunchbase users, so make sure you have this filled in as well. Also, bear in mind that investors primarily use Crunchbase to investigate funding, so the more thorough you can be in those sections – including links to articles about your previous rounds, if available – the better. Also be sure to update your Crunchbase file when there's important news about your company.
STEP 5: BUILT-IN LA
This community for startups, tech companies, and their employees has a local element: in addition to Los Angeles, there are Built-In sites serving Austin, Boston, Chicago, Colorado, New York, San Francisco, Seattle, and more. The site is largely structured around employee satisfaction and recruitment, but it's also another quality link pointing back to your business, which increases your visibility among people scanning LA tech startups more generally.
STEP 6: COMPARABLY
Comparably is a community tool allowing staffers to review and discuss their employers safely and anonymously. For employers, in addition to the SEO benefits of setting up a Comparably profile, having a favorable Comparably page with fair and accurate employee reviews can be a great way to attract additional talent.
Because Comparably is established in its vertical, and features original editorial content that keeps the site active and relevant, their pages show up high on Google for dozens of search terms related to jobs and job seeking. This helps not only with recruitment but media visibility as well; these profiles are a great way to amplify public-facing employee perks and programs, such as diversity and inclusion efforts.
STEP 7: CLUTCH
Clutch.co is also built around ratings and reviews, but from a B2B perspective rather than employee and employer. The Clutch platform provides in-depth reviews of companies offering B2B services based on analytics and feedback from former clients, to see how businesses and their services compare within specific markets. These profiles have all the same benefits as the employee-facing services, but exclusively for businesses that want to catch the attention of other managers, founders, and startups in the B2B space.
STEP 8: SOCIAL MEDIA
While the previous steps were based around setting up one-time profiles, some of which require occasional updates, it's also important for your company to regularly post fresh content to major social media sites, including Twitter, LinkedIn, and Facebook.
Social media posts don't directly contribute to your SEO ranking, but links that are shared across these platforms increase your company's exposure, and can ultimately help improve your rankings in a number of ways. Studies have repeatedly found a correlation between social shares and SEO ranking for individual links.
It's a good practice to tweet at least once or twice every single day, and then post this same content to your company's LinkedIn and Facebook profiles.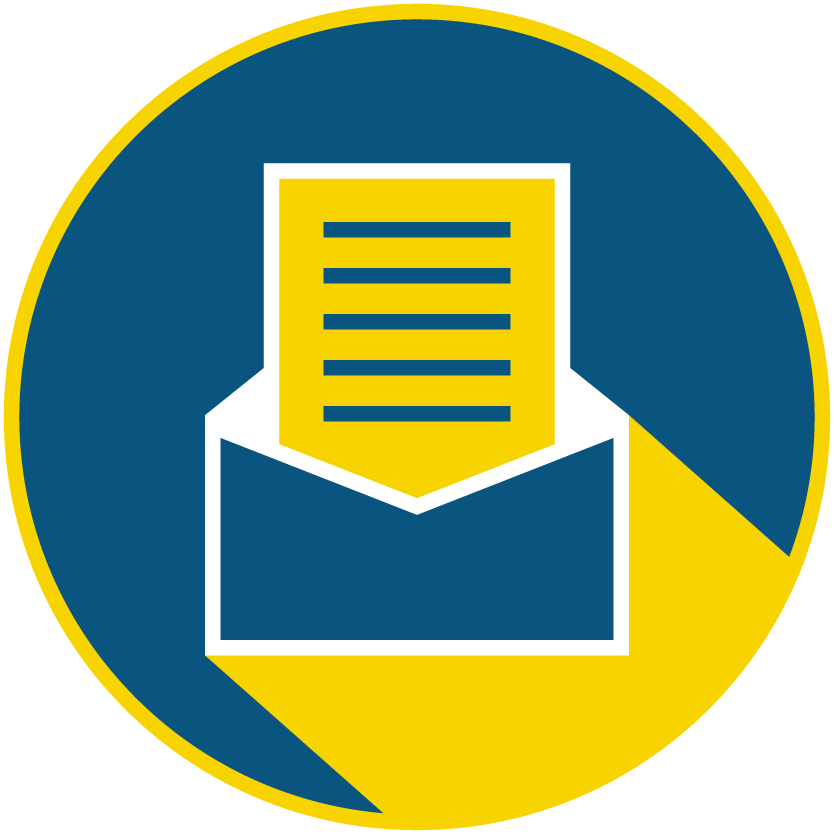 Subscribe to our newsletter to catch every headline.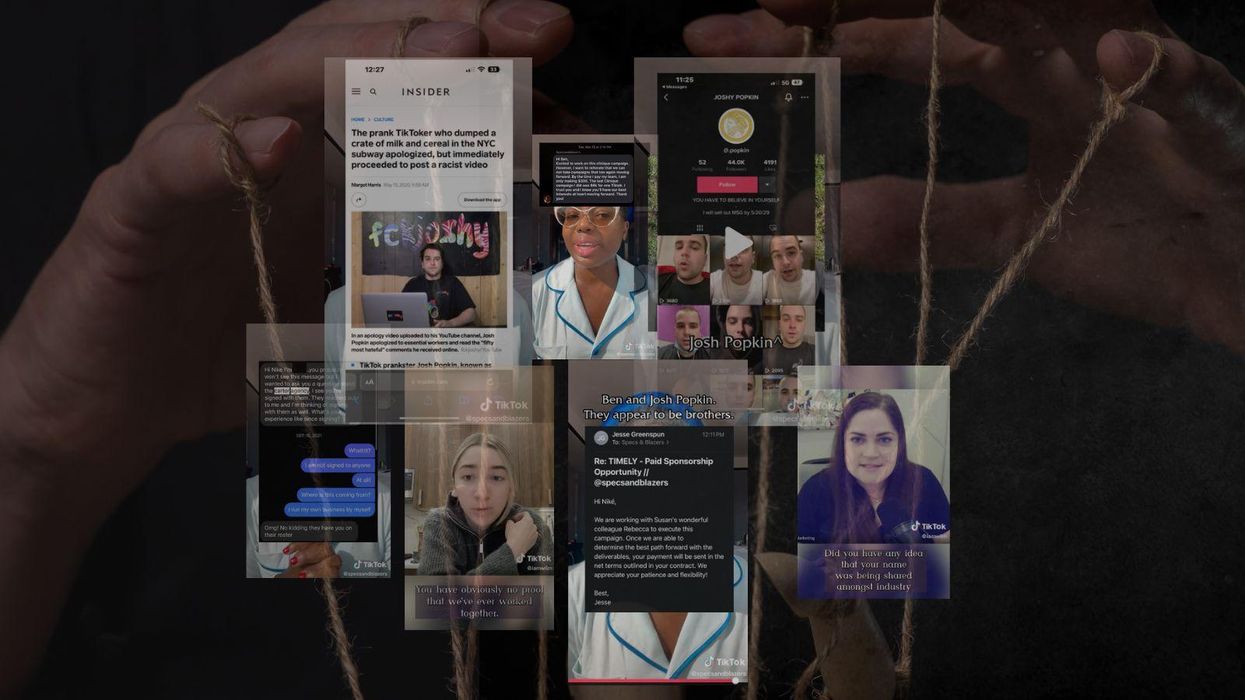 Influencer Niké Ojekunle was surprised when a young content creator reached out to ask her about her experience working with The Carter Agency. The content creator had apparently seen Ojekunle's name on the agency's roster and wanted to know how helpful they'd been in helping her navigate brand deals.
The problem was, Ojekunle, who has nearly half a million followers on TikTok, had never heard of The Carter Agency, let alone worked with them. So she sent them an email inquiring about why the agency had listed her name as one of their influencers.
She received a response from a person by the name of Ben Popkin who claimed to be the CEO of The Carter Agency that lists Netflix, Amazon, Disney and Prada as just a few of their "strategic partners."
In the email, Popkin explained to Ojekunle that he had previously worked with her through a different PR agency and apologized for the mix-up. Then he pivoted to a new proposition: he could help her get two $5,000 brand partnership deals. Ojekunle agreed to the details of the agreement and completed two campaigns with Popkin as the middleman. A few weeks later, Popkin reached out again. This time it was with an offer from Clinique—a skincare brand Ojekunle had worked with in the past.
"In June, he wrote me and said Clinique offered me two campaigns for $1,900," Ojekunle says. "I've been with Clinique for six years. Clinique knows not to put anything in front of me for less than $6,000."
Not interested in lowering her standard rate for a product campaign, Ojekunle declined the deal and informed Popkin she no longer needed his assistance.
In subsequent months, however, Ojekunle noticed something was wrong: similar to the situation with Clinique, brands that had previously offered her campaigns worth thousands of dollars were offering her campaigns at significantly lower rates.
One of those brands was Naturiu, a skincare company run by Susan Yara, a friend of Ojekunle. When Ojekunle reached out to learn more about why the offer had been significantly lower than their past partnership deals, Yara informed Ojekunle, she too had never spoken to Popkin and was unaware any such offer had been issued.
The malpractice of influencer agencies has, of late, been well reported. In 2020, talent management firm Influences, came under fire over claims the company did not pay its clients. According to the New York Times, the firm owed dozens of creators thousands of dollars from brand deals. One of those influencers claimed the company withheld $23,683.82 from her. Influences' former owner is currently suing the New York Times over defamation.
In July, influencer Liv Reese called out Creative Culture Agency for not paying her after she made a video for one of the company's advertising campaigns. According to its private Instagram page, Creative Culture Agency is "no longer available."
And in 2020, 13 influencers paid talent management firm IQ Advantage a $299 deposit when they first signed with the company. But when IQ Advantage failed to secure them brand deals, the deposit was never returned and eight months later, once all the money had been collected, IQ Advantage conveniently shut down.
But Ojekunle's experience with The Carter Agency shows signs of a different offense. "He's [Popkin] telling the brand that he's representing me, then he's telling me he's representing the brands," Ojekunle says. "It's a very violating feeling and a very vulnerable feeling. You ask yourself, 'how was I so stupid' over and over."
According to OpenCorporates.com, The Carter Agency LLC is registered to a person by the name of Josh Popkin — a former social media star who faced public backlash in 2020 after pouring cereal in a New York City subway as part of a prank. Ojekunle suspects Popkin took on a fake name (Ben Popkin) when reaching out to her in order to distance himself from his controversial reputation. The Carter Agency has not responded to multiple requests for comment.
Like so many influencers who find themselves victims of unethical behavior, Ojekunle took her allegations straight to TikTok. In the first of five videos, the influencer claims that Popkin was not only pretending to be her manager, but had also been operating under a pseudonym.
@specsandblazers

Ben Carter = Ben Popkin = Josh Popkin. Carter Agency = Malibu Marketing Group = Jesse GreenSpun. A Complete Scam! #carteragency #benpopkin #joshpopkin #scammers
Jessy Grossman, co-founder of Women In Influencer Marketing, wasn't surprised when people shared Ojekunle's video in the company's private Facebook group. She says reports of the Carter Agency's misconduct had begun circling among the members as early as February—Ojekunle's video was further evidence.
Soon after, Grossman began connecting with other influencers who were impacted by the company. And in recent weeks, ever since Ojekunle posted her videos, many brand managers have reached out to Grossman with claims that, despite Carter's previous push to hire his influencers, he has since ceased all contact.
Grossman believes The Carter Agency is specifically targeting TikTokers not only because of the platform's success but also because many of them are teens.
"Some are young and think that having management is the path to 'making it,'" Grossman says. "You have to know the right questions to ask and industry standards, otherwise anyone can claim to be legitimate since there's no regulatory body."
Looking back on the low offers she had been accepting from brands, Ojekunle now believes Popkin was attempting to pocket the difference after sending only a portion of what the brands were really offering her.
"It was a predatory and well-calculated thing that he did," Ojekunle says.
In total, The Carter Agency's actions have affected more than 130 influencers, including those signed to Popkin's company and those who he falsely claimed to represent. Ojekunle also claims The Carter Agency has potentially jeopardized nearly $60,000 in brand deals by pretending to represent her. She's currently pursuing a civil lawsuit and has opened up a criminal investigation into the company.
"I have been doing this for 10 years, and I have built a name for myself," Ojekunle says. "I'm not scared of him."
Vinfast, the Vietnamese EV company with headquarters in Los Angeles, shipped its first order of vehicles to U.S. soil from Hai Phong, Vietnam on November 25th. The batch of 999 automobiles is due to arrive here in California on Thursday this week.
The VF8 SUVs on board will have the difficult task of convincing American buyers that an unknown, untested Vietnamese manufacturer can deliver on a new technology. And so far, the company appears to be off to a rocky start.
According to an email sent to reservation holders on November 29th, the VF8s in the initial shipment will be a special "City Edition" and have lower range advertised than the previously announced versions–just 180 miles in total. Over the weekend, Vinfast confirmed to dot.LA via Twitter that all of the vehicles in the first batch are the City Edition, and that the standard edition would be coming Q1 of 2023. Until this email, there had been little, if any mention of this new City Edition. The message to reservation holders offered no rationale as to why the company was choosing to ship this version of the car instead of the 260-292 mile-range VF8 it's been advertising for months. Despite the lower range, however, the EVs will still carry a price tag of either $55,500 or $62,500, depending on trim–just $3,000 less than the previously-announced versions.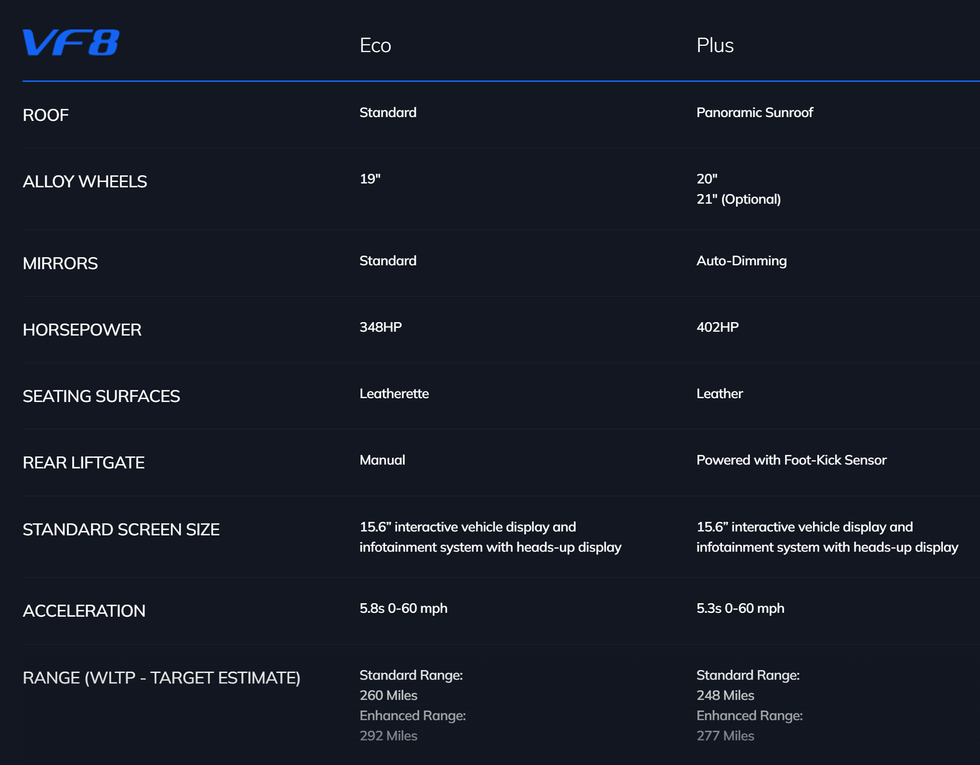 The VF8 Specs page from Vinfast's site still bears no mention of a "City Edition," but that's what's coming to America this month.
Vinfast is offering reservation holders an additional $3,000 off these City Edition variants (bringing the total to $6,000 less than the previously announced versions). But even at a discount, the vehicle's $52,000 price tag is far from competitive with more established EV makers and raises questions about the brand's strategy and value.

For comparison:
The 2023 Hyundai Ioniq 5 has 220 miles of range and starts at $42,745. Or 303 miles of range for $60,000.
The base model Kia EV6 costs $49,795 and goes 206 miles on a full charge.
The Mustang Mach E starts at 46,895 and reaches 224 miles.
And the list goes on. In fact, you'd be hard pressed to find a 2023 EV with a worse cost to range ratio than the VF8. Vinfast, which has been nearly impossible to reach on this matter despite numerous calls and emails, hasn't explained why they chose to offer such a range-compromised version as their initial foray into the U.S. market, or why the cost remains so high.
The reaction to the news, especially on Reddit, has been largely negative, with users accusing the company of "springing" the City Edition on reservation holders. Others speculated that the company rushed out the first batch so it could drum up good press before its recently announced IPO. Whatever the reason, most redditors didn't seem to be buying it, and with Vinfast so reluctant to comment, it's hard to see the announcement in a light that bodes well for the company's future. First impressions tend to last, and this doesn't seem like a good one for the EV hopeful.