ambercycle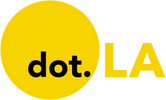 Get in the KNOW
on LA Startups & Tech
X
ambercycle
Few industries are as tangled with buzzwords as the fashion industry. Clothing brands, rightly concerned about their tremendous effects on the environment, are eager to call their collections "green" or "sustainable." But making tangible changes in how clothing is produced and distributed has been a struggle.
On Tuesday, L.A.-based startup Ambercycle announced it raised a $21.6 million Series A round to try to tackle the problem. The funding comes from fashion heavyweights including H&M (which has used its technology in recent collections) and online fashion and shoe retailer Zalando, among others. It will go to ramping up production of the company's fiber regenerative technology, which it created and piloted in a manufacturing plant downtown.
Ambercycle co-founders Shay Sethi and Moby Ahmed are scientists and former UC Davis college roommates. The two see themselves as different from traditional fashion or manufacturing founders – and other research-based innovators.
"Traditionally, people have always thought, 'here's an interesting technology, how do we craft a story around it?'" Instead, Sethi says, Ambercycle "start[s] with the products that we would really like to see and then work backwards into the technology. We develop, do research and engineering that way instead of starting in the lab."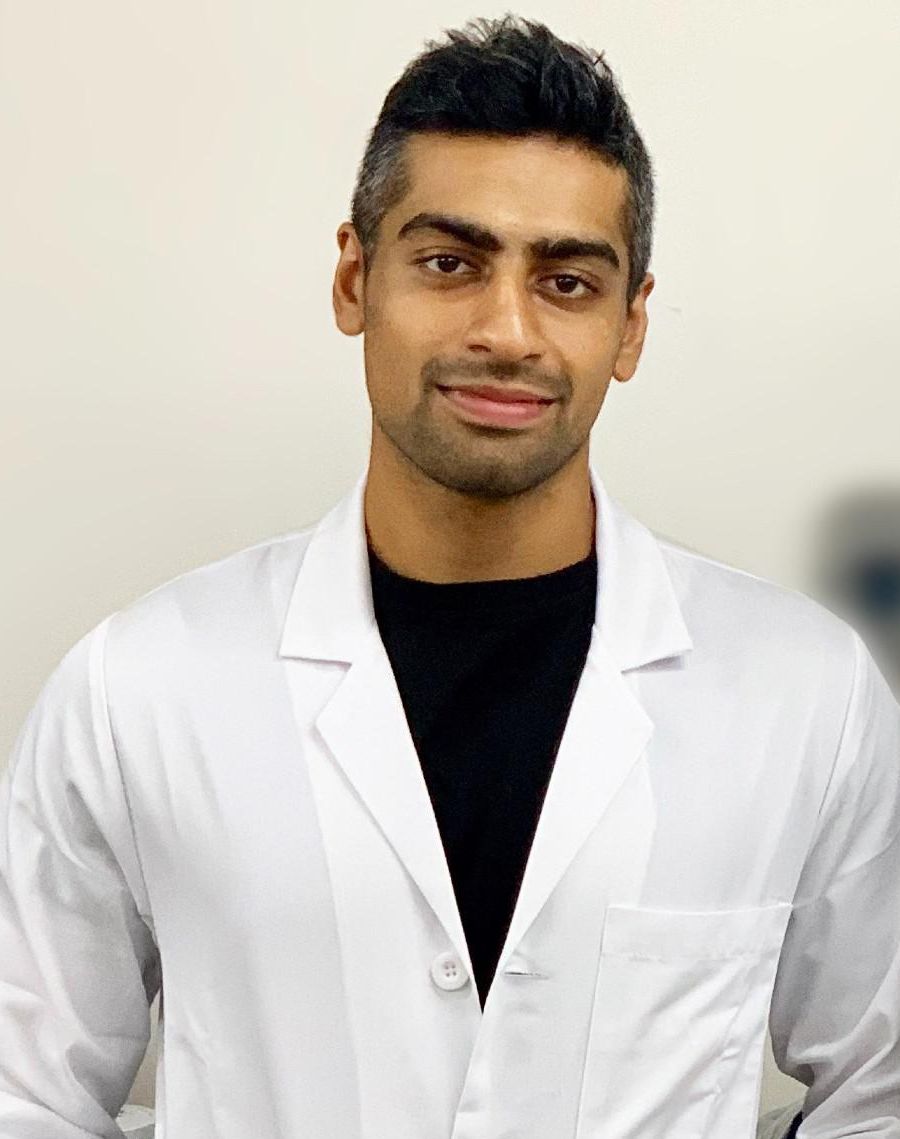 Ambercycle CEO and co-founder Shay Sethi
Their technology is able to break down the components of clothing to its basic polyester materials, separating its natural fibers and dyes, and creating a new material in the process, which they call cycora.
"We imagined a technology that could take an old t-shirt and turn it back into the yarns required to make that green t-shirt again," he adds. "Anything that's in your closet today – like yoga pants or dress shirts – that's traditionally made of polyester can be made with cycora."
Sethi and Ahmed started their company in San Francisco in 2015, then moved it to Los Angeles' garment district two years later, looking for a manufacturing hub close to a center of innovation.
"We felt like this is a really good nexus for innovation, fashion – as well as material sciences," Sethi says. "There is a very strong industry and a very strong familiarity with manufacturing so we felt it was a perfect blend. Also we grew up in California and didn't want to leave."
We chatted with Ambercycle co-founder Shay Sethi about his company's journey, its new funding and how it plans to get beyond buzzwords in planning a sustainable future for fashion.

What are the biggest challenges to the fashion industry?
When we consider the future of humanity, there's a couple key things that need to change. The big one is – given that consumption will not decrease – the reliance on natural resources will put a strain on the way in which we can live on this planet. So in order to change that, we need to take advantage of these traditionally viewed as waste streams and turn them back into new resources. So the future upstream will be all of these textile materials that are in our closet. But it's not really easy today to throw away or recycle our old garments.
We need to be able to have a low-friction way to throw away our garments and have them go back into a circular system. If we can tell a transparent and traceable story to a person, then brands and retailers will start to care.
Why is it so hard to recycle clothing currently?
So let's talk about our clothing. They are mixtures of different fibers – polyester and cotton, as well as dyes, additives, zippers, tags and stains – when they're at their end of life. We can't really recycle those materials, because they're these complex, intimate blends. Recycling has really struggled as a business, and also as a solution to waste, because you can't create a high quality product from those materials once they are at their end of life.
How is Ambercycle different from other recycling processes?
Most recycling processes are shredding or very simple mechanical processes. You can turn a t-shirt into pillow stuffing in a similar way that you can turn paper into a sort of grey newspaper and then downcycle it; The same thing happens with textiles.
The Holy Grail is really being able to turn an old t-shirt into a new t-shirt. So over the past five years, we've developed technology that takes these mixtures of materials that have dyes and additives, put them through a process, and make the base raw materials needed to make those same yarns. This goes in line with what's traditionally known today as circular economy where you can reuse materials, again and again.
Will Ambercycle always be focused on apparel?
Right now our focus is on apparel.
We have a couple of luxury clients that are really interested in transitioning to circular systems. Over the next couple of years, we're going to be able to talk about those, but the major message we want to help shed light on is that every year, over 120 billion garments go to landfill. We need to, as a fashion industry, transition to a circular system. It's [not] just one or two companies that can do things; Everyone as a whole needs to adopt a new ecosystem, where things are being reused in supply chains over and over again. It's very important for this transition to involve all verticals in the power supply chain. The demand for these materials is already so high. So people already care. I think we're just trying to figure out the logistics of the society right now.
There's a lot of possibilities when you think about it. You can imagine this being transformed into a system that can take other materials as well. I think we're excited about the possibilities in the future but I'm really focused on the textile-to-textile stories today.
What do you plan to do with your recent funding?
We're trying to scale up the number of projects we're doing with different companies across the apparel industry that will require a lot of manpower or womanpower. That's a key gap we need to fill. A technology like ours that uses sort of molecular separation technologies, that advanced material science requires a sort of scale before you can really start to see the fulfillment of these contracts.
It's very easy to make a couple of t-shirts, but it's very hard to make millions and millions and millions of kilograms of stuff. We're going to be scaling up production of one of our main materials today, cycora. Demands are already way through the roof. I felt like right now was the right time to raise external capital to accelerate that plan.
This interview was edited for clarity and brevity.
From Your Site Articles
Related Articles Around the Web
Ambercycle, the Los Angeles garment recycling startup, is turning those itchy white care labels inside your t-shirt into online portals detailing where and how your clothes were made.
The company started printing mini QR codes on the tags of their recycled clothes sewn downtown. And they're doing it with the help of Glendale-based Avery Dennison, who's behind a suite of online tools for clothing manufacturers to digitize an old process.
How was the shirt made? Where did the fabric come from? Companies aren't hiding anything — or at least that's the idea behind the pilot project.
The tags are designed to help brands tell a "garment's story," said Sarah Swenson, the global sustainability manager at the manufacturing giant known for designing labels and adhesives.
The push comes as more consumers expect clothing brands to expose how and where their apparel is made. Avery Dennison pitches the tags as a way for companies to transparently display that data and stay in touch with customers online.
Inside the QR portal, customers are guided through the materials used to make the item and how to best wash it. There's also a guided how-to for disposing of clothes so that years from now, ambercycle can respin the materials into new fabric.
"This label ensures your garment is ambercycleable," reads the special tag, printed above the startup's logo.
It's a savvy solution for textile recyclers like Ambercycle CEO Shay Sethi, who is often left guessing about which materials and dyes were woven into the donated shirts he sifts through at work. His job gets even harder when that white care label has been ripped out.
"We know this problem really intimately," Sethi said. "It's not going to be scalable to do what we do unless we know something about the material."
The partnership with Avery Dennison is a big get for the CEO, who founded Ambercycle after college with government grants from the National Science Foundation and the Department of Defense.
He's already scored investments from the H&M Foundation, Y Combinator and the Lemelson Foundation for his patented technology that breaks down the molecules of textile waste into small pellets that are spun into polyester.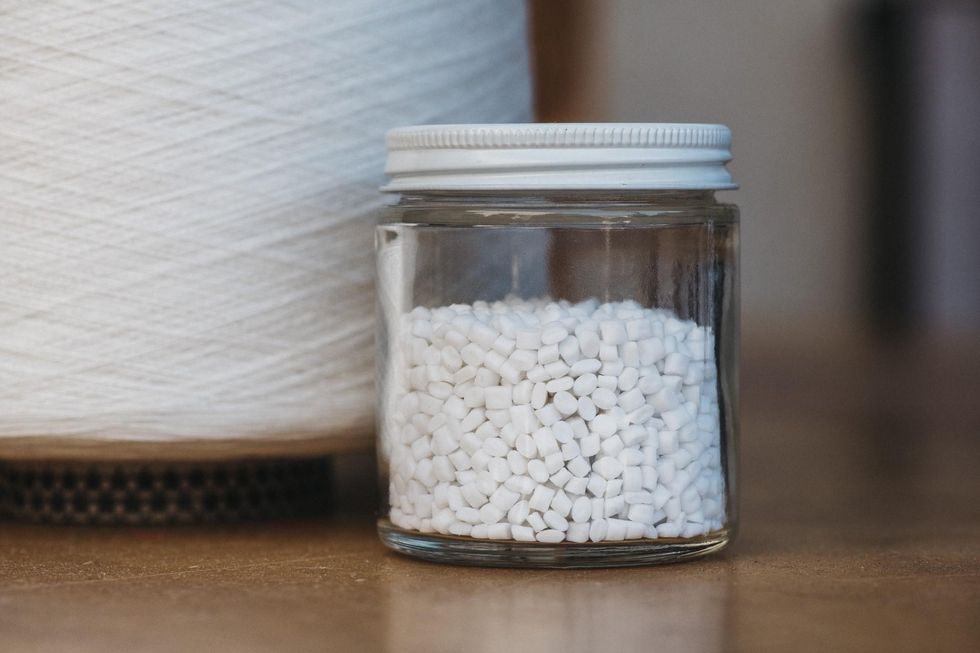 Ambercycle
"The same polyester pellets that you would otherwise make from oil, we're just making from this textile waste," co-founder Moby Ahmed said in a video about the product, dubbed cycora.

Local designers are already using the polyester and the L.A. startup has hinted at a project to manufacture apparel with H&M. The company started selling a small batch of its own designs — just 40 shirts — but plans to sew the special tags into more pieces.
If all goes according to plan, those items will find their way home to Ambercycle's L.A. factory. But the process of collecting old clothes is still a logistical puzzle.
"Essentially you have clothing all over the place, all across cities in people's closets," he said, "and you have to figure out the best way to get them to central locations."
For now, any of his customers living in L.A. can scan the QR code on their new shirt and request a pick-up.
"I don't know how we're going to get the New Zealand one back," Sethi said. "But we'll figure that out."
From Your Site Articles
Related Articles Around the Web
Shay Sethi sorts boxes of old t-shirts and sweaters in his small factory near downtown L.A. His startup, ambercycle, recycles old polyester garments to create new fabric and has caught the attention of socially conscious consumers from around the world. Many regularly send him their worn pants and used jackets.
"This is insanity. We're not even doing any marketing" said the 27-year-old co-founder, who says he receives the unsolicited packages weekly.
The L.A. company might not be a household name, but it has pocketed millions in government grants and venture capital, and made a deal with clothing retail giant H&M to make recycled clothes.
On Friday, five years after launching, the manufacturing business debuted a clothing line with local designer Come Back As A Flower partly made with their recycled polyester. Their model is Aleali May, the first female to design a unisex sneaker for Air Jordan.
"We started with this idea of 'can you take an old t-shirt and use those materials to just make a new t-shirt, instead of using materials from the earth like cotton or polyester'," he said.
Clothing retailers from Zara to H&M have slowly been trying to reduce their massive waste as pressure mounts from consumers, policymakers and activists.
Cheap, fast fashion has fueled Americans consumption of clothes. A sizable amount of that ends up in landfills — about 11.3 million tons of textiles in 2018, according to the most recent figures from the Environmental Protection Agency.

Sethi said he is working with several large clothing retailers that are trying to figure out how to cut waste.
"I haven't found a single place that says, 'oh, we're not interested in moving to a more sustainable fashion industry'," he said.
Ambercycle was founded with government grants from the National Science Foundation and the Department of Defense, which lists environmental sustainability as a national security threat. A few angel investors and funds, including Y Combinator, the Lemelson Foundation and H&M Foundation, also backed ambercycle's initial $4 million round.
It's attracted the interest of Swedish clothing giant H&M, an investor that's also looking to utilize ambercycle's technology in future collections.
Sethi and his co-founder Moby Ahmed began working on the idea as undergraduate students at UC Davis. Back then, the pair planned on selling their technology to big chemical companies. But they noticed that recycling and garbage processes in the textile and fashion industries were lagging behind. So they started a business instead.
But it's not easy. Their patented technology breaks down the molecules of textile waste to generate small polyester pellets. First, reactors built in their factory downtown separate the fibers of each item while removing dyes and stains. Those pellets are then spun into polyester yarn used to make new clothes.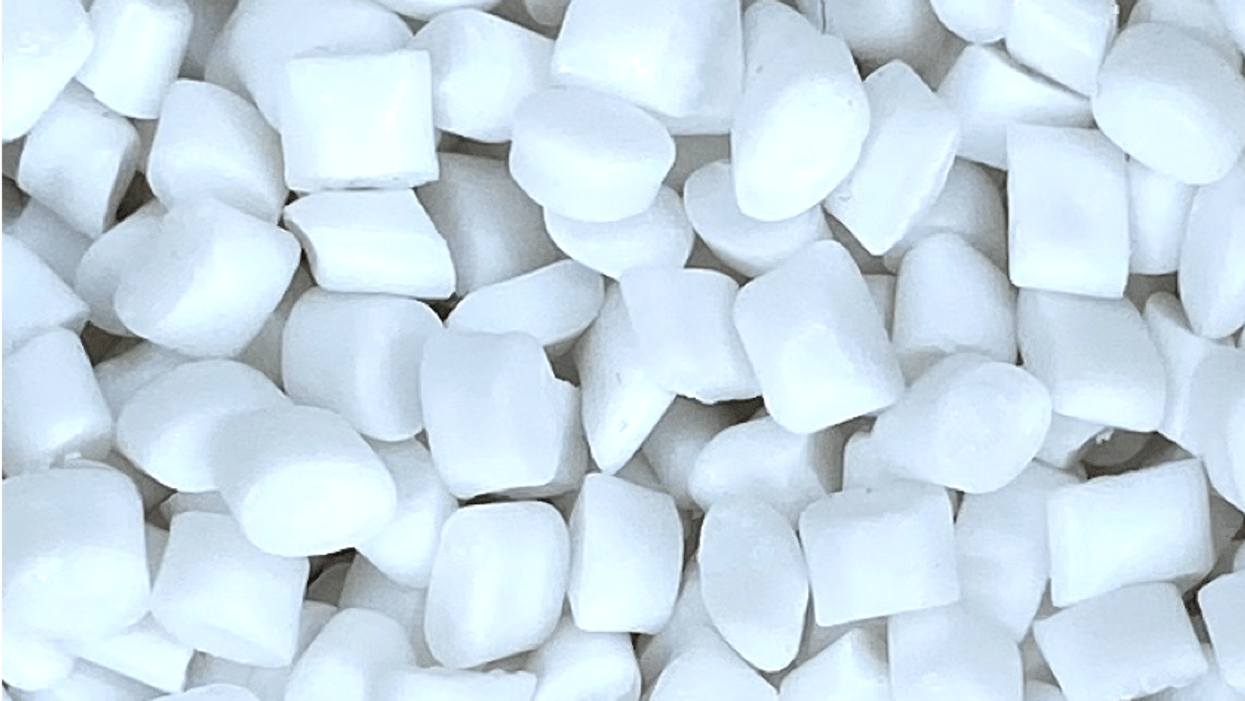 Ambercycle's patented technology breaks down the molecules of textile waste to generate small polyester pellets.
The startup's factory downtown can process about 50 garments a day, mostly old shirts and textile waste or excess from big name businesses. It's hardly enough to make garments in mass. Even ambercycle's own clothes are 90% virgin polyester. To make 100% recycled polyester, Sethi would need a new factory.

Sethi has plans to build a large commercial plant that can eventually manufacture 50,000 tons of material each year, the amount large garment factors typically produce. If he succeeds, it would be a rarity. Few clothing companies produce and source in the U.S.. Most instead rely on cheap overseas labor and material.
But the fundraising for that factory doesn't appeal to venture capital or other traditional sources, he said.
"The idea of building a plant is seen as unsexy," he said. "We haven't gotten too much interest from the traditional technology investor. This is not in vogue yet."
So, Sethi is looking elsewhere for funding as consumer interest in sustainable fashion brands grows.
From Your Site Articles
Related Articles Around the Web