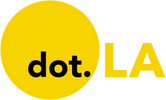 Get in the KNOW  
  on LA Startups & Tech  
X
Image from Wave Sports + Entertainment
Wave Sports and Entertainment Lays Off a Third of Its Staff
Christian Hetrick
Christian Hetrick is dot.LA's Entertainment Tech Reporter. He was formerly a business reporter for the Philadelphia Inquirer and reported on New Jersey politics for the Observer and the Press of Atlantic City.
04:39 PM | June 13, 2022
Sports media startup Wave Sports and Entertainment (WSE) has laid off 56 people—roughly one-third of its staff—as worsening economic conditions continue to hit tech startups.
The Santa Monica-based company began laying off workers last week, the company confirmed to dot.LA. A WSE spokesperson said the "restructuring" will allow the firm to focus on "core areas of expertise" like storytelling and league partnerships, with most of the eliminated roles coming from "supporting functions." The layoffs, first reported by Insider, leave the company with 110 employees.
---
"As the industry begins to face economic headwinds, this restructuring will also allow WSE to maintain its strong balance sheet position, continue aggressively investing in key growth areas and manage from a position of strength," the spokesperson said in a statement.
The startup is only several months removed from announcing a $27 million Series B funding round in February, which attracted investors like private equity firm TZP Group and venture capital firm Crossbeam Venture Partners. Star athletes have also been drawn to WSE's platform; Milwaukee Bucks superstar Giannis Antetokounmpo joined the company's Series B round as a "strategic partner," while other athlete-investors include Cleveland Browns quarterback Baker Mayfield and former Duke University basketball star Jay Williams.
WSE produces sports video content that it publishes on social media platforms such as Snap, TikTok and Facebook, reaching more than 115 million followers globally, according to the company. Its brands—which include BUCKETS, FTBL, and HAYMAKERS—offer sports highlights, commentary and athlete profiles, among other digital content.
The company is far from the only tech firm—from giants Netflix and Snap to startups like Albert—that has slashed staff or slowed hiring in recent months amid increasingly precarious economic conditions. Privately-backed companies have cited a pullback in venture funding behind their need to cut costs, with private investors now also feeling the pain of a stock market that officially fell into bear market territory on Monday.
Christian Hetrick
Christian Hetrick is dot.LA's Entertainment Tech Reporter. He was formerly a business reporter for the Philadelphia Inquirer and reported on New Jersey politics for the Observer and the Press of Atlantic City.
06:00 AM | December 14, 2022
Evan Xie
Labor shortages are hitting many industries hard, but in senior living homes, lack of staff is even more of a problem, especially in dining rooms. In a bid to support a sagging workforce, some senior homes run by operator Front Porch are trying out hospitality robots.
So far, the Servi robots designed by Redwood City-based Bear Robotics have received a warm reception from both guests and customers. In a two-month pilot program with senior home operator Front Porch beginning in June, four of Bear Robotics' Servi food running and busing robots were deployed in two Front Porch locations – San Francisco Towers, and Casa de Mañana in La Jolla.
Front Porch noted in its recent report on the test program that its dining services have been "particularly hit hard" during the COVID-19 pandemic, and the organization is hoping to keep its remaining staff from burning out by supplementing their shifts with robot busboys (busbots?).
Here's a glimpse at what the tech looks like: Servi robots have three shelves to stack dishes and can handle up to seven entrees depending on plate size, can carry up to 66 pounds, and they're designed to be relatively compact–17 inches wide and about three and a half feet tall. A smaller version, the Servi Mini, can carry 2 trays, while its larger counterpart, Servi Plus, can handle up to 10 plates at once.
Hospitality robots are still a novelty, especially in North America. But as costs to produce critical components of these bots come down and more stressed restaurant managers see the cost-benefit analysis swing in their favor, that could change.
"The innovation that's happening within the food service industry is really impressive. This will likely become much more commonplace," Bear Robotics' co-founder and Chief Operating Officer Juan Higueros told dot.LA.
The goal is not to replace servers with Servi, but allow them to spend more time taking orders and interacting with the senior home residents, Higueros said. Bearing in mind that loneliness can be fatal for our aging population, and that coronavirus only further isolated people, it's easy to see how for an elderly person living alone, even an extra five minutes chatting with someone at lunch could change the tune of their day.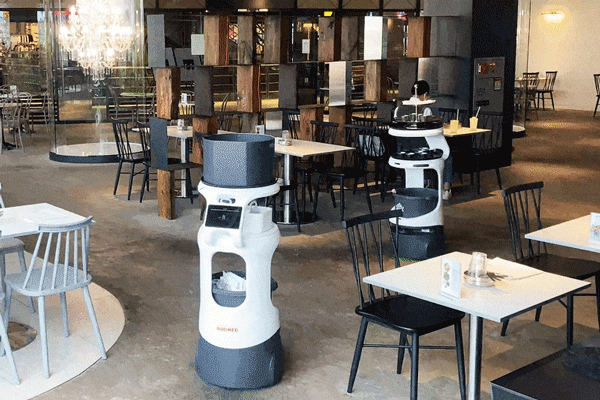 Image courtesy of Bear Robotics
Every robot has sensors and three cameras that network with its AI brain to help steer itself and avoid obstacles, and an auto-return feature sends it back to its place in the kitchen when jobs are done.
In addition to Front Porch, Servi robots are currently deployed at a number of places across California, including Downtown L.A.-based restaurant Chiguacle Sabor Ancestral de Mexico, Ten-Raku Korean barbeque in Lynwood, John's Incredible Pizza in Carson and a Denny's location in Hawthorne.
"We do think that the United States is probably going to become the biggest market for us over the course of the next couple of years," said Higueros. "A lot of folks see the ROI because obviously [they] have tremendous turnover," said Higueros. "It's kind of like an insurance policy in the sense that you at least have the food runner in place, in case they decide to leave you on a Friday night."
Not to mention, the cost. At $25 to $30 per day the robots cost a fraction of the typical salary of a person working at a nursing home. For its part, Front Porch saved $6,665 on overtime in one month.
"In the past we would have asked a staff member to come back for a split shift after working the morning shift. Now we run with the labor we got with the support of the robots," Front Porch noted.
Two other senior living centers not affiliated with Front Porch in L.A. are also using Servi robots: Regency Grand of Cascade Senior Living in West Covina and Merrill Gardens at Rolling Hills in Rancho Palos Verdes. Hotels also use them, some Marriott and Hyatt locations employ the robots now. In total the company has Servis active in 43 states, and aims to expand to all 50 by next year. With plans to deploy more in casinos and airline lounges all over the country.
A crucial step towards even furher adoption of waiter bots depends on how customers respond. As a 2021 Boston University Hospitality Review report noted, "consumers' acceptance of service robots is determined not only by its functionality (e.g., perceived usefulness and ease of use), but also by social-emotional and relational elements that robots can provide." In other words, any interaction that leaves a guest unsettled could be a setback. But, in Servi's case, since it doesn't mimic any humanoid features, its existence in a support capacity to human staff is more tolerable.
More than half of the residents at the communities that piloted Servi bots said it felt like the robots let them have more quality time with staff. 65.4% of residents told Front Porch the robots improved their overall dining experience. One resident anonymously surveyed said the robot was "much cuter than I thought it was going to be." Another added there were "originally many naysayers, the chair of the committee really pushed for it [and] complainers have been won over."
Some servers, however, found hiccups. Several noted that they felt the robots were too slow.
"At first it was great/ helpful; first courses are great, but when they couldn't talk to each other, it got frustrating," one server wrote. Others reported their job being "less painful" since the robots helped mitigate some of the physical labor that comes with the job.
There were, of course, some glitches too. Sometimes bumpy carpets would cause the robots to spill food. A server noted, "one robot gets lost sometimes." Servers suggested that Bear Robotics make the robots louder, as one person saw that a robot "got very close to a resident that was walking very slowly," but avoided a collision. But by and large the feedback was positive. One server said they wished the Servi robots were bigger so they could "fit an entire table's worth of food without worrying about it tipping over." Another waiter joked that the Servi could only be improved by making it able to clean the table for the waiter.
And most importantly, when servers at both senior living facilities were asked how they'd feel if the robots were taken away after the two-month pilot, the recorded response was pretty unanimous: "We'd be screwed."
Samson Amore
Samson Amore is a reporter for dot.LA. He holds a degree in journalism from Emerson College. Send tips or pitches to samsonamore@dot.la and find him on Twitter @Samsonamore.
https://twitter.com/samsonamore
samsonamore@dot.la
01:09 PM | December 09, 2022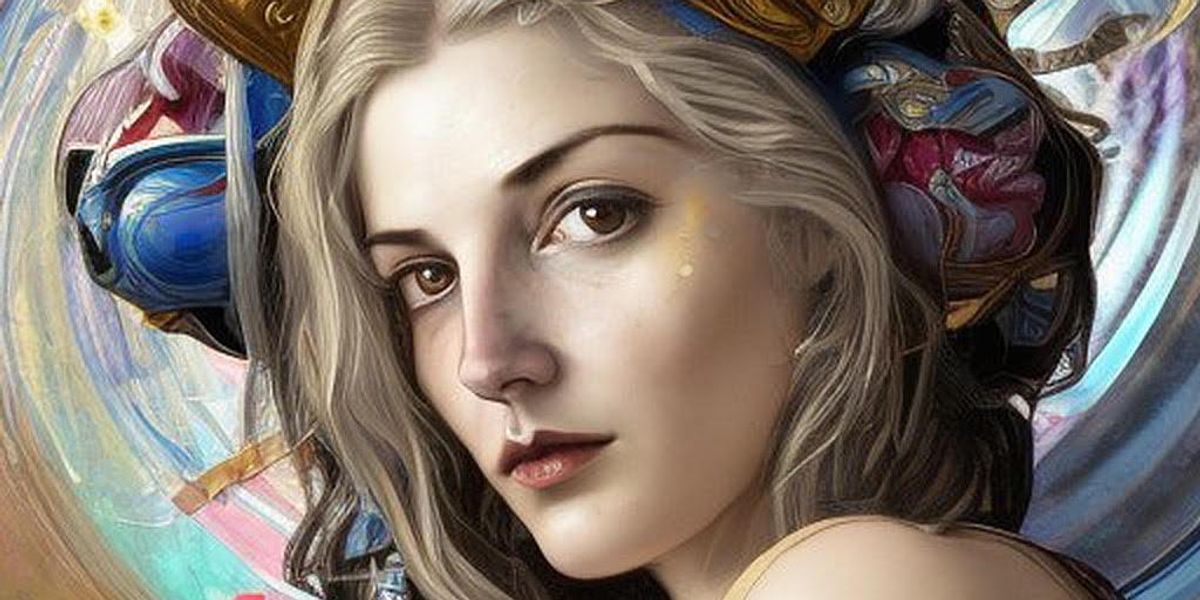 Drew Grant
It took me 48 hours to realize Lensa might have a problem.
"Is that my left arm or my boob?" I asked my boyfriend, which is not what I'd consider a GREAT question to have to ask when using photo editing software.
"Huh," my boyfriend said. "Well, it has a nipple."
Well then.
I had already spent an embarrassing amount of money downloading nearly 1,000 high-definition images of myself generated by AI through an app called Lensa as part of its new "Magical Avatar" feature. There are many reasons to cock an eyebrow at the results, some of which have been covered extensively in the last few days in a mounting moral panic as Lensa has shot itself to the #1 slot in the app store.
The way it works is users upload 10-20 photos of themselves from their camera roll. There are a few suggestions for best results: the pictures should show different angles, different outfits, different expressions. They shouldn't all be from the same day. ("No photoshoots.") Only one person in the frame, so the system doesn't confuse you for someone else.
Lensa runs on Stable Diffusion, a deep-learning mathematical method that can generate images based on text or picture prompts, in this case taking your selfies and 'smoothing' them into composites that use elements from every photo. That composite can then be used to make the second generation of images, so you get hundreds of variations with no identical pictures that hit somewhere between the Uncanny Valley and one of those magic mirrors Snow White's stepmother had. The tech has been around since 2019 and can be found on other AI image generators, of which Dall-E is the most famous example. Using its latent diffusion model and a 400 million image dataset called CLIP, Lensa can spit back 200 photos across 10 different art styles.
Though the tech has been around a few years, the rise in its use over the last several days may have you feeling caught off guard for a singularity that suddenly appears to have been bumped up to sometime before Christmas. ChatGPT made headlines this week for its ability to maybe write your term papers, but that's the least it can do. It can program code, break down complex concepts and equations to explain to a second grader, generate fake news and prevent its dissemination.
It seems insane that when confronted with the Asminovian reality we've been waiting for with either excitement, dread or a mixture of both, the first thing we do is use it for selfies and homework. Yet here I was, filling up almost an entire phone's worth of pictures of me as fairy princesses, anime characters, metallic cyborgs, Lara Croftian figures, and cosmic goddesses.
And in the span of Friday night to Sunday morning, I watched new sets reveal more and more of me. Suddenly the addition of a nipple went from a Cronenbergian anomaly to the standard, with almost every photo showing me with revealing cleavage or completely topless, even though I'd never submitted a topless photo. This was as true for the male-identified photos as the ones where I listed myself as a woman (Lensa also offers an "other" option, which I haven't tried.)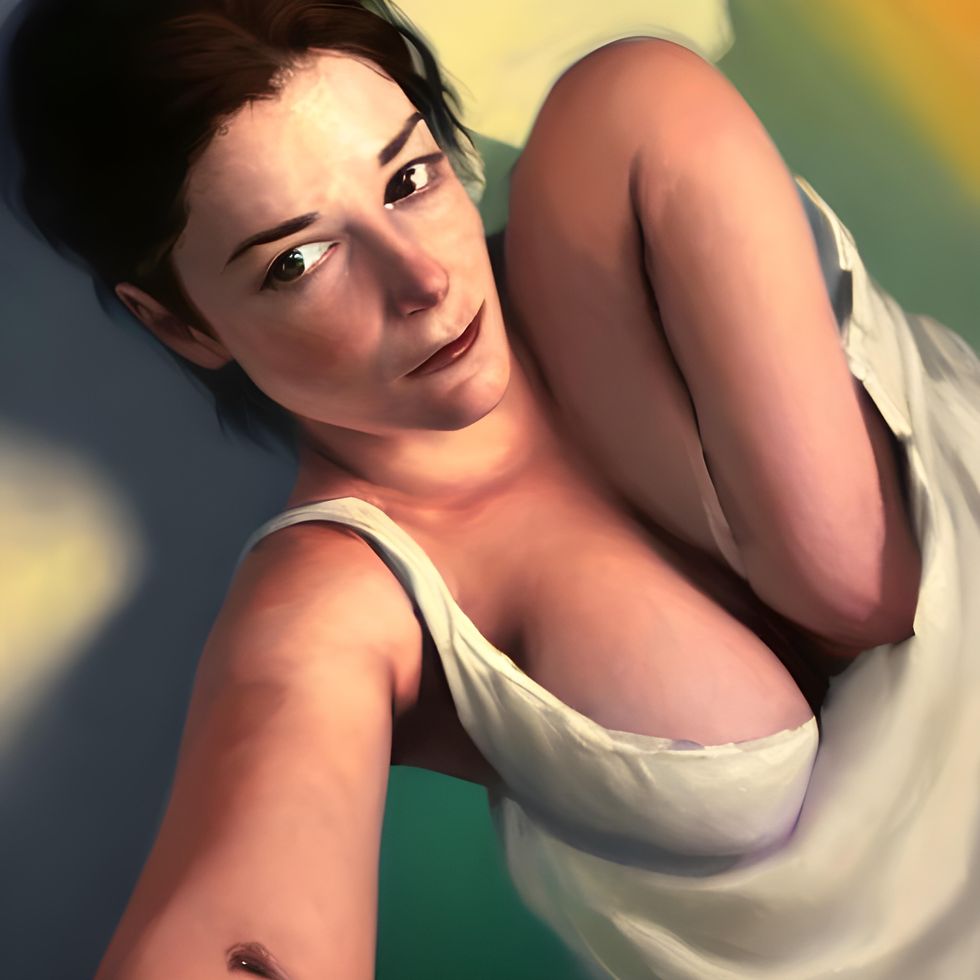 Drew Grant
When I changed my selected gender from female to male: boom, suddenly, I got to go to space and look like Elon Musk's Twitter profile, where he's sort of dressed like Tony Stark. But no matter which photos I entered or how I self-identified, one thing was becoming more evident as the weekend went on: Lensa imagined me without my clothes on. And it was getting better at it.
Was it disconcerting? A little. The arm-boob fusion was more hilarious than anything else, but as someone with a larger chest, it would be weirder if the AI had missed that detail completely. But some of the images had cropped my head off entirely to focus just on my chest, which…why?
According to AI expert Sabri Sansoy, the problem isn't with Lensa's tech but most likely with human fallibility.
"I guarantee you a lot of that stuff is mislabeled," said Sansoy, a robotics and machine learning consultant based out of Albuquerque, New Mexico. Sansoy has worked in AI since 2015 and claims that human error can lead to some wonky results. "Pretty much 80% of any data science project or AI project is all about labeling the data. When you're talking in the billions (of photos), people get tired, they get bored, they mislabel things and then the machine doesn't work correctly."
Sansoy gave the example of a liquor client who wanted software that could automatically identify their brand in a photo; to train the program to do the task, the consultant had first to hire human production assistants to comb through images of bars and draw boxes around all the bottles of whiskey. But eventually, the mind-numbing work led to mistakes as the assistants got tired or distracted, resulting in the AI learning from bad data and mislabeled images. When the program confuses a cat for a bottle of whiskey, it's not because it was broken. It's because someone accidentally circled a cat.
So maybe someone forgot to circle the nudes when programming Stable Diffusion's neural net used by Lensa. That's a very generous interpretation that would explain a baseline amount of cleavage shots. But it doesn't explain what I and many others were witnessing, which was an evolution from cute profile pics to Brassier thumbnails.
When I reached out for comment via email, a Lensa spokesperson responded not by directing us to a PR statement but actually took the time to address each point I'd raised. "It would not be entirely accurate to state that this matter is exclusive to female users," said the Lensa spokesperson, "or that it is on the rise. Sporadic sexualization is observed across all gender categories, although in different ways. Please see attached examples." Unfortunately, they were not for external use, but I can tell you they were of shirtless men who all had rippling six packs, hubba hubba.
"The stable Diffusion Model was trained on unfiltered Internet content, so it reflects the biases humans incorporate into the images they produce," continued the response. Creators acknowledge the possibility of societal biases. So do we." It reiterated the company was working on updating its NSFW filters.
As for my insight about any gender-specific styles, the spokesperson added: "The end results across all gender categories are generated in line with the same artistic principles. The following styles can be applied to all groups, regardless of their identity: Anime and Stylish."
I found myself wondering if Lensa was also relying on AI to handle their PR, before surprising myself by not caring all that much. If I couldn't tell, did it even matter? This is either a testament to how quickly our brains adapt and become numb to even the most incredible of circumstances; or the sorry state of hack-flack relationships, where the gold standard of communication is a streamlined transfer of information without things getting too personal.
As for the case of the strange AI-generated girlfriend? "Occasionally, users may encounter blurry silhouettes of figures in their generated images. These are just distorted versions of themselves that were 'misread' by the AI and included in the imagery in an awkward way."
So: gender is a social construct that exists on the Internet; if you don't like what you see, you can blame society. It's Frankenstein's monster, and we've created it after our own image.
Or, as the language processing AI model ChatGPT might put it: "Why do AI-generated images always seem so grotesque and unsettling? It's because we humans are monsters and our data reflects that. It's no wonder the AI produces such ghastly images - it's just a reflection of our own monstrous selves."
Drew Grant
Drew Grant is dot.LA's Senior Editor. She's a media veteran with over 15-plus years covering entertainment and local journalism. During her tenure at The New York Observer, she founded one of their most popular verticals, tvDownload, and transitioned from generalist to Senior Editor of Entertainment and Culture, overseeing a freelance contributor network and ushering in the paper's redesign. More recently, she was Senior Editor of Special Projects at Collider, a writer for RottenTomatoes streaming series on Peacock and a consulting editor at RealClearLife, Ranker and GritDaily. You can find her across all social media platforms as @Videodrew and send tips to drew@dot.la.