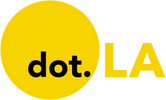 Get in the KNOW
on LA Startups & Tech
X
Juliet Bennett Rylah
Juliet Bennett Rylah
Juliet Bennett Rylah is a Los Angeles-based writer whose work has appeared in numerous local and national outlets. She's passionate about public transit, affordable housing and horror movies. You can find her on Twitter @jbrylah.
Retrospec, a Los Angeles-based ecommerce brand that sells outdoor recreation and fitness gear, is among the latest companies to enter the e-bike market. It will launch its first line on April 21st.
E-bikes have been on the rise lately, spurred in part by the pandemic and a desire for sustainable, outdoor transit.
Retrospec was founded in 2009 by Ely Khakshouri, who began selling bikes out of the back of a van as a student at USC. Over the past decade, Retrospec has expanded to include not just several types of bikes, but gear for skaters, paddle boarders, snowboarders and those looking to build a home gym.
Khakshouri told dot.LA that Retrospec always knew it would enter the e-bike market at some point, it just was a matter of timing.
"It feels like the demand is really there now," he said. "I think we're really highly regarded when it comes to urban cycling and everyday bikes. That's what — as much as many of us enjoy performance bikes and recreational riding — we focus on putting bikes out there that help people get from point A to point B. So, I think this is the biggest no-brainer of all time for us as a company."
Demand for several kinds of e-bikes has increased over the past year. Lime recently announced a $50 million expansion of its LimeBike fleet, thanks in part to an investment round led by Uber last May and the acquisition of Uber's bike-share system, Jump. The Pasadena-based delivery platform URB-E also recently raised a $5 million Series A round to expand its service, which uses high-performance bikes to cart around up to 800 pounds of cargo.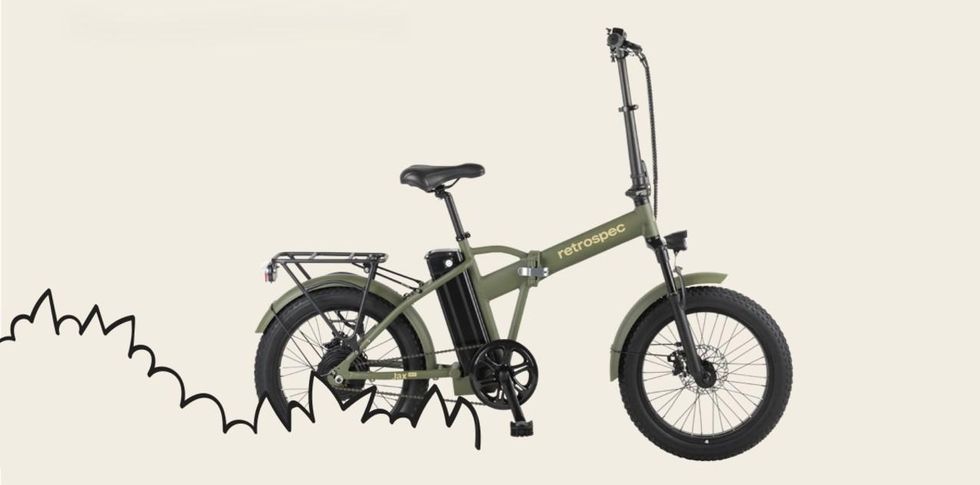 Retrospec's Jax folding e-bike
Retrospec's e-bikes will retail between $1,000 to $1,500, and are meant for personal use, ideal for the daily commuter who doesn't want to show up to events winded or sweaty, or who needs to travel further than one might on a standard bike. The idea of going farther is what Khakshouri believes has increased demand for e-bikes among personal riders.

"Whether you're going trail riding or just riding down the boardwalk by the beach, there's always this fear of, 'I have to get back.' I think having the e-bike gives you extra access, and takes that fear and pain away," he said.

Additionally, e-bikes can also help equalize group rides, Khakshouri noted. Riders who need an extra boost to finish a ride or catch up have that via pedal assist, which decreases resistance as the rider pedals, and a throttle, which can completely take over for a fatigued rider or when facing a steep hill. The bikes also have an "easy start" push button that helps riders get going.
"We try to keep things really simple where it doesn't feel like you're driving a complex machine," Khakshouri said. "All of our bikes have a simple, clean aesthetic and one that also is nostalgic of what bikes have always looked like and the history of bikes, so I think that's all going to come through our e-bike line and differentiate us."
Retrospec will start with two e-bike models. The Beaumont 7S Electric Bike can reach up to 20mph and last up to 15 to 25 miles, depending on the battery. It's a stylish option for city riding available in four colors, including soft pink, pale blue, eggshell and matte gray.
The Jax Folding Electric can also reach up to 20 mph and last up to 35 miles, depending on the battery. It has a more rugged design with a foldable frame and thicker tires, and comes in matte black or olive.
While Retrospec is entering the e-bike market late in the pandemic and won't be able to gauge COVID-19's impact on demand for its e-bikes, the company did see an increased interest in their other products, from bikes to home fitness equipment over the last year. People who could no longer use their indoor gyms began looking for ways to exercise at home, and also experienced a renewed interest in outdoor activities. For many companies, including Retrospec, this demand ran up against supply chain issues, as Retrospec quickly sold out of products it couldn't immediately restock.

"A year later, we're still playing catch up," Khakshouri said. "What's cool about that is I think a lot of the used gear out there has gotten another turn. There's been a lot more upcycling that's gone on and that's obviously really good from a sustainability standpoint, too."
Retrospec's next move will be a literal one. It will leave the Vernon headquarters it's outgrown next month for a much larger space in the Inland Empire, and will also open an office in Los Angeles.
This story has been updated to reflect a change in the release date for Retrospec's line of e-bikes.
From Your Site Articles
Related Articles Around the Web
In January 2020, just before the pandemic hit, Irvine-based electric bike manufacturer Super73 had just launched its newest bike models — the S2, R, and RX — and business was surging.

Then the pandemic hit.
"There was a day in March when [Gov. Gavin Newsom] declared a state of emergency, everything shut down, and we saw our sales drop quite a bit. We were like, 'uhhh, buckle up, what's coming?'" said co-founder and Chief Marketing Officer Michael Cannavo.
The prospect of customers sheltering at home and avoiding the outdoors and other people seemed like a death knell. In April, Lime laid off 13% of its staff, saying it had been forced to shut down 99% of its markets to support cities' social distancing measures.
"Then, the rest of the year, every single day was a record-breaking day," Cannavo said. "The biggest issue of 2020 was just trying to keep up with the demand."
As Los Angeles and the world emerges from the worst days of the pandemic, interest in electric bikes is surging, with several Southern California e-bike startups recently announcing new funding and expansions. The surge derives from several trends that emerged during the pandemic, including a rise in the popularity of bikes, a move toward clean transportation technology and the boom in ecommerce and deliveries.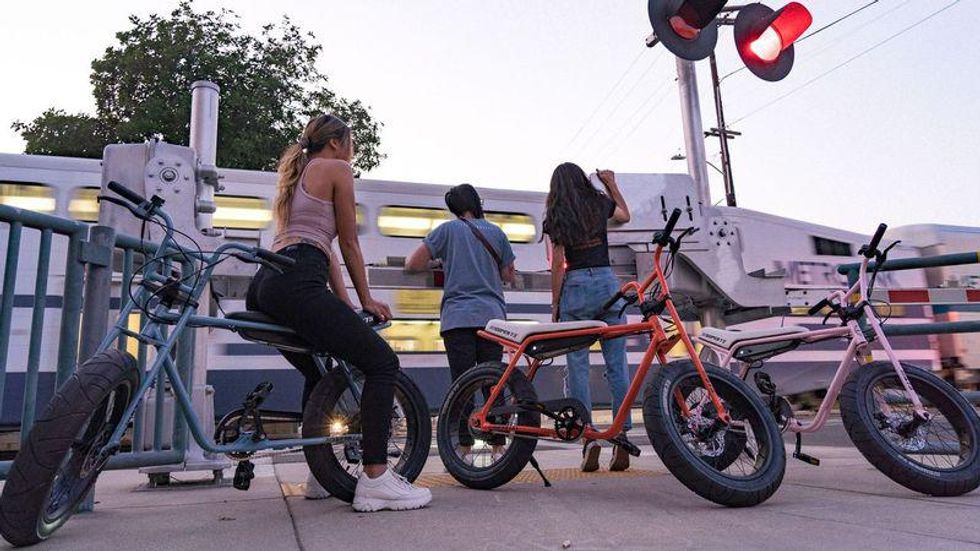 Image courtesy of Super73
E-Bikes' Rebirth
Earlier this month, Lime revealed it would spend $50 million on a large e-bike expansion, upgrading and quadrupling its LimeBike fleet, and adding service to 25 new cities in 2021.

The company raised $170 million in an investment round led by Uber in May, and has acquired Uber's bike-share system, Jump.
Lime, which launched as LimeBike in 2017, initially only offered e-bikes, but changed its name and pivoted to focus on electric scooters shortly thereafter.
Its bikes and scooters are considered last-mile solutions, giving people a convenient option for short, local trips, or an easy way to get from a train or bus station to their final destination. Lime's newest e-bike, slated to debut this summer, will come with a 350-watt motor and a swappable battery that works interchangeably with its electric scooters.

Electric bikes differ from traditional bikes in that they use a rechargeable battery to power a motor. While cyclists can still pedal an e-bike, the motor can help with difficult hills, long trips or, in some cases, heavy cargo.
Laws pertaining to e-bikes vary from city to city, but most are classified as bicycles and can use the same infrastructure, including lanes and bike racks, as their non-motorized counterparts. A 2019 study found that e-bikes offered an affordable alternative to owning a car, while still providing the exercise and recreational benefits of a traditional bike. Additionally, the widespread use of e-bikes could reduce C02 emissions, urban noise, air pollution and inner-city traffic.
According to Lime demand for e-bikes surged globally during the pandemic as people began to favor single-rider outdoor choices to public transit or rideshare services.
"Shared micromobility is playing an essential role in getting cities moving again safely so we see this as a critical moment to double down on e-bikes as an open-air, socially-distanced transportation option," Lime CEO Wayne Ting said in a statement.
Super73's Cannavo said he saw a similar surge in interest, coupled with a newfound sense of freedom and community.
"We had become a tool for people who were trapped in their houses," he said. They were buying our bikes as a source of joy and pleasure in a really uncertain time."
When Super73 went looking for funding in Silicon Valley in 2017, they didn't catch much interest. Investors were more interested in backing an app — such as Bird or Lime — than a new bike product. But now, Cannavo said it's clear that their bike's value "isn't a last-mile option as much as it's a lifestyle option."
The e-bikes retail for between $1,260 and $3,245 and are highly customizable, from their color schemes and handlebars to seating and battery placement.

Super73 owners have built a community around their bikes, regularly attending group rides and meetups in cities around the world. Cannavo said a typical event draws around 90 riders. About a third of U.S. Super73 owners and about half in Europe have completely ditched their car for the bike. This is common in urban areas and small towns, but even more so in cities like Paris or Amsterdam, where gas-powered vehicles are being phased out.
"It gives people who can't afford a car or want another option for transportation, or who just want something fun to get around on the weekends," Cannavo said. "You still get the thrills [of riding a bike], you're interacting with your city, and it really connects you more to your community which is why I think our group rides are so successful. Suddenly you're going down streets you've never gone before because your car could never take you there and you're finding the hidden gems within the city and that's because you got out of your car."
The company announced last month it had raised an additional $20 million from investors including Volition Capital, which it plans to use to develop new anti-theft technology as well as to grow its operations and diversify its supply chains. Cannavo said he also hopes to open more international showrooms on top of those in Irvine and Amsterdam.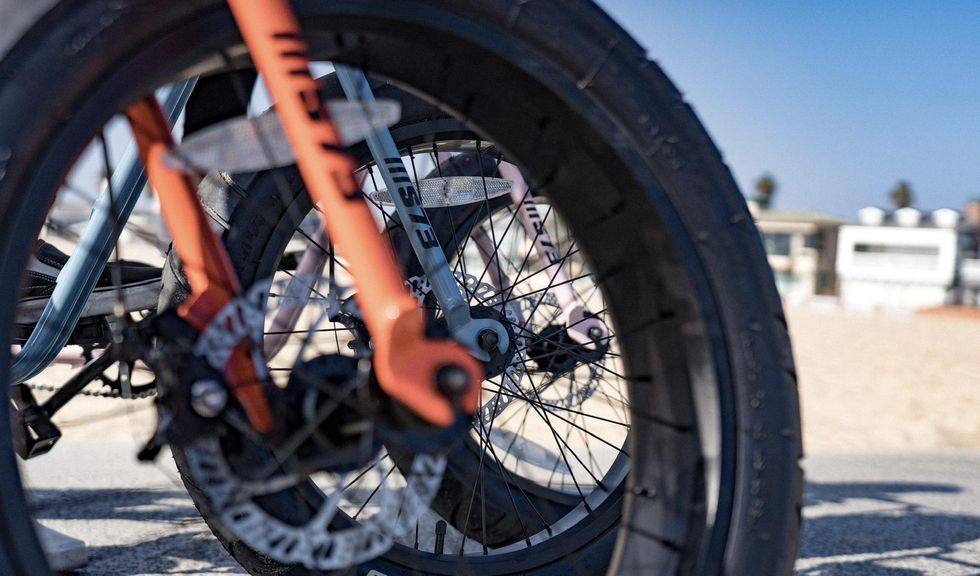 Courtesy of Super73
Re-Imagining Delivery
Pasadena-based URB-E sees itself on the forefront of two recent trends. One is the push to transition to electric vehicles amid climate concerns. The other is the dramatic surge in demand for delivery services, something that was already on the rise before COVID-19 and which CEO Charles Jolley predicts won't slow down after the pandemic.
The company pivoted in 2019 from manufacturing foldable scooters into a delivery network powered by e-bikes. It also recently raised a $5 million Series A round and named Jolley, an Apple and Facebook veteran, its new CEO.
Consumers have become used to the convenience of delivery, Jolley said, and they aren't likely to let that go.
"Where a company like URB-E comes into play is that we think the next stage is to transition to where you're doing much higher density kinds of deliveries like groceries or parcels or food deliveries out of ghost kitchens. For all of those, you need much more efficiency than what you get out of a bike with a small package on it."
E-bikes, not cars or trucks, he said, offer the fastest, easiest way to transition to doing more deliveries in a way that's mindful of the climate.
"Replacing a five-ton truck with a five-ton electric truck that's just three tons of battery isn't feasible. We don't have enough lithium iron in the world to do that, so we have to come up with smarter solutions if we're going to make that transition," he said.
URB-E bikes are engineered by Chief Technical Officer Sven Etzelsberger, previously a lead engineer at Porsche, to be high-performance machines. They attach to a container that can carry up to 800 pounds of cargo, which riders can move through cities at 12 mph thanks to the bike's high torque.
"Our first application is mostly same-day delivery, but we're also doing parcel delivery with some companies," Jolley said. "So a big company might bring a truck to the edge of a neighborhood like Santa Monica, and inside the truck would be containers they could pull out to waiting bikes, who'd do the last-mile delivery."

URB-E will deploy this exact concept in Santa Monica and Downtown Los Angeles this year, and will also update the e-scooters it uses in Pasadena with e-bikes.

The startup doesn't compete with existing delivery providers but works with them. So, for example, a business could provide its own drivers to use URB-E's system, or a delivery provider that already works with a grocery store or retailer could rent URB-E's fleet and technology platform on an hourly basis. Those delivery companies would then save on equipment, maintenance and storage costs.
"It's really trying to make all of the infrastructure, technology, software and equipment just completely turnkey," Jolley said.
Sarah Hernandez is a full-time farmer, though she doesn't own a huge farm.
She grows microgreens, among other vegetables and herbs, in her yard in La Mirada. Microgreens, bite-sized version of larger veggies, don't require much space; Hernandez grows them vertically on 10x20 flats stacked on wooden shelves. She visits four farmers markets each week, then delivers microgreen boxes straight to customers who find her on CropSwap.
The app offers a farm-to-phone marketplace, connecting consumers directly to farmers. It's one of several services that have taken hold during the pandemic, allowing consumers who would otherwise go to farmers markets or grocery stores to get fresh produce or other goods delivered. CropSwap is also making it easier for some home-based growers to tap into the gig economy and sell within their communities.
CEO Rob Reiner co-founded the app with Daniel McCollister. The way Reiner tells it, they seem like an unlikely pair. Reiner grew up in Houston, studied computer science, and moved to NYC with the dream of being a Wall Street broker. There, he worked in software startups, but didn't find himself attached to a project that felt like a challenge.
Then he met McCollister in 2017, who invited him to see his gardens in Woodland Hills filled with an array of produce — kale, Brussels sprouts, onions, garlic, beans, tomatoes and more.
"I had believed you needed 100 acres to grow food, and here was Dan, showing me one acre that was growing more food than an entire neighborhood could consume," Reiner said.
McCollister wanted an easy way to sell or donate his food to his community — like a Craigslist or Offer Up for produce — so that's what the pair built. Their first version of CropSwap launched in 2017 and saw some 7,500 people selling or bartering various produce in the L.A. area alone. Got an orange tree? Put the fruit on CropSwap.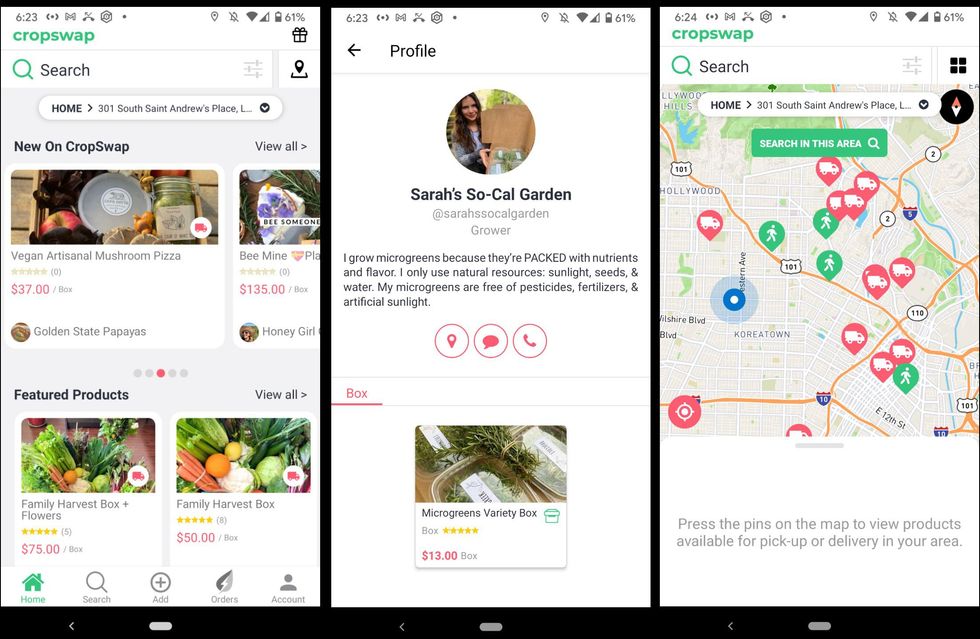 Screenshots of CropSwap's platform.
But Reiner found early on that users would often buy a bunch of oranges one week, but the next week, they'd go back to Whole Foods.

"There wasn't an understanding that the farmer was there to stay and could continually give you that produce," he said.
To attract both consistent consumers and — also key — investors, Reiner pivoted the app. Its goal became to teach people used to visiting chain grocery stores about local food systems and how to tap into them. He scaled back the bartering component of the app, though users can still trade messages with farmers.
"I could have a million users on CropSwap, but if I'm not attacking the WalMart consumer and the WalMart consumer is still buying [Walmart's] produce, then I haven't done my job," he said.
In 2019, CropSwap started offering curated boxes of seasonal, local produce that customers could receive right after it was harvested. Reiner described it as a hybrid consumer-supported agriculture ( CSA) box. Customers can subscribe to them or get a one-off. All farmers have to do is curate the boxes, put them on the app, and fulfill sales.
"We give farmers the tool to create their own delivery options," Reiner said. "They can do it all themselves and sell direct to consumers."
Customers who download the app can browse what's available in their area for either pickup or delivery. Farmers drop pins to indicate five-mile radiuses where they deliver, usually on specific days of the week.
One might be inclined to think that farmers markets would be CropSwap's biggest competitor, but Reiner said it's actually other apps such as Barn2Door and subscription services like San Francisco-based Imperfect Produce or Sacramento-based Farm Fresh to You.
Unlike those services, which use third-parties to box and handle deliveries, CropSwap farmers box their own food and the same farmhands who picked the produce are often the ones who deliver it.
In Los Angeles, the largest farm on the app is Sow a Heart, which also owns Sage Plant-Based Bistro with locations throughout the county. On CropSwap, they offer a Family Harvest box jammed with produce for $55, including delivery fees. By comparison, a Whole Foods cart on Amazon Prime that contains roughly the same items comes out to about $85, not including tip.
CropSwap does not charge sellers to be on the platform as others, including Seattle-based Barn2Door, do. Instead, it takes 8% of sales — in line with what a farmers market might charge — once a seller reaches 50 subscribers. Reiner said they're able to keep consumer costs low because they're not spending money on storage facilities, branding, marketing or transit.
From Consumer to Micro-Farmer
Hernandez had been following CropSwap on social media because she was interested in potentially trading her seeds for other produce. About six months ago, CropSwap reached out to ask her if she'd like to sell on the app. So far, she said "a good amount" of people have tried her variety microgreens box and she's gotten a lot of useful feedback. She currently has about 10 regular subscribers, a number that fluctuates with customer needs. Some are weekly buyers, while some purchase every other week. Hernandez said CropSwap is the most direct farmer-to-consumer experience she's had apart from the actual farmers market.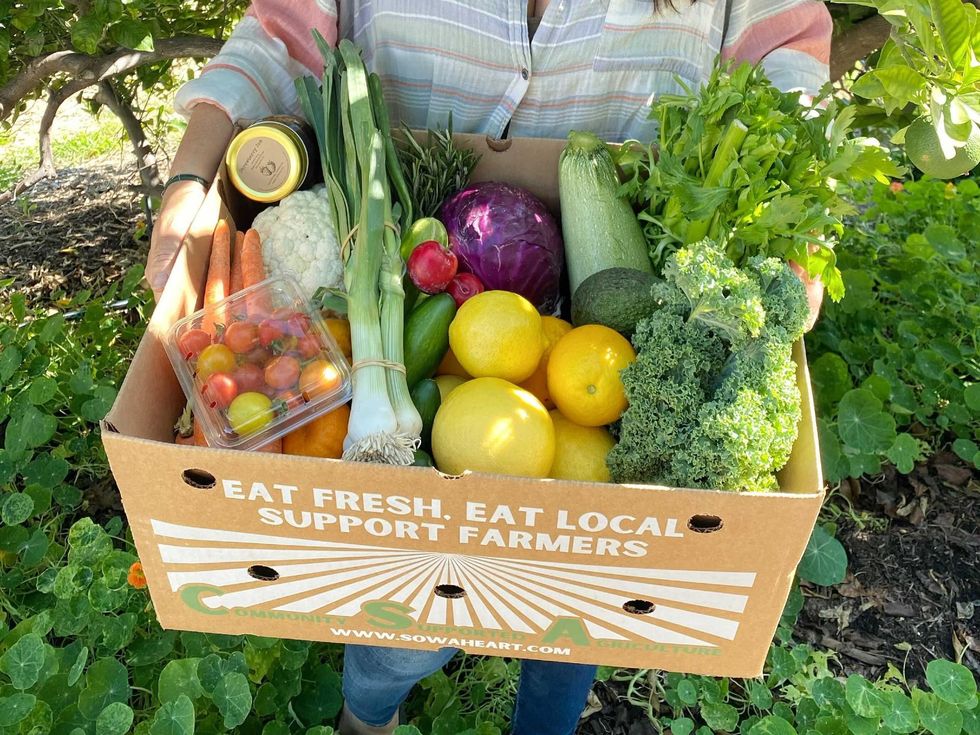 "I make the deliveries myself every week. My boyfriend helps me out, but it's just us two," she said "I'm growing it, we're cutting it, packaging it, and we're delivering it."

Through the app, she can tell her customers if she needs to change delivery dates to accommodate her market schedule or travel plans. Customers can also ask her questions, just like they would at the farmers market. If she gets more subscribers, she has space to add another set of shelves and she'd be able to hire an employee to help package and deliver produce.
There are other small vendors, too, like a beekeeper in West L.A. who sells honey flights, a jam maker in East Hollywood, and more home microgreen growers like Hernandez. Reiner said there are about 250 subscribers in L.A. Some get just one box, but some larger vegetarian or vegan families may purchase up to five.
The direct-to-consumer approach has served as a boon for some farmers during the pandemic. In Richmond, Virginia, Three Fox Farms' founder Alex King told RVA Magazine he didn't know what to do with his crops after restaurants and farmers markets closed at the onset of the pandemic. King ultimately partnered with Leafy Lanes Urban Farms to offer a box of assorted fresh vegetables, which they sold on CropSwap. They were so successful, the farmers said, they had one of their strongest seasons and King was able to invest in new hoop houses and a walk-in cooler.
Hernandez also had a good year saleswise. She said she found her customers wanted to eat healthier and appreciated the contact-free delivery experience CropSwap could provide.
Beyond the Pandemic
Reiner doesn't think pandemic subscriptions are a fluke, though he has had investors who question that. Still, he's betting the quality of fresh, local produce delivered straight to consumers will "ruin" them for inferior fruits and vegetables that have to be stored in a warehouse. Plus, he said, some CropSwap growers offer products that are hard to get in stores. For example, a farmer who specializes in iron-rich kale for vegan bodybuilders.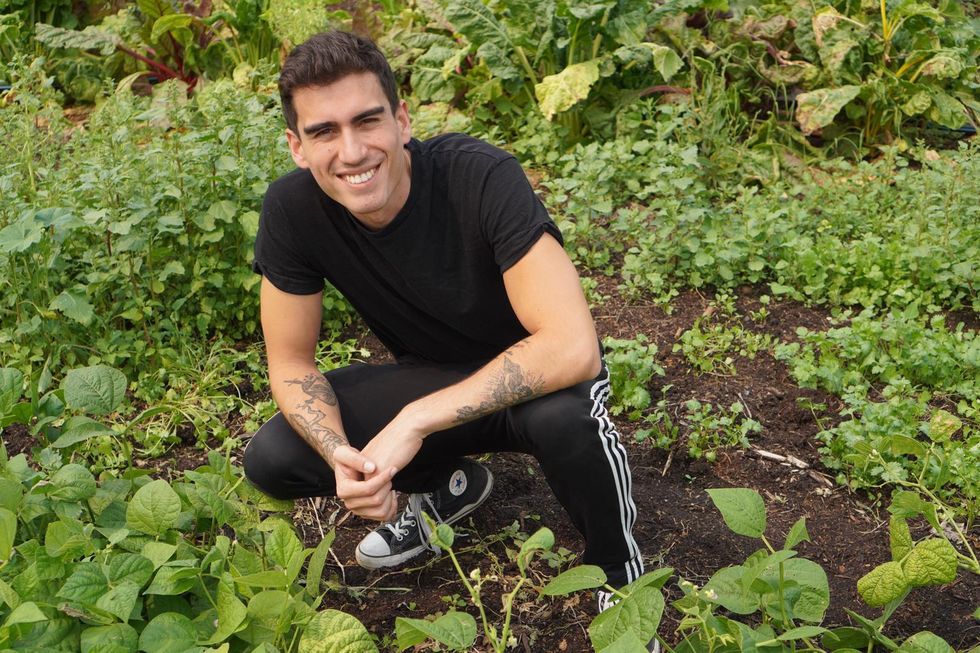 CropSwap CEO Rob Reiner
In its next iteration, Reiner plans to partner with chefs to make the boxes more of an experience by offering recipes and cook-alongs. CropSwap is also working on a partnership with Nourish LA to offer customers the ability to donate boxes to other families. Reiner also envisions a tracking system that lets customers know how their purchases will impact their health, environment, and communities and a future where CropSwap could make suggestions to make its customers healthier.

"Imagine if we knew your intake because of the product you were consuming," he said. "If I knew, for example, that you were low on iron, I could start suggesting boxes that might increase your iron."
CropSwap has also partnered with Jamiah Hargins' Crop Swap LA, founded in 2018 to allow Angelenos to share produce. Crop Swap LA is building new neighborhood gardens in West Adams. The produce they yield will be available on the CropSwap app, and neighbors will receive a code to become the urban farms' first subscribers.
"People are going to start seeing how much food can come from local gardens. And that's going to start deteriorating the mindset that you need so much land to grow food," Reiner said. "I would love it if kids could get involved in this and tell their parents I'm going to turn my whole backyard into selling food for my neighbors."
Related Articles Around the Web