vaccine passport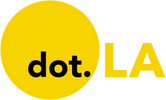 Get in the KNOW
on LA Startups & Tech
X
vaccine passport
upload.wikimedia.org
Entertainment giant Disney and retailer Walmart on Friday became the latest companies to require employees to be vaccinated. They followed Facebook and Google earlier this week.
As concerns that the fast-sweeping delta variant could spread easily, employers, schools and governments are scrambling to implement vaccine mandates and regular testing.
"Vaccines are the best tool we all have to help control this global pandemic and protect our employees," said a statement from Disney.
One of the region's largest employers, Disney stated all U.S. salaried and non-union hourly employees working at their sites must be fully vaccinated. Those who aren't will have 60 days to comply. It is also discussing vaccine mandates with unions representing workers.
The new workplace requirements come as studies emerge that show a growing number of breakthrough delta variant cases among the inoculated.
Earlier this week, Los Angeles Mayor Eric Garcetti announced the city will follow California and New York's requirements that all government employees either get vaccinated or submit to regular testing. The federal government soon followed.
And, while Los Angeles Unified School District (LAUSD) has not mandated vaccinations, the district will be testing employees and students regularly.
The new requirements will mean a massive logistical challenge for these organizations: regular testing of potentially hundreds of thousands of unvaccinated individuals, requiring time, money and infrastructure. It could also force employers to build up a safe and secure database of the vaccinated, a feat that has not been attempted in recent memory. Usually, health records are held by medical institutions and schools.
Experts say that vaccine mandates are likely to be effective in protecting individuals but tricky to carry out.
"If they see their friends and family get vaccinated, then that normalizes it for them," said USC public health expert Rita Burke. "They see their circle is safe, so they might be willing to get the vaccine, too."
The city of Los Angeles has yet to outline how they will determine whether their 50,000 plus employees are vaccinated and who will need testing.
Meanwhile, the Biden administration will ask federal workers to declare their vaccination status, rather than rely on testing or proof of vaccination. California will ask employees for a vaccination card or other digital proof of inoculation.
One problem for employers and governments is verifying records. Employees could easily falsify vaccine information since there's no centralized means of tracking records. The county of Los Angeles and other jurisdictions attempted to make it easier to verify records by contracting with companies such as Healthvana that offer digital verification.
But some have lashed out online following the announcements, criticizing the move as a violation of their privacy. Governors in five states, including Texas and Florida, signed legislation prohibiting vaccine mandates.
The mandates are perfectly legal, according to the Equal Employment Opportunity Commission, which regulates federal workforce discrimination laws. It has stated that employers can require employees who physically go to work to get vaccinated.
From Your Site Articles
Related Articles Around the Web
Sharon Town Lee ripped off a cluster of laminated public health flyers from the front window of her pet grooming salon in Santa Monica Tuesday.
It's June 15, the day widespread mask mandates and social distancing protocols in California become concepts of the past.
Sports fans and concert goers can now scream into the air. At Disneyland, visitors can again wait in long lines and crowd around princesses as the park expands its capacity limits.
Under state protocols, vaccinated individuals are no longer required to cover their faces at gyms, in the grocery store or other indoor settings — minus a few exceptions.
And many business owners including Town Lee are letting customers inside mask-free, without checking vaccination records.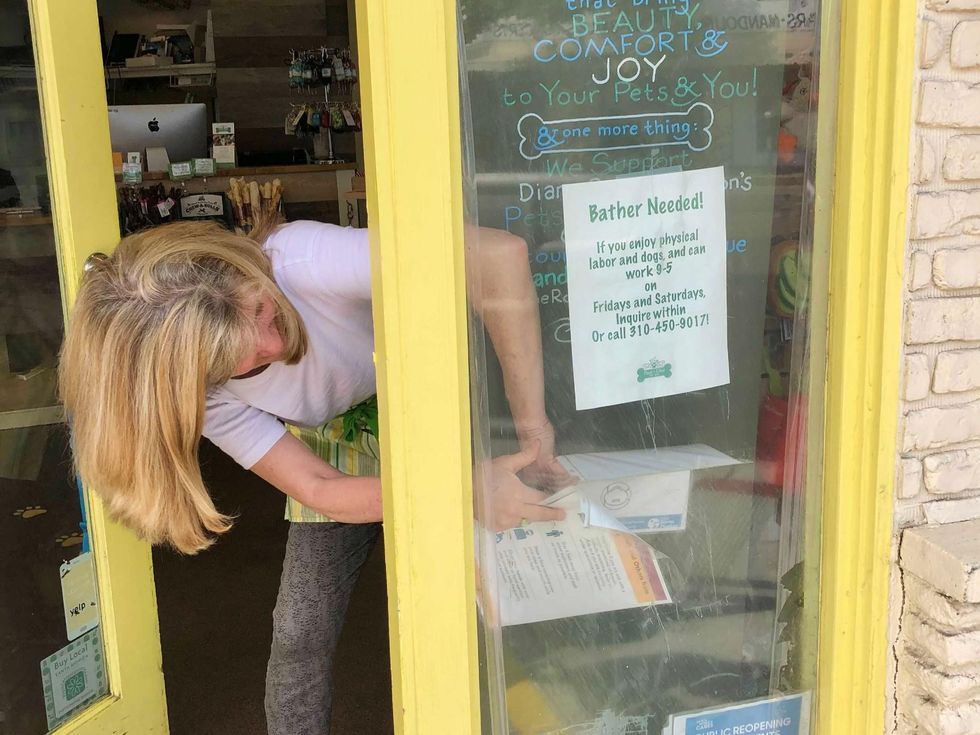 Sharon Town Lee ripped off a cluster of laminated public health flyers from the front window of her pet grooming salon in Santa Monica.Photo by Francesca Billington
"It's not our responsibility to show whether you've been vaccinated," said Town Lee, who chairs the local business district spanning Pico Boulevard and gave her employees incentives to get vaccinated.

The state's updates come as a relief. Town Lee, who is hearing impaired, can read her customers' lips again. While her small shop was largely empty in the morning, most people walking along the business district wore masks.
Private businesses can now pick between one of three state protocols: require all patrons to wear a mask, trust customers who say they've gotten the shot or establish a "vaccination verification process."
"It's a sensitive thing to ask people," said Rod Martinez, a supervisor at Literati Cafe in Los Angeles. "So we're not."
The question of enforcement remains murky — not to mention optional.
Last week, Newsom hinted at a new state-endorsed verification system to help private businesses hoping to check. SFGate reported that it'll look like a digital vaccine card designed to replace the paper ones issued by pharmacies and doctors.
How — and even if — stores and restaurants will ask customers to prove vaccination credentials is up to them, Newsom said. The governor was quick to remind viewers that his tech system isn't a so-called vaccine "passport," messaging that echoes tech startups like Healthvana.
"There's no mandates, no requirements, no passports in that respect," Newsom said during a press briefing Friday after drawing more winners for the state's cash vaccine incentive program.
Some business owners worry that requiring masks could turn off potential customers. Town Lee said that it almost feels like discriminating against people who don't want to be vaccinated for a variety of reasons.
At Ace Hardware in West L.A. store manager Brian Peacock said that three hours after opening, only one customer stepped inside without a mask.
"He walked in and said, 'I'm vaccinated!'" said Peacock. "For the most part, everybody has been wanting to wear a mask."
Concerts, performances and other public gatherings are back on come April 15 — that is if attendees can prove they've been vaccinated or recently tested negative for COVID-19.
This announcement came on Friday, with no clear plan of how Southern Californians will prove their credentials.
Experts are worried about initiating this new strategy without a set of single standards or regulations. It raises a host of questions about forgery, health privacy records and accessibility.
"Each jurisdiction is kind of left to their own devices," said Rita Burke, an assistant professor of clinical preventive medicine at USC's Keck School of Medicine of USC. "There's no one set of guidelines which — in a situation like this — would be really, really helpful."
On eBay, she said, scammers are already selling replica vaccine cards for around $200.
The landscape of vaccine passports has evolved into an unregulated, crowded market. At least four Los Angeles entities have created their own, some working with others, including UCLA and health care startups Carbon Health and Healthvana.
President Biden's chief medical adviser Dr. Anthony Fauci said Monday on Politico's podcast that the federal government will not require the credentials for businesses or travelers.
And last week, the Biden administration said it's letting private companies take the reins over vaccine passports, opting out of creating a centralized system for verifications.
How California — and any other state — will use the digital tools is still unknown. And the state has remained quiet on its strategy.
New York officials have launched their own version called Excelsior Pass for concert and event-goers. Meanwhile, a Florida governor on Friday banned digital certifications for vaccines, citing concerns over privacy and "individual freedom."
"It's going to be hard for businesses to require a passport because nobody wants to be perceived as forcing people to take a vaccine," said Ken Mayer, co-founder and CEO of the health tech company SAFE Health.
The L.A. startup is working with IBM and a coalition called the Vaccination Credential Initiative to develop passports for people to show proof of vaccination or recent COVID-19 test via QR code. It's one of several tech companies working behind the scenes for what will essentially be a ticket to freedom for many.
But the system, some worry, could create a have-and-have-not world where those with the vaccination gain access to concerts, offices and international travel.
"I think COVID passports should not be a thing that further divides people and makes it even more difficult for people who are on the margins," said Jakub Hlavka, a fellow at the USC Schaeffer Institute.
Hlavka said that inequitable vaccine distribution — especially in rural areas unable to preserve vaccines at specific temperatures for long — will impact how freely people are able to travel internationally, or how families across borders will reconnect after the pandemic.
It's also raising concern about personal health record keeping.
"This is a new concept so it sounds simple until you get into the security and privacy details," said Eren Bali, the co-founder and CEO of Carbon Health, which runs L.A.'s vaccine appointment website.
Bali said that any digital application should be for a single use and not allow providers to store "random health data" such as diabetes or other personal medical information that is protected and has no bearing on public health.
The company recently developed its own digital certification card called Health Pass, which is automatically provided to individuals who completed vaccination through the city of Los Angeles.
"I think this is only relevant for highly infectious diseases," he said, pointing to yellow fever as another use case for a vaccine passport.
L.A.'s Department of Public Health did not immediately reply for comment, but in March, a spokesperson confirmed that the county was working with Healthvana to send out their own electronic passport.
Even if vaccine passports catch on, people will still receive a white vaccination record card after getting the shot. But it's unclear whether venues or businesses will accept them as proof, or how they'll be verified for authenticity.
Almost a third of California residents have been partially vaccinated. Health officials in Los Angeles County report 1.3 million people have been fully vaccinated, but that data doesn't include Pasadena and Long Beach.
One upside to a digital passport is that it could serve as an incentive for those yet to be vaccinated, said Assemblymember Jesse Gabriel, who represents much of the west San Fernando Valley and sits on the Assembly's Privacy and Consumer Protection Committee.
The committee oversees California's Department of Technology, responsible for partnering with state and local government to deliver digital services like MyTurn, the vaccination appointment portal run by the state.
"Hopefully it's something that'll motivate people who may be on the fence, knowing that they're able to do these things," he said.
But Burke says those who are skeptical about the vaccine are also the people wary of a vaccine passport.
Plus, proving a negative COVID-19 test "does not guarantee that you don't have COVID," she added. Venues and businesses should reconsider accepting days-old negative test results before letting customers inside.
"Showing a negative test is not really a good way of approaching this," Burke said. "Now, as we're opening up, we really need to focus on getting as many folks vaccinated as possible."
Keerthi Vedantam contributed to this report.
This story has been updated.