governor newsom
governor newsom
California has unveiled a statewide digital vaccine record three days after the state reopened its economy.
While California has given individuals free reign on whether or not they want to wear their masks, businesses are still allowed to impose regulations such as requiring proof of a negative COVID test or proof of vaccination to enter their establishment without a mask.
The digital card is an alternative to the paper vaccination card. And signing up for it is voluntary.
Here's how it works: People can go to the state's website and enter their full name, date of birth and a cell phone number or email address, and create a four-digit pin used to access the record. The state will send a link to the digital record that will last 24 hours. It's a scannable QR code that shows what brand vaccine was given, and the dates of each dose.
Los Angeles County already partnered with Healthvana, a healthcare startup that repurposed its HIV results platform into a COVID-19 vaccination platform, where people can access a digital copy of their vaccination and put it in their Apple Wallet for easy access.
Shira Shafir, a UCLA associate professor of epidemiology said that the state's vaccination is more accessible and could encourage wider use because it doesn't require access to high speed internet or a smart phone.
"We know a lot of people in California don't have access to either of those things," she said.
Governor Gavin Newsom stressed earlier this week the system would not be a passport.
A program in Santa Ana, California to create voluntary digital vaccination records sparked
protests in May.
Fully vaccinated workers no longer have to wear masks or keep a six-foot distance from colleagues in the workplace.
The new guidelines set on Thursday by the California Division of Occupational Safety and Health normally take at least 10 days to take effect after an administrative review process, but Gov. Gavin Newsom fast-tracked them by signing an executive order that lifts many of the workplace restrictions for vaccinated individuals.
Its approval came two days after the governor repealed statewide indoor and outdoor mask restrictions for Californians.
The sole board member to vote against the ruling said she was concerned that the guidelines loosened restrictions too far and too soon.
"No matter how tired we are of restrictions, the pandemic is not over," said Laura Stock, the board member who voted against the changes.
The new guidelines allows everyone from hairdressers to construction to return to a pre-pandemic normality, though some businesses have been loath to drop the masks.
Here's the new rules:
Fully vaccinated employees will no longer be required to wear masks indoors, while workers who haven't been fully vaccinated will still have to wear masks indoors.
Workplaces will not have to enforce social distancing or place solid barriers between employees who work near others unless a COVID-19 outbreak occurs.
Employers will be required to provide N95 respirators for unvaccinated workers upon request.
Employees do not need to provide their vaccination cards to validate their vaccination status — employees can self-attest that they are fully vaccinated.
David Harrison, a labor representative on the board who voted for the change, expressed concern over the lack of a standard to verify worker vaccinations.
Several tech companies have told dot.LA they plan to make returning to the office a gradual or hybrid process.
This story has been updated to reflect Cal/OSHA's changes in workplace guidelines.
From Your Site Articles
Related Articles Around the Web
Sharon Town Lee ripped off a cluster of laminated public health flyers from the front window of her pet grooming salon in Santa Monica Tuesday.
It's June 15, the day widespread mask mandates and social distancing protocols in California become concepts of the past.
Sports fans and concert goers can now scream into the air. At Disneyland, visitors can again wait in long lines and crowd around princesses as the park expands its capacity limits.
Under state protocols, vaccinated individuals are no longer required to cover their faces at gyms, in the grocery store or other indoor settings — minus a few exceptions.
And many business owners including Town Lee are letting customers inside mask-free, without checking vaccination records.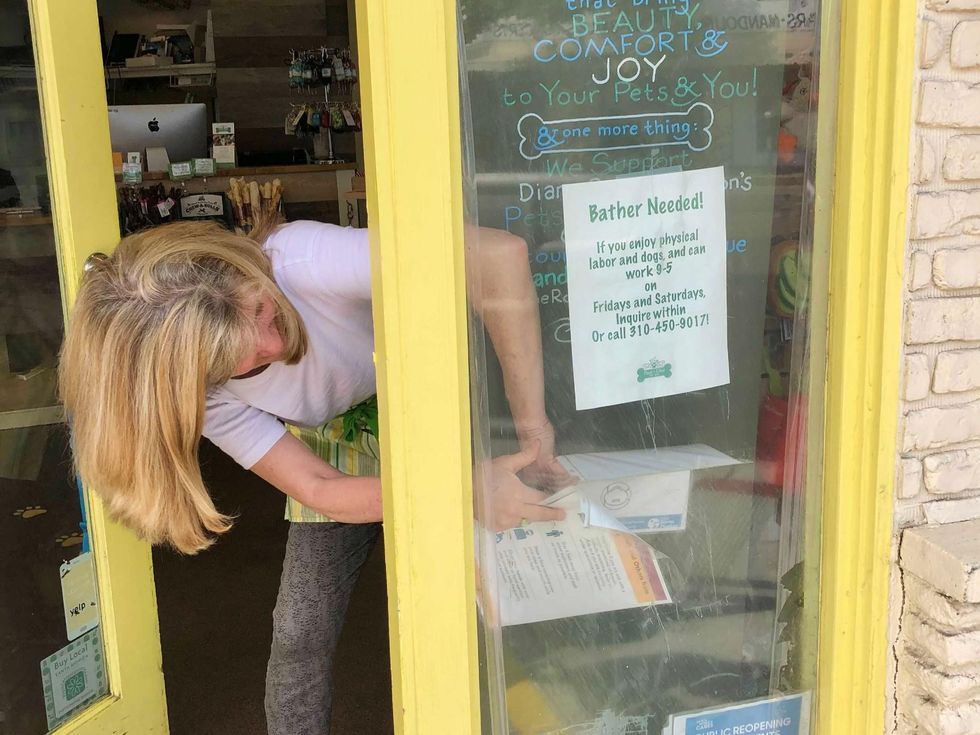 Sharon Town Lee ripped off a cluster of laminated public health flyers from the front window of her pet grooming salon in Santa Monica.Photo by Francesca Billington
"It's not our responsibility to show whether you've been vaccinated," said Town Lee, who chairs the local business district spanning Pico Boulevard and gave her employees incentives to get vaccinated.

The state's updates come as a relief. Town Lee, who is hearing impaired, can read her customers' lips again. While her small shop was largely empty in the morning, most people walking along the business district wore masks.
Private businesses can now pick between one of three state protocols: require all patrons to wear a mask, trust customers who say they've gotten the shot or establish a "vaccination verification process."
"It's a sensitive thing to ask people," said Rod Martinez, a supervisor at Literati Cafe in Los Angeles. "So we're not."
The question of enforcement remains murky — not to mention optional.
Last week, Newsom hinted at a new state-endorsed verification system to help private businesses hoping to check. SFGate reported that it'll look like a digital vaccine card designed to replace the paper ones issued by pharmacies and doctors.
How — and even if — stores and restaurants will ask customers to prove vaccination credentials is up to them, Newsom said. The governor was quick to remind viewers that his tech system isn't a so-called vaccine "passport," messaging that echoes tech startups like Healthvana.
"There's no mandates, no requirements, no passports in that respect," Newsom said during a press briefing Friday after drawing more winners for the state's cash vaccine incentive program.
Some business owners worry that requiring masks could turn off potential customers. Town Lee said that it almost feels like discriminating against people who don't want to be vaccinated for a variety of reasons.
At Ace Hardware in West L.A. store manager Brian Peacock said that three hours after opening, only one customer stepped inside without a mask.
"He walked in and said, 'I'm vaccinated!'" said Peacock. "For the most part, everybody has been wanting to wear a mask."