Could the EU's Universal COVID Passport Serve as a Blueprint for the US?
Keerthi Vedantam
Keerthi Vedantam is a bioscience reporter at dot.LA. She cut her teeth covering everything from cloud computing to 5G in San Francisco and Seattle. Before she covered tech, Keerthi reported on tribal lands and congressional policy in Washington, D.C. Connect with her on Twitter, Clubhouse (@keerthivedantam) or Signal at 408-470-0776.
09:03 AM | August 28, 2021
With the European Union weighing blocking American travelers from visiting, a group representing hundreds of the world's airlines called on countries around the world earlier this week to adopt a COVID digital passport used by the E.U.
"In the absence of a single global standard for digital vaccine certificates, it should serve as a blueprint for other nations looking to implement digital vaccination certificates to help facilitate travel and its associated economic benefits," Conrad Clifford, deputy director general of the International Air Transport Association said in a statement.
---
The E.U.'s solution, a standardized paper and digital certificate that could be used across the E.U, was first proposed in November and has now reached full adoption in all 27 E.U. countries, and even non-E.U. countries like Switzerland, Turkey and Norway. It could also be appealing to global companies as they implement stricter rules requiring workers and customers to get vaccinated or tested.
Jakub Hlávka, a health policy fellow at the USC Schaeffer Institute who has been looking at the ethics of COVID passports, said these types of passports are especially useful for countries who don't want to limit travel and hurt tourism, while also slowing the spread of the coronavirus.
"A vaccination travel certificate would actually prevent the introduction of cases from countries not covered under travel bans, most notably Mexico, where a lot of people can get infected with delta and bring it into the U.S. without any strong precautions in place," he said.
Here's how it works:
The Digital COVID Certificate, as the passport is called, uses a framework that the E.U. developed so all digital COVID vaccination cards are standardized and can be verified quickly in every participating country.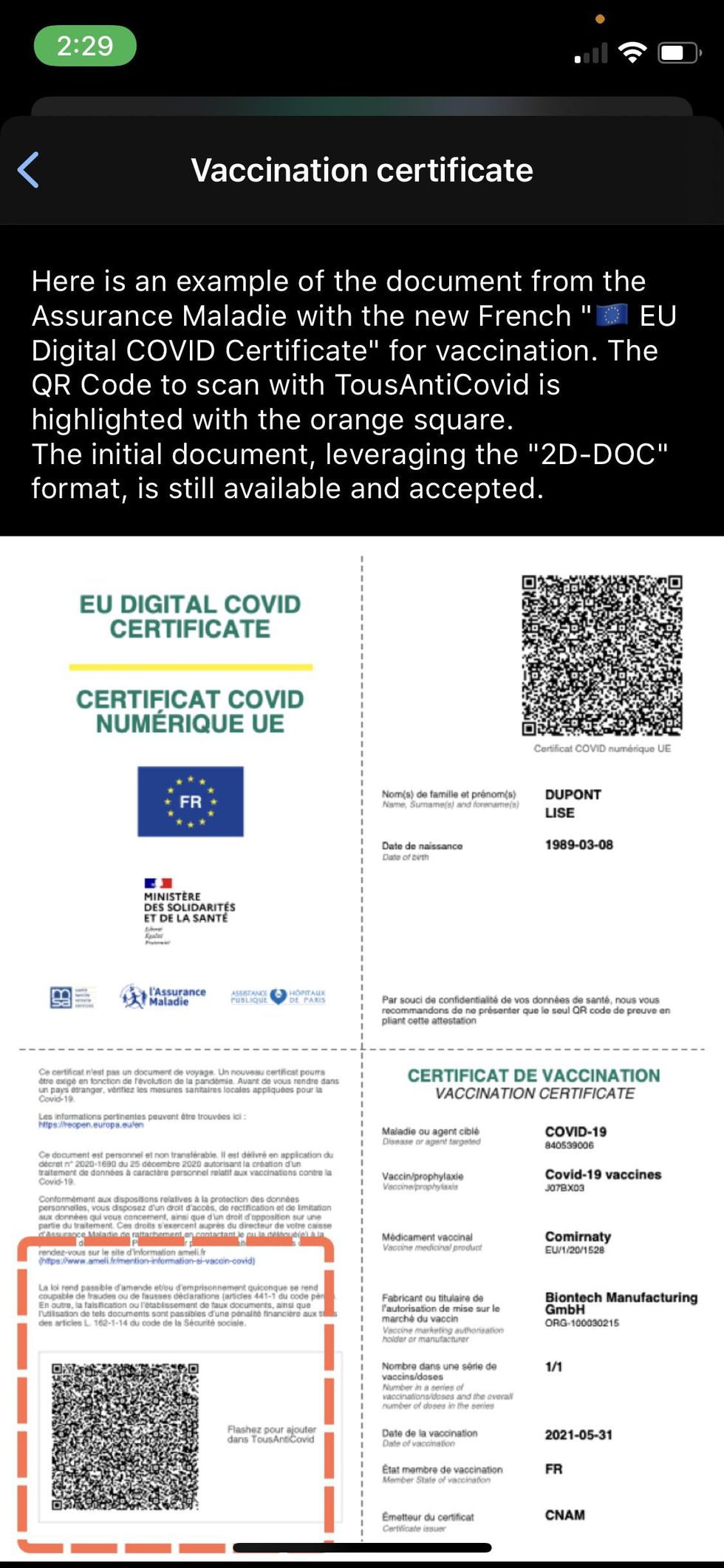 Each country has a digital and paper version of their vaccination cards. Some countries, like France, have created a downloadable app that stores the DCC. France's app TousAntiCovid, and Italy's Immuni, allow residents to upload their vaccination record and negative COVID tests. Other countries like Belgium rely on a web app or a saved PDF.
There is no universal platform that's used across the E.U.
Non-E.U. residents can ask the country they are traveling to for a DCC, provided that country will accept their proof of vaccination. Only four vaccines (Pfizer-BioNTech, Moderna, Johnson & Johnson and AstraZeneca) are accepted by the E.U., meaning Covidshield, a vaccine that has been distributed across low-income countries, is not accepted by the E.U. at large (though some countries will accept it).
The certificate contains one's name, date of birth, COVID-19 vaccine or test information, the date the record was issued and, in a QR code, a unique digital signature every health provider administering the vaccine has.
This digital signature confirms patients have gotten the vaccine, and every country in the E.U. has access to those signatures to verify the legitimacy of the vaccination record. Other information like name and date of birth are not recorded.
The E.U.'s fix for safe travelling in a post-pandemic world is the most-used solution, allowing people to move within the member countries while allowing each flexibility. The IATA said 60 other countries are using the DCC as a blueprint for their own national system.

California's Digital COVID Vaccine Cards
The widespread adoption of a standardized pass in Europe is in stark contrast to the U.S., which has not pursued any national form of verification outside of the easy-to-replicate CDC-issued paper vaccine cards. States have come up with their own solutions, like California's digital vaccination record and New York's Excelsior Pass, both of which can be used to enter businesses that have some sort of vaccine mandate. But neither are valid for travel in and out of the country, even as the Biden administration continues to uphold the E.U. travel ban.
Creating a National COVID Passport
The biggest hurdle for the U.S. is to build a digital infrastructure that maintains a national registry. That would require real-time data collection from every state. Right now, states have separate data collection streams that harbor information about who is vaccinated, and when they got vaccinated. If a California resident got one vaccine in California, and another in a different state, California's digital vaccination record won't show proof of the second vaccine.
Most countries with a national digital vaccination standard are able to use existing infrastructure from having a form of universal health care. The E.U. leveraged its eHealth Network, a network used by every member of the union. Israel, which developed the Green Pass, also has a compulsory health care plan.
Many states in the U.S. haven't created a centralized state system, making it difficult for 50 states and U.S. territories to coordinate on a standardized system. But the CDC and other agencies regularly collect state and municipal data to track the spread of COVID-19.
Hlávka said the U.S. might be better off considering an opt-in registry that is recognized by other countries, whereby those who want to travel out of the country can voluntarily upload their vaccination record and show proof.
"If we asked a few programmers in Silicon Valley, we could have this in a few hours," Hlávka said. "This is not technically difficult."
And as the U.S. travel ban on the E.U. persists, and the E.U. considers banning American travelers as well, Hlávka said the lack of standardization and a national system is preventing families from reconnecting and hurting tourism.
"The status quo is hurting the U.S. economy and reopening travel, possibly using a mutually recognized vaccination certificate/passport, would be a safe way to reopen borders and increase incentives to get vaccinated," he said.
Keerthi Vedantam
Keerthi Vedantam is a bioscience reporter at dot.LA. She cut her teeth covering everything from cloud computing to 5G in San Francisco and Seattle. Before she covered tech, Keerthi reported on tribal lands and congressional policy in Washington, D.C. Connect with her on Twitter, Clubhouse (@keerthivedantam) or Signal at 408-470-0776.
https://twitter.com/KeerthiVedantam
keerthi@dot.la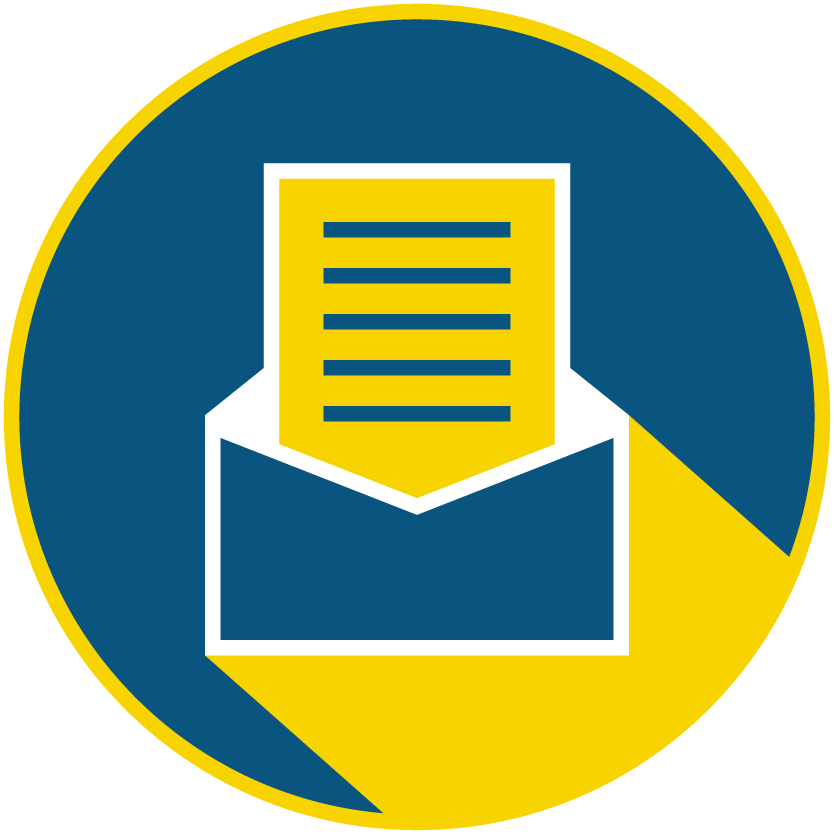 Subscribe to our newsletter to catch every headline.
05:00 AM | August 23, 2021
Image by Candice Navi
In a year upended by crisis after crisis — the ongoing pandemic, the climate emergency, an insurrection in the capital — tech startup financing is not just bouncing back but altogether booming, and Los Angeles-based angel investors are a big part of that equation.
Angels usually take a stake in an emerging business using their own funds, before institutional investors are willing to throw more substantial resources behind an idea. Often, they start off as entrepreneurs or engineers themselves.
We surveyed dozens of prominent L.A. investors to find out who they believe to be the top angels in the city, as part of dot.LA's third VC sentiment survey. Then, we tallied the votes. dot.LA had to throw out a couple of top names because one angel no longer lived in Los Angeles and the other didn't appear to be actively investing.
For more from the latest survey, read about who to watch among L.A.'s hottest ecommerce startups.
The investors below are listed based on the number of votes they received. We deferred to alphabetical order when there was a tie. Without further ado, here are Los Angeles' top angels, according to their peers.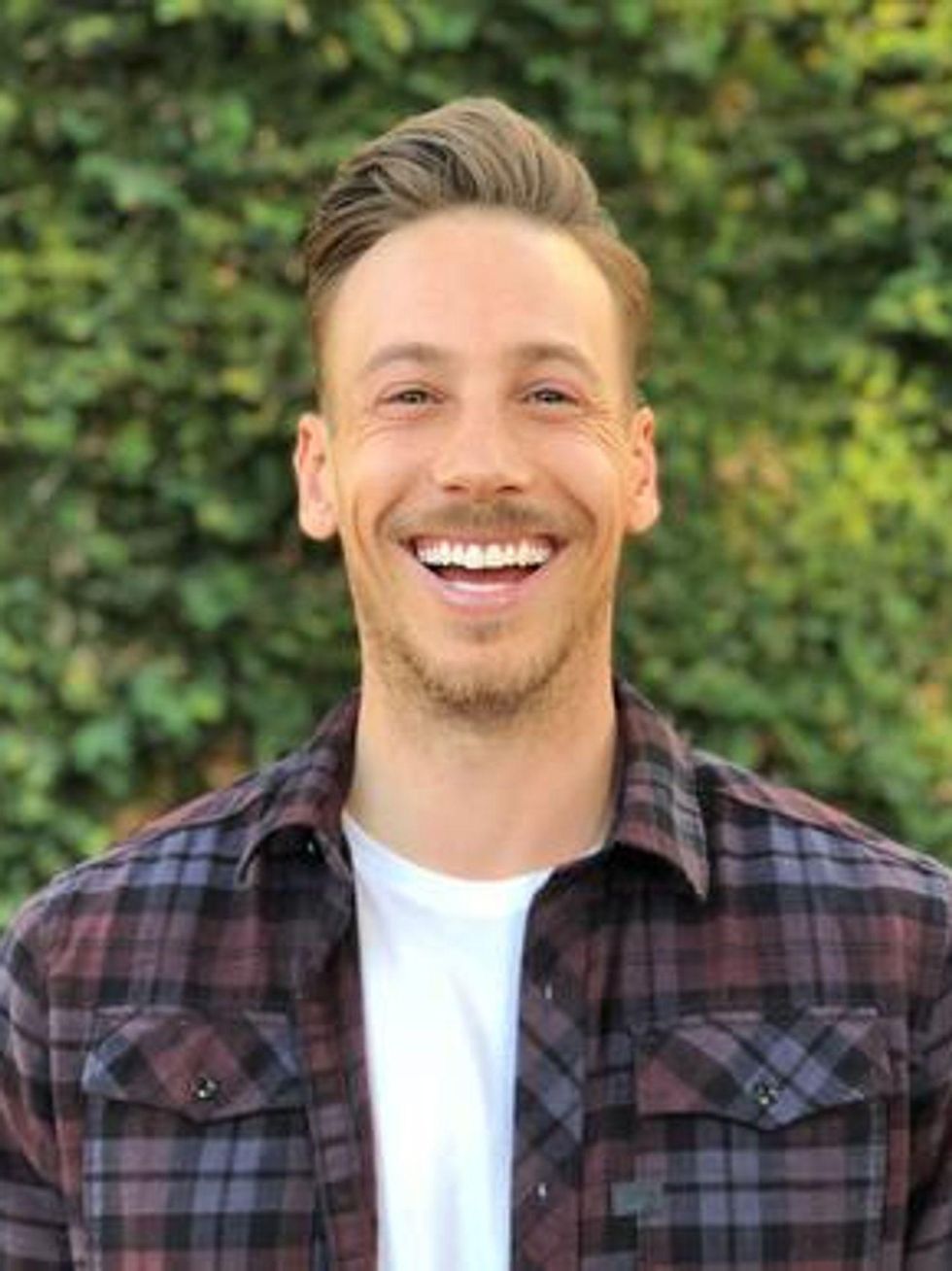 J.J. List
List tops this list despite maintaining a low profile compared to the five angels below. He's an early-stage investor whose portfolio includes mobile shopping startup Tapcart, glasses and contacts company Lensabl, as well as Brainbase, Candy Club, Citruslabs and other LA-based firms, per AngelList. His investments range between $25,000 and $100,000, according to his Signal investing page. List is also listed as the chief creative officer at brand studio Gazoozle, per Crunchbase. The agency mentions Uber, TBS and other big names as clients on its website.
When dot.LA reached out for more information about him and his recent investments, List responded via LinkedIn: "im all good man, i dont do any press. thanks though!" Thanks, indeed!
But Paul Bricault, co-founder and managing director of Amplify, who has several co-investments with him, said List really has a discerning eye. "While we have also passed on some things he has sent our way, they are always worth a hard look which is rare."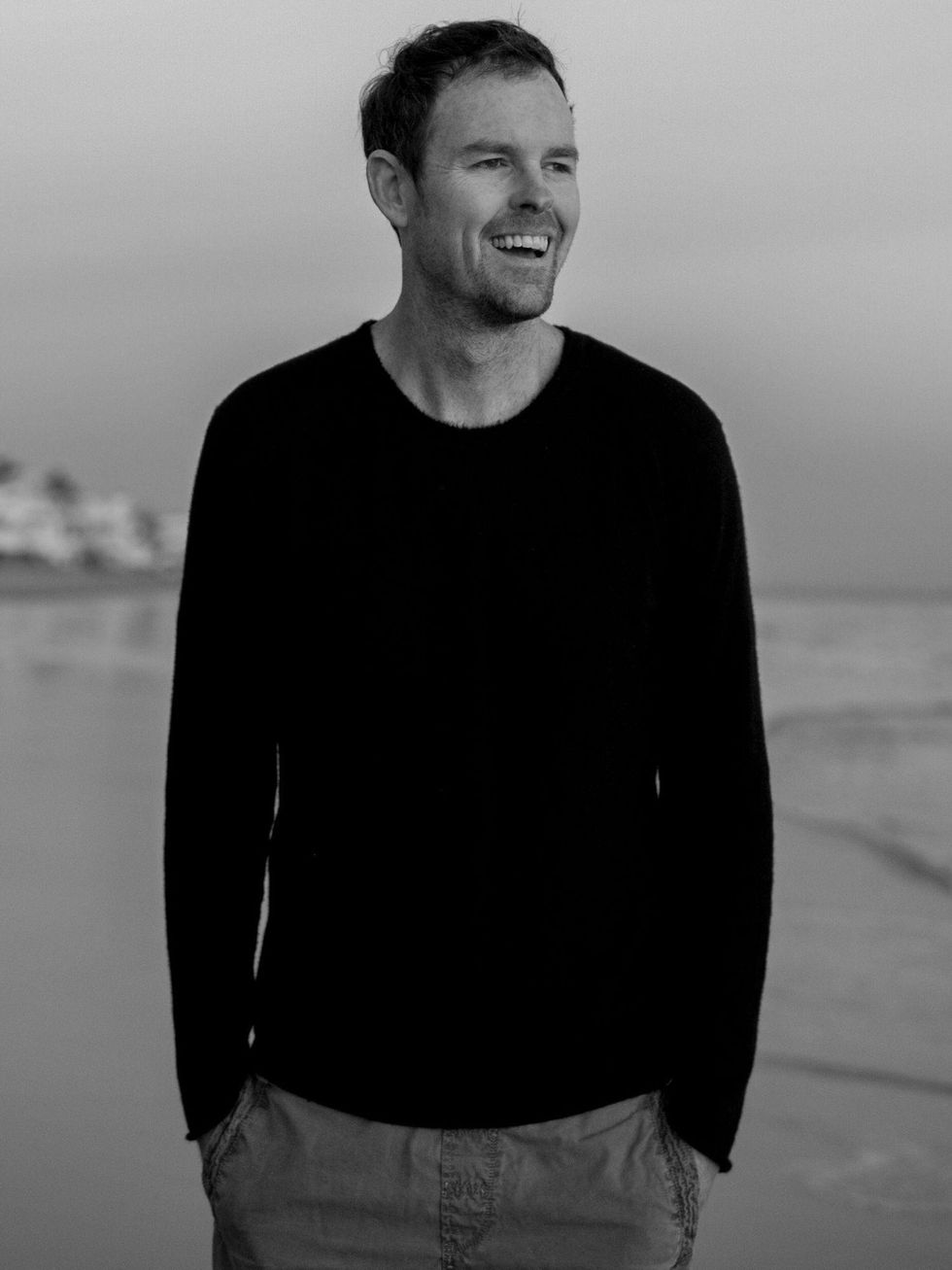 Tom McInerney
McInerney got his start as a software engineer at Apple and Sony. His L.A. investments include RentSpree, a tenant screening startup that just announced an $8 million series A; and Bird, the love-it-or-hate-it scooter rental service. Beyond the city, he's a backer of Notion, Segment and Dapper Labs. His exits include Lettuce, which sold to Intuit; and Shopflick, which sold to Popsugar.
McInerney also advised TestFlight, which Apple snapped up in 2014, and he is a member of the World Wildlife Fund's national council.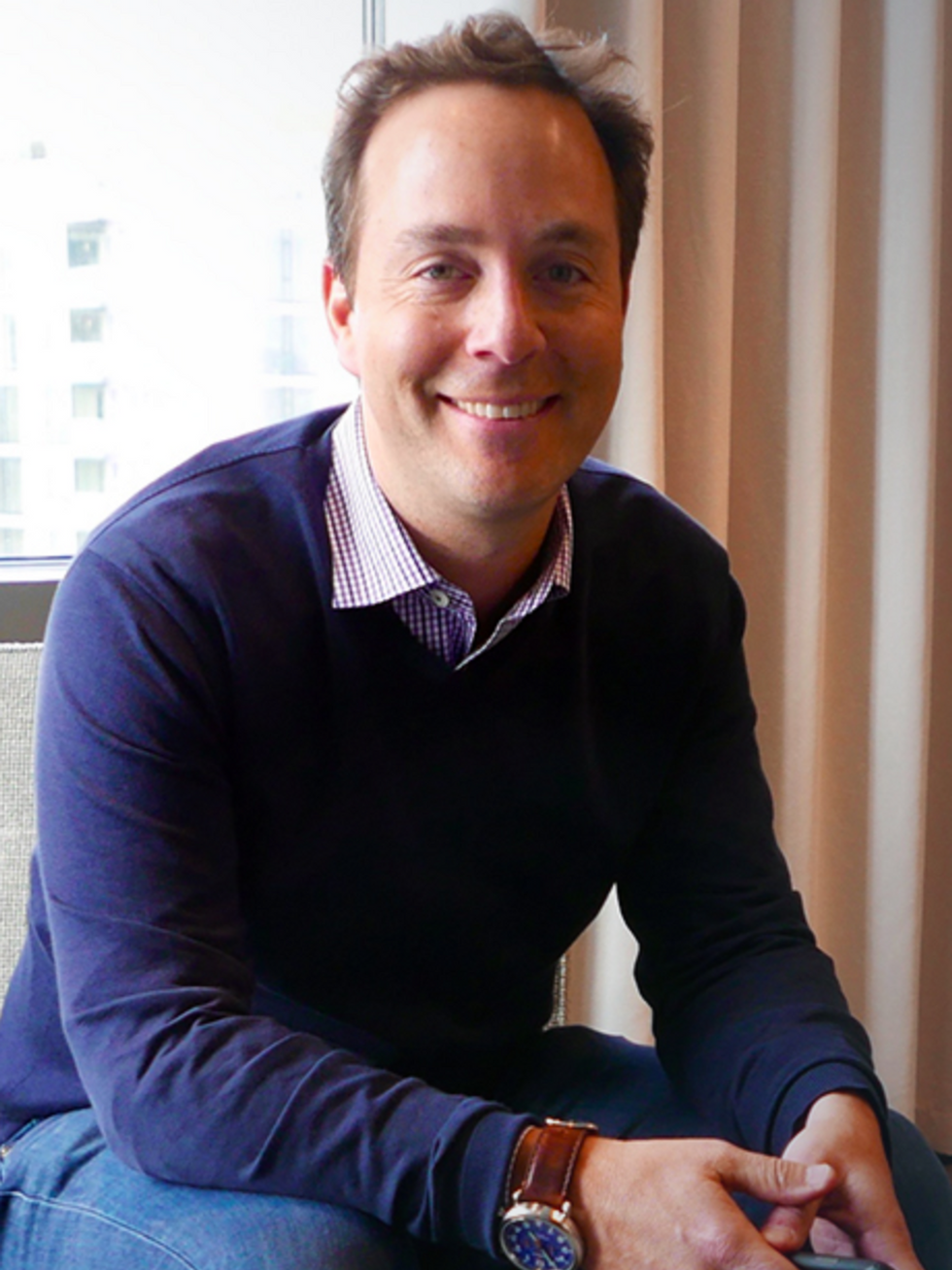 Spencer Rascoff
Rascoff co-founded Zillow, Hotwire.com, real estate platform Pacaso, startup studio 75 & Sunny and this website, dot.LA. He's a former director of TripAdvisor and Zulily, and is a board member of the controversial data-mining company Palantir. When pressed on whether being a co-founder of dot.LA could have artificially boosted his vote count, Rascoff disagreed:
"I am just a really prolific L.A. based investor," he said. "I think we (75 & Sunny) did like 41 deals last year, of which 25 were in L.A., so that's why. I'm also an investor in many L.A. based venture funds (Crosscut, m13, Upfront, and others) so that helps me have a lot of connectivity to the L.A. tech community, which I'm sure boosts my vote count!"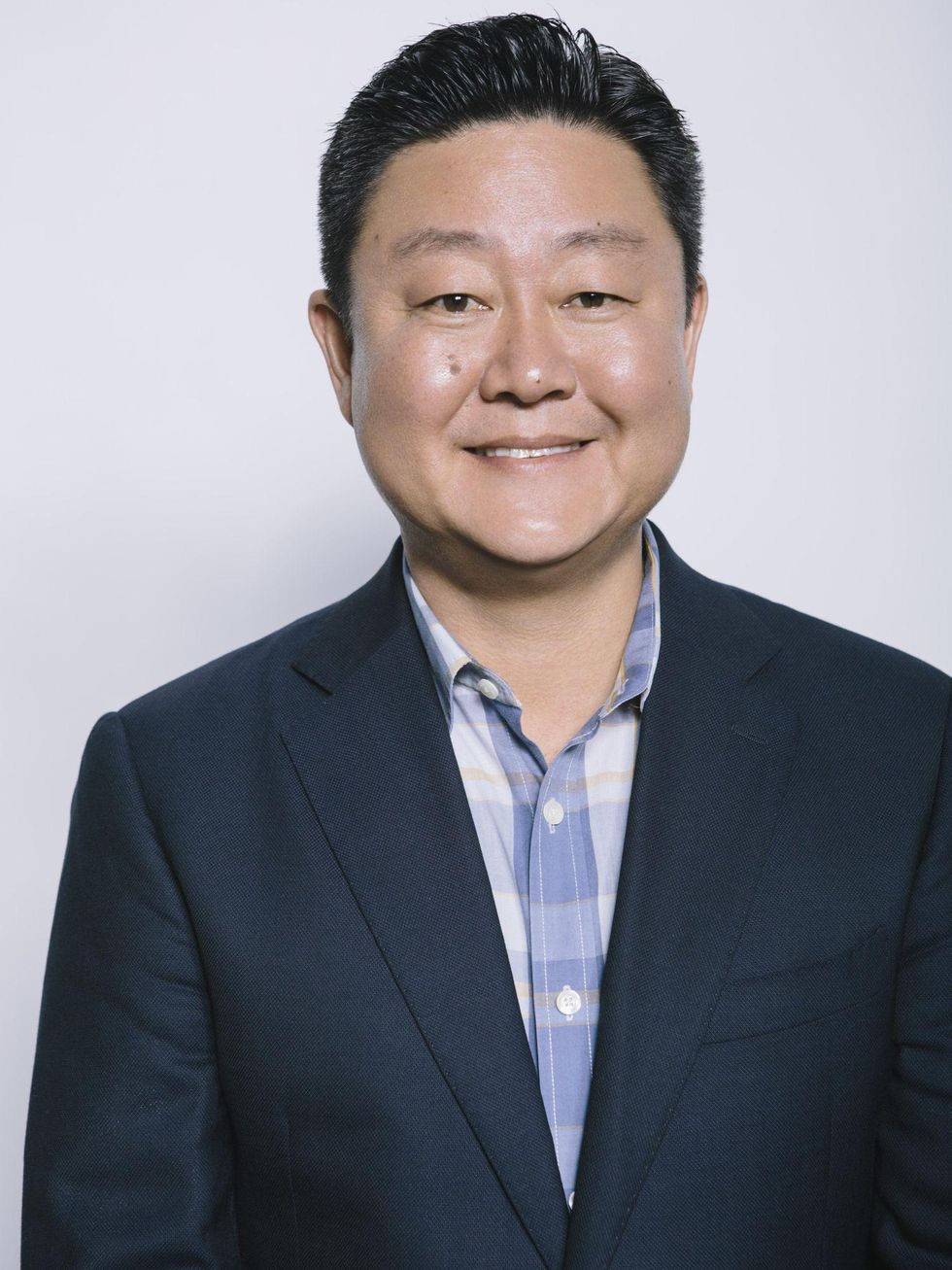 Brian Lee
Lee co-founded LegalZoom, ShoeDazzle and The Honest Company (of Jessica Alba fame), which went public in May and is now valued north of $894 million. "We have been fairly active this past year with 16 investments in total so far, and 8 of them in Los Angeles now," said Lee.
His LA-based investments include The NFT Company, guided breathing app Breathwrk and fantasy sports company Grin Gaming. Lee's exits include the infamous MoviePass (RIP), which sold to Helios and Matheson Analytics; Tapiture, which was bought by Playboy; and Stamped, which was snapped up by Yahoo, per Crunchbase.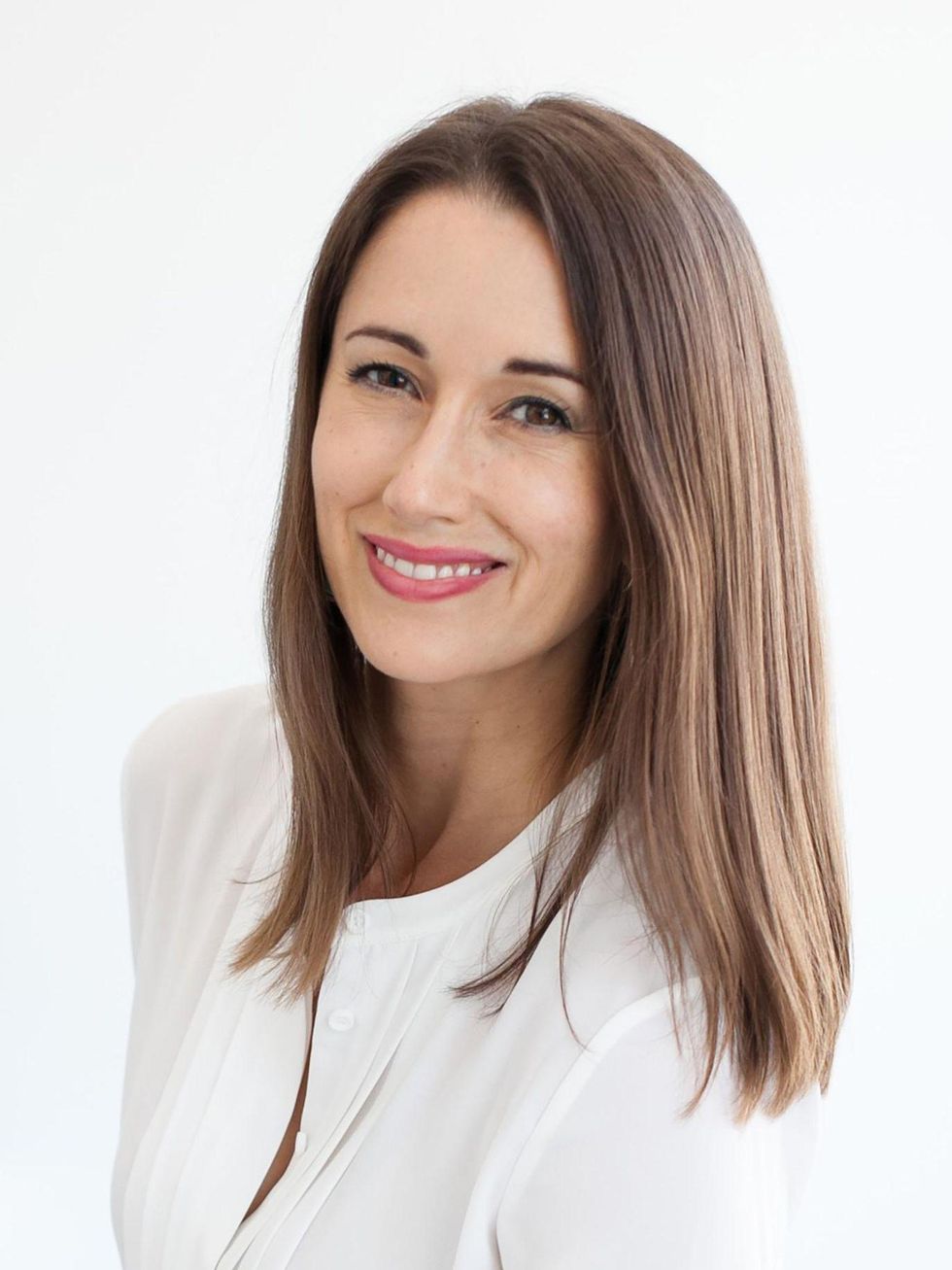 Rosie O'Neill
O'Neill co-founded boutique candy brand Sugarfina. She also sat on the board of fintech company Happy Money and most recently cofounded early-stage investment fund Pure Imagination Brands in Santa Monica with her partner, Josh Resnick, who also made this list. Previously, O'Neill led marketing for Barbie at Mattel.
Her investments include faux meat purveyor Abbot's Butcher, pet pharmacy Mixlab, low-carb and gluten-free snack maker Uprising Food and gaming lifestyle brand Queens Gaming Collective.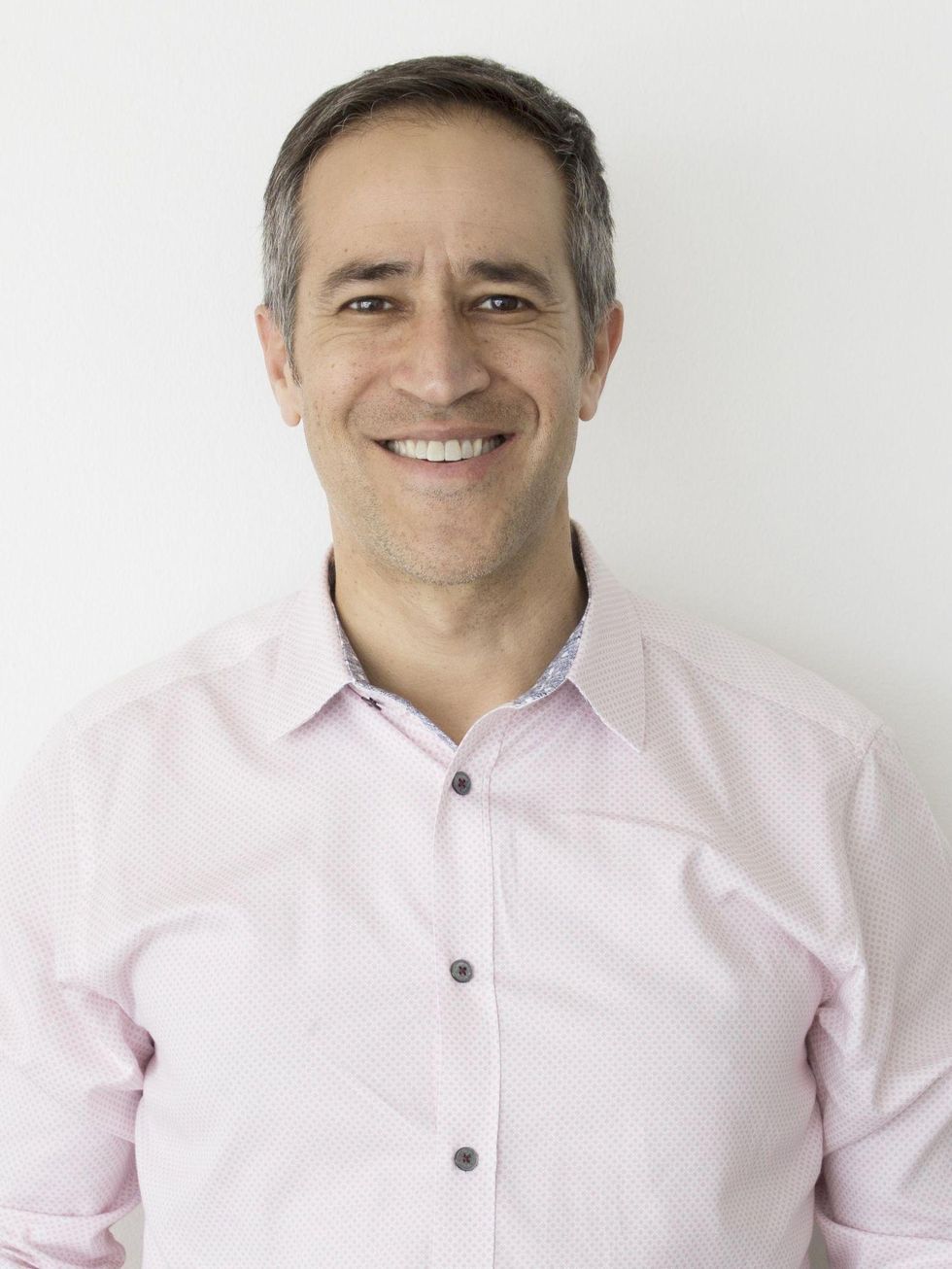 Josh Resnick
Resnick worked as a producer at Activision, the Santa Monica game publisher, before launching his own studio — Pandemic Studios — with backing from his former employer. Pandemic is known for developing Star Wars: Battlefront and later on was acquired by Electronic Arts with another studio in a combined $860 million deal. Resnick also cofounded Sugarfina and Pure Imagination Brands. The investor tells dot.LA that he's "done around a dozen deals so far this year with another 4 in the pipeline currently."
Of the deals he has closed in 2021 to date, he says eight were based in Los Angeles. His investment portfolio includes Culver City-based digital pharmacy Honeybee Health and virtual reality training platform Vantage Point.
Lead art by Candice Navi.

From Your Site Articles
Related Articles Around the Web
Harri Weber
Do you know something we should know about L.A. tech or venture capital? Reach out securely via Signal: +1 917 434 4978.
Harri is dot.LA's senior finance reporter. She previously worked for Gizmodo, Fast Company, VentureBeat and Flipboard. Find her on Twitter and send tips on L.A. startups and venture capital to harrison@dot.la.
09:59 AM | September 22, 2021
Launching a brand new business has its ups and downs, and Noura Sakkijha can tell you all about it.
In the early years of launching the fine jewelry brand Mejuri, Sakkijha hit burnout and learned some very difficult lessons that are now part of the story she brings to the latest episode of the Behind Her Empire podcast.
Today, Sakkijha is the CEO and co-founder of Mejuri, a high-growth brand that has sold more than 1.8 million pieces of jewelry since its inception in 2015.
Looking from the outside in, entering the jewelry market can seem like a daunting endeavor. Not only is it seemingly saturated, but it's also exceptionally expensive, she says.
Sakkijha grew up in Jordan as a third-generation jeweler. There, she noticed that traditional high-end jewelry brands always targeted men, encouraging them to buy luxe jewelry for women. In 2015, Sakkijha started Mejuri to change this narrative: A woman doesn't need a man to buy jewelry for her. She can buy it yourself.

Sakkijha successfully raised more than $40 million for her jewelry brand and shine in a competitive market. Her products have been worn by A-list celebrities like Selena Gomez, Lizzo, Justin Bieber, Ariana Grande, Oprah, and others.
In this episode, Sakkijha also discusses the difficult lessons she learned early in the business, why self-care and therapy have been game-changing for her in both her personal and professional life, and what it takes to build a high-growth brand & sell over 1.8 million pieces of jewelry since inception.
dot.LA Audience Engagement Editor Luis Gomez contributed to this post.
Want to hear more of the Behind Her Empire podcast? Subscribe on Stitcher, Apple Podcasts, Spotify, iHeart Radio or wherever you get your podcasts.
Related Articles Around the Web
Yasmin Nouri
Yasmin is the host of the "Behind Her Empire" podcast, focused on highlighting self-made women leaders and entrepreneurs and how they tackle their career, money, family and life.
Each episode covers their unique hero's journey and what it really takes to build an empire with key lessons learned along the way. The goal of the series is to empower you to see what's possible & inspire you to create financial freedom in your own life.