us space force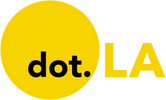 Get in the KNOW
on LA Startups & Tech
X
us space force
Image courtesy of Slingshot Aerospace
Fresh off securing a
$25 million funding round earlier this month
, Slingshot Aerospace has inked a new $25.2 million contract with the U.S. Space Force that will see America's newest military branch use two of the El Segundo-based startup's flagship products—a space simulator called Digital Space Twin and a virtual training platform known as Slingshot Laboratory.
The 39-month Space Force contract marks the first time that Slingshot's Digital Space Twin product will be used by a government customer, according to the company. The technology melds "space weather data" and the live mapping of orbital objects with physics-based simulations to project how missions might play out in space. Slingshot is pitching it as a safer, cost-saving way for the government to simulate various missions before going ahead with their launch.

One example of how the Space Force could use the Digital Space Twin is in scenario planning, also known by the more dramatic moniker of "wargaming." The process entails using simulations to visualize potential security threats and predict enemy behavior that could occur in orbit, as well as the military response to it.
Another Digital Space Twin capability lets the Space Force map out virtual scenarios whereby a satellite is approached by an unknown object and run tests on how it would respond. Slingshot said the product can also be used to model the deployment of new satellite constellations, which would help the government more safely launch satellites that can cost up to $1 billion to build.
Slingshot co-founder and CEO Melanie Stricklan told dot.LA that the Digital Space Twin product can also be used by private companies, albeit a slightly different version than the specialized systems it's developing for the government.
"Space moves really fast, and there's a lot going on up there," she said. "But if you could take a moment in time and do some 'what if' analysis, then you could actually get into a predictive state that would inform decisions even before launch—whether that's for training tactics and procedures, or developing a new capability. And that's what the Space Force locked onto."
In addition to the Digital Space Twin, the Space Force will also use the Slingshot Laboratory to develop space simulation training programs for various Space Force education organizations.
The Space Force's Space Systems Command division contributed funding for the Slingshot contract alongside
SPACEWERX
, the Los Angeles-based venture investing arm of the Space Force that was created in collaboration with the Air Force Research Laboratory (AFWERX).
From Your Site Articles
Related Articles Around the Web
Photo by SpaceX on Unsplash
In a major win for Southern California's aerospace industry, the U.S. Space Force will establish its acquisitions and technology division in the Los Angeles area this summer.
The move, observers said, cements the region – home to SpaceX and Virgin Orbit – as a major force while raising the profile for a myriad of local startups, as the government looks to private industry to bolster the next generation of space travel.
"Southern California — and South Bay in particular — is experiencing its biggest tech renaissance since the Cold War, with record-setting venture investments generating hundreds of new businesses, with over 25 aerospace unicorns operating today," said Van Espahbodi, the co-founder and managing partner of Starburst Aerospace, an accelerator that partners with Raytheon and other big players in the industry. "It's no surprise the formal standing up of Space Systems Command acknowledges the strength and leadership of our region."
The Los Angeles Air Force Base's Space and Missile Systems Center in El Segundo will become the headquarters of the planned division called the Space Systems Command. The center will be responsible for identifying, prototyping and fielding innovative, space-based solutions to support and meet the demands of the National Defense Strategy, according to the Space Force.
"The heart of technology innovation within the space industry takes place right here in El Segundo, so it comes as no surprise that Space Systems Command has selected our community as its headquarters," said Melanie Stricklan, co-founder and CEO of El Segundo-based Slingshot Aerospace, in a statement.
Slingshot Aerospace has worked closely with the Space and Missiles System Center over the last several years to create technologies that promote space sustainability in order to protect our way of life, she said. Other local companies like SpaceX — which has several contracts with the agency — also have standing relationships.
Los Angeles' aerospace history stretches back to the 1920s, with its peak around World War II. Today, more than 25 aerospace companies — including Rocket Lab, Slingshot Aerospace, Relativity and Virgin Orbit — have established headquarters in the Los Angeles region.

The Space Systems Command is one of three major commands under the U.S. Space Force. It will generate additional missions for the base, including oversight for launch operations out of Vandenberg Air Force Base and Cape Canaveral. It will oversee efforts to develop, acquire, launch and sustain military space systems.
U.S. Rep. Ted Lieu (D-Calif.), who co-chairs the California Aerospace Caucus, said the Pentagon's decision reaffirms Southern California's role as an aerospace hub.
"Southern California was already leading the way on aerospace and space innovation, and establishing the Space Systems Command at L.A. AFB will position our region for further growth," LIeu said.
Lieu said he, along with California Republican Congressman Ken Calvert, had requested the Pentagon to consider Los Angeles for the Space Systems Command's home.
Gov. Gavin Newsom said his administration also pushed for the new command center.
"This is a critical investment in California's vital aerospace and defense industries, and it represents a slew of new good-paying jobs as we continue to rebuild our economy better than before," Newsom said in a statement.
In 2003, Vandenberg Air Force Base's Space and Missile Systems Center narrowly escaped closure during a round of military base realignment and closures. The base was spared after a group of politicians and business leaders lobbied to save it.
Judy Kruger, senior director of strategic initiatives at the Los Angeles Economic Development Corporation, said it's too early to tell what the move will mean as far as jobs or procurement opportunities for the region.
"But right now whenever we can position ourselves as leaders in the area of aerospace, it presents us well. It focuses on our core ecosystem here in Los Angeles, our history of space and aerospace," she said. And it's about good paying jobs of the future, she said.
Before the base's Space and Missile Systems Center will be re-designated, Biden will nominate a U.S. Space Force three-star general officer of the SSC, who must be confirmed by the Senate.
In 2019, the Trump administration created the Space Force, the newest branch of the armed services since 1947. It is one of the most visible Trump-era actions that is supported by President Joe Biden.
Image credit: Warner Bros.
El Segundo-based Slingshot Aerospace Inc. and a Hollywood visualization studio known for its design work on films like The Martian," "The Mandalorian" and "Gravity" are working on a next generation space-simulating training tool for the U.S. Space Force.
The tool, which is being built now for PCs, aims to teach airmen concepts like astrodynamics and let them experience how objects move in space. The goal is to make the platform adaptable for augmented reality on mobile phones and virtual reality on headsets in the future.
"The Air Force has pumped millions of dollars into that foundational education (but) in space, that ground school doesn't exist," said Melanie Stricklan, co-founder and chief strategy officer for Slingshot Aerospace. Instead, she said, airmen go through a professional military education "that just skims the surface."
Slingshot Aerospace, which has its second headquarters in Austin, Texas, announced Thursday it received $2 million to develop its Slingshot Orbital Laboratory, an educational platform that is built on top of its existing "air traffic control system" that tracks and helps users manage the burgeoning numbers of objects in space.
The total amount includes a $1 million Small Business Innovation Research (SBIR) phase 2 contract from the U.S. Space Force and $1 million from ATX Venture Partners, an early-stage capital firm based in Austin.
In its motion picture visualization work, The Third Floor builds virtual versions ofenvironments, vehicles and characters to help the filmmakers to block their ideas and shots.Previs by THE THIRD FLOOR fromCaptain Marvel. Image copyright Marvel 2019 and courtesyof The Third Floor
Stricklan, a retired Air Force veteran of two decades, worked at the Space Force's predecessor, the U.S. Space Command. In 2017, she co-founded Slingshot Aerospace. The new Space Force still uses tools built in the 1980s that are heavy, hard to use and involve an "antiquated simulator," Stricklan said.
"They're still using things like a Hula Hoop and a beach ball for those operators and students to start understanding how orbits work around the Earth. This allows them the opportunity to actually use their hands and their own laptops or iPads to manipulate those types of orbits and orbit parameters in order to see how a spacecraft reacts to the physics around the Earth."
Existing simulation tools tend to be incredibly sophisticated and require operators to have a graduate degree. Slingshot said that their educational laboratory would be accessible for those with a GED or above.
Slingshot has teamed up with subcontractor The Third Floor, a Los Angeles-based visualization studio known for creating physics accurate content that has been showcased in the design blueprints and CGI for "The Martian," "The Mandalorian," "Gravity," as well as many of the Star Wars films and all the Marvel films.
In fact, the founders of The Third Floor worked on Star Wars episode three as part of George Lucas' visualization team and started their company in 2004 after the movies ended, said Albert Cheng, the creative director for the immersive department at The Third Floor.
The two companies are in the process of building a functioning prototype and working "hand-in-hand" with the instructors at the Space Force and the U.S. Air Force Academy as well.
The laboratory design is foremost an education tool but in its effort to improve accessibility, the team is designing the laboratory with a slight video game sensibility, including making visually engaging graphics and a very responsive interface, Cheng said.
The Air Force "really wanted the next gen of space operators to be engaged in the learning environment," Cheng said. "What we're trying to teach and what instructors have said is the hardest part is visualizing the spatial relationships of data. These immersive tools are designed to help do that. If you can see orbits and spatial relationships in 3D (for example), that is a great way of helping people see information that is inherently spatial."
U.S. Air Force Col. Max Lantz, a commandant at the National Security Space Institute, said in a statement that "building an immersive environment to drive better comprehension of these foundational theories will be vital to support the Space Force."
The contract ends in early December 2021, and the company hopes to have the end-to-end prototype be completed by then. It will then either move forward with a phase 3 contract for more sustainable work or license the product back to the Space Force as a commercial subscription.
"Either way, we'd like to get out of the high license costs that they currently pay for other technologies and provide this to them at a more reasonable price point," Stricklan said.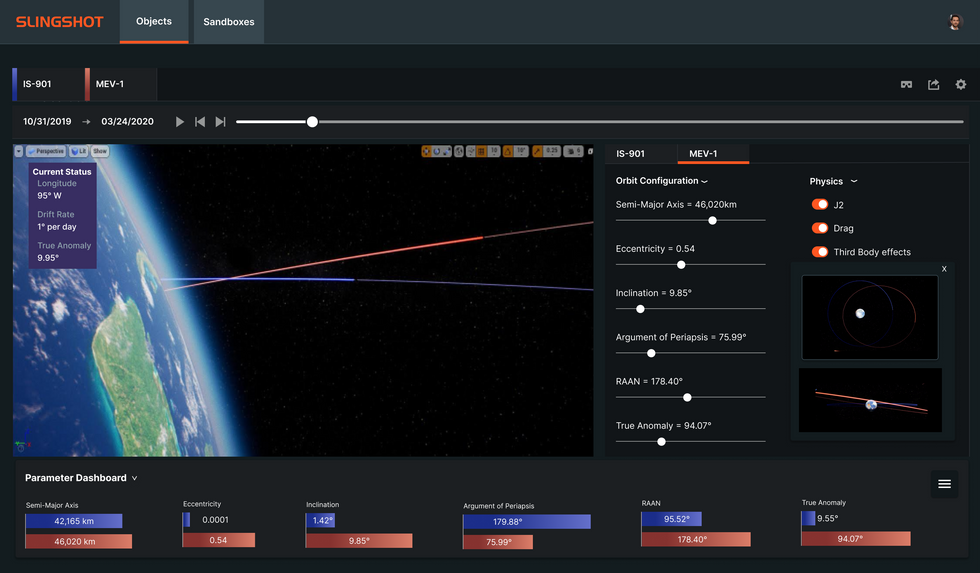 Nominal image of Slingshot Orbital Laboratory provided by Slingshot Aerospace
Space Traffic is Becoming "Contested And Congested"
Space has become increasingly accessible due to the drop in pricing and more access for the commercial sector to launch a satellite with many of the rules and regulations to regulate behavior or mitigate debris, Stricklan said. As a result, "orbits are becoming congested and contested" she said. There are more than 2,000 active satellites in orbit right now and U.S. companies have filed to launch 58,000 new satellites into orbit over the next several years, Stricklan said.
Meanwhile, the U.S. Space Force is gearing up to move from a more space situational awareness role, historically speaking, Stricklan said, to a more "protect and defend" mission. The Department of Defense is passing its space traffic management role eventually over to the U.S. Commerce Department per a White House directive issued in 2018.
Slingshot Aerospace has won more than $6 million in government contracts from the U.S. Air Force since it was founded in 2017, according to public data. That includes a contract for the Space and Missile System Center to help provide details about objects on orbit, including their payloads, when they launch and what the objects have been doing to do predictive analysis.
The underlying Slingshot Orbital data tool characterizes space objects, detects threats and enables decision intelligence, while also identifying inconsistencies among data sources including commercial data sources. It's a platform that brings in both commercial and government sensor data to provide a view of objects in orbit around the Earth. She said the ultimate goal, still a ways away, is to build a live simulation that sits on top of a digital twin, for training purposes.
"With 58,000 objects on orbit, and that's not counting the debris that's already up there and will (be created) through the launch process," Stricklan said. "This is the time for these professionals to learn this domain from the ground up."
___
Do you have a story that needs to be told? My DMs are open on Twitter @latams You can also email me at tami(at)dot.la, or ask for my contact on Signal, for more secure and private communications.